Rogue has released the 3rd version of the
Echo Bike
. Grab one while they last!\n
Here's the new Color Medicine Balls from Rogue. These are hand made, in the USA!
Medicine balls are believed to have resulted from the discovery of Hippocrates, the father of medicine, who utilized weighted balls to assist injury rehabilitation in patients. Medicine balls are used not only for rehabilitation but also to develop balance, strength, and endurance effectively. They are also used to develop core strength and build muscles in your back and abdomen.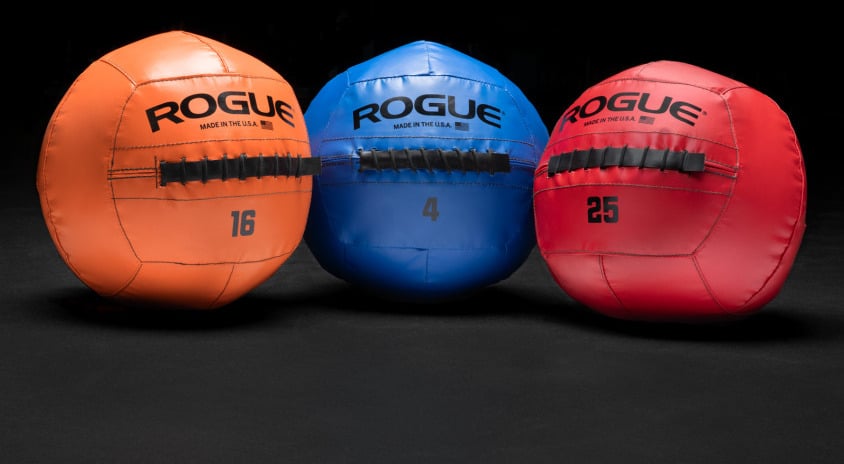 Here's some of the styles we are going to look at:
Color Medicine Balls from Rogue – Overview
The Color Medicine Balls from Rogue highlight a precision nylon thread seam construction with a moisture-resistant and scuff-resistant coated-vinyl shell. They are hand-made in the USA, and you can custom-select the shell color of any medicine ball you order. You can get a complete set in a single color (to harmonize with the color scheme of your gym, team, business, etc.), or mix and match colors as you see appropriate. This gives coaches the option to choose one color for all 10LB medballs, another for all the 14LB, and another for the 20LB, enabling easier instruction and classification of medball weights from afar.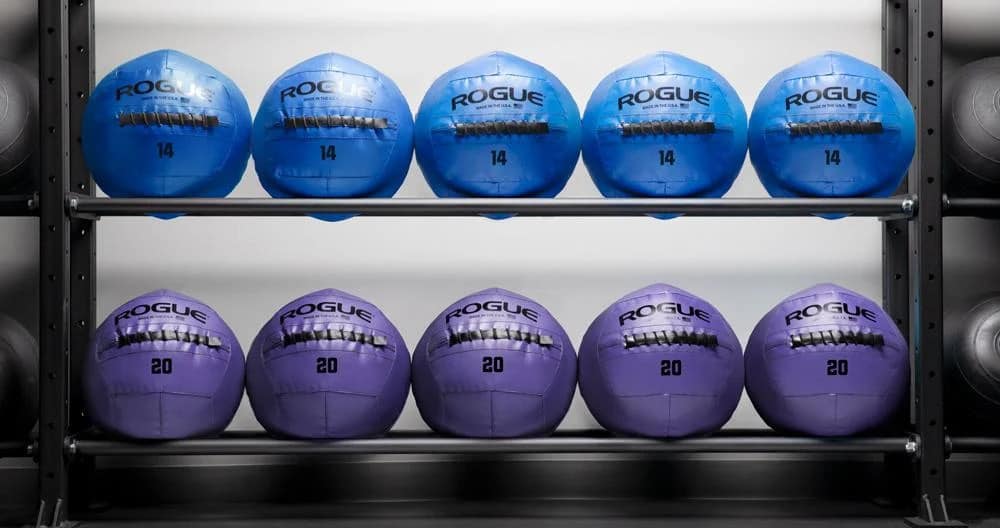 All seams are double-stitched, then added a top stitch to the heavy range of 14LB to 30LB variants. The interior filling is generous enough to help the ball keep its shape over repeated use and forgiving and resilient enough for athletes to stop or catch the ball at high speed securely. The current color options for the medballs are Royal Blue, Green, Light Blue, Orange, Maroon, Navy, Purple, Red, and Yellow. They carry a Two-Year Warranty from the date of purchase.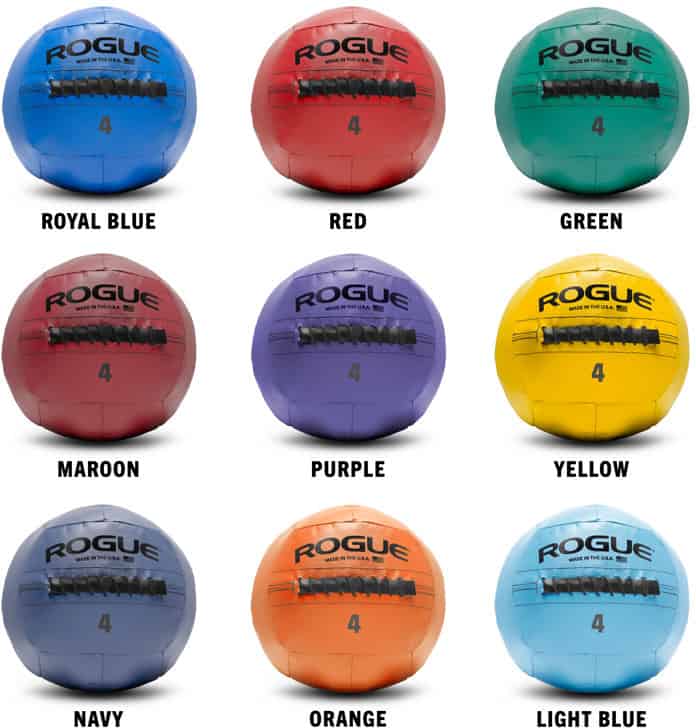 Each ball measures the same 14" in diameter regardless of its color or weight. Rogue Color Medicine Balls are developed to handle daily indoor/outdoor abuse in a wide variety of applications except slamming. Medicine ball training is one of the easiest ways to increase your explosiveness, endurance, and core strength. They can be used for wall ball throws, traditional trunk twists, sit-ups, squats, presses, and more. Rogue Medballs have been battle-tested at some of the highest levels of competition, including the CrossFit Games. They also gained their keep in the day-to-day grind at thousands of educational, professional, commercial, and home gyms worldwide.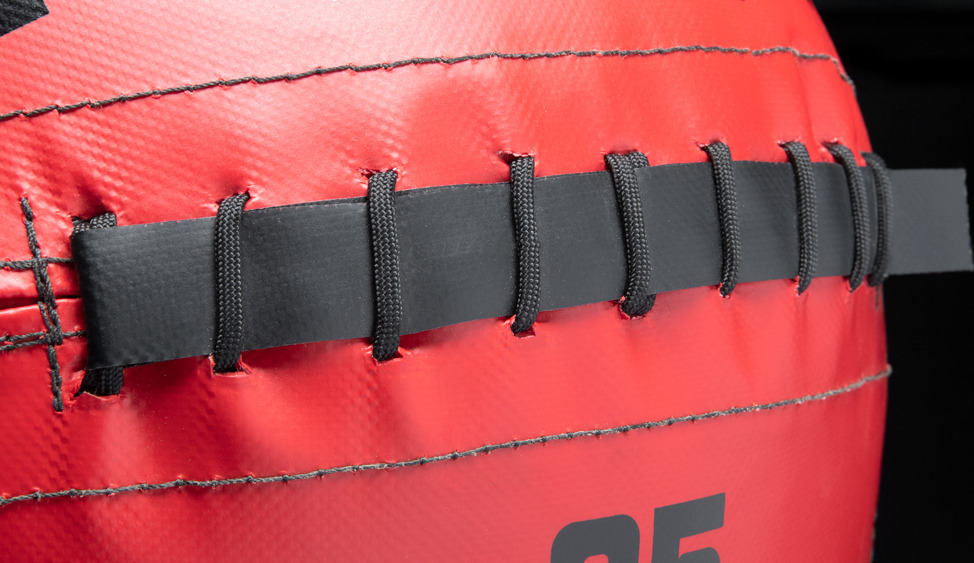 Color Medicine Balls from Rogue Review – In Summary
That's our look at the new made in the USA Color Medicine Balls from Rogue.
Using medicine balls in your training target a vast range of muscle groups, and several of the explosive exercises performed with medicine balls integrate functional movements. They are versatile and can be incorporated into various exercises to build strength and explosive power, burn fast, correct posture and balance, improve rehabilitation, and many more. Color Medicine Balls from Rogue are made in the USA with coated vinyl shell with double-stitched nylon threading on the seams of balls.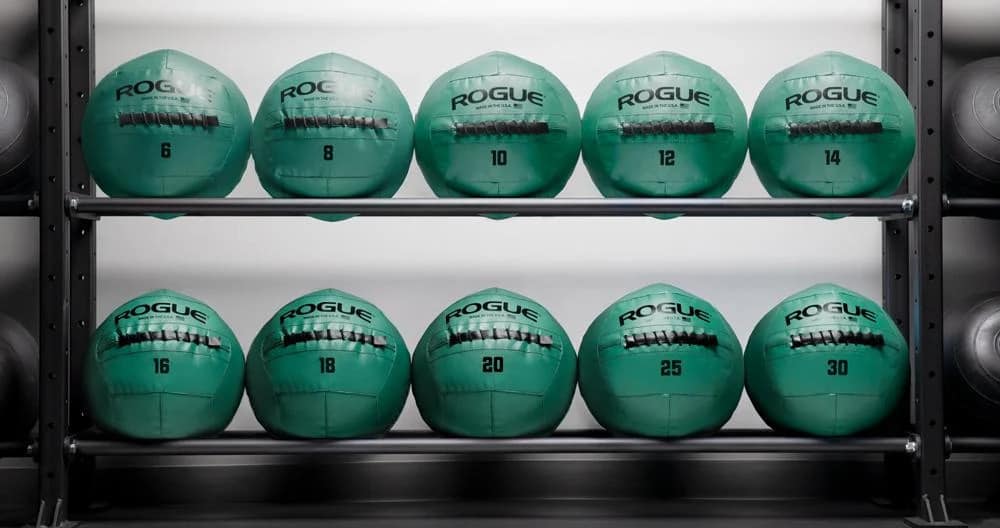 Photo Credits
Product photos on this page are property of Rogue Fitness.
This website is not affiliated or associated with CrossFit, Inc. CrossFit is a registered trademark of CrossFit, Inc.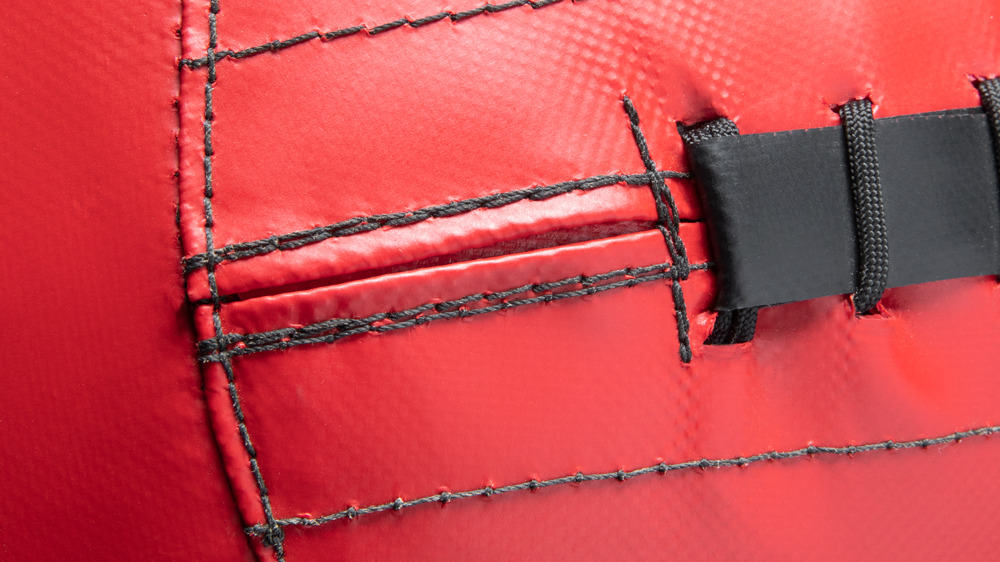 Affiliate Disclaimer
We are an affiliate of Rogue Fitness and others that sell this training gear. If you buy clothing or other training gear after clicking the links in this article, we receive a small commission at no extra cost to you. This helps us to bring you in-depth information and content on these great training products.