Let's Beat the Summer Blues with some cool looking home gym equipment from Rep.
Summer blues is a universal disorder. Changes and transitions are difficult, and the end of summer can be incredibly challenging for plenty of reasons. But you can beat the summer blues with a home gym by Rep Fitness.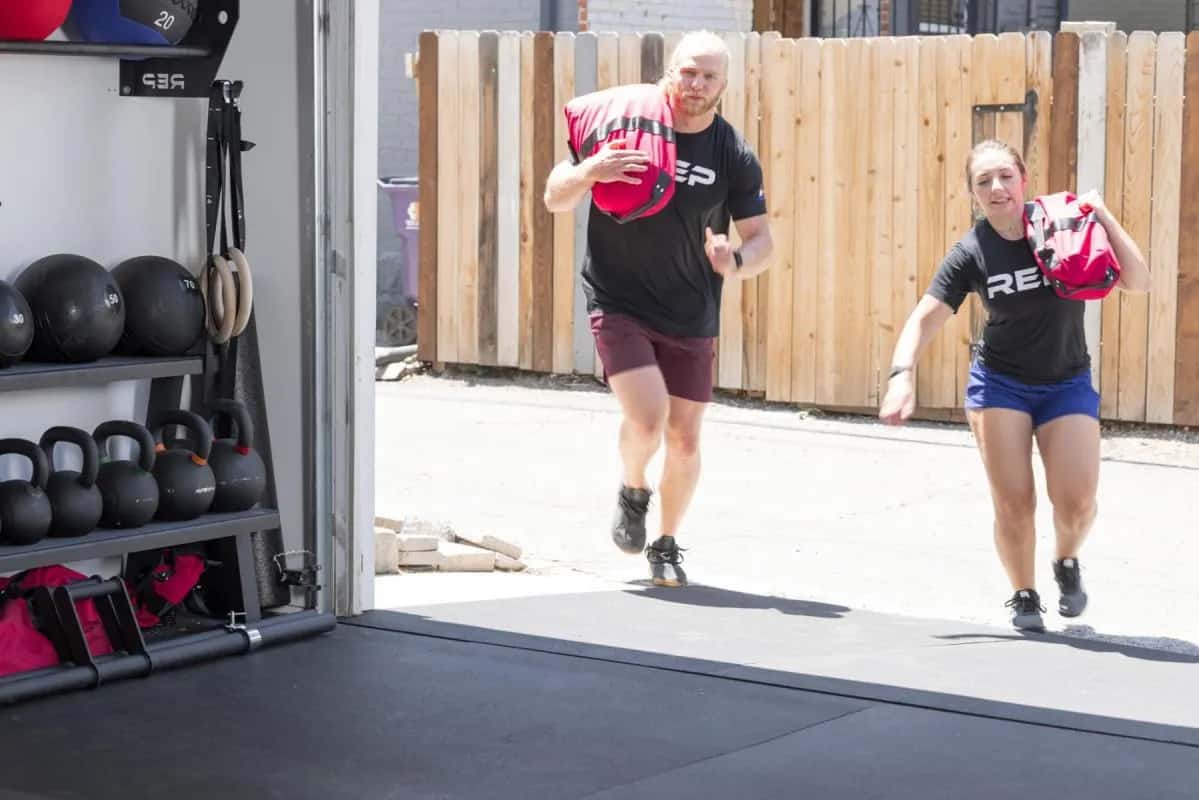 Here's some great looking gear, that will help you beat the end of summer blues:
Beat the Summer Blues – Overview
Seasonal Affective Disorder or SAD is described as any mood disorder that happens simultaneously every year. Feeling symptoms of SAD in the summertime (summer depression or reversed SAD) is a familiar feeling for most people. The increased levels of sunlight confuse our internal clocks. The reduction in neurotransmitter melatonin is directly connected to several mood disorders, including depression. The decrease in melatonin also means that we are less inclined to get sleep, or good quality of sleep, in the summer as we do in the winter.
It may not be cured completely, but we can do something to lighten up the summer blues. Having a routine can help you obtain a sense of purpose and control and keep anxiety at bay. Poor sleep and SAD are related, so it is best to build a sleep schedule and do your best to adhere to it. Keeping in touch with dear friends, preparing activities you love, and having a support system will help you feel more connected, enthusiastic and reduce FOMO (fear of missing out). Last but not the least, exercise. Exercise releases endorphins and helps you sleep soundly. Here are some of the tools and equipment that you can use as you workout.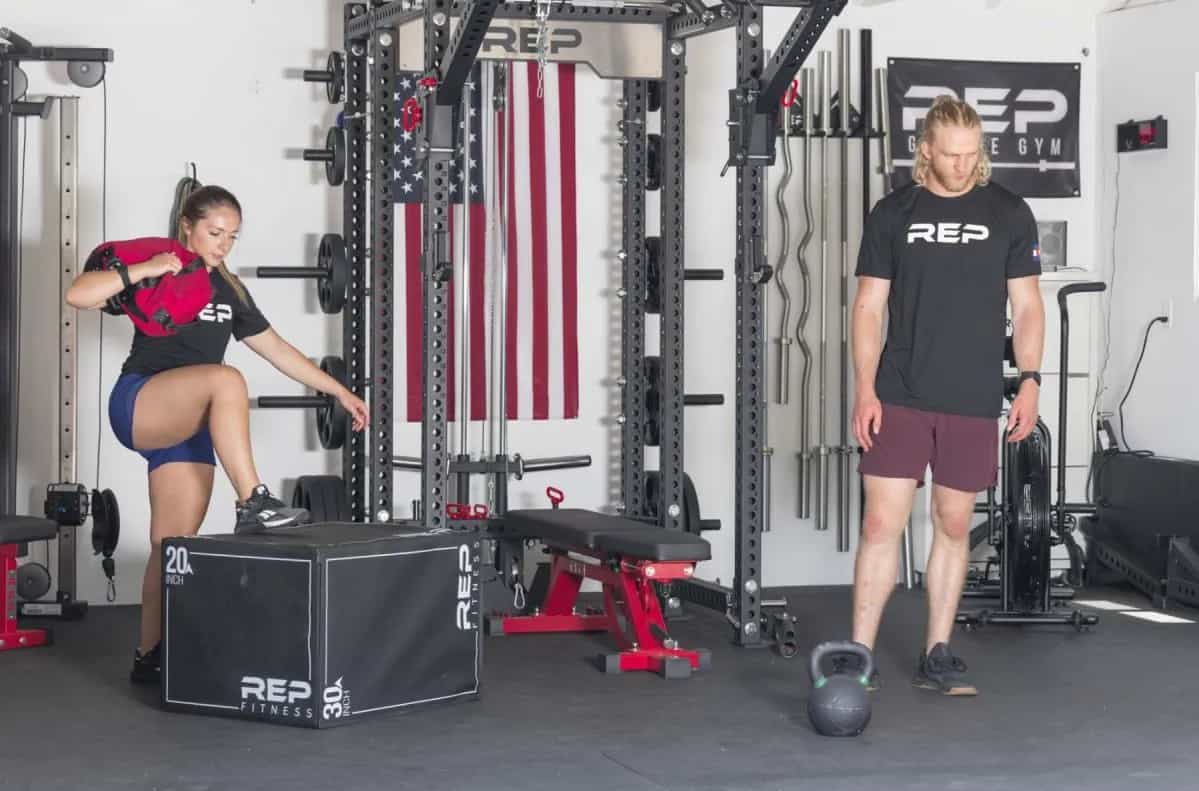 REP V2 Sleeve Battle Rope
Battle ropes are excellent conditioning tools that present a full-body workout and improves muscular strength and cardiovascular conditioning. It is very easy to set up – just wrap it around something and start rolling. The full sleeve protects the rope in high-use environments and is the strongest choice Rep Fitness offers. For general fitness, 1.5″ diameter is a good grip to work on. 30 ft is suitable for amateurs, while 50 ft is the standard length intended for Cross Training/HIIT style workouts.
It features 100% pure Poly Dacron material for the best feel and most "wave" action. This battle rope uses a Nylon sleeve to help prevent wear.
Specs:
1.5″ x 30 ft – 18 lbs
1.5″ x 50 ft – 28 lbs
2.0″ x 30 ft – 30 lbs
2.0″ x 50 ft – 46 lbs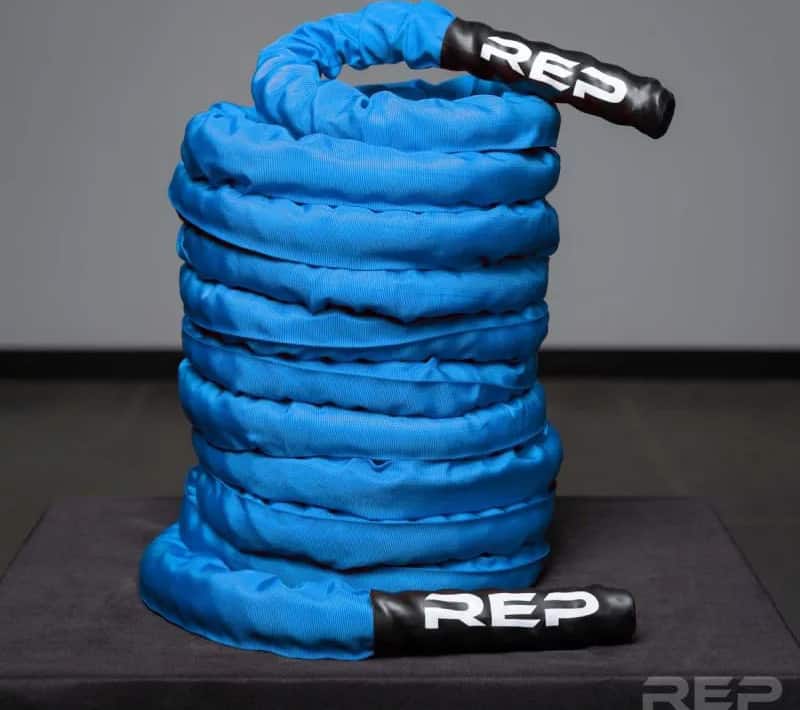 FB-5000 Comp Flat Bench
The FB-5000 Comp Flat Bench is the gold standard for heavy weightlifting with its laser-cut 3×3 steel and 1,000 pounds rating that meets the International Powerlifting Federation (IPF) requirements. This competition bench is overbuilt to handle severe weight for competitive weightlifting. This weight bench highlights a steady tripod foot design that gets out of the way of your lifts, while the combined steel handle and industrial roller wheels make this beast comfortable to move and store.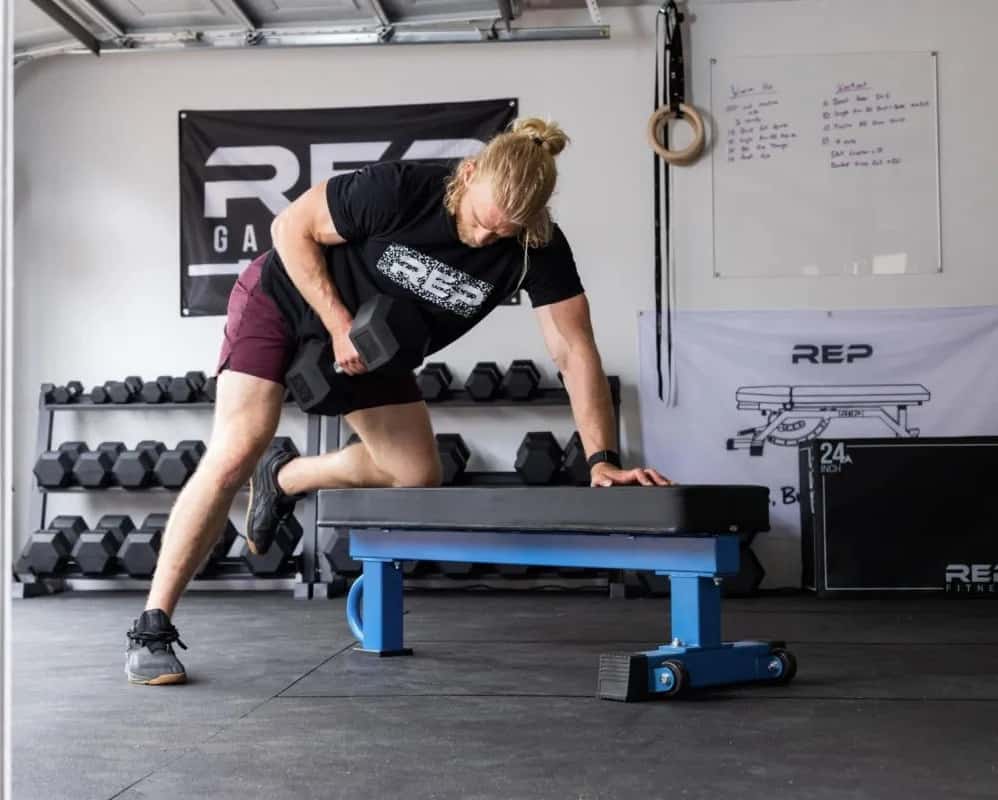 The three-foot layout is easy to level and reliable, with welded end caps at all three contact points. The high-density pad is 3" thick and keeps its form under load, while the textured grip keeps you secured in place. The standard pad is 12" wide, or add our optional wide pad to increase the width to 14". You can use this bench to develop upper body strength with dumbbell, barbell, and bodyweight movements. You can also use the workout bench for core exercises using Russian twists, leg raises, in and out sits, reverse crunches, and tucks.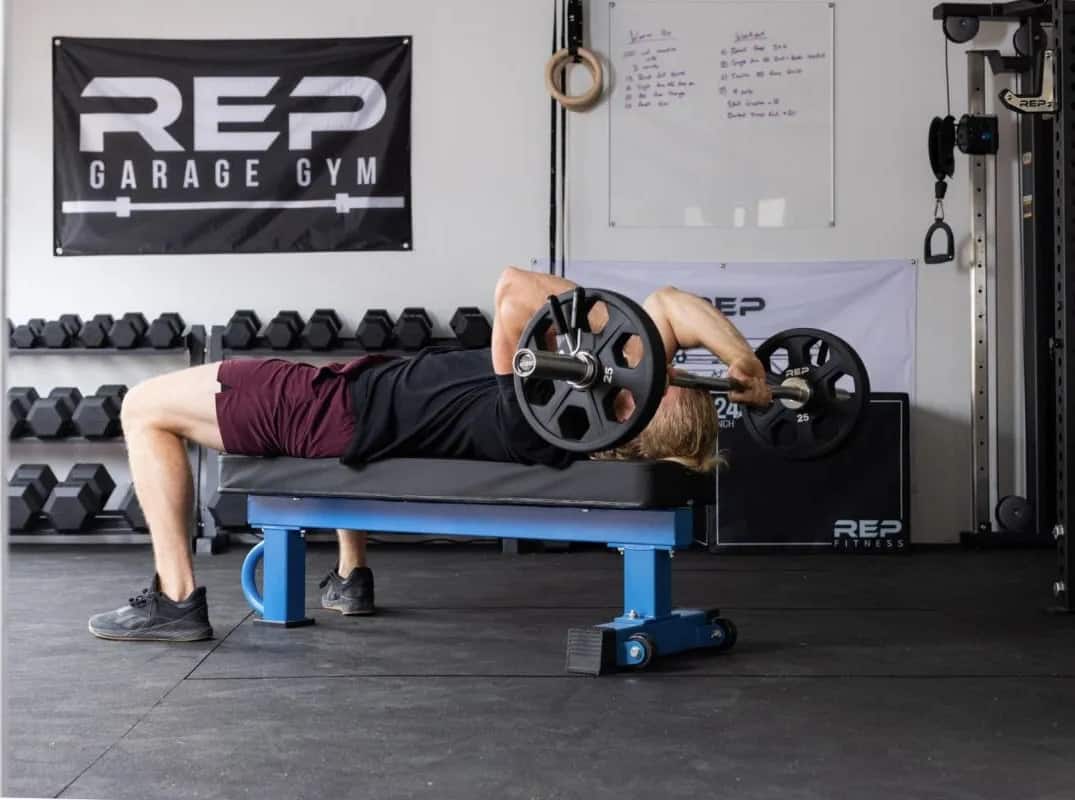 Kettlebells
Kettlebells are a great tool to build stronger, more powerful bodies by blending strength training with ballistic movements. Rep Fitness kettlebells range in size from 4kg (9 lbs) to 48 kg (106 lbs) to cater to your special physical needs and ability levels. These kettlebells are gravity-die casted and are more durable and precise than their sand-casted relatives.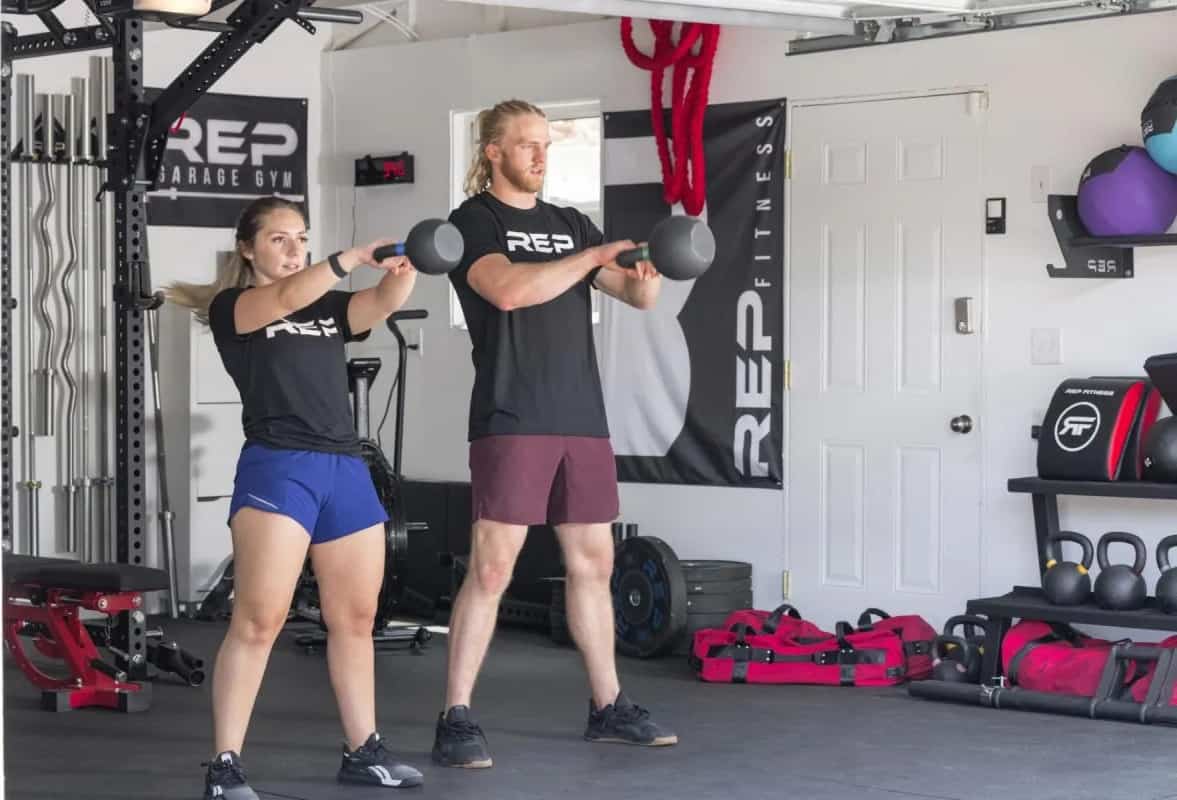 The gravity casting process guarantees each KB comes out with sleek handles for swings and a supremely flat base for pushups. They have a premium coating that will not slip or tear even with hundreds of reps. The kettlebell handles follow the international kettlebell standards and allow you to recognize them quickly. Each cast iron kettlebell is marked with both units of measurement.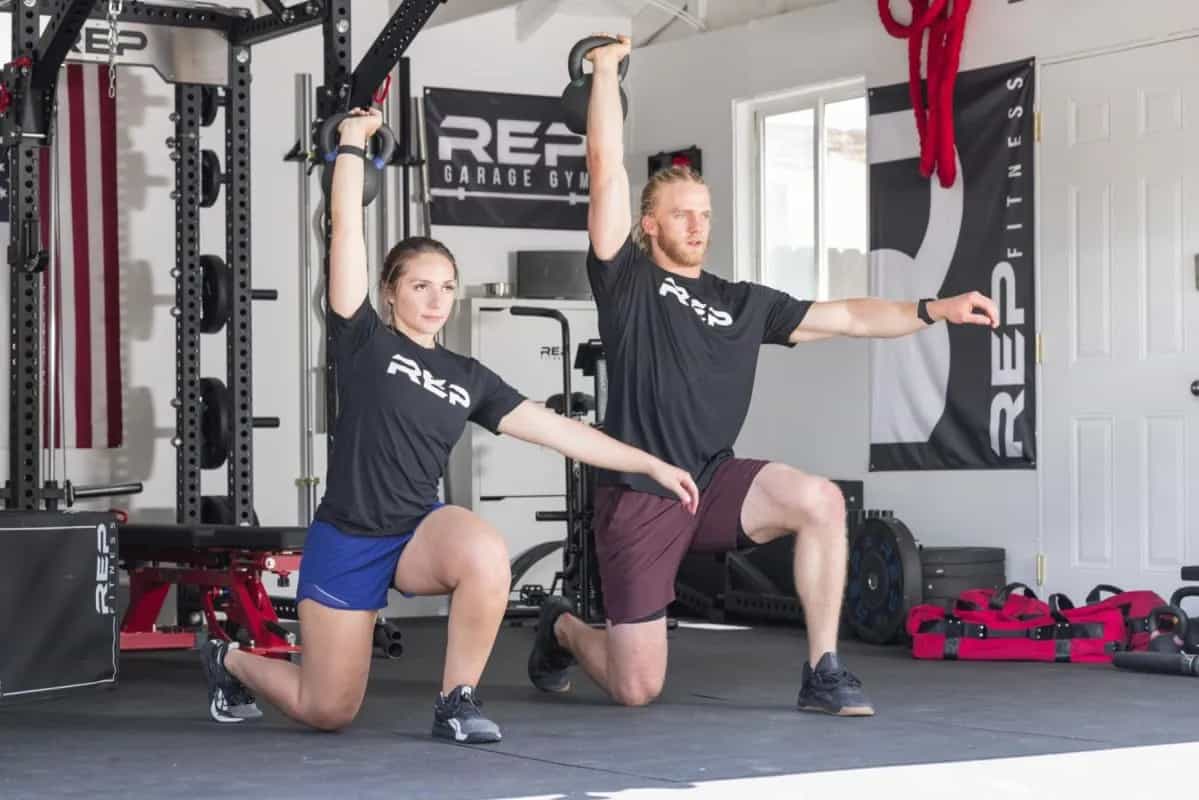 Color Bumper Plates
Color Bumper Plates are remarkably durable and ideal for cross-training/HIIT workouts and Olympic weightlifting. They are built to the same high standards as Rep's black plates, but the addition of broad color makes it easier to load the bar accurately and see how much weight is loaded in an extensive training environment. Bumper plates are also quieter than metal plates, making them great for home use or in a personal training studio.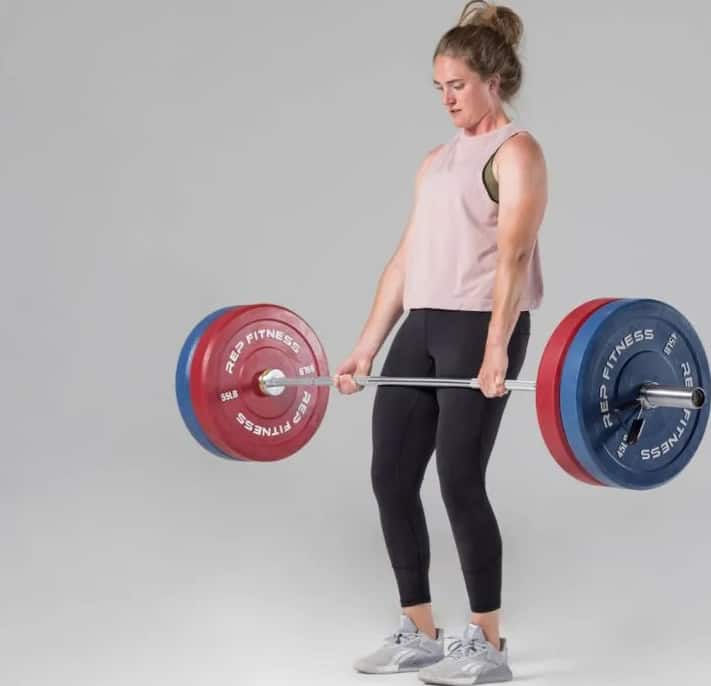 You can fit 515lbs of Rep's bumper plates on the bar with their thin profile. They also have a lower bounce with steel inserts molded into the bumper plates to boost durability versus older designs with brass inserts. You can increase the lifespan of your plates by making sure they drop as close to straight down as possible. If your bar collars get disconnected while working out, try to re-tighten them so that your plates always descend straight up and down.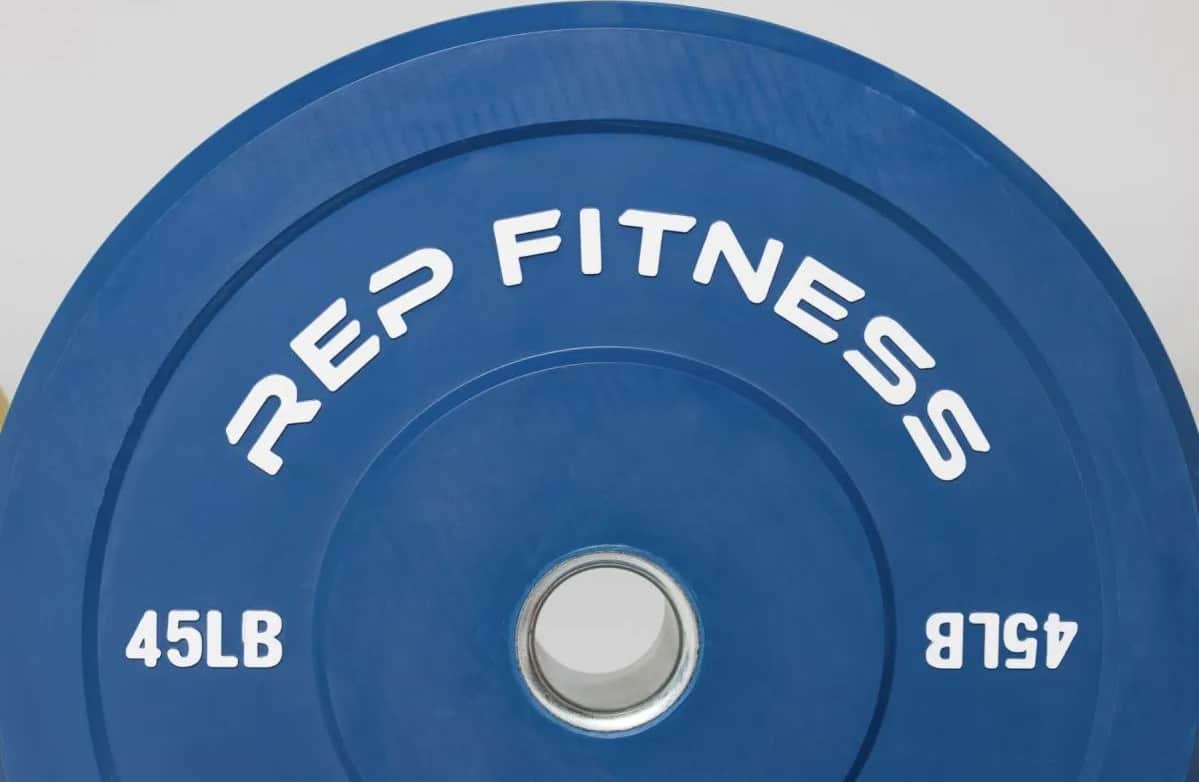 Rep Sand Bags
If you want to build strength and conditioning, using fitness sandbags can help you reach your goal. Rep Sandbags highlight rivet reinforced hand-stitched handles and waterproof fabric to stand up to the most challenging workouts. Training with a sandbag is tough, though, and most people manage to lift only about 50% of the weight they usually lift with a barbell. Sandbags are versatile. They test your technique and endurance because when the bag is filled with sand, it keeps on shifting. If you're looking to increase strength, use them for squats and deadlifts.
If you're more into conditioning, you can use a sandbag to replace kettlebells to burn calories and burn fat. Sandbags are not meant to be thrown, pulled, or filled instantly with sand without filler bags. They have a one-year warranty covering normal wear and tear. Rep Sandbags are made from 1000D Cordura for maximum durability and use a large YKK zipper. They have seven handles that are all soft to avoid any uncomfortable contact points on your shoulders. They also use cross-stitched and triple/quadruple stitched with heavy-duty thread – handstitched and reinforced with metal.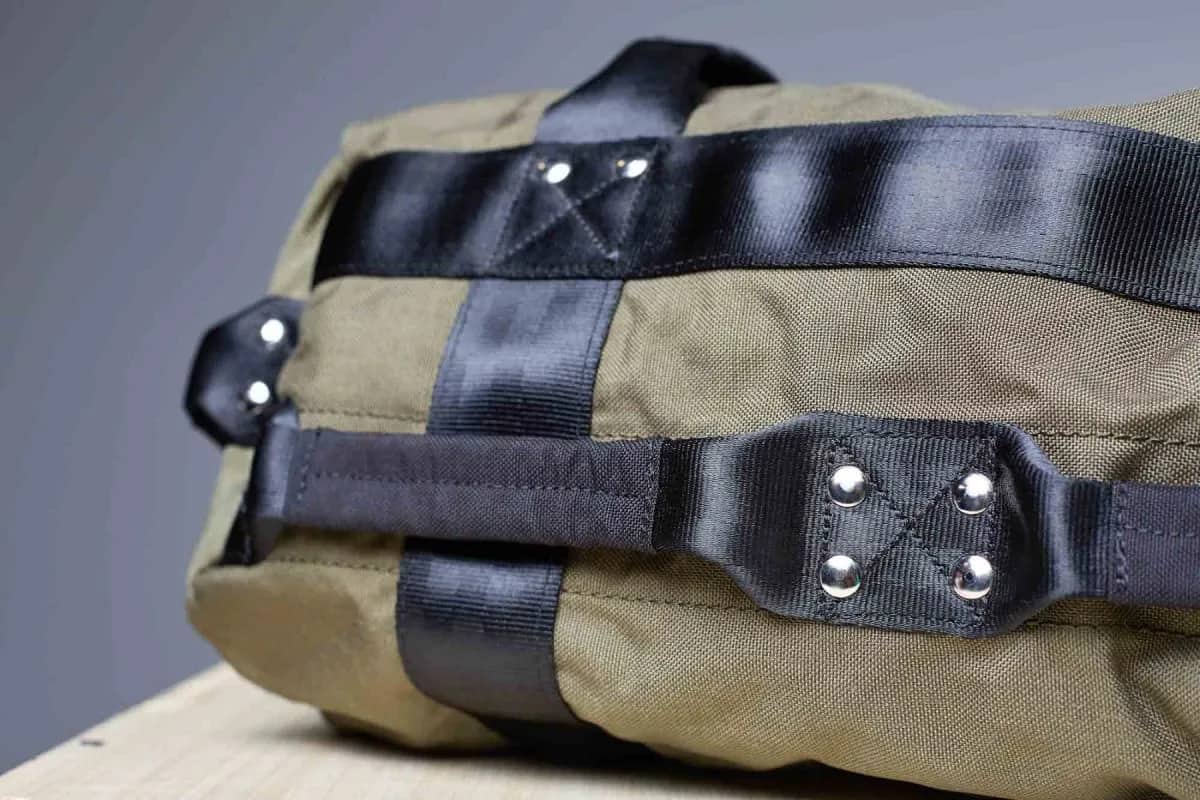 Rep Medicine Balls V2
Medicine balls are usually hand-made using stitching and various external shells, like leather or synthetic materials. They are intended for training dynamic movements, such as throwing but not slamming. They are ideal for improving explosive movements, training core strength, and developing coordination. Use medicine balls for wall-ball shots, med ball cleans, throws, partner workouts, and more.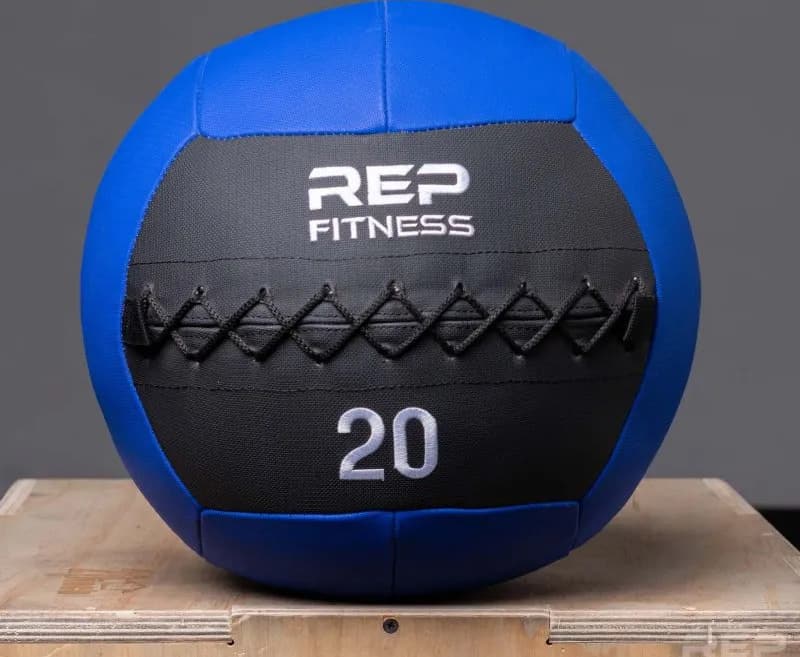 Rep medicine balls are 14″ in diameter for all weights and are hand-made and double-stitched with extra thick threading. They are color-coded by weight for easy identification and well balanced with zero wobbles. They also use soft and grippy synthetic leather with stitched logo and weight that won't wear off.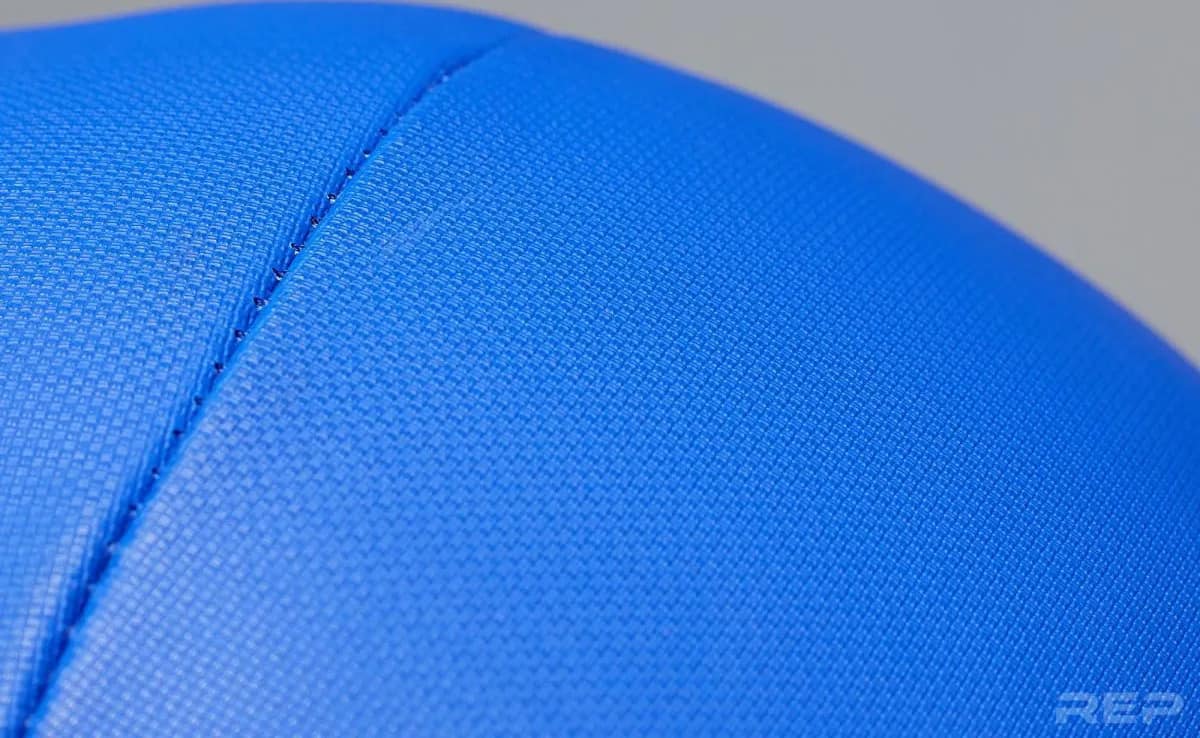 Beat the Summer Blues Review – In Summary
Are you ready toBeat the Summer Blues?
Hopefully we gave you some ideas.
Getting help and starting a medication can help you overcome summer blues. But there are also some fundamental ways to beat and lighten it up. Early morning exercise can get your energy up by releasing endorphins. Working out is also a good way to help you sleep better at night. Setting up a home gym or adding these pieces of equipment from Rep Fitness to your home gym is an excellent way to motivate you to exercise and reap its promising benefits.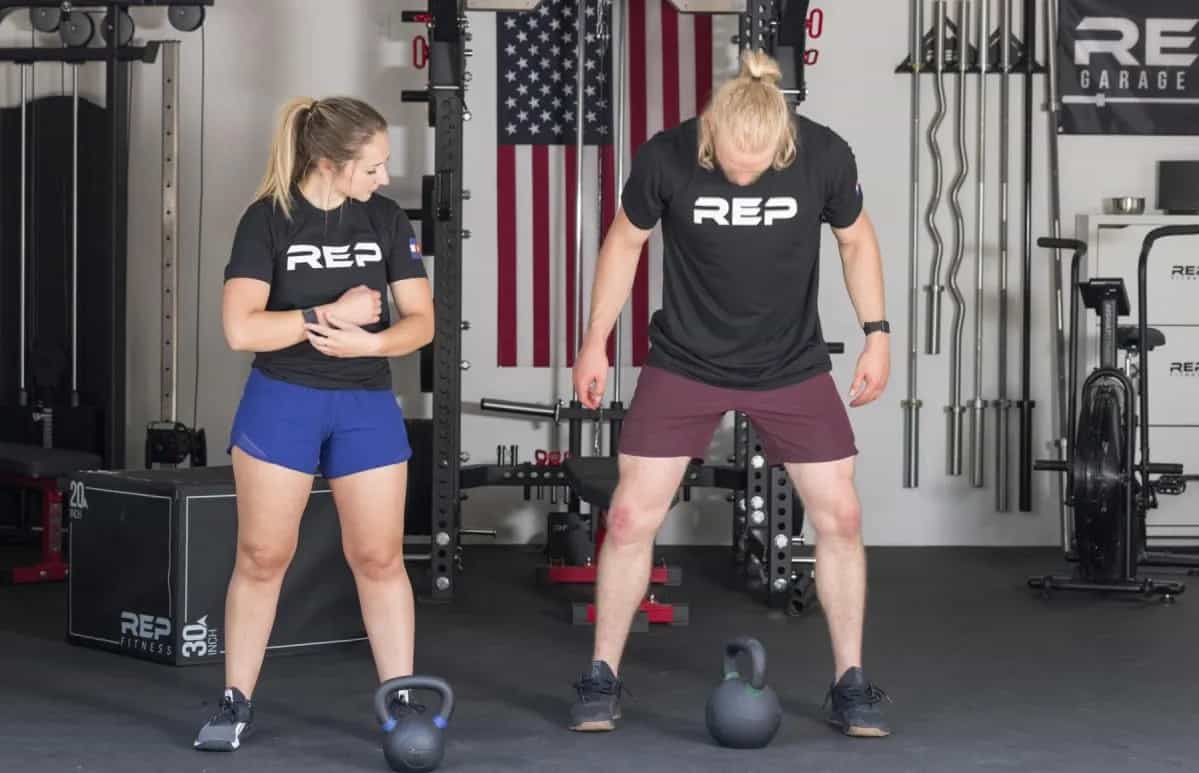 Photo Credits
Product photos on this page are property of Rep Fitness.
This website is not affiliated or associated with CrossFit, Inc. CrossFit is a registered trademark of CrossFit, Inc.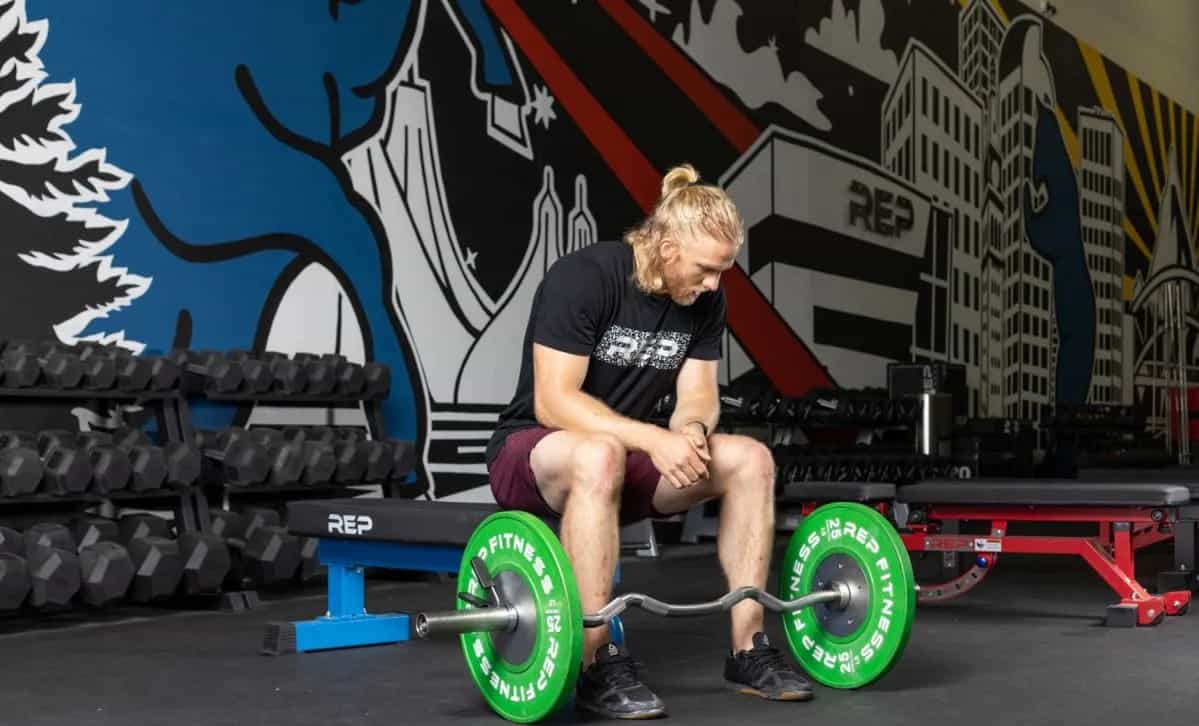 Affiliate Disclaimer
We are an affiliate of Rep Fitness and others that sell this training gear. If you buy clothing or other training gear after clicking the links in this article, we receive a small commission at no extra cost to you. This helps us to bring you in-depth information and content on these great training products.