Force USA: Use code
FAM5
to get 5% off any purchase over $1,500.
Build the ultimate home gym with the new X15 Pro Multi Trainer from Force USA.
A functional trainer is a machine that enables you to move your body through numerous planes, whether vertical, diagonal, or forward and backward. It is used for resistance training and can isolate separate muscle groups or achieve full body and functional movements with resistance. It has many components like various weights, pulleys, bars, and cables.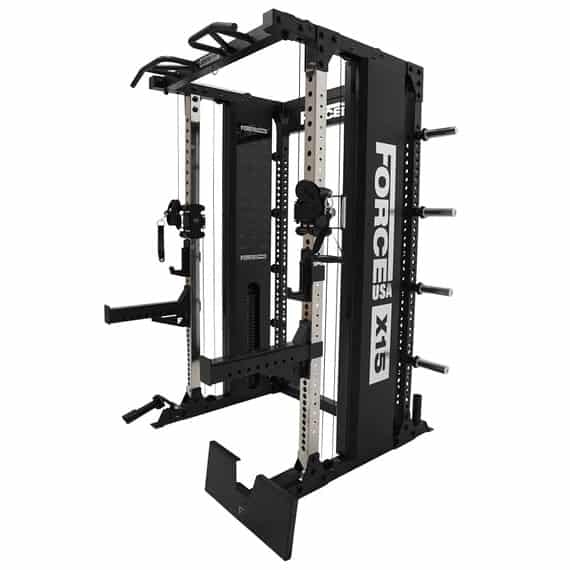 Get it now, only from Force USA::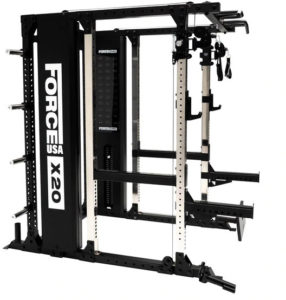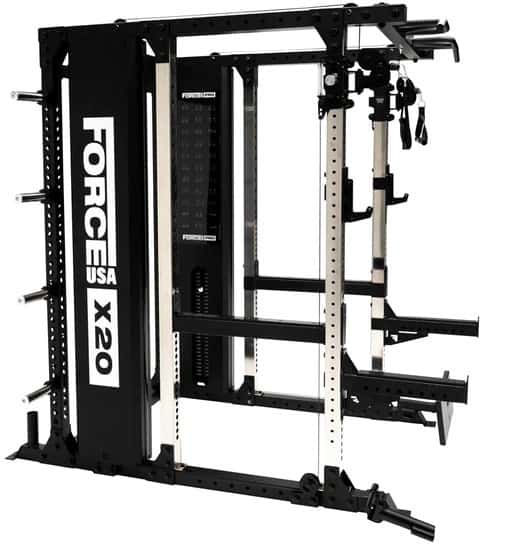 Pro Multi Trainer from Force USA – Overview
Whether you're into CrossFit or powerlifting, the Force USA Pro Multi Trainers are the ideal Multi Trainers for your home, commercial gym, athletic facility, or training studio. They are also perfect if your workout space is narrow, you want to skip the commute to the gym, or you want to buy right rather than twice.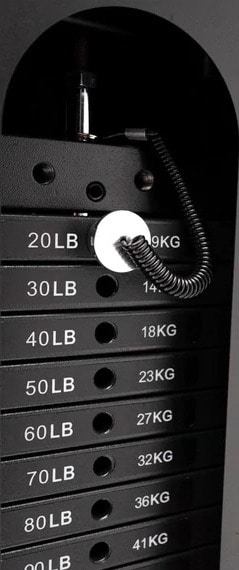 These machines include the first of Force USA's devices that include two chin-up bar options: a straight chin-up bar and a multi-grip chin-up bar. The multi-grip chin-up and pull-up station highlight knurled gripping that enables close grip, wide-grip, underhand, and overhand positions. Both X15 and X20 come with a lifetime structural warranty for performance that lasts.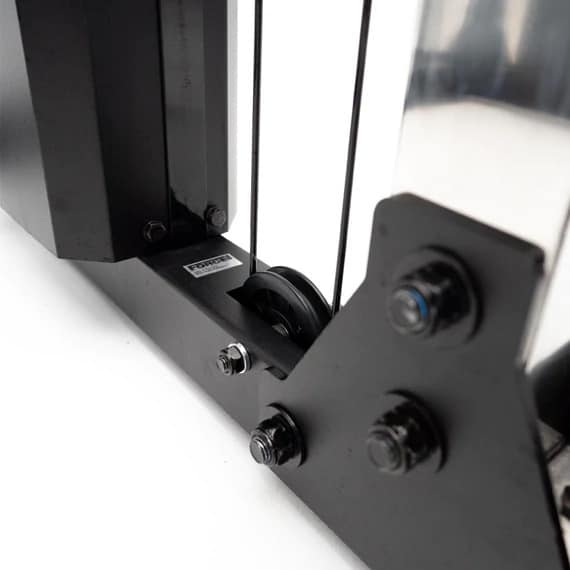 Force USA X15 Pro Multi Trainer
The X15 Pro Multi Trainer has a professional-grade construction with 3×3 steel uprights consisting of 11-gauge rolled SteelForce tubing. The pin and plate-loaded Force USA X15 Pro base unit has six strength training machines, 15 attachments, and more than 400 exercise opportunities integrated into one professional-grade home gym system. The six strength training machines in a single half-rack footprint saves you money rather than purchasing each station individually—in a section of the floor space.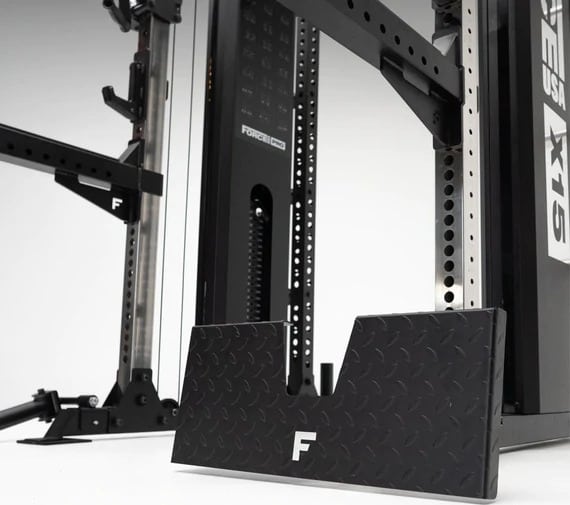 The optional X15 Upgrade Kit can take things to the next level if you need more storage and want more versatility. The X15 is perfect if you want a multi-trainer without a smith machine. It has three strength training stations, including Jammer Arms, Lat Pulldown Seat with Knee Holder, and Matador Dip Bar. It also includes a Multi-grip Landmine Handle, Multi-grip Lat Pulldown Handle, 4x Storage Shelves, and even a TV Mount.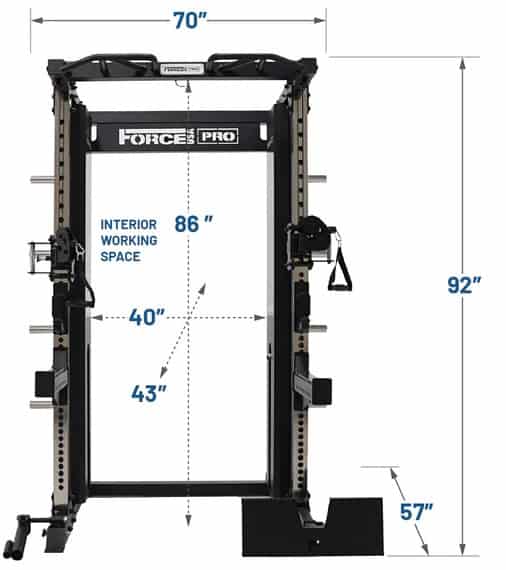 Force USA X20 Pro Multi Trainer
The X20 Pro Multi Trainer is a professional-grade unit with 7-11 gauge steel throughout and is made to last in professional and residential environments. The steel uprights feature Westside Spacing with 42 adjustment points using 1″ diameter holes (1 1/2″ spacing lower rack and 3″ upper spacing rack), for effortless adjustment of height levels between sets.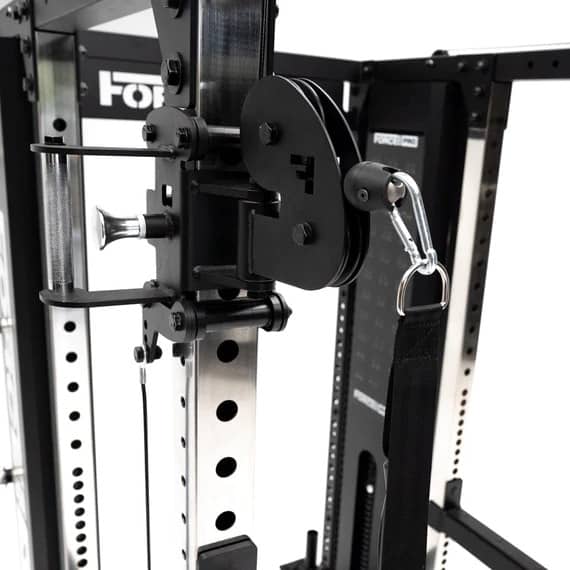 The revised X20 Pro offers a complete power rack, 2x safety spotter arms, and 4x band pegs for full access to a total commercial gym in one tiny footprint. The Force USA X20 Pro is ideal if you want a full power rack at the base. It combines up to nine strength trainer systems into one unit—Functional Trainer, Full Power Rack, Chin-Up, Suspension Trainer, Landmine, Low Row, Matador Dip Handles, Jammer Arms, and Lat Pulldown.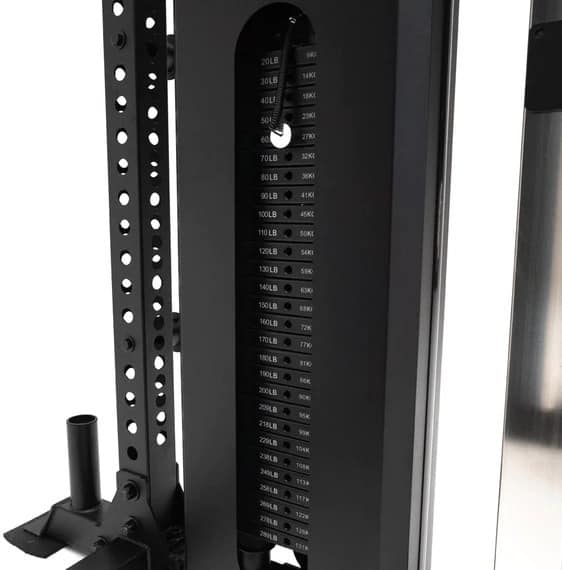 Pro Multi Trainer from Force USA – In Summary
That's our close-up look at Pro Multi Trainer from Force USA.
The all-new Multi Trainer Pro series comprises two professional-grade options: the Force USA X15 Pro and the Force USA X20 Pro. The Force USA X15 Pro features a half-rack at the base, while the upgraded X20 Pro offers a complete power rack, 2x safety spotter arms, and 4x band pegs.
Looking for more options? Check out these other great products:
Force also offers their line of G10 and G15 All-In-One Trainers.
Want a regular power rack instead? It's hard to beat the MyRack Power Rack from Force USA for value.
More products from Force USA.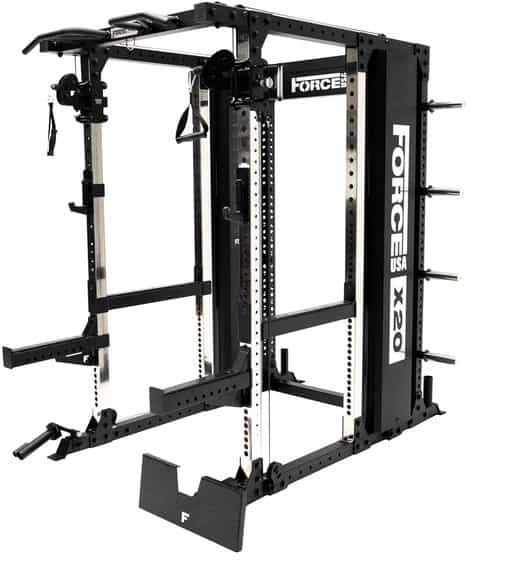 Photo Credits
Product photos on this page are property of Force USA.
This website is not affiliated or associated with CrossFit, Inc. CrossFit is a registered trademark of CrossFit, Inc.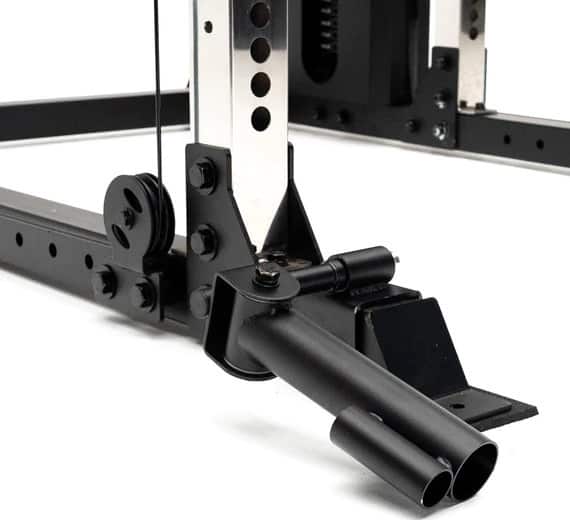 Affiliate Disclaimer
We are an affiliate of Force USA and others that sell this training gear. If you buy clothing or other training gear after clicking the links in this article, we receive a small commission at no extra cost to you. This helps us to bring you in-depth information and content on these great training products.