Rogue has released the 3rd version of the
Echo Bike
. Grab one while they last!
Want made in the USA iron plates? Rogue has them – check out the new Rogue USA Olympic Plates.
Olympic weight plates are commonly made of cast iron and are round or octagonal. Olympic plates have two-inch central holes to fit Olympic-sized barbells and are most often used by powerlifters, bodybuilders, or other athletes who lift extremely heavyweights. Rogue USA Olympic Plates have tight weight tolerance of +2% / -0% and are the finest series Rogue has ever produced.
Here's some of the styles we are going to look at:
Rogue USA Olympic Plates – Overview
Rogue partnered with Cadillac Casting and OSCO Industries, two of Midwest's most experienced and well-equipped foundries, to cast the USA Oly Plates. All plates highlight a slim profile, durable E-Coat finish, and a rare four-surface machining process that assures it fits securely on the bar, is uniform in diameter, and sits flush against other plates when loaded. All 55LB, 45LB, 35LB, 25LB, and 10LB plates are cast by the Cadillac team using ductile iron, which has superb tensile strength and yield strength, along with excellent corrosion resistance. The smaller change plates (5LB, 2.5LB, 1LB, 0.5LB, 0.25LB) are all cast at the OSCO foundry from Class 30 Grey Iron.
Rogue USA Olympic Plates are sold in pairs and available in the following weight increments:
55LB: 17.72″ (450mm) diameter, 1.05" (26.75mm) width
45LB: 17.72″ (450mm) diameter, 0.89" (22.75mm) width
35LB: 15.75″ (400mm) diameter, 0.88" (22.5mm) width
25LB: 12.80″ (325mm) diameter, 0.93" (23.75mm) width
10LB: 9.0" (229mm) diameter, 0.80" (20mm) width
5LB: 7.5" (190mm) diameter, 0.57" (14.5mm) width
2.5LB: 6.3″ (160mm) diameter, 0.45″ (11.5mm) width
1LB: 5.3″ (135mm) diameter, 0.30″ (7.5mm) width
0.5LB: 4.4″ (112mm) diameter, 0.26″ (6.5mm) width
0.25LB: 4.21″ (107mm) diameter, 0.18″ (4.5mm) width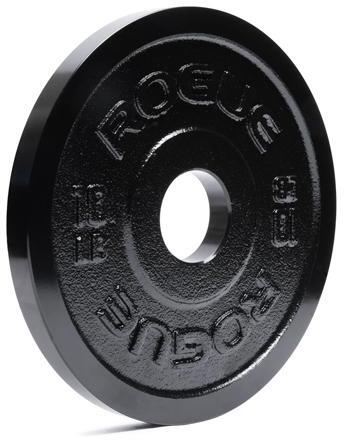 All Rogue USA Olympic Plates have an electrically applied E-coat finish that is slimmer than a traditional powder coat, providing a dazzling finish without losing the underlying texture of the casting. They highlight the same four-surface precision machining as the larger plates and the same firm weight tolerance of +2% / -0%. Generally seen with powerlifting plates, the narrow design enables more loading potential on the bar. The remarkably high casting quality results in crisp detailing and a distinct separation between the embossed Rogue branding, weight indications, and "Made in the USA" lettering. E-coat is also known for its excellent adhesion, even coverage, and overall toughness.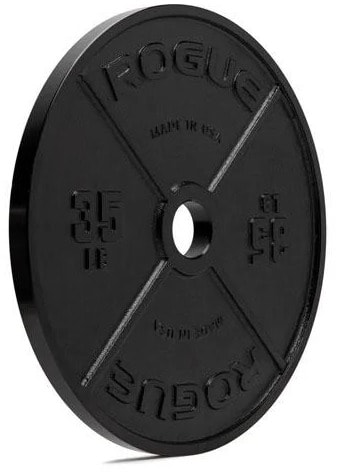 Cast In Michigan by Cadillac Casting
Cadillac Casting, Inc. is a distinguished, privately owned factory in Cadillac, Michigan, with a long and storied manufacturing history. Cadillac Casting, Inc. has designed and produced a wide variety of complex and safety-critical components for the automotive industry and other industrial clients since the 1920s. They have 400 highly skilled workers who seamlessly took on the job of producing Rogue's USA Olympic Plates (10LB and up) along with many of their new Deep Dish Plates and Kettlebells. Cadillac uses Ductile Iron, which contains strong graphite nodules that give it excellent tensile strength and corrosion resistance suited to automotive components, wheels, machine frames, gearboxes, and weightlifting plates.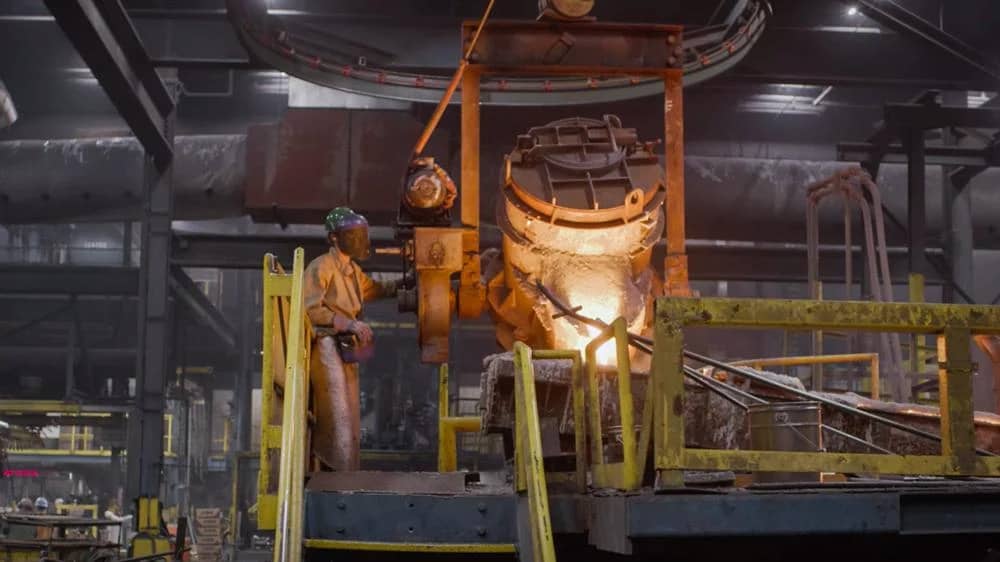 Rogue USA Olympic Plates – In Summary
That's a look at the made in the USA Rogue USA Olympic Plates.
Each Rogue USA Olympic Plates emphasizes precision machining on the back of the plate, the center hub, the outside rim, and the front-facing of that rim. This unique four-surface machining process guarantees that the plates fit securely on the bar, are even in diameter and sit flush against each other when loaded. The chamfered center hub makes it easy to get the plates onto the bar, with the machining assuring a comfy but not extremely secure fit.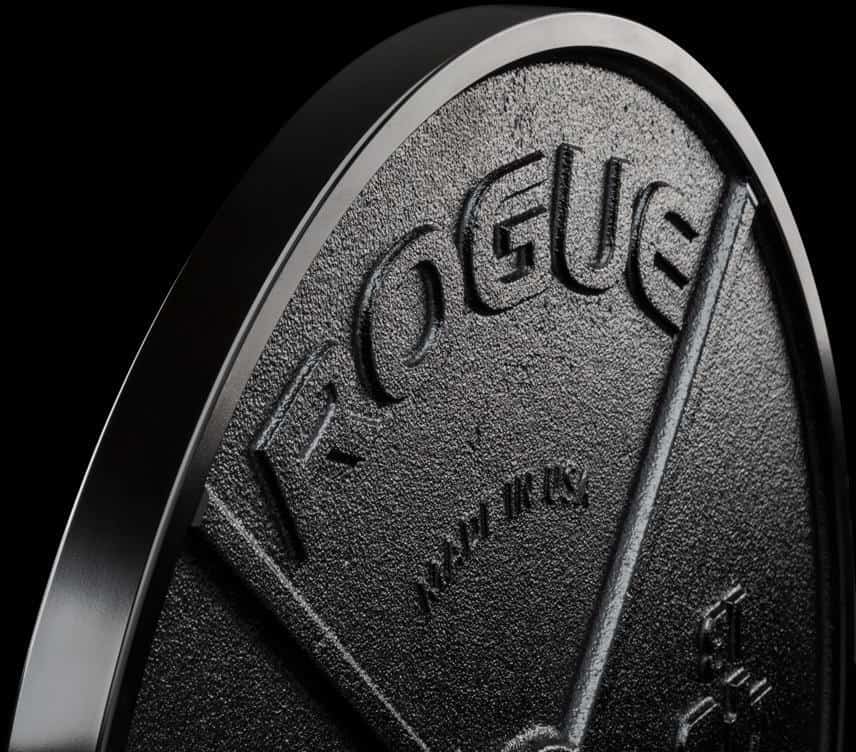 Photo Credits
Product photos on this page are property of Rogue.
This website is not affiliated or associated with CrossFit, Inc. CrossFit is a registered trademark of CrossFit, Inc.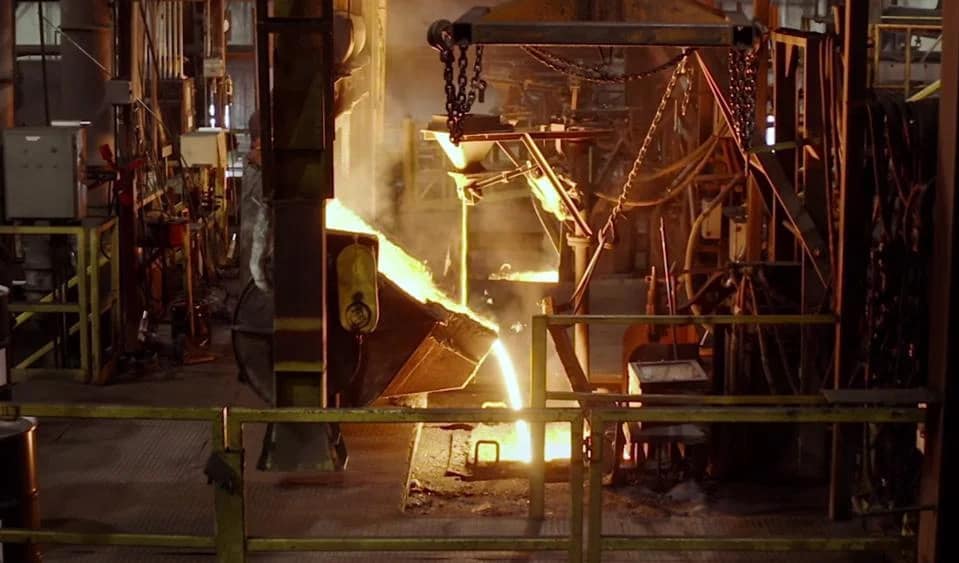 Affiliate Disclaimer
We are an affiliate of Rogue and others that sell this training gear. If you buy clothing or other training gear after clicking the links in this article, we receive a small commission at no extra cost to you. This helps us to bring you in-depth information and content on these great training products.