Rogue has released the 3rd version of the
Echo Bike
. Grab one while they last!\n
Rogue makes great weight benches – and here's their newest offering – the Rogue Adjustable Bench 3.0.
Adjustable benches provide a challenging workout not only for beginners but also for pro athletes. They provide versatility giving you the ability to adjust the backrest's angle from decline to flat to incline to vertical. This enables you to execute plenty of different exercises without leaving your spot. They also provide mobility with their built-in wheels, and you can just roll them to your desired station. Adjustable benches are also simpler to store than a traditional bench because aside from them having wheels, they are also smaller. Using an adjustable bench provides benefits to your body and health. Apart from strengthening your upper body, it also improves flexibility, supports cardiovascular health, builds up abdominal muscles, and provides a full-body workout.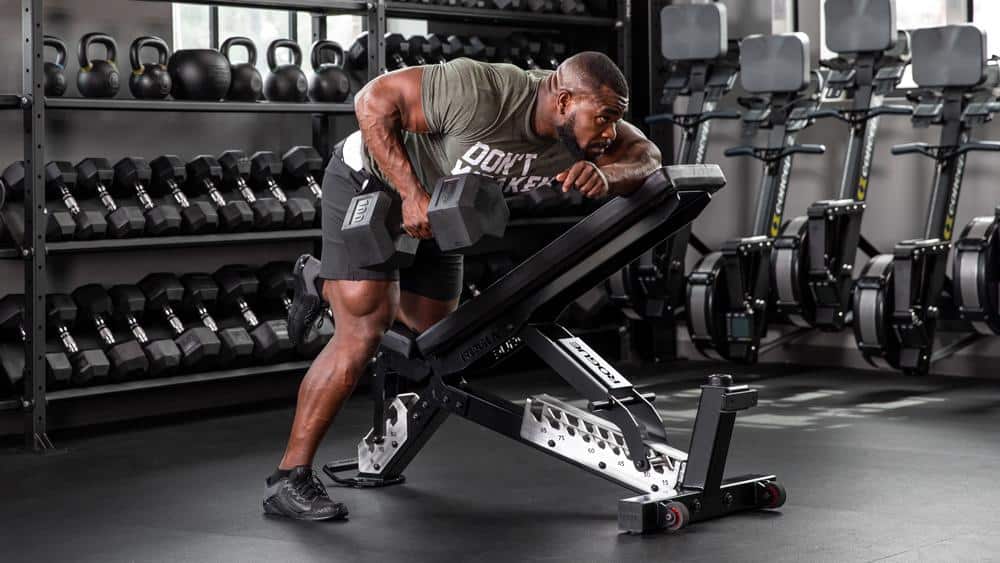 Here's some of the styles we are going to look at:
Rogue Adjustable Bench 3.0 – Overview
The Rogue Adjustable Bench 3.0 is an entirely sturdy, retractable unit with a built-in upright storage stand, with rubber padding at the base to assure balance and preserve your flooring. It highlights an improved 3×3" 11-gauge steel frame, a reinforced range of incline and seat positions, and an efficient bolt-together design. This unit is flexible to any athlete size and any type of bench training. It comes furnished with ten back pad positions (from 0 to 85 degrees) and three-seat settings (0, 15, and 30 degrees).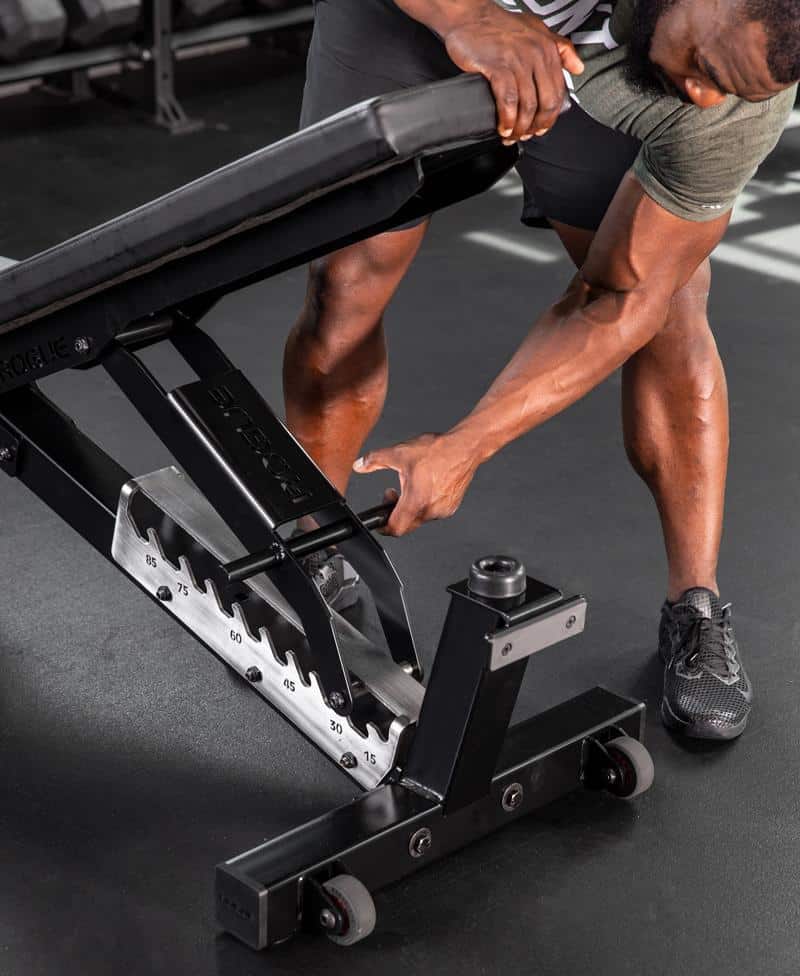 The seat allows you to program your functional presses and arm movements through a full range of inclines without dealing with the pain of a disjointed bench. This is because of the tiny 1" gap between the seat pad and the back pad. The new adjustment arm design is carried more efficiently within the unit to enable faster and easier transitions from athlete to athlete, workout to workout. The Rogue Adjustable Bench 3.0 comes in two versions of Standard and Stainless.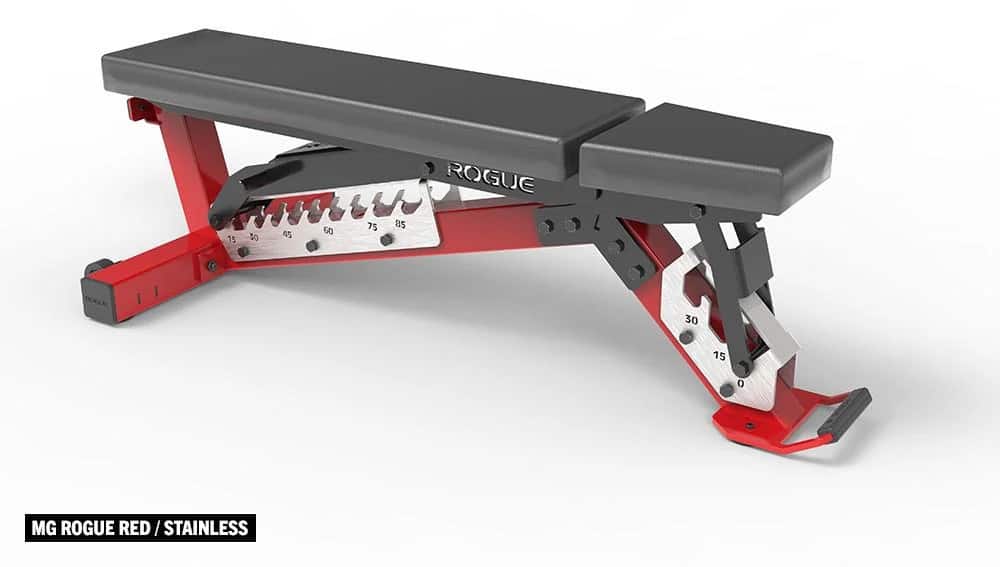 The Standard version includes texture black powder-coated steel adjustment rails, standard bench wheels for portability. You can also choose from three different medium gloss frame finishes – MG Black, MG Rogue Red, or MG Bright Blue. The Stainless version is the upgraded version that comprises brushed Stainless Steel rails and premium rubber wheels and available in MG Black, MG Rogue Red, or MG Bright Blue frame finishes. The unit has custom Rubber Feet on legs to avoid slipping, thus protecting your floor. It is made in the USA with a 24.75″ rear foot width x 56.5″ length at base.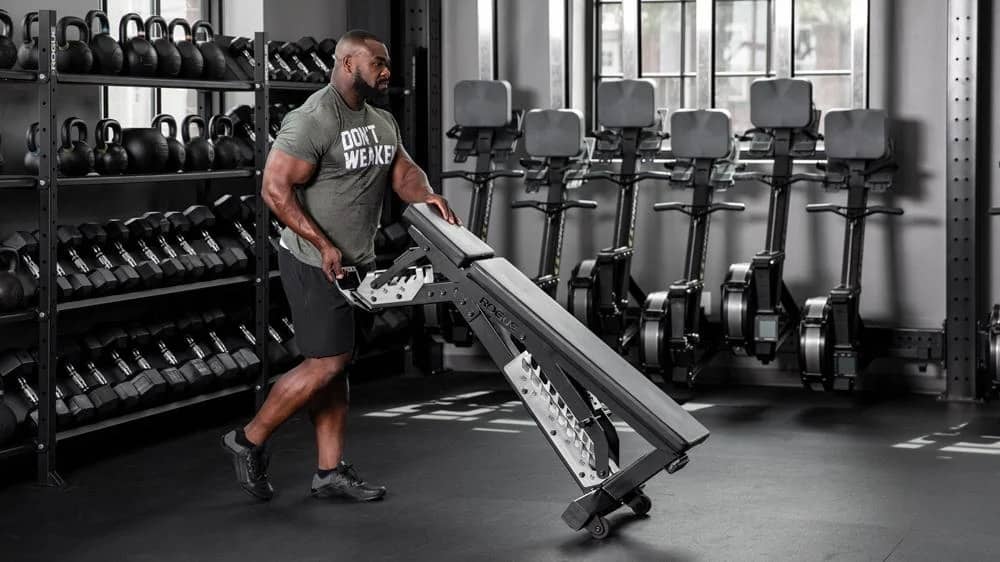 Rogue Adjustable Bench 3.0 Review – In Summary
That's our look at the new Rogue Adjustable Bench 3.0.
The Rogue Adjustable Bench 3.0 allows you to produce 30 different possible custom configurations, with ten incline positions (0 to 85 degrees) and three-seat positions (0, 15, and 30 degrees). This is a multi-exercise bench and is a piece of great equipment if you are especially expecting to increase your upper body strength. It is also a piece of excellent workout equipment if you love to workout in the convenience of your home.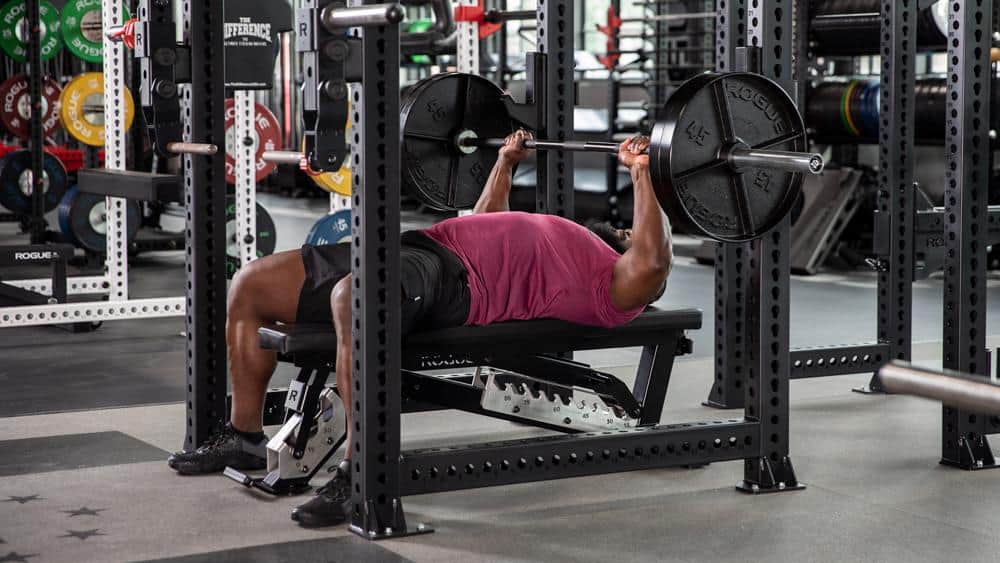 Photo Credits
Product photos on this page are property of Rogue Fitness.
This website is not affiliated or associated with CrossFit, Inc. CrossFit is a registered trademark of CrossFit, Inc.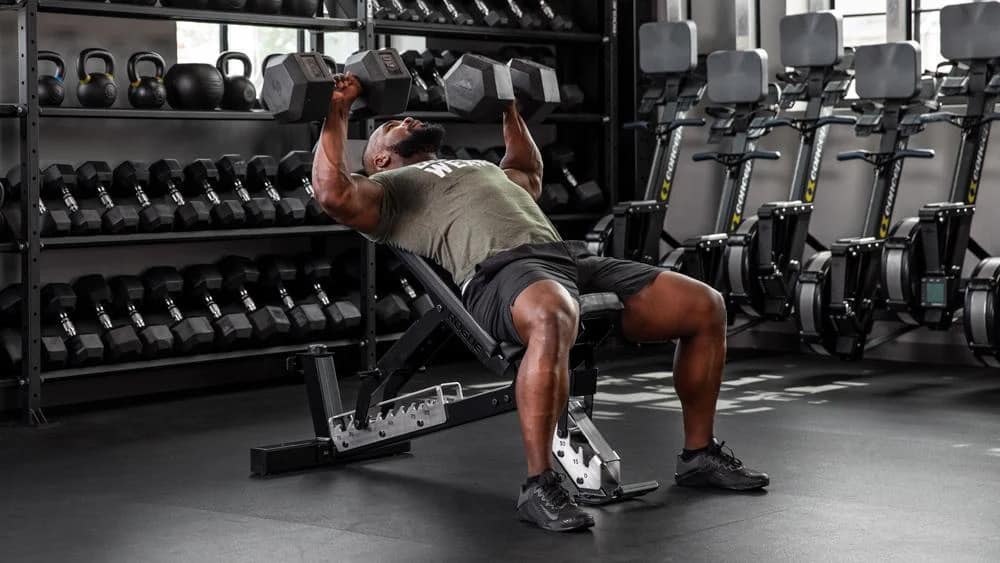 Affiliate Disclaimer
We are an affiliate of Rogue Fitness and others that sell this training gear. If you buy clothing or other training gear after clicking the links in this article, we receive a small commission at no extra cost to you. This helps us to bring you in-depth information and content on these great training products.