The CrossFit Games is on and so is REP's Games Sale.
The sale of the year is finally here! Rep Fitness offers this seven-day sale for some of their high-quality gym equipment to pump up your fitness.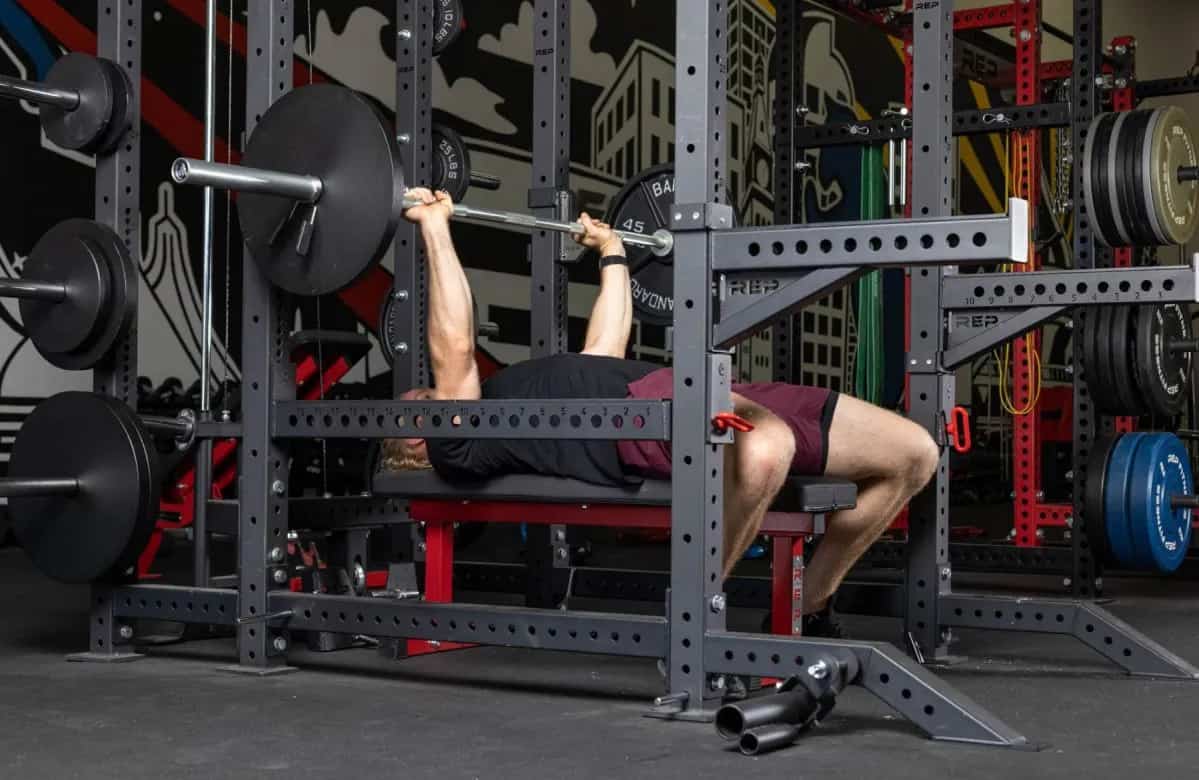 Here are some of the equipment that is on sale until August 2nd:
REP Games Sale – Overview
Rep Fitness is giving you the opportunity to set up your home gym effortlessly and economically. Rep Fitness provides high-value fitness equipment supported with the pledge of trust, expertise, and innovation. From barbells to flat benches, Rep Fitness offers you these pieces of equipment at a lower price.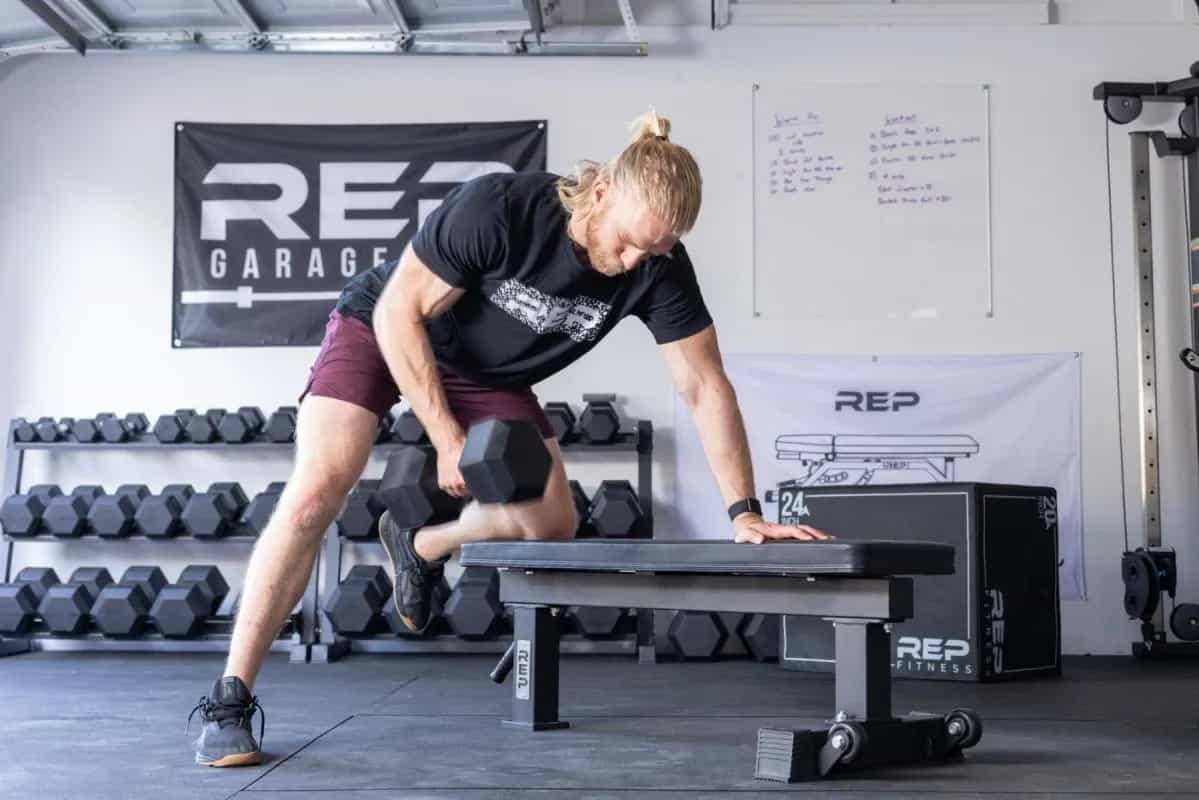 They strive to be the leader in fitness innovation worldwide, and their team works hard daily to make that dream a reality. Their durable pieces of equipment are also backed up with a warranty.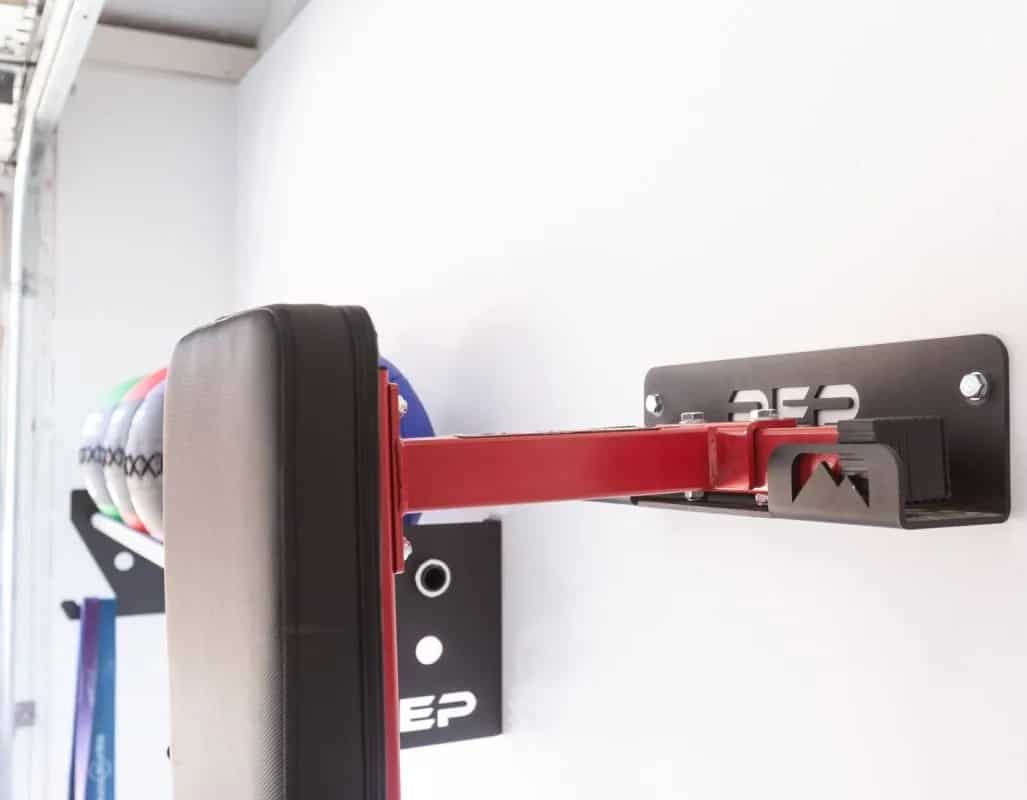 Games Home Gym Package
The Games Home Gym package gives you the ability to customize and choose the equipment you want to include in your home gym. With this package, you can quickly and affordably set up the gym that you've been thinking of during this pandemic.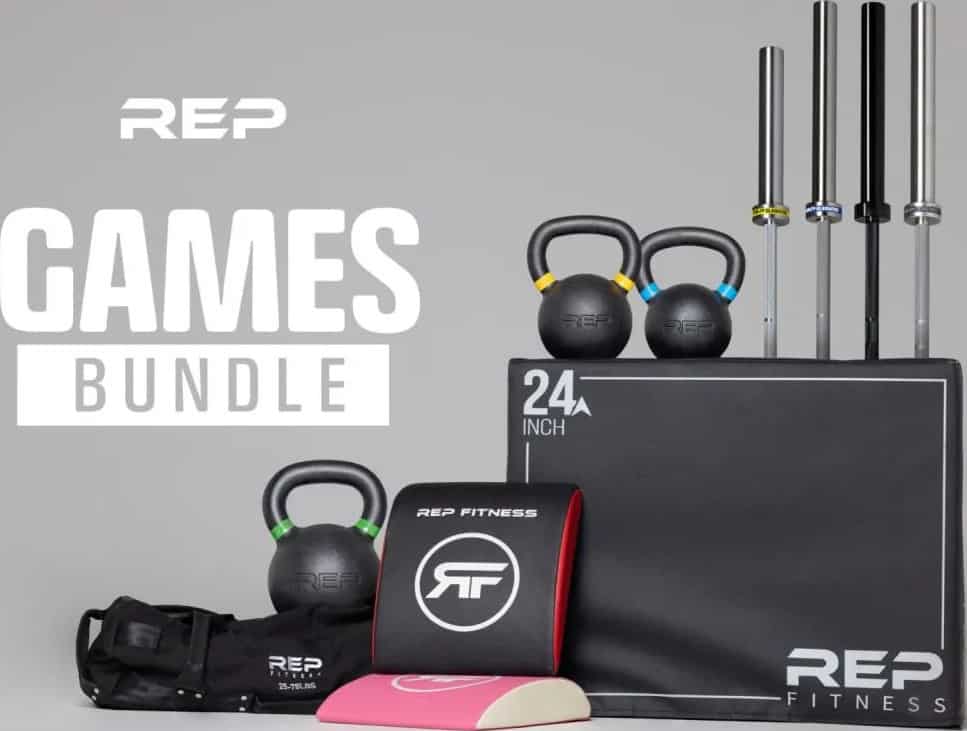 You can choose your combination of a barbell, ab mat, kettlebell, plyometric box, sandbag, and color-coded bumper plates to build a functional gym. Please click the link above for the options.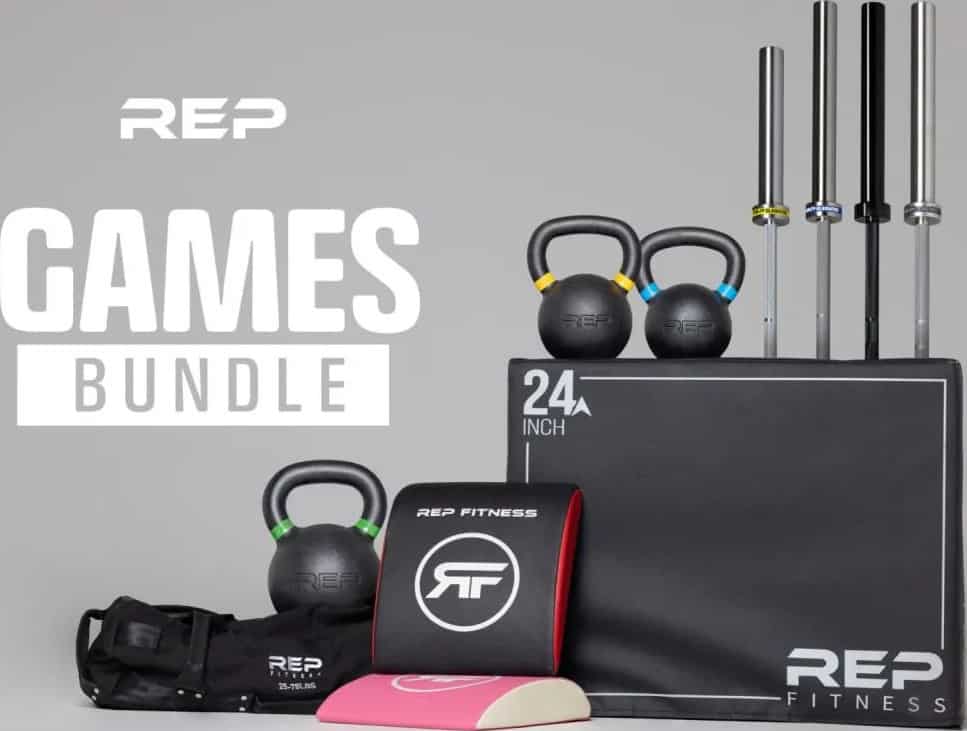 REP Omni Flat Foot Power Rack | 30″ | 4-Post
The REP Omni Rack presents stability and purpose without compromise. You don't have to bolt down this highly configurable design as it can switch up from four-post to six-post to half-rack with comfort. This feature guarantees stability, and the particular base setup means you can switch up your rack layout with minimal parts and energy if you want something unusual in the future. It is compatible with most 5000 Series attachments, including the Lat/Low Row.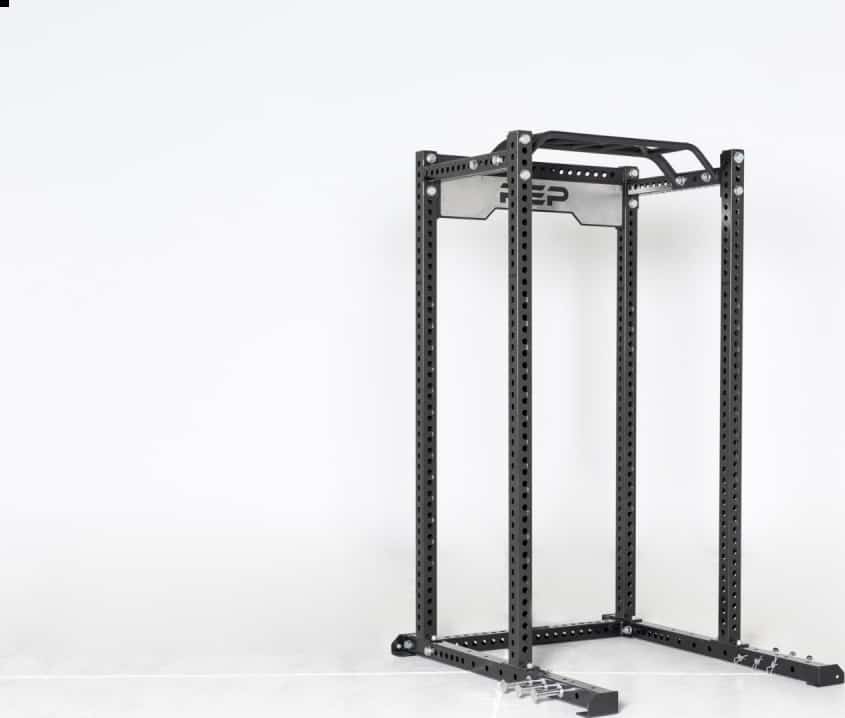 You can do up to 15 possible configurations when you match the power rack with the Omni Plus. This power rack uses 3×3 11-Gauge Steel with 1" diameter laser-cut holes on upright with J-cup, upright/cross member color options, and attachments that are fully customizable. The long, flat-footed base helps promote stability, while the large stainless steel logo plate adds rigidity and lateral stability. It has a weight rating of 1500 lbs and includes a multi-grip pull-up bar, six-band pegs, and hardware to attach up to six uprights to the base.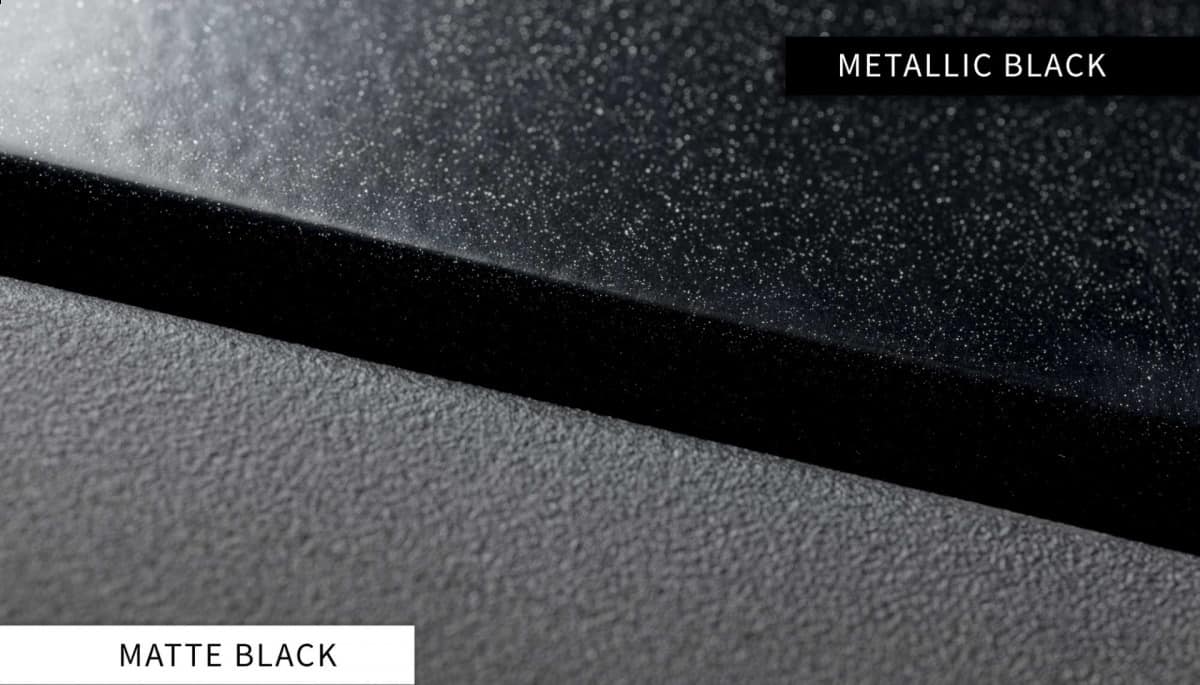 REP Excalibur 20 kg – Stainless Steel
REP Excalibur 20 kg – Stainless Steel is Rep Fitness' elite cross-training Olympic bar with a stainless steel finish. It is made with a remarkably high-quality steel alloy created for decades of use. It has a stainless steel coating and is very rust-resistant. It has a bushing design that provides stability during the power movements with sufficient spin for Olympic lifts.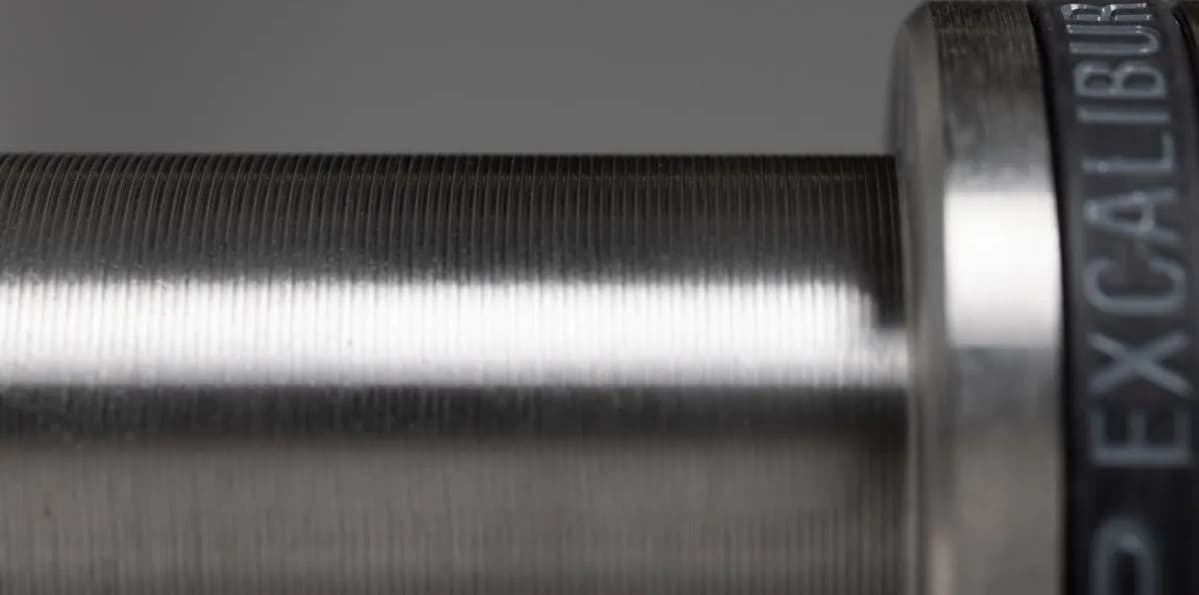 Excalibur has a medium/deep depth knurling for your heavy lifts, but not the kind of knurl that cuts your hands so you can still do higher rep workouts. It has a 215k tensile and 205k yield with very light ribbing on sleeves to keep plates in place. It comes with a five-year warranty.

FB-3000 Flat Bench
The FB-3000 flat bench is manufactured from 11-gauge heavy-duty Steel and highlights Rep Fitness' super-grippy high-density foam pad for steady weight lifting. Rated to 700 pounds and with bench height set to International Powerlifting Federation standards, Fb-3000 enables precise foot placement while arching to bench press heavyweight with precise structure. This bench can take you to your heaviest lifts and most challenging workouts. The high-density bench pad has the perfect balance of firmness and support to keep its shape under load, while the textured grip keeps you secured into position.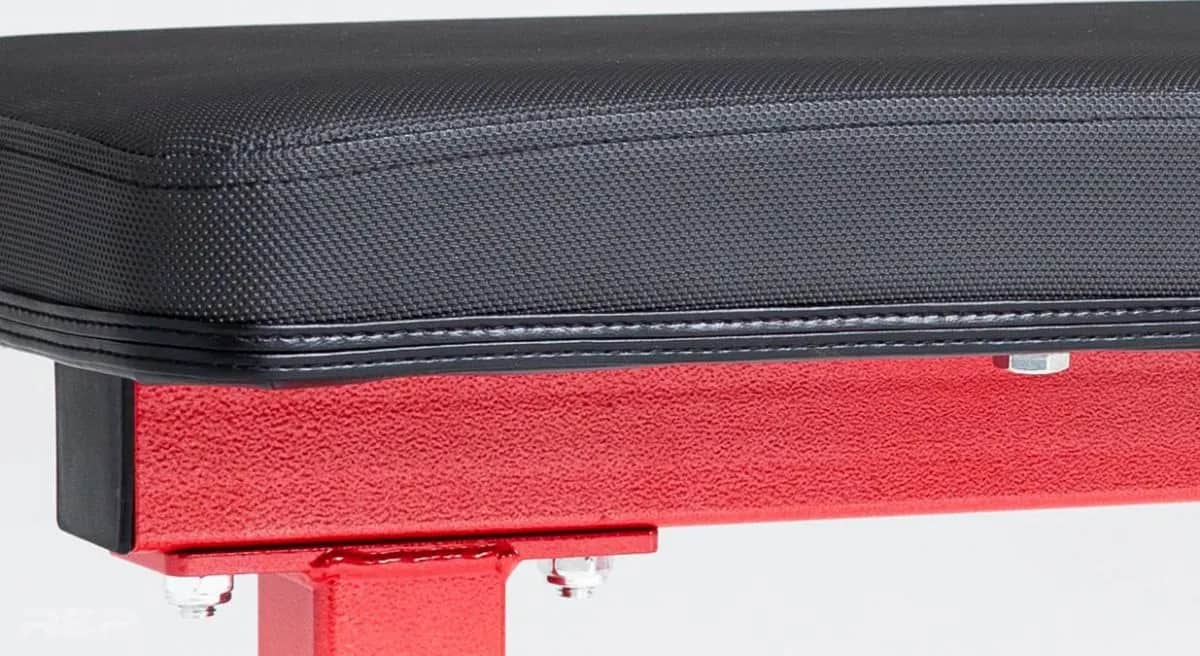 You can add an optional wide pad to your exercise bench for more surface area, which is ideal for bigger lifters or as a functional utility bench for your home workouts. A flat bench has many uses: for bodyweight movements like dips, elevated pushups, and deficit pushups, for functional bodybuilding movements like concentration curls, tricep extensions, reverse flies, and rows, or you can connect your flat bench with an Olympic barbell, bumper plates, and power rack to create a cost-effective home gym setup with minimum equipment. This vertically mounted bench hanger installs easily and securely into studs or concrete with its 16-inch spaced mounting holes.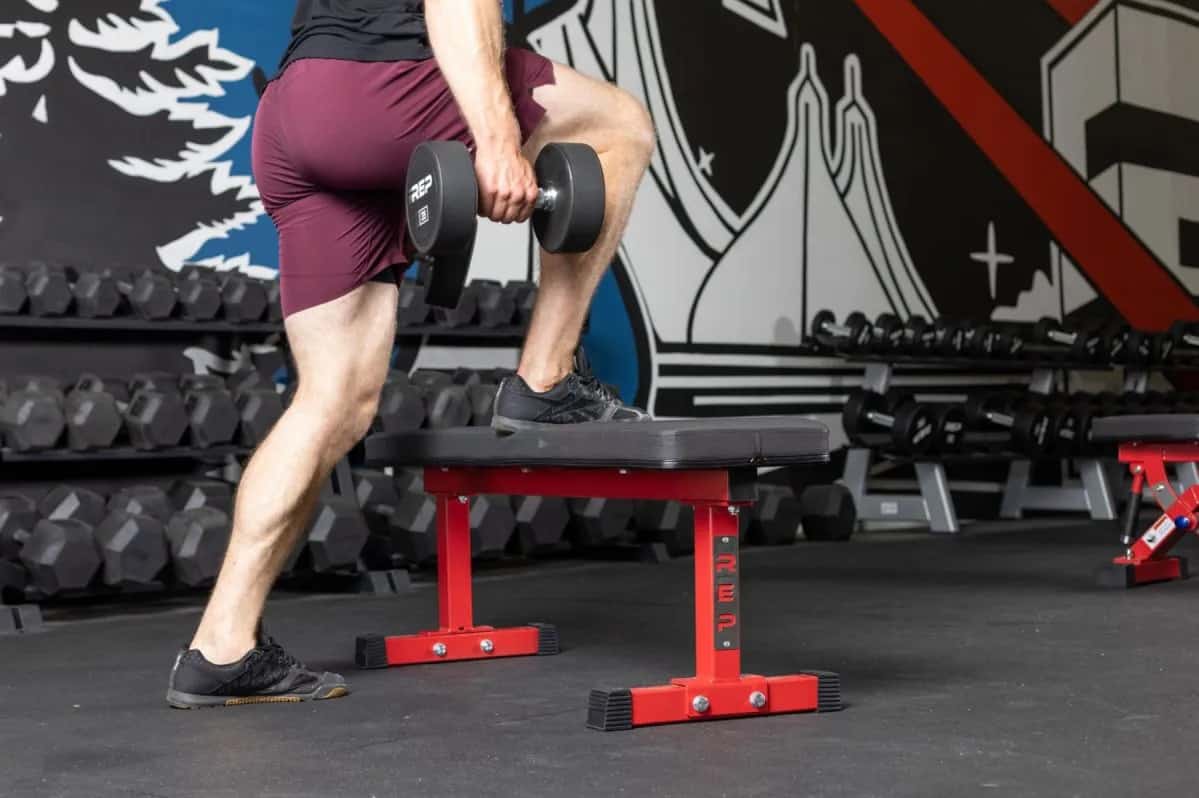 FB-4000 Comp Lite Bench
Do not be deceived by the "lightness" of FB-4000 Comp Lite Bench. It is a heavy-duty maneuver bench that presents an intimidating array of characteristics that make it an excellent flat bench for many lifters. The FB-4000 competition weight bench is manufactured from laser-cut 14 gauge steel with a tripod foot design that doesn't get in the way of your lifting. The tripod design is very durable and is the most suitable design for precise foot placement during your bench press. The bench has a comfortable but sturdy pad, grippy vinyl, stout 3×3″ 14-gauge Steel, and easy to maneuver handle and wheels.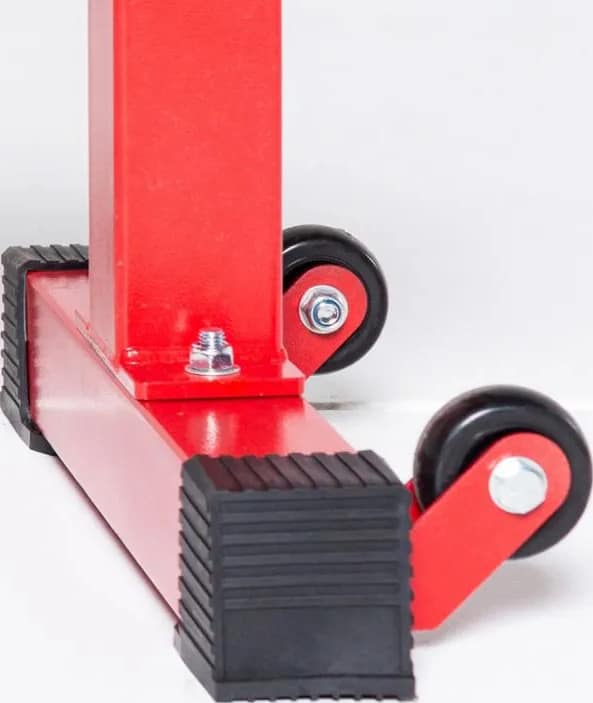 Like all Rep Fitness benches, the FB-4000 also has the perfect balance of durability and stability. The three-foot foot design has added stability and is simple to level with welded end caps. It also gives your feet plenty of room while benching heavyweight by intermediate lifters. The standard back pad is 12" wide, but with the FB-4000, you can add an optional wide pad to extend the width to 14″. Aside from the many exercises that you can do with this bench, you can also use the workout bench for core exercises like leg raises, Russian twists, in and out sits, reverse crunches, and tucks.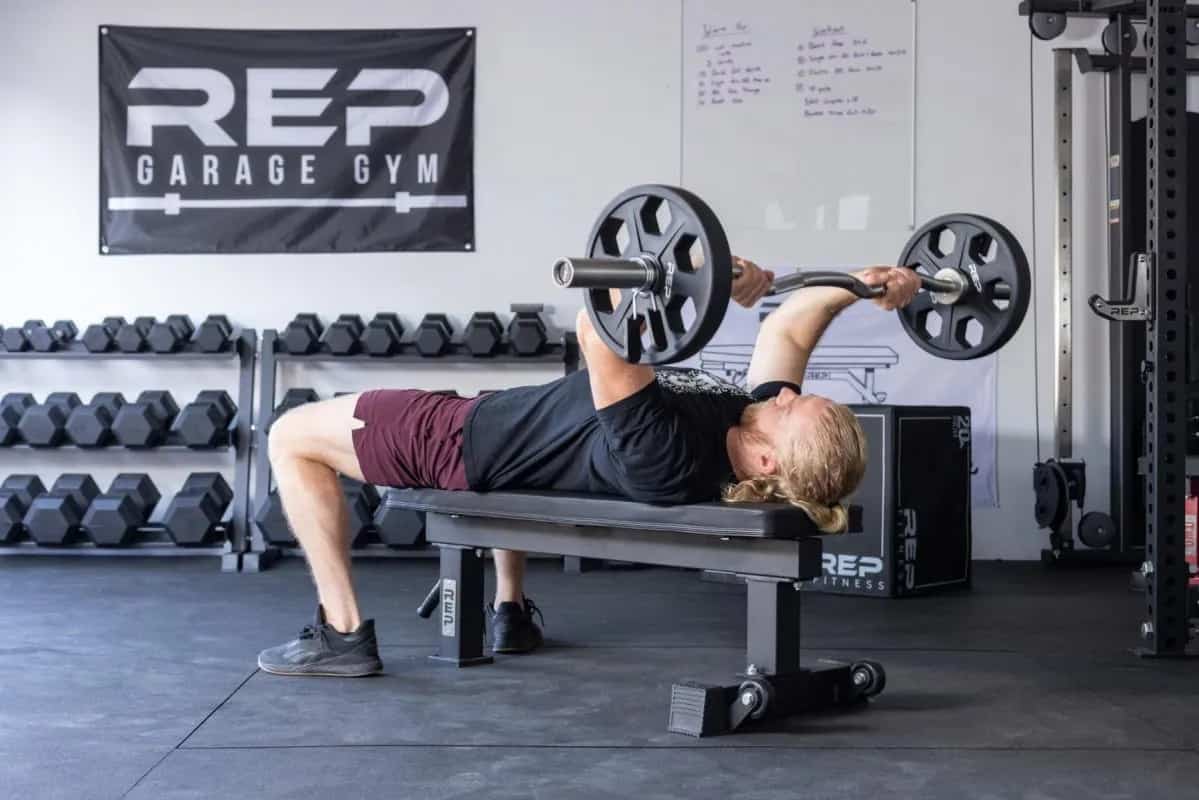 REP Black Sabre Barbell
The Sabre Barbell is now available in Black Zinc without any center knurling. It is perfectly designed for Cross Training/HIIT style workouts and Olympic Lifting and has medium depth knurl and lack of center knurling, so it won't tear up your hands and chest.

It looks sharp, preserves its finish, and does the job of holding the weight. It has a 1000 lb rating and 150k tensile strength with snap rings on the bushing. It weighs 20 kg and measures 28.5mm in diameter with a one-year warranty.

REP Games Sale 2021 Overview – In Summary
It's on – the REP Games Sale runs from July 27th – August 2nd – so act fast.
Grab this opportunity and get these pieces of equipment at a lower price from July 27 to August 2. Rep Fitness is a trusted name in the fitness industry, and you can be sure that their products are durable and made of high-quality materials.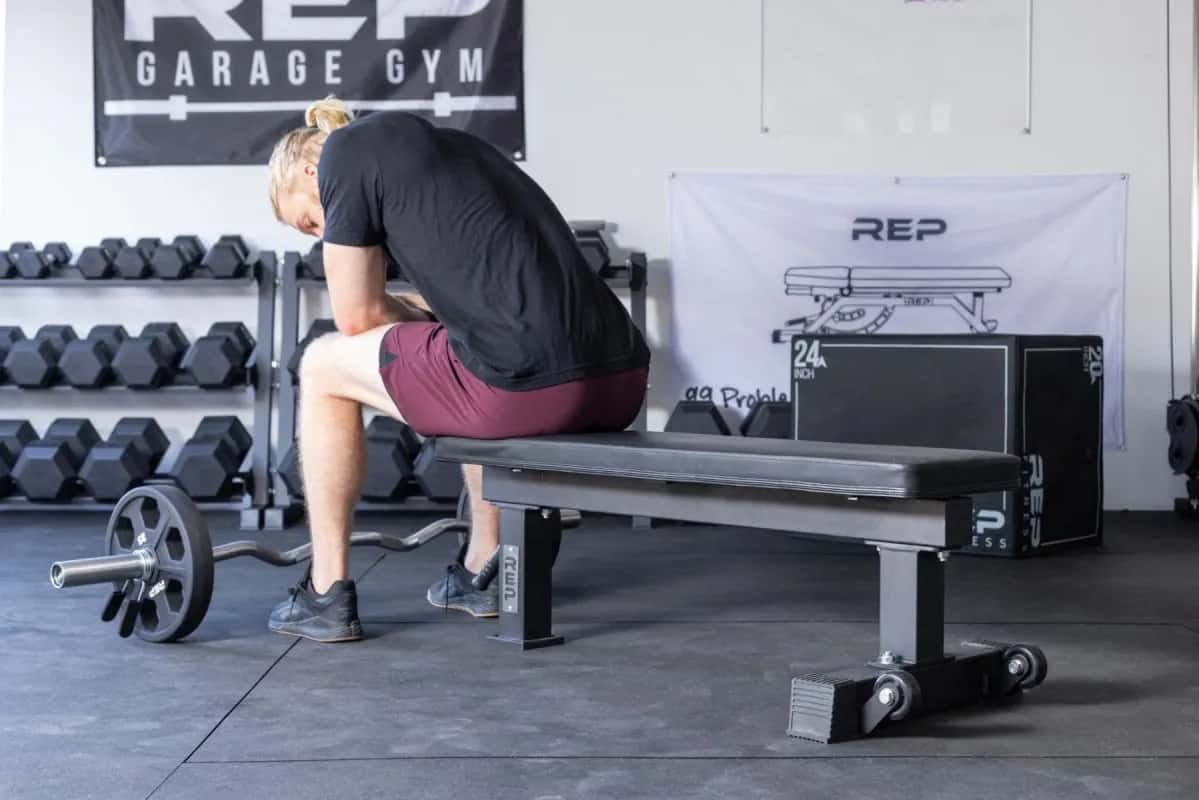 Photo Credits
Product photos on this page are property of Rep Fitness.
This website is not affiliated or associated with CrossFit, Inc. CrossFit is a registered trademark of CrossFit, Inc.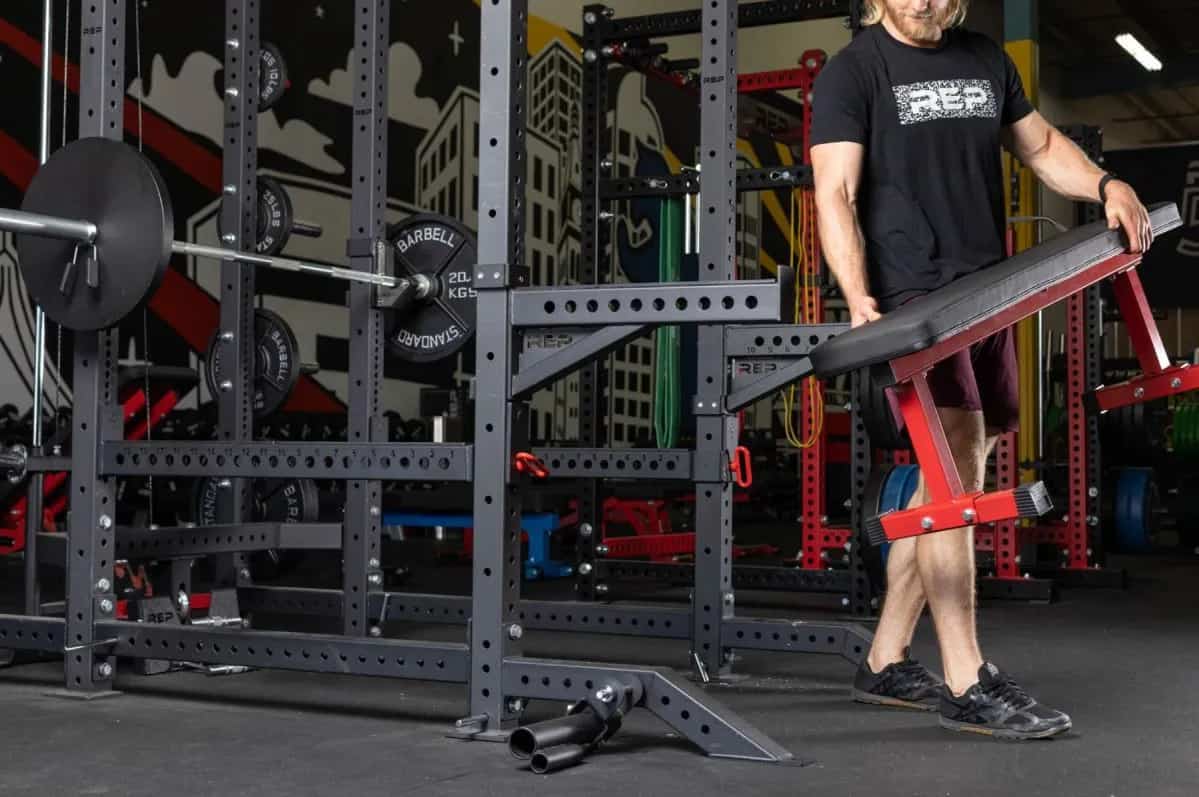 Affiliate Disclaimer
We are an affiliate of Rep Fitness and others that sell this training gear. If you buy clothing or other training gear after clicking the links in this article, we receive a small commission at no extra cost to you. This helps us to bring you in-depth information and content on these great training products.