Let's look at the Plyo Boxes available from Rep Fitness.
Plyometric boxes, or plyo boxes for short, are boxes used to perform different kinds of exercises. They come in various shapes, sizes, types and are made of tough and high-strength materials. Box jump training has diverse and long-term benefits to make you strong and healthy.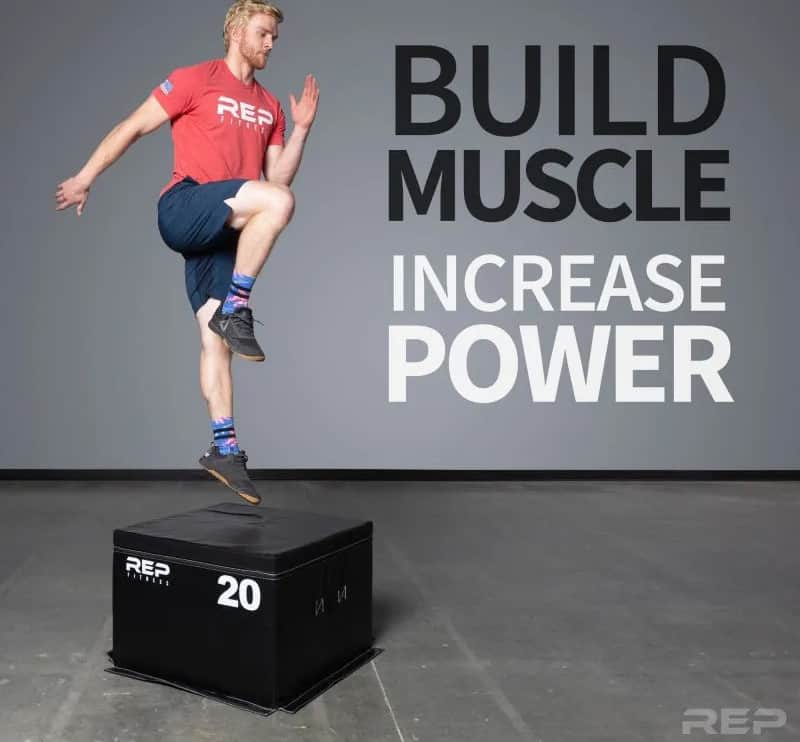 Here are some of the types we are going to look at:
Plyo Boxes from Rep – Overview
Plyo boxes can be used for more than jump box exercises. A plyo box can also be used to support a powerful variety of strength, conditioning, and movement exercises. Training with box jumps, though, is a more advanced exercise that should be done with care. You can slowly incorporate it into your workout, and the key is to begin with a low box to get familiar with the movement. Box jumps demand the engagement of the lower body and core, as well as coordination and concentration to complete the exercise correctly.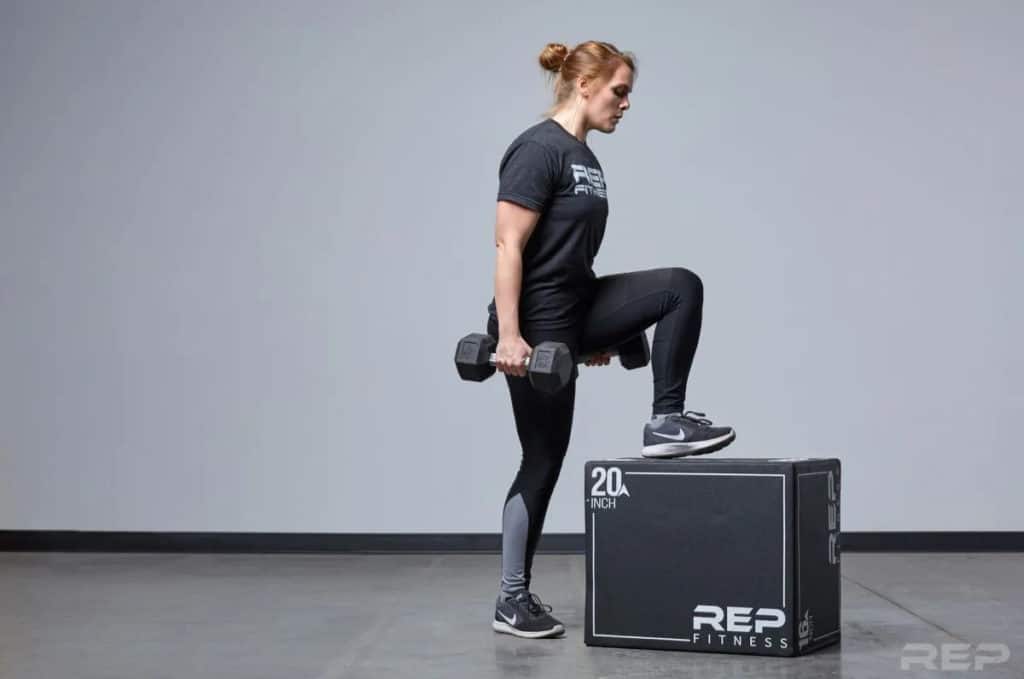 Training with plyo boxes increases muscle and power, enhances sports performance, better balance and stability, and burns more calories. Many reputable companies offer plyo boxes, and Rep Fitness is one of them. If you want a more budget-friendly option, Rep Fitness has an outstanding value with the quality of their equipment while offering competitive prices. When you jump on an edge, Tipping up is the number one complaint of every competing product, but Rep Fitness fixed that with their plyo boxes.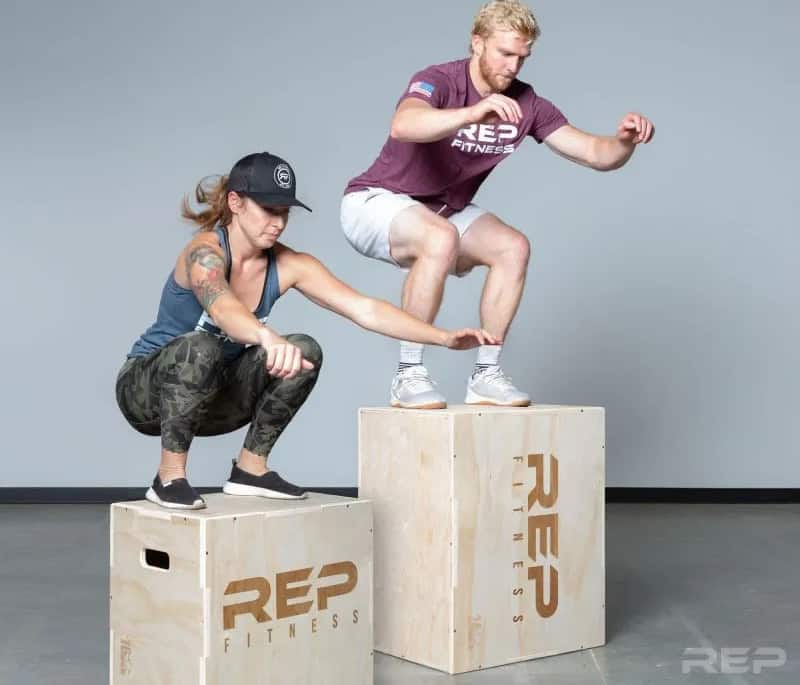 Rep Soft Foam Stackable Plyo Box
Rep Soft Foam Stackable Plyo Box is heavy and highly tip-resistant when you jump on the edges. It is the ultimate box for jump training and conditioning. It is made of ultra-dense foam and can protect your shins and joints by jumping onto a soft, impact-absorbing exterior. There is no need to fret about whacking your shins on a missed jump like you would with a steel or wooden box.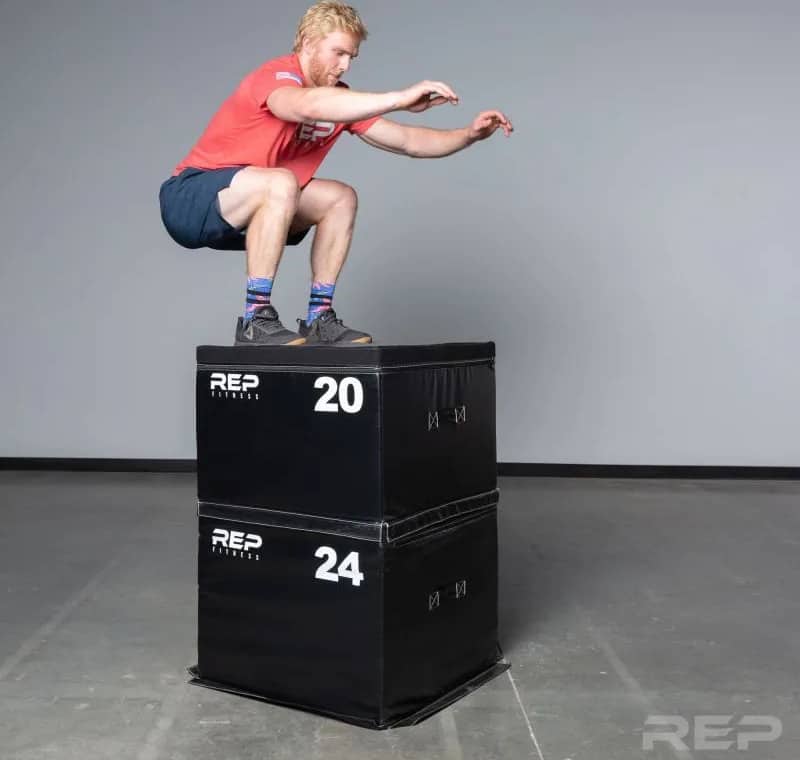 They are astonishingly easy to move despite their weight, as you can just flip, drag, or push them around without destroying the box. The heavy-duty Velcro makes these boxes easy to stack, move, and secure. They have ultra-dense foam that adds weight to the box, helping resist tipping for jumps on the edge. Each box has a 28×28″ base and has heavy-duty vinyl covers.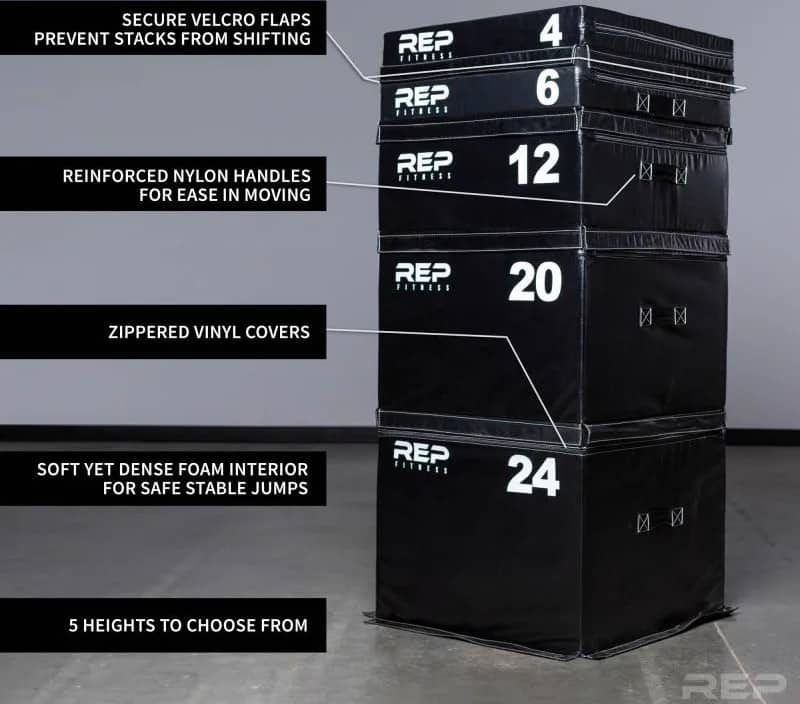 Rep 3-in-1 Wood Plyo Boxes
Rep 3-in-1 Wood Plyo Boxes 3-in-1 plyometric box is made of construction-grade 3/4″ plywood, and the four available boxes measure 30″ x 24″ x 20″, 24″ x 20″ x 16″, 20" x 18" x 16", or 16″ x 14″ x 12″. These boxes are outlined to work well for cross-training and HIIT workouts. Built like a tank, each box grants you three height options when you flip it to the side you want. They are firm and easy to assemble by their predrilled holes and interlocking joints.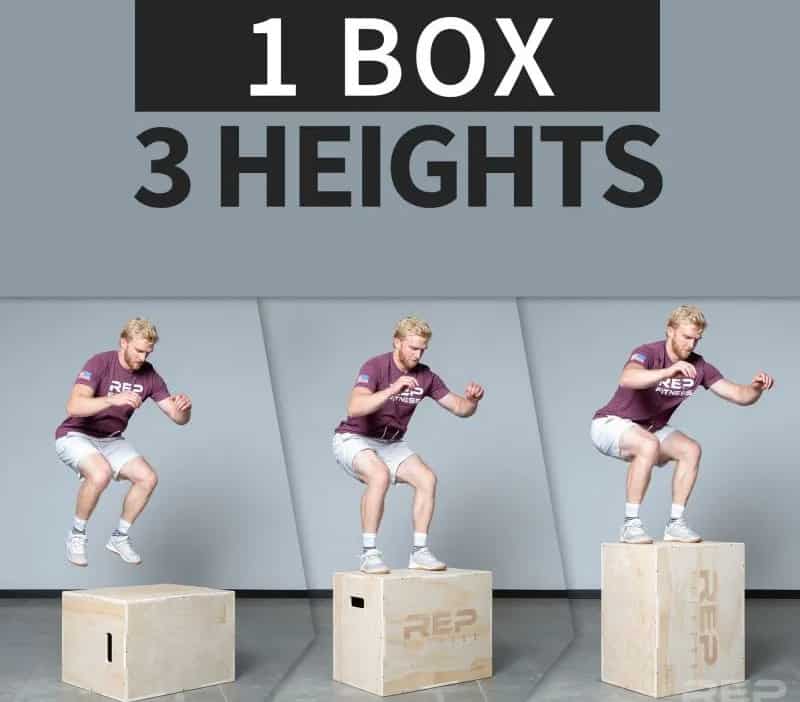 They are perfect for residential or commercial use, where you can do all sorts of plyometric box exercises like step-ups, box jumps, box squats, or negative jumps. These boxes are CNC machined and the edges are sanded down to prevent scrapes on missed jumps. The two larger boxes significantly increase the strength of the box with the unique interlocking joints and reinforced internal structure.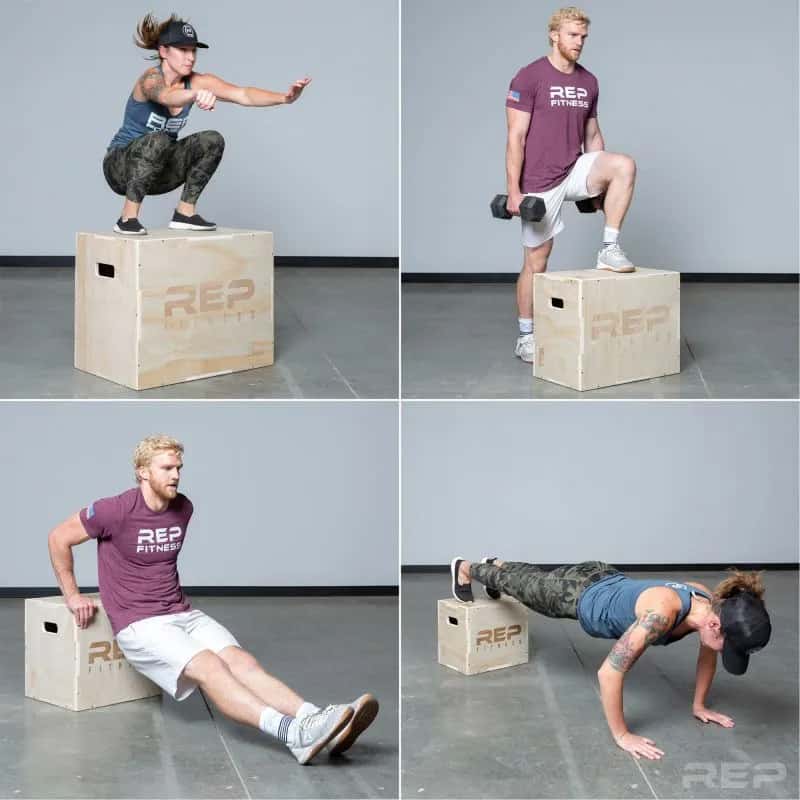 Rep 3-in-1 Soft Plyo Boxes
With Rep 3-in-1 Soft Plyo Boxes, you no longer have to worry about scraped or bruised shins because the soft foam cover absorbs impact. Unlike many other competing softboxes, the unique inner wood core design keeps it firm on all sides. Each box provides you three distinct height options and comes fully assembled and ready for use right out of the box. The combo-core is a mix of wood for balance and durable foam for padding the outside.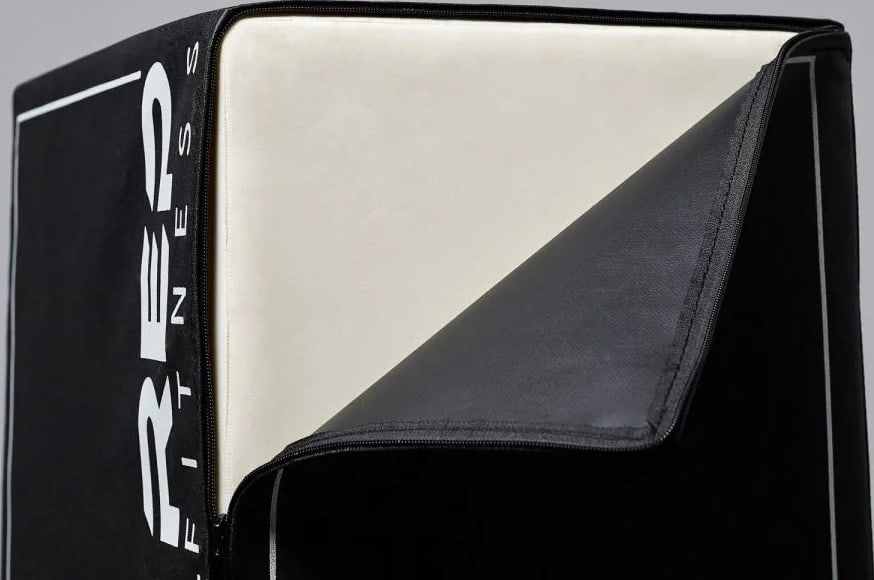 Unlike other 3-in-1 soft plyo boxes on the market, these boxes are as durable as a conventional wood plyo box on every side of the box. They also have a durable non-slip textured vinyl cover with 400lb capacity. These boxes are created to take the worry out of box jumps and add back the fun.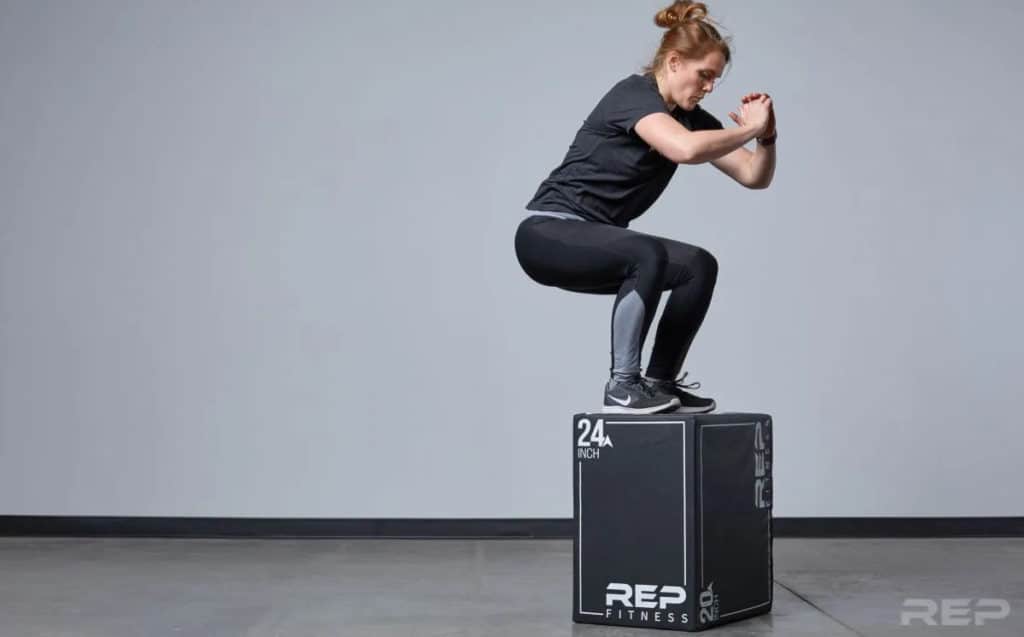 Rep Adjustable Plyo Box
Rep Adjustable Plyo Box is ideal for all kinds of plyometric box workouts, whether you're doing box jumps, box squats, step-ups, negative jumps, or vertical jump training. The adjustable plyo box can be set to 16, 20, or 24″ high, with a 16×16″ landing area. The lower twist-lock handles can be utilized to quiet the legs, making it a virtually soundless jump box.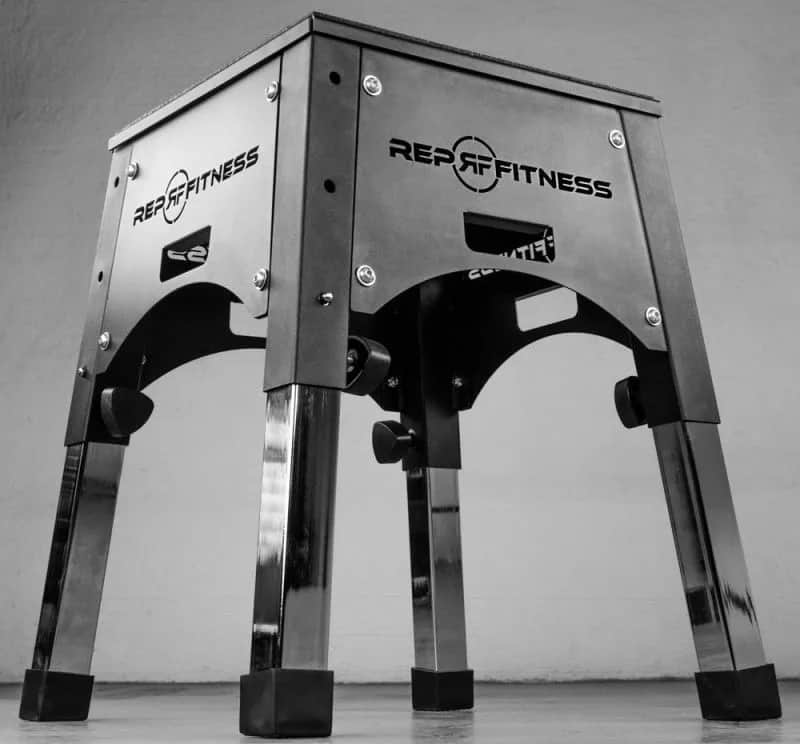 The overhang at the top of the box was minimized to prevent catching your toes on missed jumps. These boxes are made of thick steel for maximum durability with a rubber top and rubber feet for stable contact and non-slip surface. The solid steel spring pins secure the legs into place, and there are also four handles on all four sides. The boxes can be adjusted into three different heights of 16, 20, and 24″.

Rep Stackable Wood Plyos
Each box of Rep Stackable Wood Plyo is powerful enough to be used on its own or can be joined with others to build a wide variety of sizes. They are an excellent solution if you need a range of sizes for all of your plyometric exercises. Aside from plyometric box and HIIT exercises, you can also do dips, pushups, step-ups, box jumps, box squats, or negative jumps with these boxes. You can stack them together for a reliable, solid platform at any height.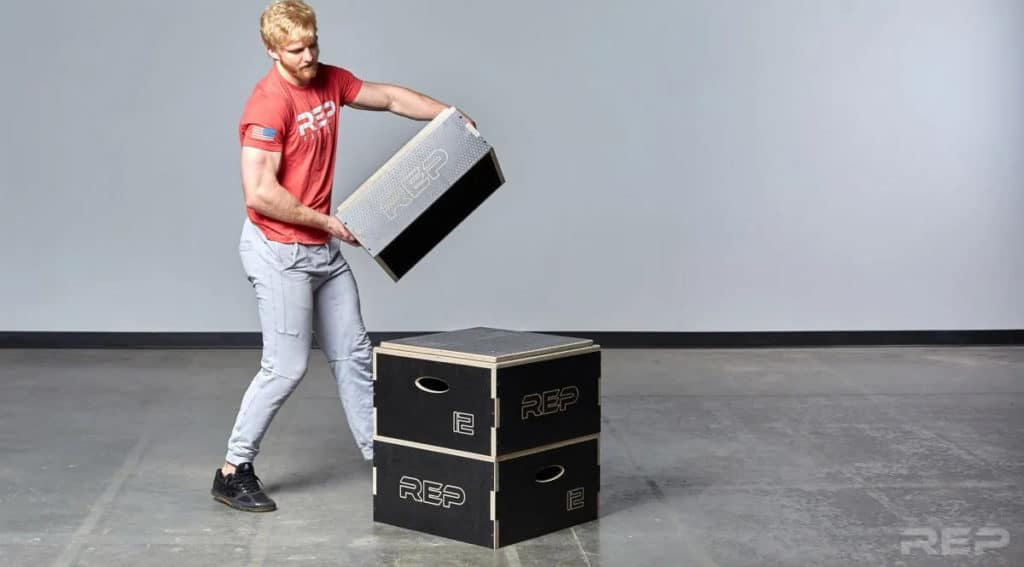 The ends and corners are rounded to help prevent scrapes on missed jumps. These plyo boxes pile solidly on top of each other for effortless storage when you are not using them. These boxes are rated to 400lbs and have a unique black textured non-slip surface that renders excellent traction whether the surface is wet or dry. They come in different sizes of 4″, 6″, 8″ or 12″ and 16″.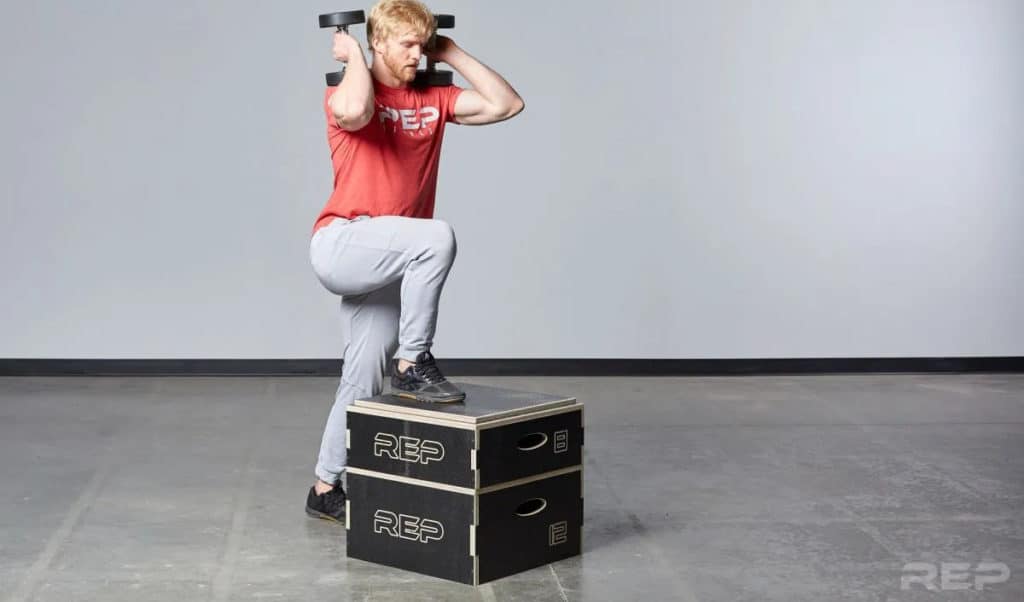 Plyo Boxes from Rep Overview – In Summary
That's a close-up look at the Plyo Boxes from Rep.
Box jumps hit all the muscle groups of your lower body, including your hamstrings, glutes, quadriceps, and calves. Training with plyo boxes builds muscle and power, improves sports performance, advances balance and stability, and burns more calories. Plyo boxes from Rep Fitness have ultra-dense foam that adds weight to the box, resisting tipping for jumps on the edge.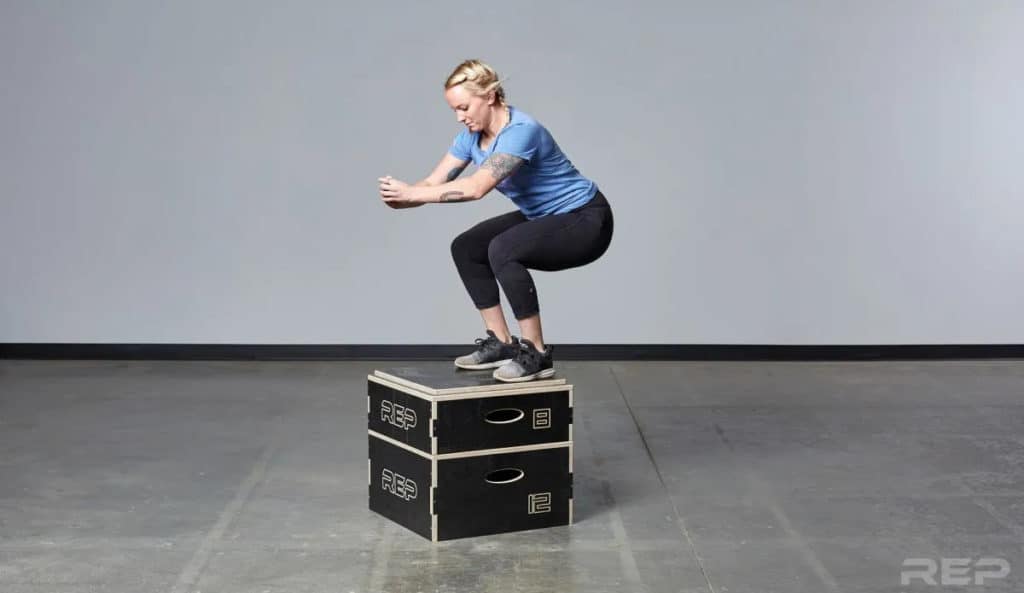 Photo Credits
Product photos on this page are property of Rep Fitness.
This website is not affiliated or associated with CrossFit, Inc. CrossFit is a registered trademark of CrossFit, Inc.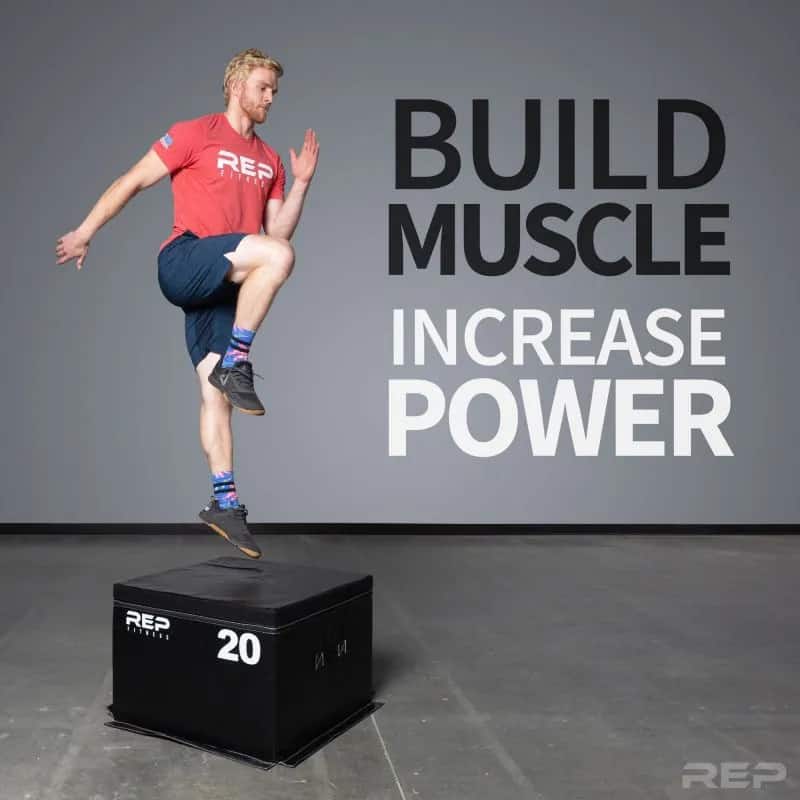 Affiliate Disclaimer
We are an affiliate of Rep Fitness and others that sell this training gear. If you buy clothing or other training gear after clicking the links in this article, we receive a small commission at no extra cost to you. This helps us to bring you in-depth information and content on these great training products.