Let's take a look at the new Nike React Metcon Turbo from Nike.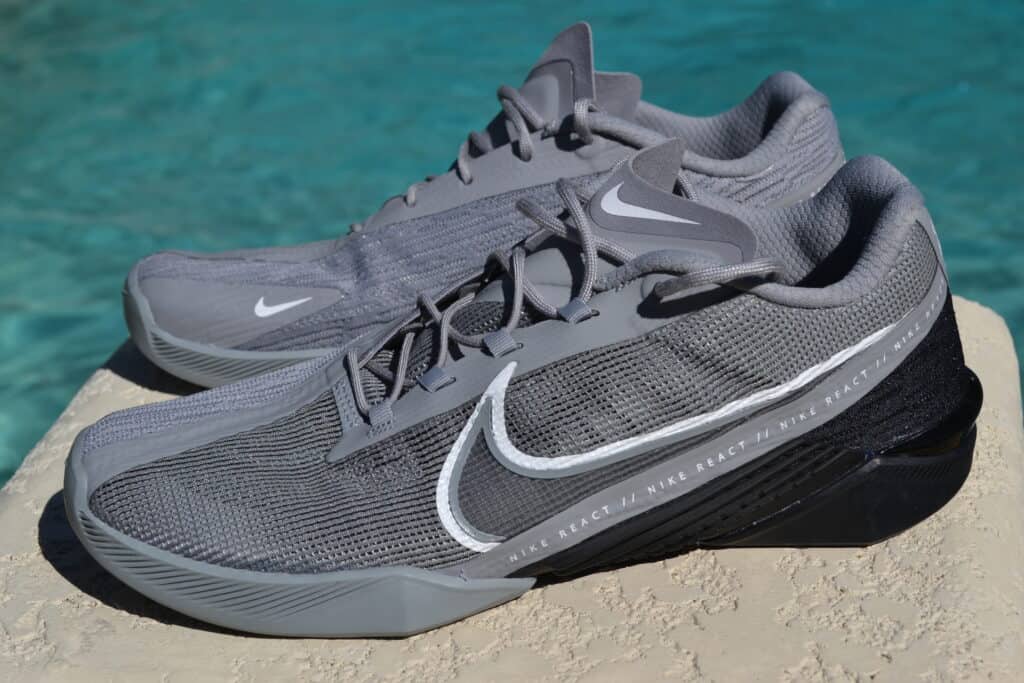 It's available now from Road Runner Sports, and others.
Our review pair has arrived – and we've done our initial testing.
Nike's first version of a React Metcon shoe was an interesting experiment.
It featured a number of innovations such as a "Forged FlyKnit" upper, quick lace system, and a removable midsole based on React foam, rather than Nike's normal dual-density foam.
Did it all work? No – not in my opinion. The Forged Flyknit was bulky and uncomfortable, the quick lace system was a flop, and to top it all off, it was adorned with ostentatious NIKE text.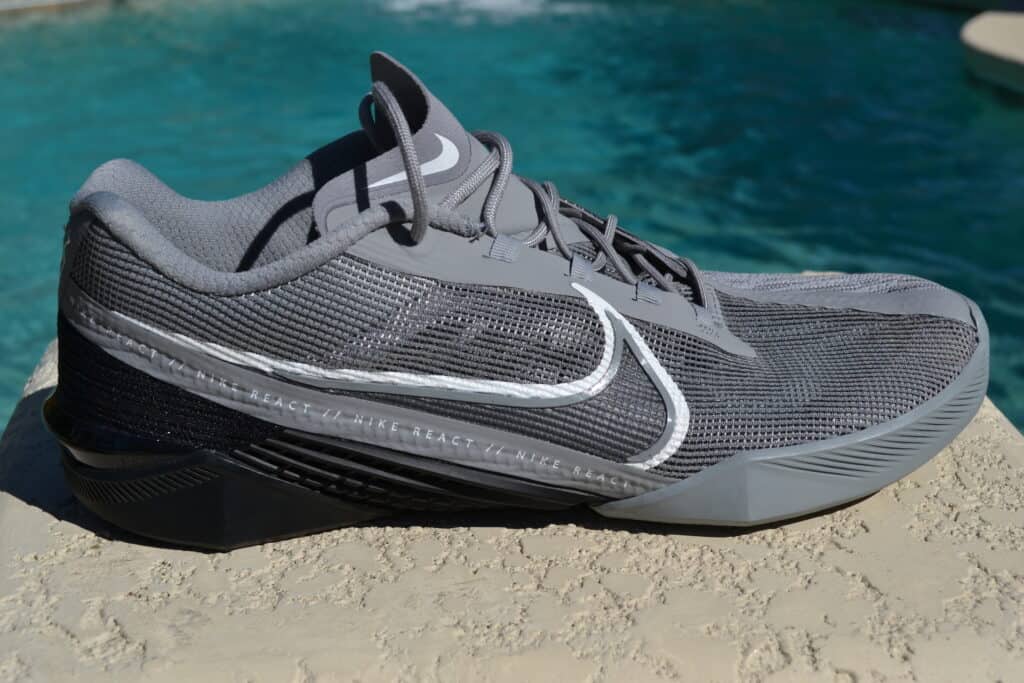 I'm happy to say Nike has fixed all those issues with the new Nike React Metcon Turbo training shoe.
Here's some of the styles that are available now: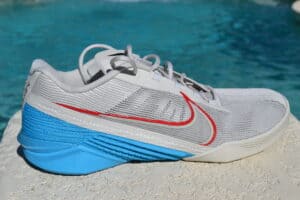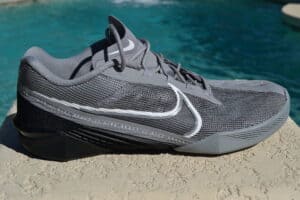 Let's take a look.
Nike React Metcon Turbo Review – Video Review on our YouTube Channel
Why read when you can watch? Check out this video from our YouTube channel:
Overall, I'm liking this shoe – in fact, I think it's better than the Metcon 6.
Nike React Metcon Turbo – How Does It Perform?
Here's the bottom line up front.
The Nike React Metcon Turbo is a big improvement over the last React Metcon.
It has regular laces, the upper is better, and it doesn't have the garish N I K E text on it (although the Swoosh is pretty big).
It's a no-brainer to me – this version is simply better.
But it's less clear against the Metcon 6.
This shoe feels a lot like the Metcon 6. The React foam is a subtle, nuanced improvement over the midsole of the M6.
But, it's not a night and day difference.
(This isn't a running shoe just because it has React foam – it's a minimally cushioned cross trainer.)
And this shoe doesn't come with the Hyperlifts – even though it is $20 more.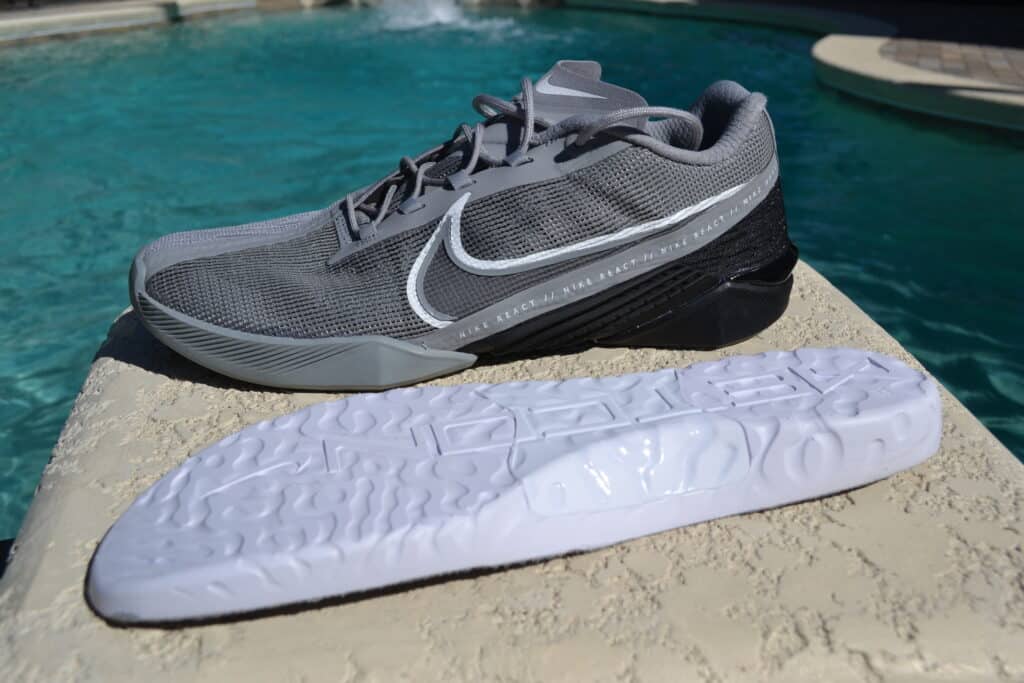 This shoe works great with the hyperlifts – because the collar is taller – when you prop your heel up an extra 8mm with the lift – you're less likely to get any heel slippage.
(For me personally, the low collar on the Metcon 5 and Metcon 6 give me heel slippage any time I use the Hyperlifts.)
But the problem is, of course, that this shoe doesn't come with Hyperlifts!
If you have a pair from your previous Metcon 5 or 6 – that's great – but otherwise you are out of luck.
My only other complaint with this shoe is that the unique outsole/midsole with the plastic bridge piece means that arch support in this shoe is lacking.
Overall, I like these – and I'll be using them a lot. But, if you want that heel to toe drop option of 12mm or 4mm – I guess you'll have to go with the Nike Metcon 6.
Nike React Metcon Turbo Sizing
How about sizing?
Like most of the metcon shoes, these run narrow – at least in my experience.
Here's a video explanation:
I feel like these run short and narrow – although the shortness is more so around the pinkie toe – rather than your big toe.
At any rate, going 1/2 size up from my normal shoe size was the right move for me.
Nike React Metcon Turbo- Overview
Let's start right out of the gate with the main feature – this shoe has a React foam midsole.
Nike's React foam provides crisp cushion and support – and is quite popular in their various running shoe lines.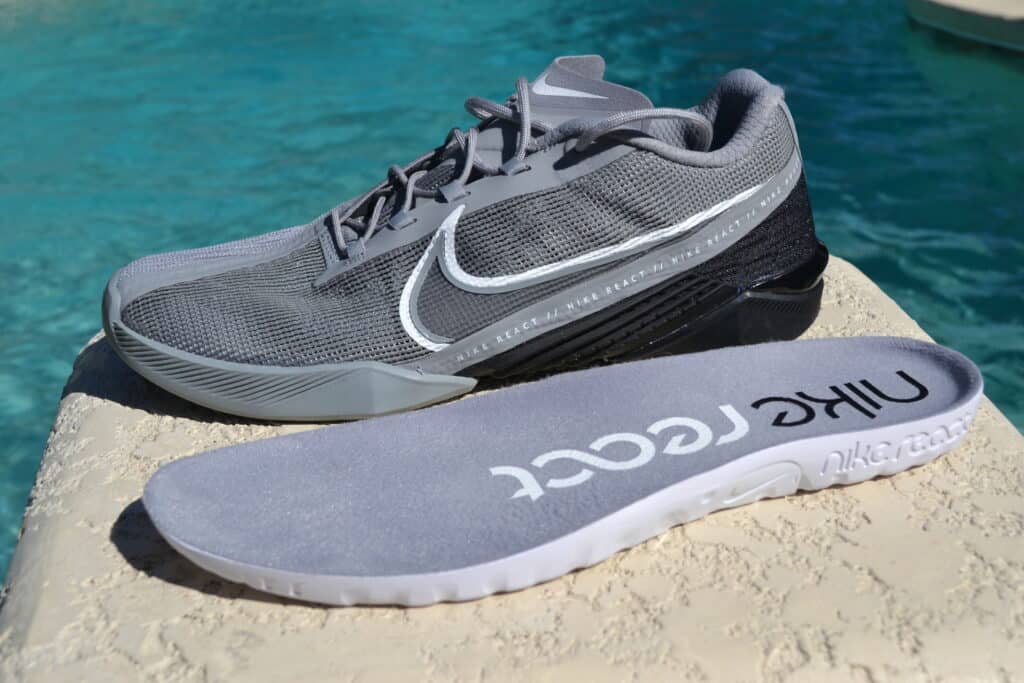 Having said that, this isn't a running shoe – it's a cross-trainer.
There's some cushion – but there's also a lot of firm support for heavy weight lifting – you know like in a CrossFit WOD.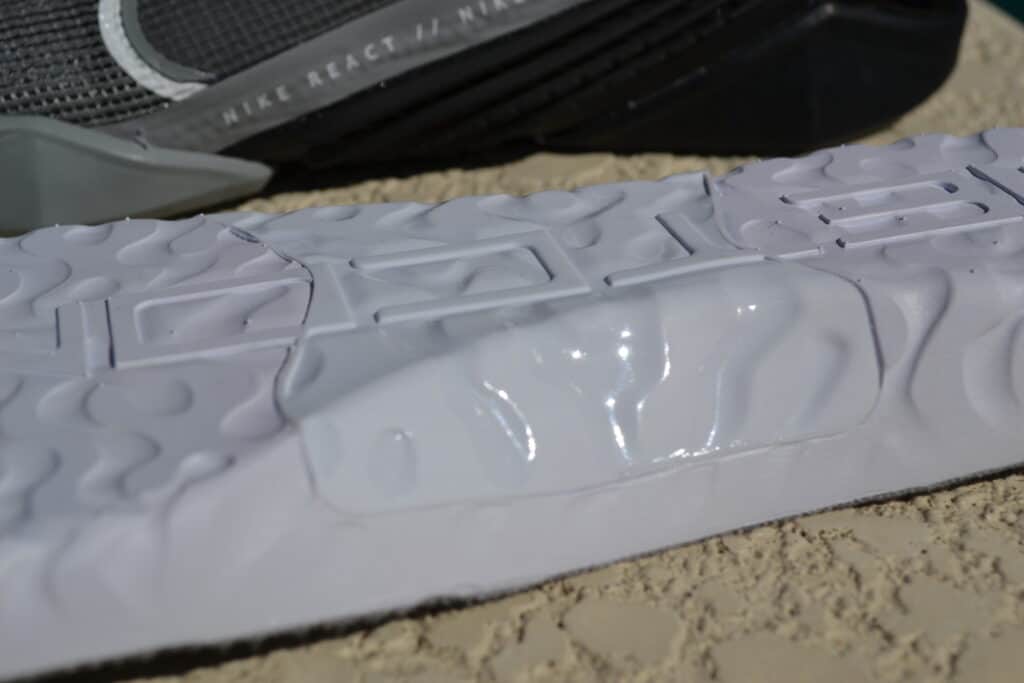 Lifting heavy barbells with this shoe isn't an issue.
Yet the React foam provides a subtle improvement over the regular edition Metcon 6 for running and impact activities like box jumps.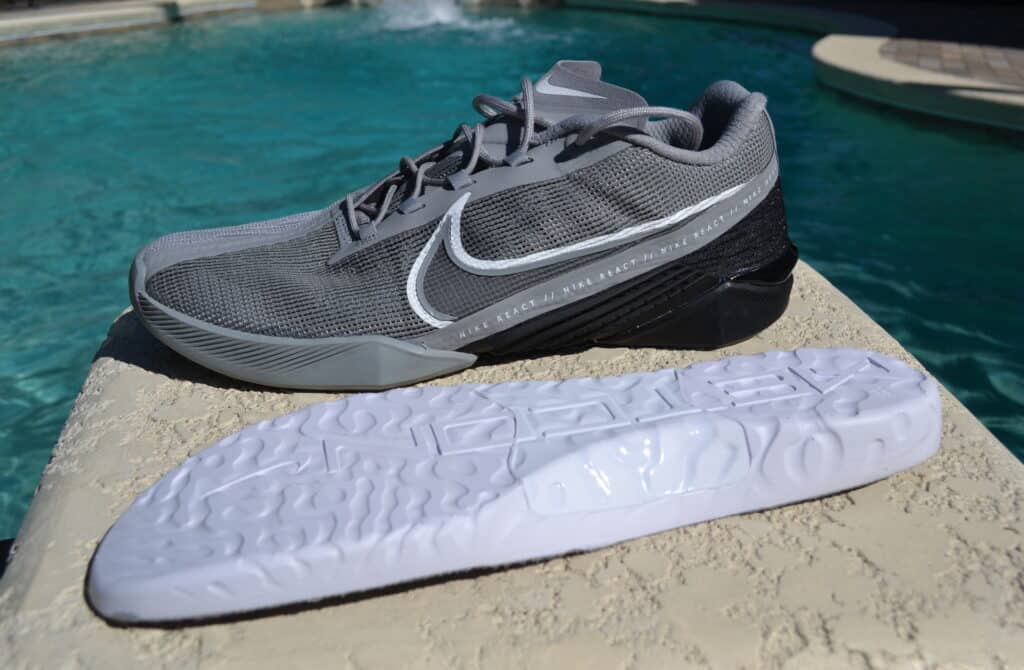 Remember the Nike React Metcon?
It had a quick lacing system that just wasn't that good.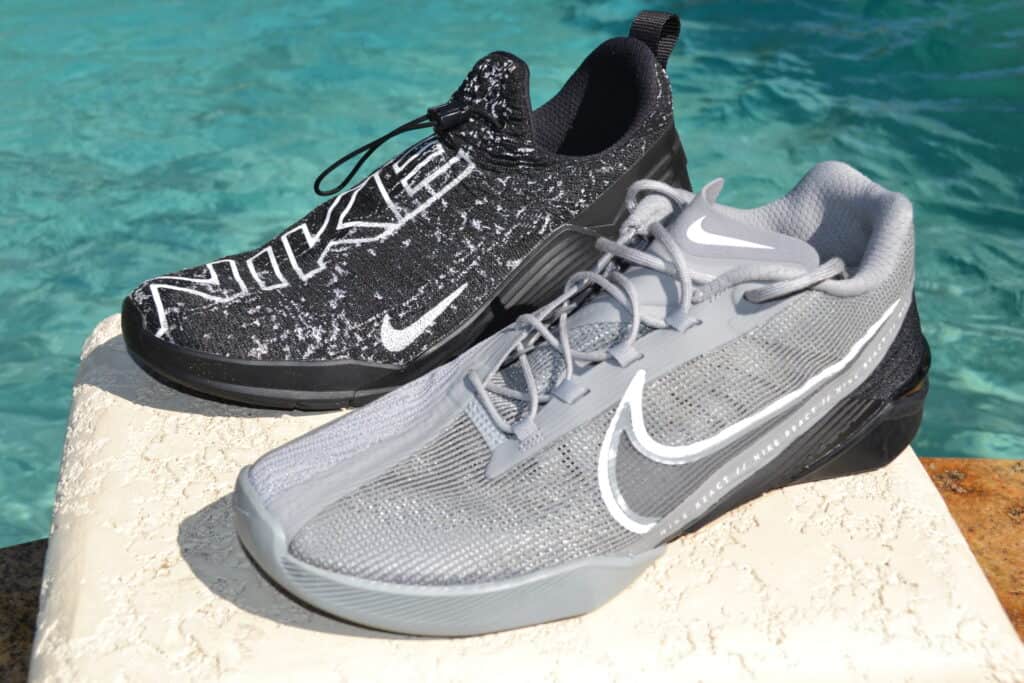 You couldn't properly tighten the shoe.
The good news is that the Turbo has good old regular shoelaces.
The tongue is quite thin, but it is robust and very wide.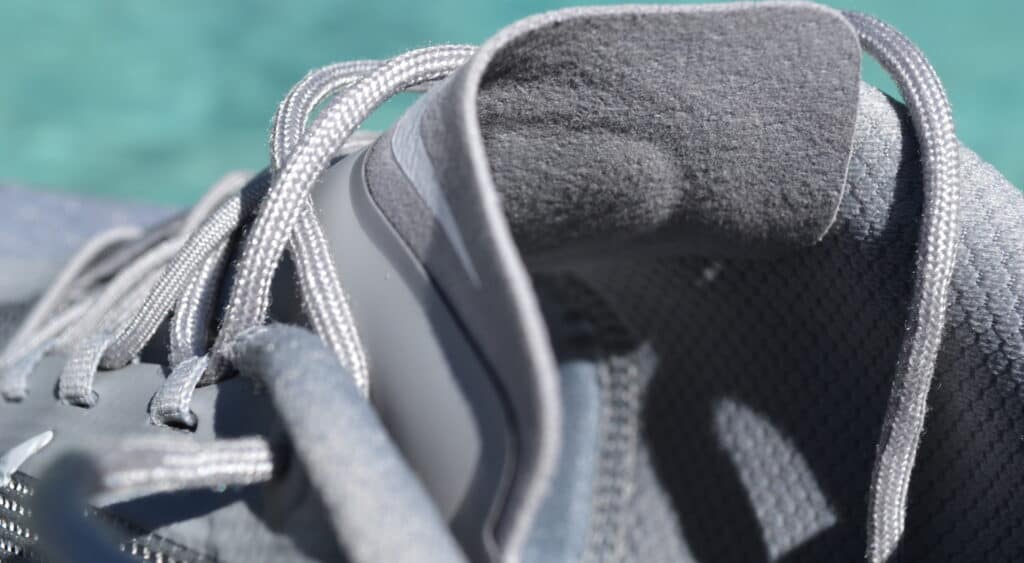 Here's another big improvement over the Nike React Metcon – the upper.
This new upper hugs your foot and seems to strike the correct balance between robustness and breathability.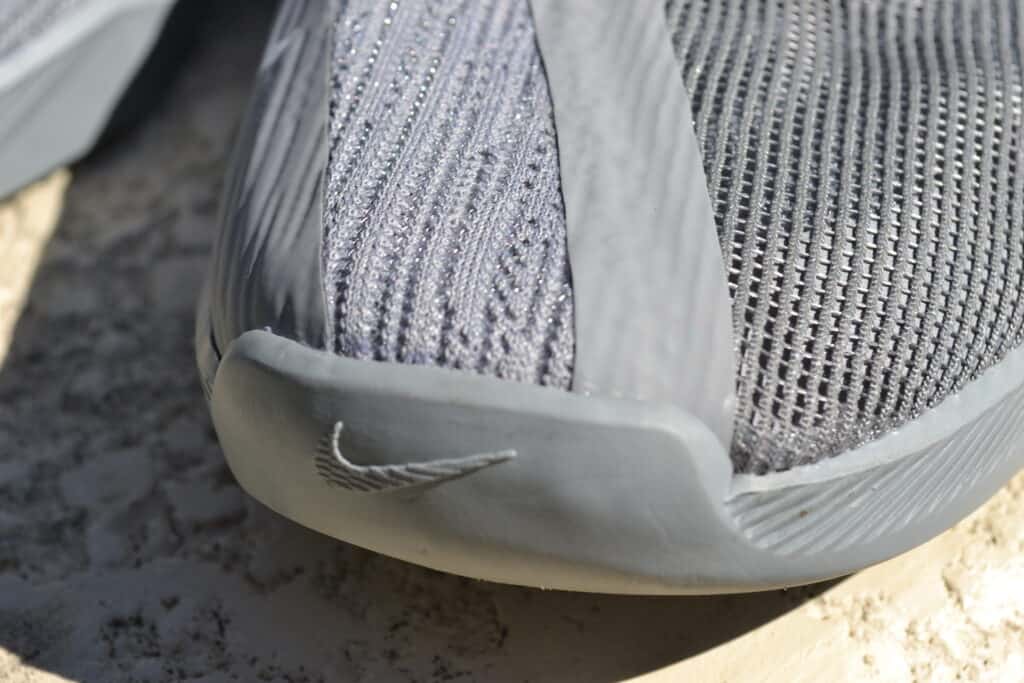 Nike has also applied a number of weight-saving improvements to this shoe.
The "Rope Wrap" is minimal – and that helps cut down on weight.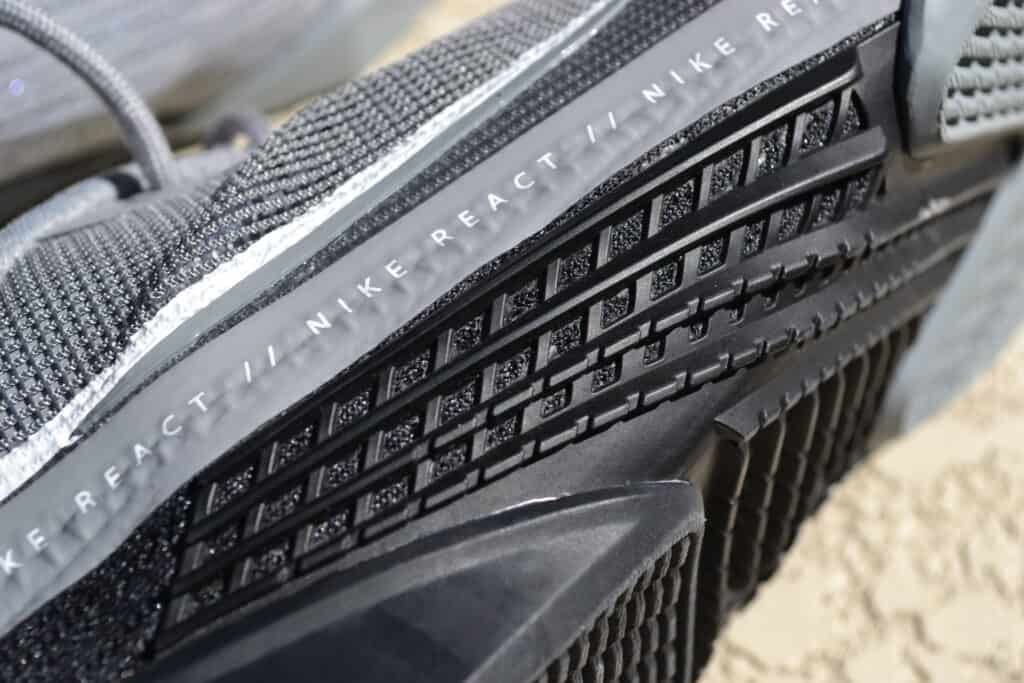 While we didn't test it (I don't have a rope) it looks as though it would be adequate to both give you good grip and to protect the upper of the shoe.
The shoe still has the slick TPU heel counter – to help minimize drag against the wall when you do HSPUs – Hand Stand Push Ups.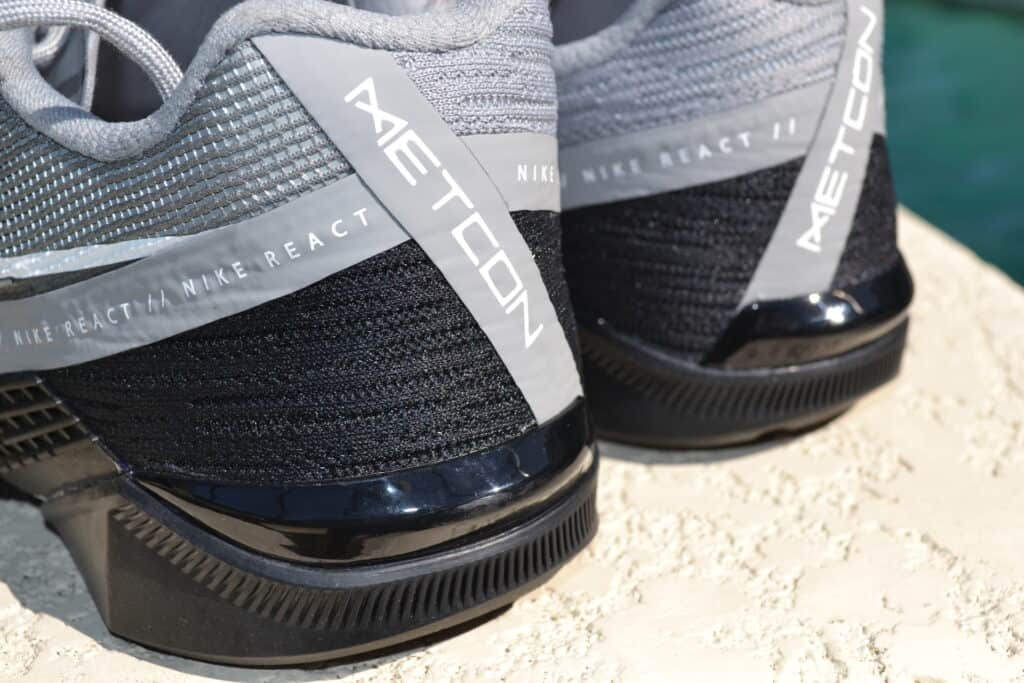 The collar is taller on this new shoe – and that's a good thing, at least for me.
You can see the difference here in this side by side shot.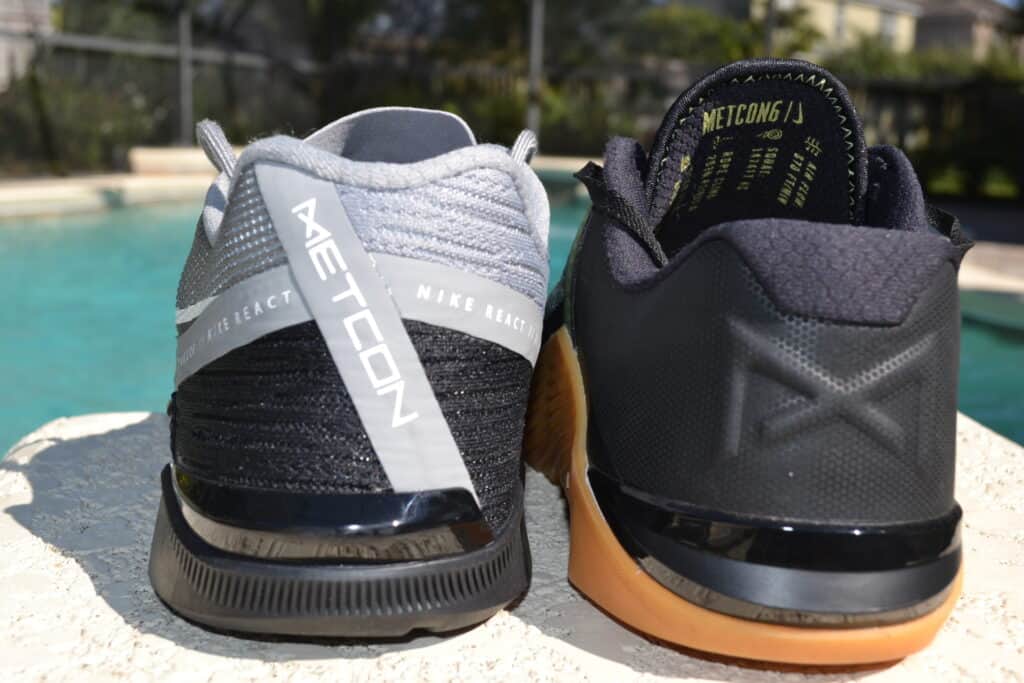 The shoe uses an all-rubber outsole, with sticky rubber up front for traction and firmer rubber in the heel for stability.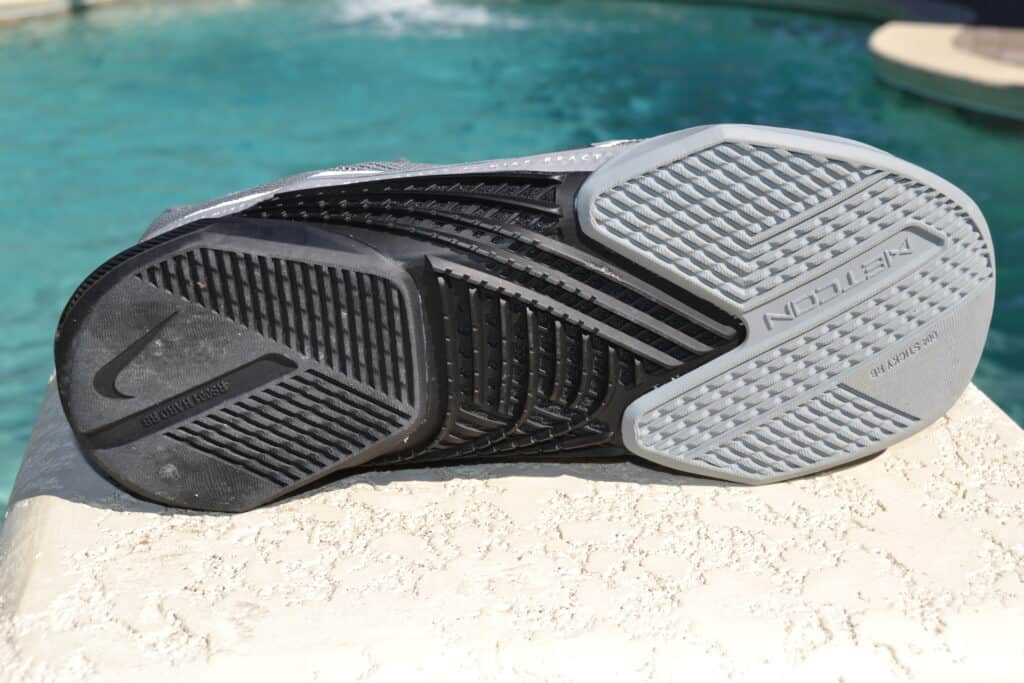 Overall, Nike has done a good job. They've delivered a React foam based shoe for us, with none of the downsides of the last shoe.
Nike React Metcon Turbo Versus Nike Metcon 6
Here's some photos showing the Turbo side by side with the Metcon 6.
Overall, I'd have to say I like the Turbo better.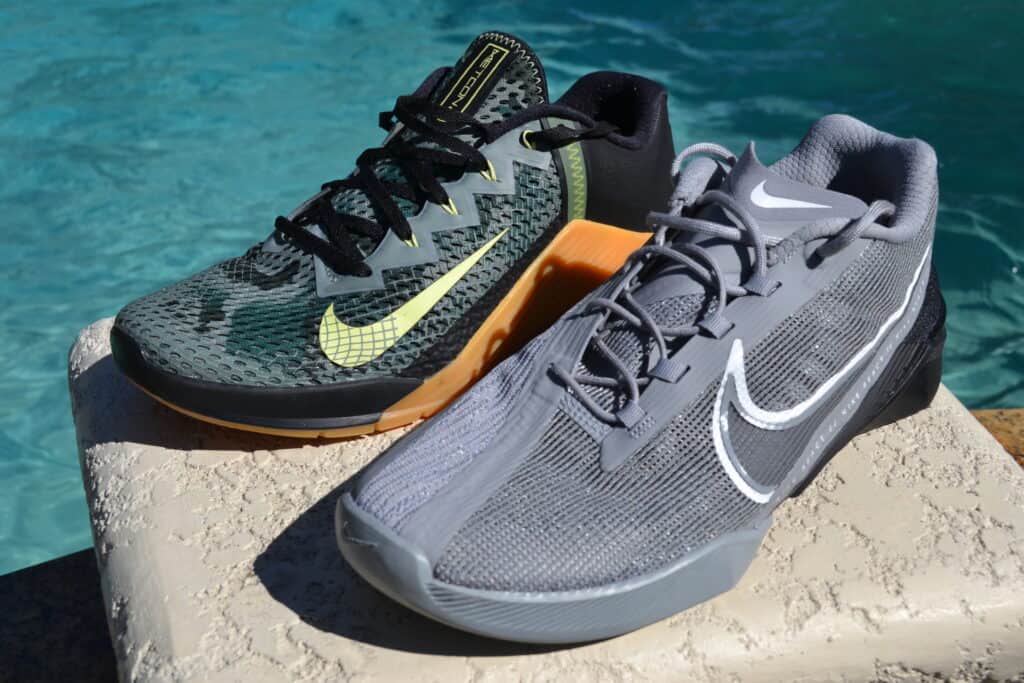 It's only failing is that it doesn't have the Hyperlift feature that the Metcon 6 does – so you always have 4mm of heel to toe drop.
The Turbo is also about .8 ounces lighter – 13.1 ounces versus 13.9 ounces (US Men's Size 11.5)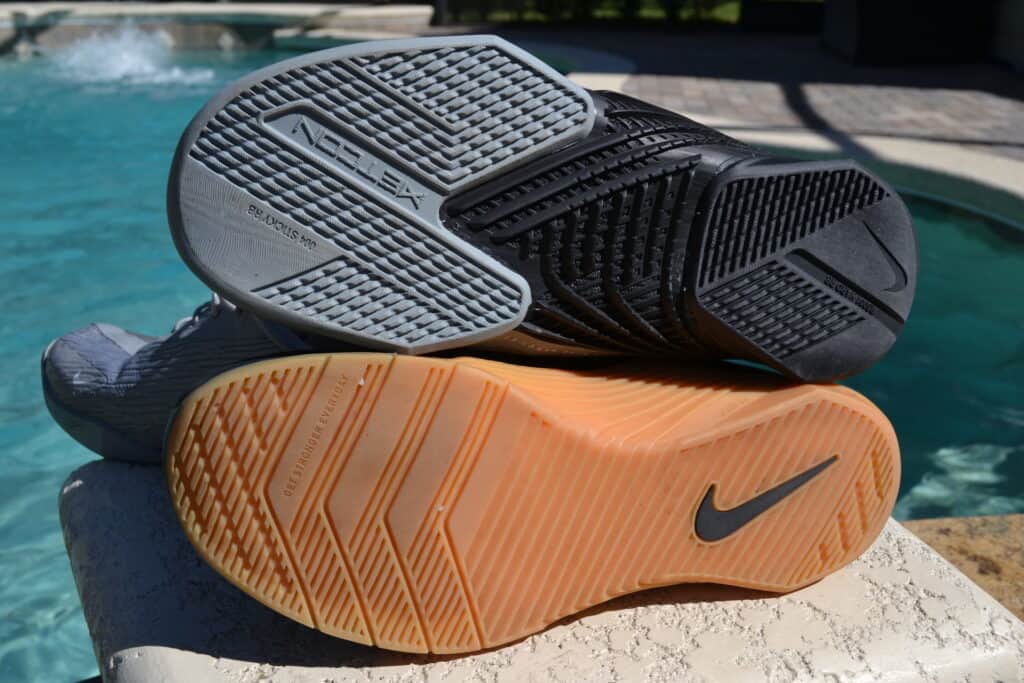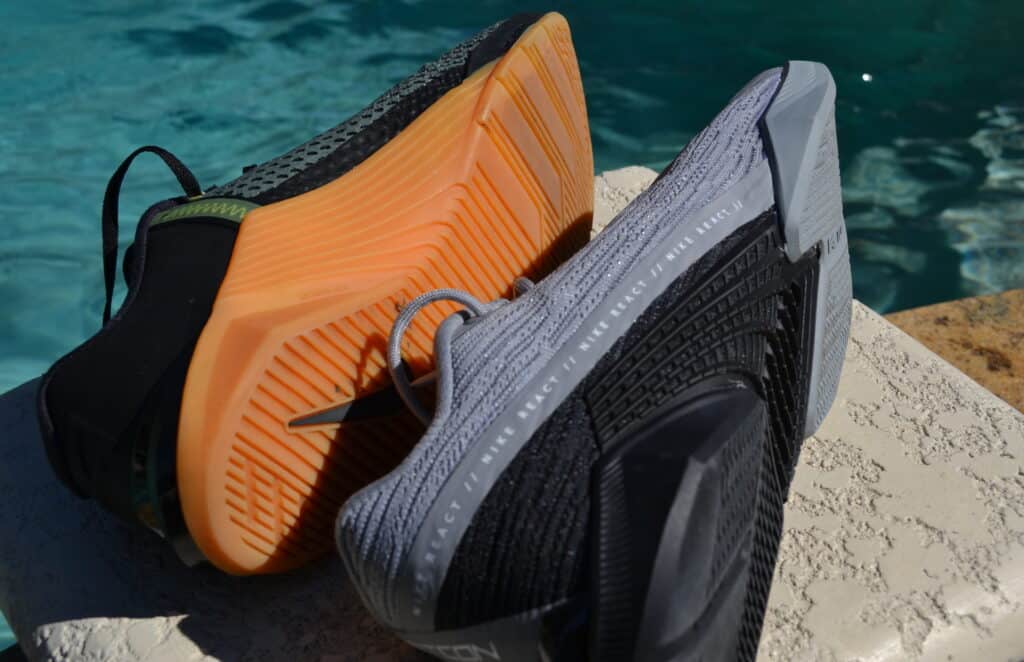 Nike React Metcon Turbo Review – In Summary
That's our review of the Nike React Metcon Turbo from Nike.
They've fixed all the problems and delivered a proper cross-training shoe with a React foam based midsole.
And while they solved the problems of the last React metcon, they kept the shoe true to its roots – you can run, jump, lift, and do all sorts of CrossFit WOD activities with this shoe.
There's also
Women's Nike React Metcon Turbo
that you may be interested in.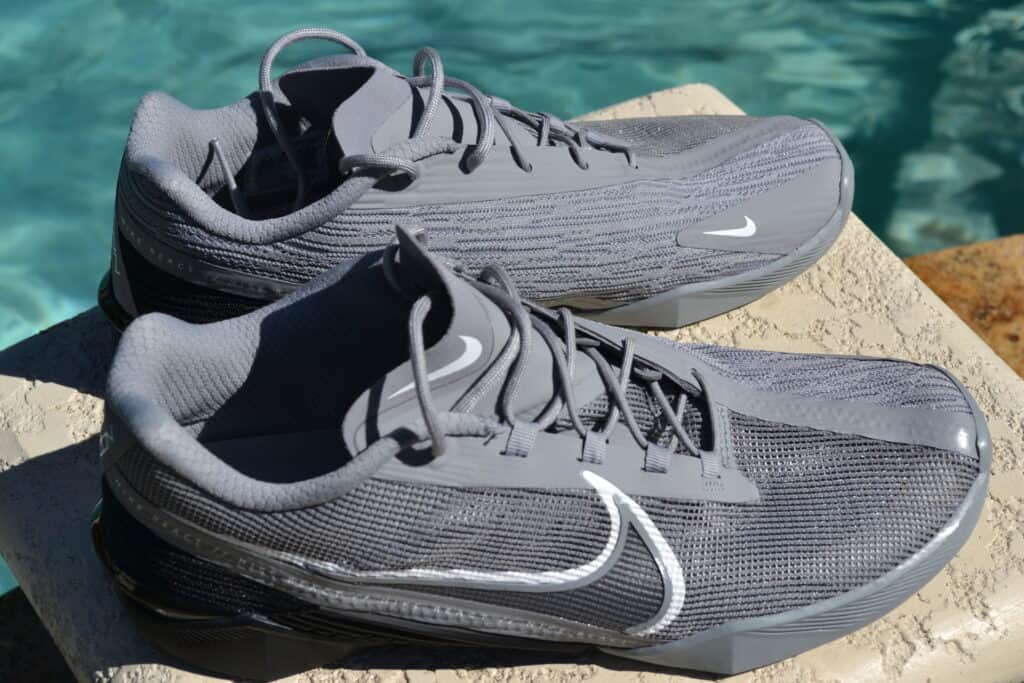 Photo Credits
Some product photos on this page are property of Nike.
This website is not affiliated or associated with CrossFit, Inc. CrossFit is a registered trademark of CrossFit, Inc.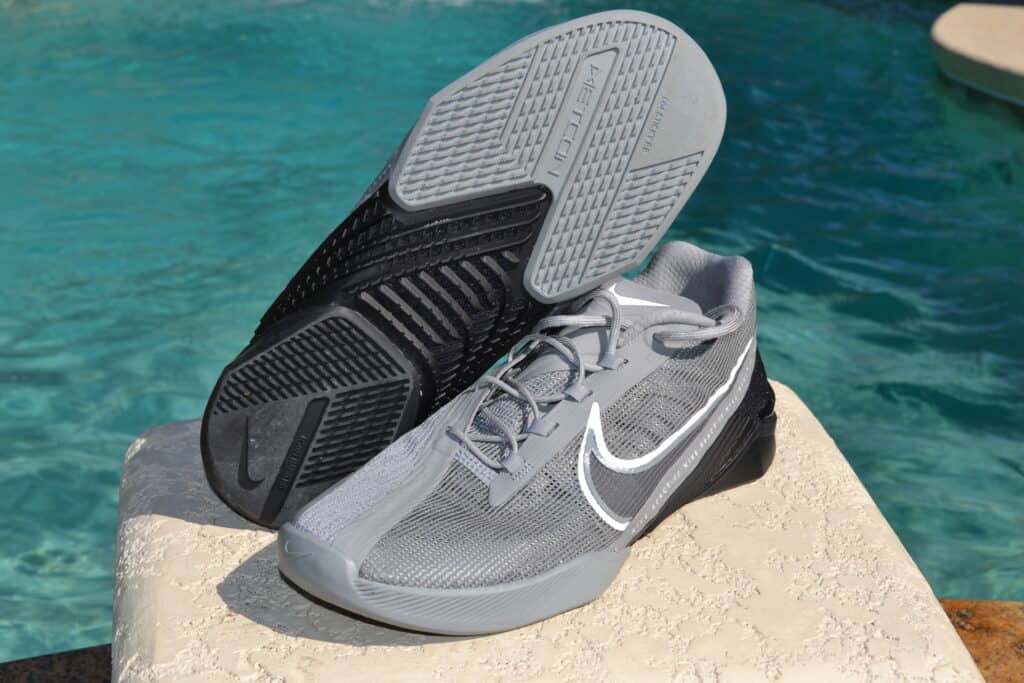 Affiliate Disclaimer
We are an affiliate of Road Runner Sports and others that sell this training gear. If you buy clothing or other training gear after clicking the links in this article, we receive a small commission at no extra cost to you. This helps us to bring you in-depth information and content on these great training products.