Nike's React foam based running shoe has now been launched in a 6th version – the Nike Wildhorse 6 is available now.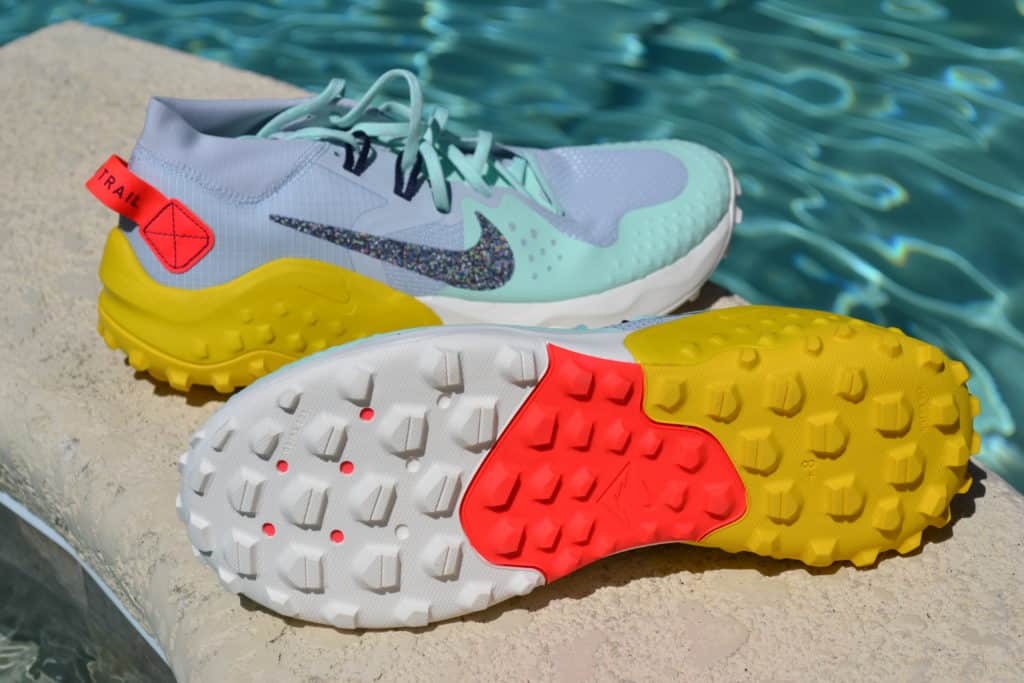 Need a trail running shoe? This is a tough one, with an all-rubber outsole it also has tenacious grip.
But the real appeal of the Wildhorse shoe is all that glorious React foam – this is Nike's softest, most cushioned trail shoe.
And we'd like to tell you all about it (and show you too!)
You can get the Nike Wildhorse 6 from Road Runner Sports (We are an affiliate:)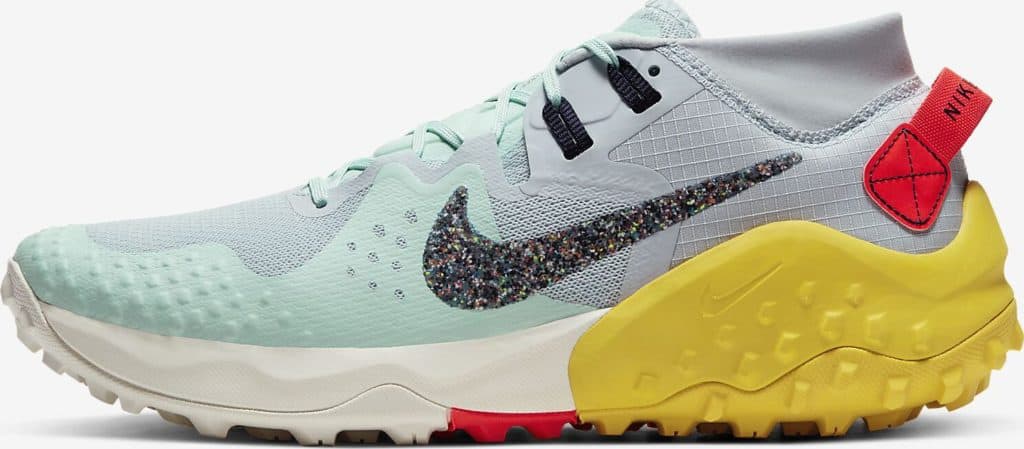 Nike Wildhorse 6 (Aura/Mint Foam/Speed Yellow/Blackened Blue)
The Nike Wildhorse 6 uses React foam for a soft and springy ride. It's a tough off trail shoe that you can use when you go off-pavement. This is Aura/Mint Foam/Speed Yellow/Blackened Blue, which is what is shown in most of the photos in this review.
Let's take a look.
Nike Wildhorse 6 Hands On Review on YouTube
We featured this shoe as part of our Nike Trail Shoe Shootout 2020:
Nike Wildhorse 6 – Sizing, Fit, and Feel
The Wildhorse 6 runs true to size.
Men's Size 11 fits me perfectly – and that's the size I wear in most shoes.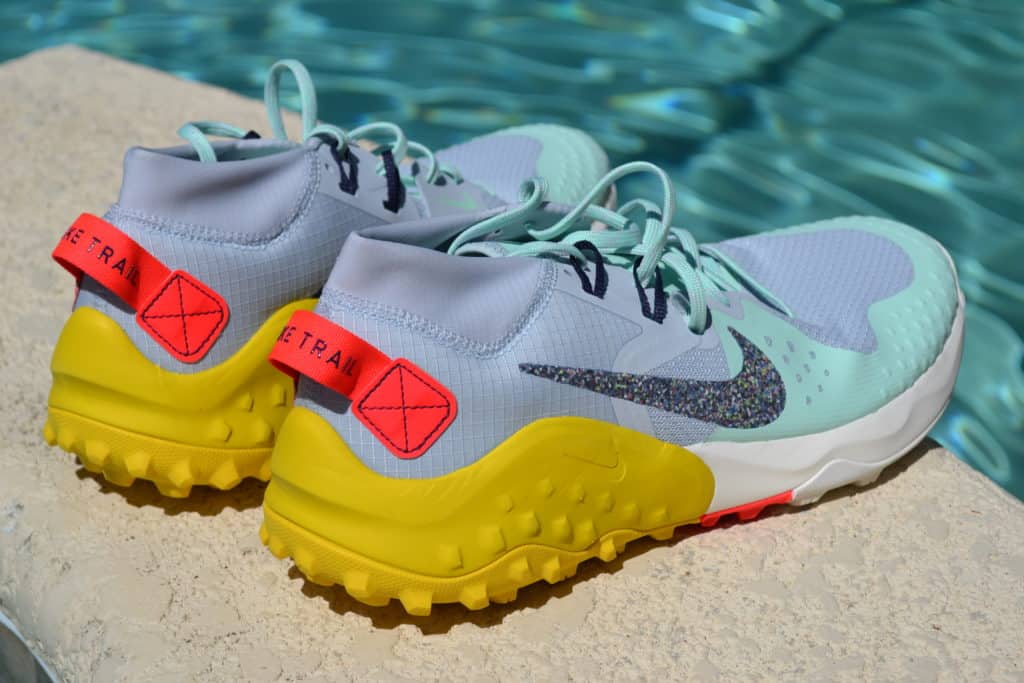 With that out of the way – let's talk about that React foam.
This is a very cushioned shoe – React foam is soft, but provides crisp rebound with every step.
This gives you energy back with every foot-step.
It's a very pleasant feeling – and results in a very nice run (or walk!)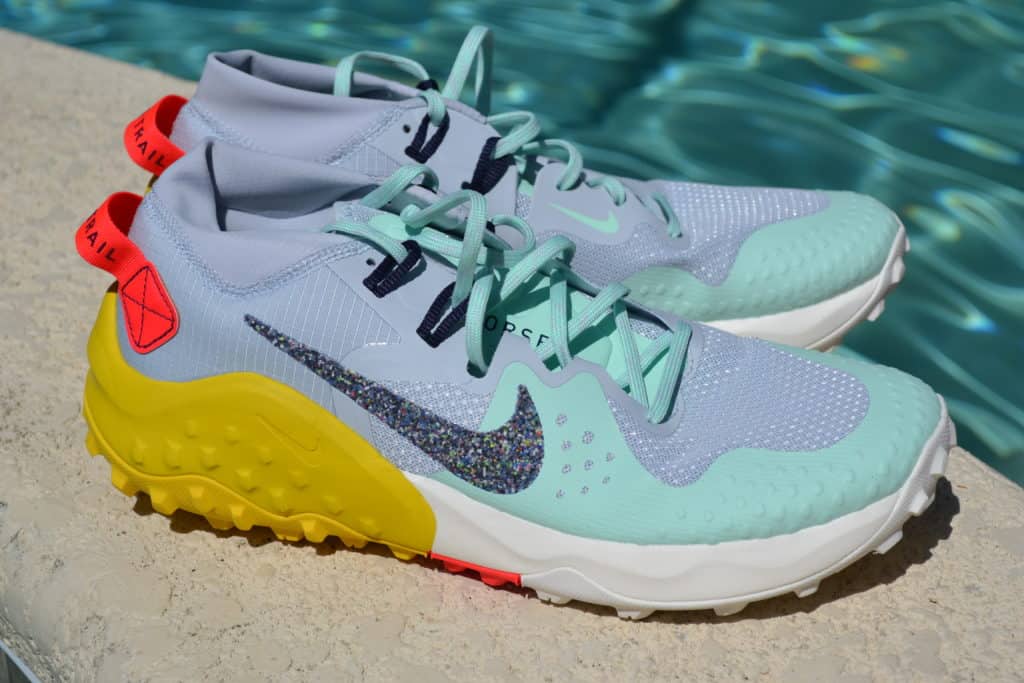 Nike Wildhorse 6 – Trail Running Shoe Features
The Wildhorse 6 contains a few evolutionary improvements over the previous versions of the shoe.
The all-rubber outsole should offer tenacious grip in sand, mud, or dirt.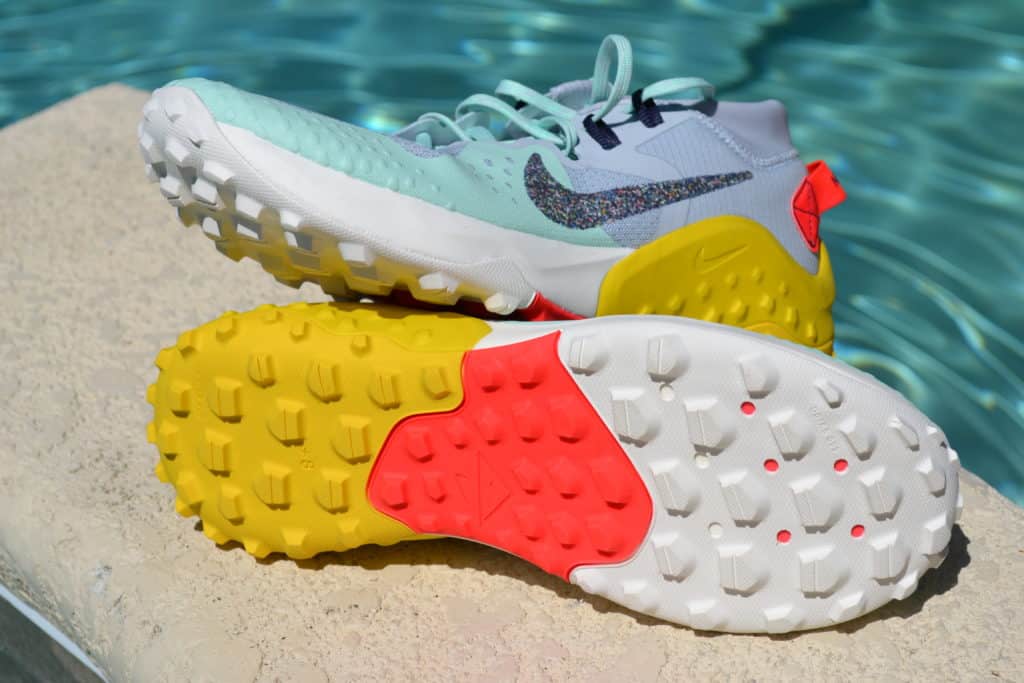 The lugs are tall, and widely spaced – to prevent clogging.
The outsole has lugs all over as well – which means this should be a great shoe for mud/sand.
And as you might guess from the multi-colored sole – there are different rubber compounds in use.
The forefoot and heel are a tougher, more abrasion resistant material.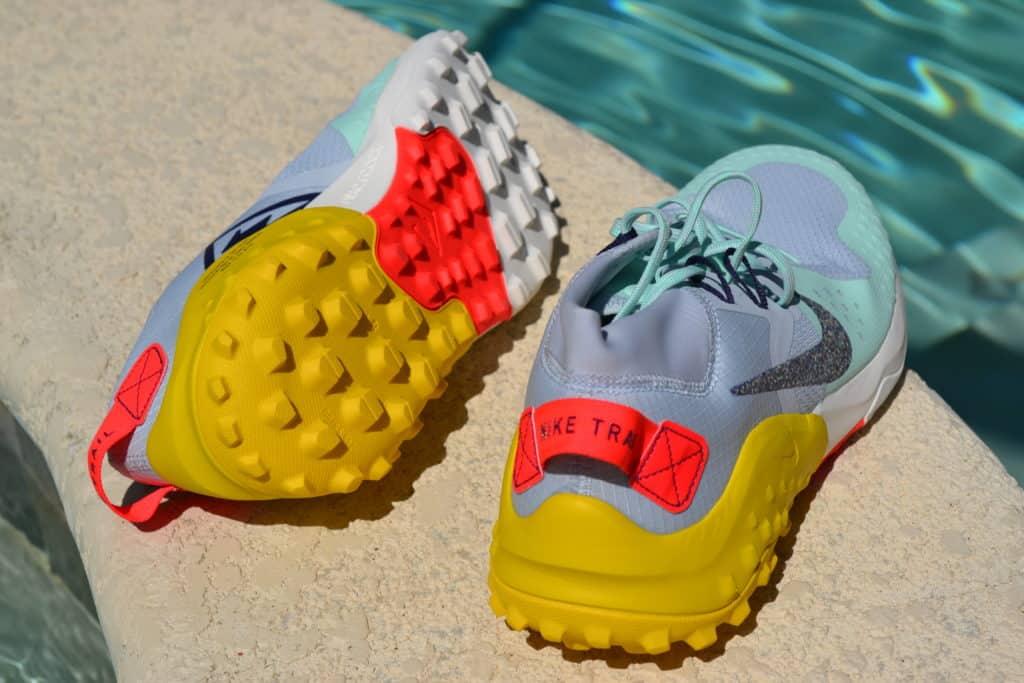 Meanwhile, the center is stickier for better traction (but probably less durability.)
This shoe has a gaiter around the collar to help keep dirt, mud, sticks, and other debris out of the shoe.
It is elasticized and fits tightly – even on my skinny ankles.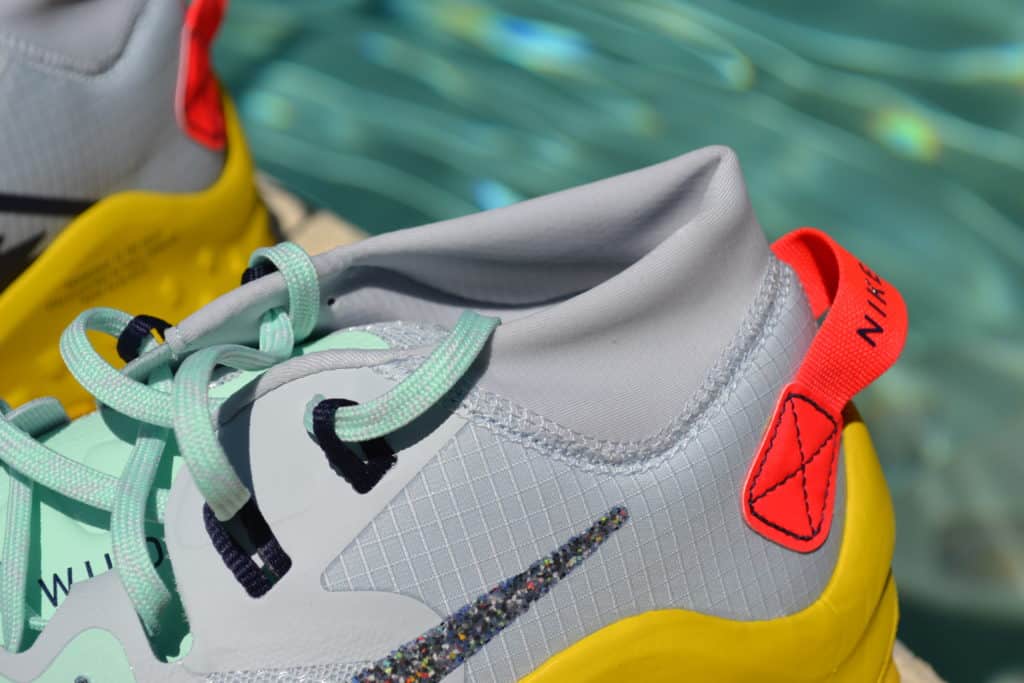 There is a pull tab on the heel to ease putting this shoe on also.
It's quite large and should be easy to grasp.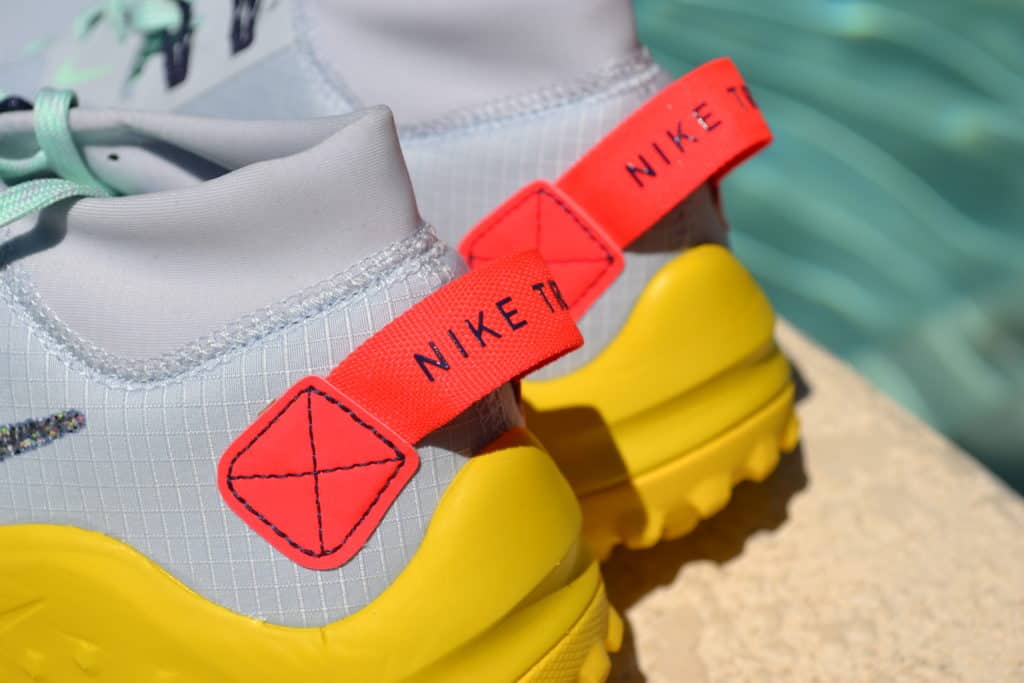 The Wildhorse 6 also uses Nike's slick segmented padded tongue.
This is a great way to create a robust tongue that protects against lace bite without being overly bulky.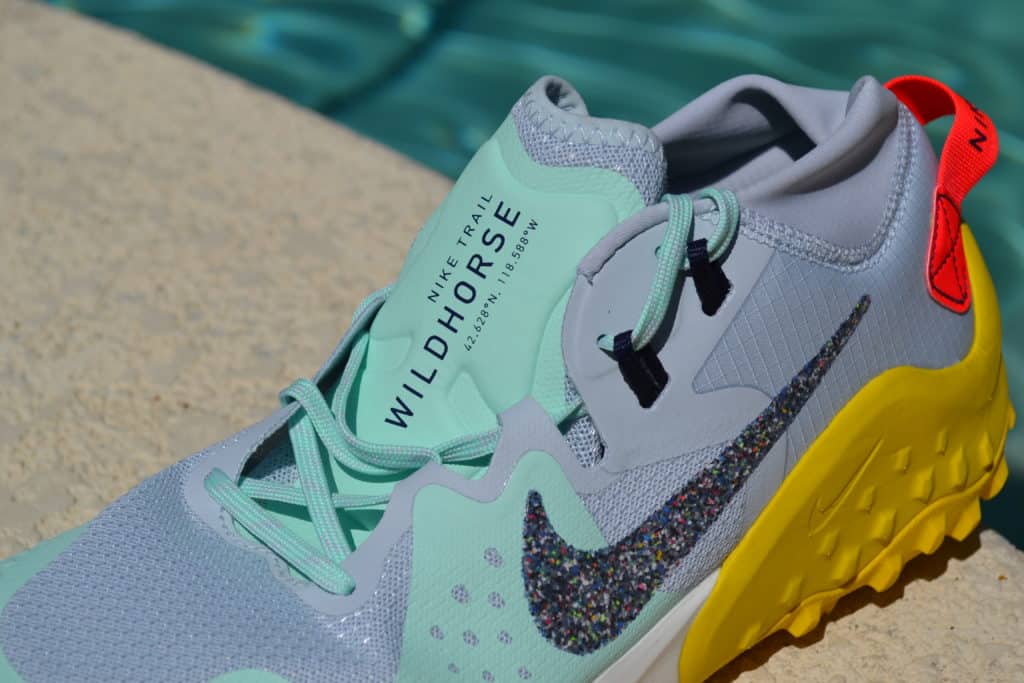 Those latitude and longitude coordinates? That's the Wildhorse lake trail in Oregon.
That's the inspiration for this shoe.
Heel to toe drop is 8mm – and it's indicated on the outsole – in case you forget.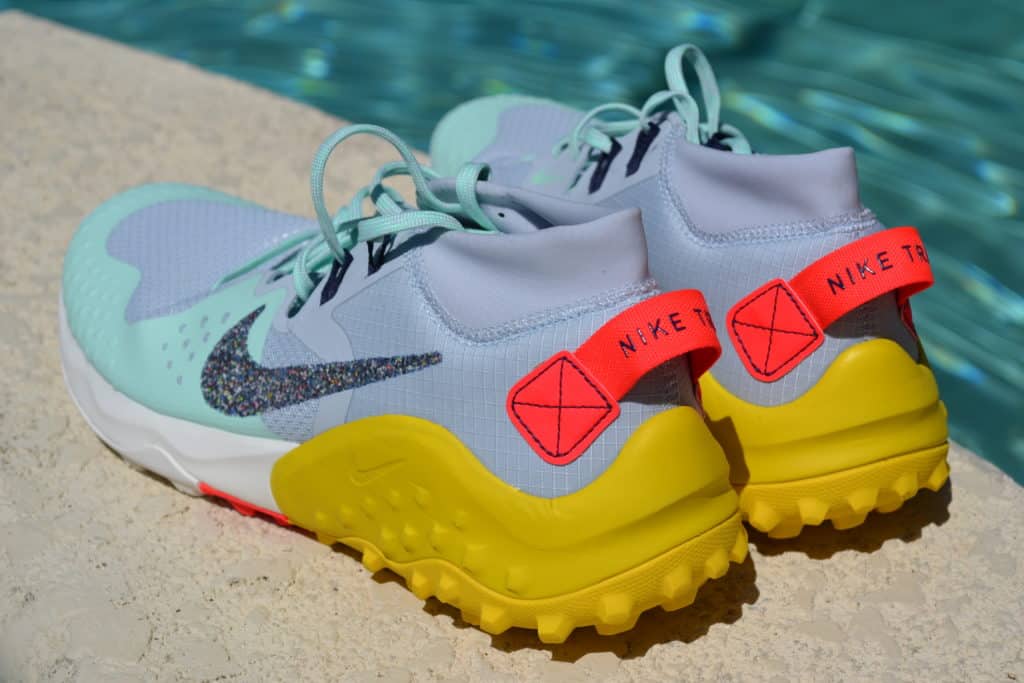 This is categorized as a neutral shoe.
How is running in the Wildhorse 6?
I can confirm this shoe delivers the authentic React running shoe experience.
Nike has used enough foam such that you get that springy, light feel.
They are great for walking too, although the aggressive lug pattern makes a fair amount of noise on pavement.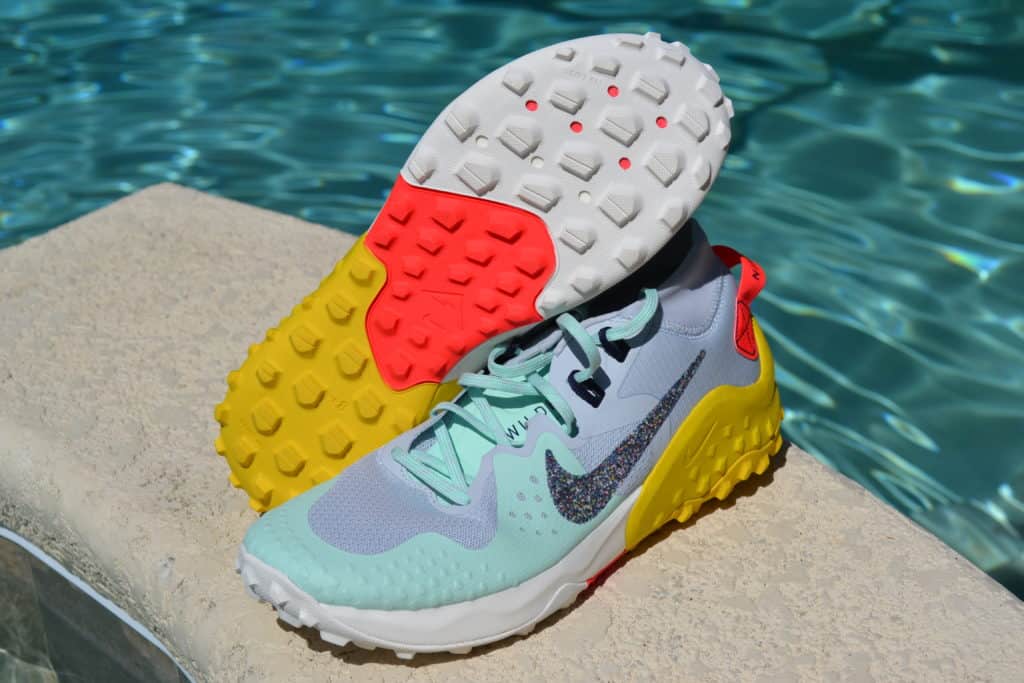 Nike Wildhorse 6 versus Nike Air Zoom Terra Kiger 6
Let's compare the Wildhorse to Nike's other 6th generation trail running shoe – the Nike Air Zoom Terra Kiger 6.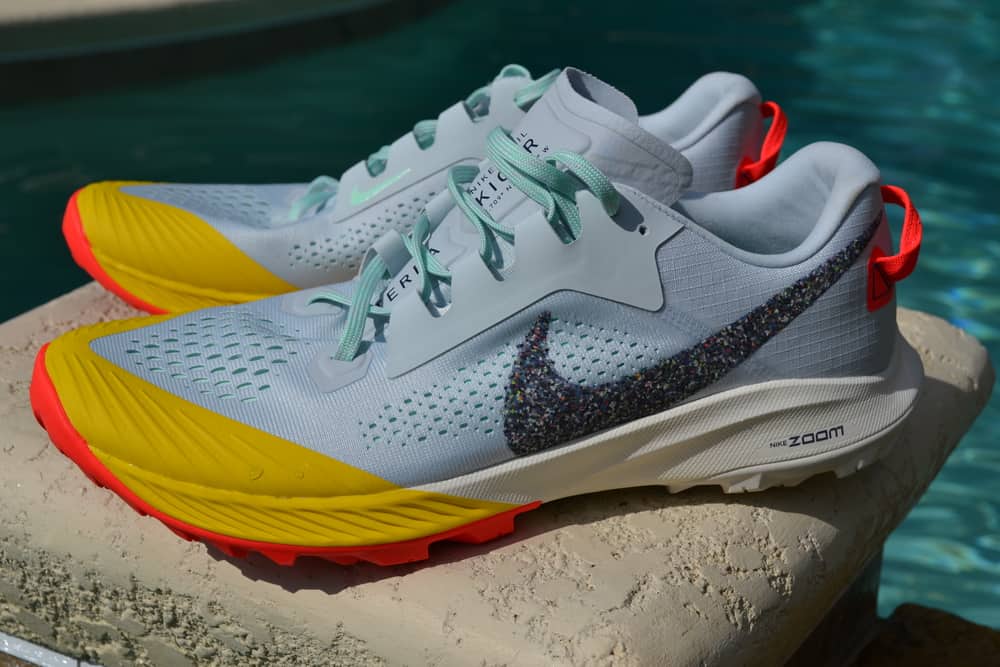 You can see the Terra Kiger 6 is a basic trail running shoe – deep lugs, laces, and sporty looks.
What you can't see is that there is an Air Zoom unit in the heel.
That's Nike's pressurized air unit (like an air bag) that uses compressed tensile fibers to provide rebound.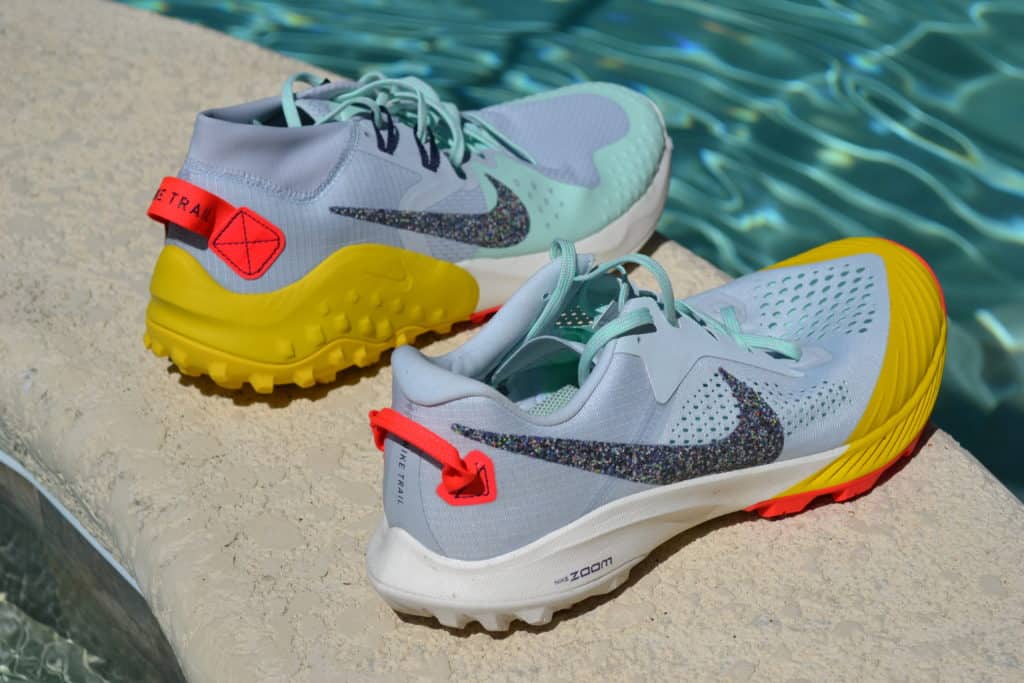 With only a single Air Zoom unit , the main difference between this and the Wildhorse is that there is just a lot less cushion to this shoe.
The Wildhorse gives you the full React foam experience – where as the Terra Kiger 6 is more minimalistic.
You also can't see the segmented rock plate incorporated in the forefoot of the Terra Kiger 6.
As you may know, running on rocky trails and pathways can be painful – with the wrong shoe.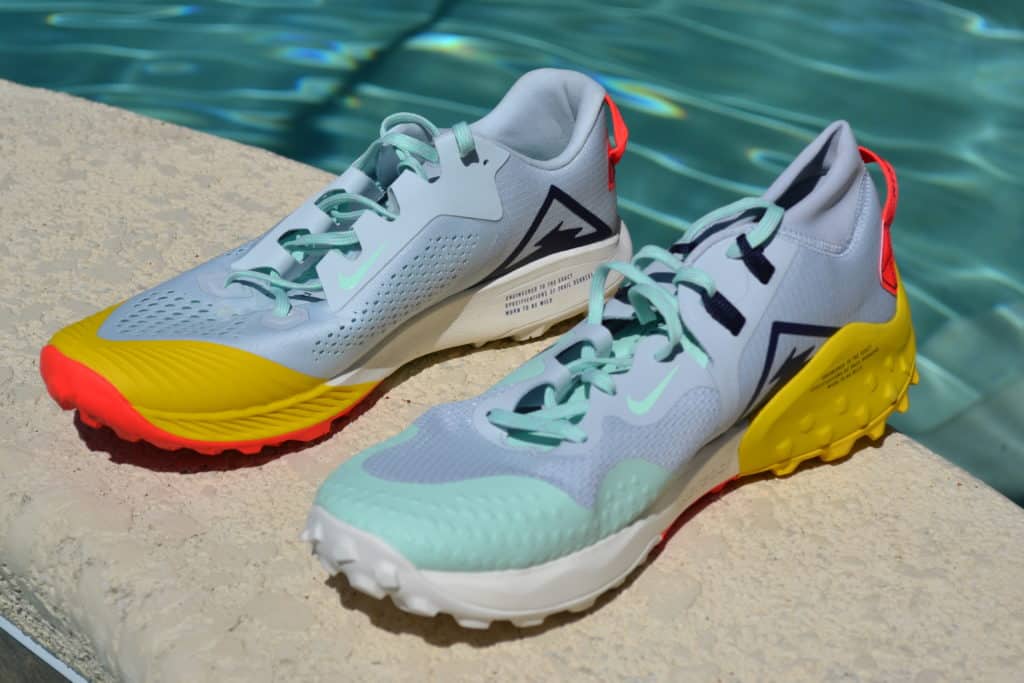 The segmented rock plate works like armor for the underside of the shoe and protects your toes and forefoot.
Of course, having the rock plate probably displaces the space that could otherwise be used for a 2nd Air Zoom unit – but there have to be design tradeoffs in order to keep weight acceptable.
The other big difference with this shoe is that there is a wet-traction rubber pod in the center of the outsole.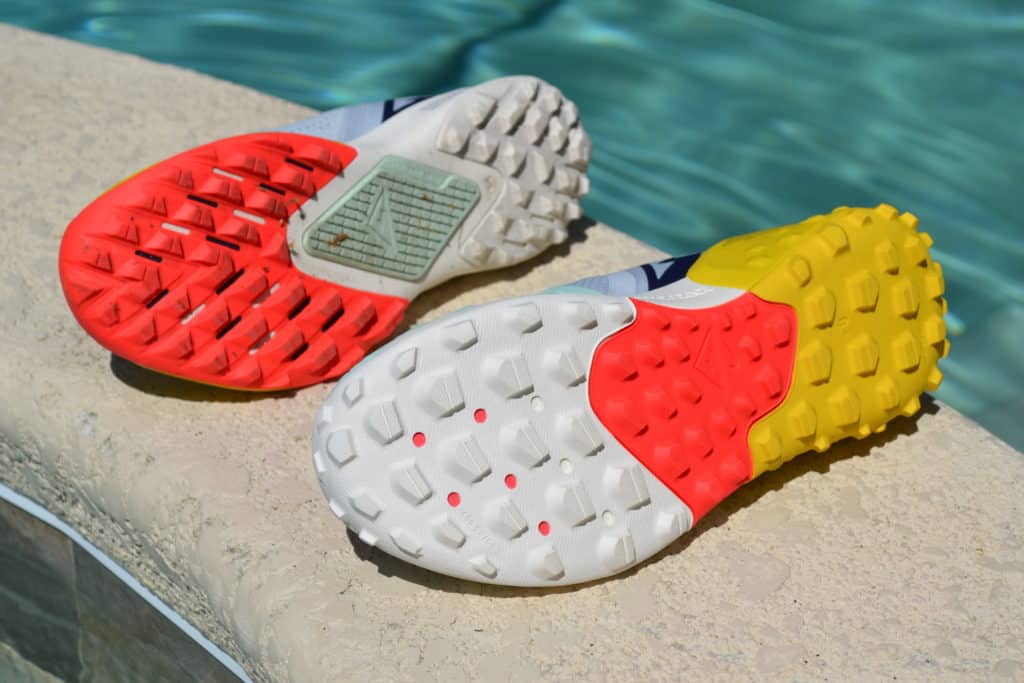 So, there is a bit less boot-like lug area, but the rubber pod is probably helpful for running on wet, rocky surfaces – where boot lugs may NOT give you the traction you need.
(It's hard for us to test this aspect of the shoe – as here in Florida there are very few rocks to be found – this state is more like one gigantic sandbar.)
All said, we'd recommend the Terra Kiger 6 for rocky trails and paths – and for those that aren't looking for a fully cushioned, soft running experience.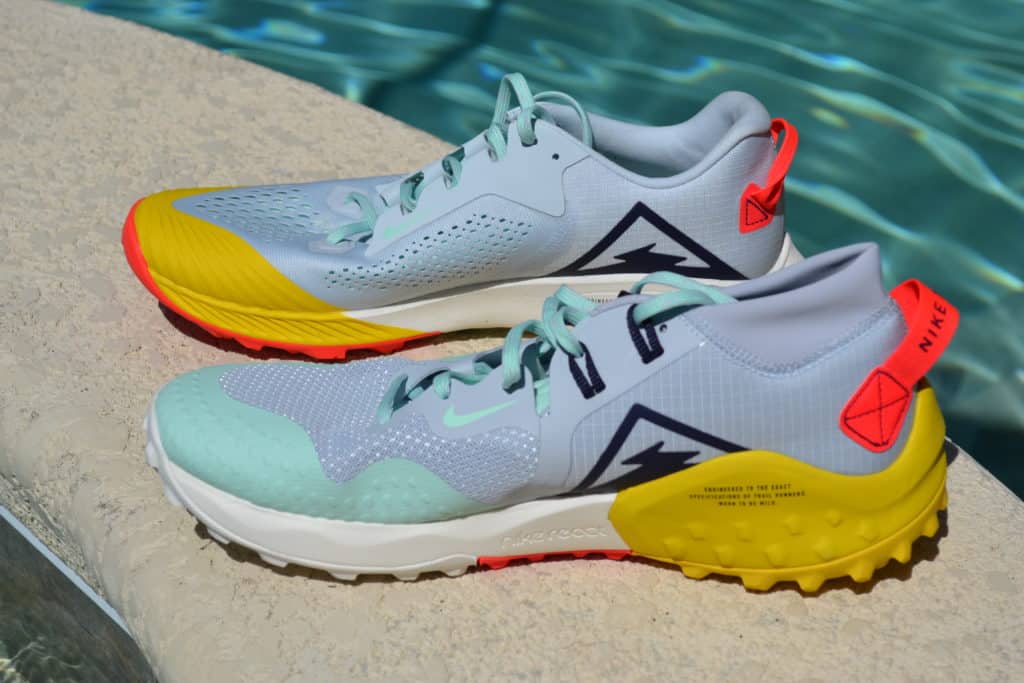 Both are categorized as neutral shoes.
The Wildhorse has 8 mm of heel to toe drop – as compared to only 4mm in the Terra Kiger 6.
Nike Wildhorse 6 versus Nike Air Zoom Pegasus 36 Trail
Let's take a look at another Air Zoom shoe – the Nike Air Zoo Pegasus 36 Trail.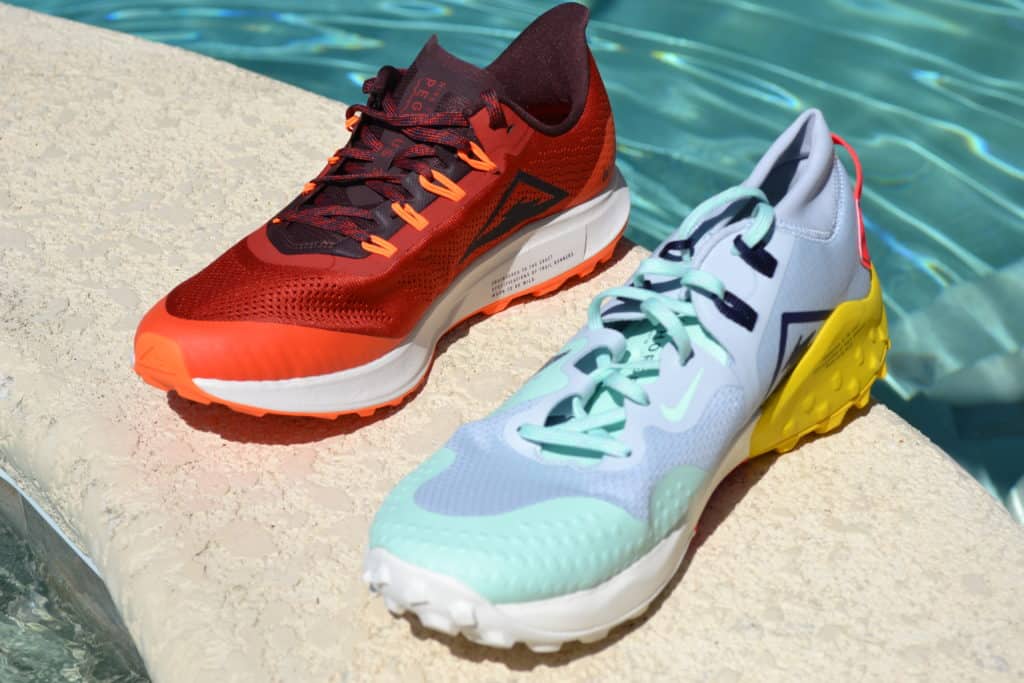 This shoe has two Air Zoom units – one in the forefoot, and one in the heel.
There is no rock plate in this shoe, but you get that 2nd Air Zoom unit up front.
Consequently this shoe has a softer feel as compared to the Terra Kiger 6 – with it's heel-only zoom unit.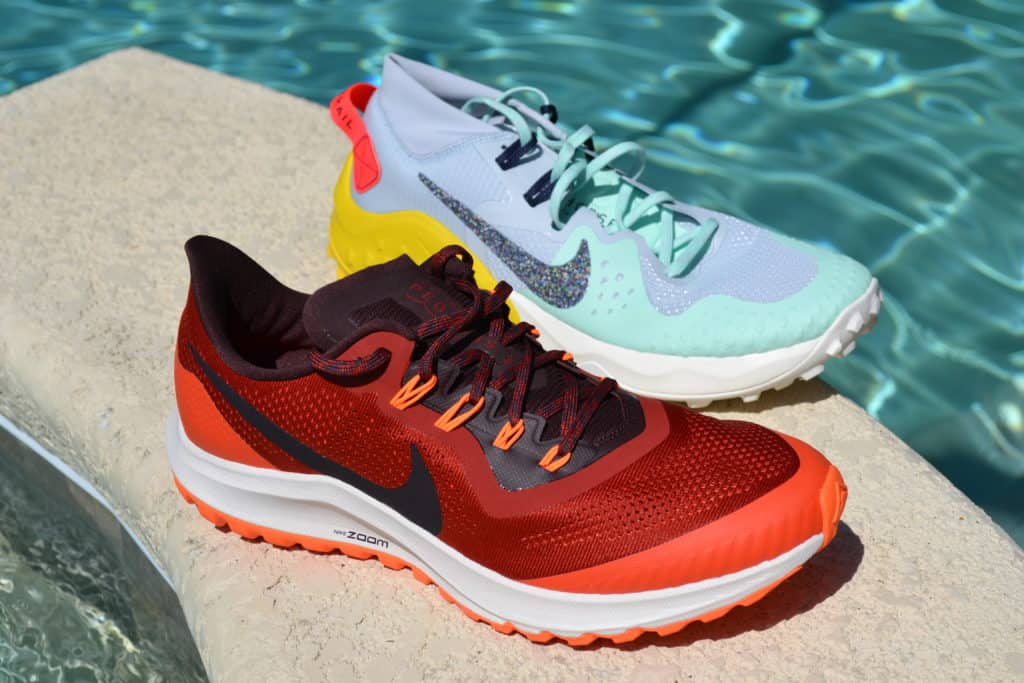 But, it's not as soft and cushioned as the Wildhorse, which makes heavy use of React foam.
The outsole tread pattern is also significantly less aggressive.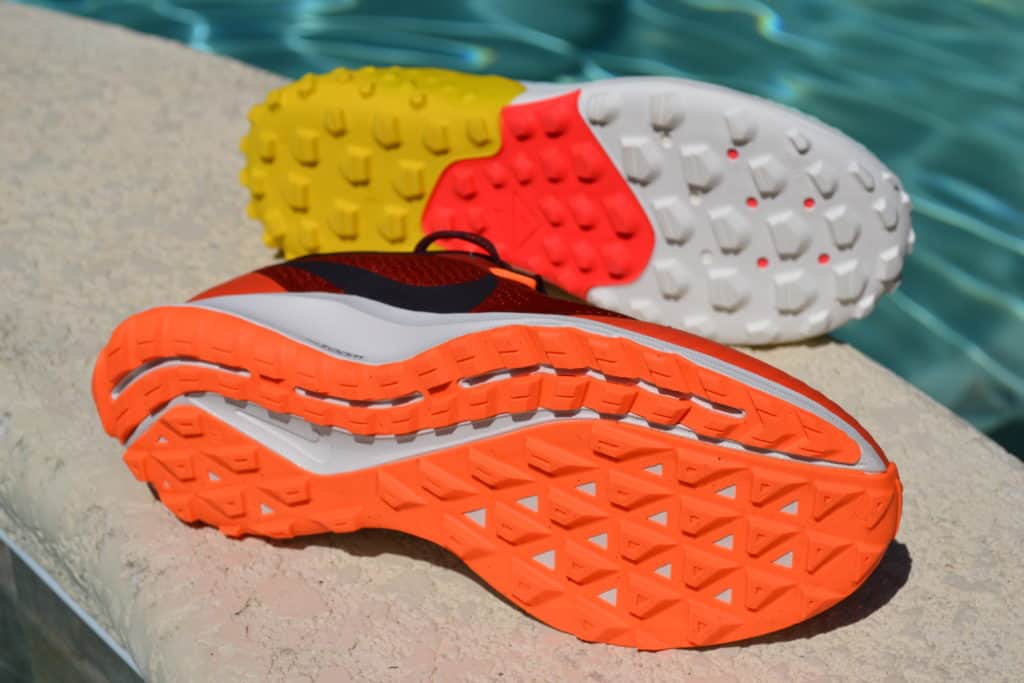 We'd recommend the Pegasus 36 Trail for someone looking for a less aggressive trail shoe.
It has the basic features of a trail shoe, but is less radical.
That said, even with double Air Zoom units – it cannot hold a candle to the React based ride in the Wildhorse.
That is a simply a much softer, and more cushioned shoe.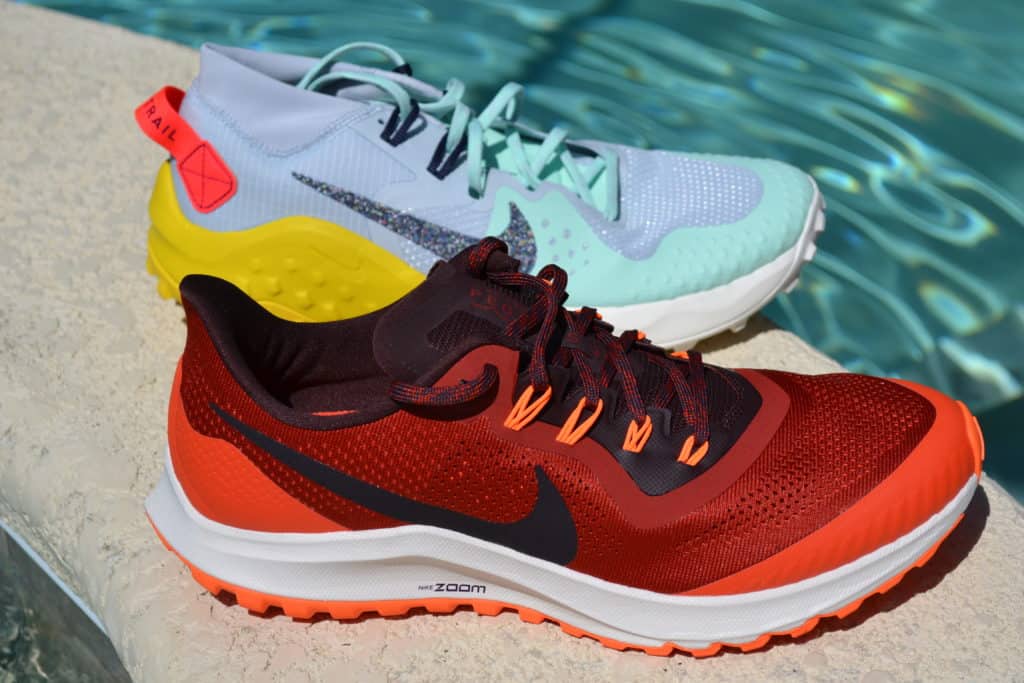 The Pegasus Trail 36 has a classic 10mm offset, as compared to 8mm in the Wildhorse.
Nike Wildhorse 6 – In Summary
The Nike Wildhorse 6 is the sixth version of Nike's Wildhorse trail running shoe.
It uses a lot of React foam to give a very soft and cushioned feel.
It also uses an aggressive all-rubber outsole and other features (like the elasticized gaiter) to give this shoe off-pavement credentials.
The widely spaced lugs should make this a good shoe for mud, sand, and dirt.
Photo Credits
Some product photos on this page are property of Nike, Inc.
This website is not affiliated or associated with CrossFit, Inc. CrossFit is a registered trademark of CrossFit, Inc.