Check out what's new at
Get RX'd
- Lots of great deals on functional fitness gym equipment for your home or garage.
Need a non-motorized treadmill? Check out the Xebex AirPlus Runner.
A curved treadmill is a modernized curved-shaped running machine powered entirely by your legs and created for natural human movement. It is very identical to outdoor running because it doesn't use electricity and no top speed. Because of its curved, slatted running surface, you can move the treadmill belt using the balls of your feet, pushing your body ahead as you do.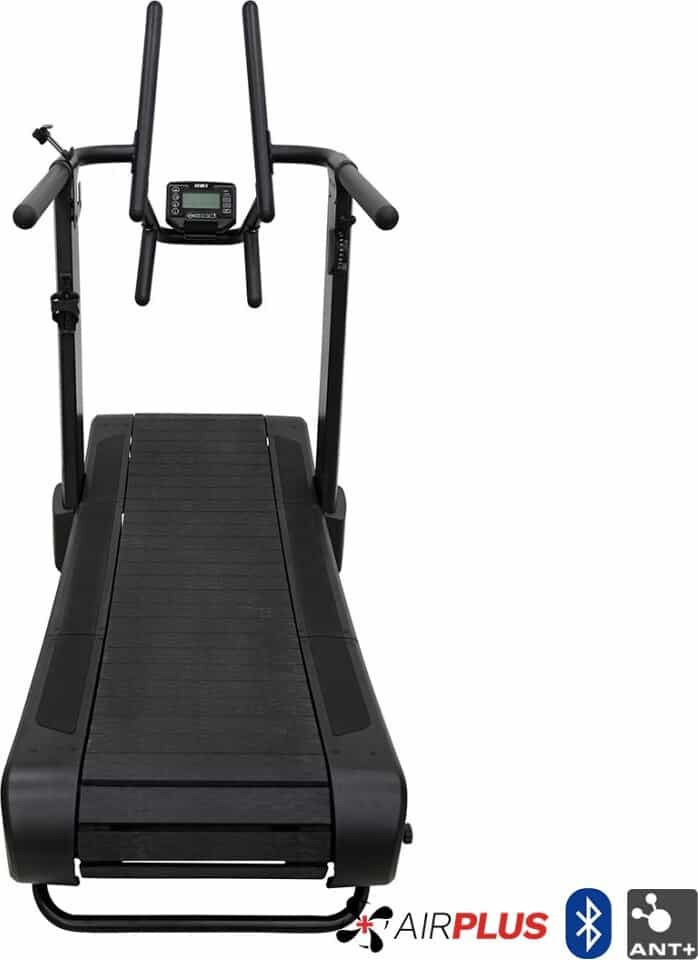 Here are some of the equipment that is available now: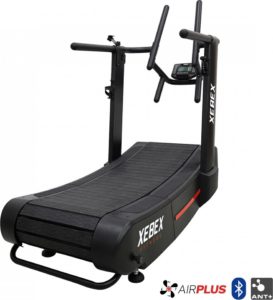 Xebex AirPlus Runner SmartConnect (Black)
Xebex AirPlus Runner SmartConnect - the AirPlus Runner is a curved treadmill with no motor - your body is the only thing making it go. Some find this is a great way to run with stricter form.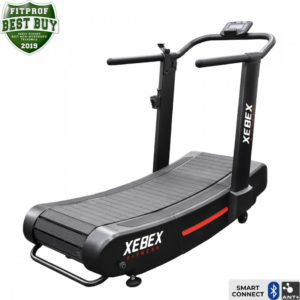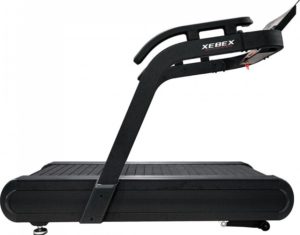 Xebex AirPlus Runner – Overview
These curved treadmills are versatile and have many applications that include Aerobic Fitness, Anaerobic Power and Capacity, Speed Training, Rehabilitative Locomotor Patterning, and Decreased Ground Reaction Force Training. A curved treadmill engages more muscle groups than traditional treadmills, and you can only increase the pace by working out harder. It is also less harmful to the joints because the rubber surface of a curved treadmill absorbs the impact on your joints and connective tissue, avoiding injuries often connected with hitting the ground. You can also burn 30% more calories on a curved treadmill.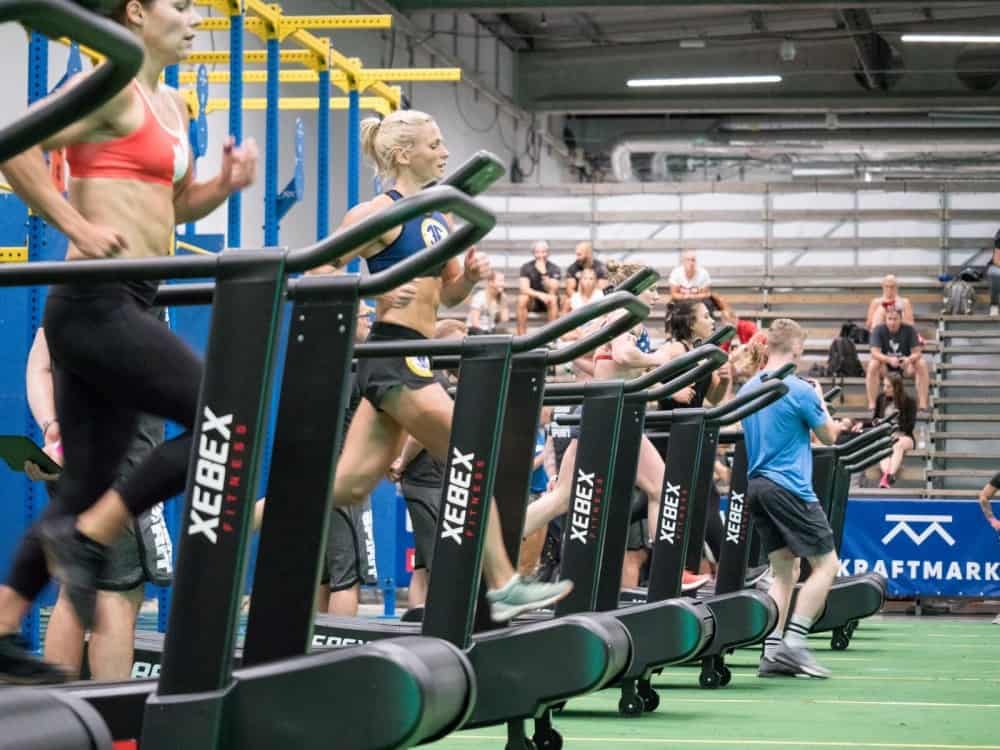 Get RX'd produces strength and conditioning, functional training, and HIIT equipment. Each of their products shows innovation, quality, and affordability, including their curved treadmills. They made the Xebex Runner to require less maintenance and they are even easier to maintain than other competitor models. They use 4x Pillow Block Bearings, and you can change the Pillow Block Bearings in under five minutes without removing any parts from the internal frame. Get RX'd used 4x Pillow Block Bearings, while others use Ball Bearings.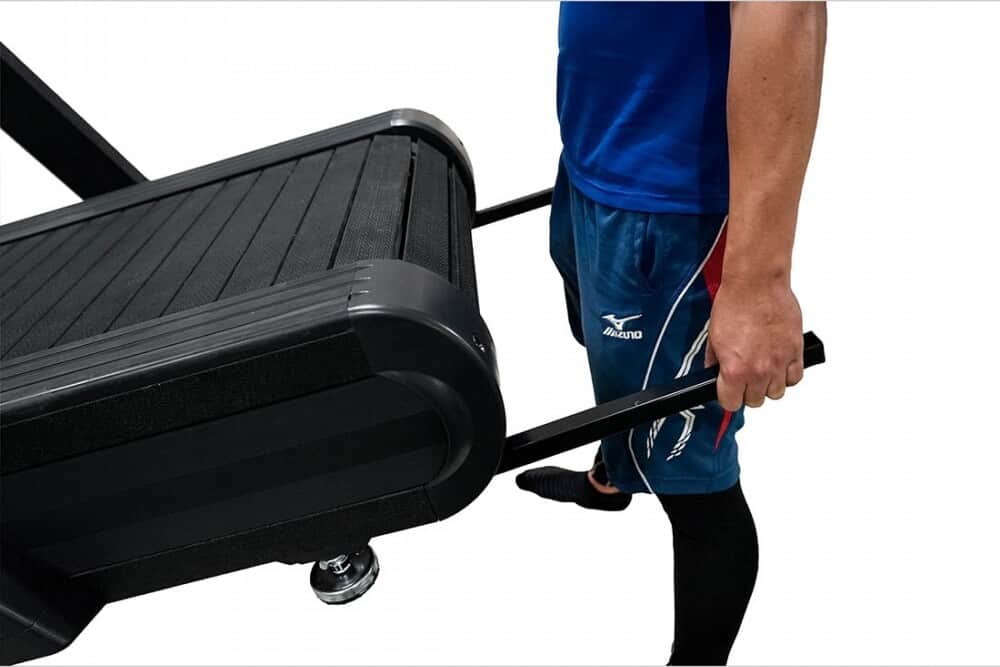 Xebex AirPlus Runner SmartConnect
The Xebex AirPlus Runner Smart Connect is a self-generated, non-motorized, curved treadmill. It works on the energy delivered by the runner's movement on the treadmill. It uses no electricity, so amateurs and competitors can run at the desired speed and adjust the output at will with no maximum or minimum speed setting. The user can change between levels 1 through 8 levels of resistance for a more powerful workout and copy a sled push or pull. The 10mm solid, low-impact, shock-absorbing, vulcanized rubber running surface gives the user more support and less impact during long-distance runs. It is proven to burn 30% more calories than traditional, motorized treadmills.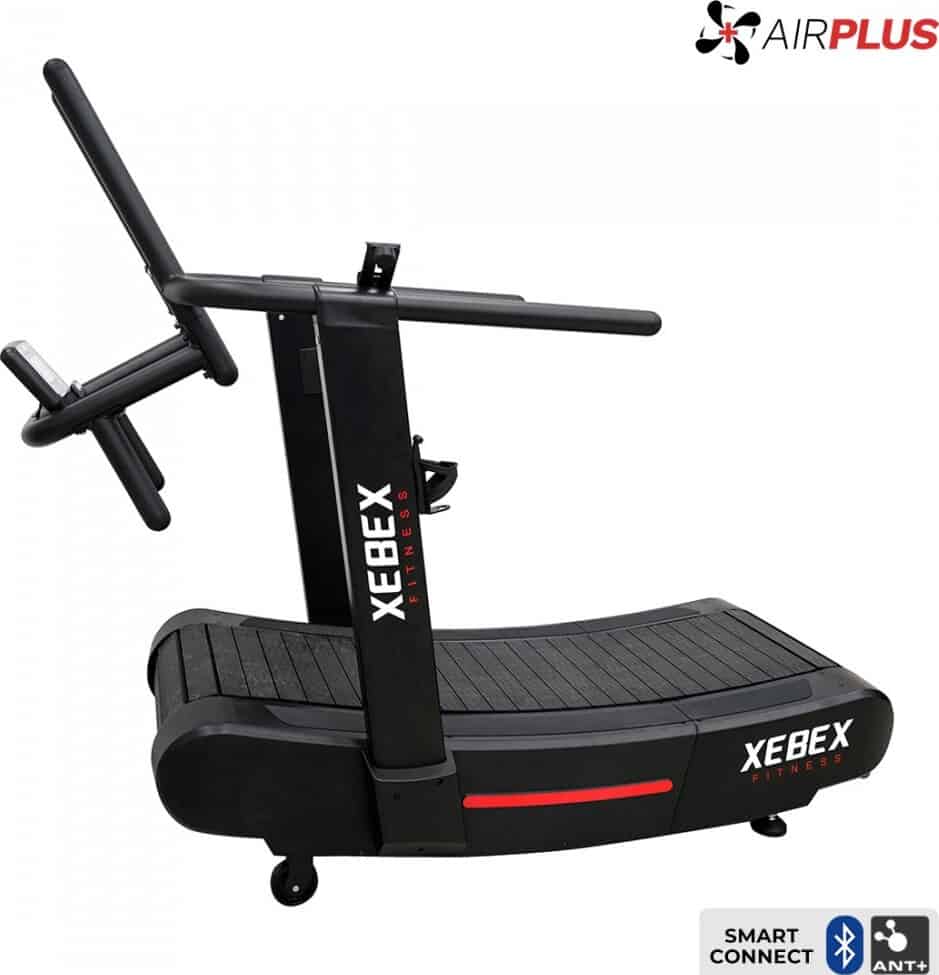 The Console display notifies you of your Resistance Level, Heart rate, Time, Speed (KM or Mi), Distance (M or Mi), Watts, Calories, Pace (Minutes per KM/MI), and RPM. It also records histories such as Total Run Time, Distance, Summary at the end of workouts, Total Calories, Max Speed, and more. You can also increase your earlier benchmarks by setting "Target Time + Distance," and the Console will actively tell you if you're "on pace" or need to run "faster" to achieve the targeted distance within the targeted time. The Console is compatible with different smartphone apps and group leaderboard software. The unit also comes with a water bottle holder on the frame, a phone holder on the frame, a console tray with built-in transport wheels for transport.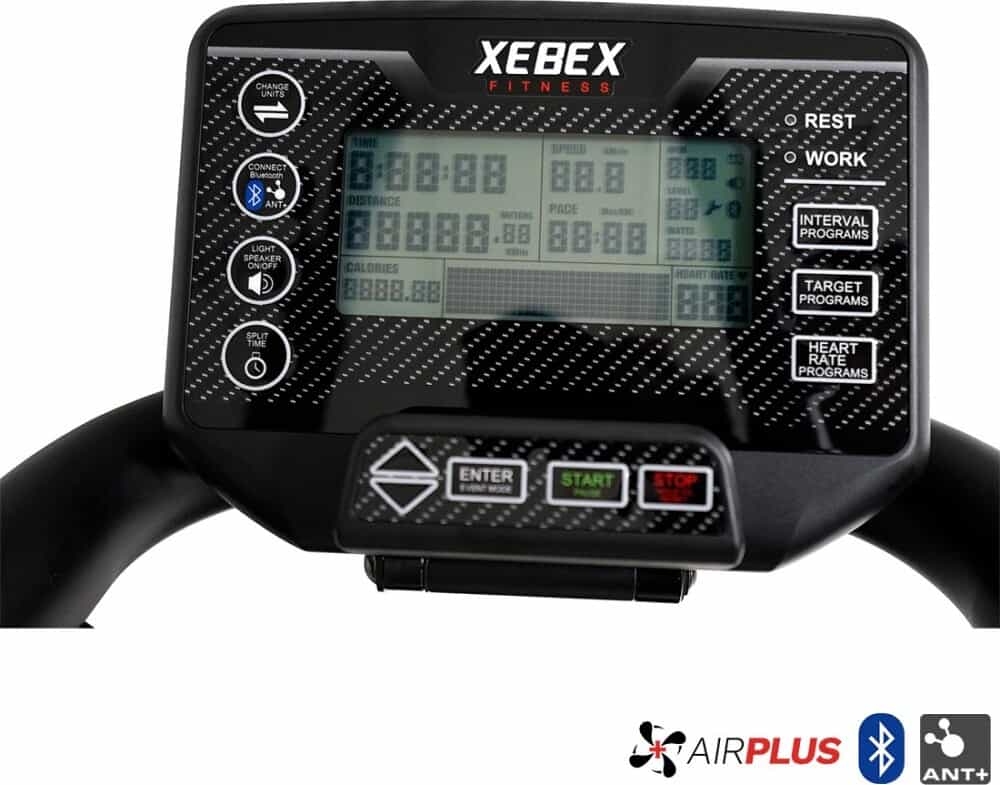 Xebex Runner SmartConnect
The Xebex Runner SmartConnect doesn't use electricity as well. It is created to have the largest "sweet spot" and the best responsiveness available. The "sweet spot" is described as the areas on the treadmill you will run to maintain, increase, or decrease speed. The larger the "sweet spot," the more comfortable it is for you to keep the same pace, increase speed into an all-out sprint, or decrease the speed to a walk or low-speed jog as needed. The responsiveness of the Xebex Runner comes in handy when you are trying to pick up, maintain, or decrease the speed.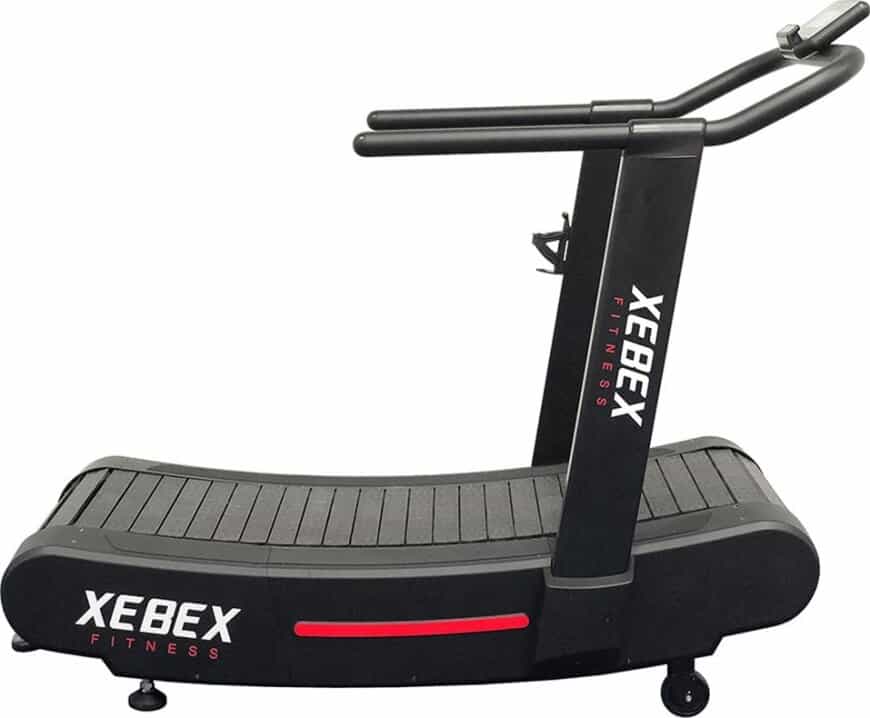 The deck is precisely engineered so you'll feel safe and stable while running on the treadmill. During low-speed jogs or walks, you will feel the high-quality bearings, and the slight angle provides a steady, comfortable feeling allowing you to efficiently keep speed like running on a track, instead of a feeling of "walking in sand." The Console is the same as Xebex AirPlus Runner SmartConnect. You can also set "Event Mode" to quickly handle competitions and athlete testing or set interval work programs by Time, Distance, or Calories. It also holds 114x total bearings, including 4x pillow block bearings and 2.3mm lateral tolerance roller guides, 10mm thick, shock-absorbing vulcanized rubber surface for low-impact runs,a phone holder on frame and console tray, and water bottle holder on the frame.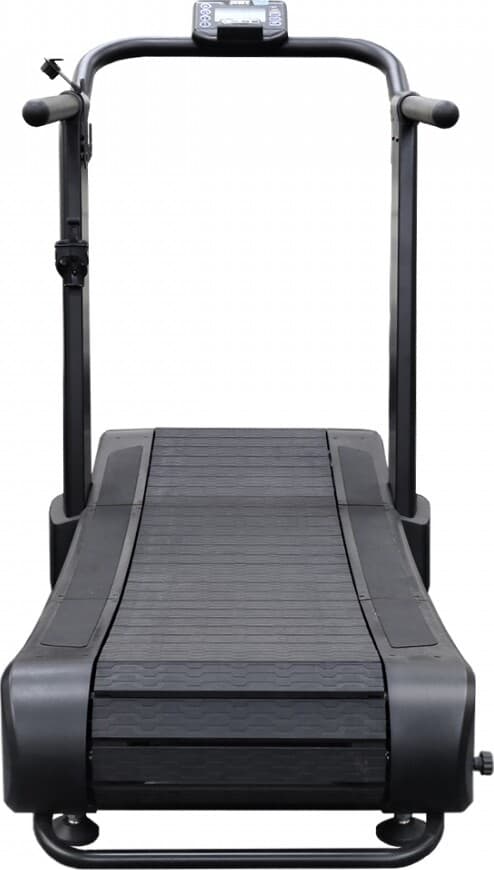 Xebex Motorized Flat Runner
Every part of the Motorized Flat Runner was meticulously thought of from the base to the Console and is created to give beginner and seasoned users a practical workout experience. It is full of features that are geared towards user-friendliness and intelligent cardiovascular training. The Motorized Flat Runner's heavy, 408-pound construction extends durability and sturdiness to endure both high-intensity as well as long-distance endurance workouts without sacrificing mobility. The rear of the treadmill highlights fold-out handles so you can tilt the treadmill and wheel it away for storage. The no-deck design keeps the motor long-lasting with minimal maintenance. The handles fastened to the rail give added security and functionality. Each handle shows the athlete's pulse, which is then displayed on the Console. The left handle highlights control to increase and decrease the incline angle, while the right handle lets you to increase or decrease the speed.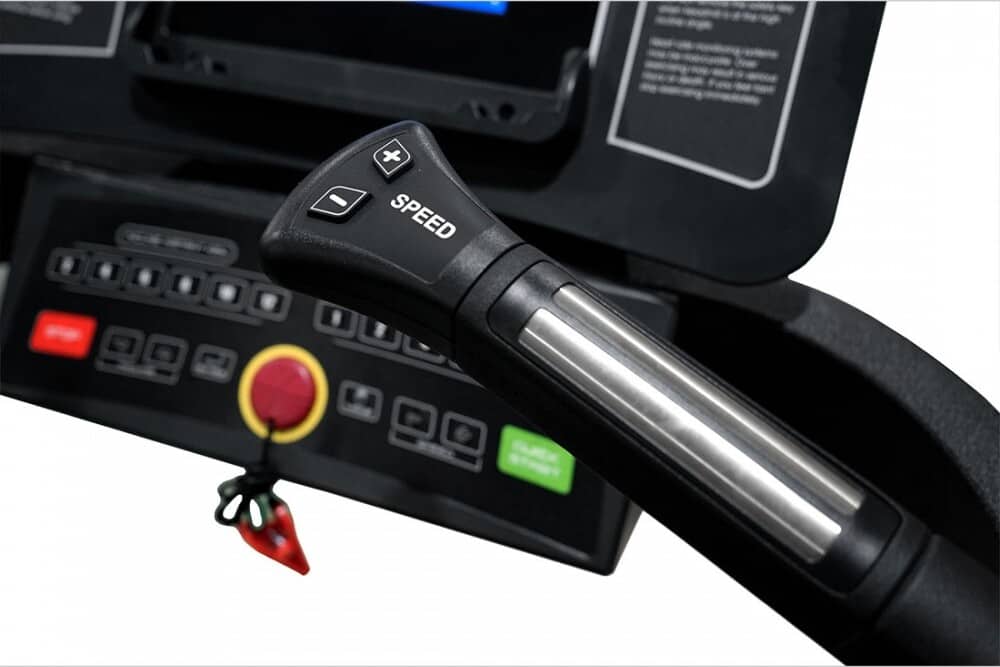 It has a large display console, so you can quickly select workouts and view your performance at a glance. The easy-to-use console records and shows different performance measures such as time, distance, calories, etc. Its backlit display enables you to view your statistics during workouts quickly. It has a slatted design that provides a low-impact running surface so you can have longer and more comfortable workouts. The vulcanized rubber running surface measures 20″ x 58″ and renders a soft, low-impact workout while giving a wide range of intensity choices through the incline range of up to 15 degrees and a 1.5 HP motor with a maximum speed of 12.5 mph. The slatted running surface results in lesser maintenance than a traditional belt-based treadmill.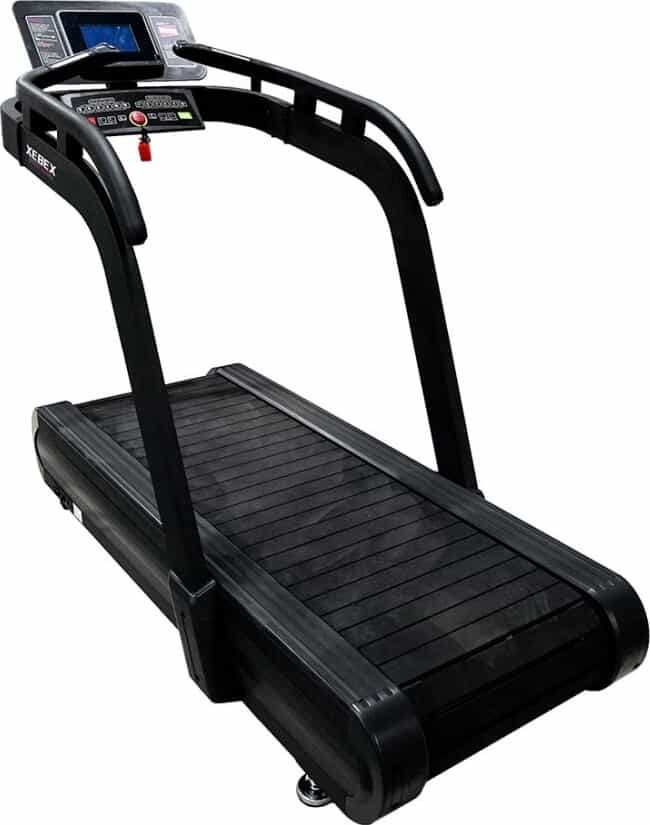 Xebex AirPlus Runner Review – In Summary
That's our look at the Xebex AirPlus Runner.
Curved treadmills prompt you to run on the balls of your feet, which lessens the impact on joints and eventually develops running performance. The Xebex AirPlus Runner Smart Connect is a non-motorized, self-generated, curved treadmill. They are ideal for sprint training since you don't need to wait for the treadmill motor to turn the belt at a different speed to run.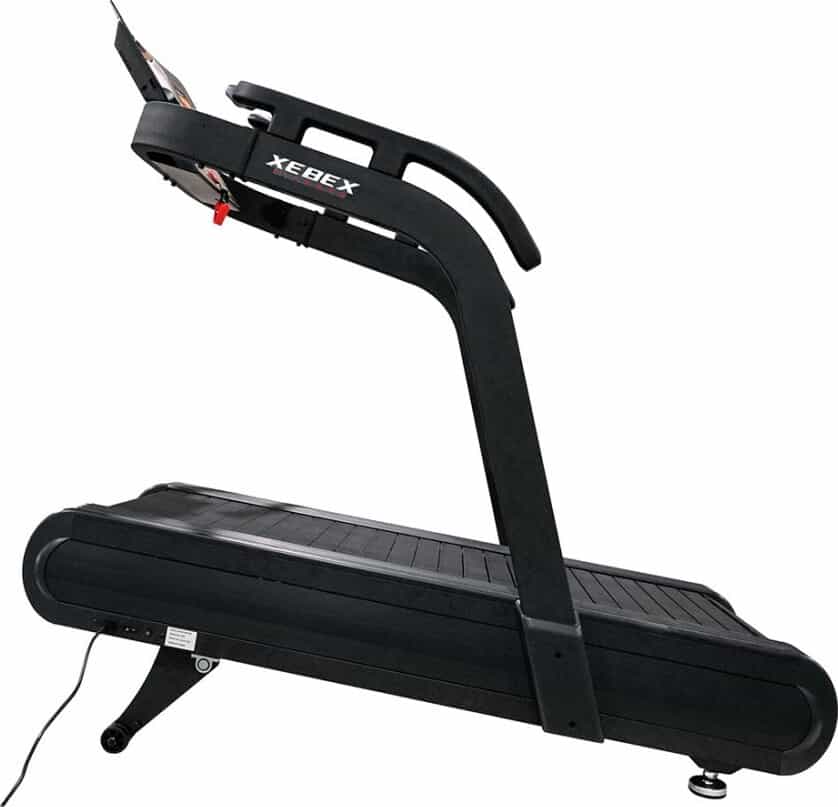 Photo Credits
Product photos on this page are property of Get Rx'd.
This website is not affiliated or associated with CrossFit, Inc. CrossFit is a registered trademark of CrossFit, Inc.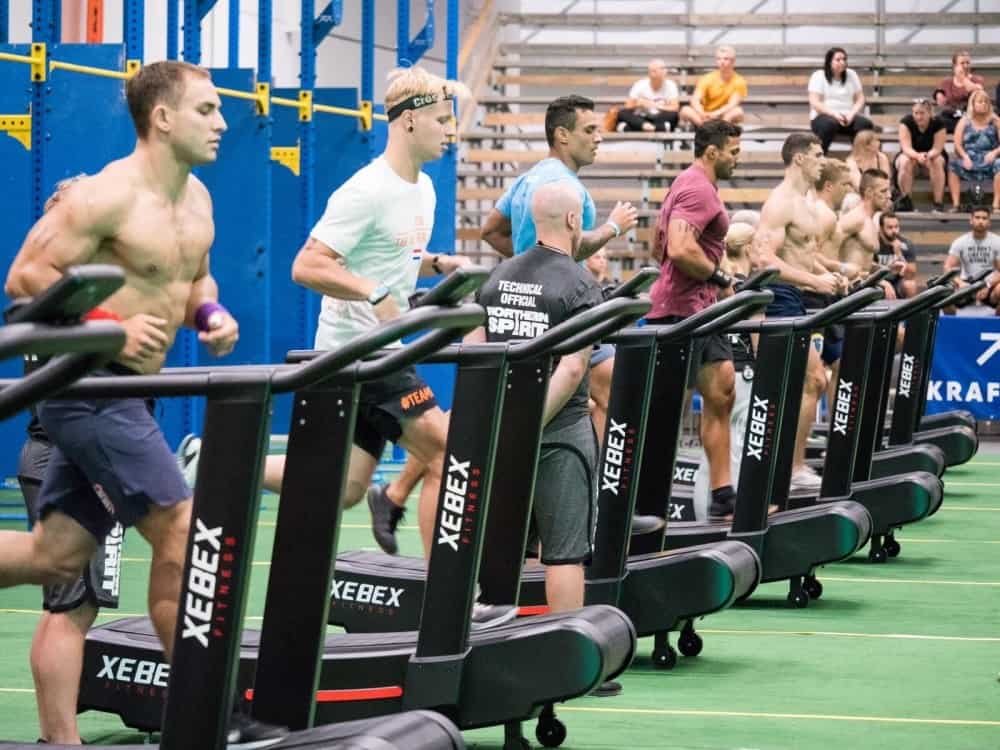 Affiliate Disclaimer
We are an affiliate of Get Rx'd and others that sell this training gear. If you buy clothing or other training gear after clicking the links in this article, we receive a small commission at no extra cost to you. This helps us to bring you in-depth information and content on these great training products.