Let's look at the new generation Cloud X training shoe from On Running.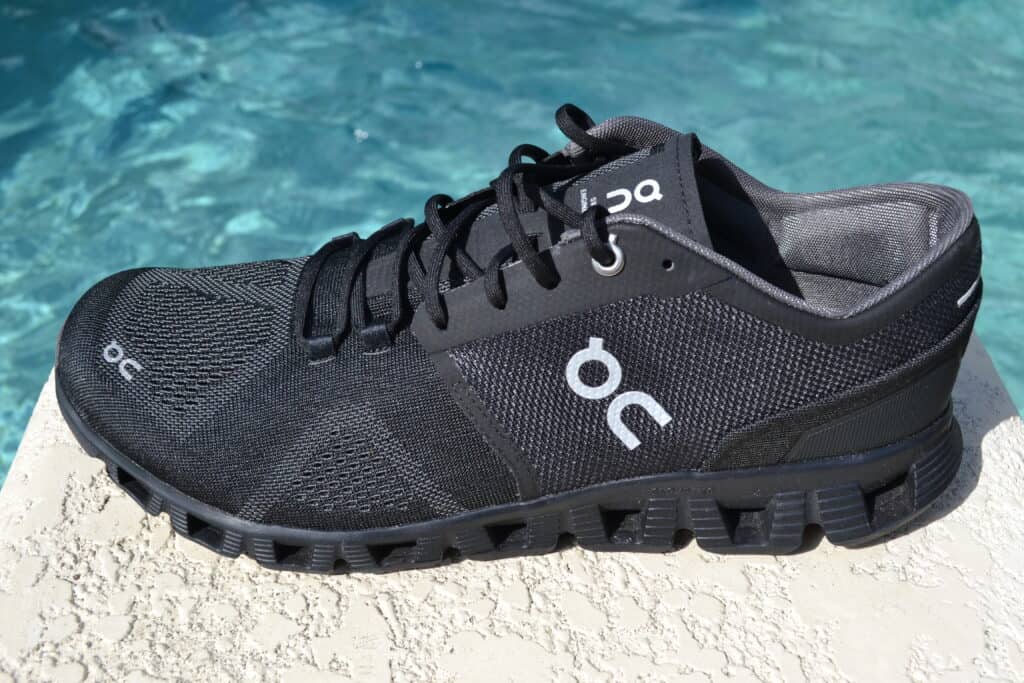 On Running is known for their feather-light and highly cushioned running shoes.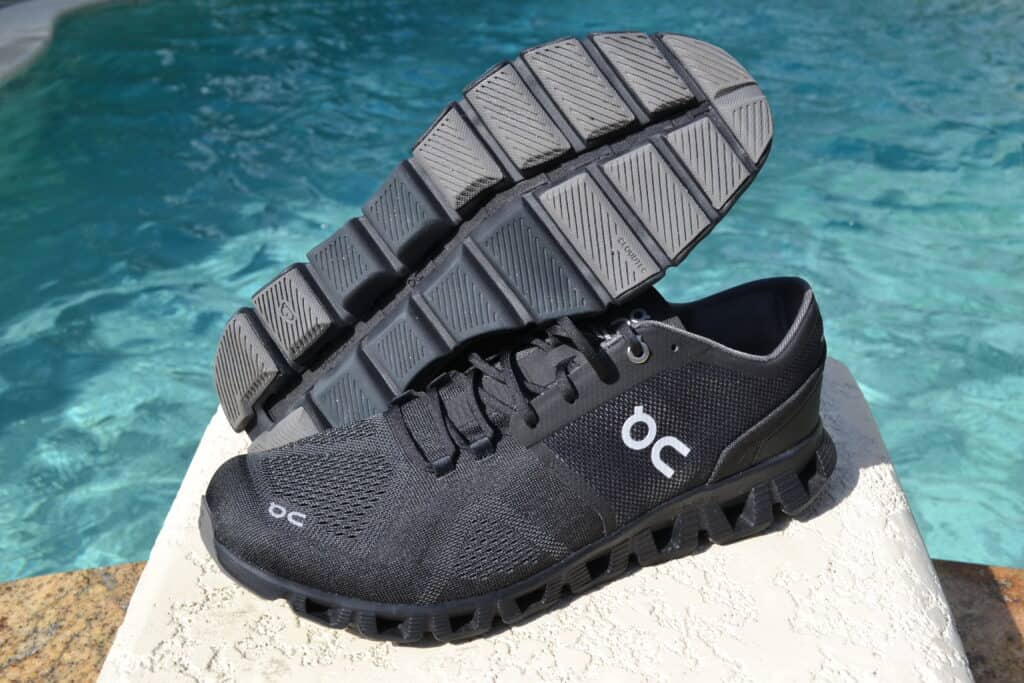 Does their design fit into the cross training shoe market? That's what we'll review here.
Here's some of the styles available now: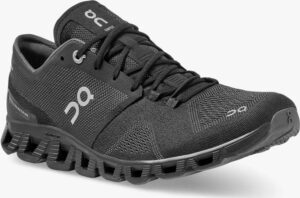 Cloud X Training Shoe (Black/Asphalt)
The new generation Cloud X shoe from On Running is a training shoe. It combines several features from the On line with the stability you need for gym sessions and HIIT workouts.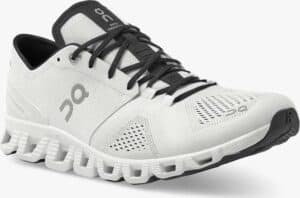 Cloud X Training Shoe (White/Black)
The Cloud X uses materials high in quality and low on weight. Flexible but tough, the engineered mesh upper has a function-focused weave pattern for durability, breathability and agility. And the no-sew design maintains a perfect fit during any activity that gets you fit.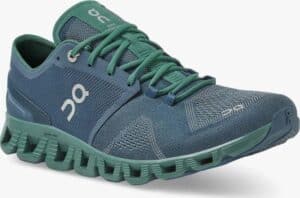 Cloud X Training Shoe (Storm/Tide)
The Cloud X is for those who refuse to define themselves by one activity. A lightweight and ultra-agile shoe built to handle punishing paces and intense mixed-sport workouts. It's at home on the track, street and in the gym. Get stronger, run longer.
Cloud X Training Shoe – Video Review on our YouTube Channel
Why read when you can watch? Check out this video from our YouTube channel:
Cloud X Training Shoe – Overview
All right, let's talk about the tech.
First of all, let me say this is a very light-weight training shoe.
A Men's Size 11 (US) weighs in at only 9.2 ounces.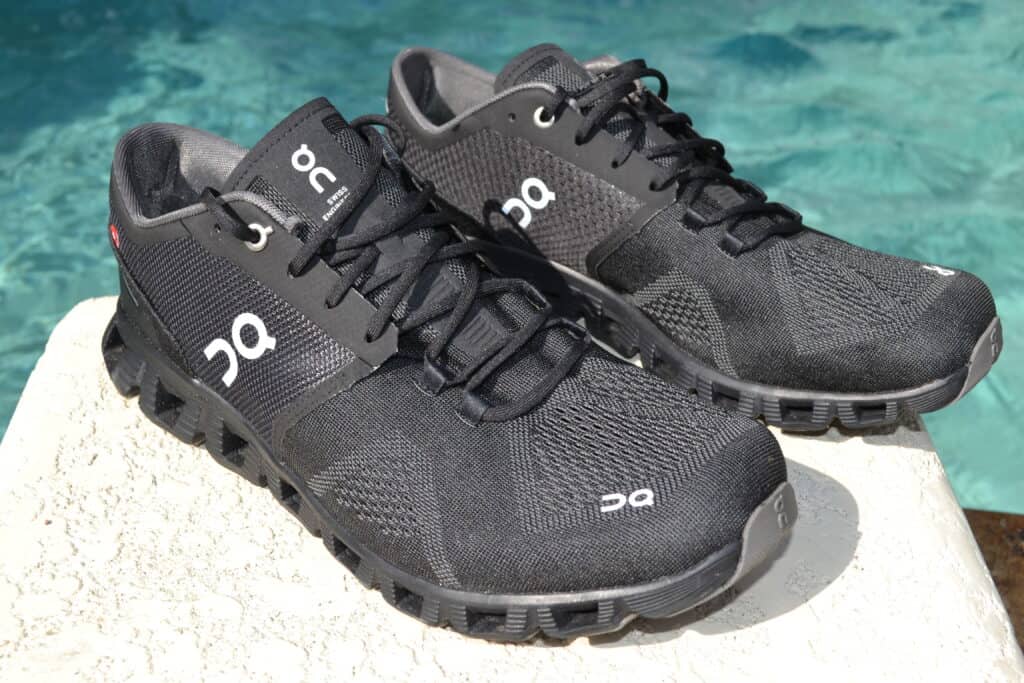 That, in and of itself, doesn't tell you much – but consider that a Reebok Nano X in the same size is in the 14 ounce range, as is the Nike Metcon 6.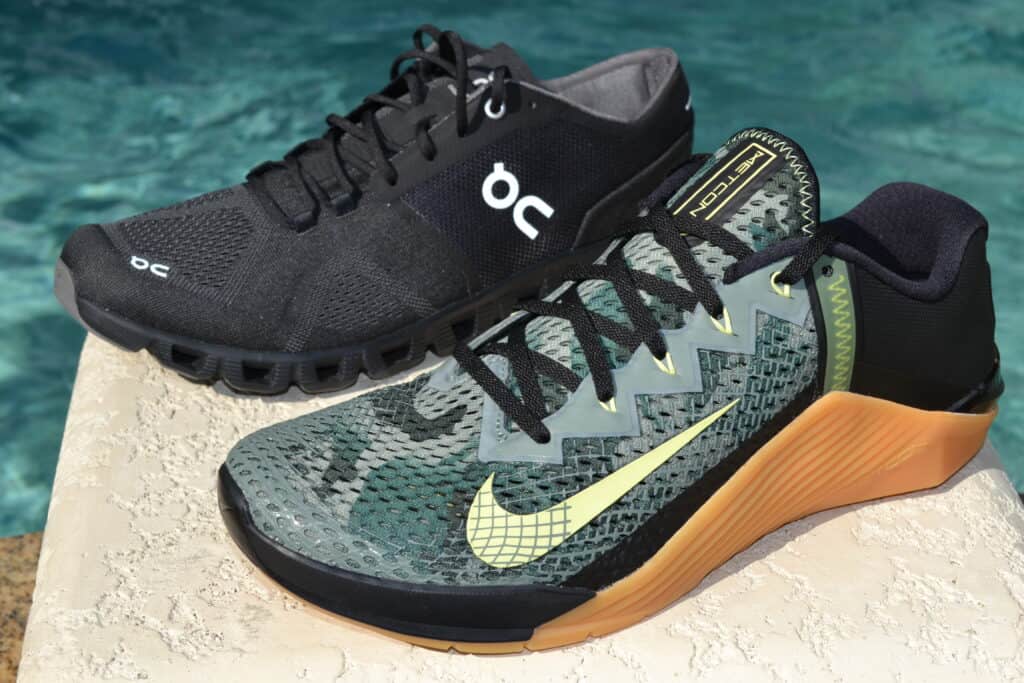 When you put these shoes on the lightweight feeling is immediately apparent.
How do they do this?
First of all the upper is thin and breathable.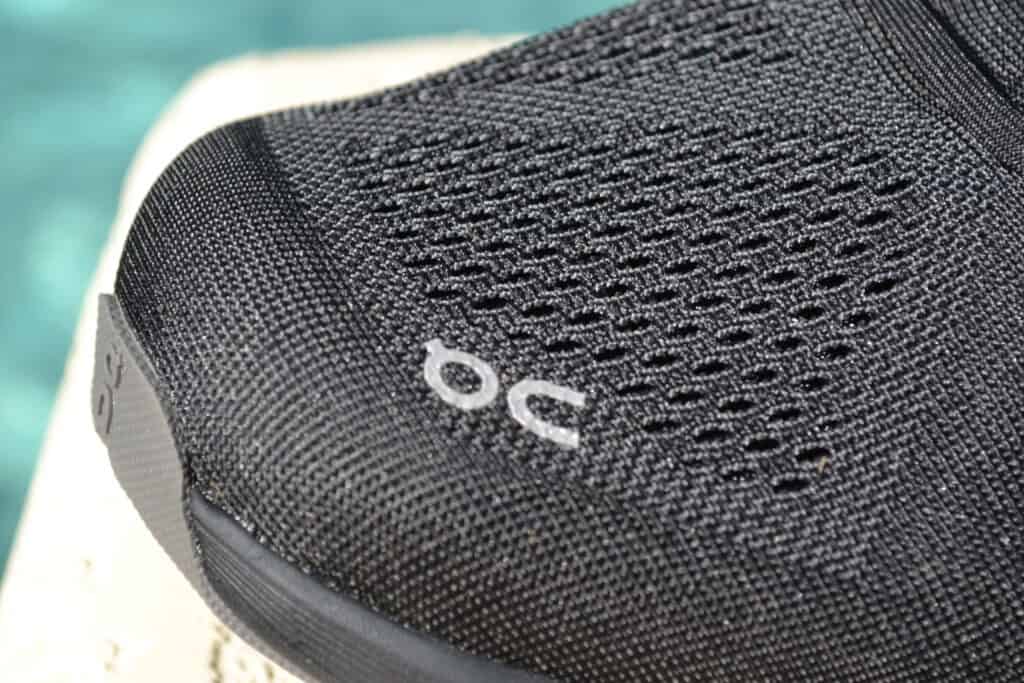 It's got perforations up front – you can see some ( a little) sunlight shining through in this photo.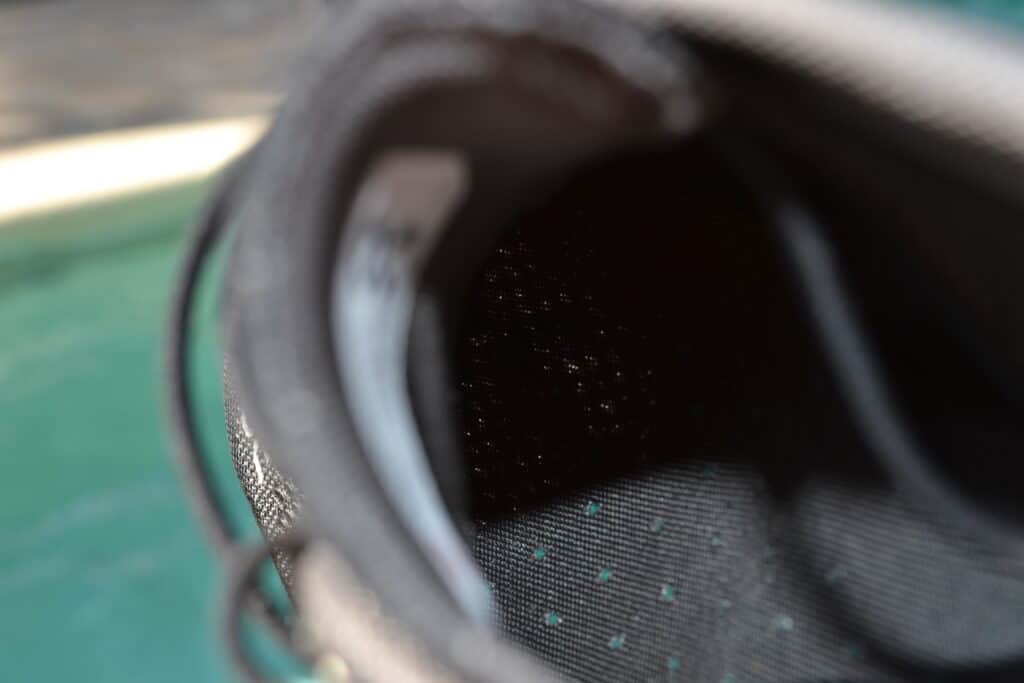 What's the upper made of? On Running calls it an engineered mesh with a weave pattern.
It's soft, it's comfortable. I like it.
The shoe uses regular laces and the tongue is what you'd expect in a running shoe.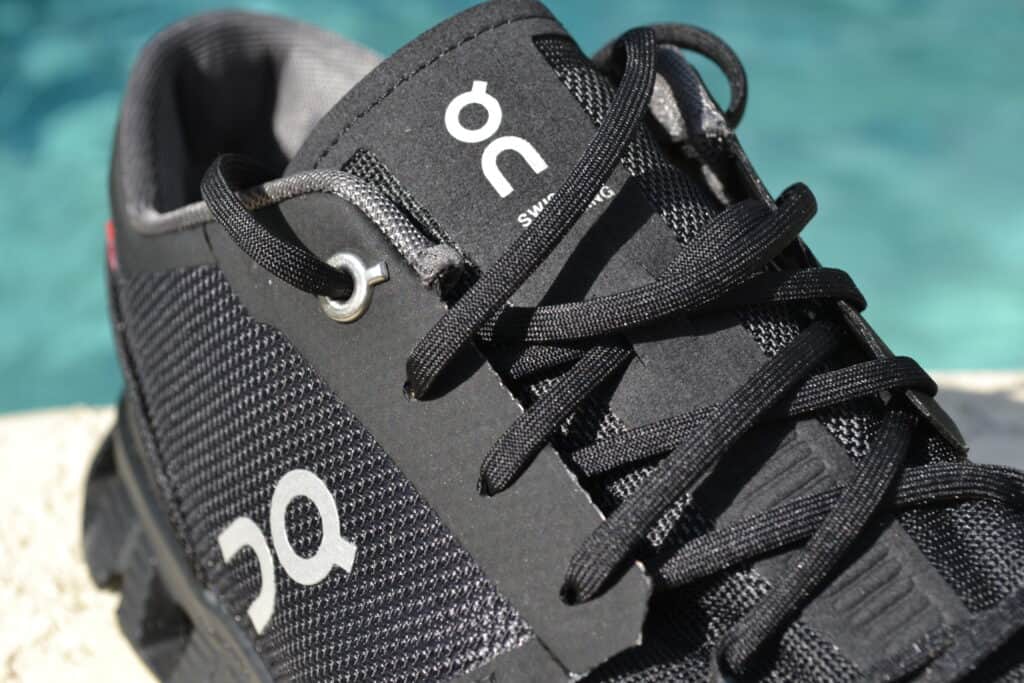 The upper doesn't have any extra stuff on it – no extraneous bands or straps or anything extra – that's how they keep it light.
But the other half of that equation is the cushioning.
This shoe uses On's "CloudTec" technology and "Helion" foam.
Where's the foam at? It's in the midsole.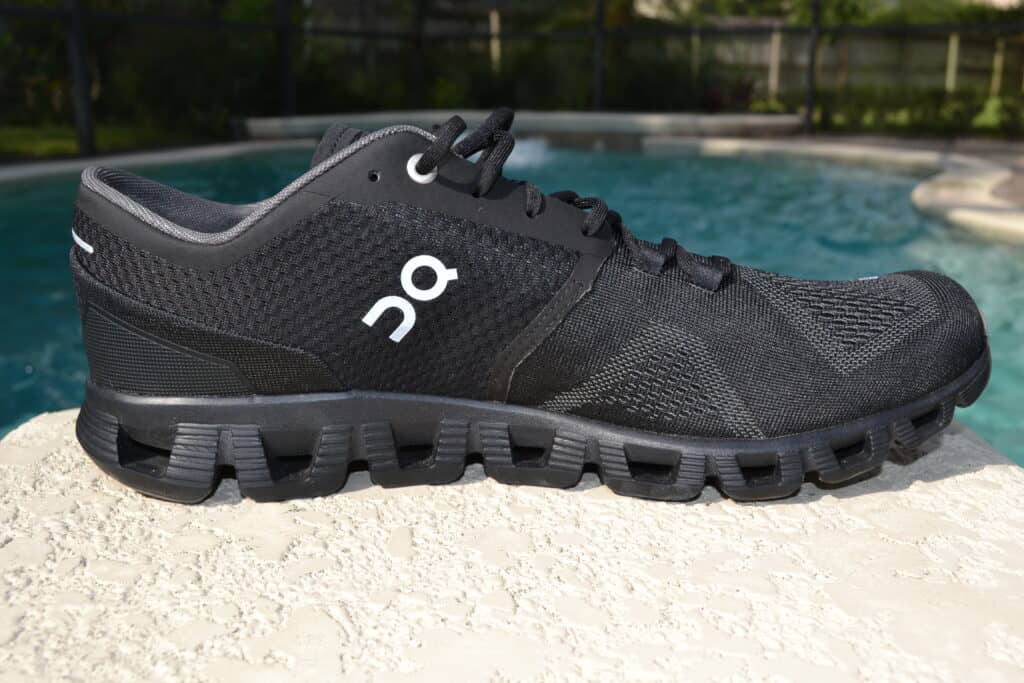 That's the main part of the cushioning of the shoe. You can't really see it, it's on the inside. There is a simple, thin removable insole too.
The foam midsole works in conjunction with the CloudTec pods.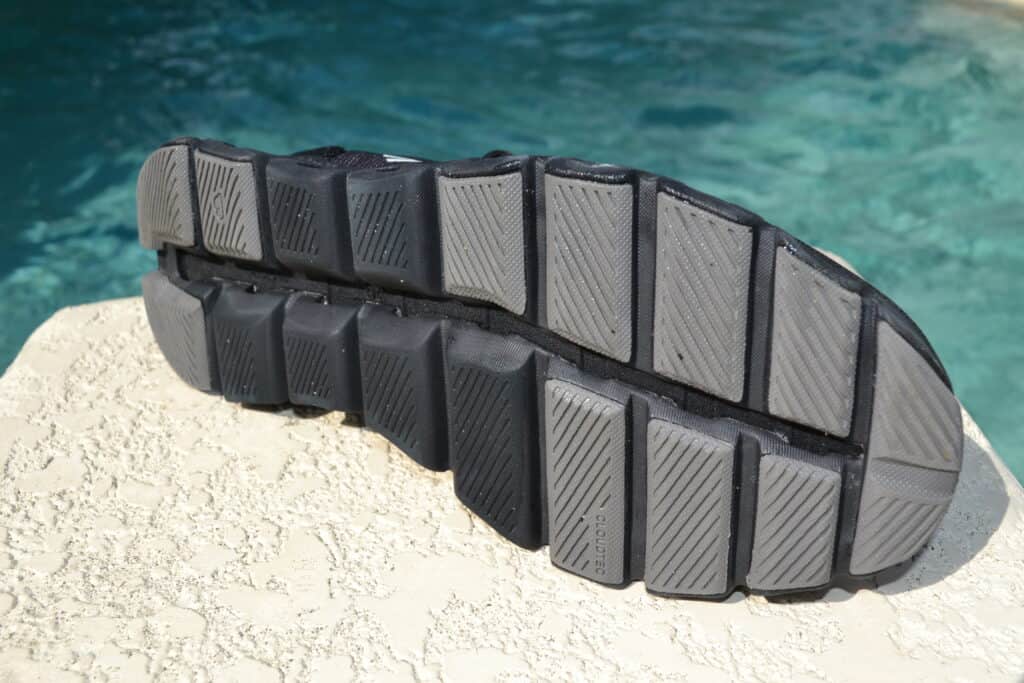 These are relatively firm, and hollow (see photo below).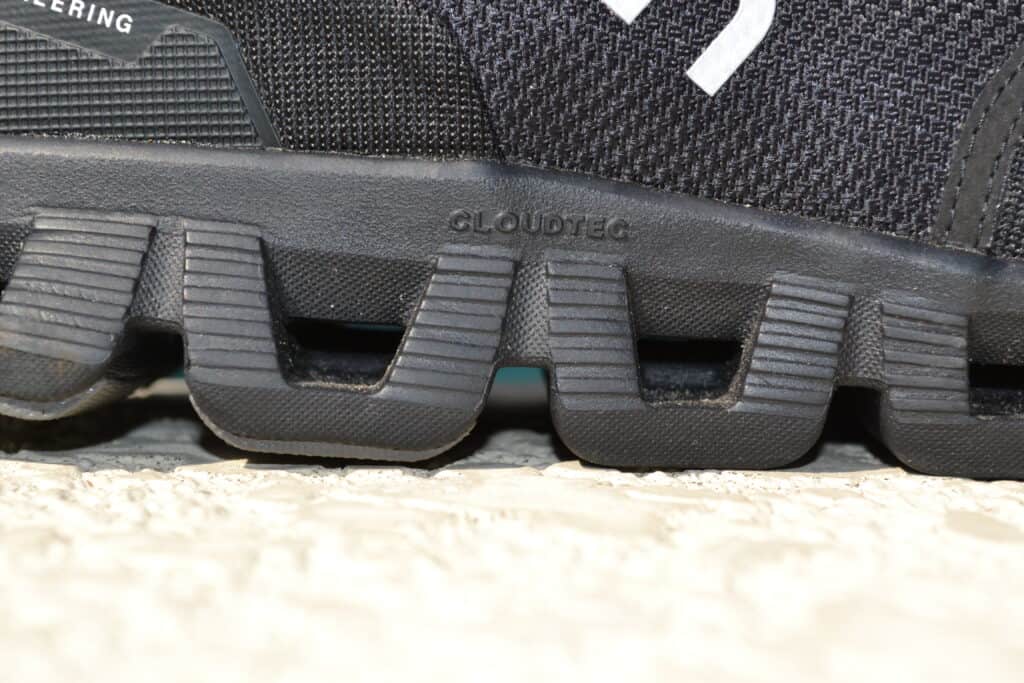 You can imagine how these help supplement the cushion from the foam in the midsole.
The bottom most layer of the outsole is a tough rubber.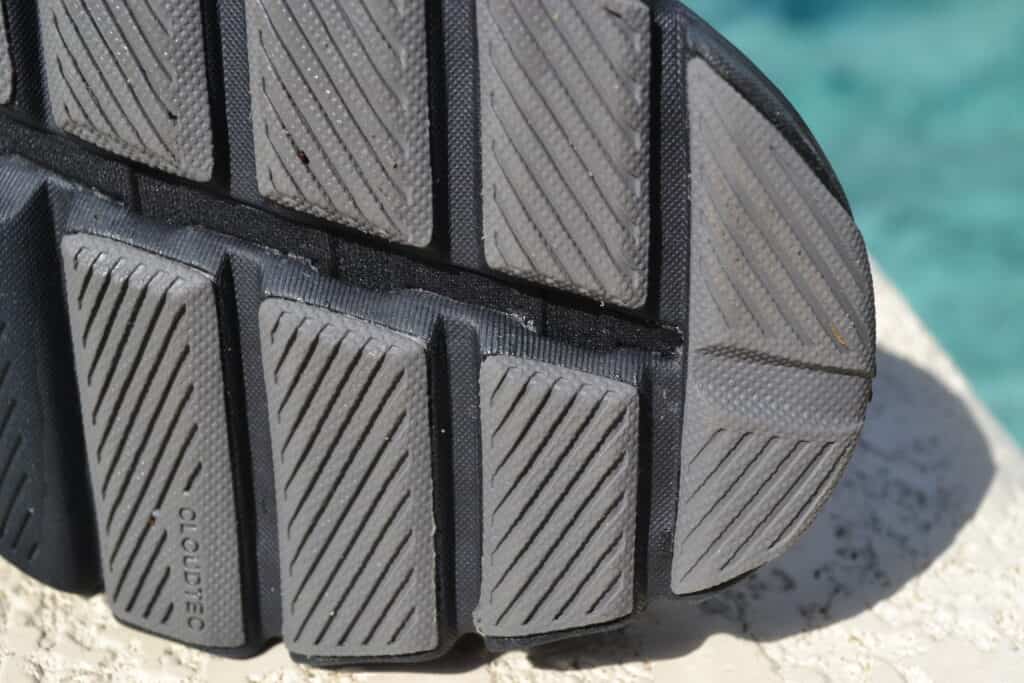 This isn't a long term test, but it seems like the outsole will hold up for quite some time. Some shoes have exposed foam on the bottom – and that wears out quick.
How well does it all work?
I'll be honest – it's nice to have a lightweight training shoe that has some cushion.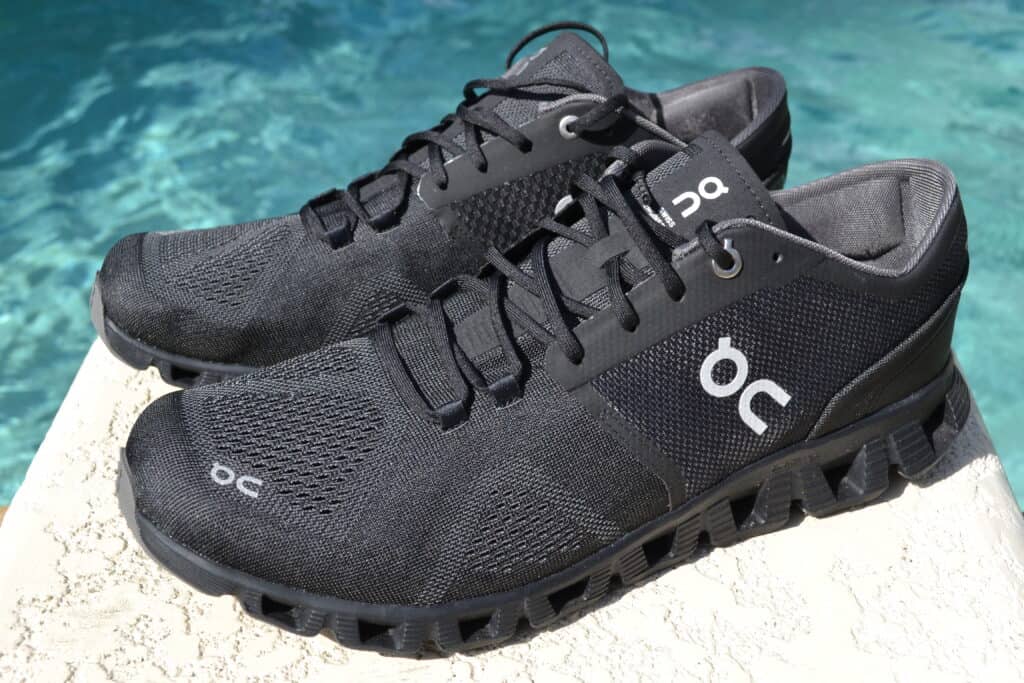 It has more cushion than the other cross trainers that are popular in CrossFit (the Nike Metcon and Reebok Nano lines).
How cushioned are these?
It's a training shoe not a running shoe – so there is some cushion, but not tons of cushion.
This shoe is targeted towards versatile workouts – in the gym, HIIT, cardio – and things like that.
The only negative point I have in regards to the outsole – this shoe is noisy (squeaky) when wet.
I often run or walk in the mornings, and once the dewy grass gets the underside of these wet – they squeak a lot, and for a long time.
Most shoes squeak a bit when wet – but these squeak lots.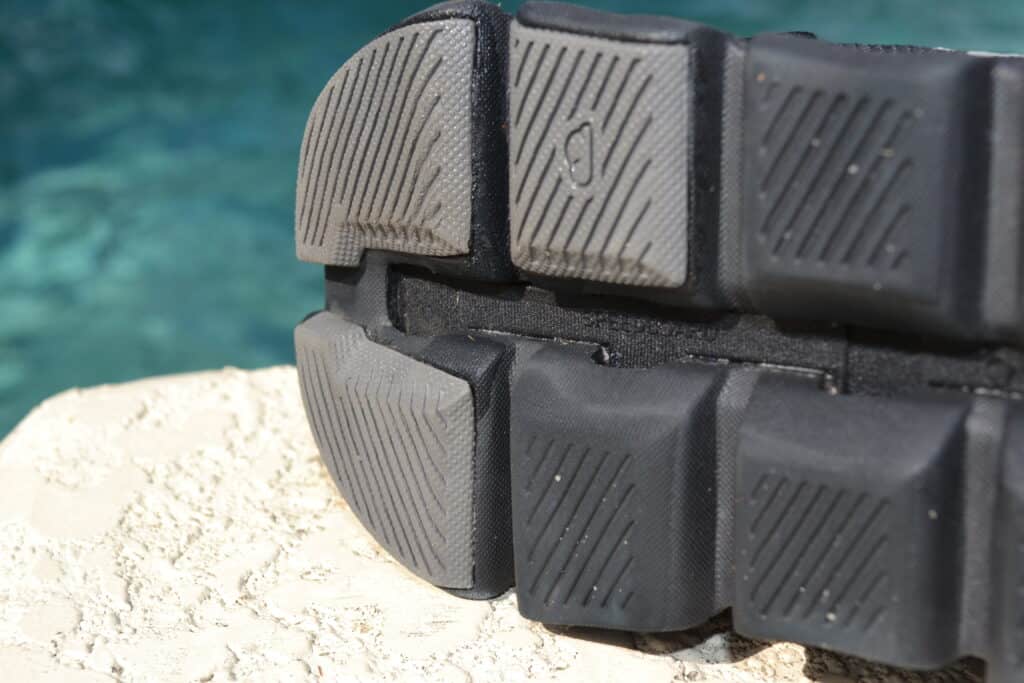 To be honest, it's distracting.
If you are using the indoors, or in dry conditions, there's not really any noise to speak of though.
The heel to toe drop on these is 6 mm. Your heels will be 6 millimeters higher than your toes.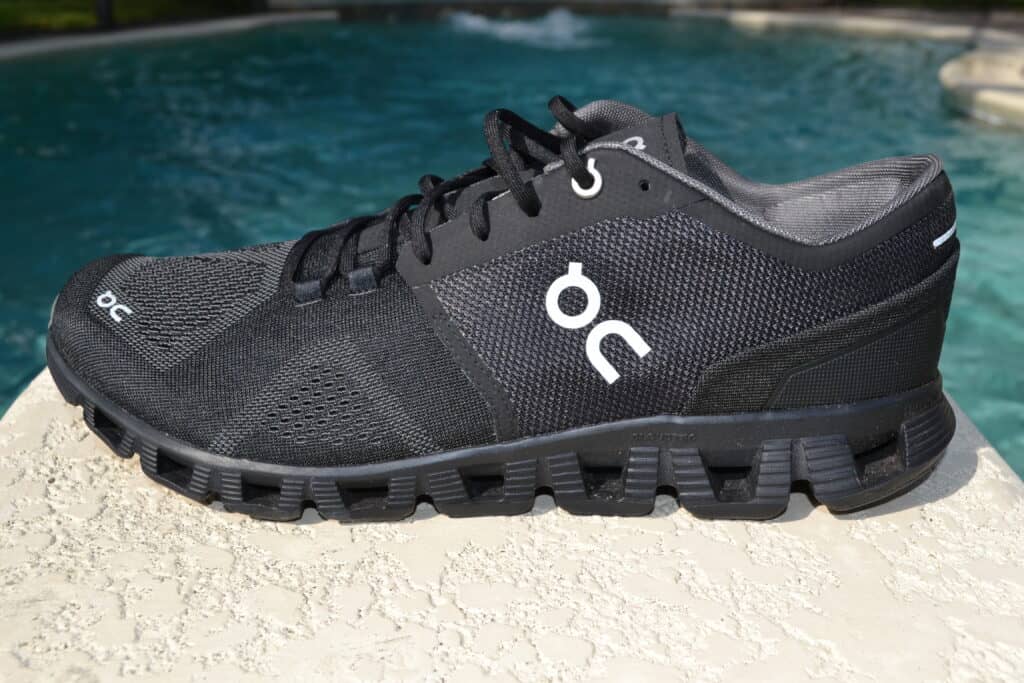 (This is a typical offset or drop for versatile training shoes).
The shape of the shoe provides stability too.
See the wider base?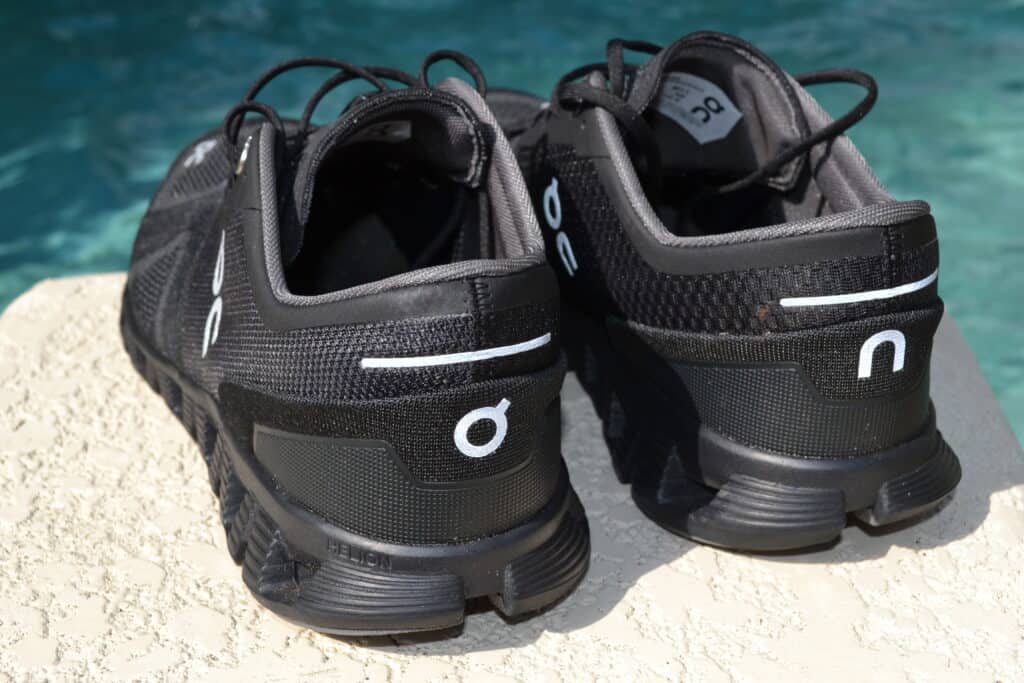 That provides stability, security, and support.
The outsole extends up to give a sort of "sidewall" too – so your foot is nestled down in the shoe.
This gives medial and lateral support – and helps for dynamic side to side movement.
The heel cup is firm and I get no sensation of heel slippage with this shoe.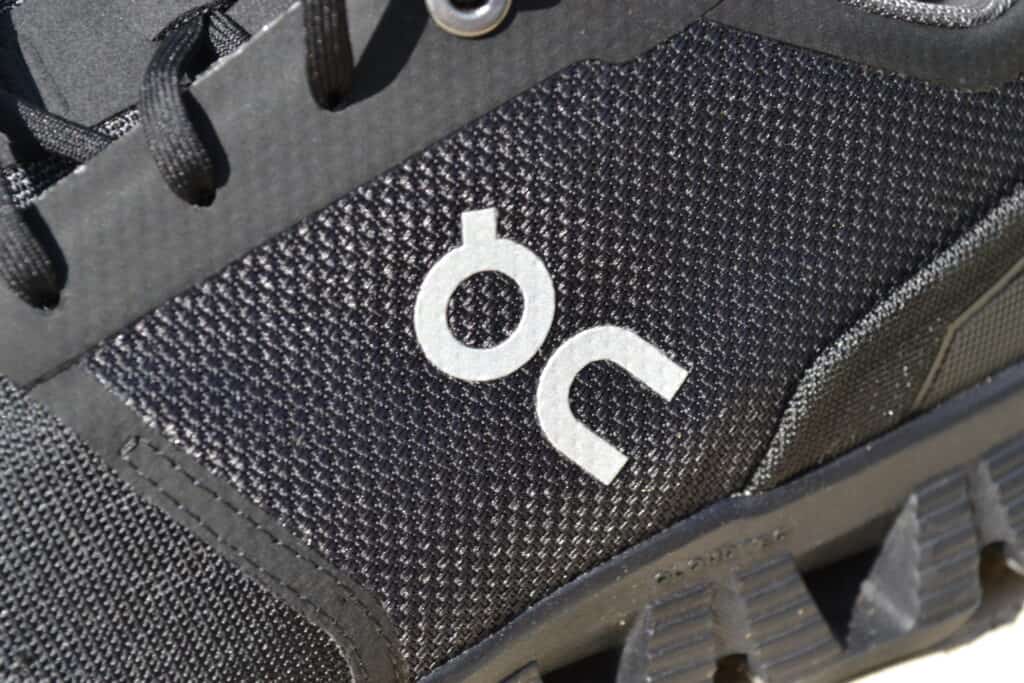 There's a reflector on the back (the logo) – so you can workout outside in the dark with these.
Cloud X Training Shoe – Fit and Sizing
These have a very light-weight, comfortable fit.
As mentioned earlier, they are very lightweight.
They run true to size.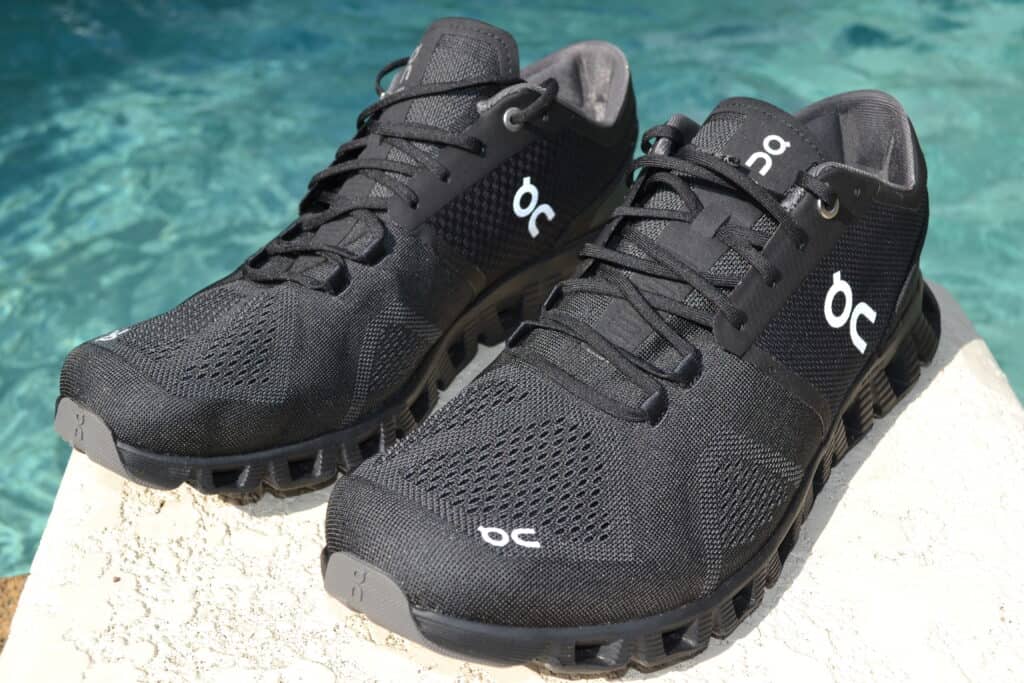 These Men's Size 11 fit me perfect – length and width are both good – with no heel slippage or any negatives.
That is the normal size that I wear in the vast majority of shoes that I own (and test).
Cloud X Training Shoe – Good for Running?
Can you run in these?
Yes, absolutely. In fact, I'll say they are one of the more pleasant training shoes to wear for running.
Why? Because they are lightweight and they have some cushion to them in the forefoot and the heel.
These shoes have more cushion in the heel than the Nike Metcon or Reebok Nano line.
And that makes them better for all that repeated heel striking you'll do as you run – whether on asphalt or anywhere else.
Just remember, they aren't purpose designed running shoes though…
Cloud X Training Shoe – Good for Lifting Weights?
Training shoes normally have a very firm, stable heel – so you can lift heavy weights with them safely and securely.
(Think heavy like barbells – squats, deadlifts, cleans, etc).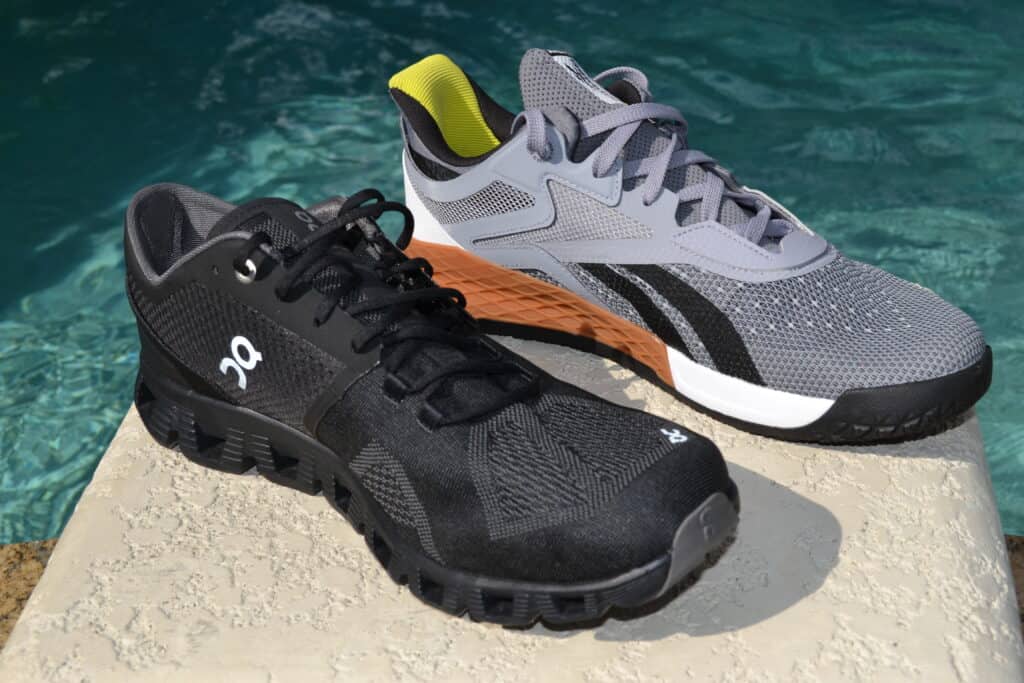 And while these have more cushion than your average CrossFit shoe – I think these would do ok with MODERATE weights.
Lighter barbells – like the high repetition stuff often done in the CrossFit WOD, dumbbells, and lighter kettlebells give these shoes no issue.
They have too much compression in the heel for really heavy squats and deadlifts though, in my opinion.
I also wouldn't recommend any serious Oly lifting in these for the same reason.
They are decent gym shoes – don't try to break your 1RM on the squat in them though – that's not what these are for.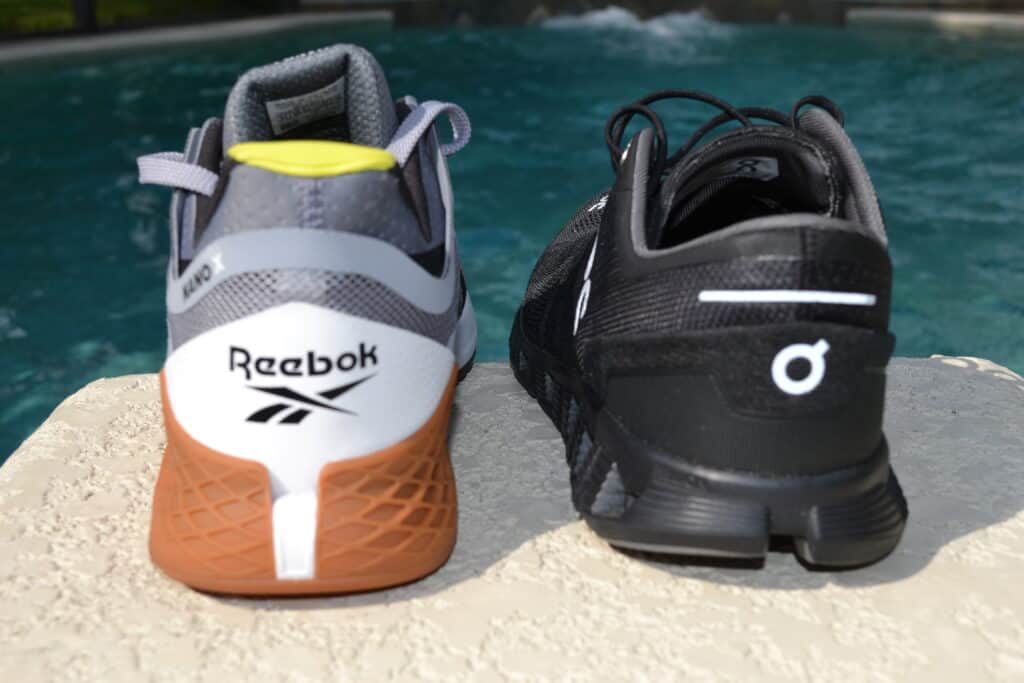 Cloud X Training Shoe – Good for Cardio and HIIT?
Cardio, classes, and HIIT style (bodyweight) training are really the sweet spot for these, and I think that's what On Running intended.
They are firm but cushioned, light-weight, and have good lateral support.
I'd rather not have big heavy shoes weighing me down like concrete blocks.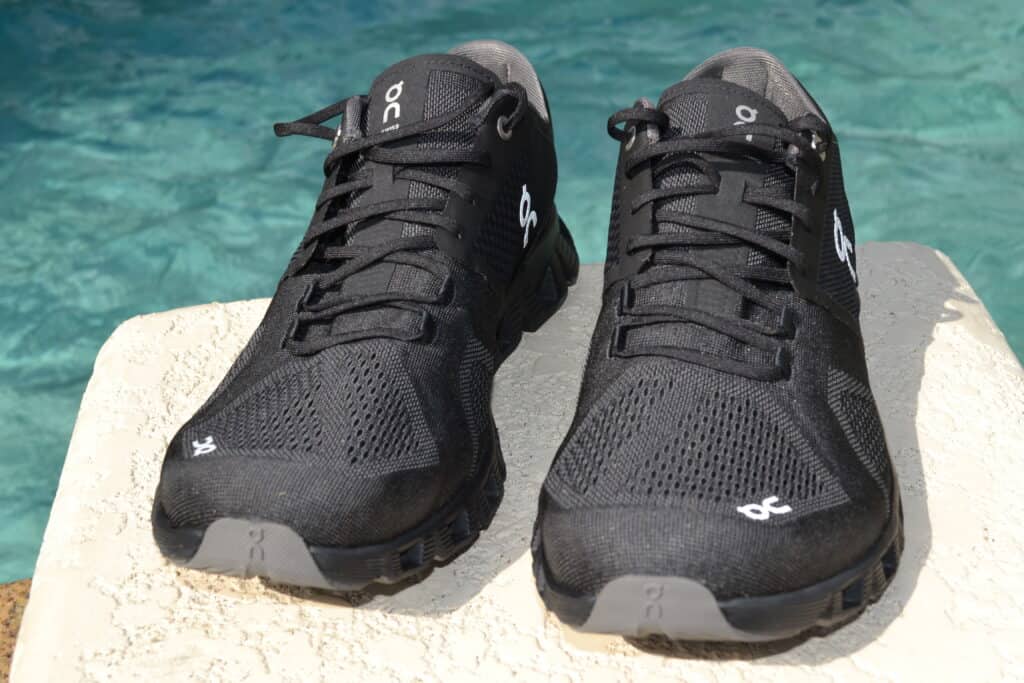 And as I mentioned earlier, these aren't just light by training shoe standards – they are light by running shoe standards!
(As a comparison, my React Infinity Run Flyknit shoes in the same size are over 12 ounces – that's 33% heavier than the Cloud X).
Cloud X Training Shoe – In Summary
It's light, it's got some cushion – but not too much, and it fits well.
I like this shoe as a cross-trainer option with a little more heel cushion than the Nike Metcon and Reebok Nano.
Just remember, it's not meant for heavy weights.
It's also very squeaky when wet – you've been warned.
(For these reasons, the Cloud X did not make the cut for our Best CrossFit Shoes for 2021 review.)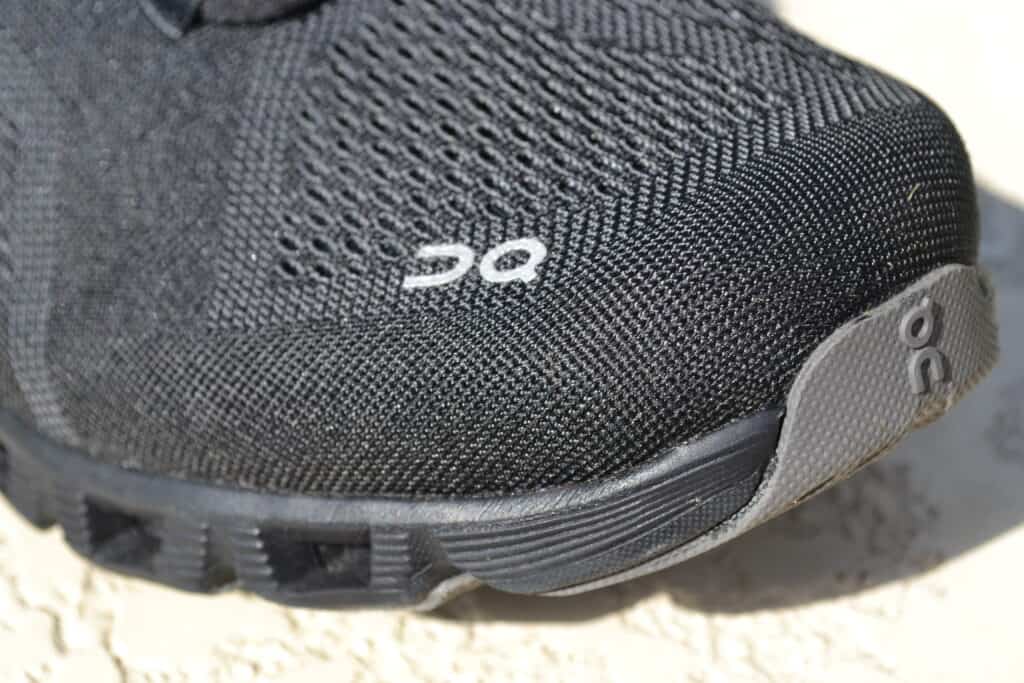 Photo Credits
Some product photos on this page are property of On Running.
This website is not affiliated or associated with CrossFit, Inc. CrossFit is a registered trademark of CrossFit, Inc.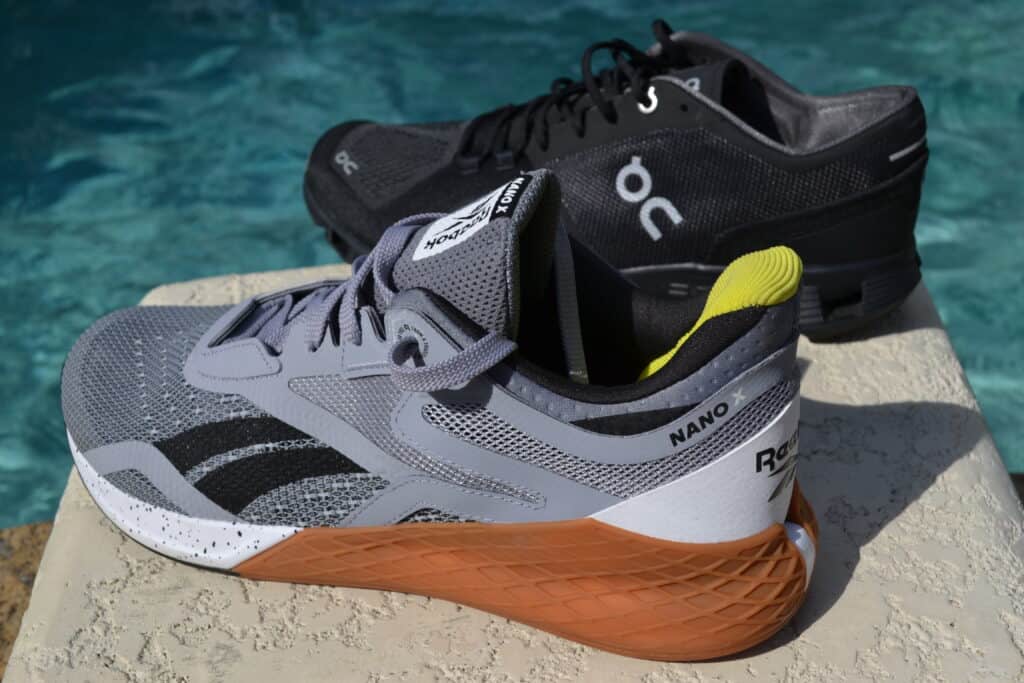 Affiliate Disclaimer
We are an affiliate of various sellers of this shoe. If you buy Cloud X shoes after clicking the links in this article, we receive a small commission at no extra cost to you. This helps us to bring you in-depth information and content on these great training shoes.