Interested in this shoe? Nike just released the 2nd version – check out the Nike React Infinity Run Flyknit 2.
Are you a fan of Nike's React foam?
If so, you may want to check out the new Nike React Infinity Run Flyknit – the newest running shoe from Nike that uses React foam.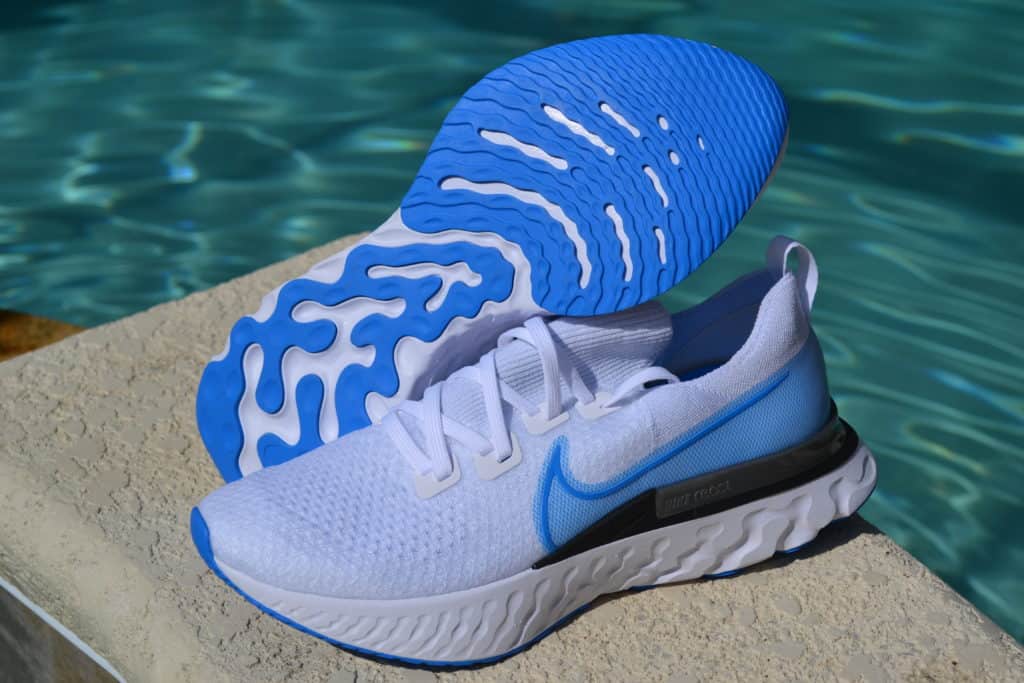 Nike claims this shoe can reduce the occurrence of running related injuries.
I don't have a practical way to validate that claim, but I can tell you this is a very comfortable, highly cushioned running shoe.
Let's dive in and take a close look.
You can get this shoe from Road Runner Sports (we are an affiliate):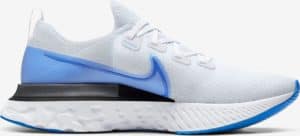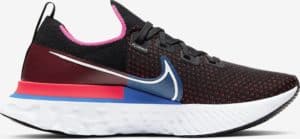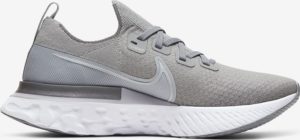 Let's look at what makes these running shoes unique.
Nike React Foam Cushioning
Let's start with Nike's React foam – because there is a lot of it.
Why does Nike purport this shoe to be great for avoiding injuries?
The use of React is a big part of it (but there's more reasons.)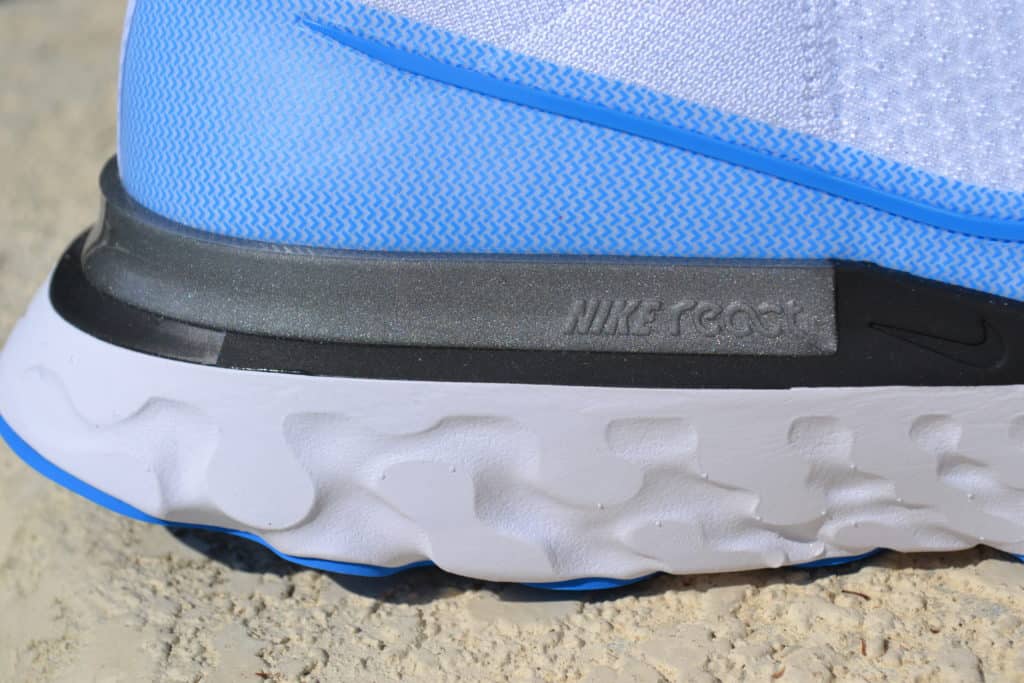 React foam provides outstanding softness and cushion.
But, it also provides energy and rebound with every foot step.
This gives the shoes a light bouncy feel – it's energizing and they are a joy to wear.
Nike takes this to the extreme in this shoe – it's got a very tall "stack height" – because there is so much foam underneath.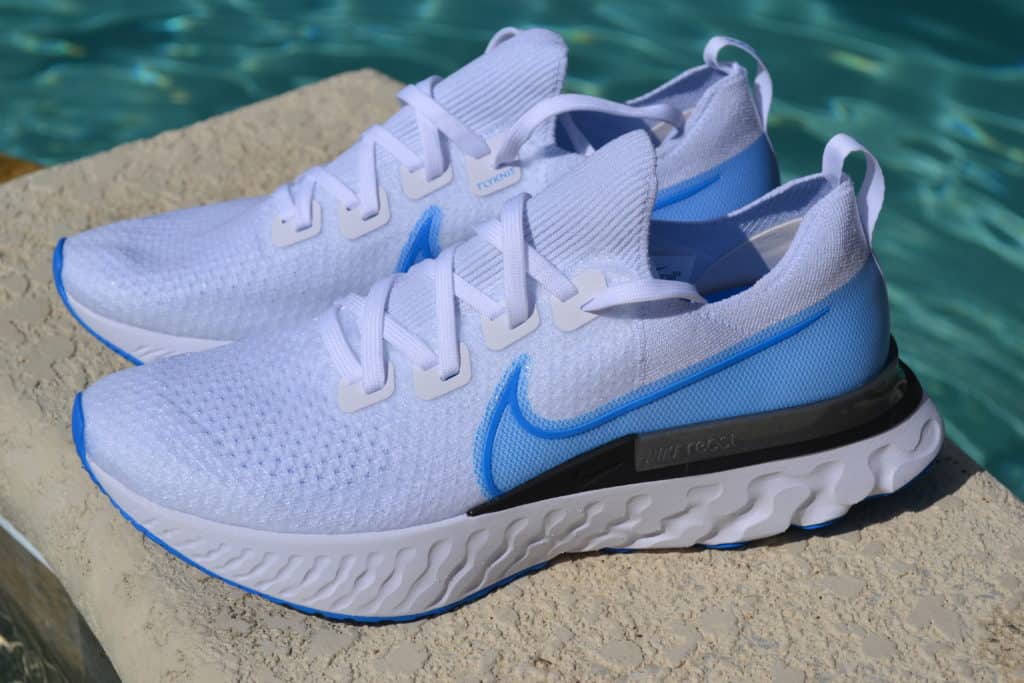 And we can confirm it works as advertised – these have a great energetic React feel – just like you'd expect.
There's also not much between your foot and the React foam – just a very thin drop-in insole.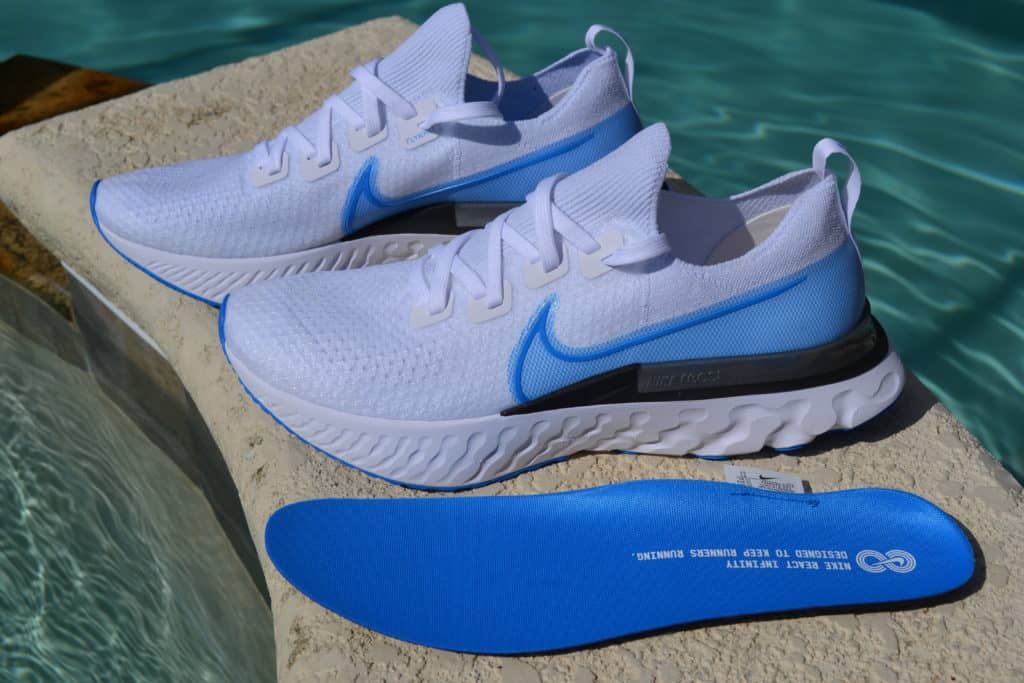 The other big factor with this shoe is the shape of the outsole.
It's got a "rocker" sort of design.
You can see it here in the profile view.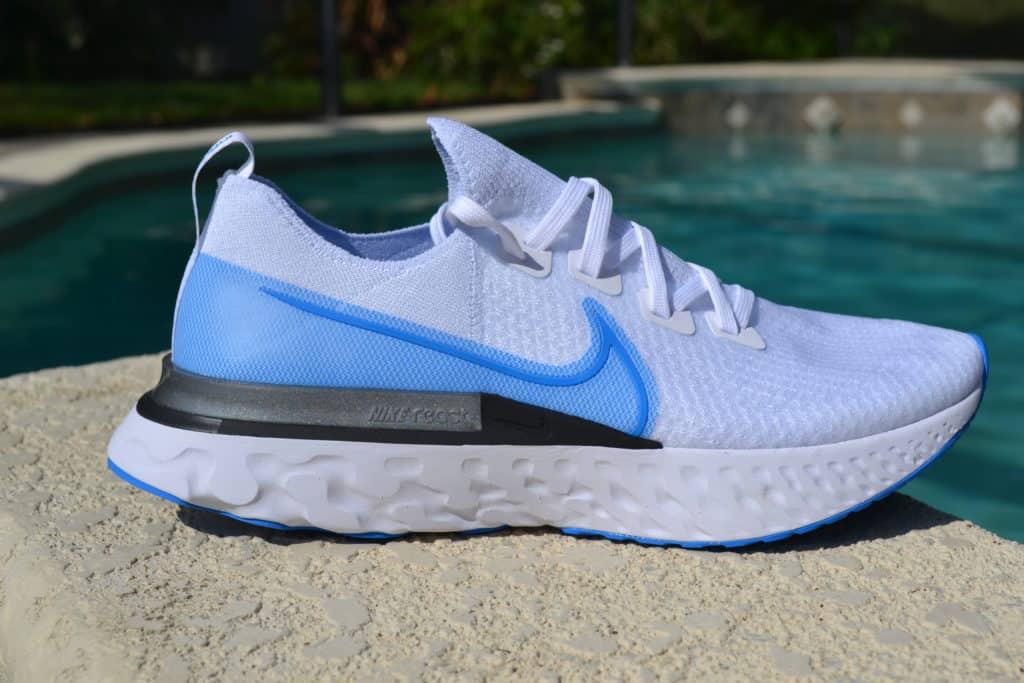 This ensures you have cushioned support through all 3 phases of your stride – toe-off, midstance, and contact.
This shoe should be fine no matter if you are a heel striker or a forefoot striker.
Here's another place that Nike has made an evolution to these shoes.
If you've owned previous React shoes, such as the Epic React Flyknit 2, you know the sole can wear out pretty quickly.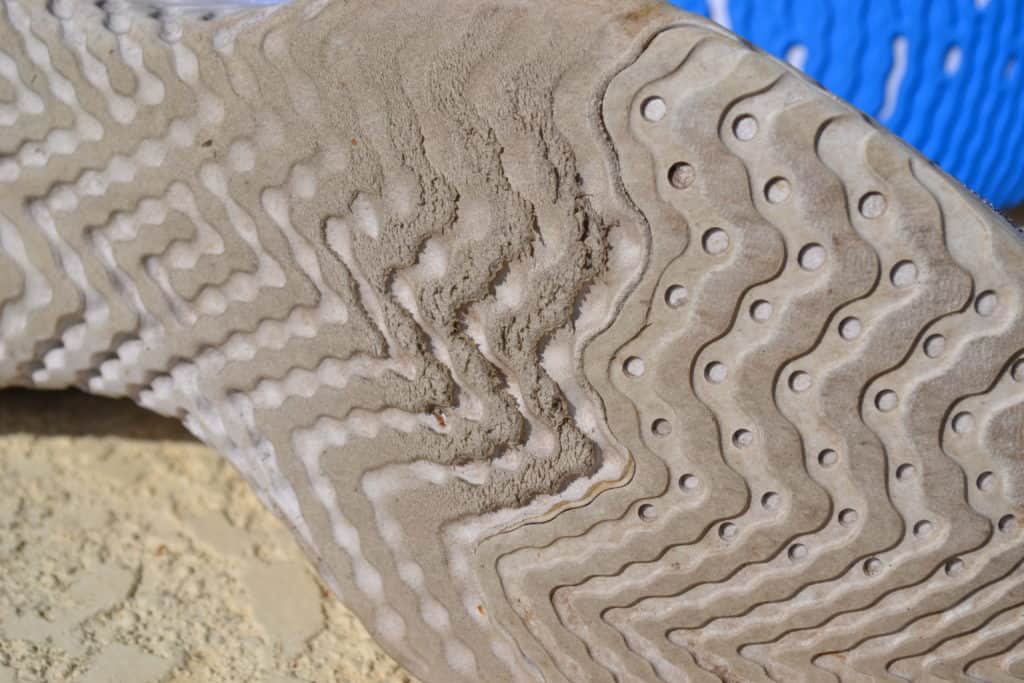 That's because React foam can't take a lot of direct abrasion.
In the Nike React Infinity Run Flyknit this won't be a problem – they've added durable rubber to the outsole – and that is where the "rubber will meet the road."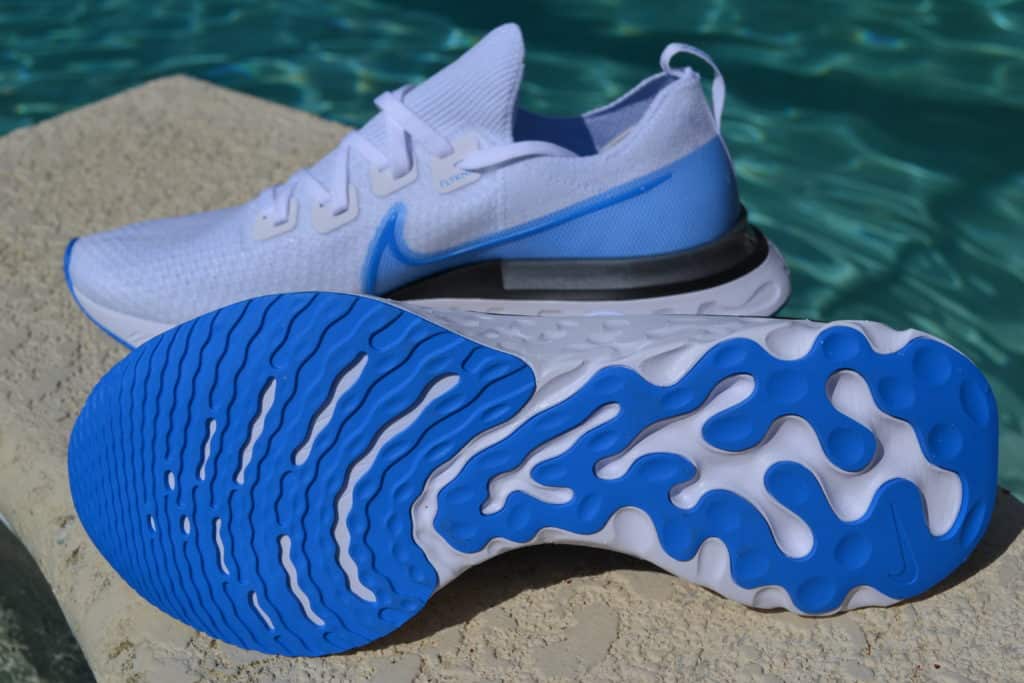 We expect you'll get much more mileage out of these shoes as opposed to other React shoes.
Nike Flyknit
I really like React foam.
Another material I'm a big fan of is Nike's Flyknit.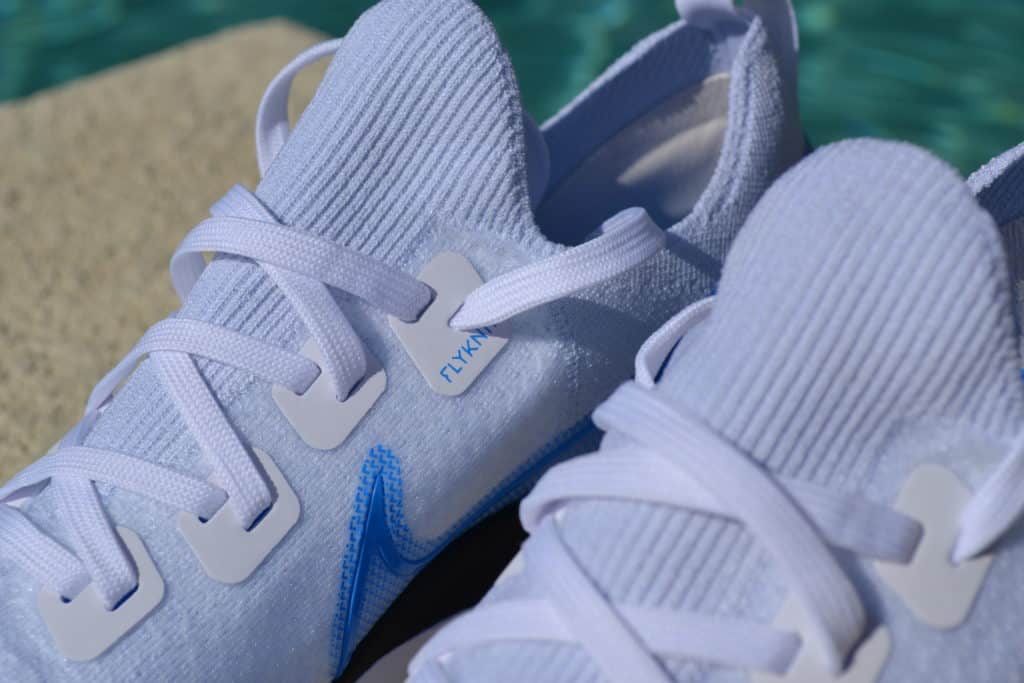 It's a synthetic material that can be "knit" like yarn.
This means they can make uppers from it with minimal seams.
But perhaps more importantly it's stretchy and comfortable – like a sock!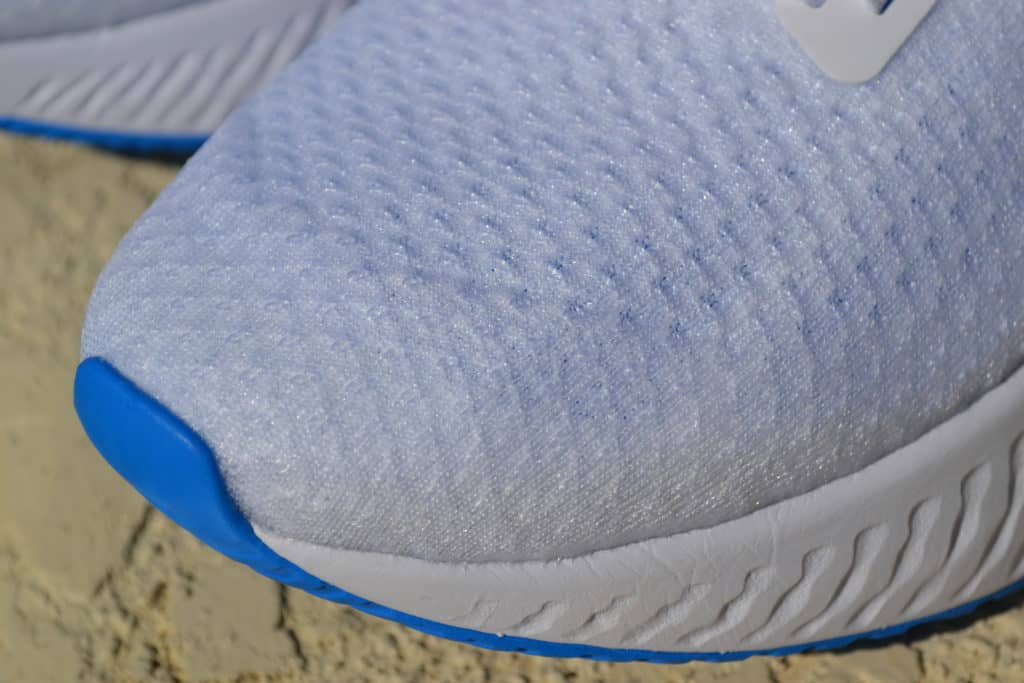 This shoe uses the latest version of Nike's Flyknit.
It's tougher and more durable – but temper your expectations – after all, how tough can a sock-like material be?
We like that it's thin – that means breathability.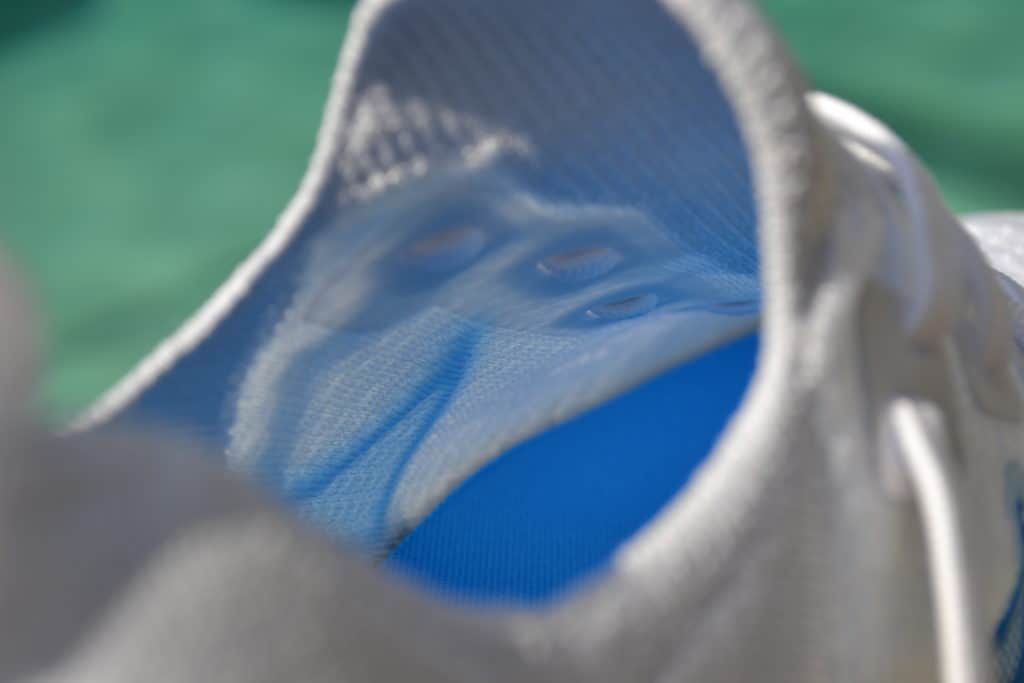 As per the usual fit with Flyknit, it's meant to be a tight fit. They've put a heel pull tab on the back – to make it easier to put these on.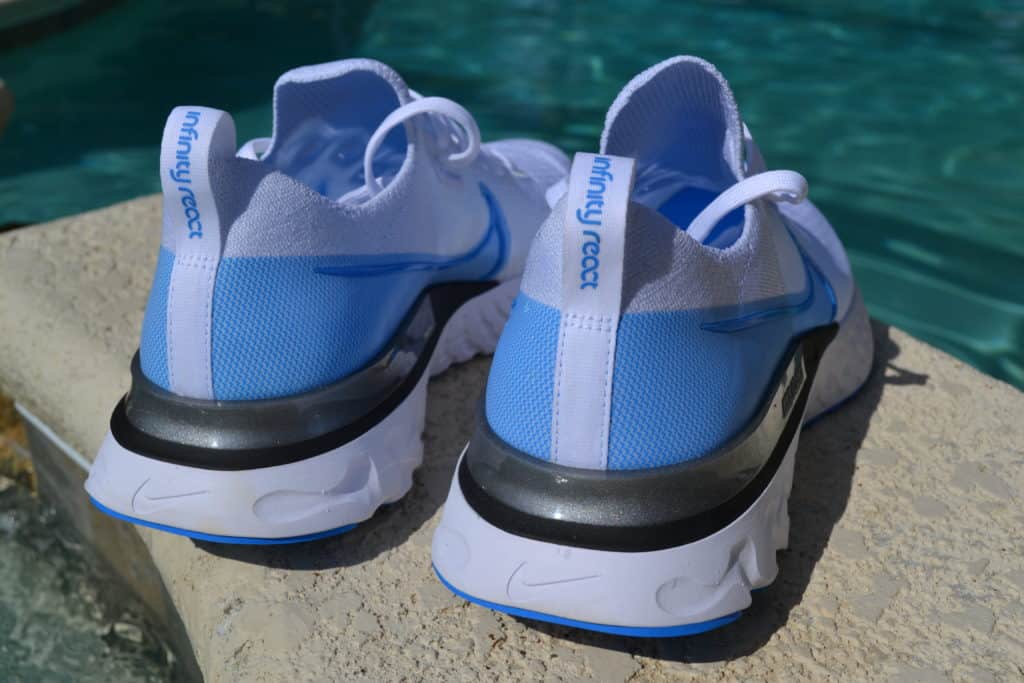 Nike React Infinity Run Flyknit Specifications
This shoe has a 9mm heel to toe drop (often called the offset.)
This is typical for a running shoe.
As we mentioned before the "stack height" is tall because of all the foam.
It's also fairly light-weight, but heavier than the previous React shoes.
That's probably because there is so much foam, and the durable rubber outsole on the bottom.
A Mens's Size 11 weighs in at 11 ounces.
These run true to size.
Men's size 11 (my normal size) fits me like a glove.
Running in the Nike React Infinity Run Flyknit
How well does it work for running?
I can confirm it delivers on the promised fit and feel of React/Flyknit.
The rocker design is friendly to heel strikers and forefoot strikers – and there is tons of cushion in these shoes.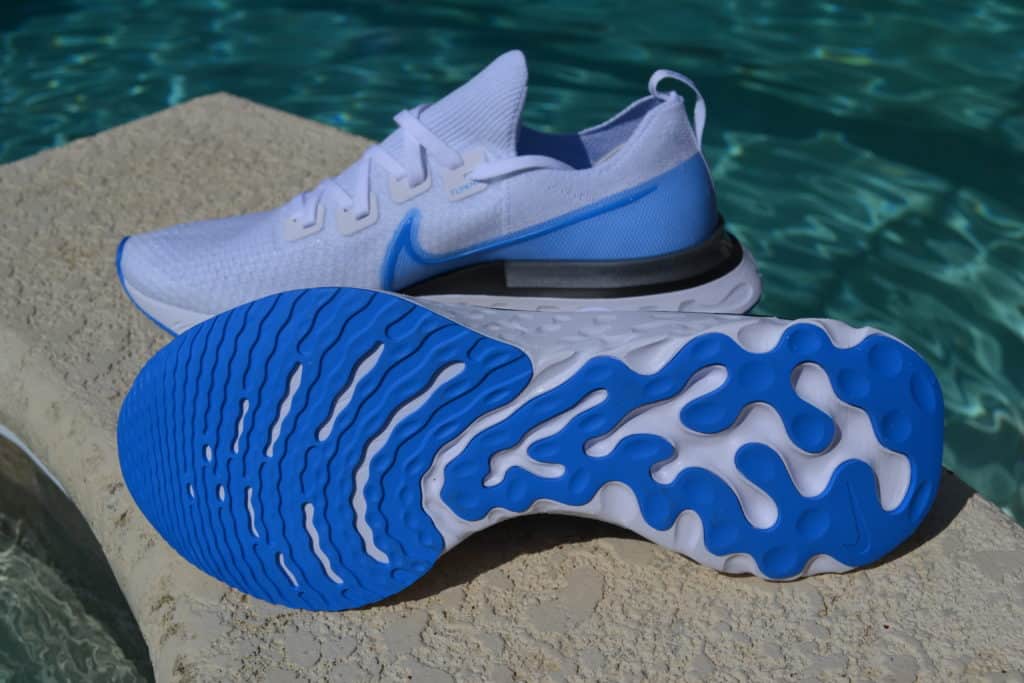 I personally prefer React shoes for running on asphalt (I'm 6'2″ and 200 lbs, so I need all the cushion I can get for my 47 year old joints!).
I like the traditional laces, and the tight but stretchy fit of the flyknit.
This isn't a long term test, but I believe the additional rubber on the outsole means these will last a much longer time.
Nike React Infinity Run Flyknit Review – In Summary
This shoe is Nike's newest React/Flyknit running shoe.
The shape and quantity of React foam is supposed to help reduce running injuries.
It's impossible for me to validate that, but I can confirm it delivers an authentic React/Flyknit running experience.
These are relatively light, very cushioned, and comfortable.
Thanks to the durable rubber on the outsole, I think these will last much longer than my previous favorite – the Nike Epic React Flyknit 2.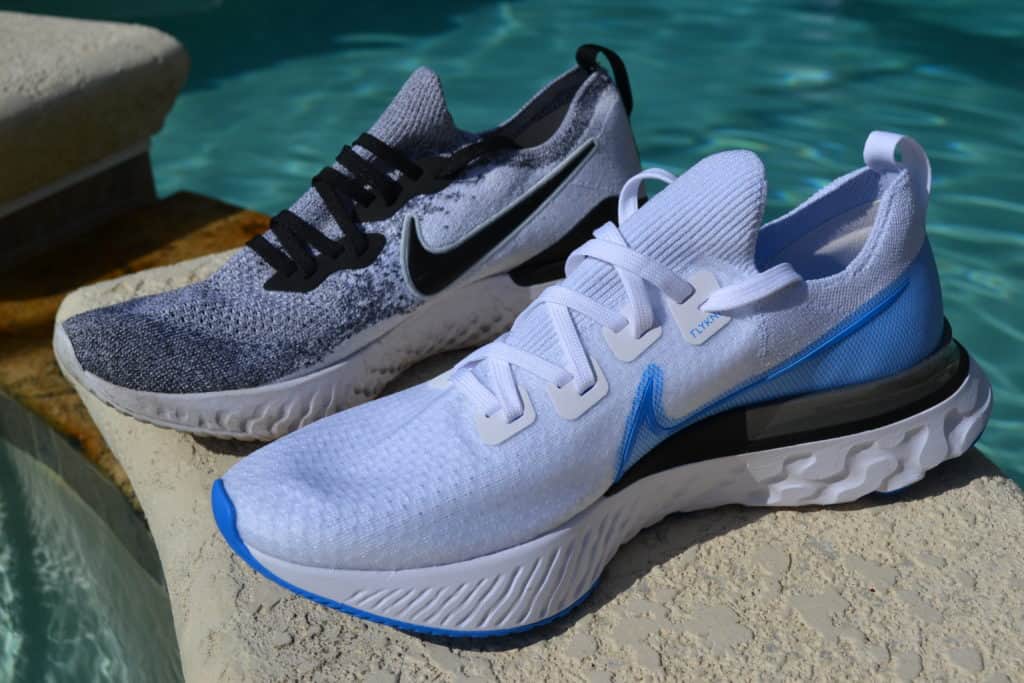 Photo Credits
Some product photos on this page are property of Nike, Inc.
This website is not affiliated or associated with CrossFit, Inc. CrossFit is a registered trademark of CrossFit, Inc.