Need to carry a skateboard? Check out the new GR1 Skate Ruck – from GORUCK, and made in the USA.
GORUCK and Mike Vallely made their first collaboration to come up with the GR1 Skate Ruck. Mike is the most tenacious skateboarder of all time and an old-school GRT who completed the first GORUCK Challenge in Las Vegas. He and his family founded streetplant.com out of their garage. Mike lately joined GORUCK at Sandlot JAX to discuss elite performance and share his story.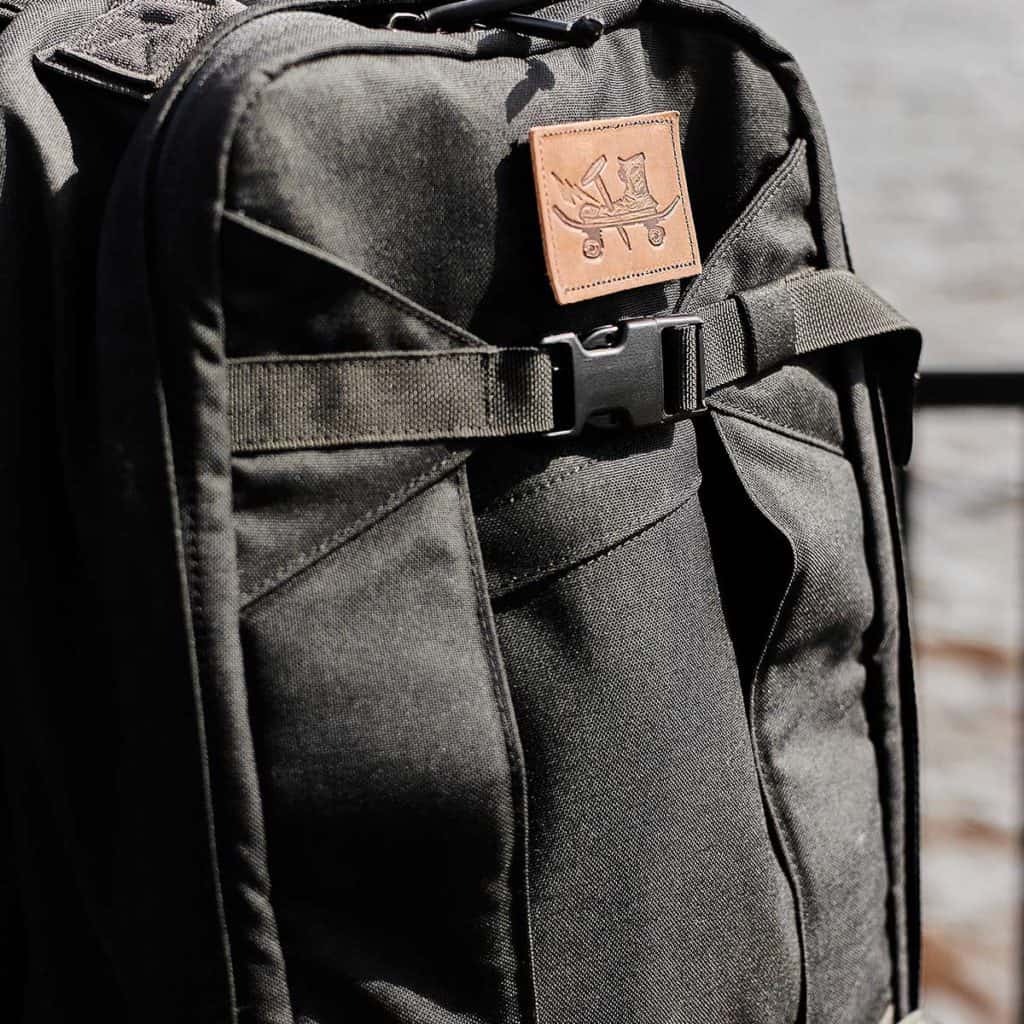 Get it now – only from GORUCK:
GR1 Skate Ruck – USA – Overview
Rucksacks from GORUCK are super tough and are known to have a Bombproof Laptop Compartment, and the GR1 Skate Ruck also features it. This compartment is next to your back with extra reinforcement, and has a false bottom so your laptop won't even notice when you set your ruck down. The ruck has a removable, rigid plastic frame sheet that stabilizes the laptop compartment and allows you to hold more weight comfortably.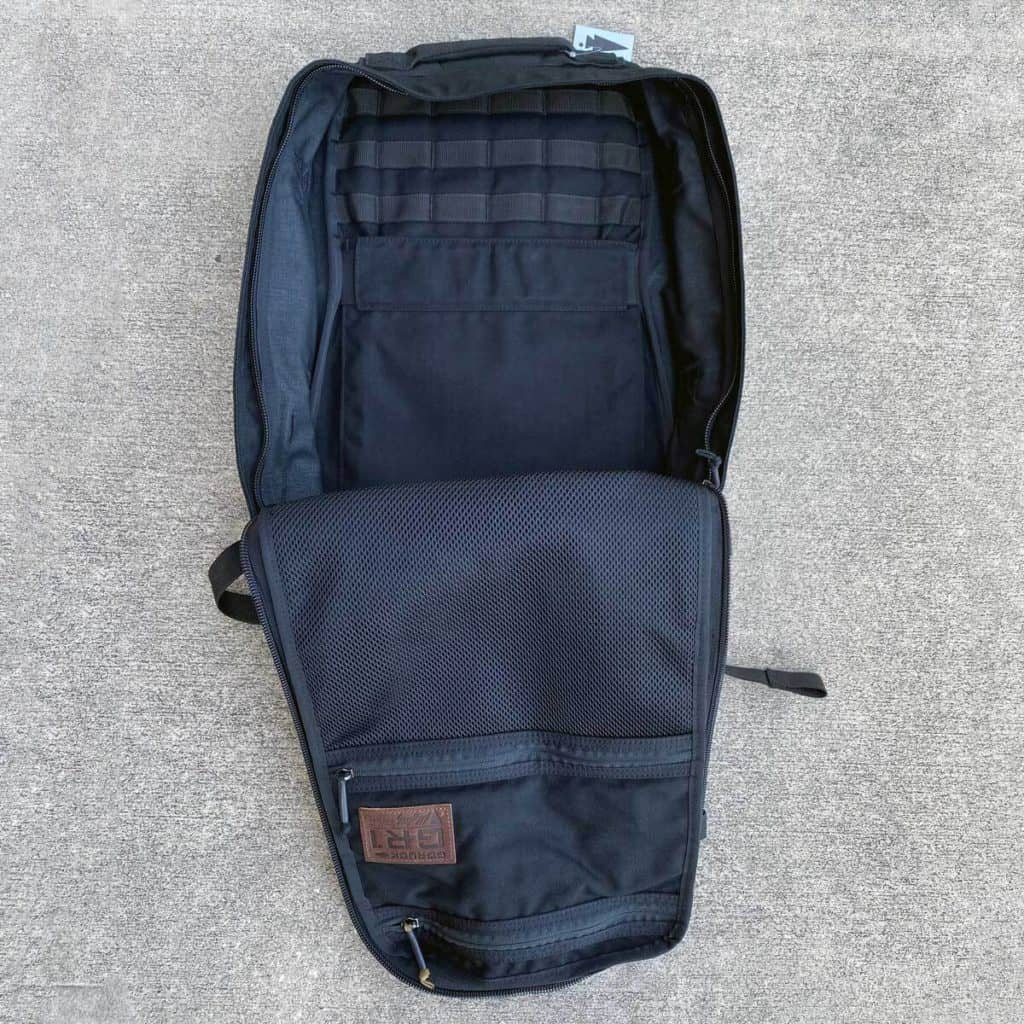 The GR1 Skate Ruck is water resistant and utilizes YKK zippers with silent, glove-friendly zipper pulls formed from parachute 550 cord. There are two adjustable skateboard straps on the front panel that buckle shut, extra padded shoulder straps, and a top handle so you can easily carry heavier loads. It opens flat for easier packing and organizing and is TSA Compliant.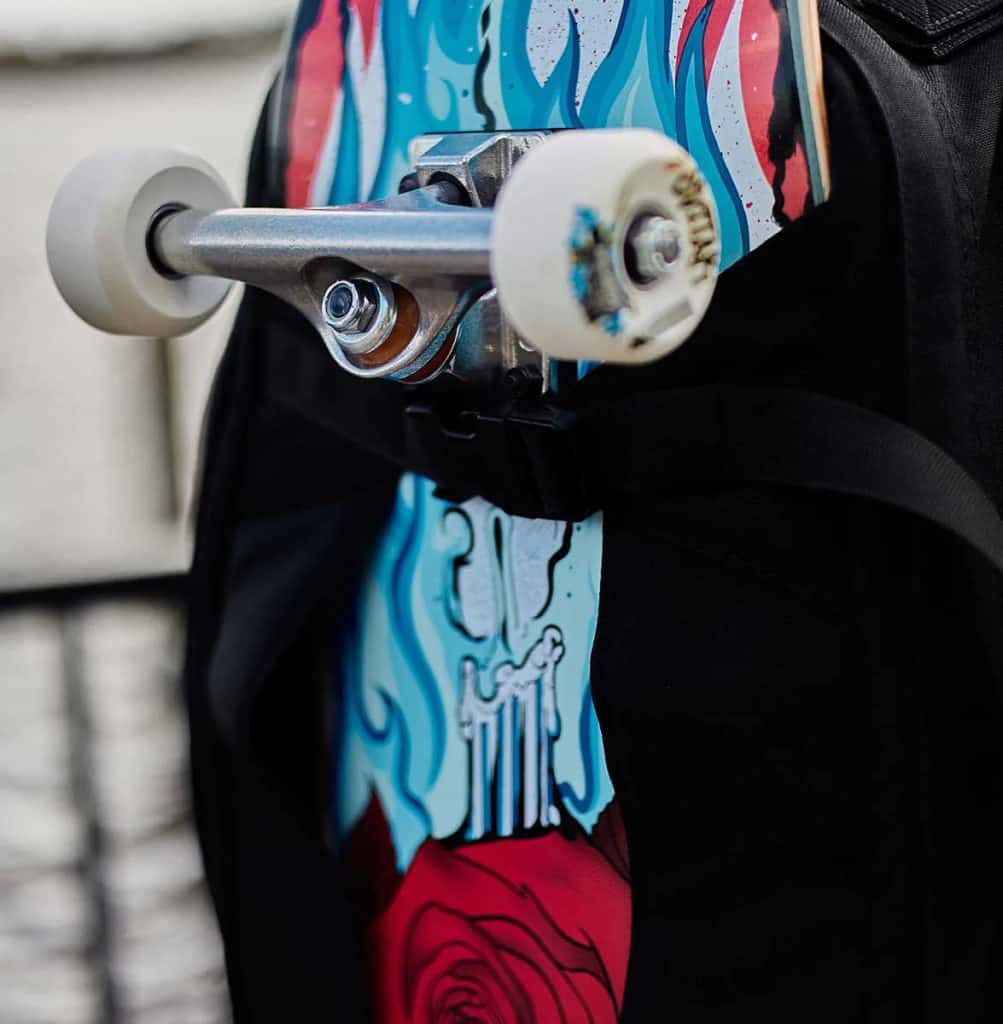 It has one large elastic pocket, one large mesh zippered pocket, one small go-to pocket inside, and one slant pocket for quick access to keys, snacks, and other small items outside. A subtle Mike Vallely 'V' is embroidered on the exterior MOLLE webbing. It has three rows of external and internal MOLLE webbing and comes with an exclusive leather patch. The ruck measures 12″W x 20″H x 6.75″D and weighs 3.2 LBS can fit most 16″ laptops.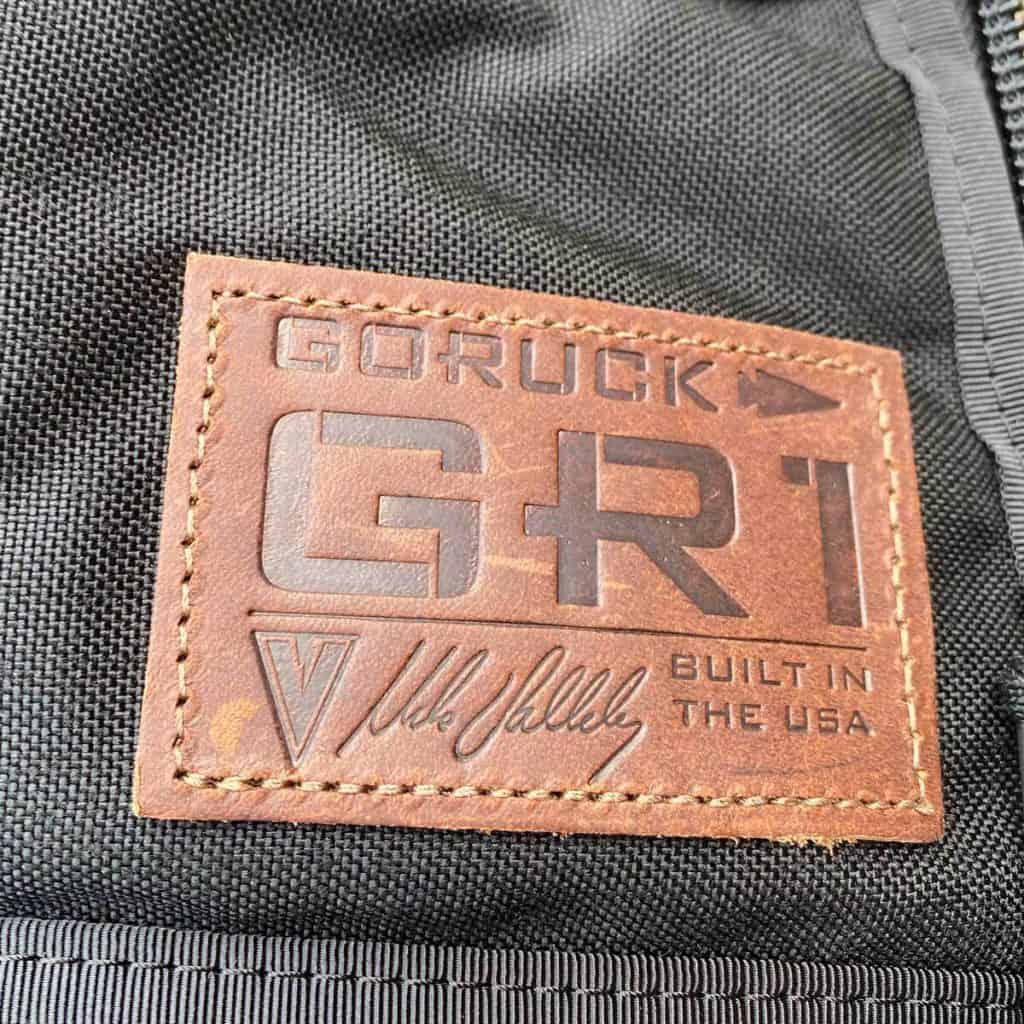 GR1 Skate Ruck – USA – In Summary
That's our close-up look at GR1 Skate Ruck – USA.
GORUCK is producing a minimal number of only 70 for the GR1 Skate Ruck. "Where 100% Independent Skateboarding, Special Forces, city streets, and the Skate Park meet is the GR1 Skate Ruck. Your bombproof everyday carry has been customized by me, to also carry your Skateboard while moving through the airport, the train station, or some other pedestrian-riddled zone. I've been a customer and fan of GORUCK since 2011, and the GR1 has been my go-to everyday carry ever since. The GR1 Skate Ruck is built in America and built to last!" — Mike Vallely
Looking for more options? Check out these other great products:
The fantastic GR1 is available in many other styles too – such as Woodland Camo.
The ultimate GR1 is the GORUCK GR1 x Carryology – Guerrilla X – for Travel and EDC.
More products for rucking.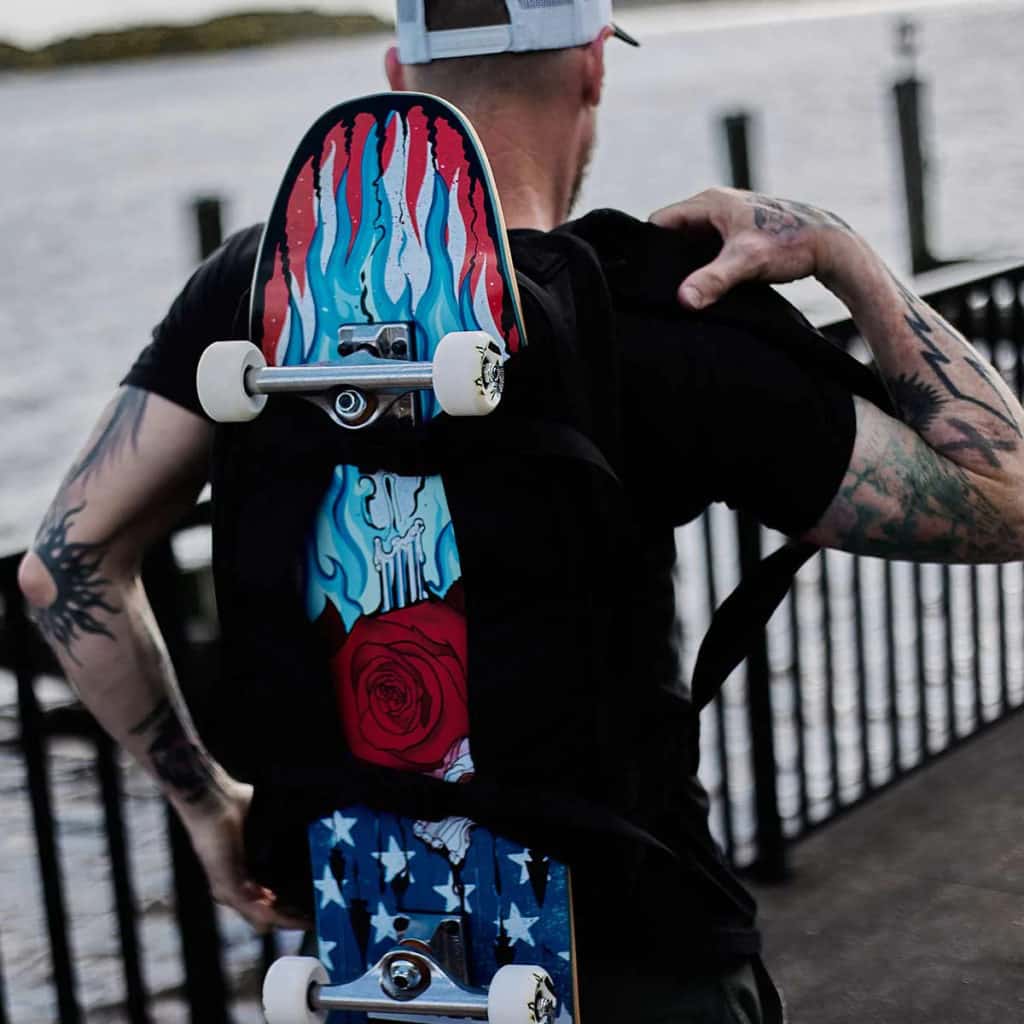 Photo Credits
Product photos on this page are property of GORUCK.
This website is not affiliated or associated with CrossFit, Inc. CrossFit is a registered trademark of CrossFit, Inc.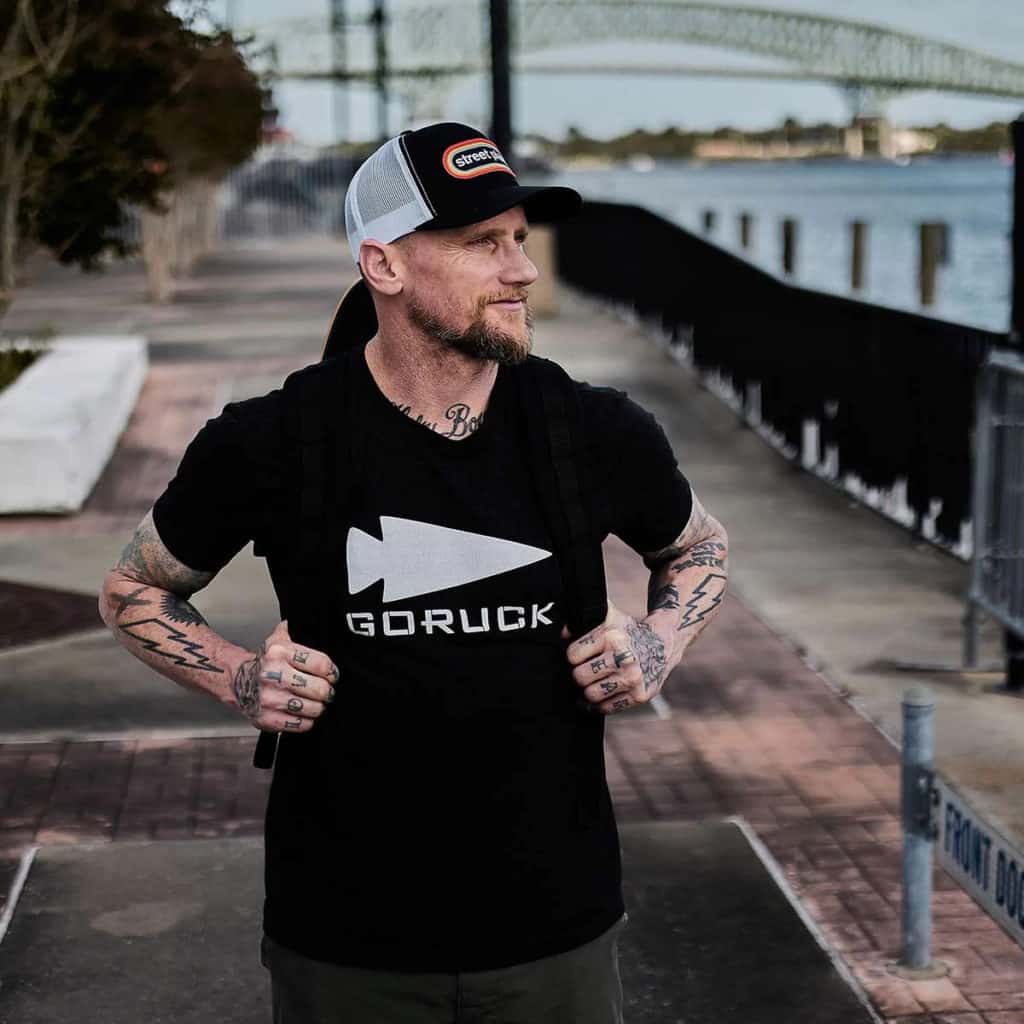 Affiliate Disclaimer
We are an affiliate of GORUCK and others that sell this training gear. If you buy clothing or other training gear after clicking the links in this article, we receive a small commission at no extra cost to you. This helps us to bring you in-depth information and content on these great training products.