Rogue has released the 3rd version of the
Echo Bike
. Grab one while they last!
Let's look at Bumper Plate Storage options.
CrossFit, Olympic-style lifts, and power-focused exercises call for bumper plates. And if you have bumper plates, you know that they don't come cheap. Aside from keeping things tidy in your garage or gym, these plates need to be stored properly to maintain their quality and so you can use them for a longer time.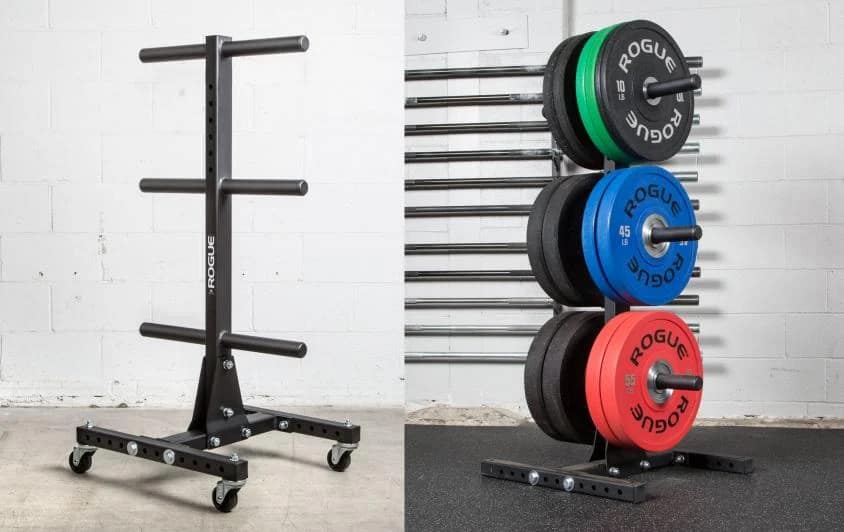 Bumper plates are big, heavy, and take up a good amount of space. But these solutions help you store them with ease.
Here are some of the gym equipment we are going to look at:
Bumper Plate Storage – Overview
Racks and storages bring order to things at home and offices, and the same thing goes with the pieces of equipment you have in your garage, especially for your bumper plates. They, too, should be stored properly to bring order and convenience. There are different ways to keep your bumper plates, and choosing the right one for you depends on your situation and personal preference.
The Plate tree is one of the most common ways to store your bumper plates. You can easily hang your plates on the "branches," making your plates more accessible. A horizontal plate rack is another way to store your bumper plates, and it is as easy as storing them as you would to your dinner plates to dry them. There are also storage and racks with wheels to quickly move them on the corner when not is use. Below, we gathered different bumper plates storage and racks from different credible companies that manufacture various fitness pieces of equipment.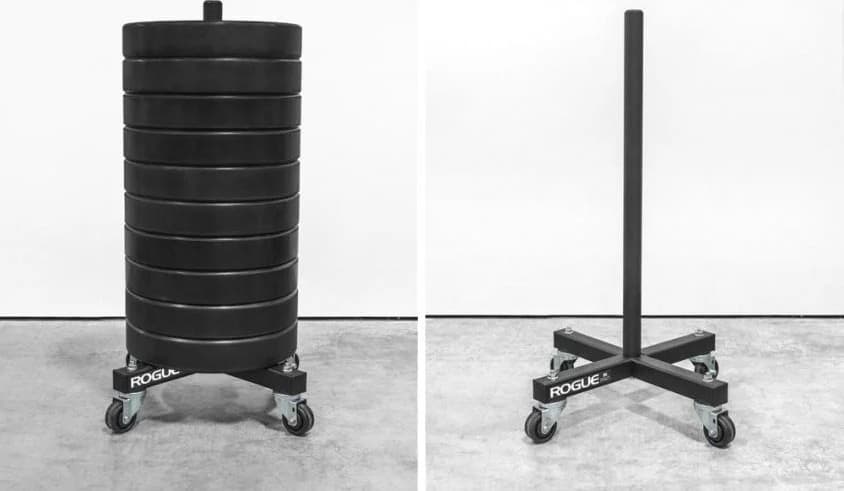 Rogue Vertical Plate Tree 2.0
Rogue Vertical Plate Tree 2.0 is an easy and efficient way to store your bumper plates. Rogue updated this storage with its reinforced triangle-plate base, optional wheels for mobility, and repositioned posts to offer full-size Oly plate storage on all three tiers. It is made of US steel with six 12" Plate Storage Posts built from 1.5" Schedule 40 pipe.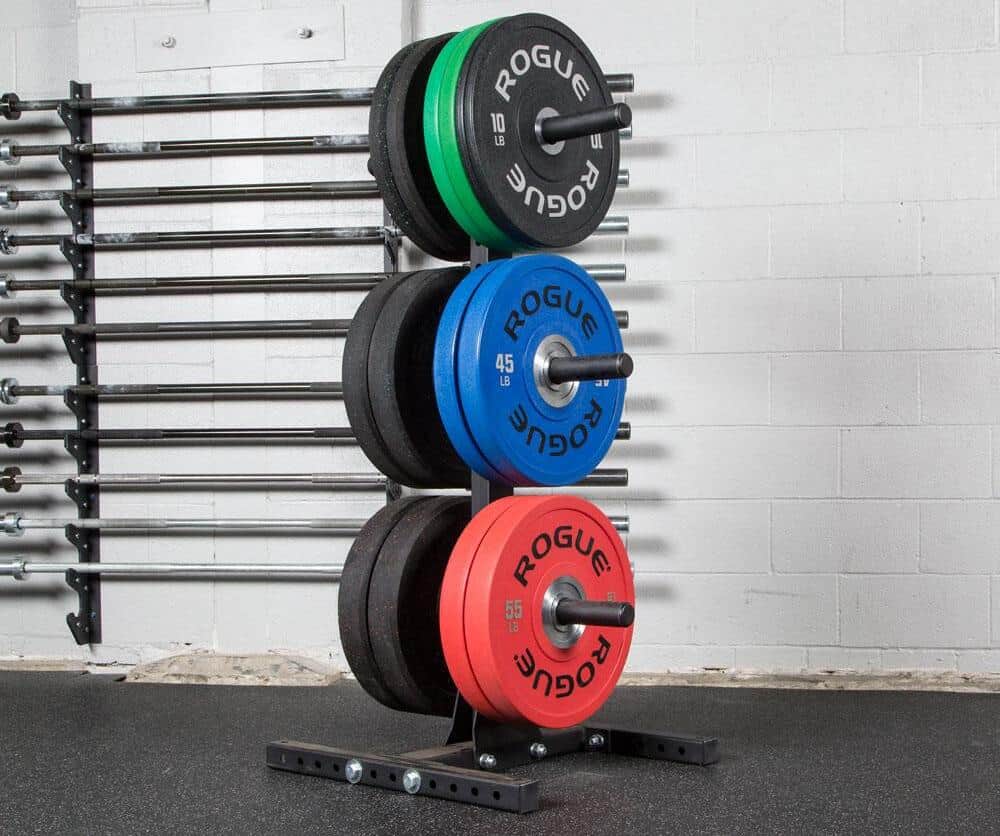 It has a new bolt-together design that decreases shipping costs while maximizing overall stability. Each of the roughly four-foot-tall tree posts is equally spaced at 18.275″ on center to give a good blend of versatility and storage capacity. It is compatible with any IWF standard Olympic plates.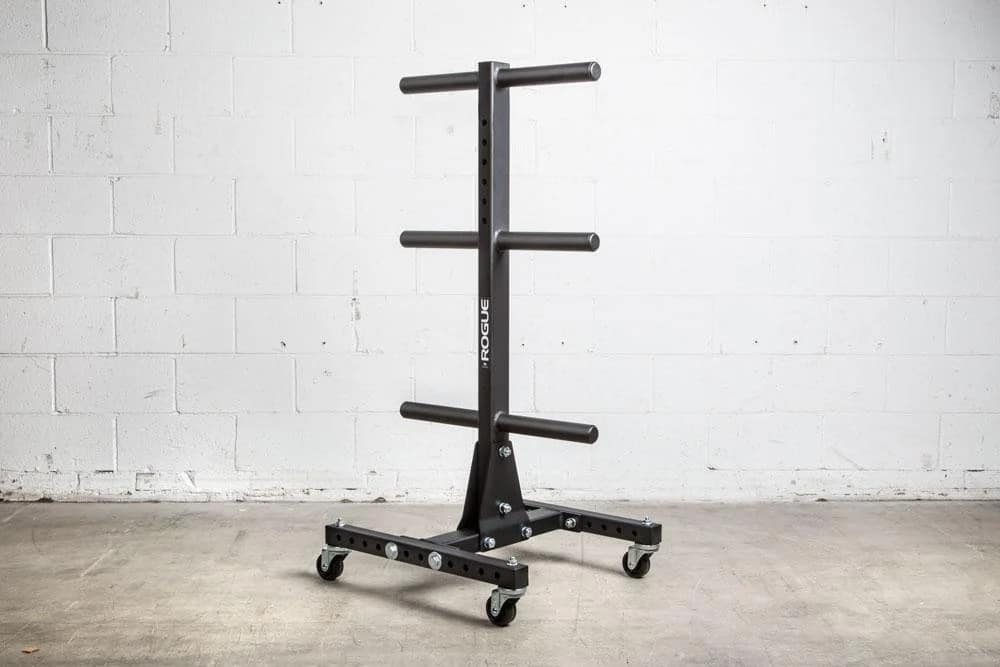 Rep Bar and Bumper Plate Tree
The REP Plate Tree has six-weight pegs and fits bumper plates on every level. Each peg is chrome coated, and the plates glide on and off very smoothly. It can hold two barbells with its front and rear barbell tube.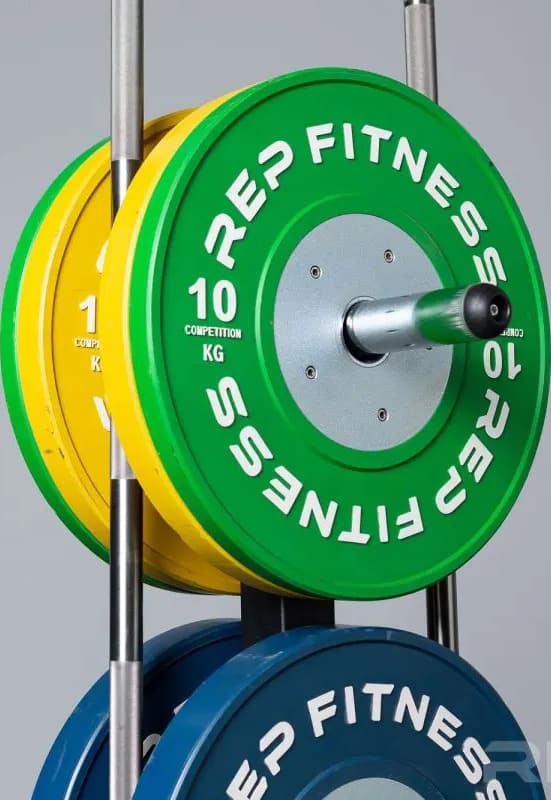 The Plate Tree is ideal for keeping all of your home gym needs or tidying up your commercial gym's area. It has a capacity of 850 lb with 24″ long x 24″ wide x 50″ tall, 35 lbs dimension.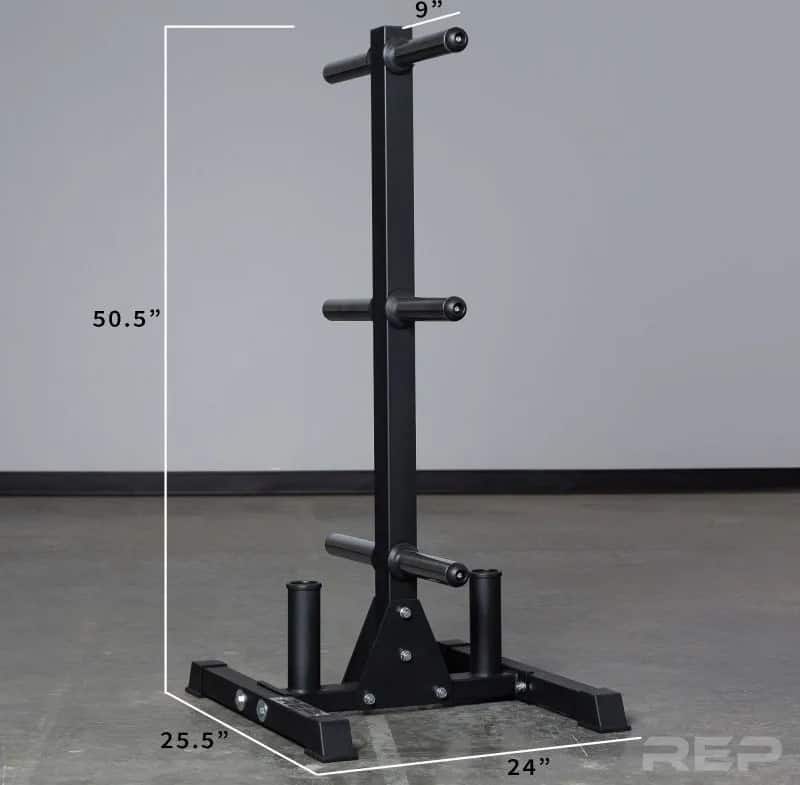 Get RXd Vertical Plate Tree
The Get RX'd Vertical Plate Tree gives you more space for other equipment in your home or facility. Storing and removing plates and barbells is made easier with this storage. It also has wheels, so you can quickly move it or lock it into place.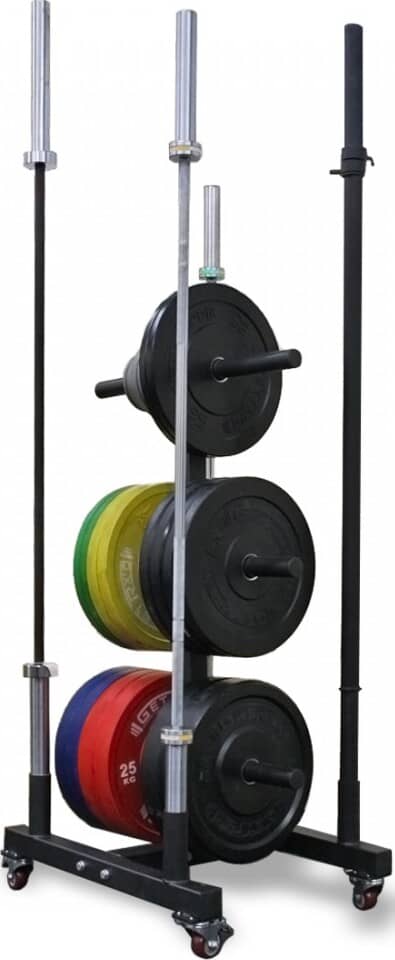 It weighs 87 lbs with 30″ width x 60″ height with wheels. It can hold six different plates from 10 lbs. to 55 lbs. The 13″ sleeves can hold up to four 55-lb. plates each.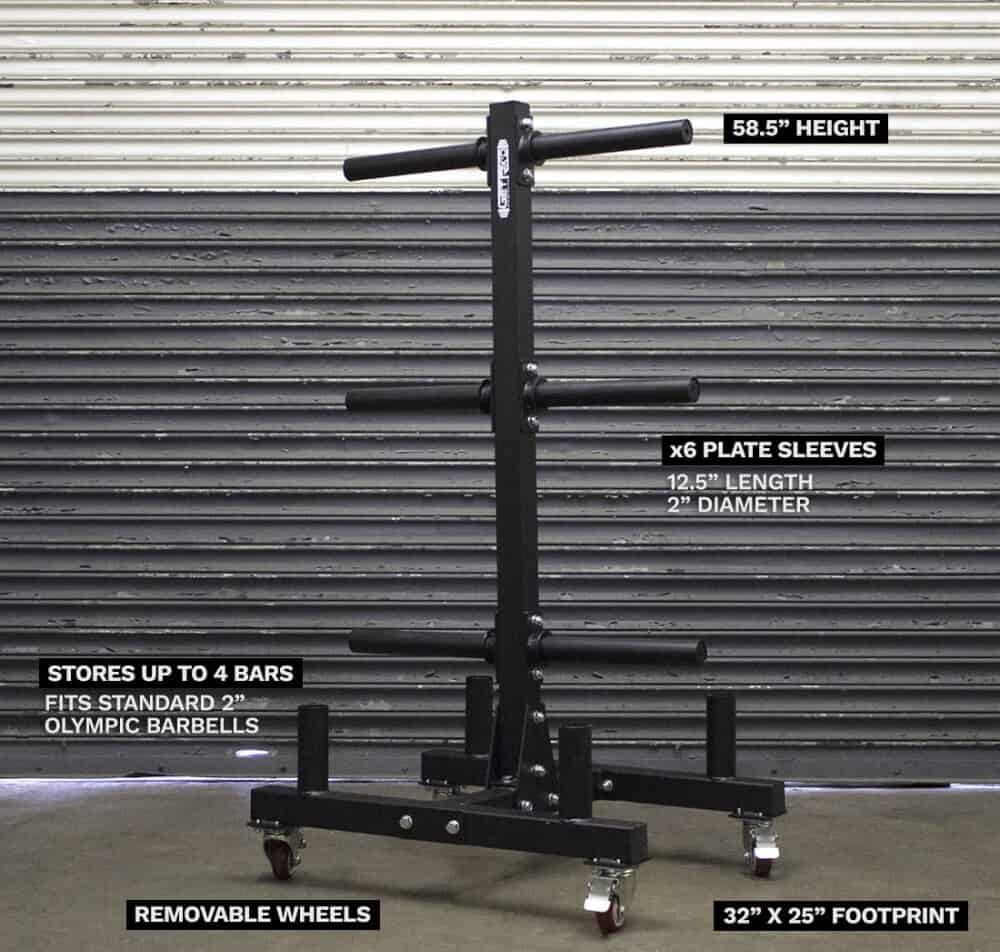 Rogue Horizontal Plate Cart 2.0
Fully redesigned, the Rogue Horizontal Plate Rack extends a single, adaptable storage solution for any types of bumpers, including Hi Temps, Competition Plates, HG Bumpers, and Steel Plates. It uses new manufacturing capabilities that highlight a smoother look with a more comprehensive back end for greater durability during transport and a set of load-bearing rubber feet to preserve your gym's flooring.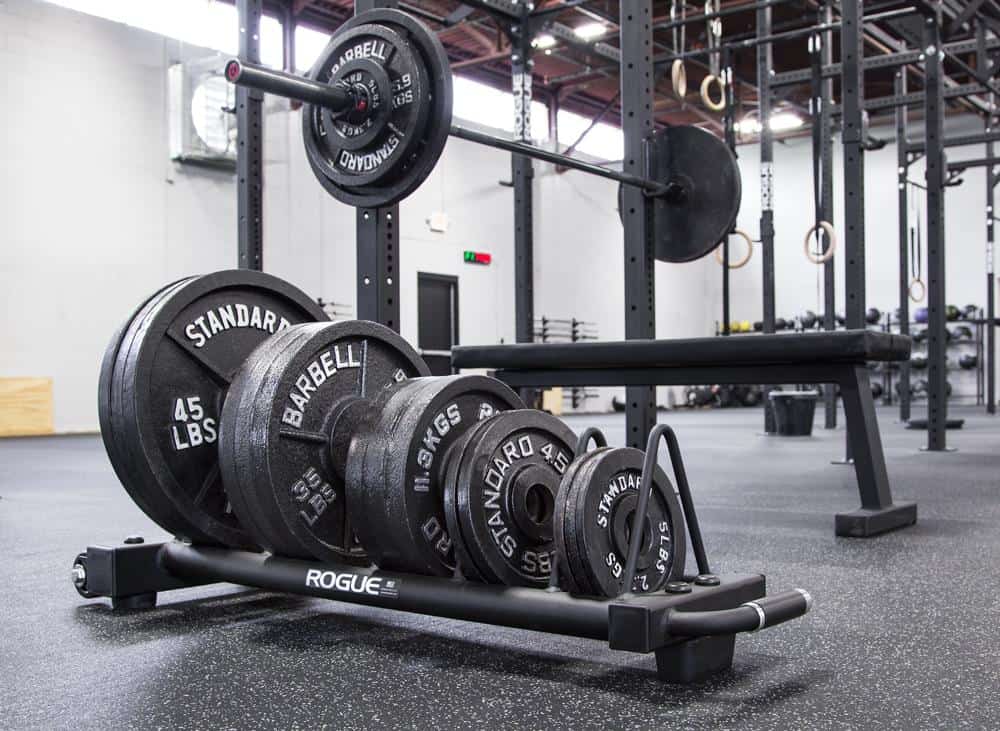 The Horizontal Plate Rack's compact footprint makes it an efficient option for any training space. It is made of US steel from quality welded steel, with six dividers forming two slots for 45LB and 35LB plates, two slots for 25LB and 15LB plates, and one space for 10LB and smaller variant bumpers. It also has a convenient handle and wheels for smooth mobility.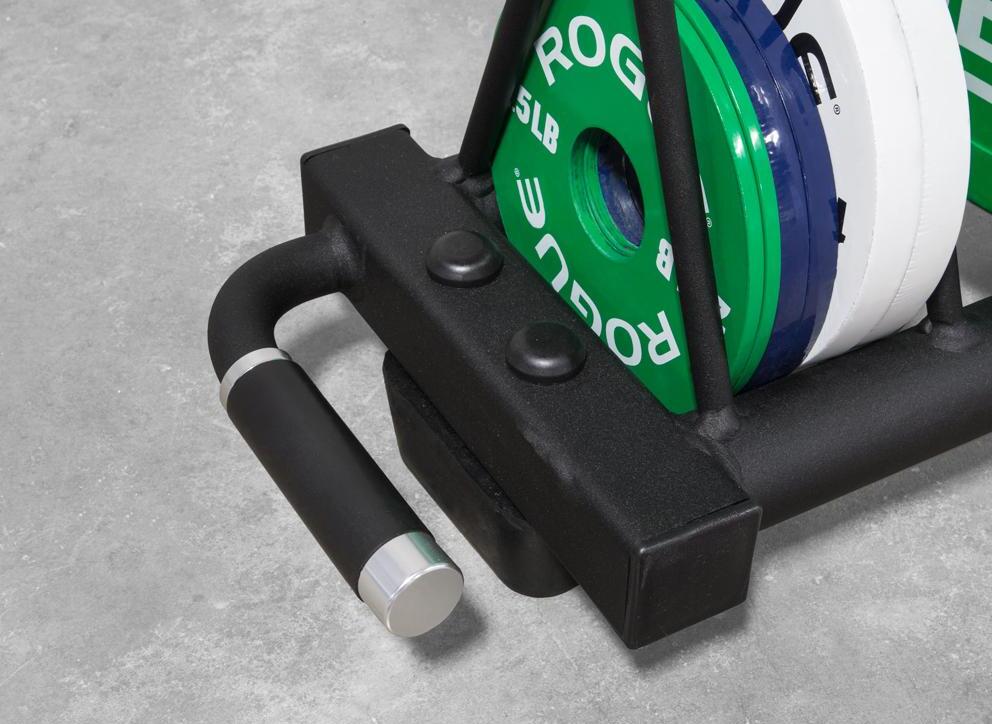 Rep V2 Horizontal Plate Rack
The Rep V2 Horizontal Plate Rack is an upgraded plate storage solution. It has a new ergonomic handle, and the dual barbell tube storage will help you to more conveniently transfer weights between platforms or lifting areas in your gym.
It is easy to put together with its weight of 45 lbs and measurement of 43.5″ x 15.75″ x 11.5″ (LxWxH). The two wheels and ergonomic handle make it easy to relocate, and the two barbell tubes offer additional barbell storage.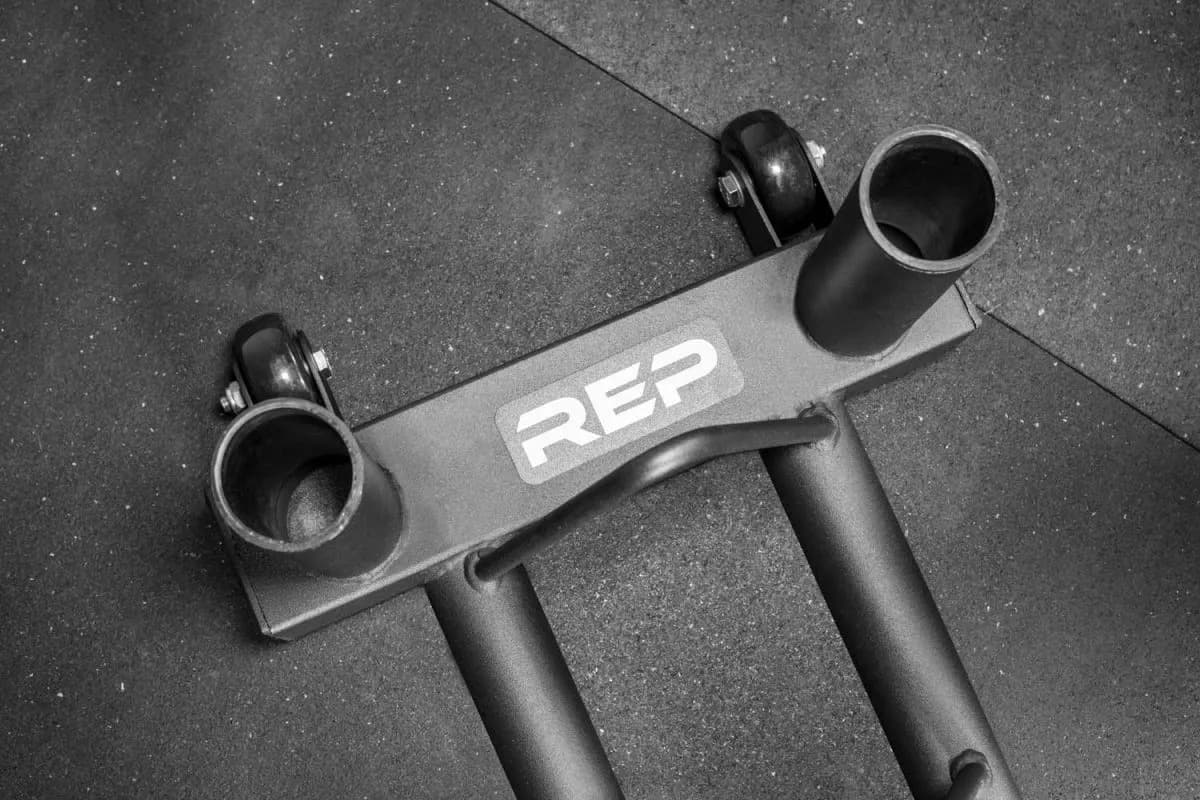 Get RX'd Universal Plate Cart
The Universal Plate Cart is ideal for Bumpers, Competition, or Cast Iron Olympic Plates. It comes with dual wheels and a built-in handle so you can easily transport it throughout the garage or gym. You can now keep all your plates on a single rack with its fractional and metal plate sleeve welded along the rear.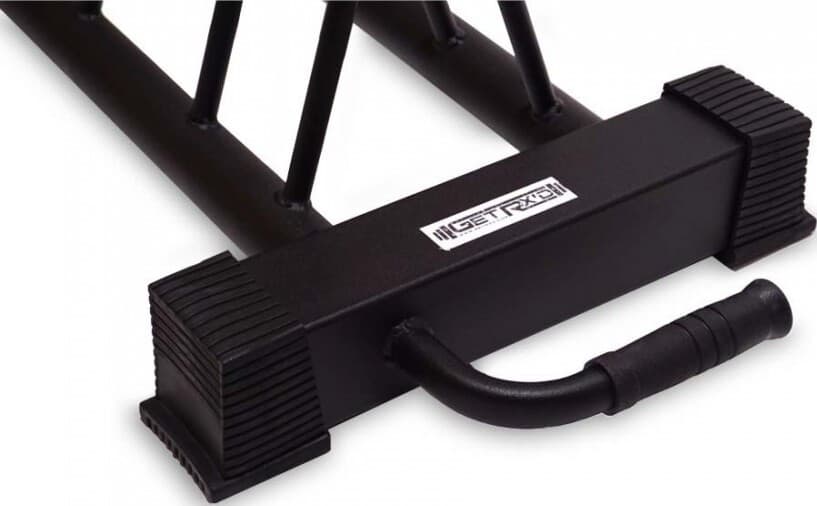 This cart is perfect beside your Olympic platform at home or the box. There are two 5.5″ sections, two 8″ sections, a 3.5″ section, and a 5.5″ plate sleeve.

American Barbell Horizontal Rolling Bumper Storage
The American Barbell Horizontal Bumper Storage unit is a compact means of storing your weight plates on the gym floor. It highlights a front handle that is ergonomically produced and has a foam-covered hand grip for efficient handling. The heavy-duty metal frame of this unit measure 50 inches in length and 16 inches in width.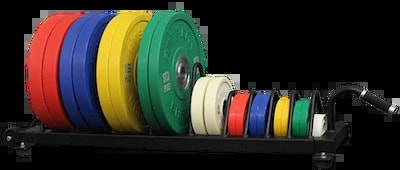 The American Barbell Horizontal Bumper Storage gives you the ability to store up to 55LB/25KG plates as well as your smaller and incremental plates. A total of nine plate spacings on this rack, and the plate storage spacings are 2.5 inches and 5.5 inches. It sits atop high spec roller wheels so you can quickly move the weight rack around your training area with a minimum of effort.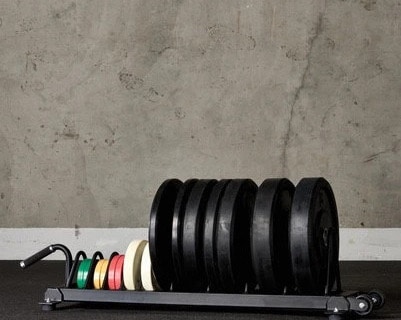 Rogue V2 Bumper Stacker
The Rogue V2 Bumper Stacker highlights a 36.5" tall weight post with an X-shaped base for easy assembly and decreased shipping costs. Redesigned for maximum efficiency, the two legs of the unit are made from 2×2″ 11-gauge steel and measure 24″ in length for a compact footprint.
The load-bearing rubber feet come standard for added stability, but an upgrade with caster wheels is handy for added mobility. The loading capacity of the Rogue V2 Bumper Stacker varies from 300 LBS to 800 LBS, depending on what style of bumper plate you stack.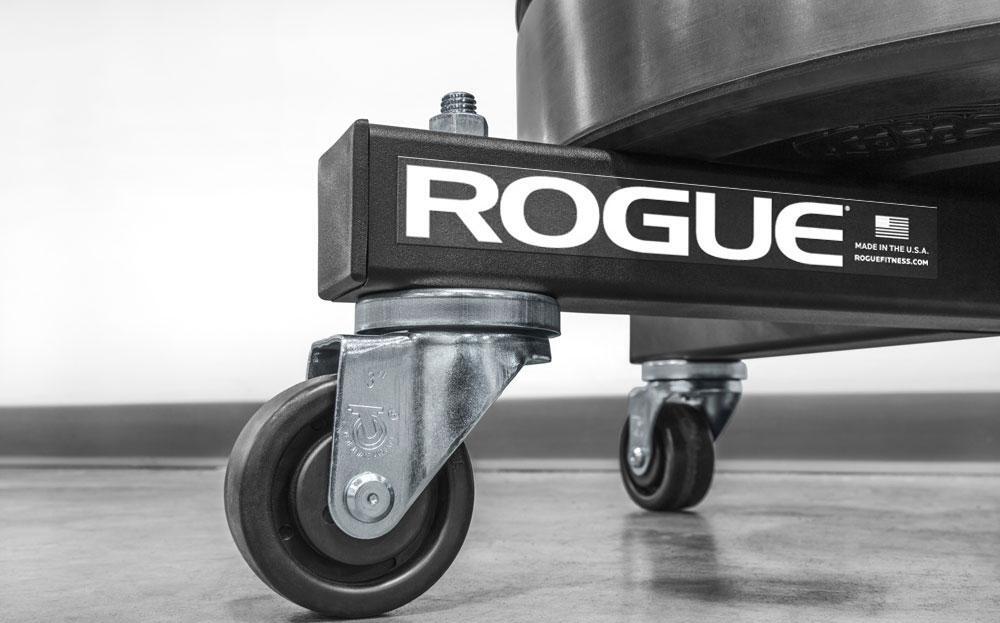 Rep Bumper Stacker with Wheels
The Rep Bumper Stacker with Wheels is a rolling bumper rack making it very easy for you to pile your bumper plates and move it around. It gives you more space because of its compact and simple construction.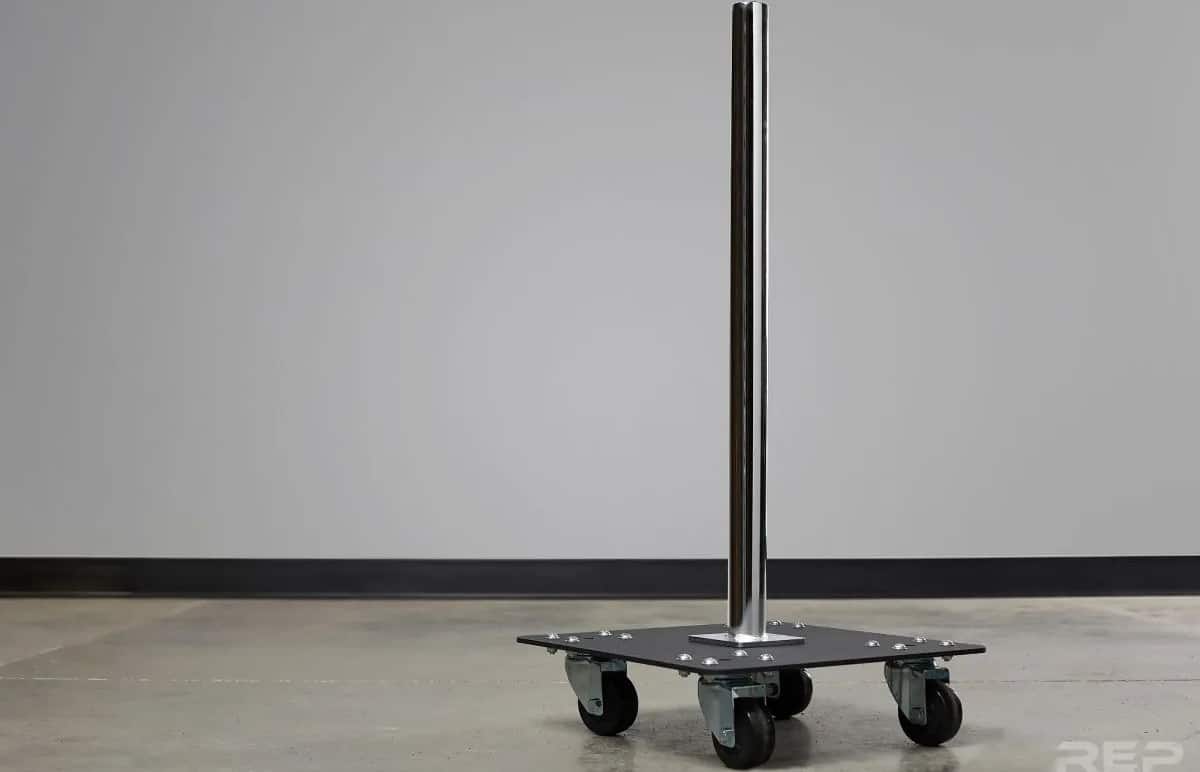 It can hold 300-800lbs of plates, depending on the type of plate being stacked. It weighs 30 lbs and takes only 15 minutes to assemble.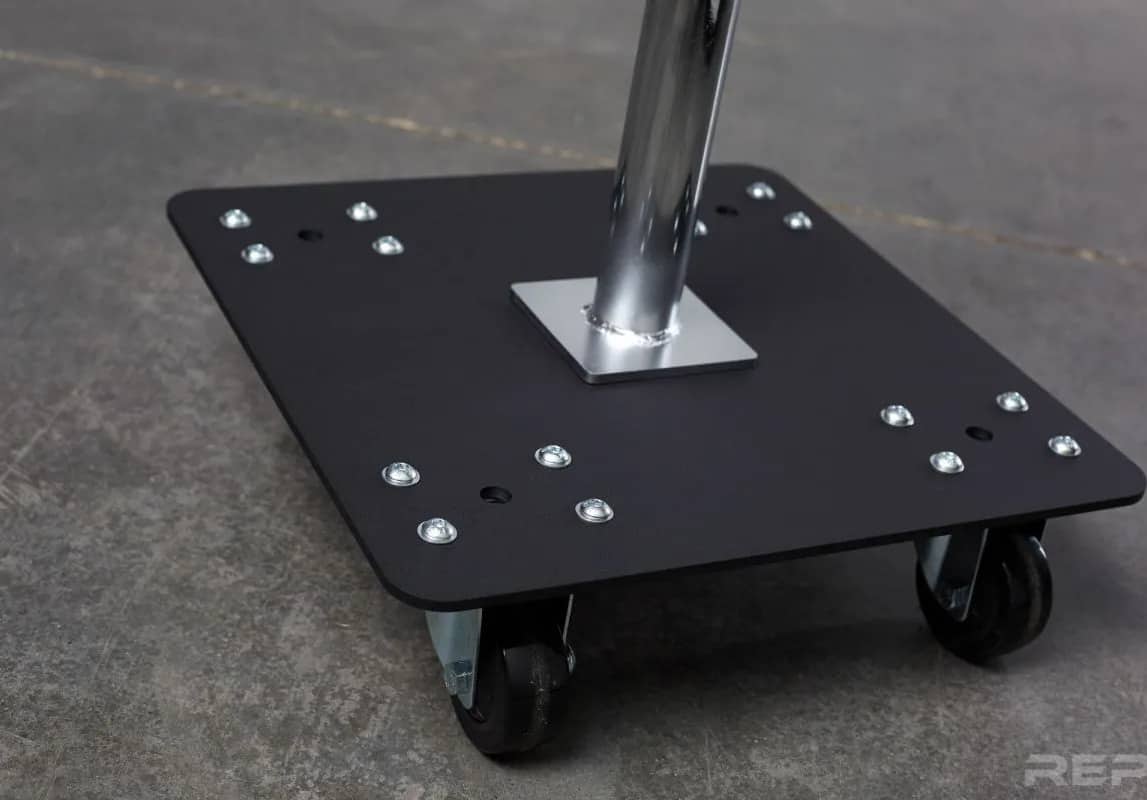 American Barbell Upright Rolling Bumper Storage
The American Barbell Upright Rolling Bumper Storage is heavy-duty upright bumper storage that grants an effective plate storage solution for any space. It is portable and enables you to instantly and effortlessly move your weight plates around.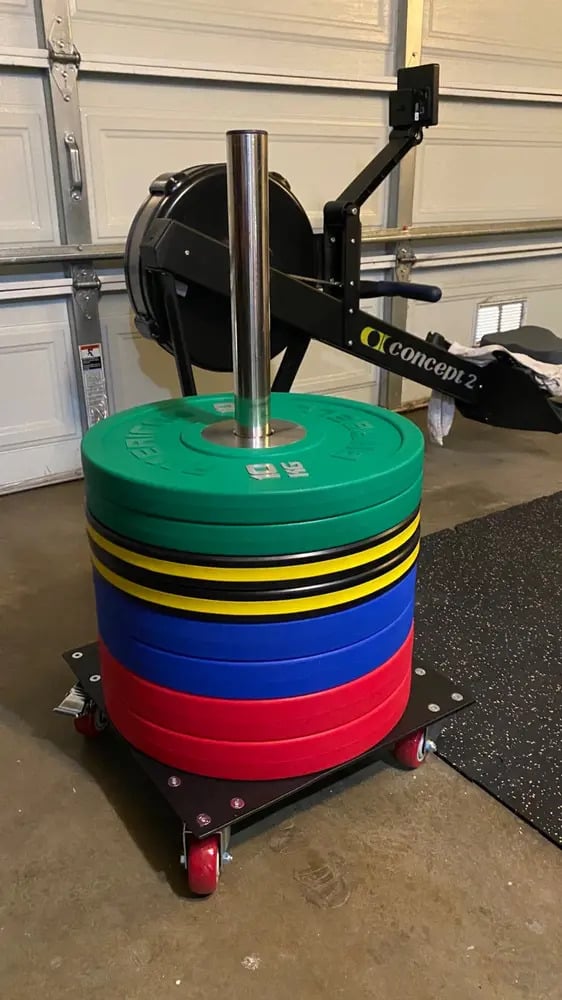 The upright rolling bumper storage unit highlights three premium quality multi-directional roller wheels that let you move it in any direction smoothly. No matter how long it takes, the high-end bearings guarantee that the wheels will continue to move with ease, while the extra-long storage post enables you to grab and control the unit with one hand.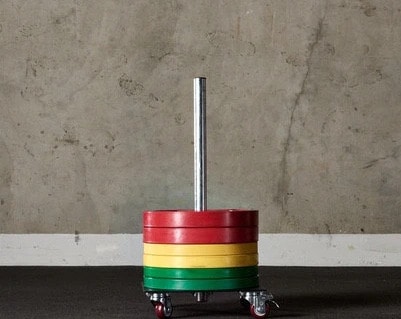 Rogue Monster Bumper Rack
Made in the USA with US steel, the Monster Bumper Rack is a compact, customizable equipment storage unit with the same 3×3" 11-gauge steel as our Monster Power Racks and Rigs. The patent-pending incorporates an adjustable top rail and dividers for plates, with a flat, reinforced bottom shelf. The 40.5″ wide x 20″ deep bottom shelf is specially created to be large enough for storing two DC Lifting Block Sets, side by side.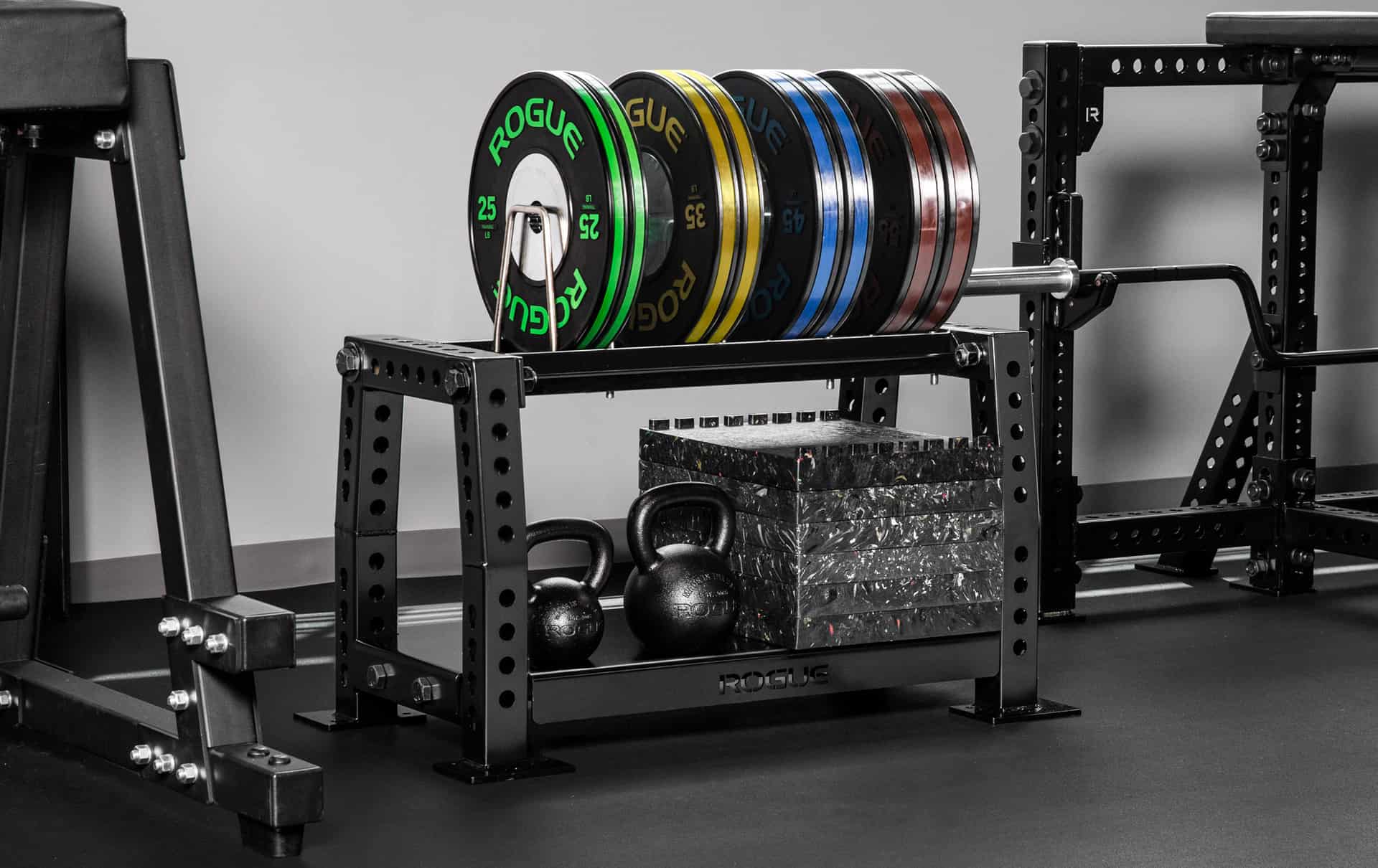 It has a total footprint of 44" x 23.5", giving you the ability to store and organize any size/type of plate by repositioning the five stainless steel dividers along the 1" spaced holes in the railway tubing. Each unit comes with all required 1" hardware for set-up, along with laser-cut Rogue branding, and MG Black powder-coat finish, and a set of footplates with ½" diameter holes.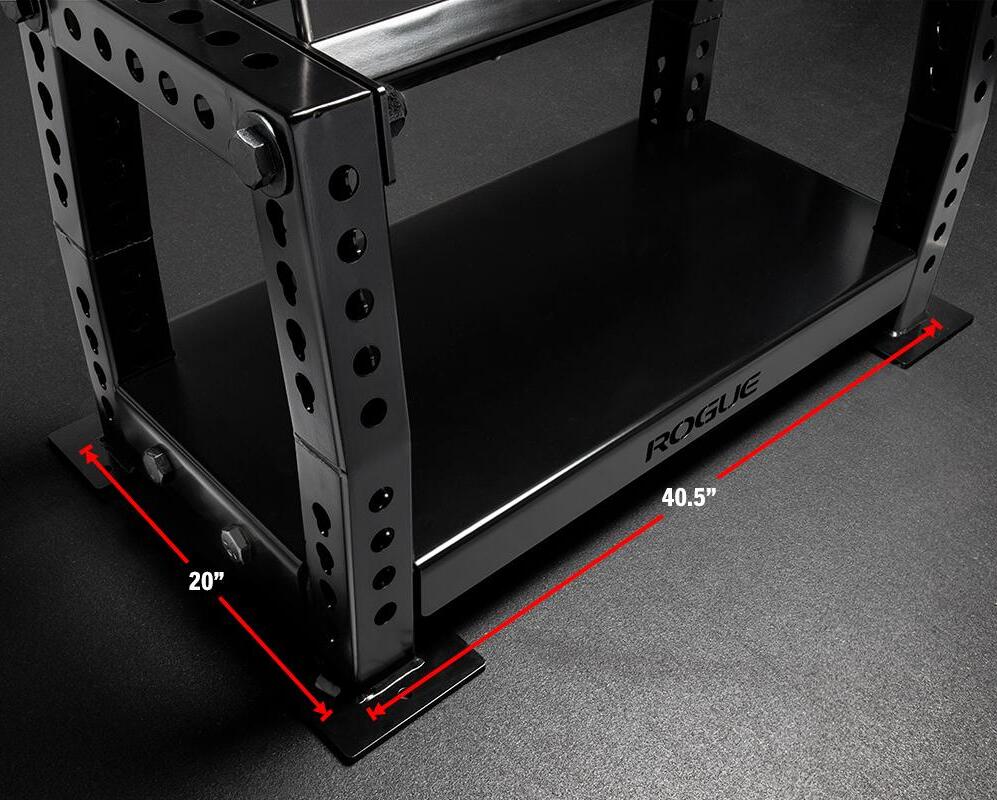 Bumper Plate Storage Overview – In Summary
That's our close-up look of Bumper Plate Storage.
Store your precious bumper plates the right way with these Bumper Plate Storage from trusted companies. Storing them properly not only keeps your place tidy and orderly but also preserves their quality so you can use them for a longer time.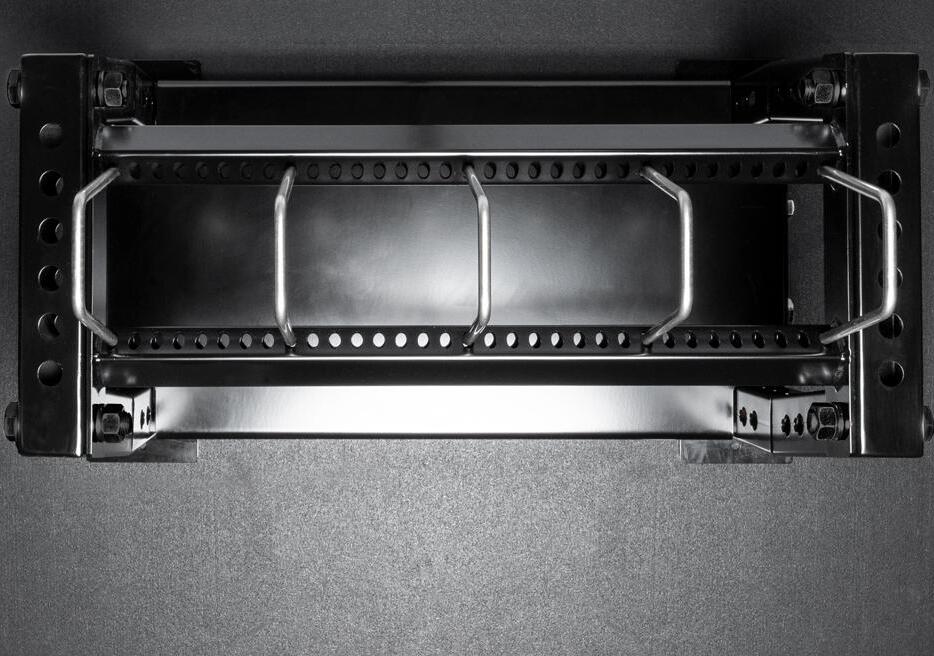 Photo Credits
Product photos on this page are property of Rogue, Get RXd, Rep Fitness, and others that manufacture this equipment.
This website is not affiliated or associated with CrossFit, Inc. CrossFit is a registered trademark of CrossFit, Inc.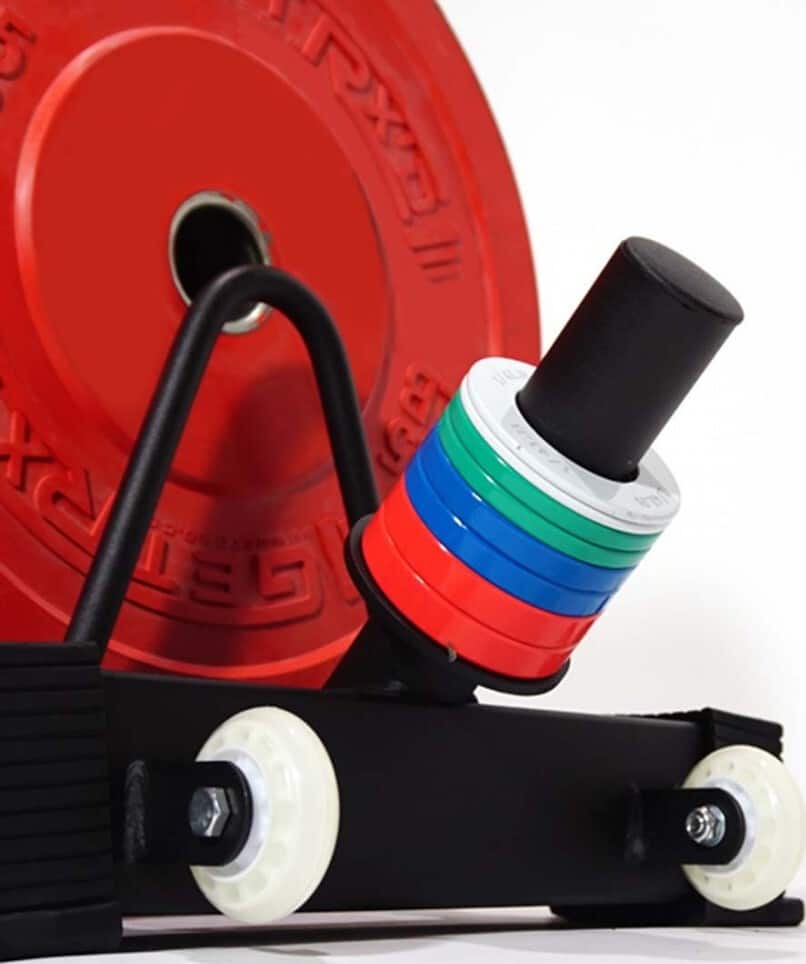 Affiliate Disclaimer
We are an affiliate of Rogue and others that sell this training gear. If you buy clothing or other training gear after clicking the links in this article, we receive a small commission at no extra cost to you. This helps us to bring you in-depth information and content on these great training products.