Are you doing the Oly lifts? Then you need proper bumper plates. These new Savage Bumper Plates from Fringe Sport are robust and affordable.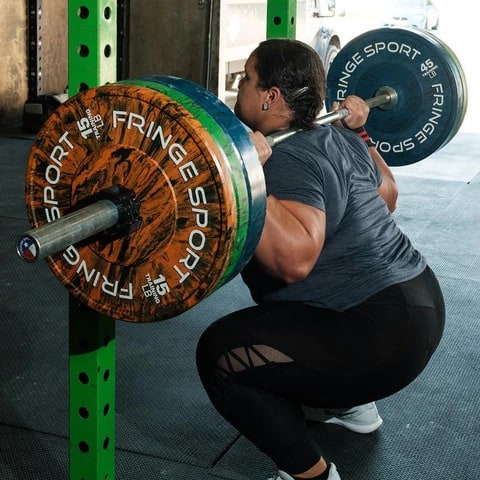 (And they look good!)
Bumper plates are advised for beginners (and experts), and even if you would not lift as much in the beginning, they are still advised just in case one drops the bar. What makes them better than iron plates is their durability, that despite the abuse you give them, you don't have to worry about them getting cuts and cracks. They are highly recommended during any workout where you'll need to lift and move fast, like in CrossFit.
Here's some of the styles we are going to look at: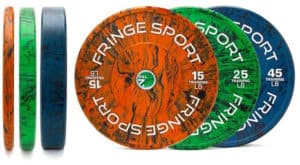 Savage Bumper Plates (Various Colors)
Savage Bumper Plates - do the Oly lifts (like the clean and jerk and snatch) the proper way with bumper plates. The Savage bumper plates are one of the best-looking options for your home gym or garage gym.
Savage Bumper Plates – Overview
Savage Bumper Plates are easy to recognize because they have tiger stripe colors throughout them. The colors are attractive as they are also helpful. If you are in a hurry, you can easily spot the plates that you need to get a brief workout without double-checking the plates you are loading. Bumper plates are made of 100% virgin rubber, making them ideal for both home gyms and box gyms as they typically absorb noise. They are esteemed for their quiet nature and lower bounce compared to iron weights.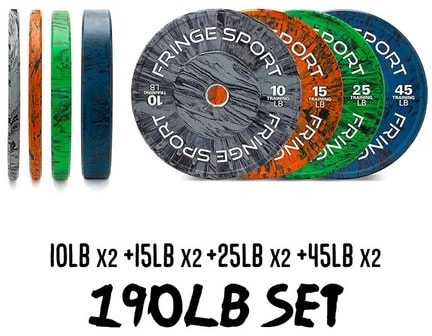 No matter how early you lift, you don't have to worry about waking your family and neighbors up with bumper plates. The rubber used in Savage Bumper Plates is chiefly designed to produce a weak bounce when dropped, so you spend more time making gains and less time getting back to the bar. These plates are remarkably tough and will last for years in a garage or affiliate.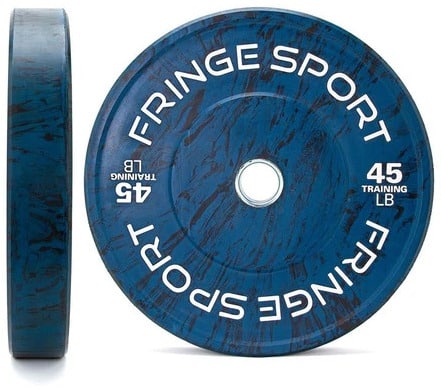 The accurately designed stainless steel insert in the 25 lb, 35 lb, 45 lb, and 55 lb plates provides enhanced surface area for the rubber to adhere to so that the insert remains securely seated WOD after WOD, making these bumpers Texas solid. Each bumper weighs 10-55 pounds with a weight tolerance of +/- 1% of the declared weight. These bumpers also add a charming look to your gym or garage. A three-year warranty is provided on 25's, 35's, 45's, and 55's and one year warranty on 10's and 15's.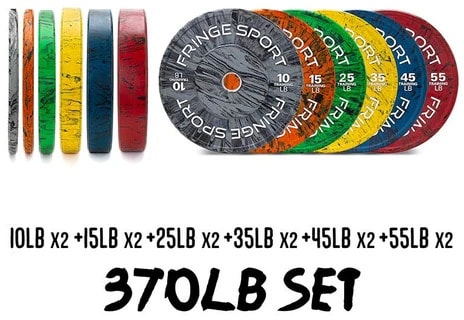 Savage Bumper Plates Review – In Summary
That's the new Savage Bumper Plates from Fringe Sport.
Bumper plates are a great investment because of their durability. Savage Bumper Plates from Fringe Sport are very durable and backed up with a warranty. They are covered in almost bombproof rubber that preserves the iron so they will not rust when exposed to wet surroundings. You can be at ease in doing overhead squats, jerks, and snatches with these bumper plates.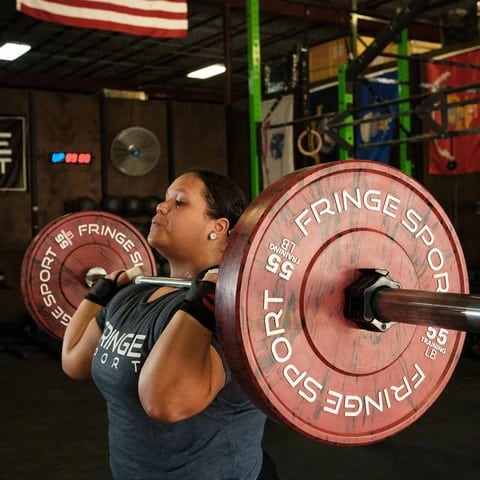 Photo Credits
Product photos on this page are property of Fringe Sport.
This website is not affiliated or associated with CrossFit, Inc. CrossFit is a registered trademark of CrossFit, Inc.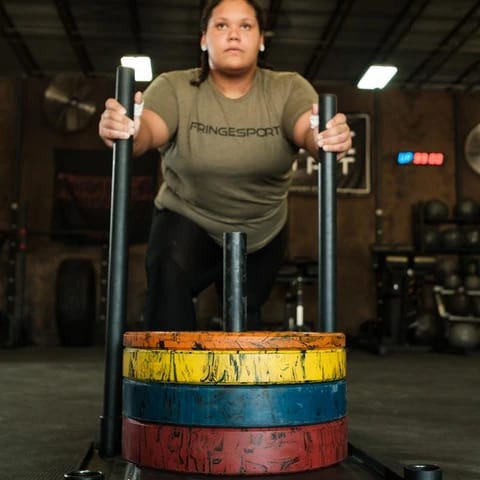 Affiliate Disclaimer
We are an affiliate of Fringe Sport and others that sell this training gear. If you buy clothing or other training gear after clicking the links in this article, we receive a small commission at no extra cost to you. This helps us to bring you in-depth information and content on these great training products.