Need a Spin Bike? Check out what
Sole Fitness
has to offer - bikes, treadmills, ellipticals, and more!
Let's review Sole Treadmills.
Some studies say all of us should do at least 20 minutes of daily moderate aerobic exercise that includes walking and running. The problem is not all of us want to go outside to run or do brisk walking. The good news is you don't have to. For as long as you have a treadmill at home, you can skip the hassle of wearing a mask while walking or running outside.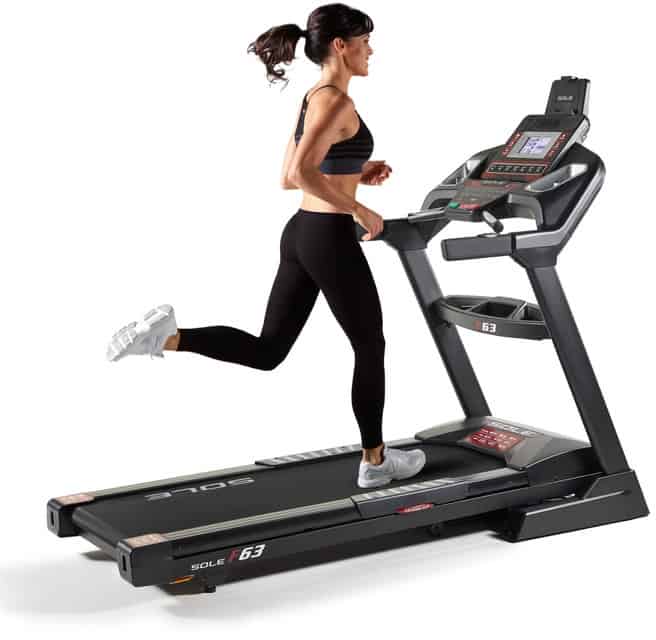 Here are some of the styles we are going to look at:
Sole Treadmills – Overview
The treadmill is one of the most common types of exercise equipment at home and an easy and outstanding item to invest in. If you are new to fitness, walking on a treadmill is a good start and then level up to running as your strength and stamina are improved. With a treadmill, you don't have to worry about the dirt or hard and uneven surfaces you can trip on while running that might cause injury. It is great for weight loss, building muscles, improving joint flexibility, and excellent for your cardiovascular health.
One of the manufacturers of treadmills is Sole Fitness. They don't just manufacture treadmills but they are the best manufacturer of the finest treadmills for homes and commercial sites in the market. The engineering and design team at Sole Fitness never stops thinking about ways to advance their technology and give the best experience for their customers. All treadmills of Sole Fitness are improved with Bluetooth connectivity for incorporating the latest Sole Fitness mobile app. They also have track lengths of at least 60 inches to support long-running paces. Let's go deeper to see each of these treadmill's features as well as the qualities that make them distinct from one another.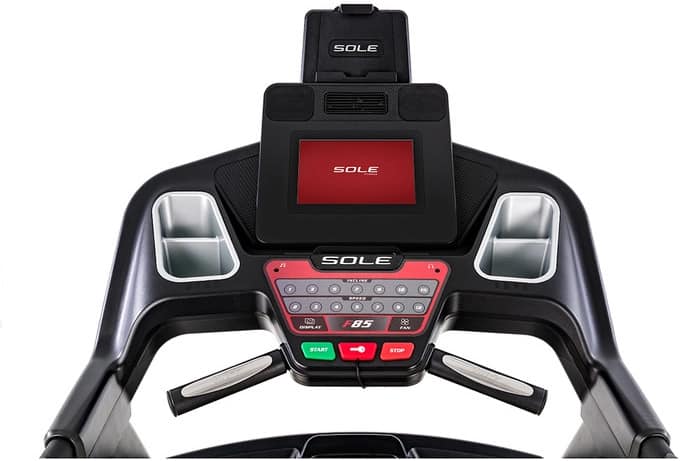 Sole F63 Treadmill
The F63 folding treadmill is enhanced and now highlights a 3.0 CHP motor and an upgraded console with ten training programs. Your workout journey is displayed on a 6.5-inch LCD, incorporated into the Sole Fitness mobile app for wireless tracking and fitness stats sharing. The Sole app can see your progress on your mobilephone in real-time and can interact with other apps like Fitbit and MyFitnessPal so you can keep on using other programs and store all of your workout records in one place. It also has Bluetooth audio speakers, an integrated tablet holder, Bluetooth audio speakers, and a USB charging port.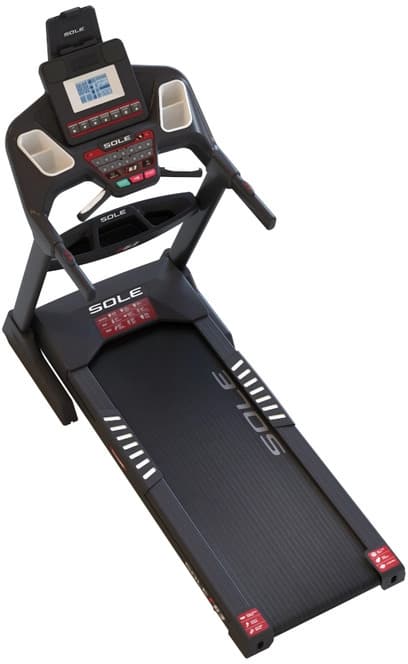 The P63 is the smoothest treadmill when making adjustments mid-workout and has an easy assist folding deck design to make storing your treadmill simple and convenient. The Cushion Flex Whisper Deck reduces impact to joints by 40% and has 15 levels of incline to present the right challenge for runners and walkers of all levels. The LCD screen gives real-time statistics to monitor your improvement, while the high-end rollers produce static-free motion leading to a long lifespan. The P63 is also named the "Best in its Price Range" by Fit Rated, Run Reviews, Treadmill Reviews, and many others.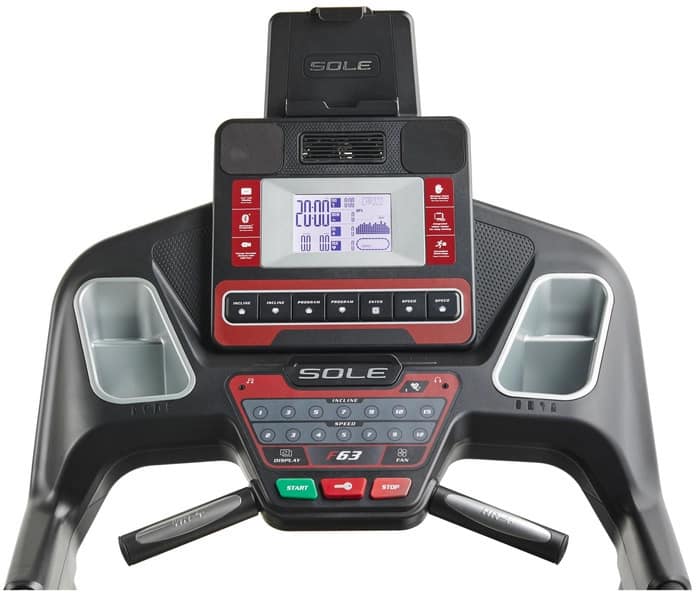 Sole F65 Treadmill
Sole's F65 is the upgraded version of P63 and is an economical treadmill that merges the best features of the F80 and F63. The Sole F65 has a two-ply thick track for durability and is paired with 2.5″ rollers to support smooth operation and reduce the demand on the motor. Earlier models have lower horsepower but the new F65 power workouts with 3.25 CHP motors. It can be folded to save space and has a unique horseshoe-shaped folding frame that makes it just as firm as non-folding treadmills.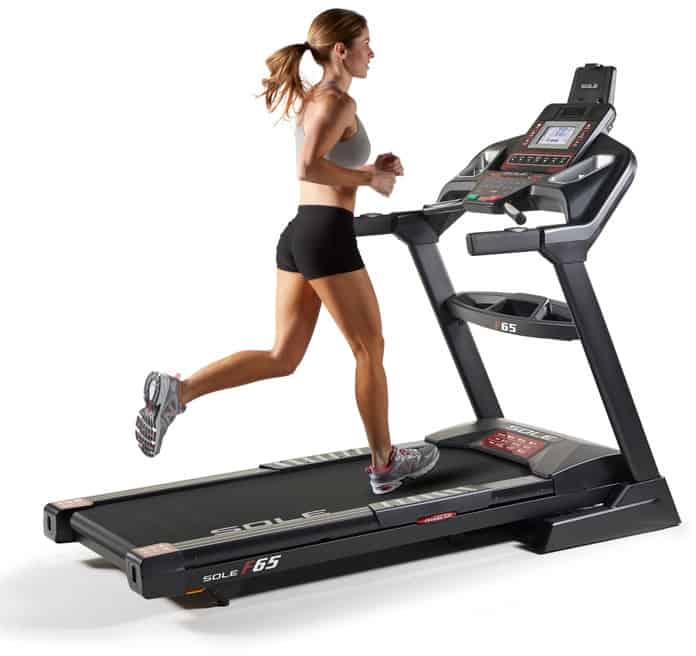 Previous versions of this machine have 58″ x 20″ workout areas, but the new Sole F65 has a 60″ x 22″ running surface. It has a cord that holds the treadmill if they lose balance. It also highlights 15 different incline levels and includes ten workout programs for cardio training, weight loss, and muscle toning. We love extras, and the F65 also highlights cooling fans, water bottle holders, and a utility tray. There are also incline and speed controls on the armrests.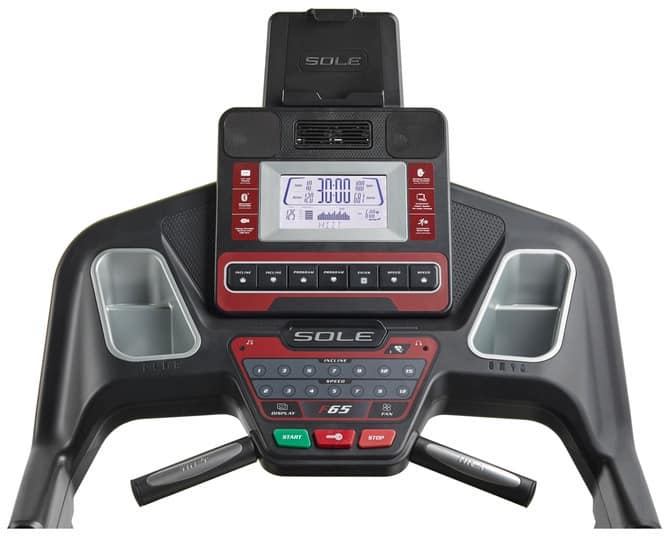 Sole F77 Treadmill
If you want all the features of a gym treadmill at home, the Sole S77 is for you. Sole Fitness managed to harmonize your favorite devices and get a difficult workout you thought was only possible at the gym. It has an unbeatable commercial steel frame with a lifetime warranty and elements such as a 4.0 CHP motor, a two-ply belt, 2.75″ belt rollers, and a deck with superior shock absorption.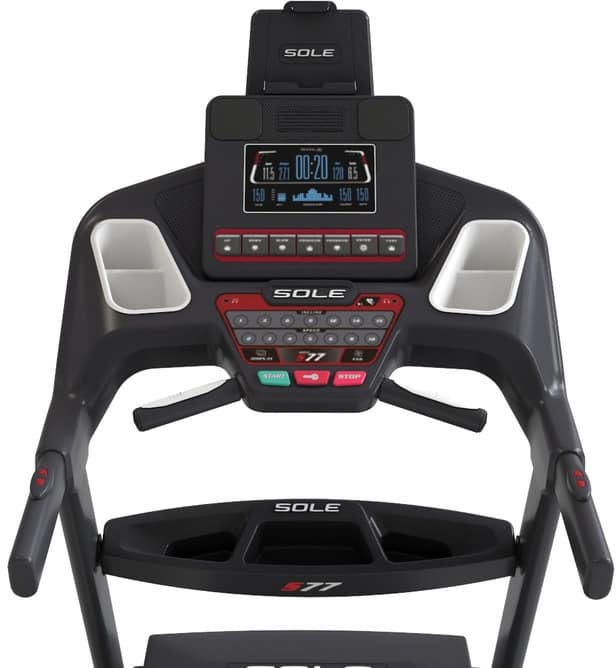 It has a 10.1'' TFT screen that gives clean readouts of information, including distance covered, heart rate, calories burned, and others, plus an integrated tablet holder that provides you the liberty to use your smart devices to watch shows or follow your workout routines. The S77 has a quiet commercial-grade 4.0 CHP motor and has contact pulse sensors suitable with wireless chest straps for heart rate monitoring. It also has a tablet holder, Bluetooth audio speakers, and a USB charging port.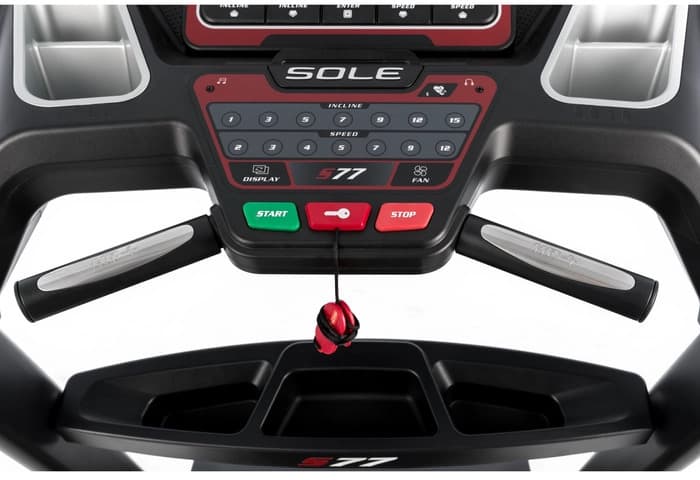 Sole F80 Treadmill
The F80 is long-lasting with a robust motor and a knee-friendly cushioned deck. With The F80, you can increase/decrease speed or switch through options quickly using the side-bar controls. You can listen to music from your smart devices through the speakers on the console with the Bluetooth audio speakers and you can also charge your smart devices while working out.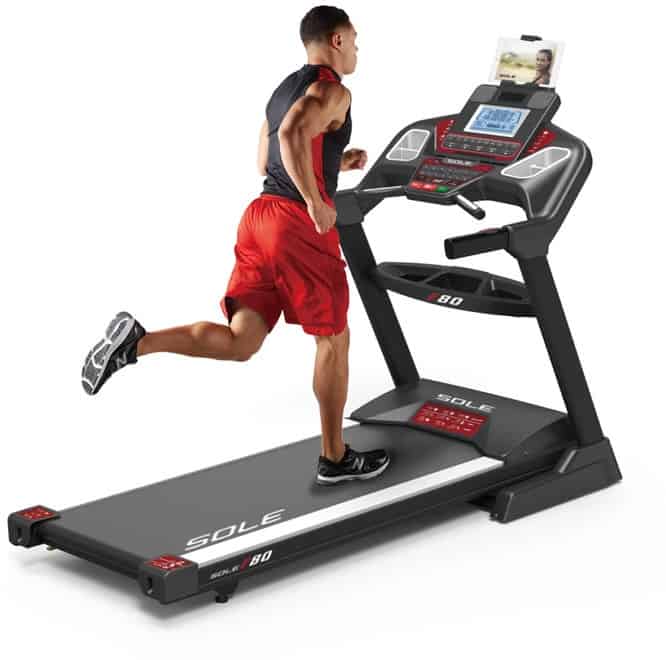 If you have a small space, the F80 can save you with its easy foldability. The F80 has a 3.5 HP motor which is perfect for those who appreciate long runs. It has a reversible desk that helps improve the durability of your machine and it reduces joint impact by 40% with its Cushion Flex Whisper Deck. You can clearly track your workout sessions with the large and vibrant 9-inch LCD screen. It offers lifetime coverage on the frame, motor, and deck and five years on electronics and parts.
Sole F85 Treadmill
The F85 is the highest-rated foldable machine with unmatched durability coupled with some of the most incomparable high-tech features. It is designed to handle the hardest workouts and probably the best folding treadmill you'll ever have. The Sole F85 has a silent 4.0 CHP motor that easily supports dashes of up to 12 mph and a maximum weight of 400 pounds. It has 30 levels of incline and a notable 15% grade and has smooth toggling between various pre-set workouts and other relevant information like distance and heart rate.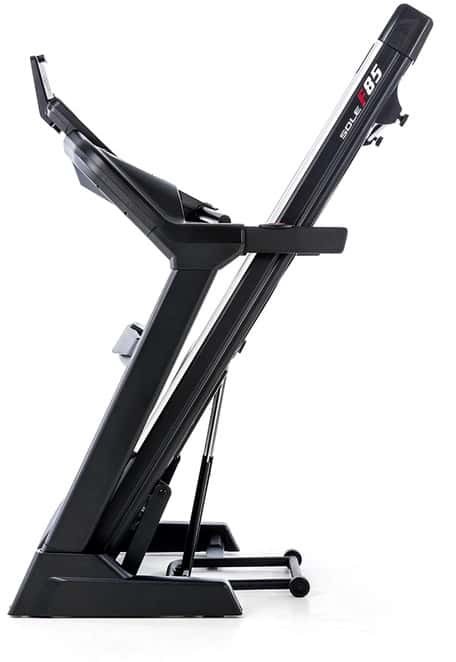 The F85 is ideal for runners of all levels and has the smoothest transitions between different resistance levels. The 10.1-inch screen with a graphic display can present easy-to-read workout data. Ten programs including manual mode are available to support cardio training, weight loss, and muscle toning. Two users can store profiles and save customized programs for quick-start convenience.
Sole Treadmills Review – In Summary
That's our review of Sole Treadmills.
Sole Fitness produces treadmills that are advanced and high-quality at a price you will love. They all come with Bluetooth Audio Speakers so you can listen to music from your smartphone through the speakers on the console. They are also foldable so you can save space when they are not in use. Enjoy the benefits and added perks of a treadmill in the comfort of your home with Sole treadmills.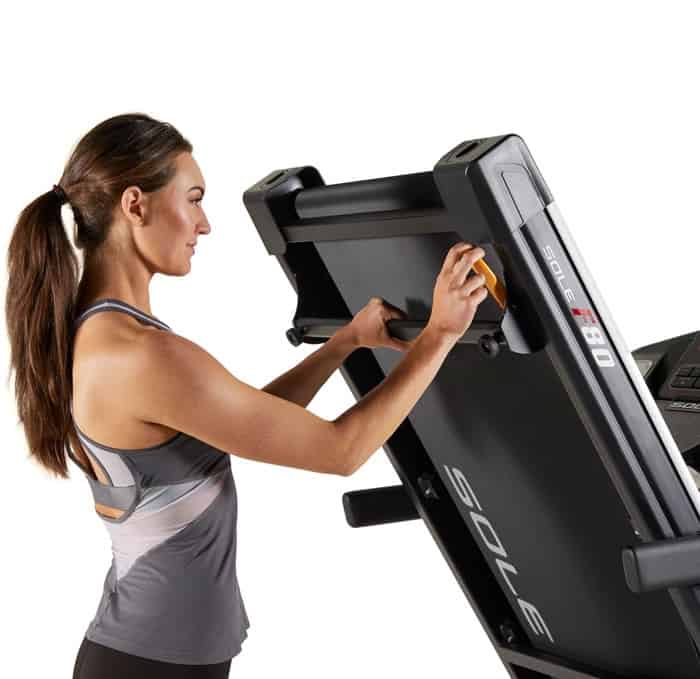 Photo Credits
Product photos on this page are property of Sole Fitness.
This website is not affiliated or associated with CrossFit, Inc. CrossFit is a registered trademark of CrossFit, Inc.
Affiliate Disclaimer
We are an affiliate of Sole Fitness and others that sell this training gear. If you buy clothing or other training gear after clicking the links in this article, we receive a small commission at no extra cost to you. This helps us to bring you in-depth information and content on these great training products.