Let's review the new Reebok Nano X1 Training Shoe from Reebok.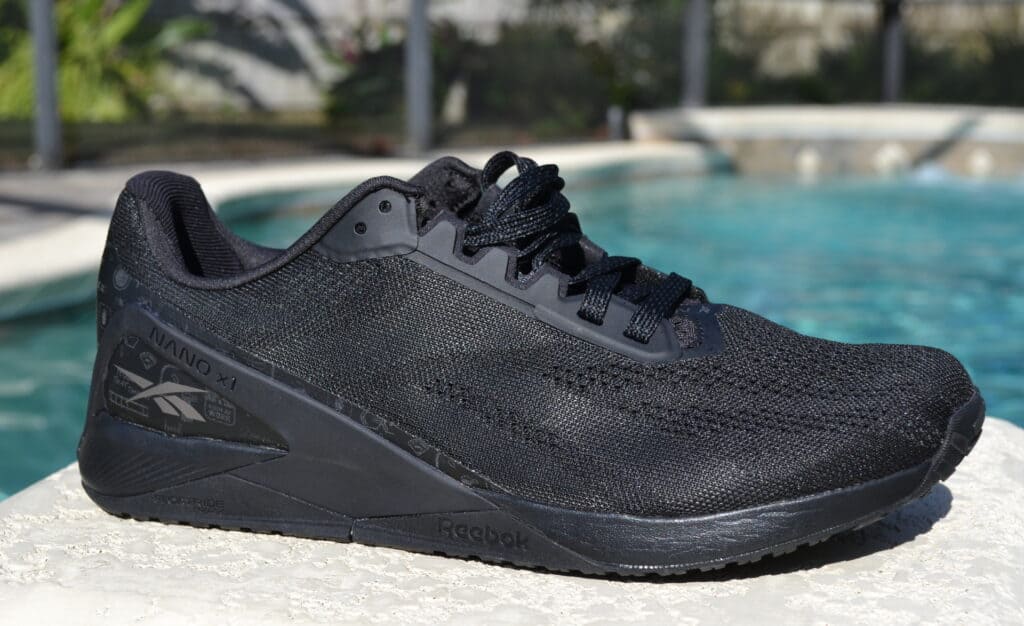 Reebok is upping their training shoe game with the launch of the Reebok Nano X1 Training shoe. How does this shoe compare to the Reebok Nano X? Can we use this shoe for the CrossFit WOD? That's what we'll cover in this review.
Here's some of the styles we are going to look at:
Let's take a look at this new training shoe.
Reebok Nano X1 Training Shoe Review – Video from our YouTube Channel
Why read when you can watch? Check out this video from our YouTube channel:
Nano X1 Sizing
The sizing with the Reebok Nano X1 is same as the Nano X – as far as I can tell.
I am happy with my normal shoe size of US Men's 11. It's long enough and plenty wide in the toebox.
The Nano X LOOKS wider – because the outsole has more width to it.
But, the internal space for your toes is about the same.
This video explains in depth:
I'd recommend you order the same size as your Nano X – or whatever your normal shoe size is.
Reebok Nano X1 Training Shoe – Overview
Let's take an up-close look.
Just like every house needs a stable foundation – so does your training shoe.
Here's the outsole of the Nano X1.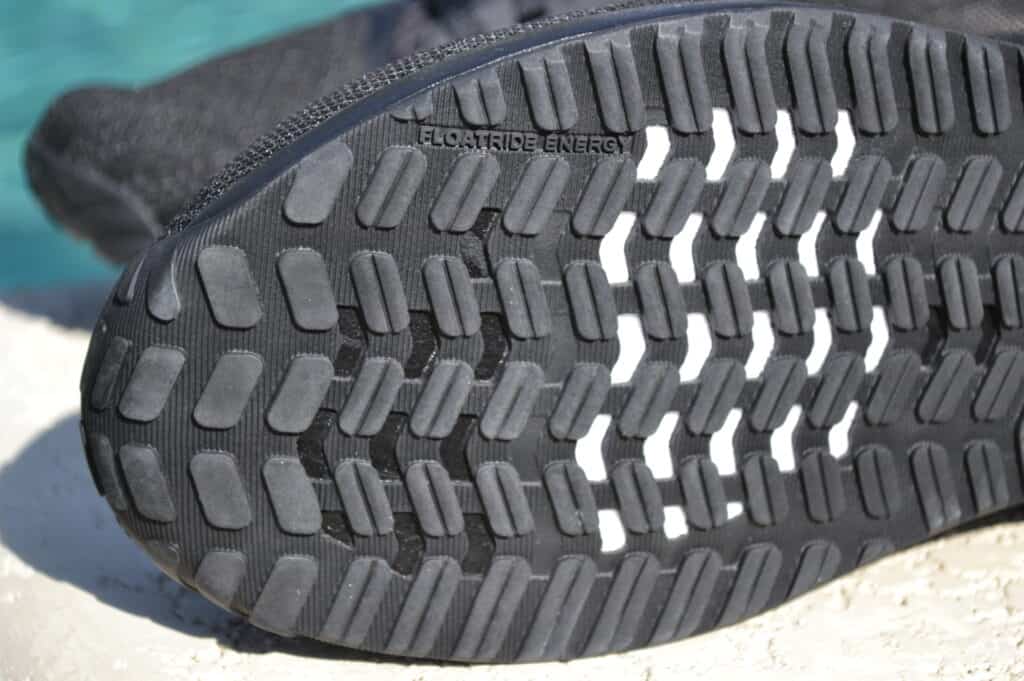 This shoe features an indoor tread style – for maximum contact area with the gym floor.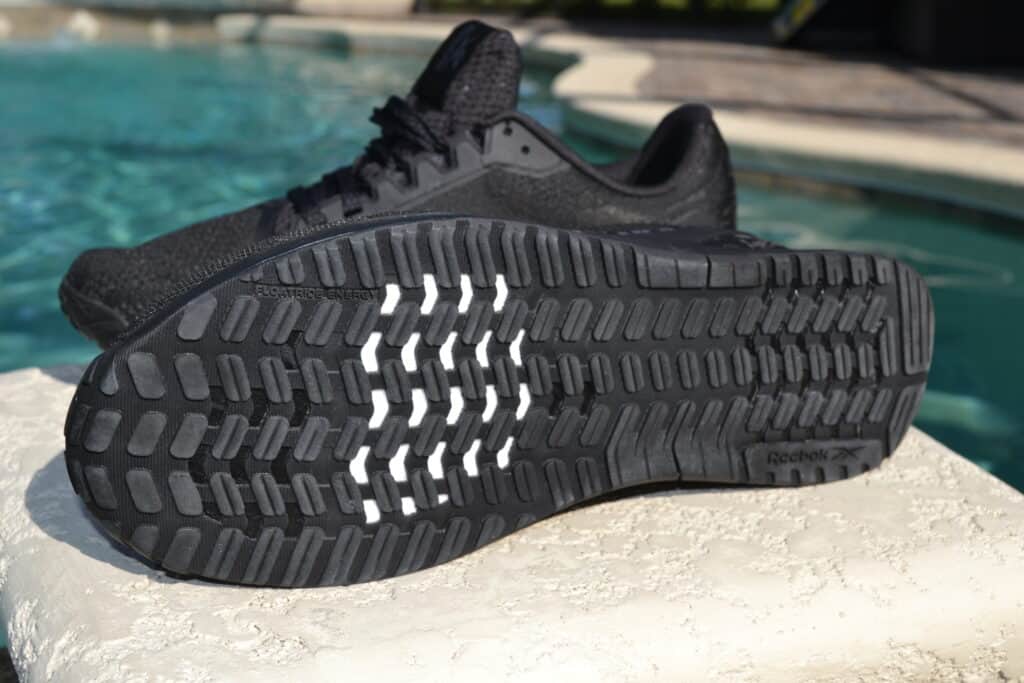 The Floatride Energy label on the shoe hints at something else – that's the cushioning system used in this shoe.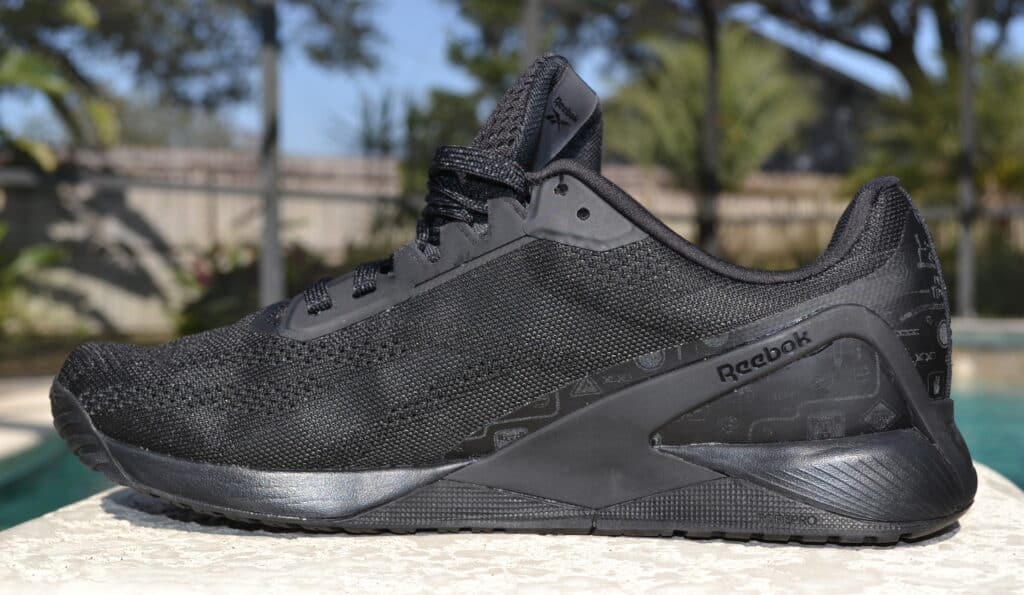 With a midsole made from EVA foam it has a firm, but cushioned feel in the heel. This is a big difference over the Nano X.
It's cushioned – but not too much. Forefoot cushioning remains fairly minimal though.
Speaking of changes – this shoe has increased heel to toe drop as compared to prior versions of the Nano.
The Nano line has used a 4mm heel to toe drop for what seems like an eternity. And while a low-profile drop like that makes for a versatile shoe – there's benefits to some heel raise too.
The Nano X1 has a 7 mm heel to toe drop.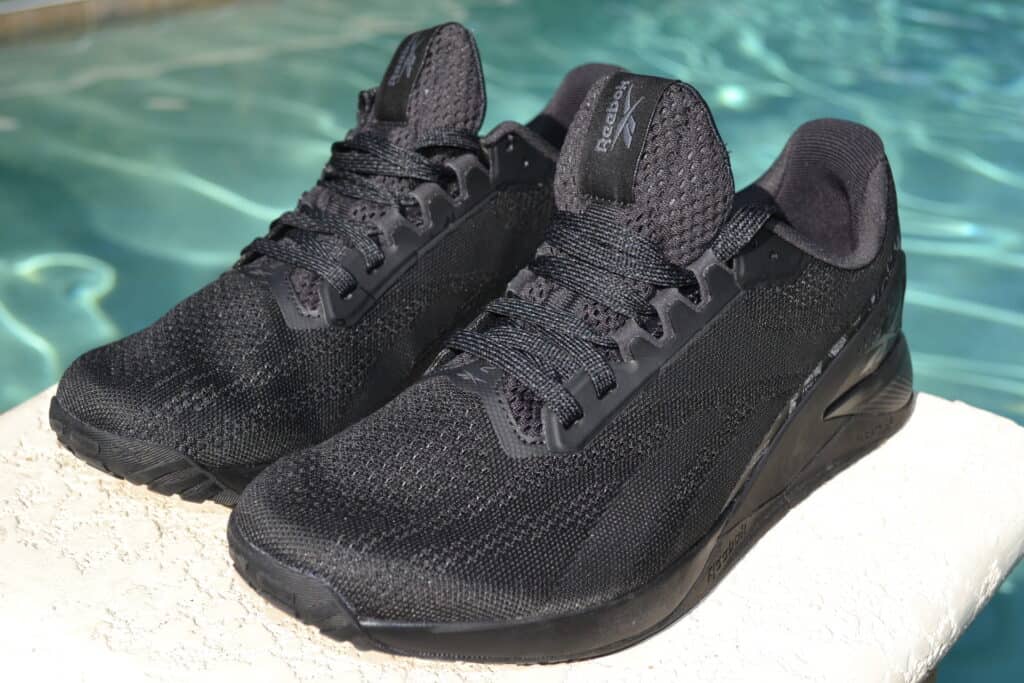 For one, it's better for long-distance endurance. And since we've established this Nano has some decent cushion you may be jogging, running, or walking for long distances with it.
Secondly, some heel raise helps most people get deep into the squat position easily. CrossFit involves a lot of exercises with the bar starting on the floor – so this is a blessing too.
One more big change in store for you – the upper is a comfortable, breathable knit.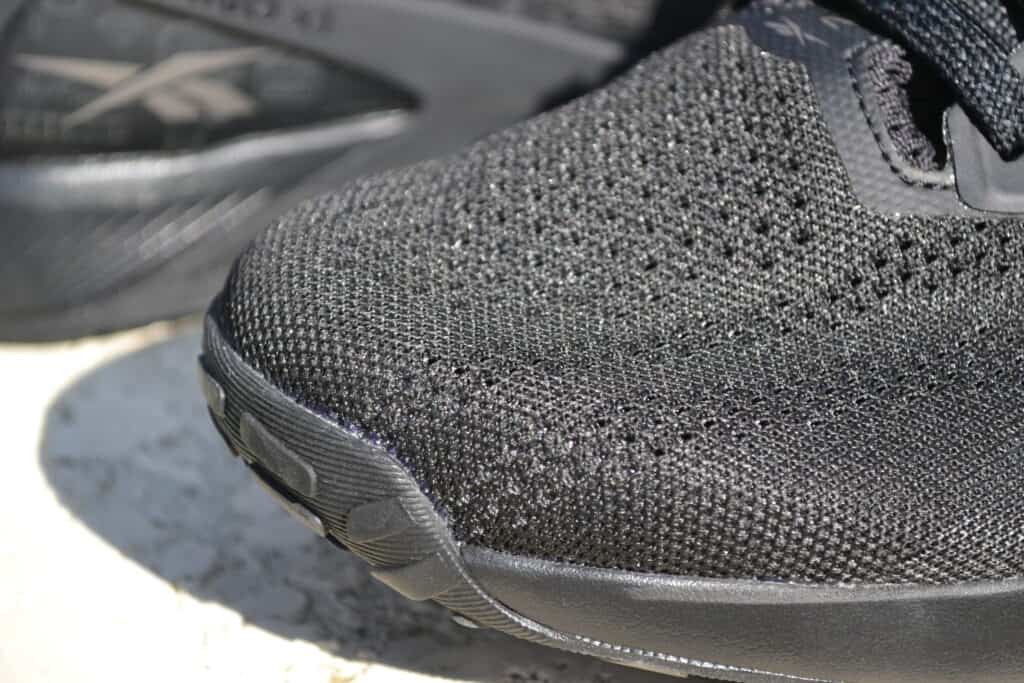 Unlike Nanos of days past, this is a lighter-weight version of Flexweave known as Flexweave Knit.
There will be a Flexweave Grit option later for those that want a near-indestructible upper too – although it'll probably add some weight to the shoe.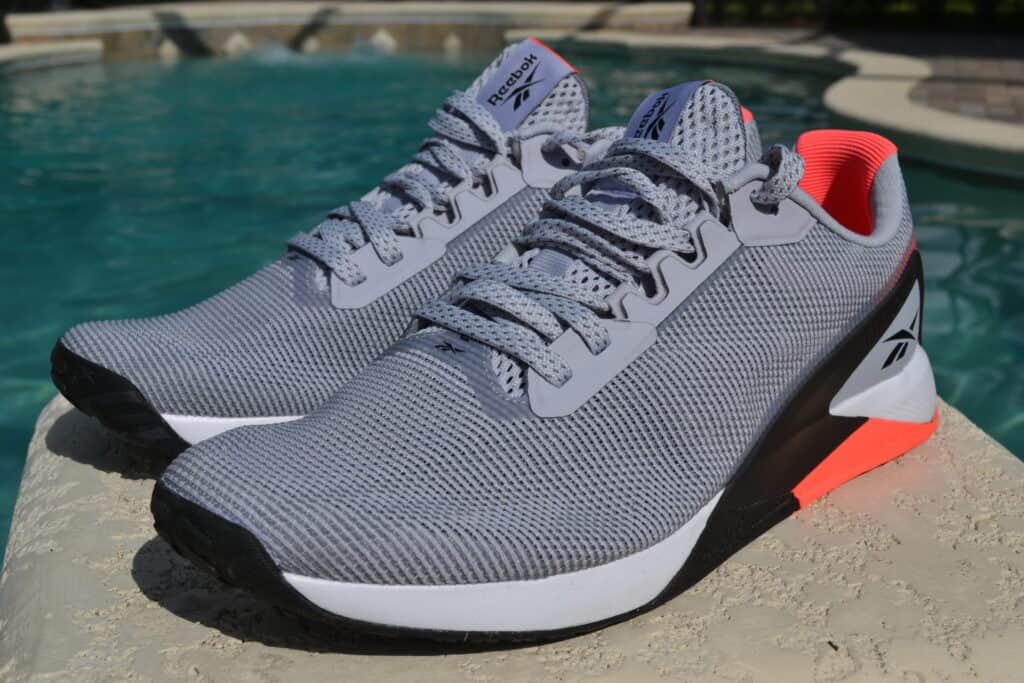 Here's another big win – Reebok put this shoe on a diet.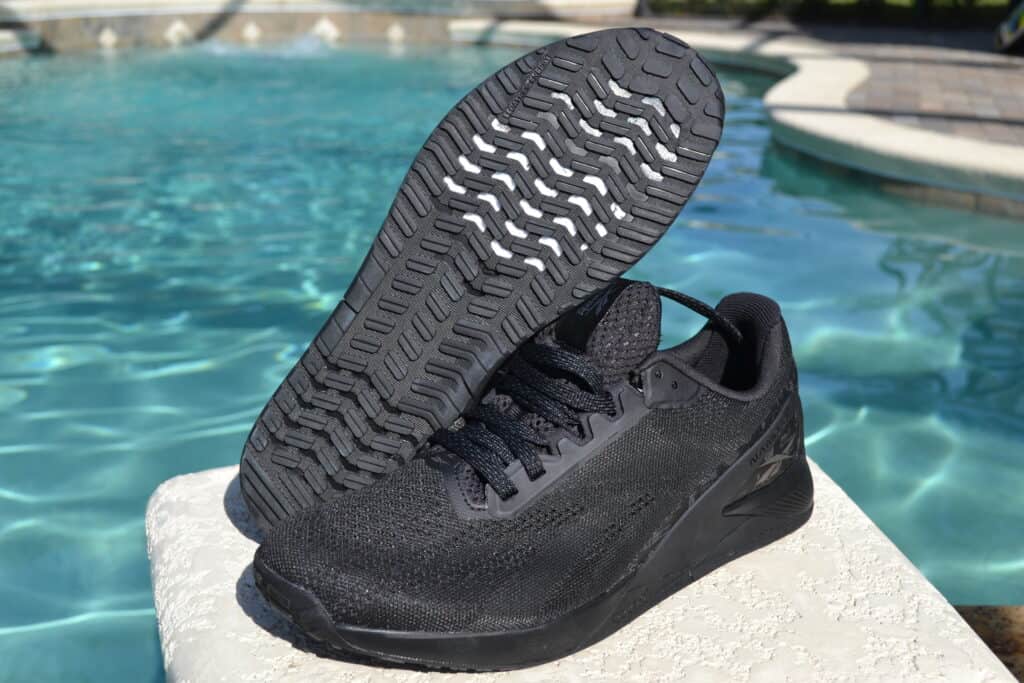 It has dropped about 2 ounces compared to the Nano X.
That's a significant difference that you can feel immediately.
Where did the weight go?
This shoe is missing much of the rubber protection wrap and other features of the Nano X. The Flexweave Knit probably helps make it lighter too.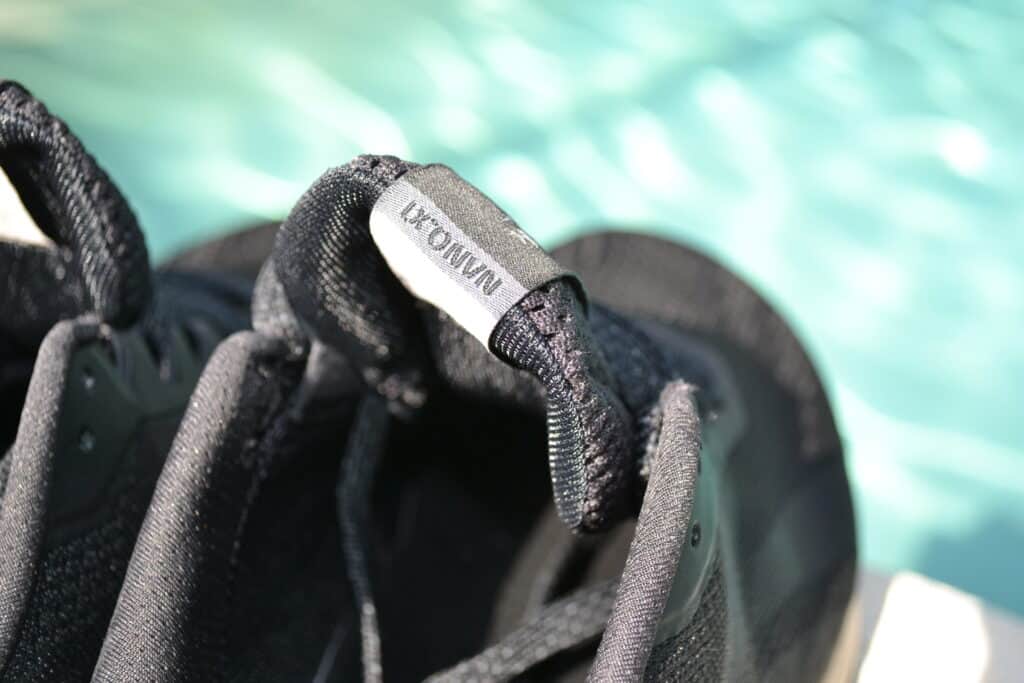 One area where they possibly have gone too minimal is the tongue. It's now very skinny and may not be adequate for some. Just don't tighten your laces too much.
This shoe has improved lateral stability as compared to the Nano X.
See that TPU frame that comes up to a point at the heel?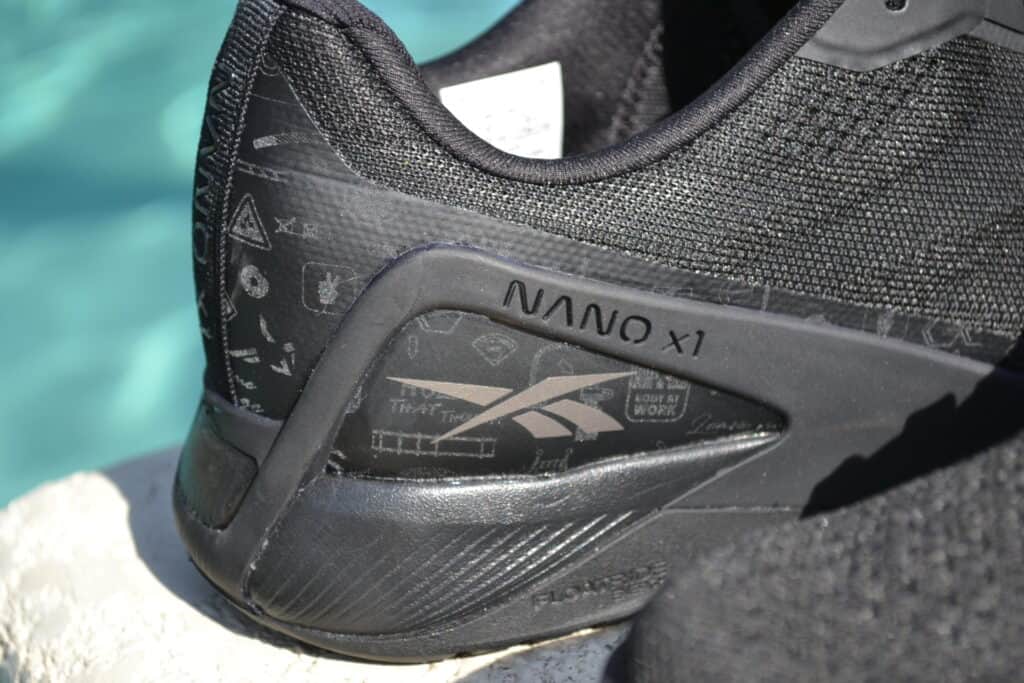 That's stiff and adds a lot of rigidity for side to side motions.
There's also a very beefy heel cup on the inside too.
Let's line it up side by side with the Reebok Nano X next.
Reebok Nano X1 Shoe Vs Reebok Nano X
The Reebok Nano X is a great shoe – especially for heavy-duty CrossFit WODs and big, heavy barbell lifting.
But I never enjoyed running in them – there was just too little cushion in the heel.
They were also getting heavy too – they kept adding more and more toughness.
Overall I feel like the X1 improves upon these weaknesses, but the Nano X is still a great shoe for CrossFit – and you are gonna be able to pick one up on a big discount soon.
Let's take a look.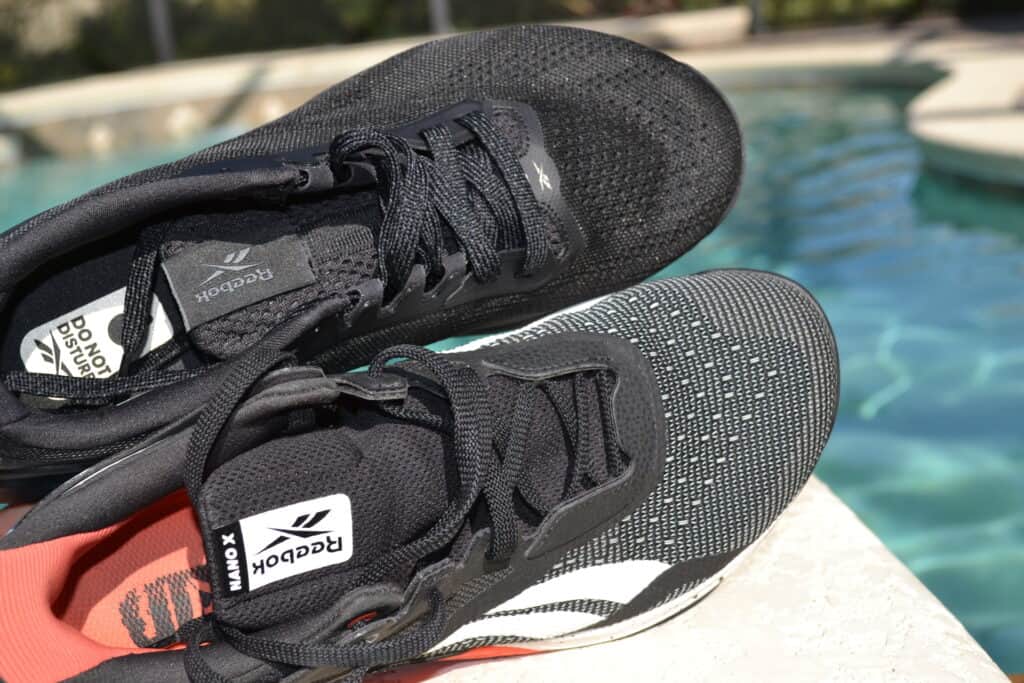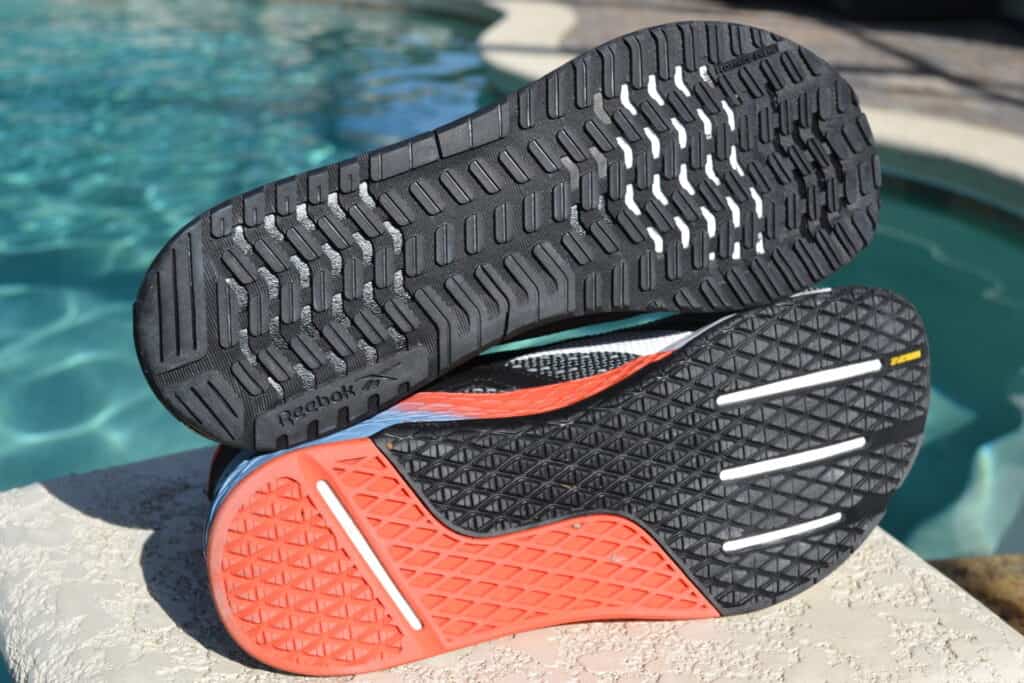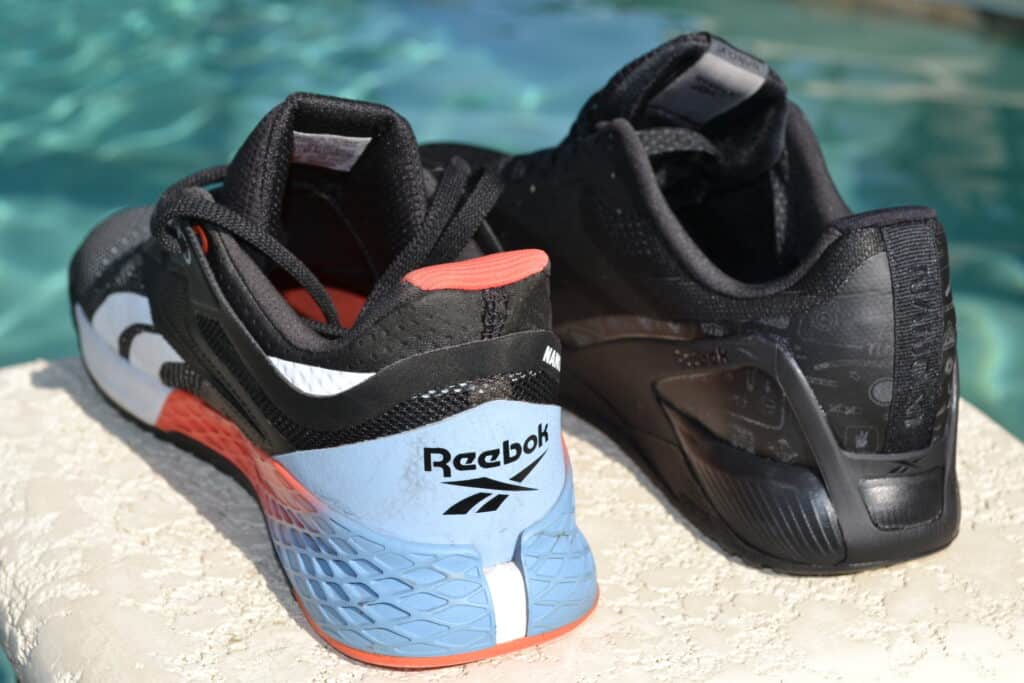 Overall, the Nano X is a great CrossFit WOD shoe – but the X1 is probably better for impact and running – thanks to the cushion in the heel.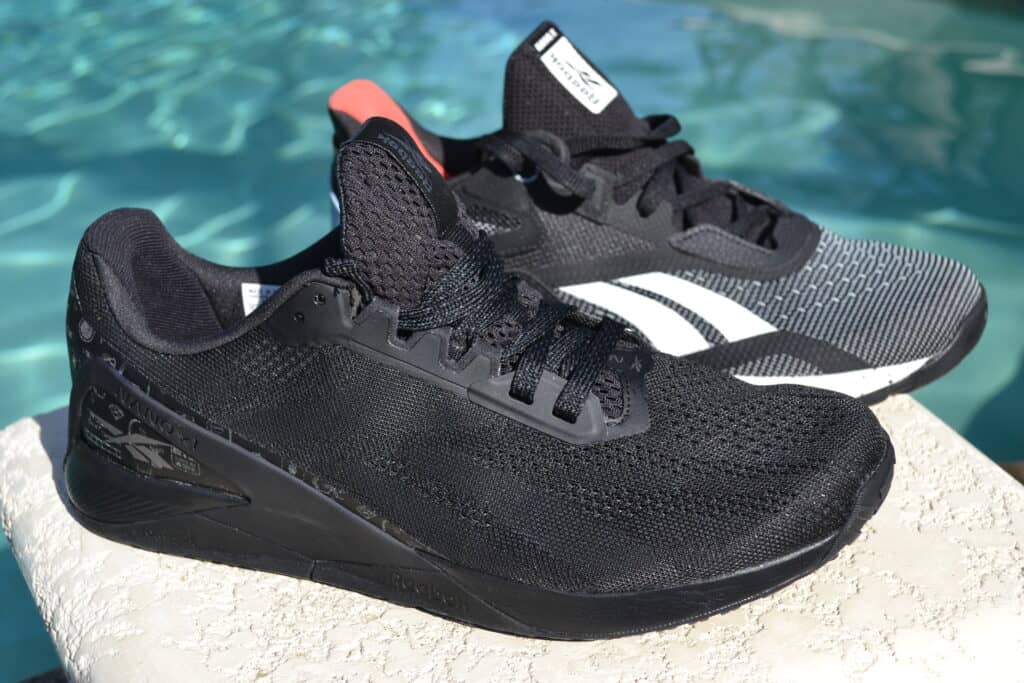 Reebok Nano X1 Versus Nike Metcon 6
How does this shoe compare to the Nike Metcon 6?
Check out our head to head comparison from our YouTube channel:
Here's the two shoes, side by side: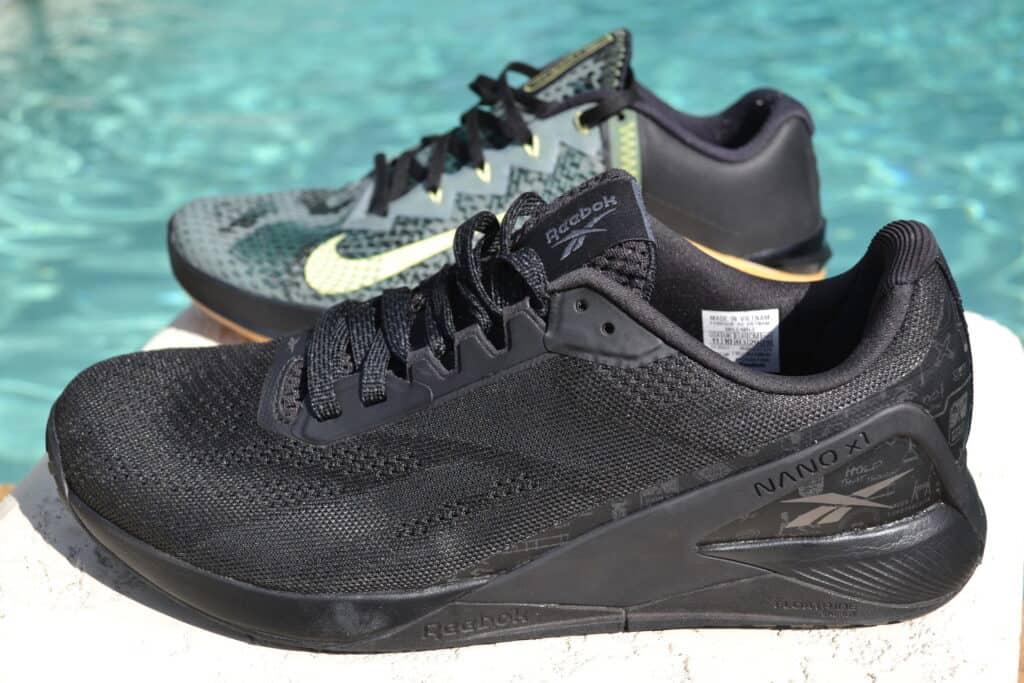 Overall, they are both pretty good shoes.
The Nano X1 has more dynamic cushion in the midfoot and heel, it's lighter (by close to 2 ounces), yet it's stable enough for weightlifting with heavy barbells.
The Nike has that very breathable upper, super-versatility thanks to its removable Hyperlifts (get 4mm of drop or 12 mm of drop – your choice) and overall is an excellent CrossFit shoe.
I think it's going to boil down to which fits you better, and which one you like the looks of.
I will say I feel the Nano X1 has an edge in running and impact activities – the cushion is more effective than that in the Metcon 6.
Reebok Nano X1 Training Shoe Review – In Summary
That's our review of the Reebok Nano X1 Training Shoe from Reebok.
Reebok fixed the problem areas of the Nano X – and have come up with a contender for the best CrossFit shoe of 2021.
We'll be putting some more test time on these and will report back with updated results.
But, if you are looking for a versatile trainer for all kinds of gym activities – this is definitely a recommended shoe.
You may also want to check out the Reebok Nano X1 Grit too.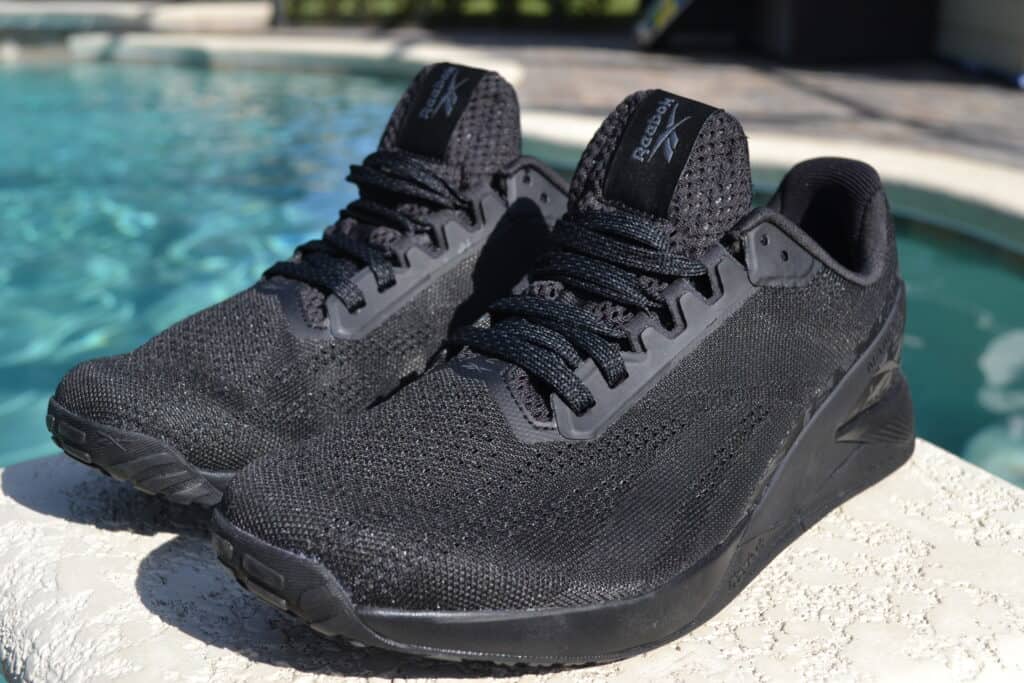 Photo Credits
Some product photos on this page are property of Reebok.
This website is not affiliated or associated with CrossFit, Inc. CrossFit is a registered trademark of CrossFit, Inc.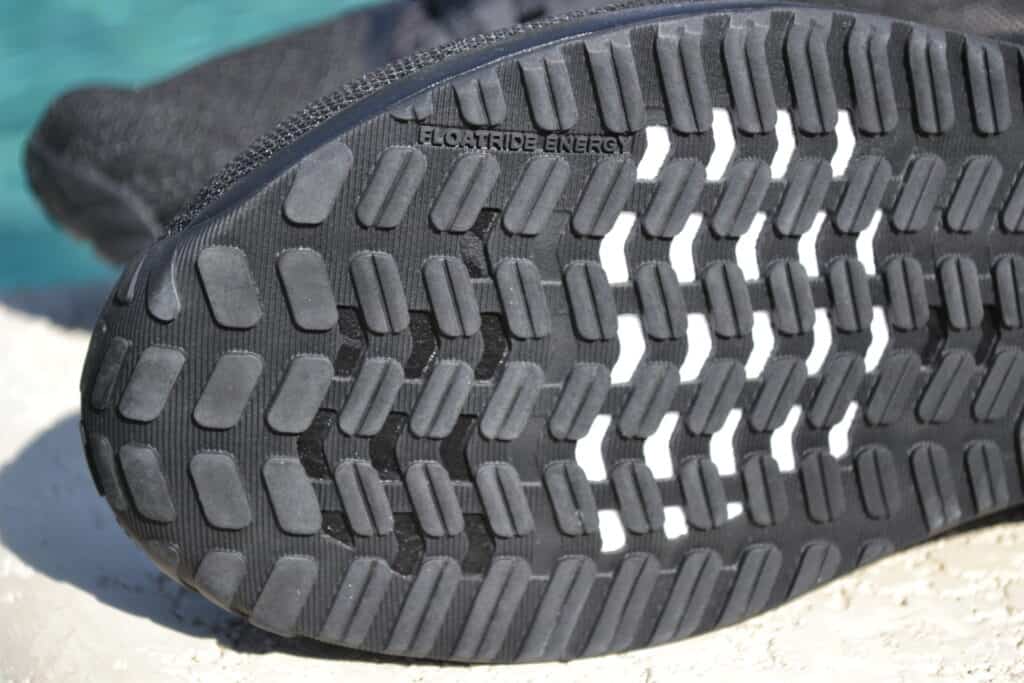 Affiliate Disclaimer
We are an affiliate of Reebok and others that sell this training gear. If you buy clothing or other training gear after clicking the links in this article, we receive a small commission at no extra cost to you. This helps us to bring you in-depth information and content on these great training products.