Camo is cool and GORUCK has the throwback Frogskin Camo now available.
GORUCK, the builder of the best, toughest rucking gear, is releasing a new camo pattern for some of their apparel. Join GORUCK Tribe, GORUCK Events, and Challenges as well as community rucking with these tough yet lightweight apparel.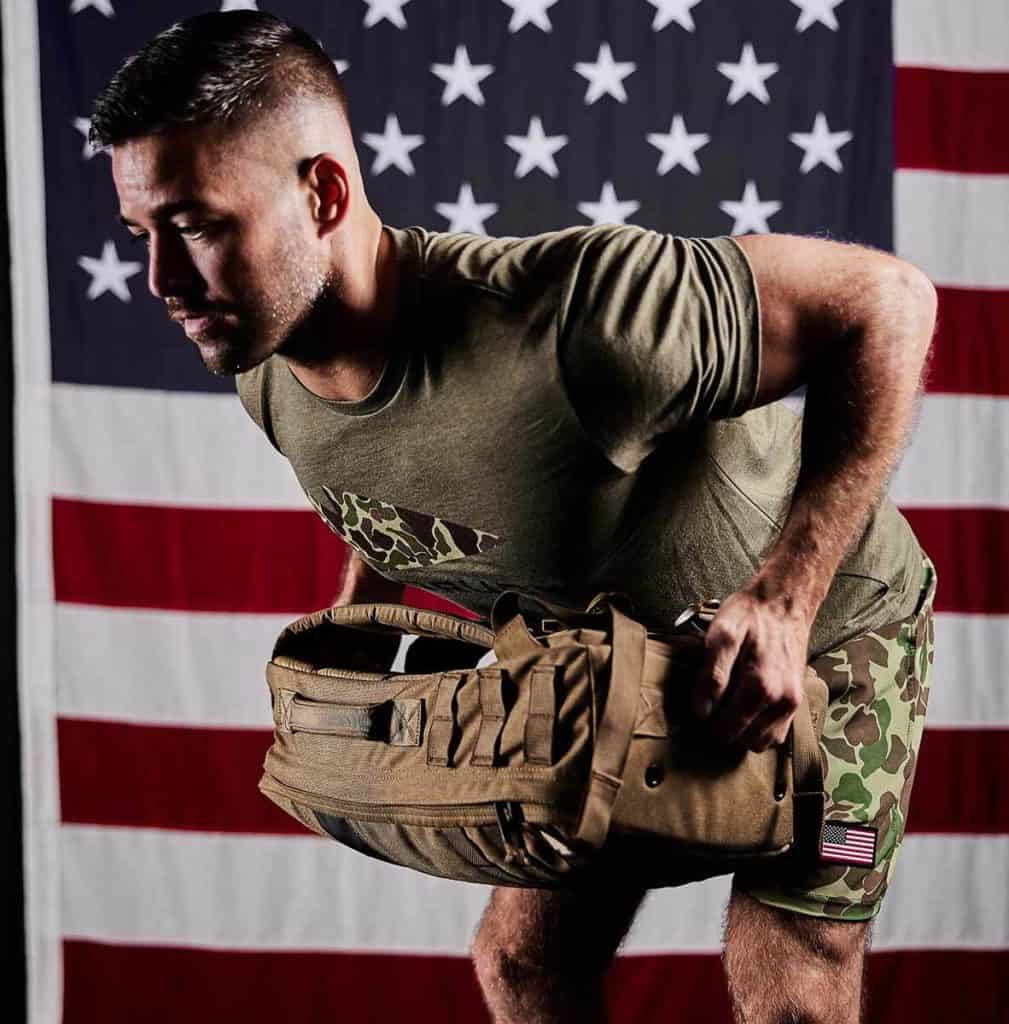 Look cool in camo – only from GORUCK:
GORUCK Frogskin Camo – Overview
Also known as Duck Hunter, the Frogskin is a battle attire camouflage pattern with mosaic and distracting coloration to harmonize with the environment, similar to a frog's crypsis skin. The Frogskin camo pattern is typically connected with WWII US Marine Corps battalions in the Pacific.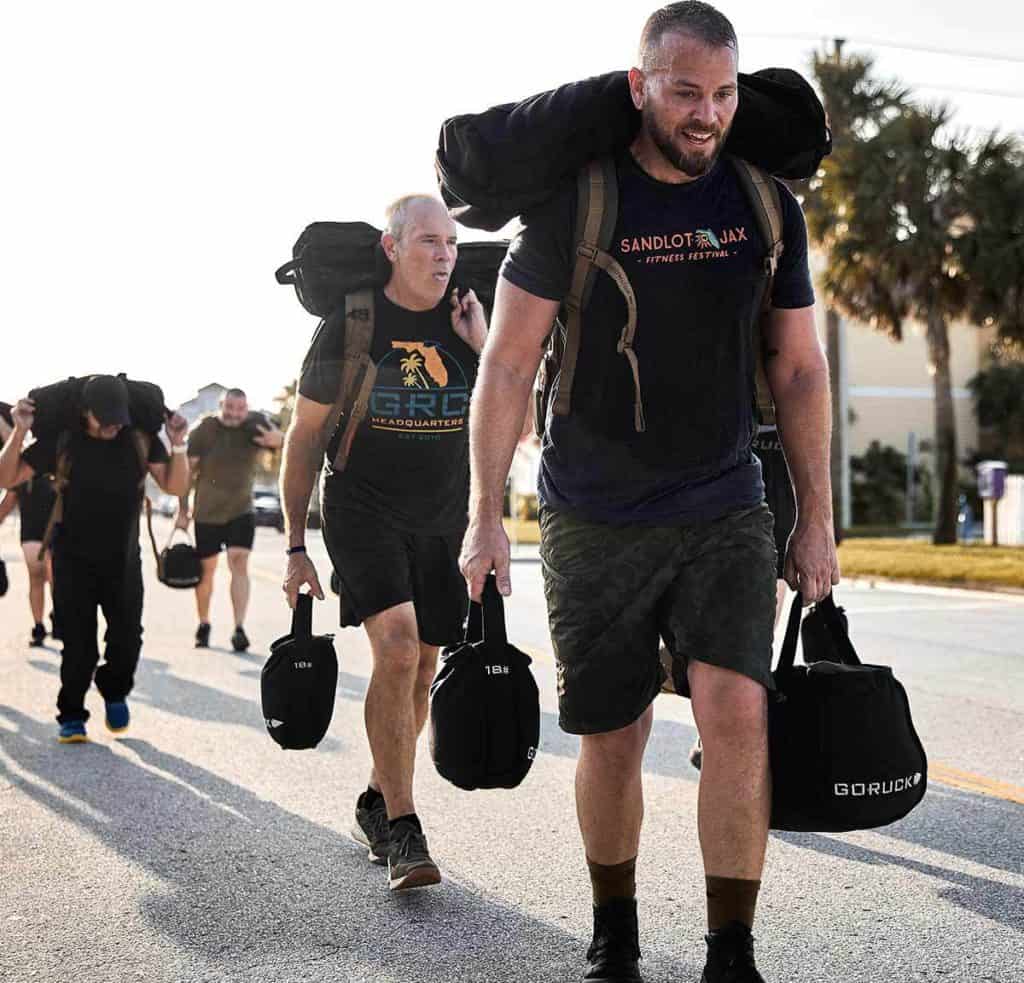 It was also utilized by the US Army in some selected units, like the 2nd Armored Division and the 41st Infantry Regiment in the Normandy Campaign. This is the inspiration for GORUCK'S Camo apparel. These apparel use ToughDry® fabric built to last and dries fast. It is lightweight and can fold down to the size of a 12oz can of Budweiser.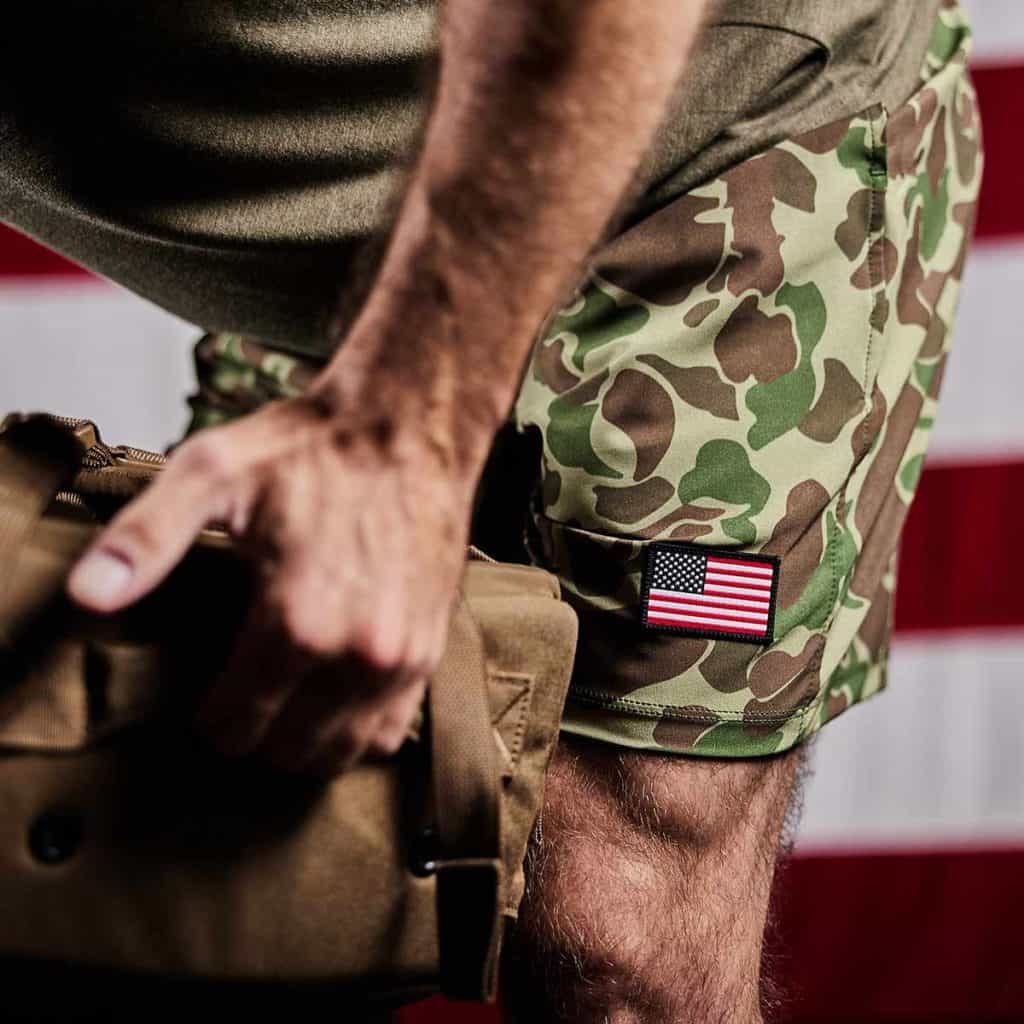 Indestructible Training Shorts – 7.5″
Soft yet rugged, the Indestructible Training Shorts move with you and feel like performance shorts should. They adjust to your way of life and don't tear, rip, and fail even in the harshest training environments on the planet. These shorts use the lightweight, sweat-wicking, and four-way stretch ToughStretch® fabric.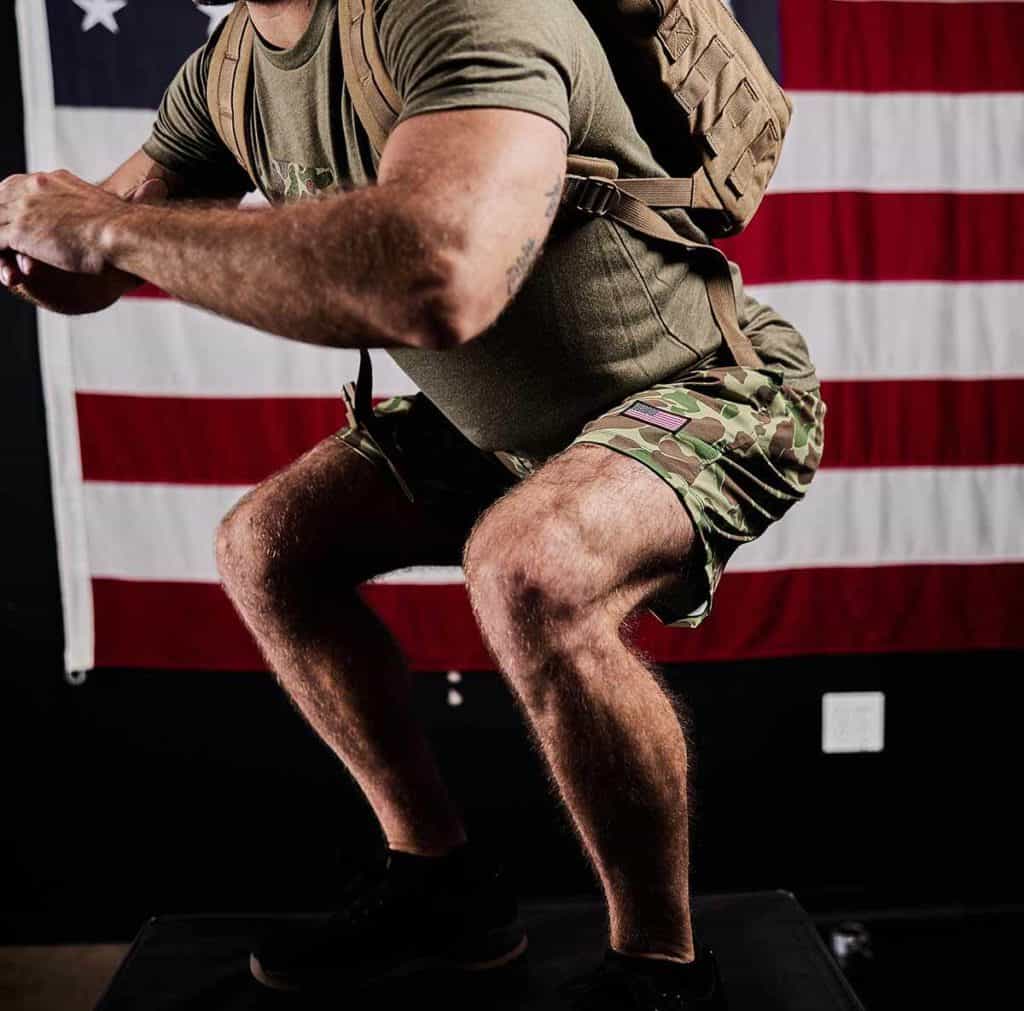 They have two front side pockets and a hidden zippered pocket inside the front right pocket. The 2" American flag is embroidered near the bottom right hem, while the subtle GORUCK logo is on the back bottom seam.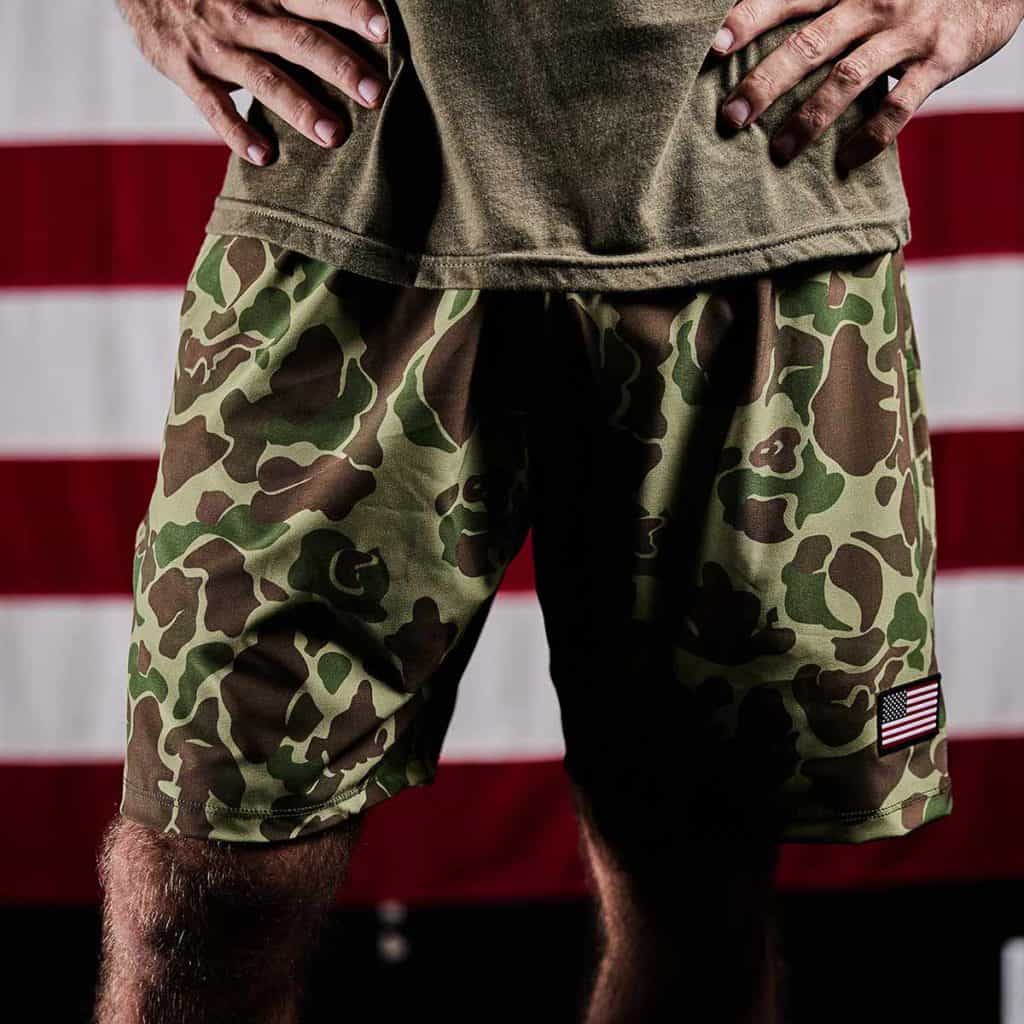 24.7 Simple Shorts – 10″
The 24.7 Simple Shorts are built from a tough-as-nails two-way stretch fabric that packs down to nothing and dries quickly. They are perfect for warm weather, rucking, and performing in the gym as they do at the bar.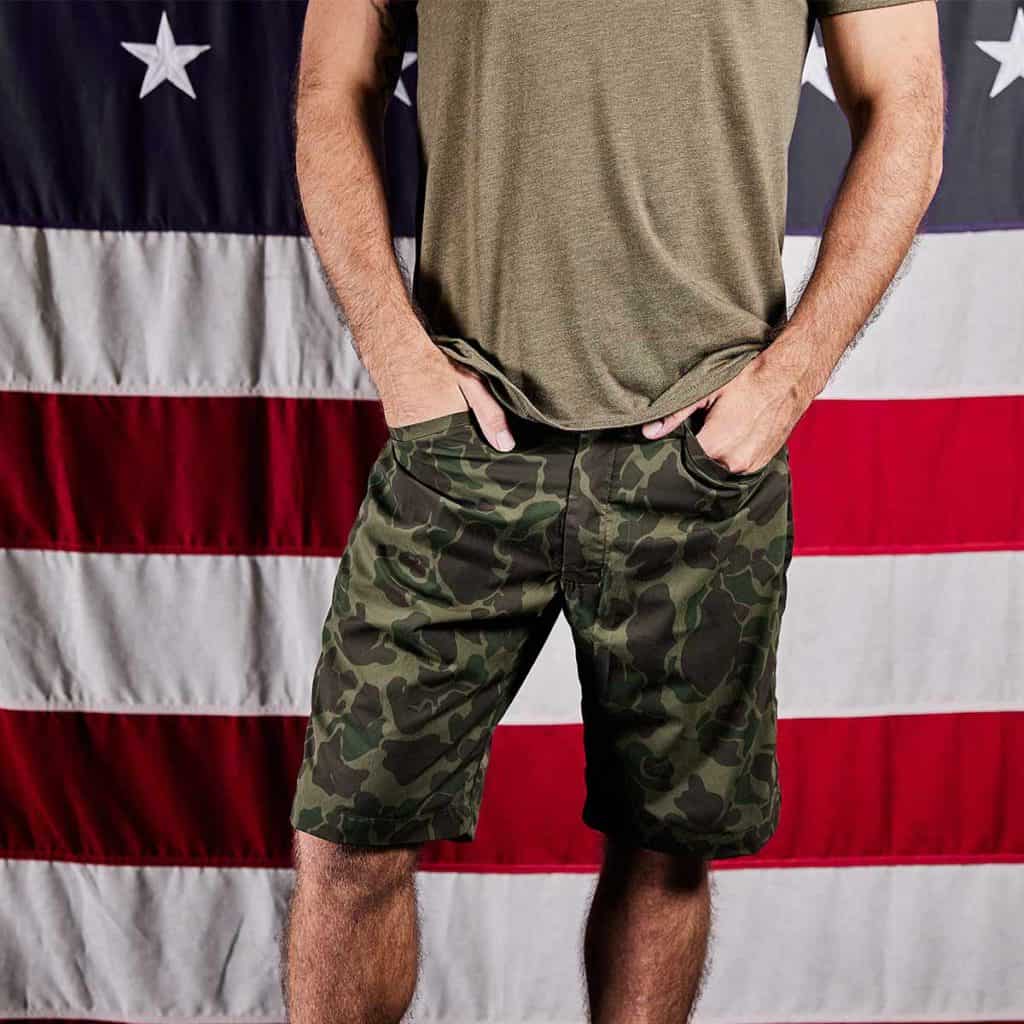 They have back pockets, finished belt loops, and horizontal pockets, so stuff doesn't fall out. They also have a 10″ inseam and a curved waistband for a better fit.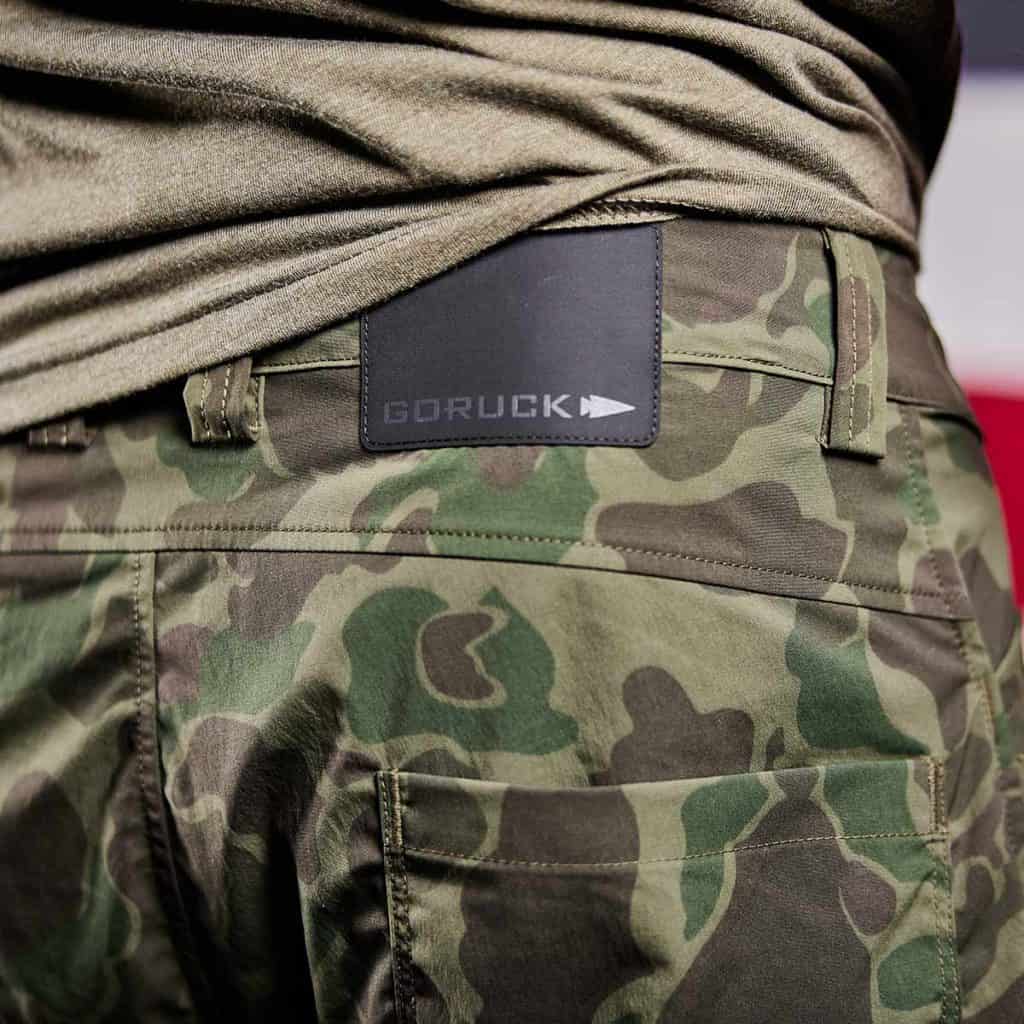 T-shirt – GORUCK Spearhead
The classic GORUCK spearhead gives homage to our Special Forces roots.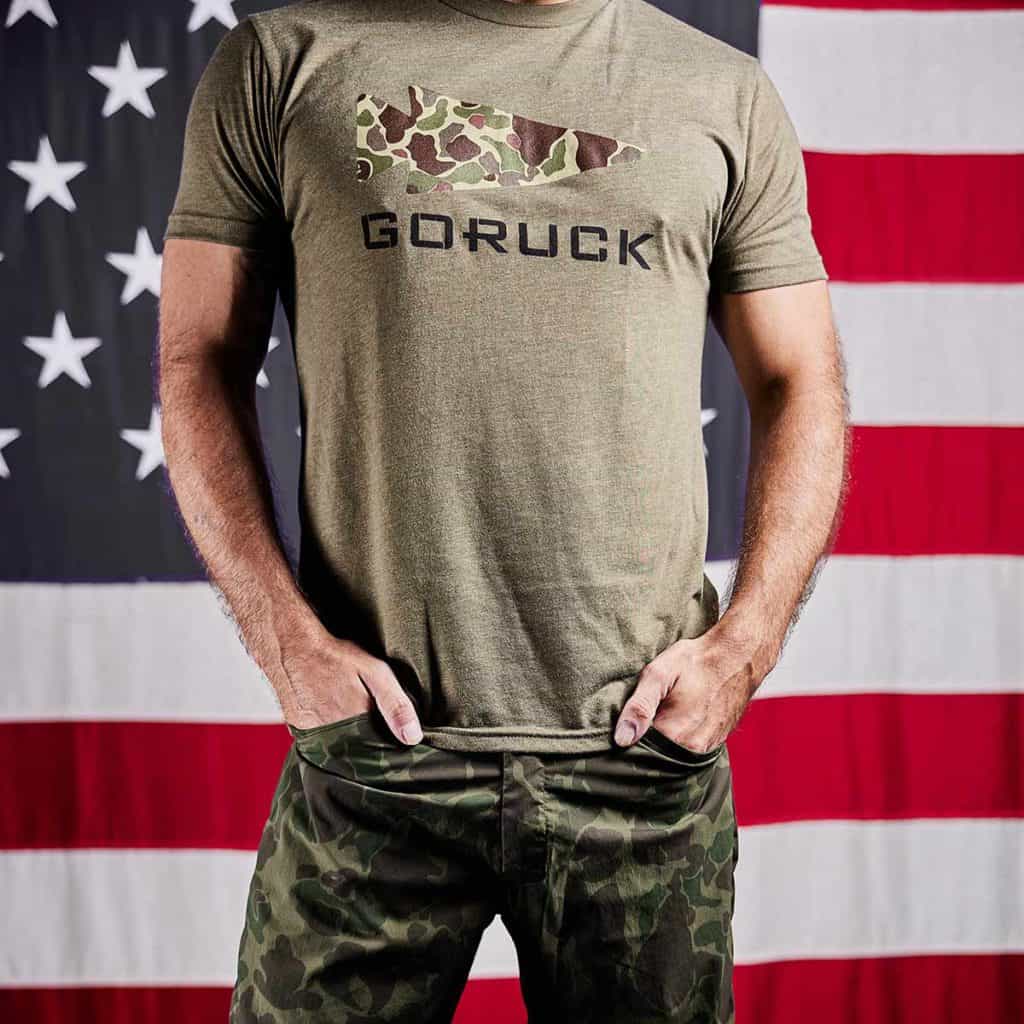 It is printed in the USA on premium tri-blend.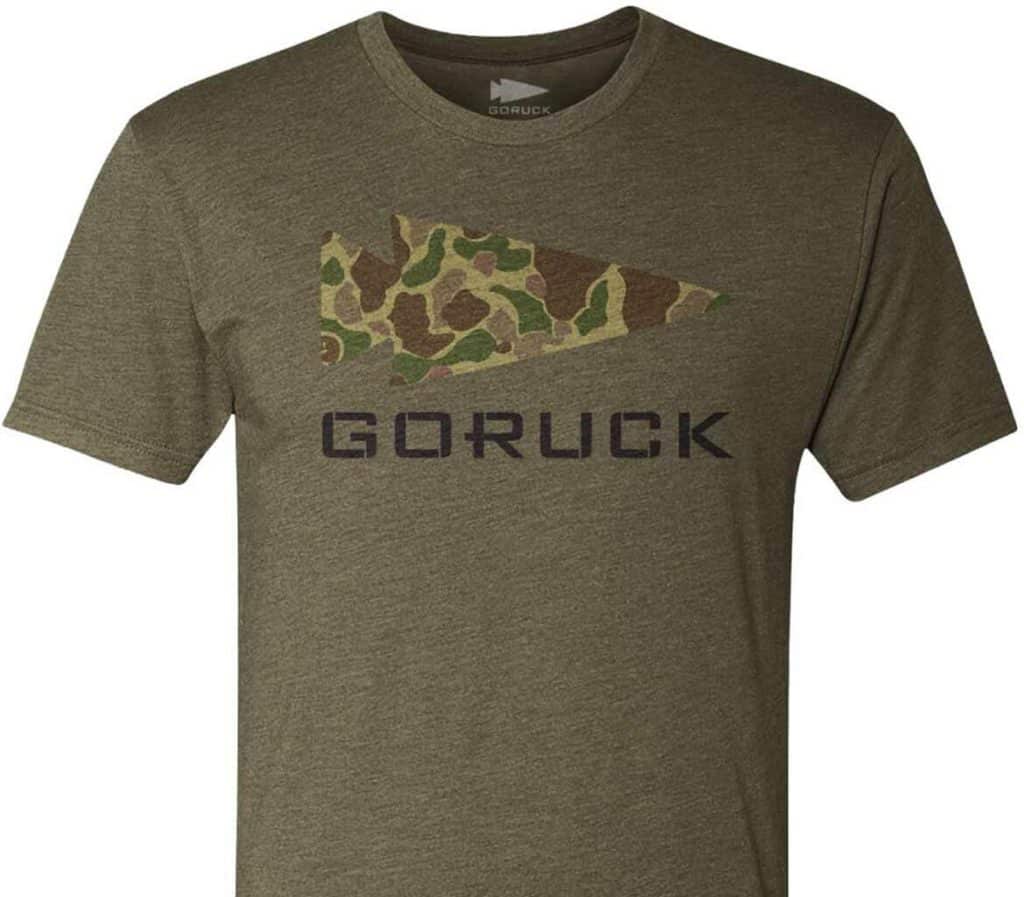 Indestructible Challenge Shorts – 10.5″
Made in the USA, the Indestructible Challenge Shorts use ToughDry® fabric, the same material used in the Simple Pants and Challenge Pants. They are lightweight, fast-drying, and abrasion-resistant with two-way stretch. The shorts have a 10.5″ inseam with a curved waistband for a better fit.
The cargo pockets feature interior drain holes that zip securely to the back. The shorts have a diamond gusset (diamond-shaped piece sewn into the crotch area) for an extra stretch during high steps and squats, and horizontal front pockets so stuff doesn't fall out.
GR1
GR1 has been proven to Special Forces standards for over a decade at the GORUCK Challenge and is synonymous with the best of American Manufacturing. This rucksack has extra padded shoulder straps, and a top handle to carry heavier loads more comfortably and uses YKK zippers with silent, glove-friendly zipper pulls made from parachute 550 cord. It features a Bombproof Laptop Compartment next to your back that is extra reinforced with a false bottom.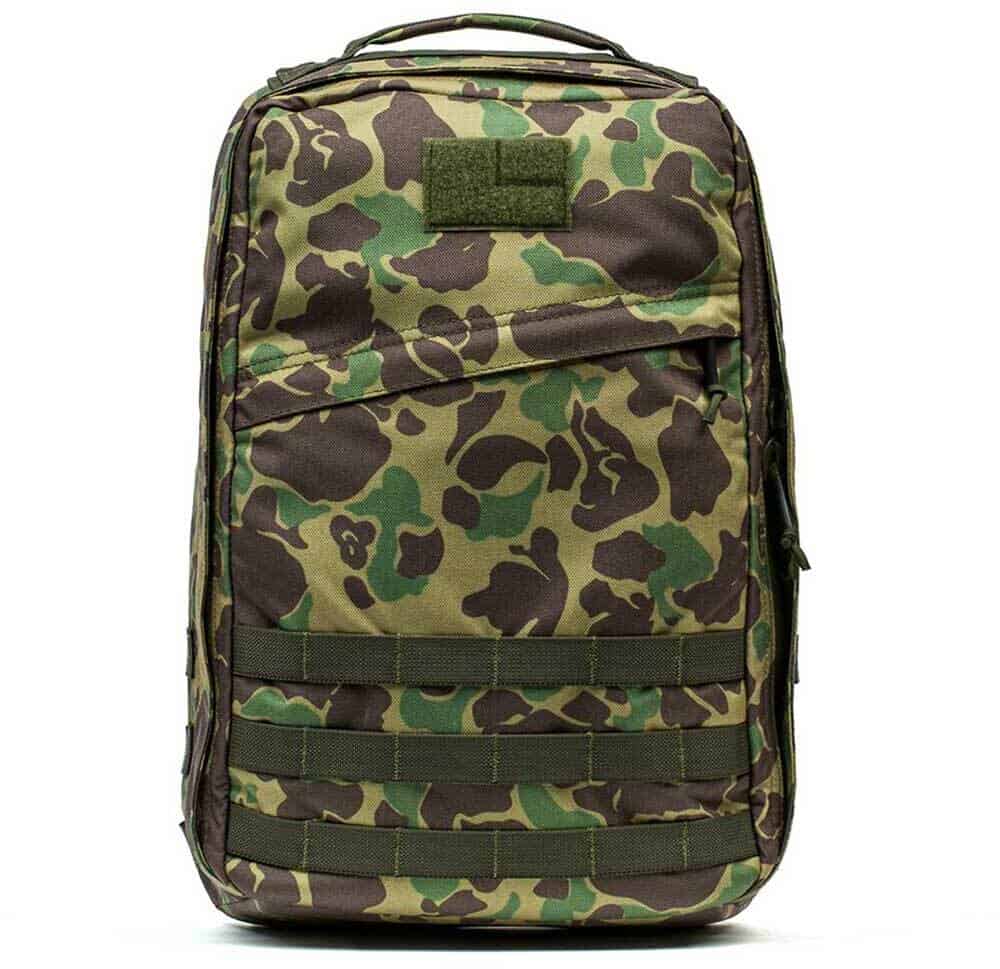 GR1 is TSA Compliant and fits under the seat in front of you. It has three internal pockets and one external slant pocket for quick access to keys, snacks, and other small items. It is waterproof and comes with a removable, rigid plastic frame sheet that stabilizes the laptop compartment and allows you to carry more weight comfortably.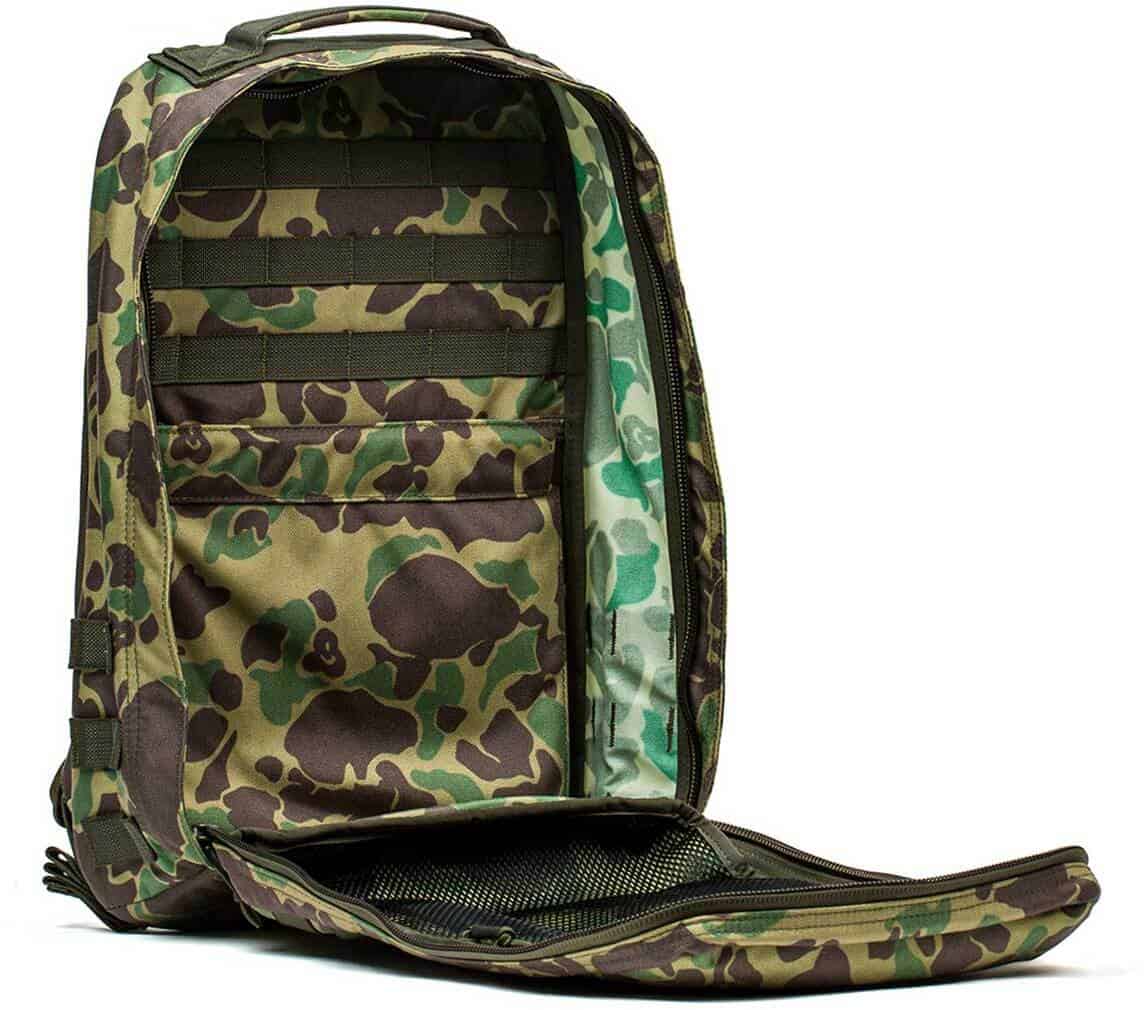 GORUCK Frogskin Camo – In Summary
That's our close-up look at the GORUCK Frogskin Camo.
From rucking to work to the gym to the bar, GORUCK Apparel is ready for anything, at any time. GORUCK manufactures and delivers products and apparel for efficient and vigorous training and adventures. They also offer Scars Lifetime Guarantee for all their gear, clothing, and footwear.
Looking for more options? Check out these other great products:
Here's another throwback pattern – check out the Tiger Stripe Camo Gear from GORUCK.
Need cross trainers for your workout? Here's the GORUCK Ballistic Trainers in Black and Camo.
More gym gear in camo pattern – it's a cool look!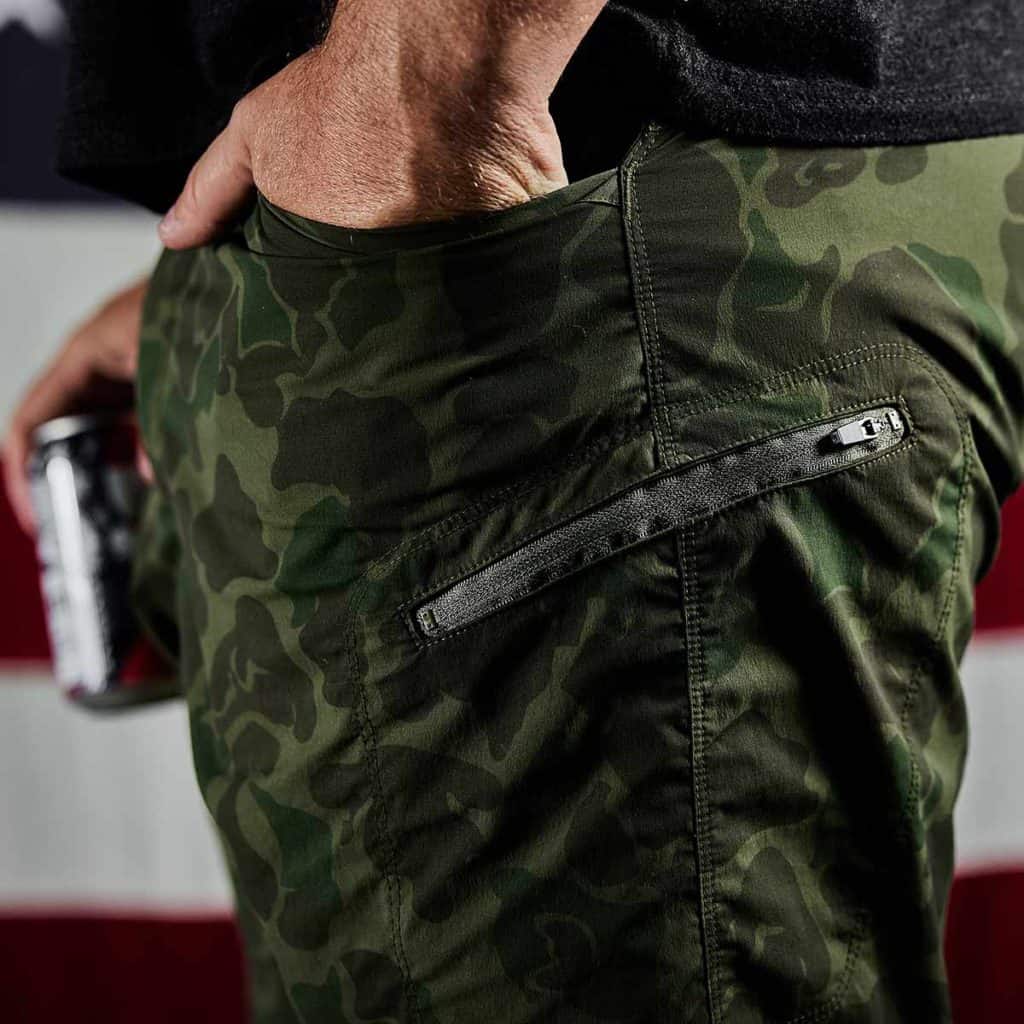 Photo Credits
Product photos on this page are property of GORUCK.
This website is not affiliated or associated with CrossFit, Inc. CrossFit is a registered trademark of CrossFit, Inc.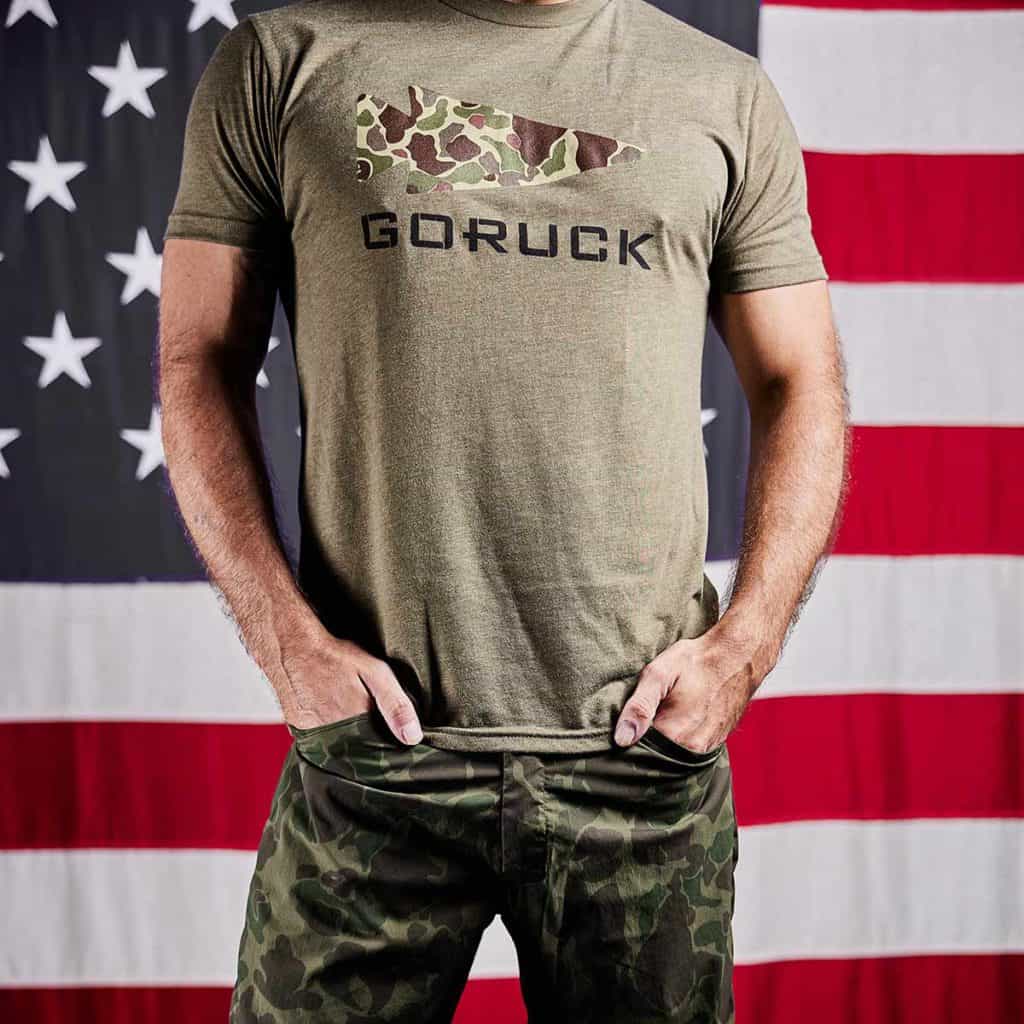 Affiliate Disclaimer
We are an affiliate of GORUCK and others that sell this training gear. If you buy clothing or other training gear after clicking the links in this article, we receive a small commission at no extra cost to you. This helps us to bring you in-depth information and content on these great training products.