Rogue has released the 3rd version of the
Echo Bike
. Grab one while they last!
GORUCK's
Black Friday sale
is live! Check out their deals on rucksacks, apparel, boots, and more!
Let's review the GORUCK American Training Shirt.
This is my new favorite workout shirt.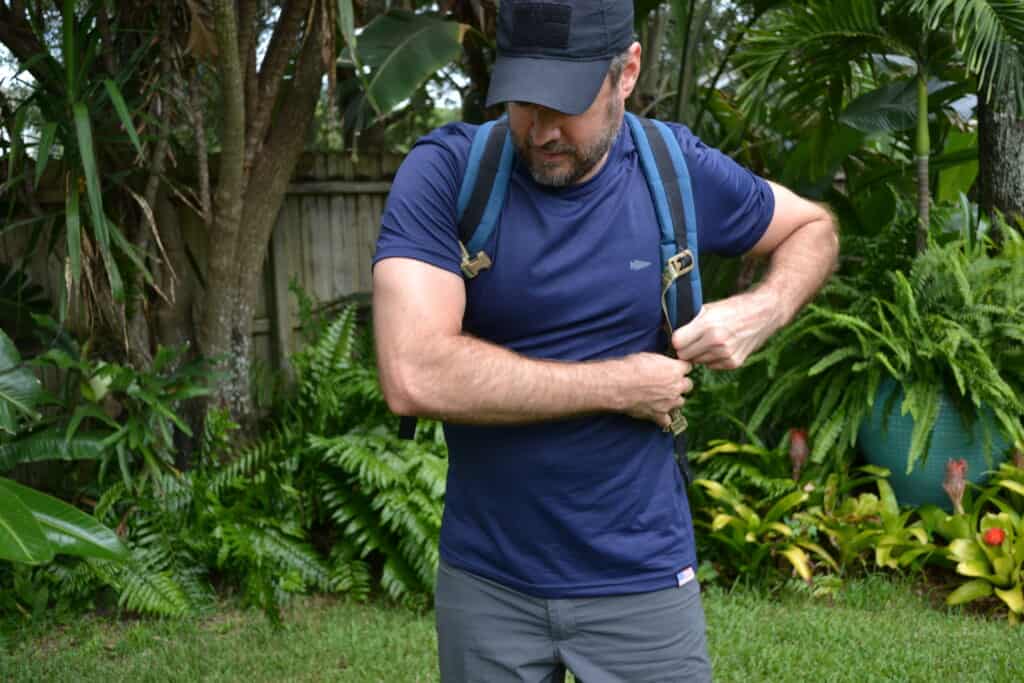 Why? It's stretchy, tough, fits well, and it is made in the USA (with a lifetime guarantee.)
Want to find out much more? Read on…
Here's some of the styles tested:
Let's review this high-performance training apparel for men.
GORUCK American Training Shirt Review – Video Review on our YouTube Channel
Why read when you can watch? Check out this video from our YouTube channel:
(Coming Soon)
GORUCK American Training Shirt Review – Overview
First of all, let's talk about the fit and cut.
This shirt is cut for an athletic fit with short sleeves.
I don't want long baggy sleeves on a workout shirt, but short sleeves sometimes ride up too.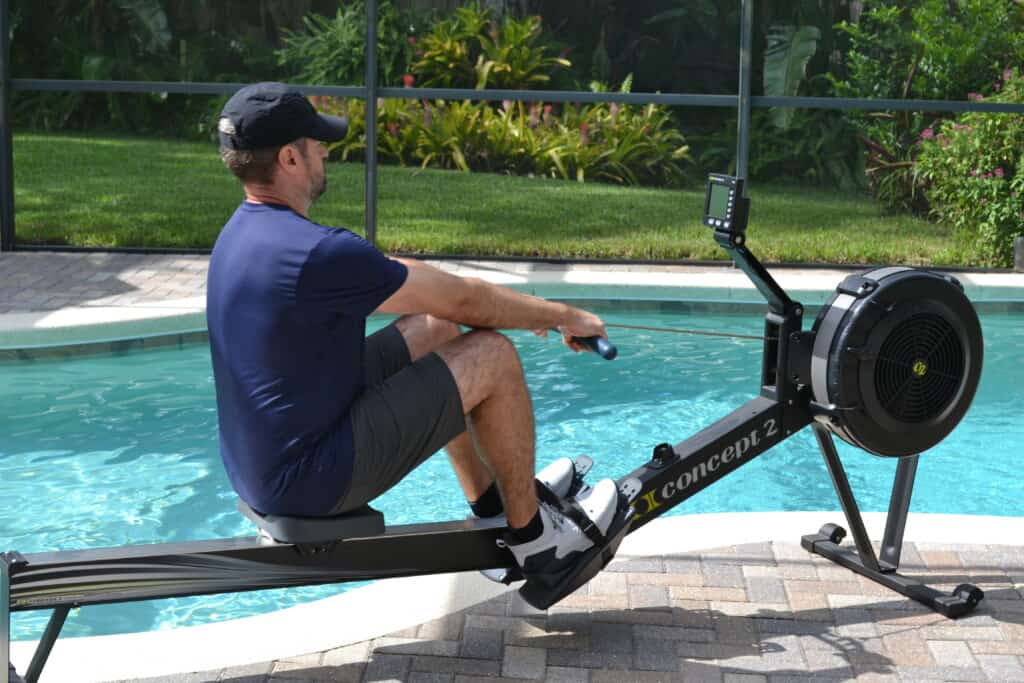 The sleeves on this shirt do tend to ride up a bit, and if you are rucking with a GR1 rucksack or similar, this can lead to some abrasion from those tough straps – but you can just tug the sleeves back into place – or tighten up the backpack straps.
Overall, the sleeves on the GORUCK American Training Shirt are a good compromise – it's just the right length.
They nailed the length of the whole shirt too – not too short, not too long. Perfect.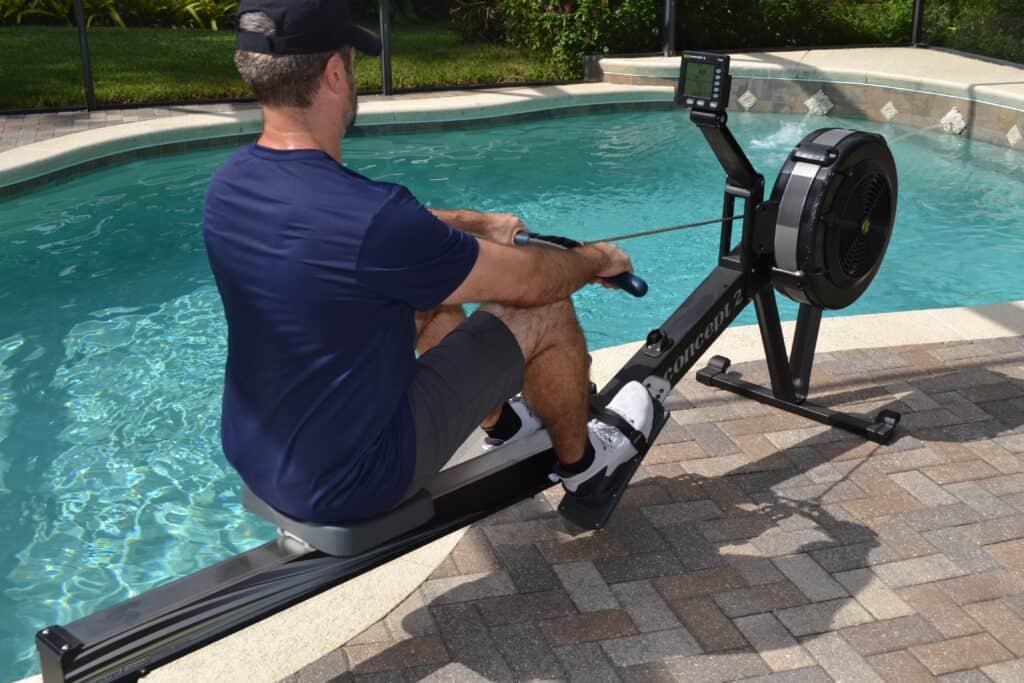 These shirts are made from a proprietary fabric developed by GORUCK.
It is 77% Nylon / 19% Polyester / 4% Spandex. These synthetic materials make for far better performance than something like cotton.
Rucking in a cotton tee-shirt can result in a water-logged, sweat soaked shirt.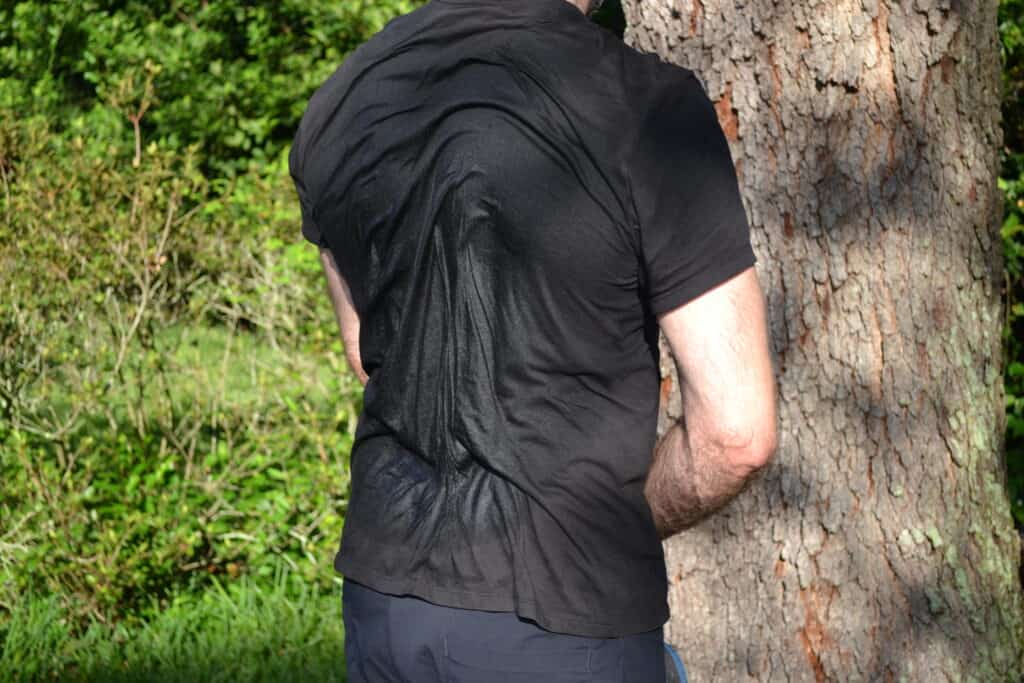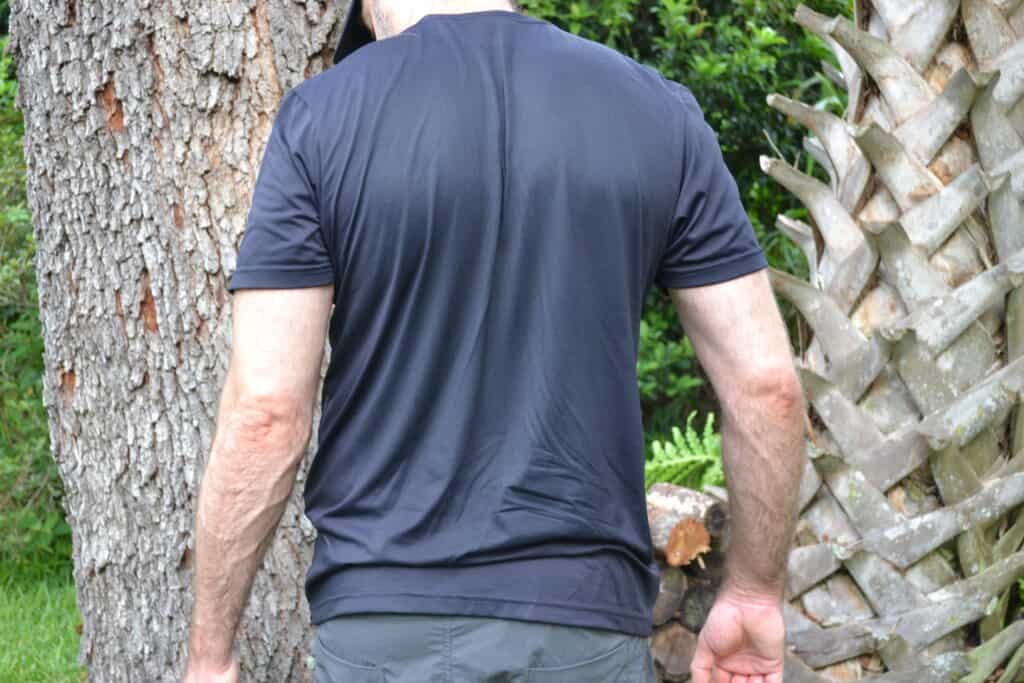 The American Training Shirt can get drenched, don't get me wrong, but it much more sweat wicking and quicker drying by a long shot.
These materials are light-weight – coming in at 5.6 ounces per square yard.
Is it tough?
Yes. It won't pill like cheaper, delicate shirts.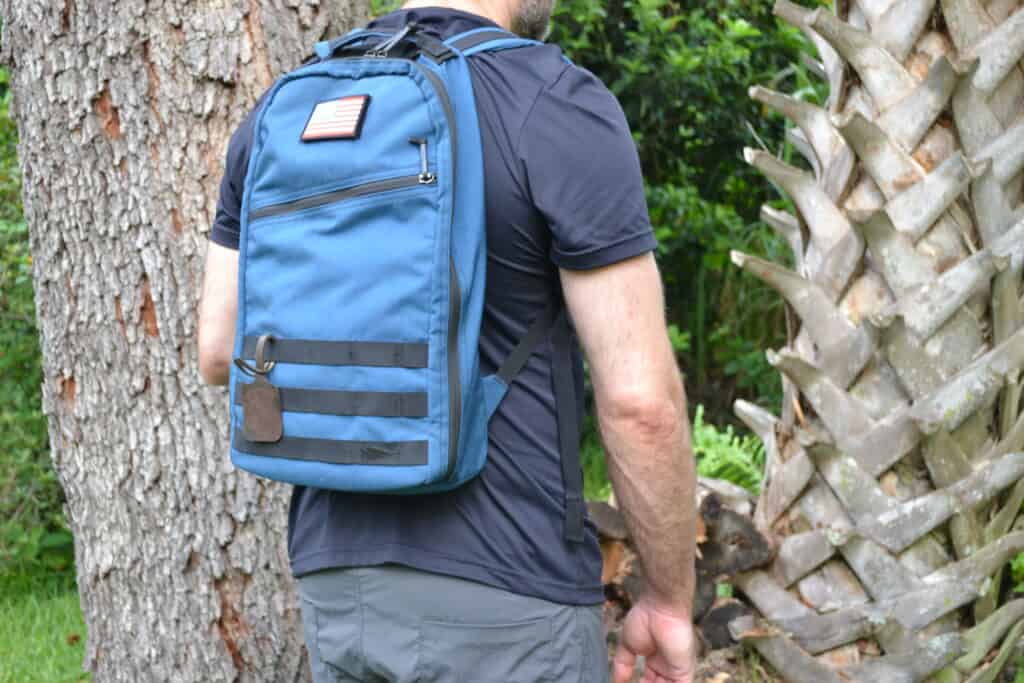 It will stand up to the center knurl on your barbell, or the abrasive 1000D Cordura that gives GORUCK backpacks their toughness.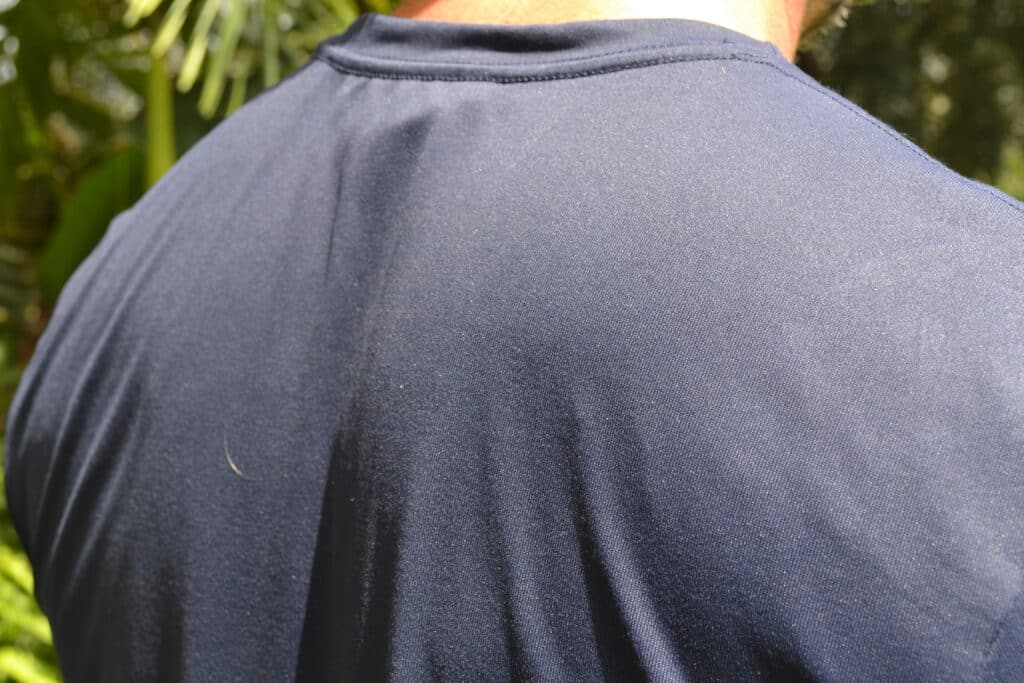 It is tough and comfortable too – it is soft on the inside.
These shirts are made in the USA – in Spokane, Washington to be exact.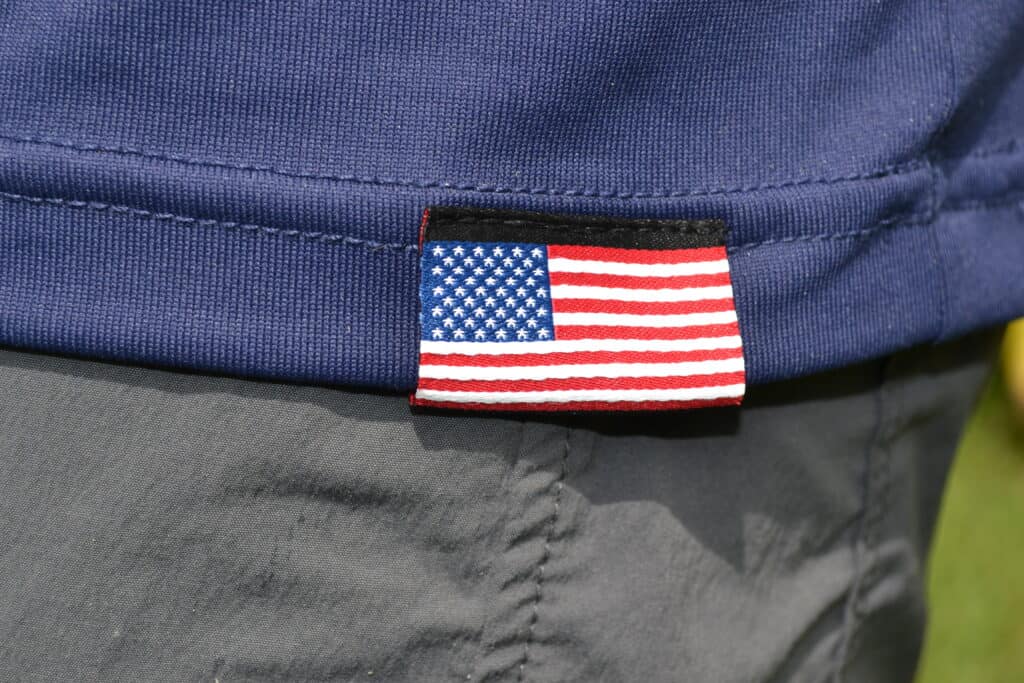 They are exceptionally high quality and backed by the Scars lifetime guarantee.
That's right, a lifetime guarantee.
On a shirt.
It's almost like they are daring you to try and destroy it…
Pair this top with the Simple Shorts – and you can do ANY workout.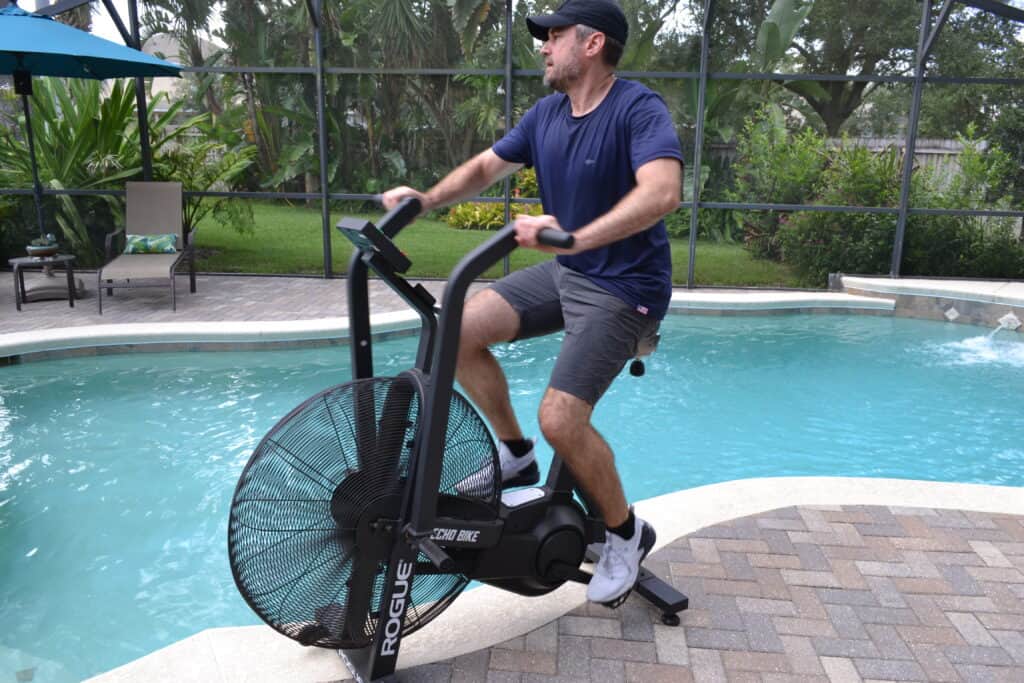 GORUCK American Training Polo Review
Need to keep it classy?
You can get that same great performance fabric in a polo shirt with a collar.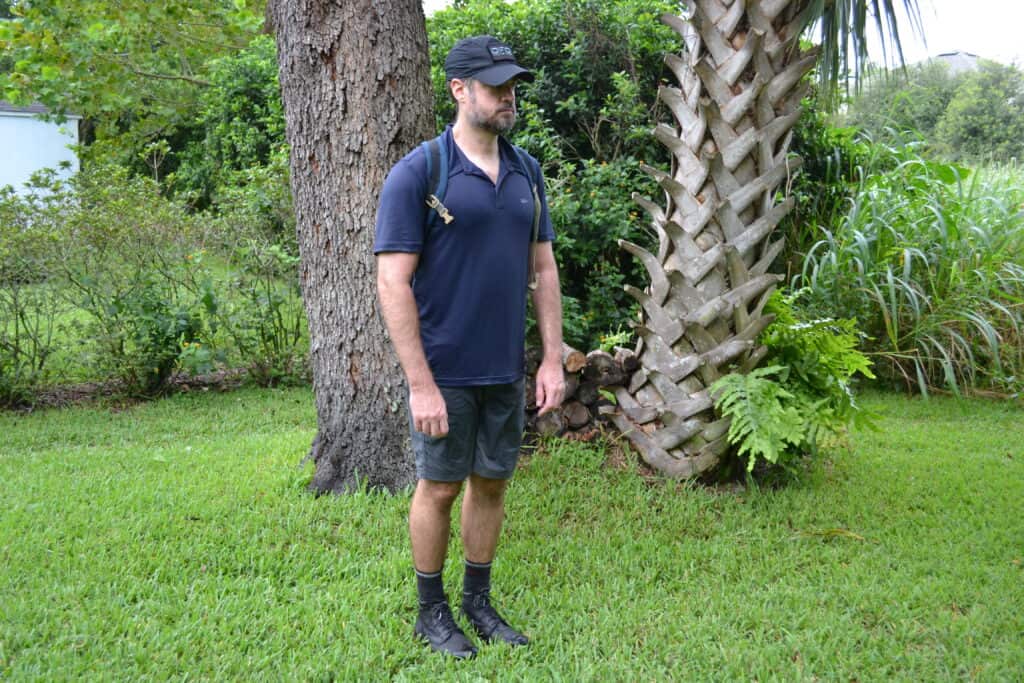 Why a polo shirt?
The collar might help provide a little sun blocking in the heat, but it's not that large.
Here's the real reason.
You'll probably like the performance, fit, and comfort of the American Training shirt so much, you'll want to wear it everywhere.
But, not all social settings will accept a t-shirt.
GORUCK gives us a polo shirt and now it's appropriate for business casual at work, business travel, on the weekend with family, and pretty much anywhere else.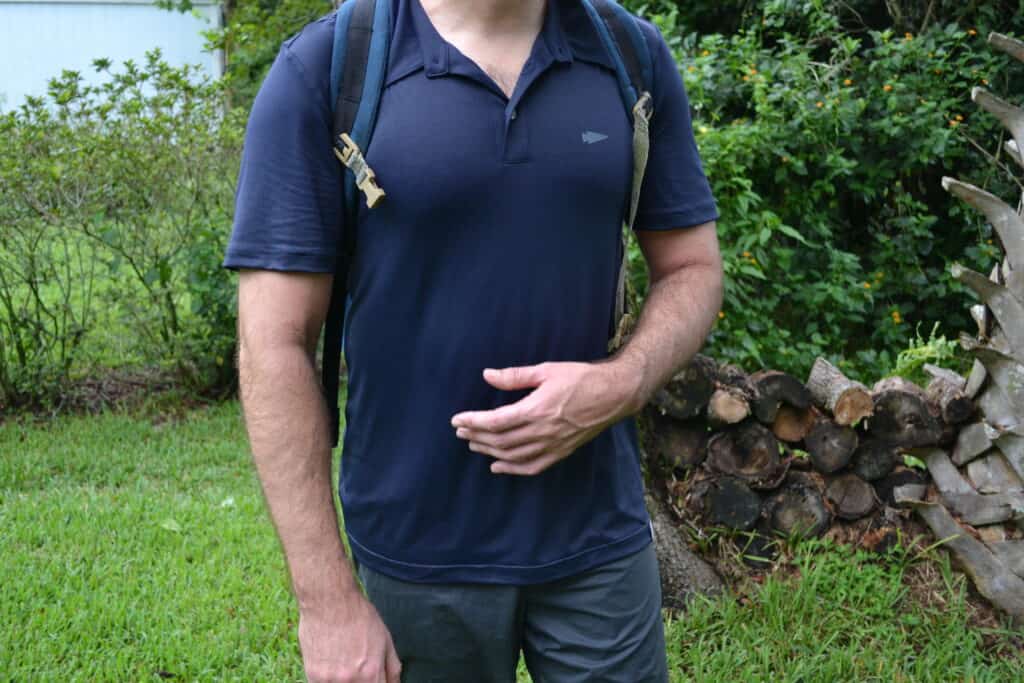 The sleeves on the Polo shirt don't ride up as much – at least not for these 14″ mini-pythons.
(Yes I measured them.)
The sleeves on the t-shirt are shorter and tend to ride up a bit, and then those scratchy, abrasive 1000D Cordura shoulder straps are rubbing on the tender part of your arm.
The subtle spearhead logo looks good and is just enough to pique someone's interest – but doesn't scream "I'm a walking billboard."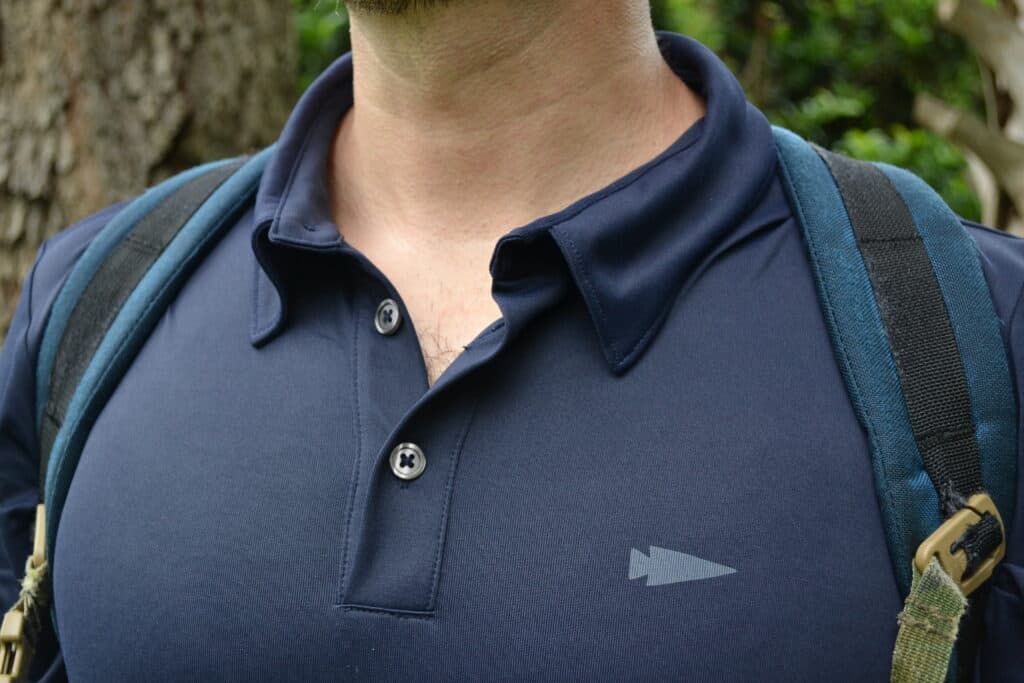 Thank you GORUCK!
By the way, this new generation of the training Polo is far superior to the previous version.
The old Polartec based fabric was too heavy, and quite frankly not that comfortable to wear. It was too "rubbery" for my tastes.
GORUCK has solved those problems with the new Training Polo.
Also – of course the American Training Polo is Made in the USA.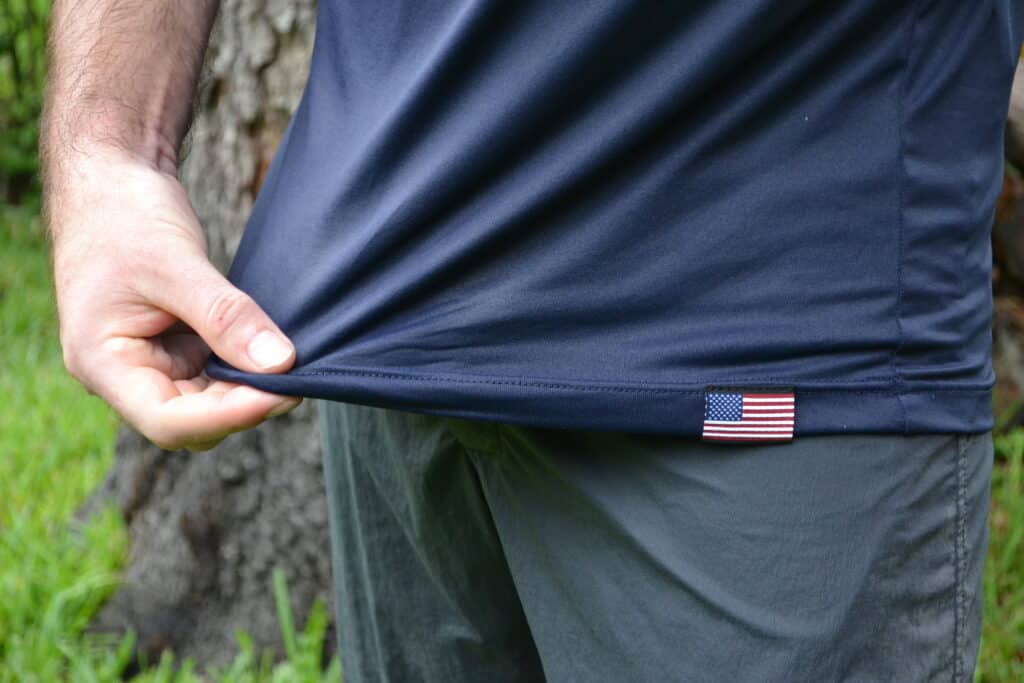 For a real knockout combo – try pairing this shirt with Simple Pants or Challenge Pants.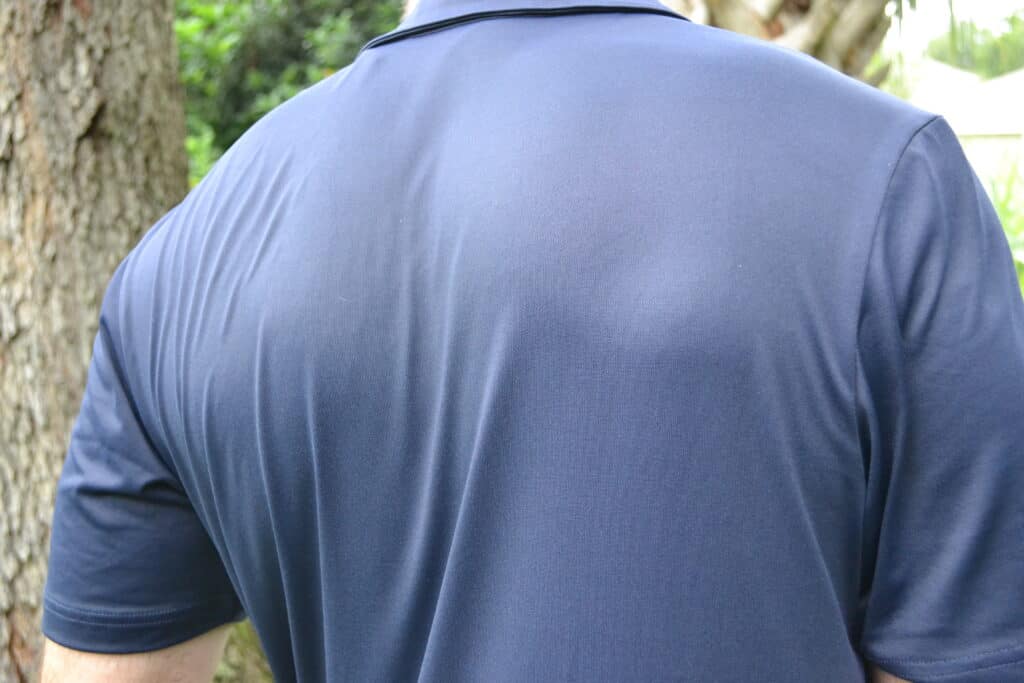 How Did We Test?
I did all sorts of workouts with these shirts – and casual wear too, of course.
Ruck marching with a heavily loaded backpack.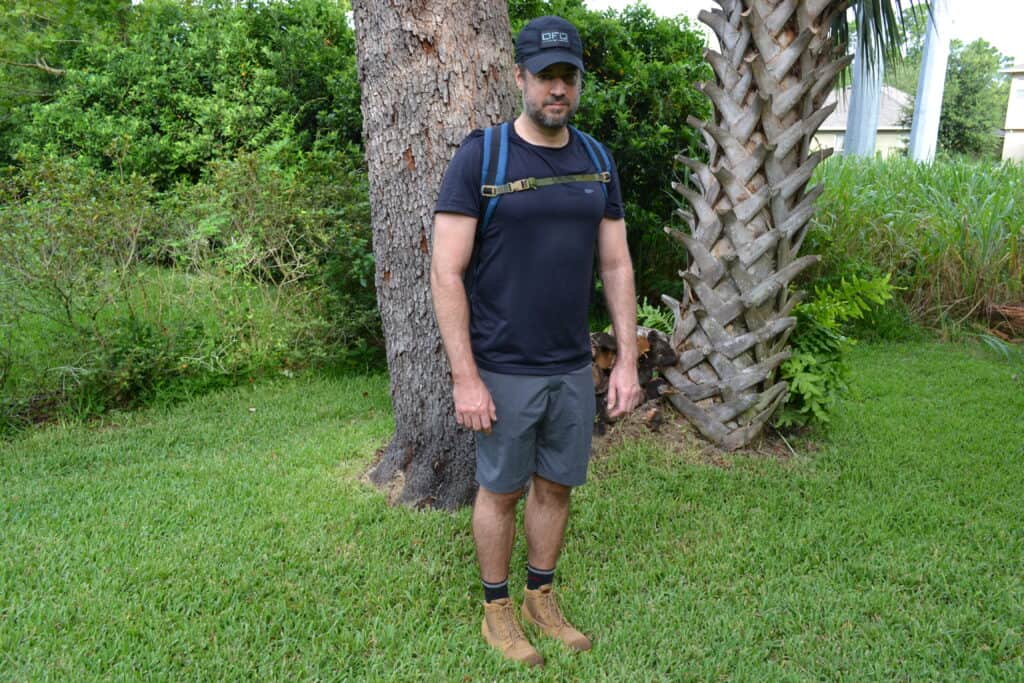 The daily WODs from the GORUCK Sandbag & Ruck Training program.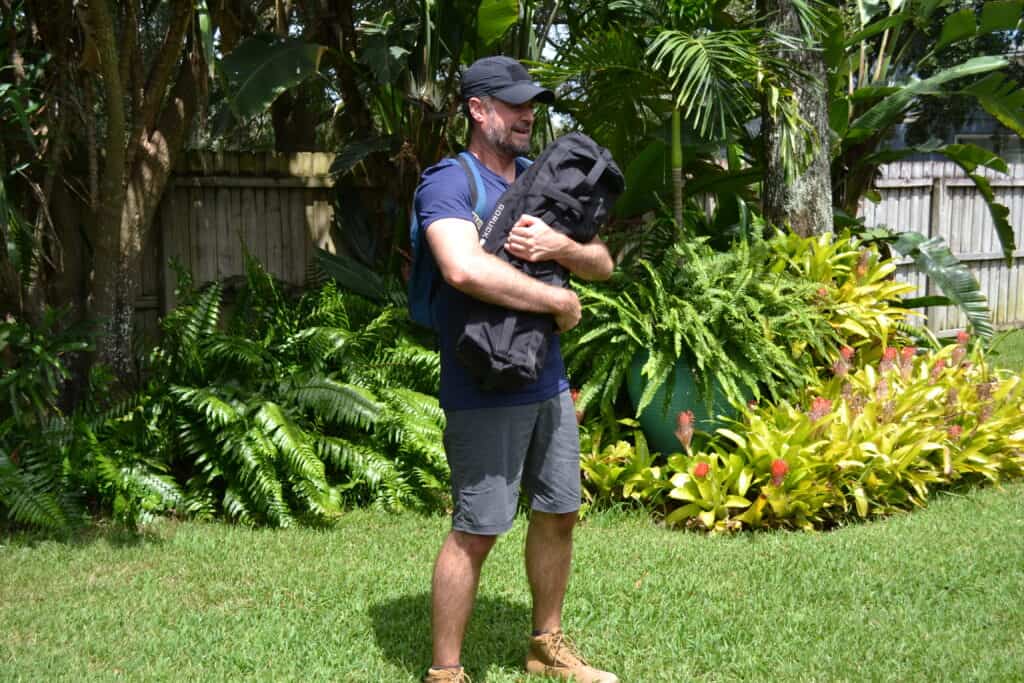 (By the way, read my review of the GORUCK 60lb Sandbag.)
CrossFit style WODs.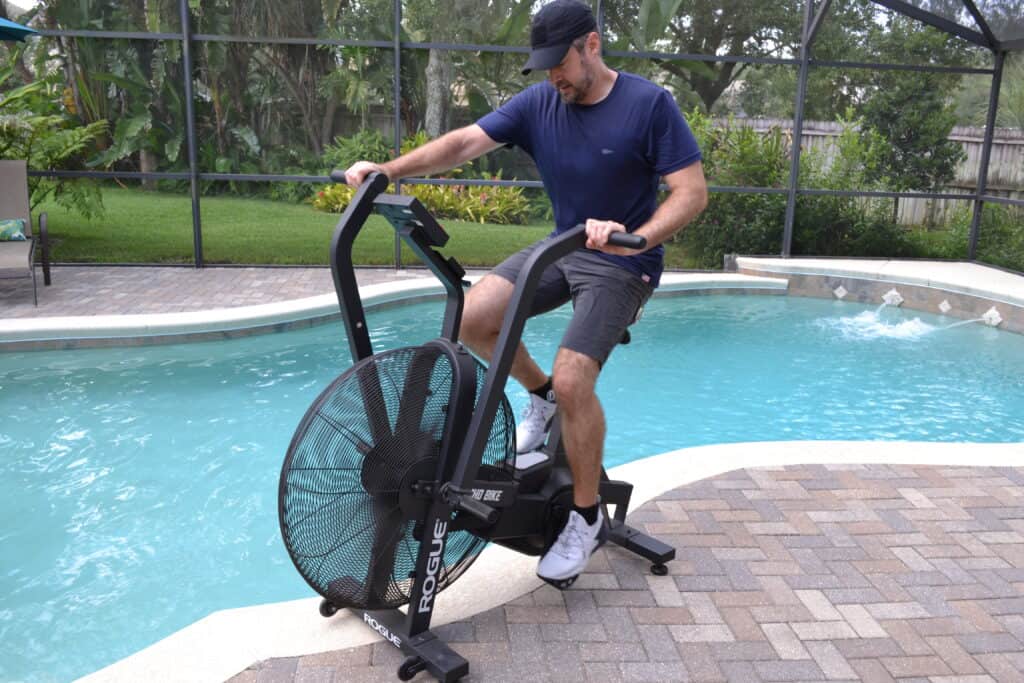 And some good old fashioned heavy barbell workouts too.
The shirts passed with flying colors – and I look forward to see what GORUCK comes up with next.
GORUCK American Training Shirt Review – In Summary
It's soft but tough.
It's stretchy and pill resistant.
It's lightweight and moisture wicking.
But most importantly, it's comfortable and it fits well (athletic cut).
It performs when it matters and has a lifetime guarantee – so go ahead and do your worst.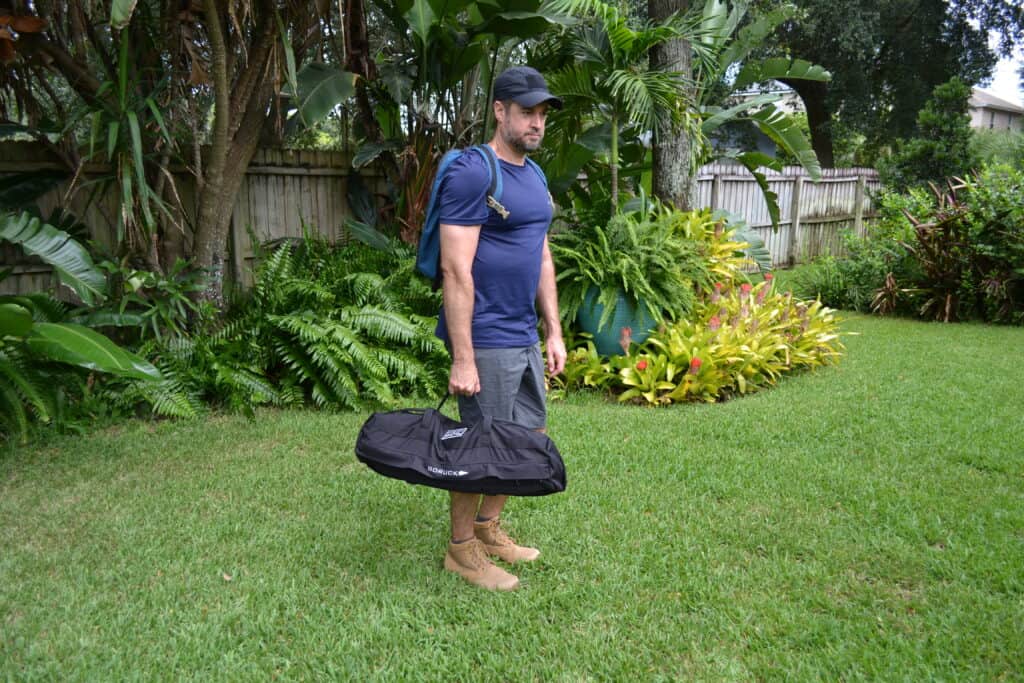 Photo Credits
Some product photos on this page are property of GORUCK.
This website is not affiliated or associated with CrossFit, Inc. CrossFit is a registered trademark of CrossFit, Inc.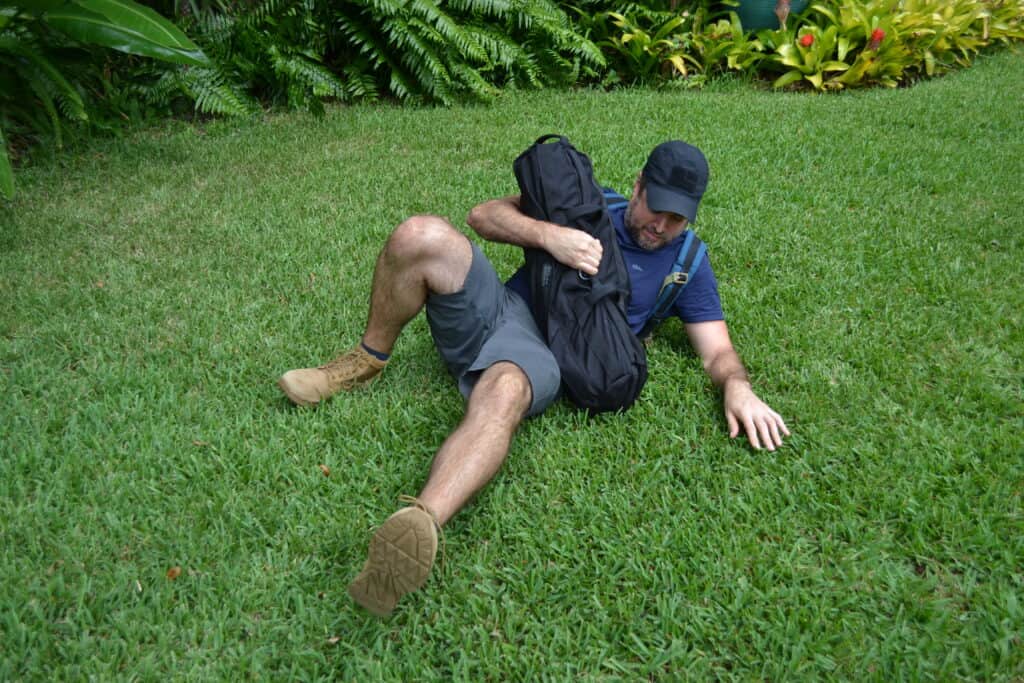 Affiliate Disclaimer
We are an affiliate of GORUCK. If you buy gear or apparel after clicking the links in this article, we receive a small commission at no extra cost to you. This helps us to bring you in-depth information and content on this great training clothing.