Rogue has released the 3rd version of the
Echo Bike
. Grab one while they last!
If you like CrossFit workouts – you know just how tough this can be on your hands.
Muscle-ups, kipping pull-ups, Olympic rings – they can all be hard on your hands.
But, add in high repetitions and you have a formula for real hand pain – and damage.
Your hands will adapt to all that pressure – a form very big callouses.
Unfortunately these can grow so large that they are prone to ripping – and that causes a lot of pain.
And you can forget about workout out or maintaining your fitness while you recover.
But that's what CrossFit Hand Grips are for – we're going to look at the best CrossFit Hand Grips that can offer proactive protection to keep this from happening in the first place.
And if it is too late – meaning you have already ripped your palms – you can use these to minimize further damage and pain while you recover.
As an added benefit, these grips not only protect your hands, but they also provide better grip too.
This can be a big factor when your palms or sweaty.
Why not use normal workout gloves? Normal workout gloves can help, but they do not offer the same flexibility and grip that you gain from specialized CrossFit hand grips.
These hand grips have evolved from gymnastic grips.
We're also going to look at a variety of CrossFit hand grips and compare and contrast the advantages and disadvantages of each.
Why Do You Need CrossFit Hand Grips?
Gymnasts figured out a long time ago the the benefit of hand grips.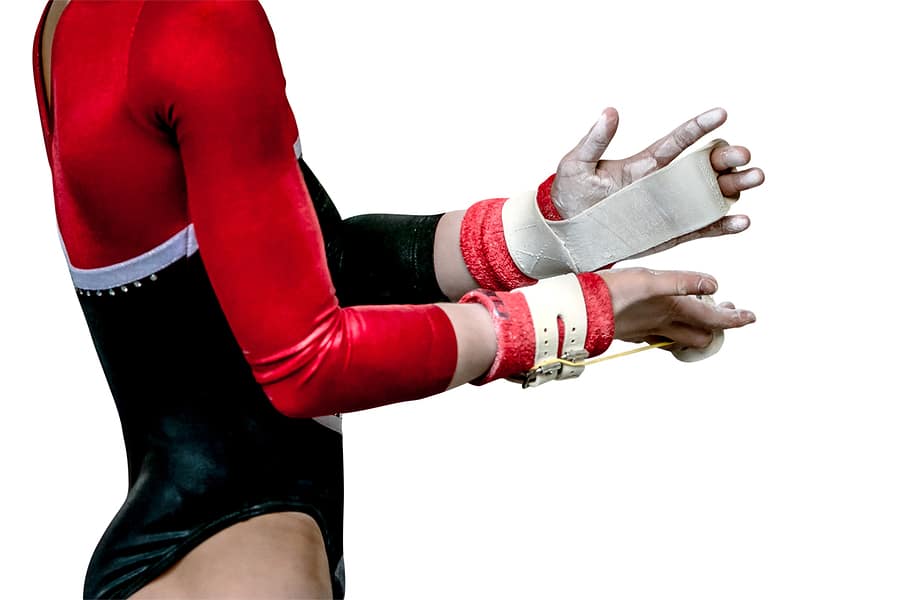 Gymnasts spend long hours in the gym, on the bars. It's a callous waiting to happen.
But hand grips offer proactive protection to prevent injury from happening in the first place.
The grips act as a sort of "second skin" for your hands and keep the callouses from forming in the first place.
But, they can also be used reactively.
Already ripped your grip?
Hand grips can offer the protection you need to recover – without detraining too much.
Let's take a moment and talk about safety too.
Do you know what's not safe?
Falling off a pull-up bar while doing a kipping muscle-up or pull-up.
Landing on the floor or concrete can result in a serious injury.
This is a very real possibility – scores of CrossFitters and gymnasts are injured every year – due to a momentary lapse in their grip.
And your grip is the "weak link" in those sorts of moves.
Add in the sweat factor – you can't grip anything securely with moist palms – and you have a recipe for disaster.
(We also recommend wrist bands to absorb sweat – and a liberal dose of gymnastic chalk for all bar exercises.)
What exercises can benefit from hand grips?
Here's a list – but the important takeaway – does the movement subject your palms to stress? And is grip a factor?
In either case, CrossFit hand grips will be of benefit.
Pull-ups (Kipping style, or regular)
Chin-Ups (with the palm supinated)
Muscle-ups – done on a straight bar, or Olympic rings
Toes to Bar – Another movement done with a lot of momentum, a secure grip is a must.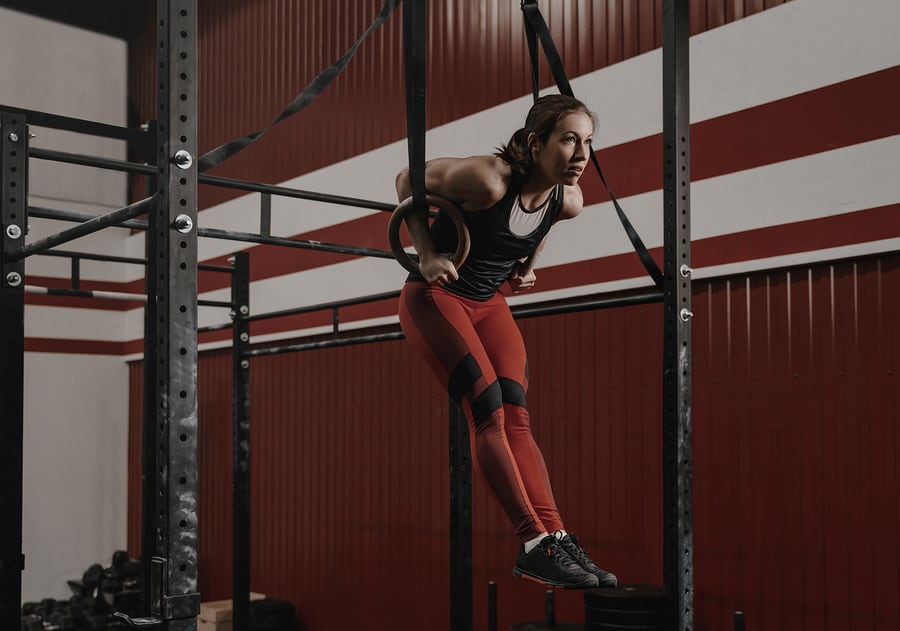 Do we recommend CrossFit Hand Grips for Deadlifts and other barbell lifts?
Sort of.
Grips are an artificial performance enhancer – so they are generally frowned upon.
But, the greater grip lets you workout harder.
We'd recommend you use grips AFTER your grip has given out.
This will let you get more work sets in.
The other occasion that calls for hands grips is when you are rehabbing an injury.
Torn palm? Don't sit out the action – throw on a pair of grips and keep training.
In these cases, grips will help for deadlifts, farmer's walks, suitcase carries, and anything else that requires you to grip heavy weight.
We don't recommend grips for bench pressing or squatting – as there is no benefit.
But, it should be noted that you might find some additional wrist support helpful in those situations.
A low-bar squat or heavy bench press can put strain on your wrist – but they aren't tough on your palms.
Best CrossFit Hand Grips – Comparison
With all that in mind, let's look at the best CrossFit Hand Grips.
JerkFit RAW Grips
Want simple (but full) palm protection on the cheap?
The JerkFit RAW Grips (Buy on Amazon) are a simple, but effective hand grip.
These are made from flexible, but durable leather.
The two-hole design gives you enough stability – but this wide grip still gives you full palm protection.
Sale
JerkFit RAW Grips 2 Finger Leather Hand Grips for Weightlifting, Calisthenics, Pull Ups, WODs, Gymnastics, and Cross Training, with Full Palm Protection to Prevent Rips & Blisters (Large)
✔ BEST PREMIUM LEATHER HAND GRIPS - From the Makers of WODies comes the FIRST 2 finger leather grips that cover the ENTIRE PALM!! – These gymnastics grips are breathable and designed with an adjustable wrist strap for optimal comfort and support for both Men and women athletes.
✔ FREE INDEX FINGER - Other 3 finger leather grips severely limit flexibility and are uncomfortable between the fingers. Our RAW Grips have a UNIQUE SHAPE & DESIGN that allows FULL COVERAGE while at the same time leaving your index finger free. These Hand Grips allow for a much needed boost to your hand and wrist MOBILITY, and most of all comfort.
✔ PALM PROTECTOR - Ergonomically designed to prevent digging into your wrists, it simply WILL NOT happen. Full Palm Protection will ensure full support and stability when using the JerkFit RAW gymnastics grips. Protect your hands and palms during Pull-ups, Chest to bar, Muscle ups, Toes to Bar (T2B), Knees to Elbow (K2E), Kettlebell swings, Powerlifting, Power Cleans, Deadlifts, Snatches, Gymnastics, and more.
✔ SUPERIOR QUALITY - Premium quality, extra MALLEABLE AND TEXTURED LEATHER allows grips to conform immediately to your hands. Provides extra grip right out of the package. Also Includes sandpaper to CUSTOMIZE the finger holes to adjust the fit if needed.
✔ WHY JERKFIT? - RAW Grips were designed by a former professional gymnast to reduce and prevent unnecessary and painful rips and blisters that kill your momentum and performance. RAW Grips are SUPER COMFORTABLE and built by competitive ATHLETES that understand the rigors of our sport!
These are also made in the USA.
Bear KompleX Carbon Hand Grips
Bear KomopleX makes a great product – the Bear KompleX 2 Carbon Hand Grips (Buy on Amazon).
These use a hook and loop (aka velcro) closure for a perfect fit on your wrist.
They do not use leather (which can stretch over time) but rather a synthetic material of their own design – Carbon Comp.
This offers great grip with or without chalk.
JerkFit WODies
The JerkFit WODies (Buy on Amazon) are an innovative offering that combine palm protection with wrist support.
As you can see from the photo above, this is a 3-hole design.
That ensures full, wide protection for your entire palm.
But the standout feature with this grip is the wrist support.
You'll see the wrist wrap part is very similar to a product for specific wrist support.
JerkFit WODies 3 Hole Gymnastics Grips with Wrist Support - Latex Free, Elastic Pull Up Grip for Cross Training, WODs, Weightlifting - Premium Workout Grips for Men and Women for Palm Protection
✅PALM PROTECTING + WRIST SUPPORT: Full Palm protection and Wrist Support combined in one product. WODies Grips are the all-around utility glove to be used on ALL movements from the pull up rig to the barbell. And thanks to the built in wrist wraps, WODies provide extra wrist support for those heavy lifts. ***PLEASE MEASURE YOUR HAND USING THE 6TH PHOTO BEFORE ORDERING. DO NOT GUESS
✅COMFORTABLE: WODies provide a "natural glide" to absorb friction away from your hands and on to the material. And unlike leather grips, WODies cause absolutely zero bunching or painful pinching. Resiliently built to withstand the toughest of workouts. These top quality grips will last! Perfect for powerlifting, bodybuilding, calisthenics, cross fitness and HIIT training.
✅PROUDLY 100% MADE IN AMERICA with the finest, and most premium materials available. WODies are the training equipment you need to lift more, reduce injury, increase the duration of your workouts, and reduce wrist and forearm fatigue with these incredible workout gloves.
✅BUILT TO LAST: Heavy-Duty built-in supportive wrist brace gives you the extra confidence to push harder. WODies palm material is extremely durable and absorbs sweat and chalk to keep your hands dry and increase grip and built to withstand a serious amount of abuse.
✅ MULTI-PATENTED, 2-in-1 DESIGN: Used by Hundreds of thousands of athletes worldwide who wouldn't train without them, there is nothing even close. These extremely well made adjustable wrist straps for weight lifting are the most diverse gloves you'll ever use.
The JerkFit WODies are made from a synthetic material, rather than leather.
That means you can wash them – which is a huge plus.
Most hand grips will absorb sweat – and stink too.
Want a little more style?
These are available in camouflage also.
Best CrossFit Hand Grips – In Summary
There's two reasons to use CrossFit Hand Grips.
Better grip and injury protection.
Gymnastic style hand grips provide a sort of "second skin" to keep callous growth on your hand to a minimum.
And this means no chance of palm rips – which are painful and take a long time to recover from.
Grips also let you grip more – when used properly they transfer some of the load to your wrist.
They also help keep moisture from being a factor in the equation.
And lastly, grips with gymnastic chalk can be a potent grip strength improvement.
Now that you've got the grips, how about some shoes? Check out the Best CrossFit Shoes for 2021.
Photo Credits
Some of the photos on this page are property of the manufacturers, and provided by the manufacturer.
Disclaimers
This website is not affiliated or associated with CrossFit, Inc. CrossFit is a registered trademark of CrossFit, Inc.
CrossTrainClothes.com is a participant in the Amazon Services LLC Associates Program, an affiliate advertising program designed to provide a means for us to earn fees by linking to Amazon.com and affiliated sites.