Have you tried a battle rope? It looks like a shoulder injury in the making , but it's actually a pretty tough core (and grip) workout. Check out these Battle Ropes.
Battle ropes provide plenty of ways to use them, making them a must-have tool in every workout. They are great not only for cardio and conditioning exercises, but they are also excellent for giving you full-body training. They are versatile, portable, and can be used anywhere, especially when you are out of town.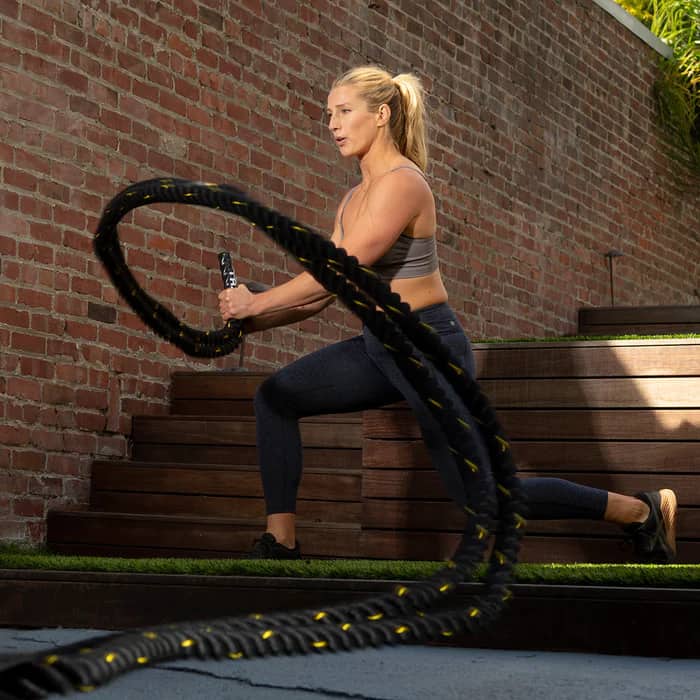 There's a selection of Battle Ropes that you can try:
Battle Rope Roundup – Overview
Battle ropes, also known as conditioning ropes, started as a mainstay device in MMA and then CrossFit. Strength coaches and trainers now utilize them in almost every sport to train for power and explosiveness. Battle ropes are durable and resistant to weather change, making them excellent for outdoor training. Incorporating them into your training regularly helps you burn more calories as they force your heart to work harder.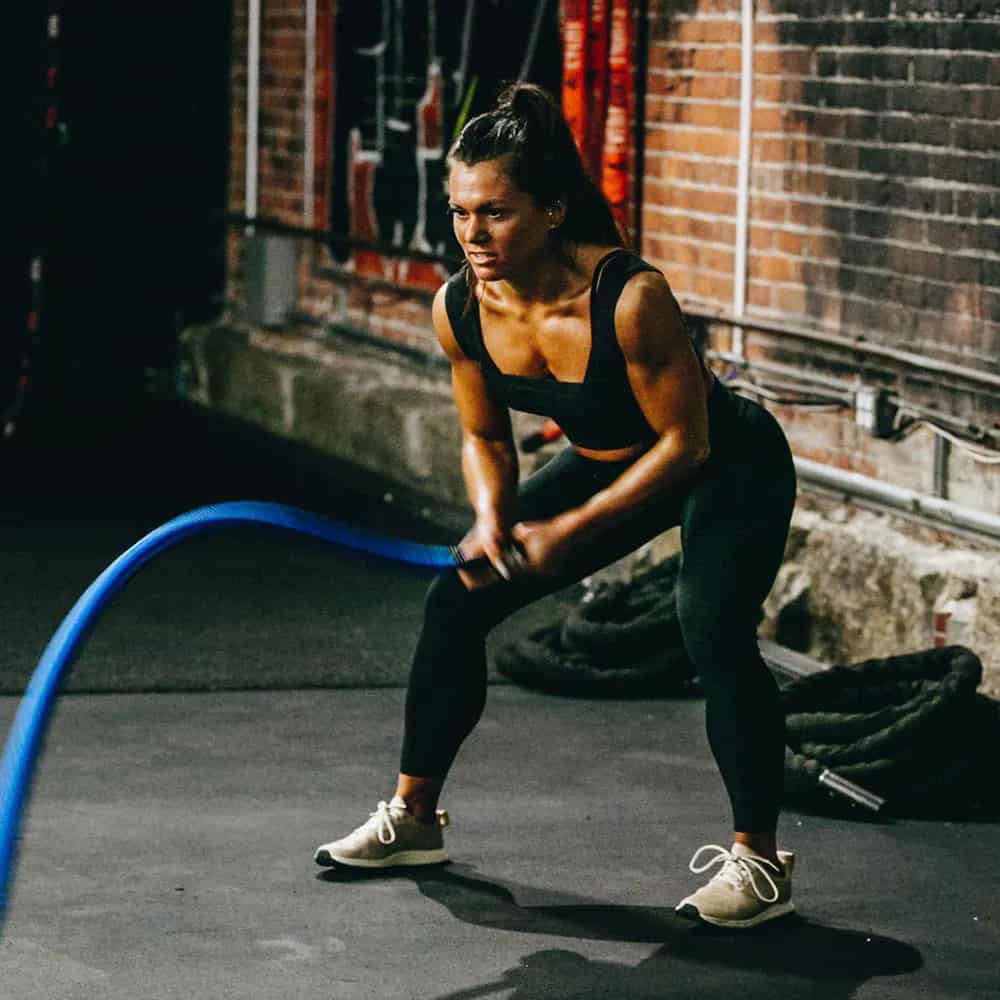 They also strengthen your core, help maintain balance, and prevent injuries. They also improve your upper body strength, enhance grip strength, and increase speed and power. Aside from all these benefits, using battle ropes add more fun to your routine. They allow you to revel in different kinds of workouts daily so you won't get bored. Here are some battle ropes from Rogue that you can integrate into your routine.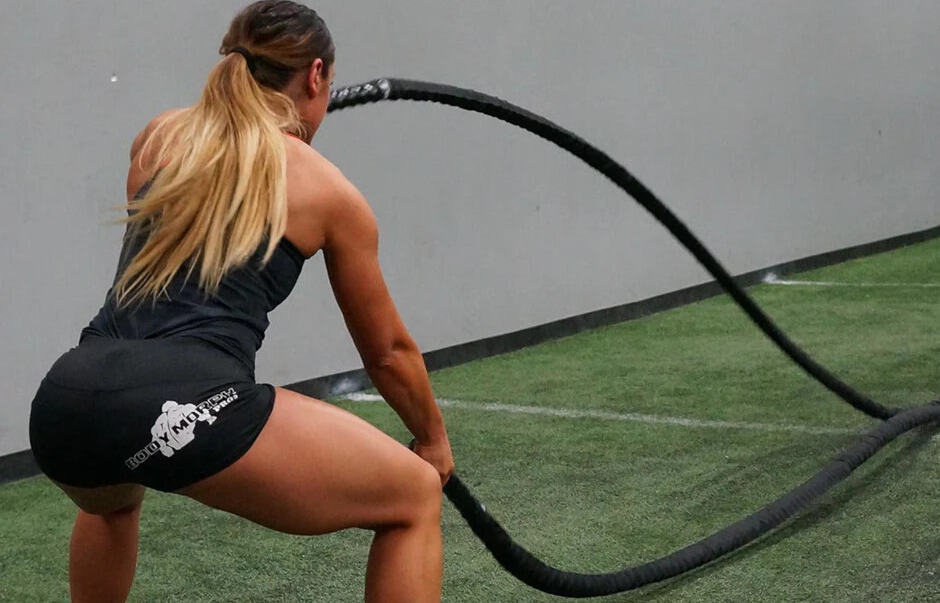 Conditioning Rope
The Conditioning Rope is used by most athletes who train for power and explosiveness. It is made in the USA, weighing 26LB with a weight capacity of 500LB. The battling rope is versatile because it can build core strength and enhance core-to-extremity.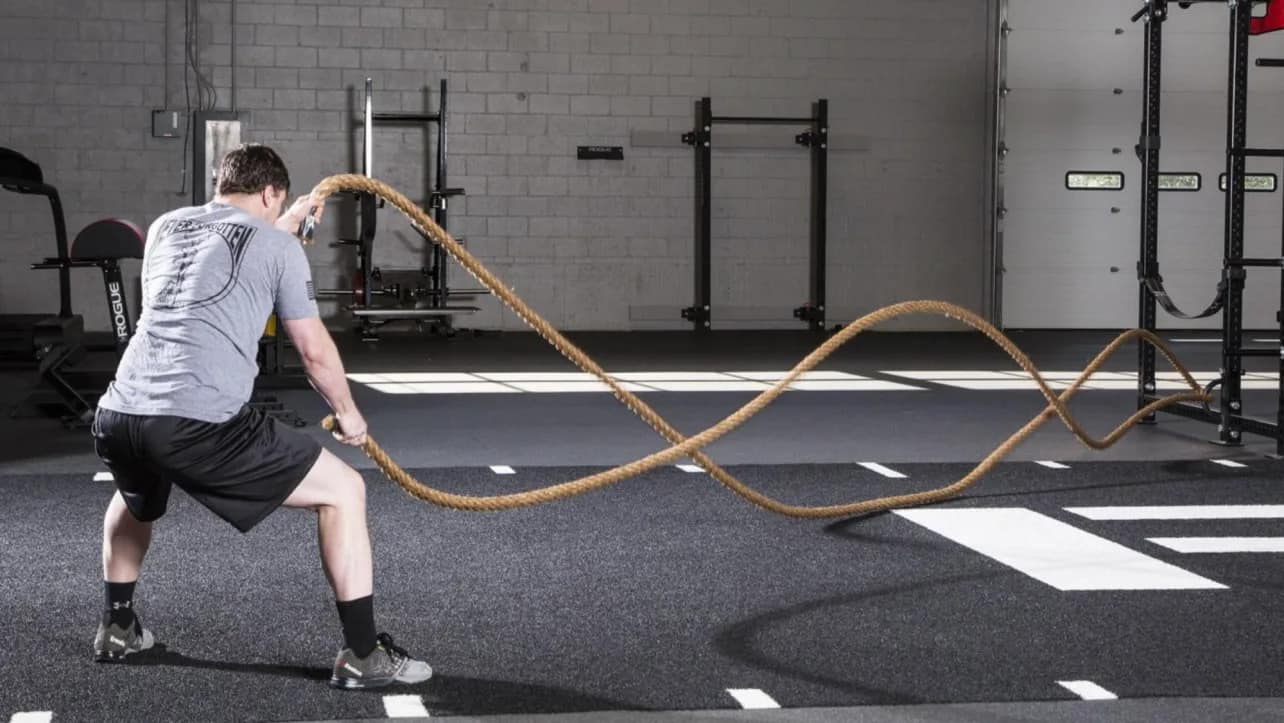 Its length is 50′, and its diameter is 1.5″. To add more fun, use two 6′ ropes by having two athletes grab the ends of both ropes and see who can rip the ropes out of the other athlete's hands using the same sine wave motion.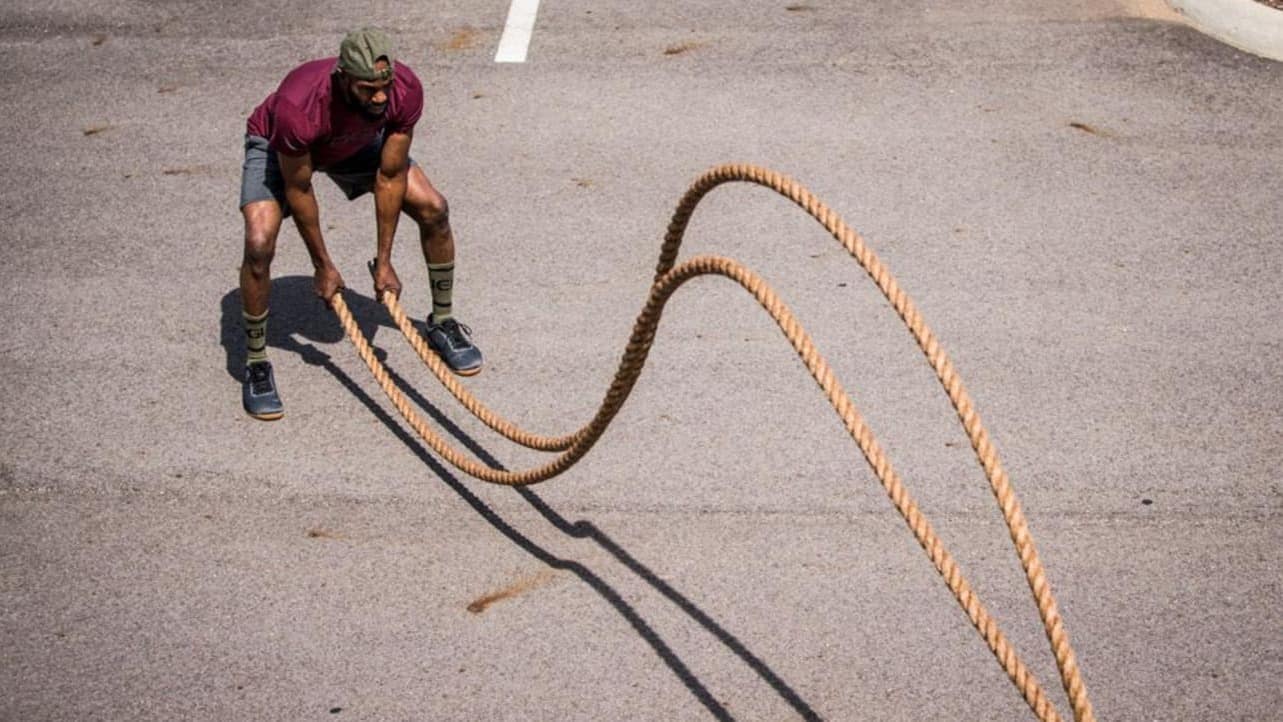 Hyper Rope Battle Rope
The patent-pending Hyper Rope Battle Rope doesn't need to be anchored and duplicates many of the same benefits of standard battle rope training. It is 25 ft long and weighs 19 LBS featuring a weighted flexible metal core, ultra-durable braided polyester exterior, and easy-grip ribbed handles.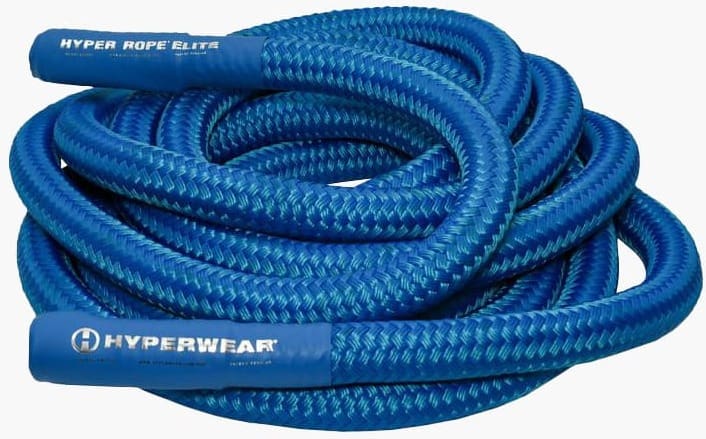 It is made from a soft, braided 100% polyester exterior, and its construction makes the rope quieter, clean, and easier on floors. The Battle Rope features a weighted flexible metal core, ultra-durable braided polyester exterior, and easy-grip ribbed handles. It is portable, space-efficient, dynamic, and offers a greater variety of possible movements.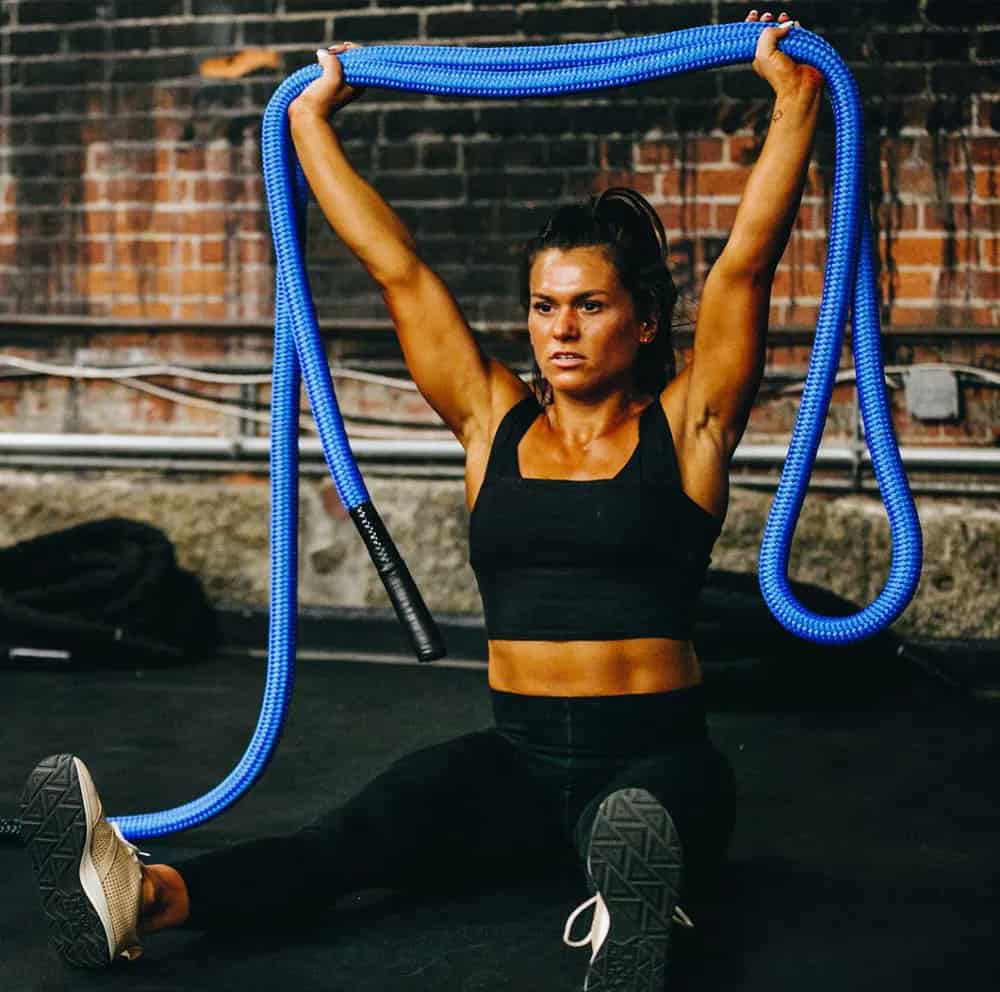 Rogue 45′ Sheathed Conditioning Rope
The 45-foot Sheathed Conditioning Rope is made from durable polypropylene with an all-weather sheath/cover. The protective sleeve is folded at the end to form a grip-friendly looped handle.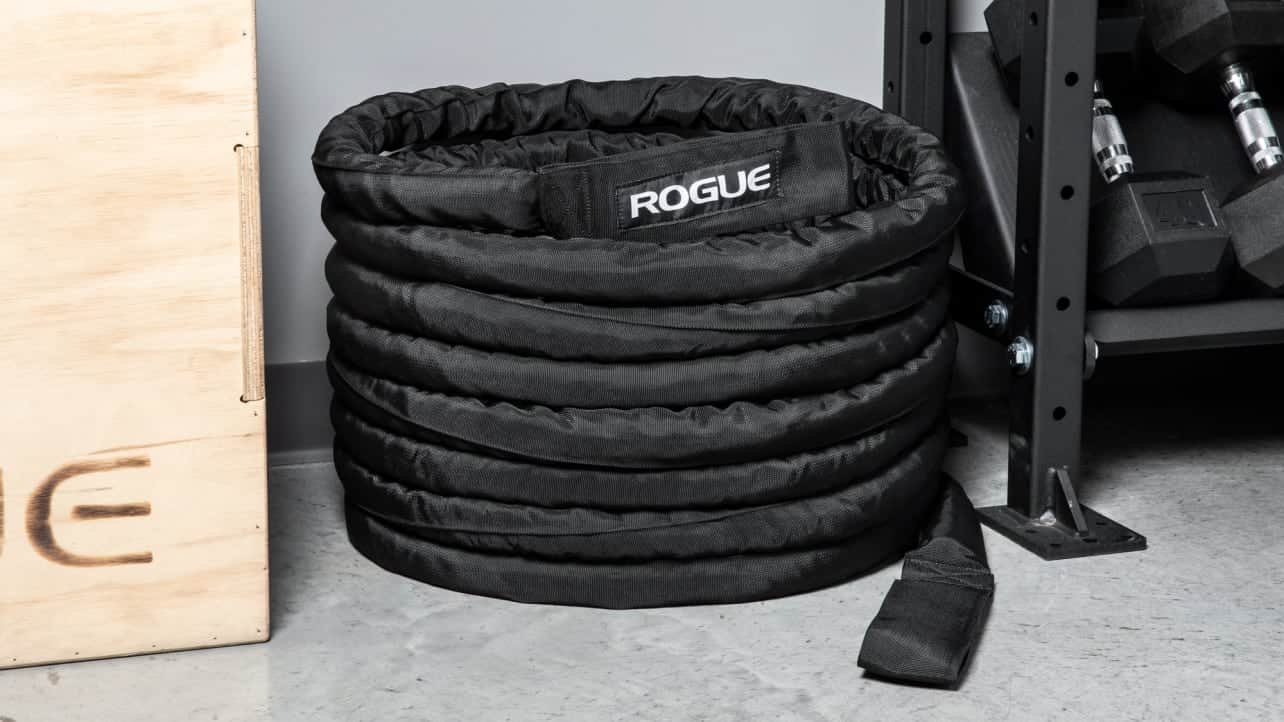 It measures 3" wide and 10" long from the end of the rope to the end of the loop (when laying flat). The diameter of the rope itself is 1.5", and you can use it only with a secure anchor.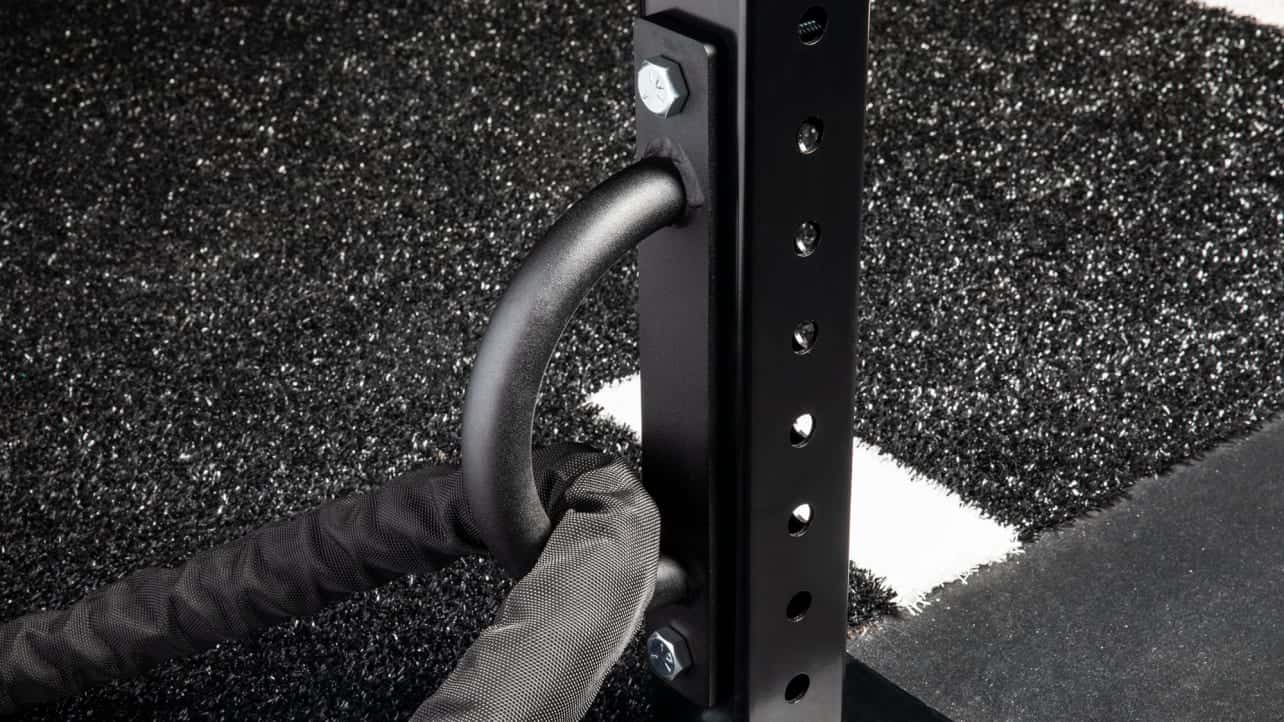 50FT Battle Rope
The 50 FT Battle Rope comes in 1.5 or 2-inch diameter, so you can pick your level of punishment. The 1.5″ battle rope weighs 28 pounds and is excellent for all fitness levels.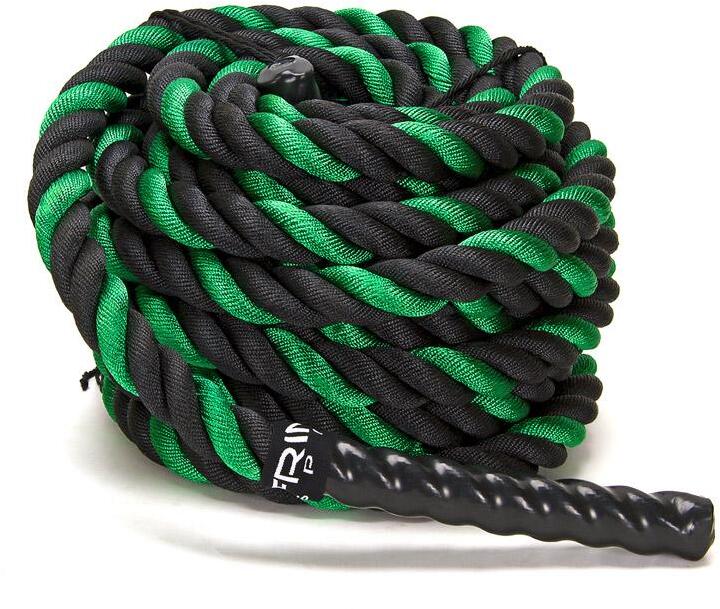 The 2″ battle rope weighs 53 pounds and is a better option for heavier or stronger trainees. It is made of synthetic fiber (poly), making the rope more durable without fiber shedding. It has dipped rope ends and comes with a one-year warranty.
Bomba Manila Battle Rope
The Bomba Manila Battle Rope is made in the USA using Grade A 1 1/2″ and 2″ Manila. Though it will shed like all of Manila, it will still last for years. The 2″ Manila adds more weight and an intense grip workout.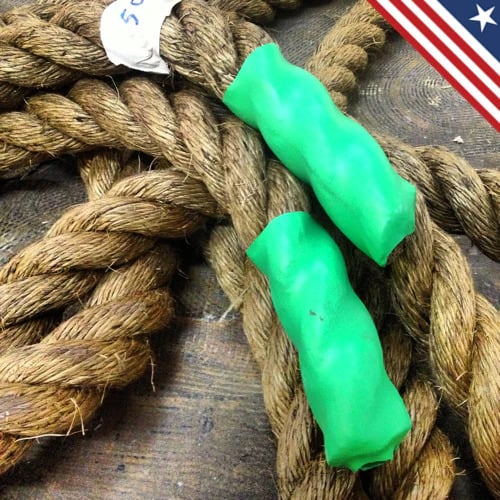 The rubber grips are applied on-site to guarantee a proper, long-lasting fit compared to other ropes on the market. It has a 6,000 lb breaking strength for sled pulls of any weight.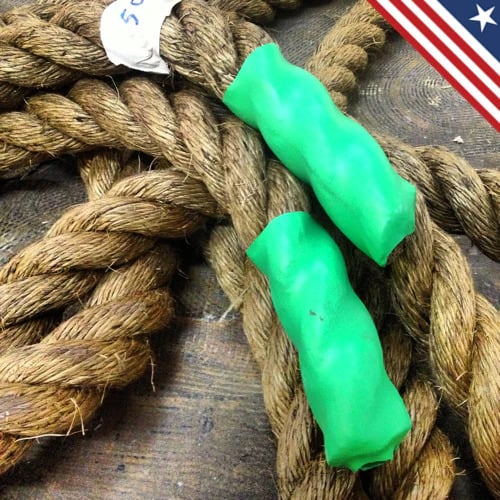 Sleeve Battle Rope
The Sleeve Battle Rope is highly durable, made from 100% pure poly dacron material for the most "wave" action, and covered by a full nylon sleeve to decrease wear. Its grippy handles help stop the rope from slipping out of your hands.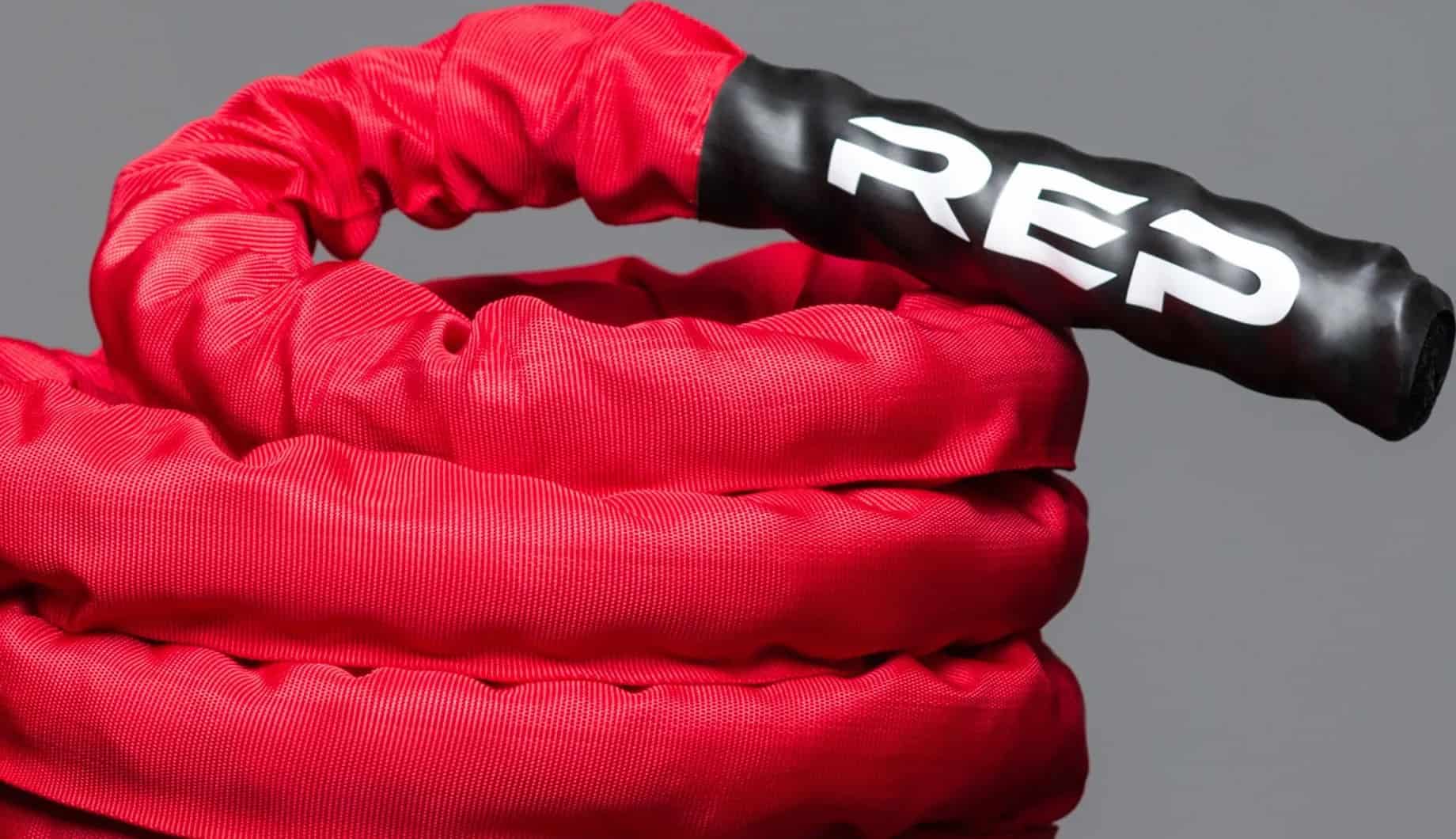 The rope comes in two different lengths (30' and 50') and two different diameters (1.5" and 2"). The longer rope is heavier (30-46lbs, depending on diameter) and harder to start. The wider diameter delivers more grip challenge, and the length also adds difficulty.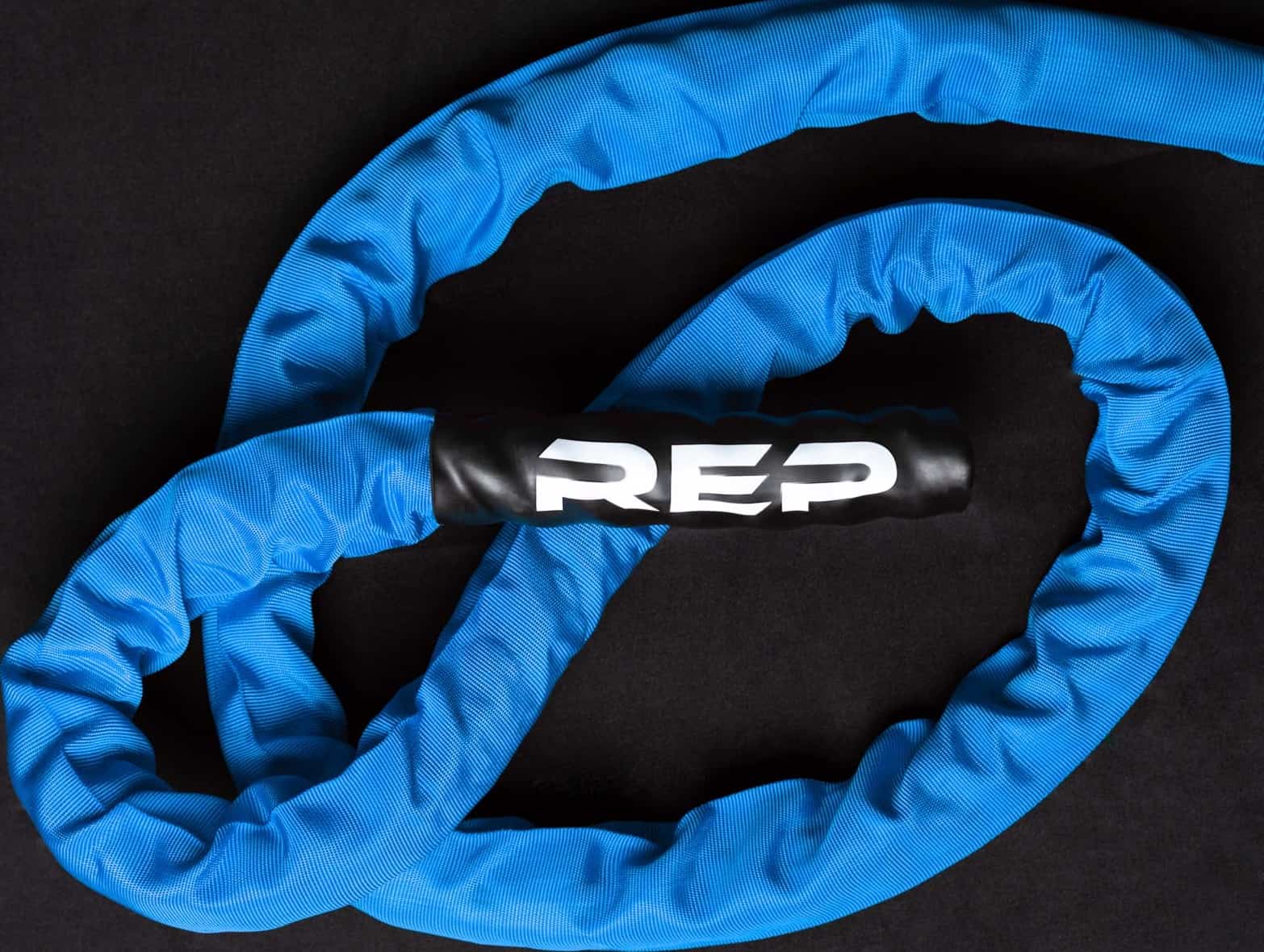 Battle Rope
The Battle Rope is ideal for smaller settings while providing great metabolic and strength workouts for users of all sizes and conditioning levels.
It is 30ft in length, weighing 17lb, and comes with a 90-day warranty. The premium nylon covering protects against wear and tear and also dampens the noise from hitting on hard surfaces.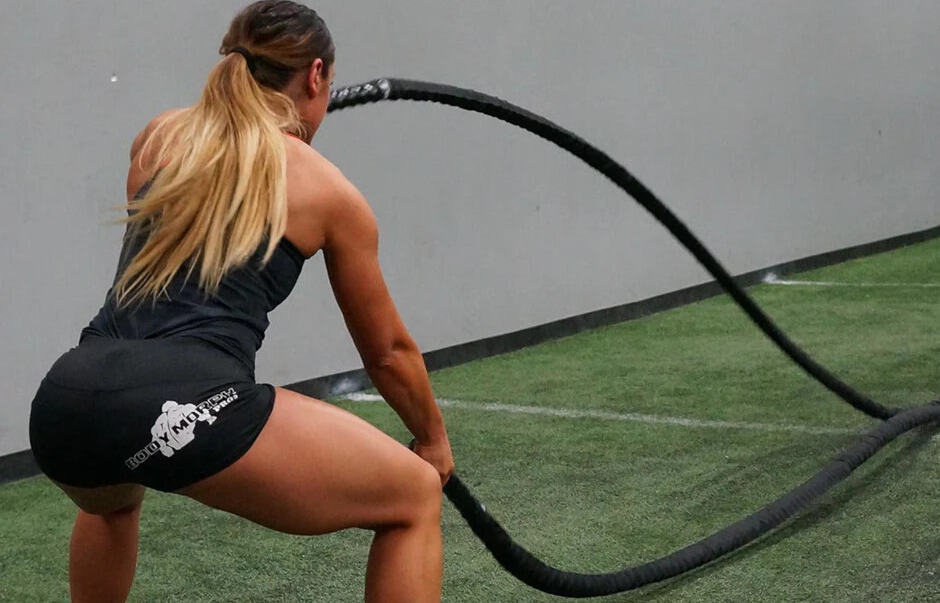 TRX Battle Rope
The TRX Battle Rope is available in 30′ (19lbs) and 50′ (26 lbs) and allows you to get a full-body, cardio-pumping, and endurance-challenging workout through slams, jacks, waves, throws, and pulls. It has comfortable rubber grips to keep you holding on no matter how hard you sweat.
This rope also has tightly braided construction that won't fray or break. It must be anchored to a rugged, round surface like a pole or a tree.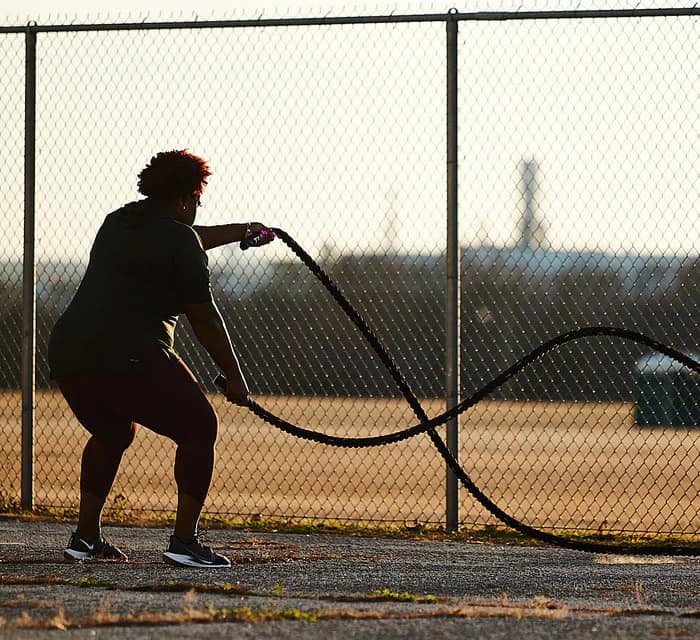 Battle Rope Roundup – In Summary
That's our close-up look at the Battle Rope Roundup.
Battle rope training is fierce in its hit to an athlete's conditioning and is an exceptional builder of grip strength. Battle ropes are versatile because it has the power to build core strength and enhance core-to-extremity strength that helps you to smash your next workout or opponent.
Looking for more options? Check out these other great products:
Here's a rope climb simulator – the Endless Rope Trainer from Torque Fitness let's you get a workout in without the risk and danger of a fall from height.
Here's some other At Home Cardio Equipment.
More home gym gear.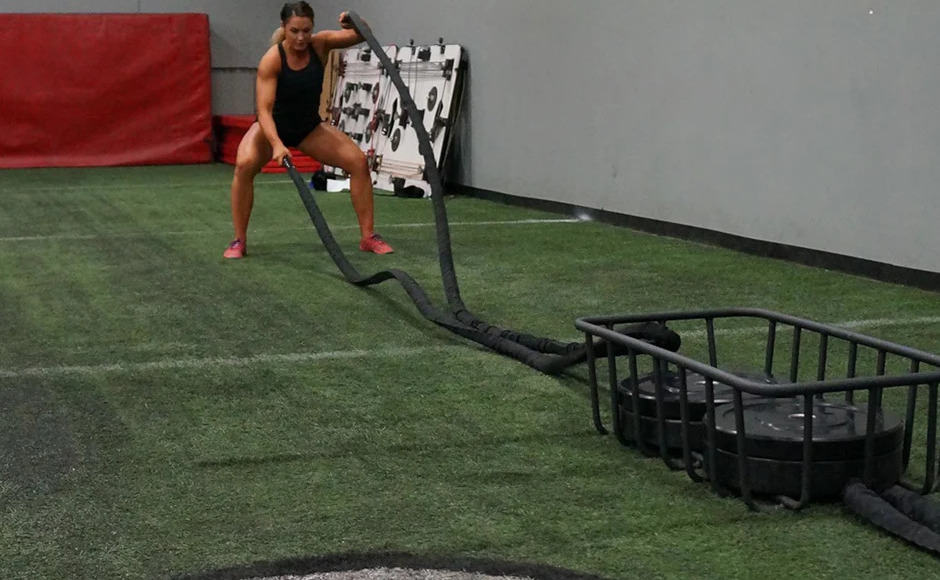 Photo Credits
Product photos on this page are property of the manufacturer.
This website is not affiliated or associated with CrossFit, Inc. CrossFit is a registered trademark of CrossFit, Inc.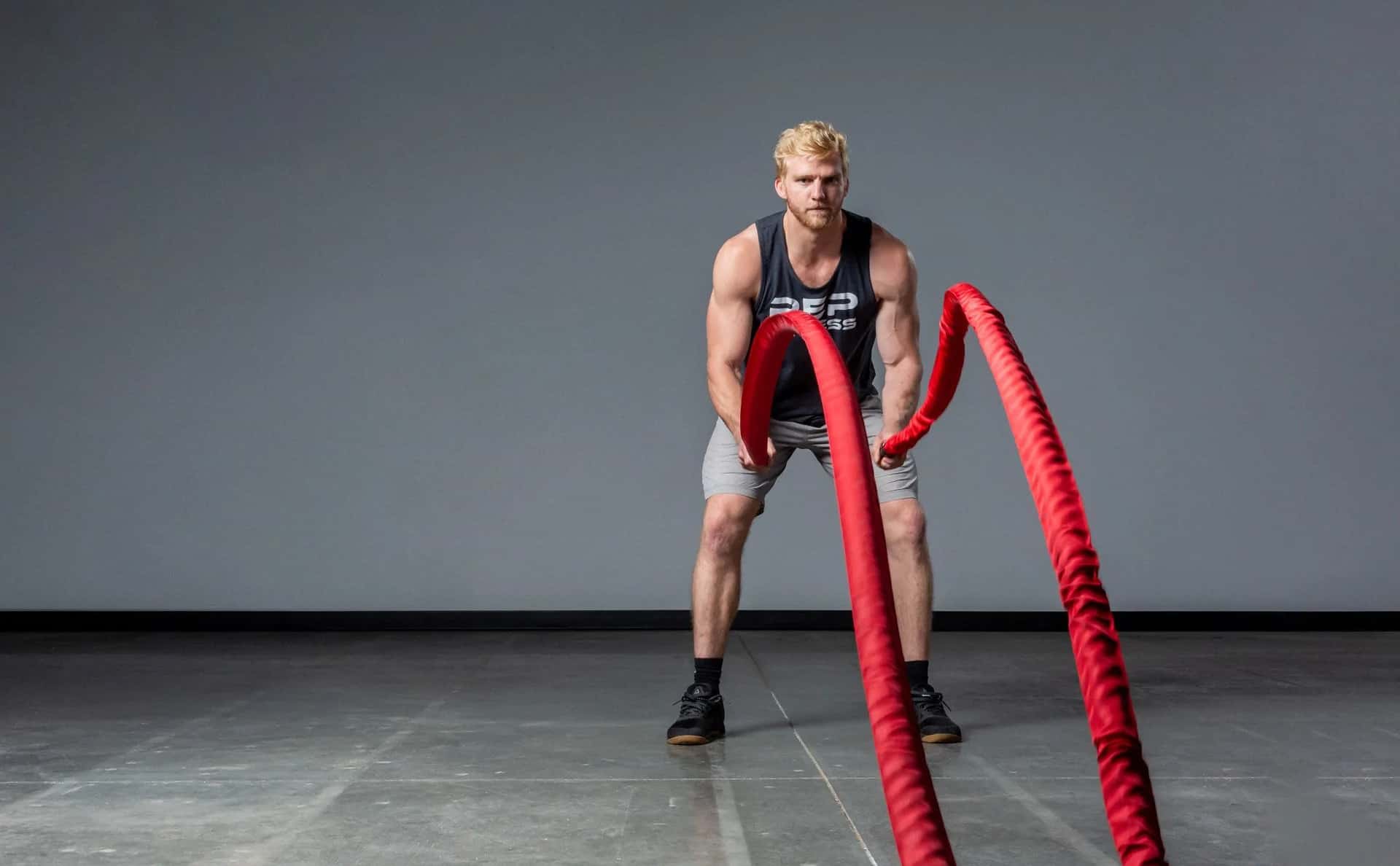 Affiliate Disclaimer
We are an affiliate of Rogue Fitness and others that sell this training gear. If you buy clothing or other training gear after clicking the links in this article, we receive a small commission at no extra cost to you. This helps us to bring you in-depth information and content on these great training products.