Rogue has the red-hot
Echo Bike
. Grab one while they last!
Let's take a look at Adjustable Handheld Weights – like dumbbells and kettlebells.
Dedication is key to maintaining an exercise routine. But it is not always easy to stick to your routine or go to the gym when you have a tight schedule. Good thing there are adjustable handheld weights that you can just grab for a 20-minute strength training.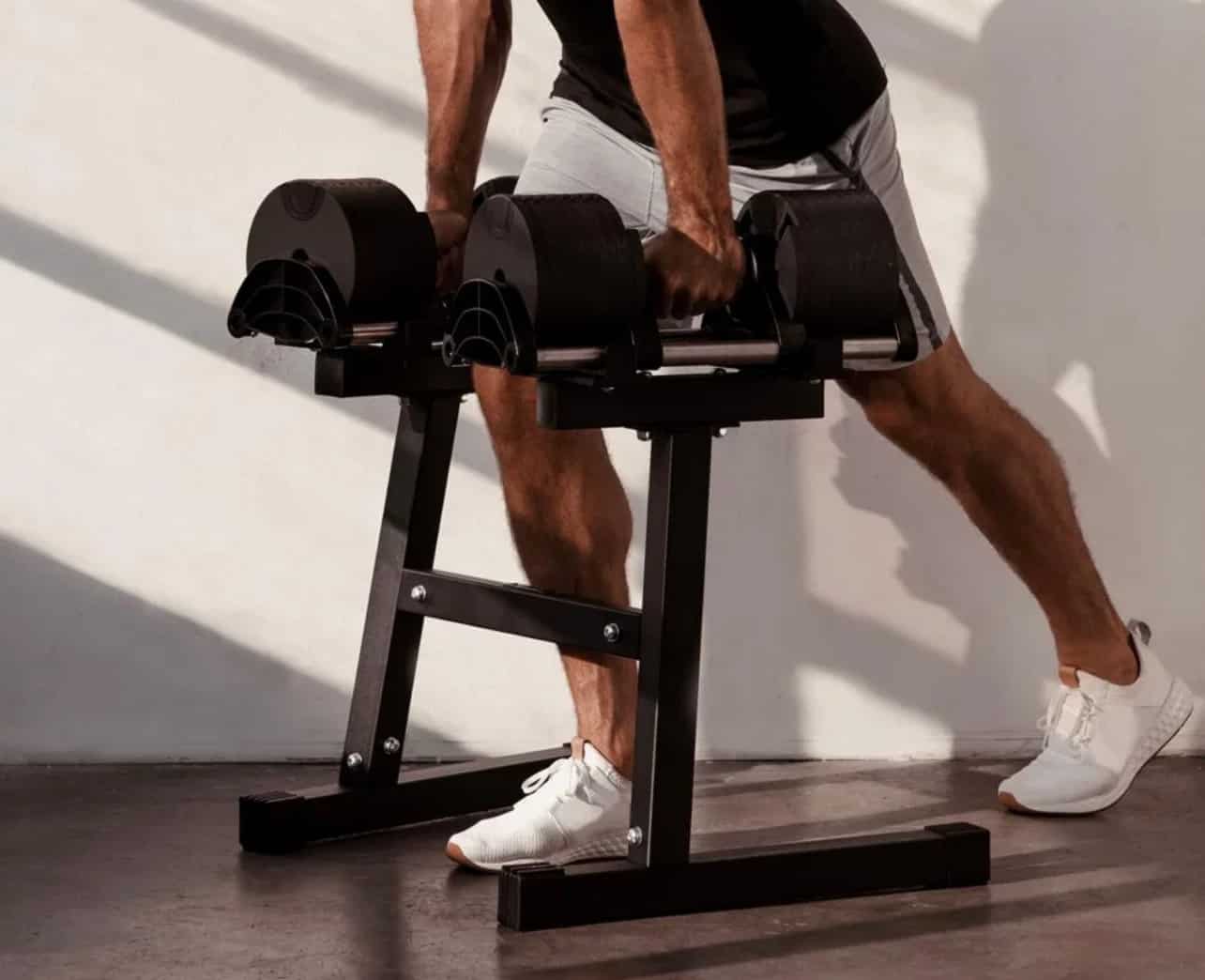 Why are hand weights a good thing? Because they can be used to balance out weakness in one arm or the other – we call that unilateral exercise.
Adjustable weights are a must – so you can slowly progress from a lighter weight to a heavier weight.
Here's a selection of adjustable hand-held weights, available from Rogue Fitness:
Adjustable Handheld Weight Roundup – Overview
Unlike standard weights, adjustable weights can help you train more efficiently and achieve your fitness goals. You can easily shift to lighter or heavier weights without removing weight plates with adjustable handheld weights. They are compact, very convenient to use, and can be stored smoothly. With adjustable weights, you can do more types of exercises.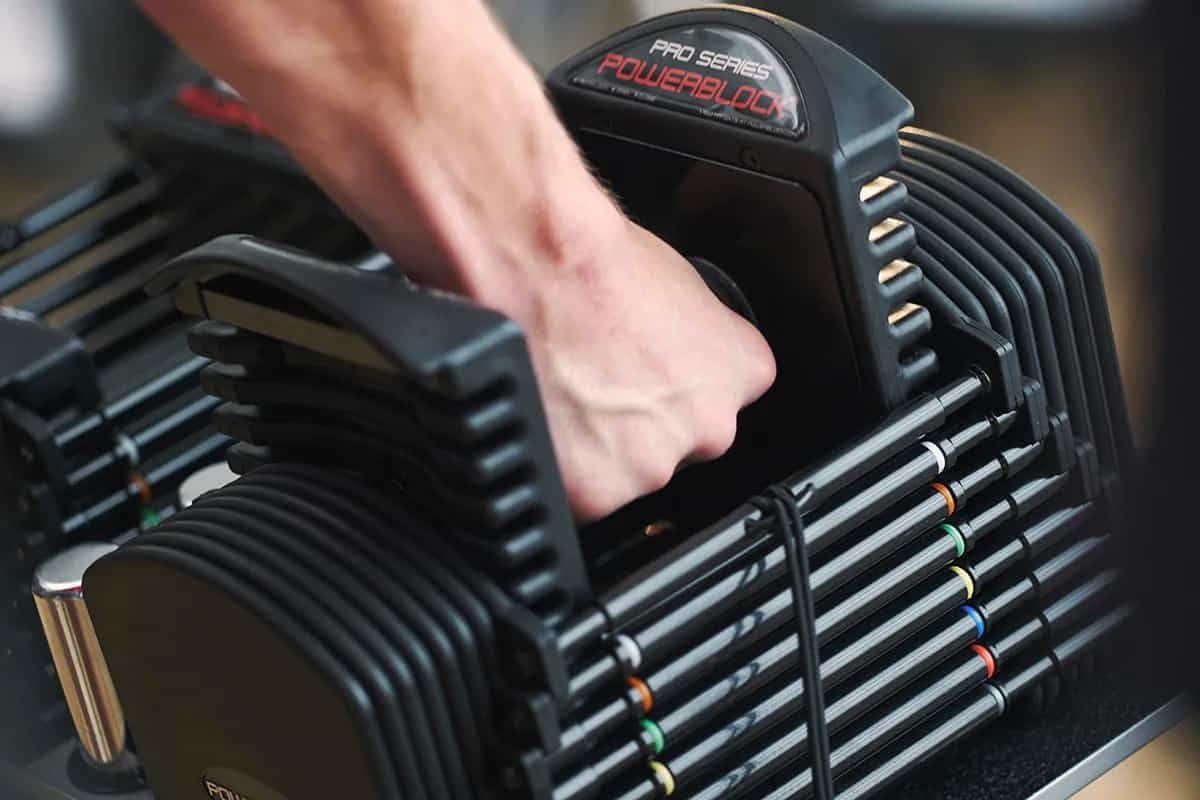 Adjustable weights help you push yourself to new heights and assist in getting faster results. Lightweights with more repetitions help improve muscular endurance, while heavyweights with lesser repetitions are for building up strength. Take a look at some of these adjustable weights for a safer, more effective, and more convenient way to workout.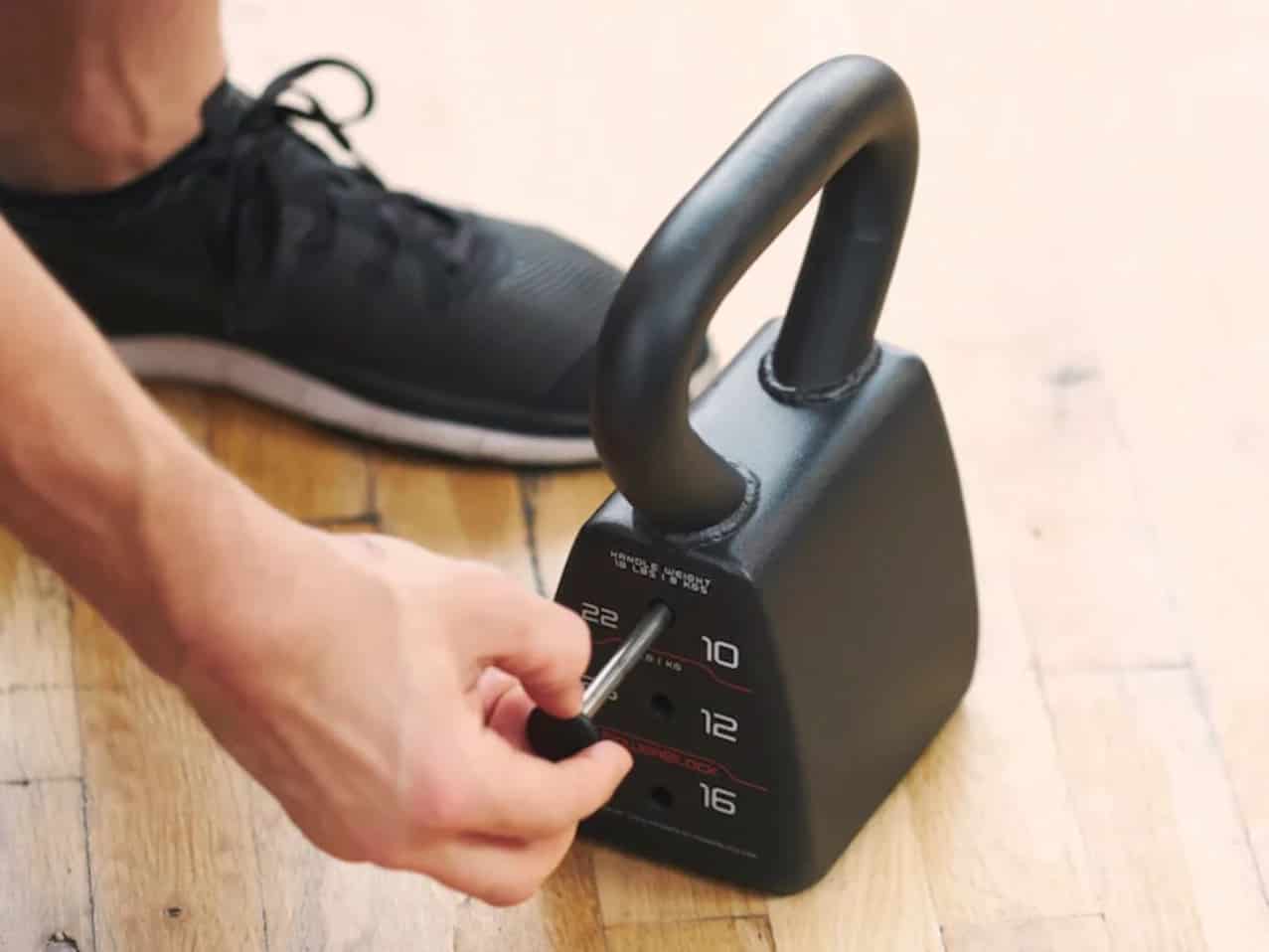 PowerBlock Sport Series – 24 Set
The PowerBlock Sport Series highlights a welded steel construction with color-coded side rails for fast weight increment identification. A single pair of PowerBlock Sport 24 Dumbbells can substitute eight pairs of standard dumbbells (the equivalent of 180 LBS of free weights), as you can adjust the weight in 3 LB increments to a max of 24 LBS on each hand.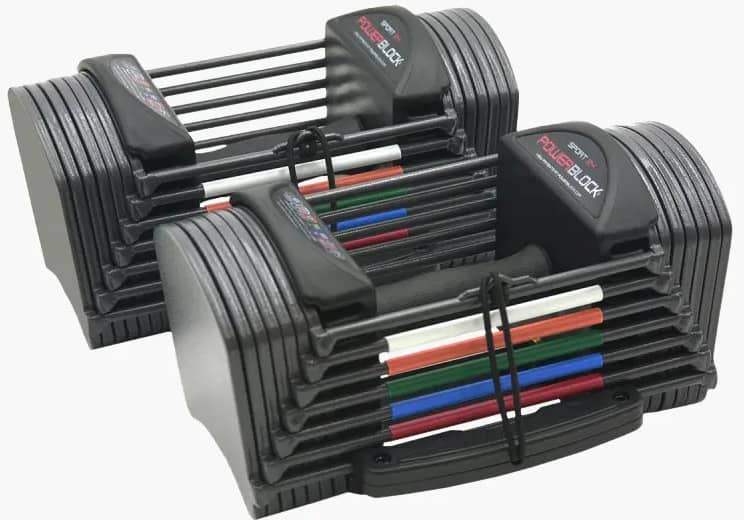 This innovation can save gyms on purchase costs and storage space. It has a durable polypropylene pin that is magnetized to ensure it stays locked in. It measures 10″ L x 5.5″ W x 5.5″ H with weight increments of 3, 6, 9, 12, 15, 18, 21, and 24 LBS (per hand).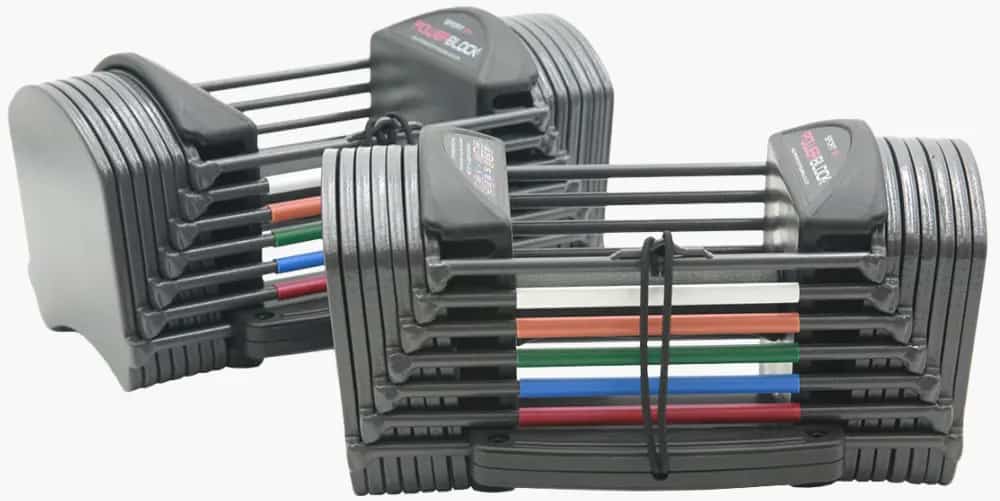 PowerBlock Pro Dumbbells
The PowerBlock Pro Dumbbells highlight urethane-coated steel weight plates and color-coded side rails that conform to a clear weight reference chart on the handle. To adjust the weight in just seconds, slide the given selector pin into the rails at the weight you want. Then reach inside the "core" and hold the ergonomic, rubber-grip handle.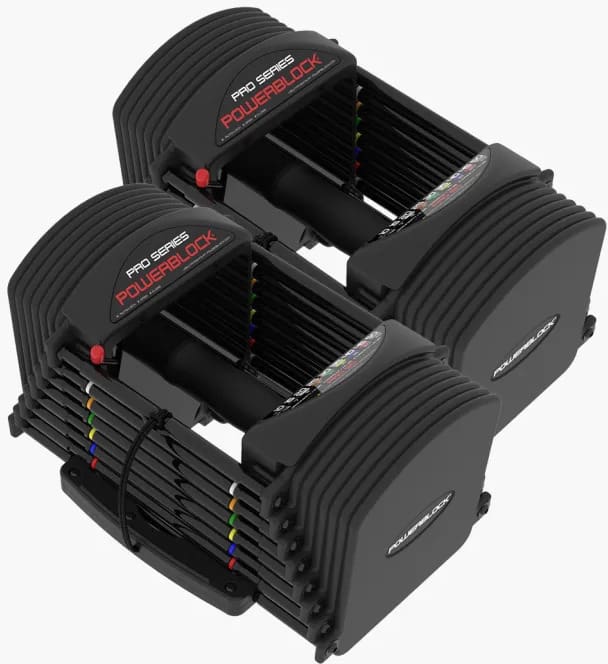 When you raise the handle, the weight you choose is also lifted. They also have an 'Auto-Lock' lever on the handle that allows the removal of two chrome ballast weights within the lower tubes of the block. One pair of dumbbells replaces 20 pairs of traditional dumbbells, the equivalent of 1049 LBS of free weights.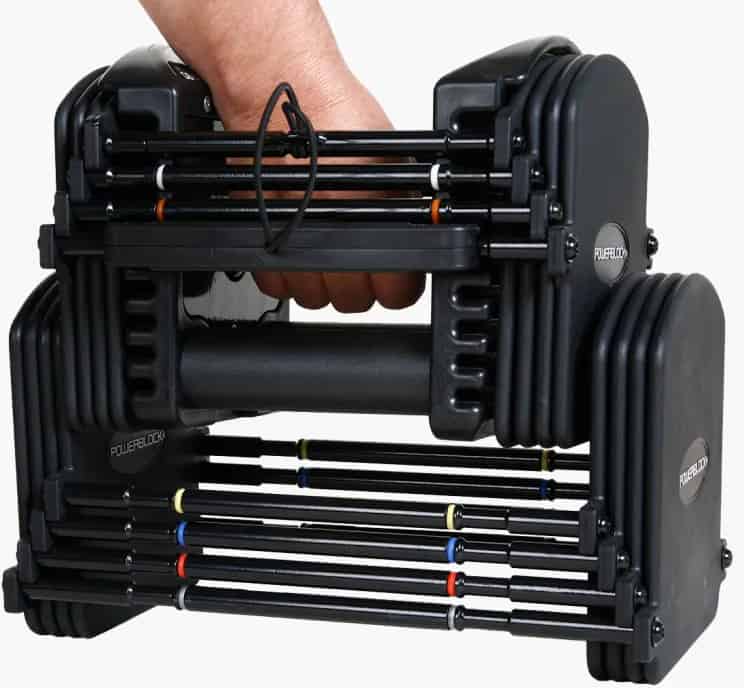 NÜOBELL
NÜOBELL from SMRTFT is a Swedish-designed, all-in-one adjustable dumbbell that utilizes real, machined steel weight plates instead of a selector dial, forming a natural feel with maximum durability. It is sold in pairs and available in 50 LB and 80 LB models and is adjustable by 5 LB increments with a simple twist of the handle, establishing your desired custom weight.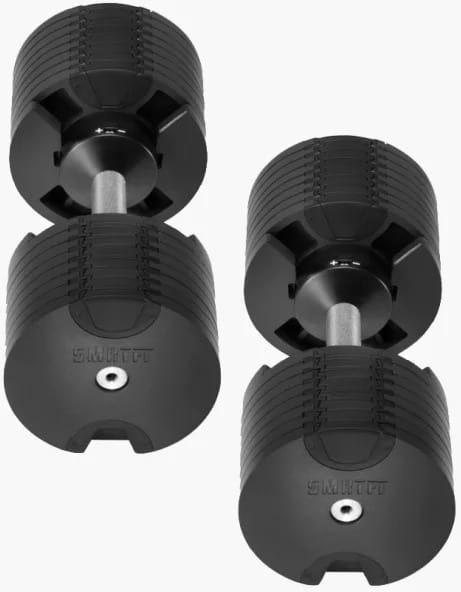 NÜOBELL has a steel and plastic construction with knurled handle and two portable cradles. Instead of requiring a whole rack of standard dumbbells for various workouts, one set of these innovative new training devices does the job on its own.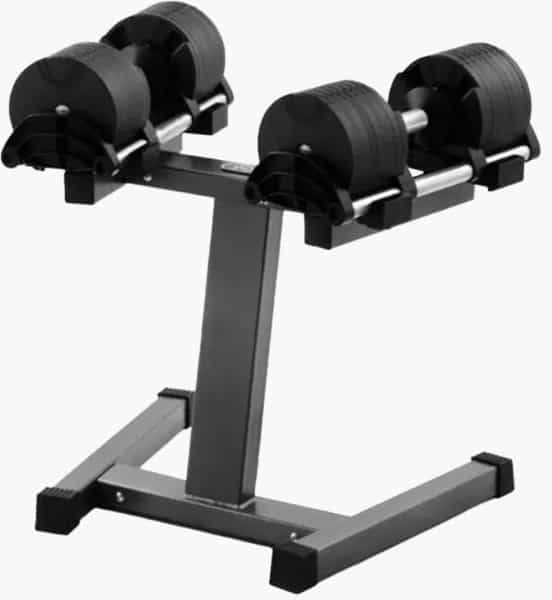 PowerBlock Adjustable Kettlebell
The PowerBlock Adjustable Kettlebell features a steel weight selection pin + magnetic lock and a uniquely contoured shell for unfailing comfort throughout your kettlebell circuit. This ergonomic and compact design is available in two deviations (18-35LB and 35-62LB) and comes in increments of 18, 22, 26, and 35 LBS.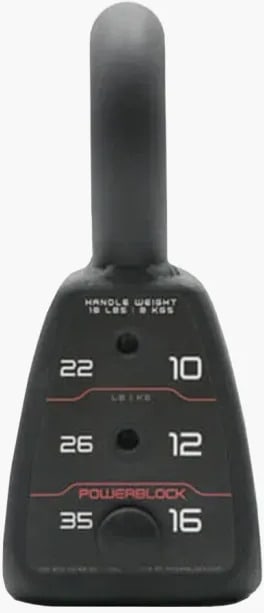 This kettlebell helps you save money, provides you with more storage space, and allows multiple athletes of all sizes and skill levels to train with the same implement. It is made for home and commercial use and has a five-year warranty.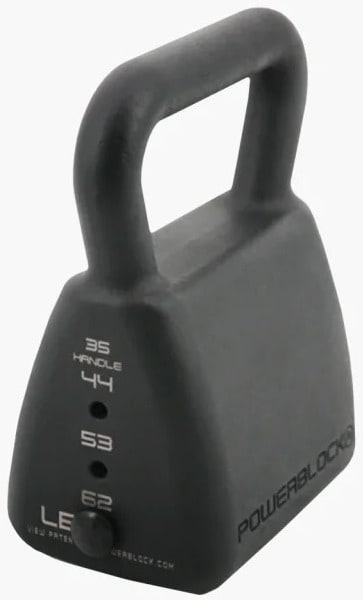 Adjustable Handheld Weight Roundup – In Summary
That's our close-up look at Adjustable Handheld Weight Roundup.
Adjustable handheld weights are cheaper and save more space than fixed weights. They are also more effective, safer, and have more exercise variations than fixed weights. Adjustable handheld weights are easier to use and offer more convenience, making them an excellent investment.
Looking for more options? Check out these other great products:
The DB25 let's you go HEAVY in a dumbbell – because it is plate loaded: Rogue DB25-10 Loadable Dumbbell.
Looking for a barbell? Check the Stainless Steel Barbells from American Barbell they are great for both bodybuilding, powerlifting, and Oly lifting.
Find more dumbbells.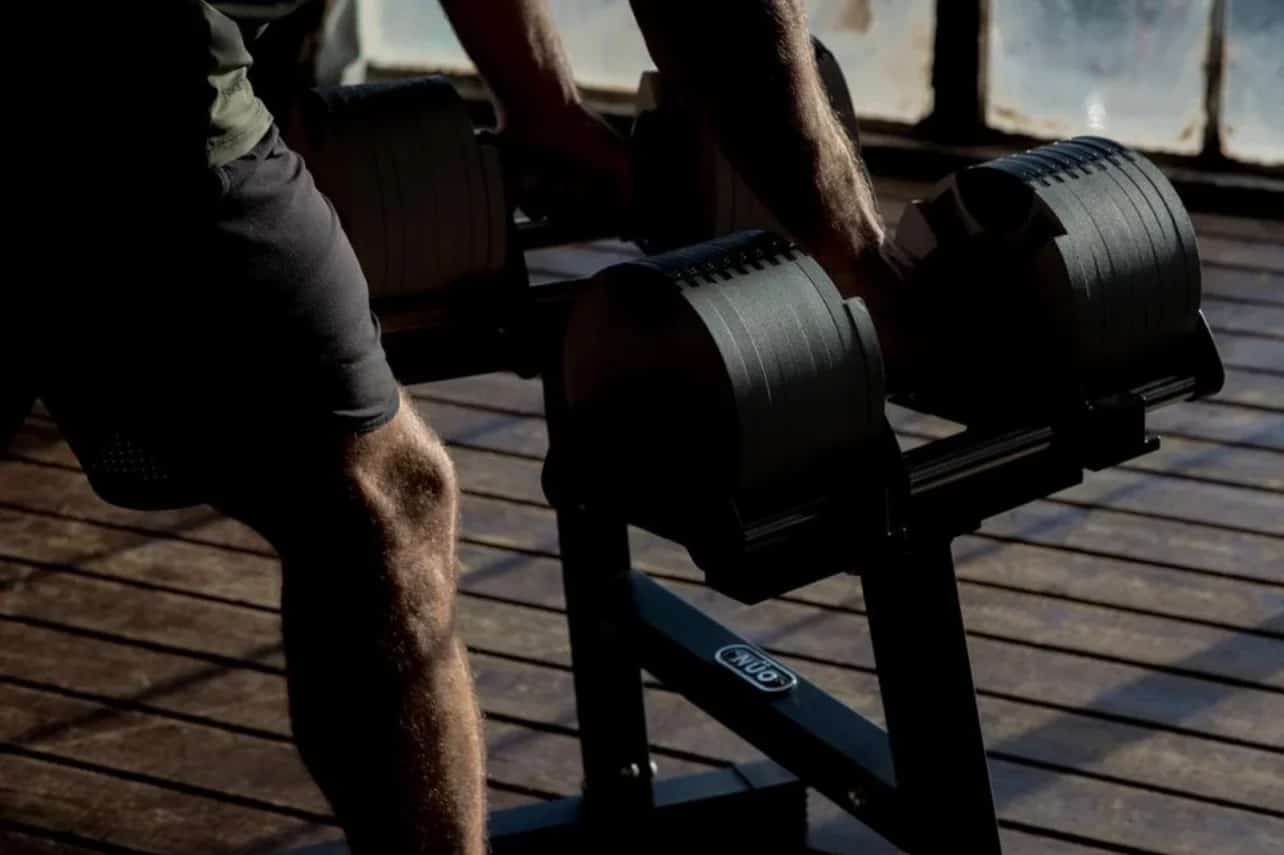 Photo Credits
Product photos on this page are property of Rogue.
This website is not affiliated or associated with CrossFit, Inc. CrossFit is a registered trademark of CrossFit, Inc.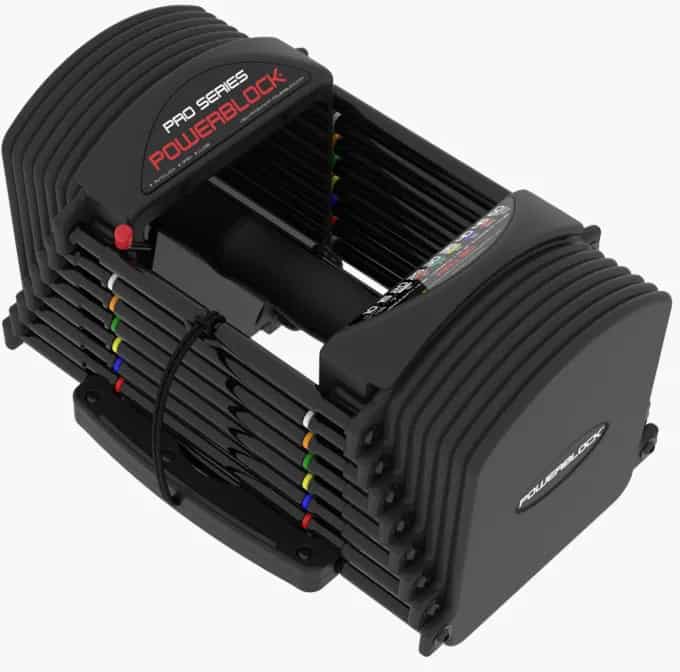 Affiliate Disclaimer
We are an affiliate of Rogue and others that sell this training gear. If you buy clothing or other training gear after clicking the links in this article, we receive a small commission at no extra cost to you. This helps us to bring you in-depth information and content on these great training products.