Let's review Elliptical machines from Sole Fitness.
The elliptical machine is one of the most prominent cardio machines at the gym and a top pick for home workout equipment. It is a low-impact machine that targets your lower and upper body while providing several benefits. Some prefer to use an elliptical over a treadmill because the former is kinder on their hips, knees, and back.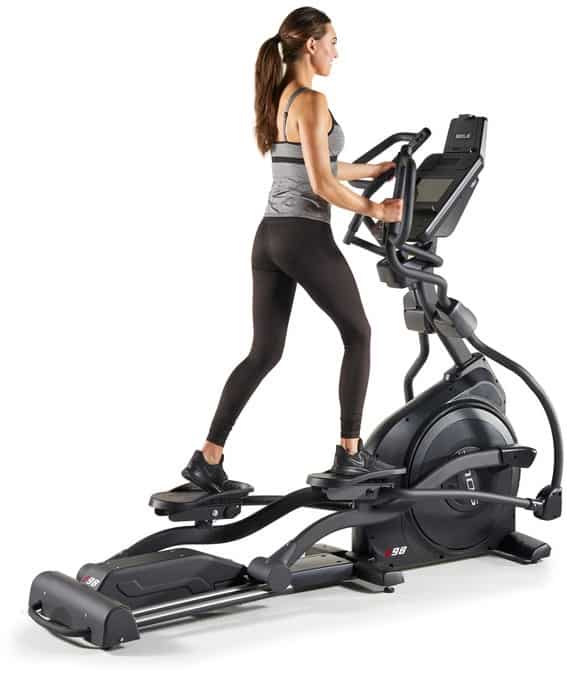 Here are some of the styles we are going to look at:
Sole Ellipticals- Overview
Maybe you are torn between getting a treadmill and an elliptical. To give you a little bit of comparison, a treadmill is a machine that gives you the ability to run or walk on a moving belt instead of going outside. An elliptical has pedals hung above the ground and are driven forward and back, or up and down, on a track. Both are cardio machines. A treadmill can build up your bones with more pacing and interval options, and the elliptical is lower-impact and gentler on joints. There is a higher chance of knee, ankle, and hip fractures in using a treadmill, while in an elliptical, you will develop lesser muscle and bone strength than in running. Choosing between the two depends on your fitness goals and preferences.
But in this article, we will focus on ellipticals, specifically Sole Ellipticals. Sole Fitness is a fast-rising fitness brand that makes high-quality yet affordable fitness equipment. They make treadmills, bikes, rowers, climbers, and ellipticals, offering warranties and service miles ahead of the competition. Sole ellipticals are more effective at muscle-sculpting and bone-strengthening compared with other basic elliptical trainers. Let's take a look at some of Sole Fitness' Ellipticals.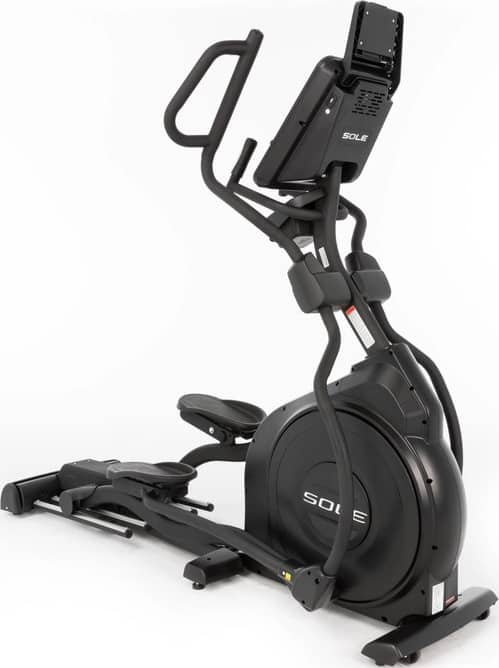 E25 Ellipticals
If you are looking for the best elliptical in town under $1,000, this is the one. The E25 Elliptical Machine is an entry-level CrossFit trainer and gives incomparable workout function and no impact on your joints. Its handlebars are molded to hold multiple grip positions so you can stay comfortable throughout the whole workout. It also has the ability to shift between forward and reverse pedaling motions to exercise various muscle groups in the lower body.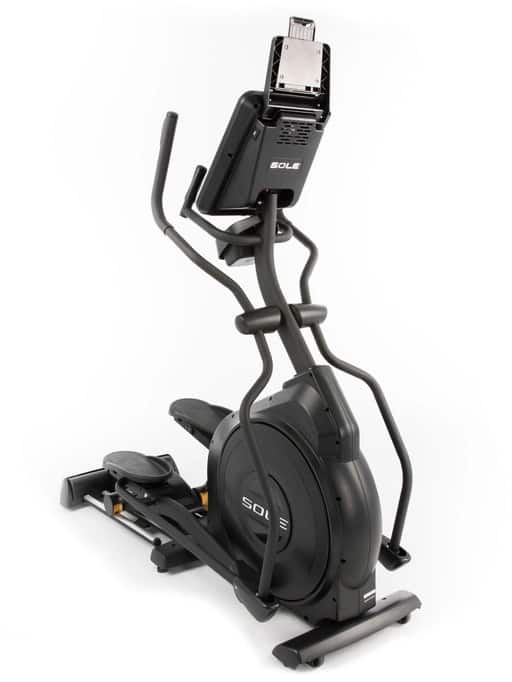 The E25 has a heavy 20-pound flywheel and a high gear ratio offering a smooth ride for the price. A completely adjustable power incline is featured in this elliptical allowing you to lift the ramp to target your lower muscle groups. The oversized foot pedals give a pleasant workout experience and were created with physical therapists to reduce the pressure on your knees and ankles. It is made of a heavy-duty steel frame backed by a lifetime warranty. Other features include a cooling fan, water bottle holder, and speakers built into the console, Bluetooth audio speakers, USB port, integrated speakers, pulse monitors, and wireless chest strap.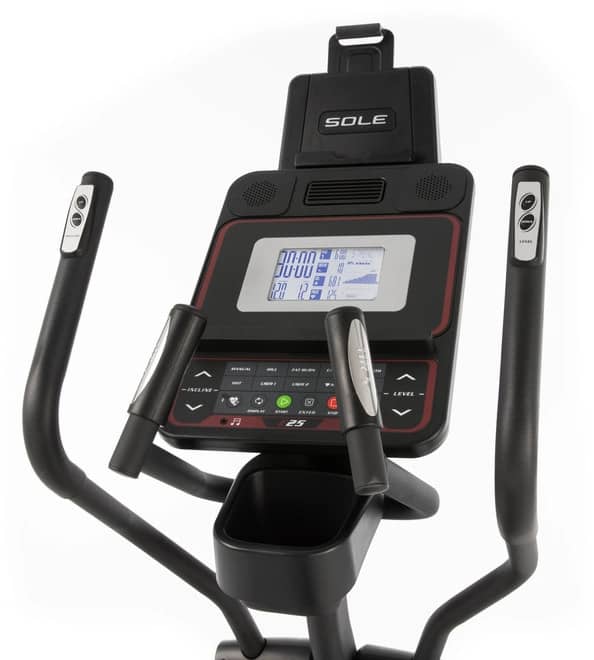 E35 Elliptical
The E35 Elliptical is the more advanced version of the E25 with improved specs and also comes at a higher price. It uses the highest grade steel used for the frame and is rated for users up to 375 lbs. Some of the main specs of the E35 consist of a front-drive layout with a 25-pound wheel, a 20-inch stride with forward/reverse motion, and a power-adjustable ramp with 30 levels of incline for focused muscle toning. It has a footprint of 82 x 31 inches, and though it can't be folded, it wouldn't take so much space. The integrated transport wheels of E35 allow you to move it when not in use.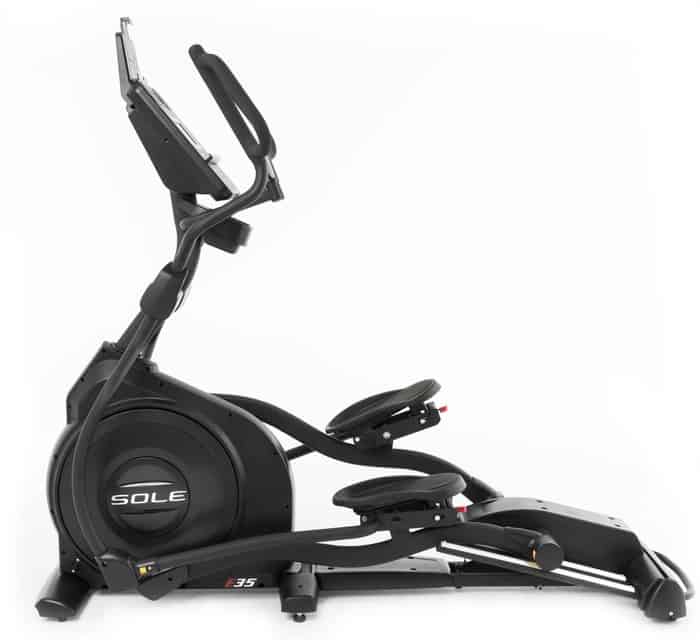 Ten various workout programs are compiled into the Sole E35's console and are presented through a 7.5″ backlit LCD screen. You have an option to choose from manual mode, two heart programs, and a set of other training programs for different fitness phases. You can document and save your workout data for export to MyFitnessPal, FitBit, and other mobile apps. It provides a full-body workout because of its forward and reverses functionality, and it has foot pedals designed by physical therapists. It also has Bluetooth audio speakers, a USB port, an integrated tablet holder, and a unique power incline technology.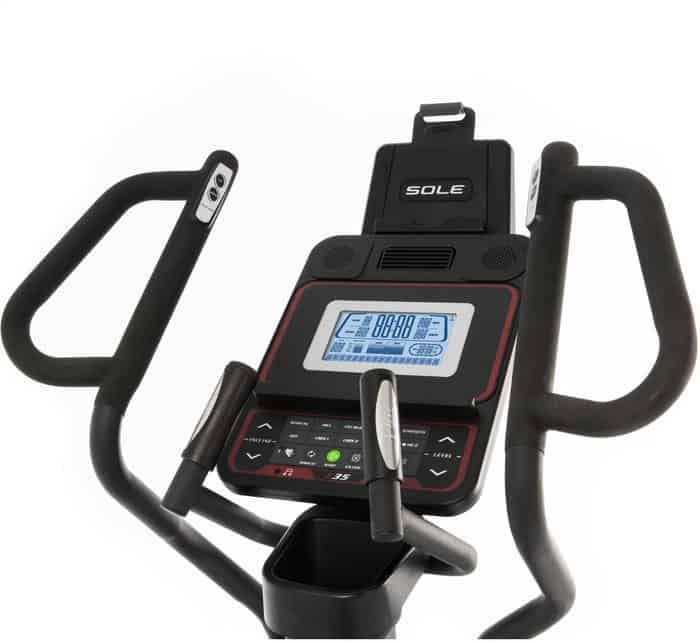 E95 Elliptical
Yearly, the E95 Elliptical is rated the number one home elliptical under $2,000 by different fitness websites. It offers ten training programs, including standard elliptical workouts, heart rate programs, and user-designed routines. These programs automatically modify the machine's incline and resistance. It also has a 30-pound magnetic front-drive, 20 incline settings, and stride lengths from 20 to 22 inches. The 10.1″ program screen is Sole's largest and highlights its best display graphics and has an easy-to-read blue text placed on a white background.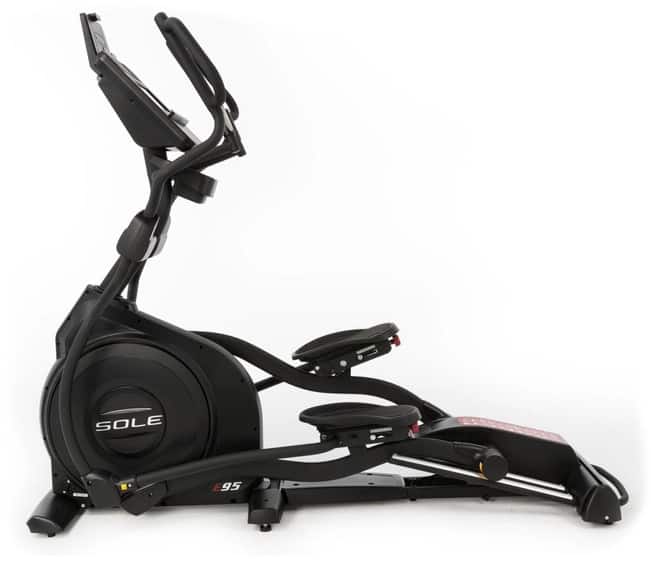 The console has an adjustable angle to guarantee a perfect view and has Bluetooth that allows a tablet, computer, or smartphone to operate as the control center. The E95 has 20 levels of incline to tone your glutes and leg muscles. The incline can be modified with handlebar-based controls or monitor controls. The magnetic resistance springs from a 30-pound flywheel and has 20 resistance levels to choose from. It has different grip positions that you can also adjust to target various muscles in the arms, shoulders, chest, and back. The E95 offers a lifetime warranty for the frame, five years for the parts and electronics, and two-year home servicing for all repairs.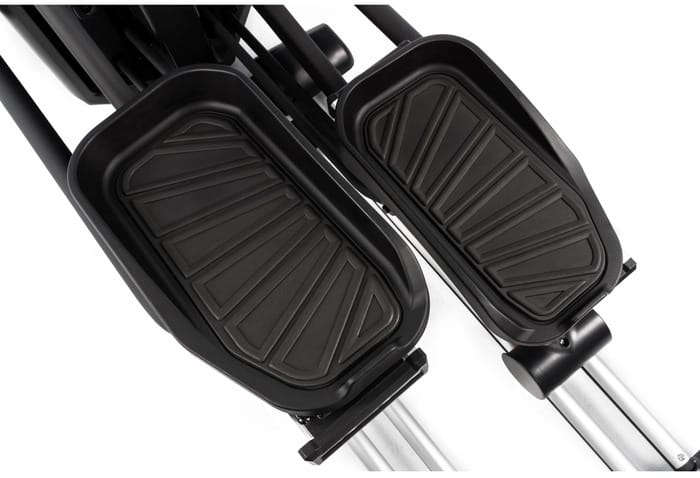 E55 Elliptical
For the compact size and quality, nothing beats the E55 Elliptical. It measures 6-feet long x 2-feet wide, can hold 375 pounds and is perfect for smaller workout spaces. Important specs of the E55 include a 20-pound flywheel, a 20″ stride, and an incline granting 20 ergonomic elliptical paths. All incline setting helps improve different muscle tissues in the lower body, making the E55 (and other Sole ellipticals) more effective in muscle-building and bone-strengthening than other ellipticals.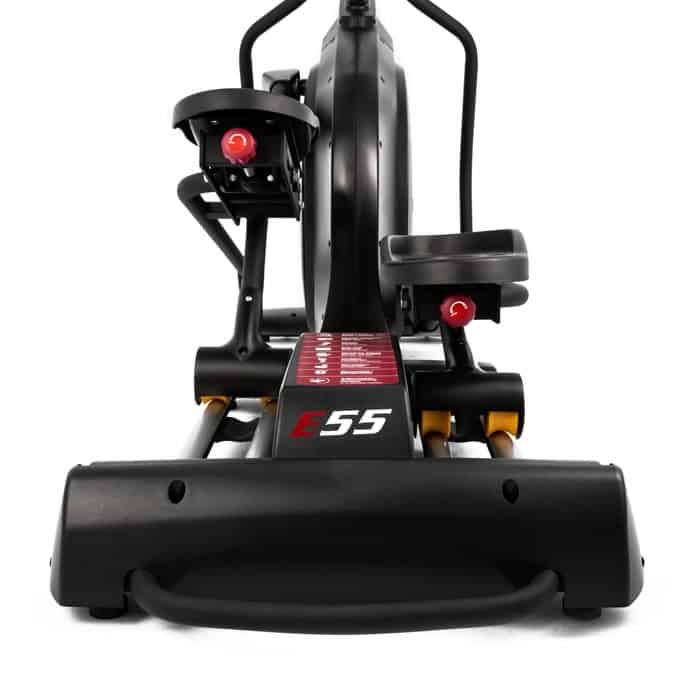 The E55 has ten-item workout menus, and each workout can control the elliptical machine's resistance and incline. It has a high contrast 9″ LCD and can also use a tablet computer or smartphone as its monitor. Its new console has an enhanced tablet computer holder and can be adjusted to provide better viewing. The E55 is compatible with a wireless chest strap to monitor your heart rate, and it also has contact pulse sensors.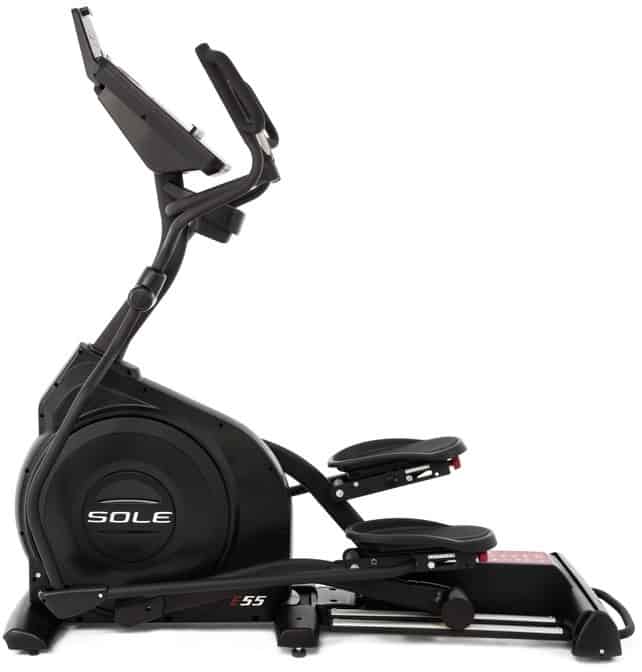 E95S Elliptical
The E95S is the newest addition to the Sole Elliptical Family. The power-adjustable stride is its main feature, ranging from 18″ to 24″ and targets various muscle groups. The 30 lb flywheel produces quiet, smooth motion and gets rid of impact and pain to knee, ankle, and hip joints. It has ten preset programs – six are standard elliptical workout programs, two use heart rate control, and two are set by the user.
The integrated technology monitors your progress in real-time and has a high-quality drive to provide a wide array of body weights and skill levels. It has a 10.1'' LCD, Bluetooth audio speakers, USB port, simple height adjustment, integrated tablet holder, and contact pulse sensors. Like all Sole Ellipticals, it is also made with the highest grade welded steel frame backed by a lifetime warranty.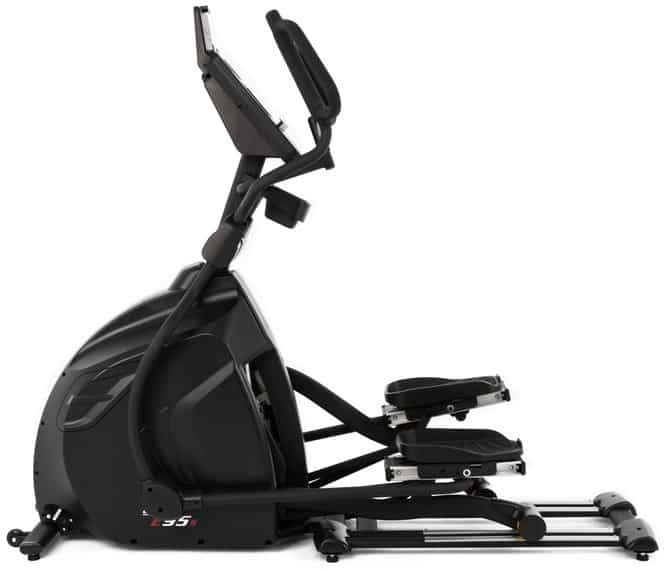 E98 Elliptical
The E98 Elliptical competes with other machines well over its price range. It has a 32 lb. flywheel and high gear ratio offering the smoothest training up to three hours a day. It has four rear wheels that provide stabilization and eradicate side-to-side motion. The E98 is manufactured to be used in light commercial settings with 20 levels of incline so you can adjust your pace to target different muscles.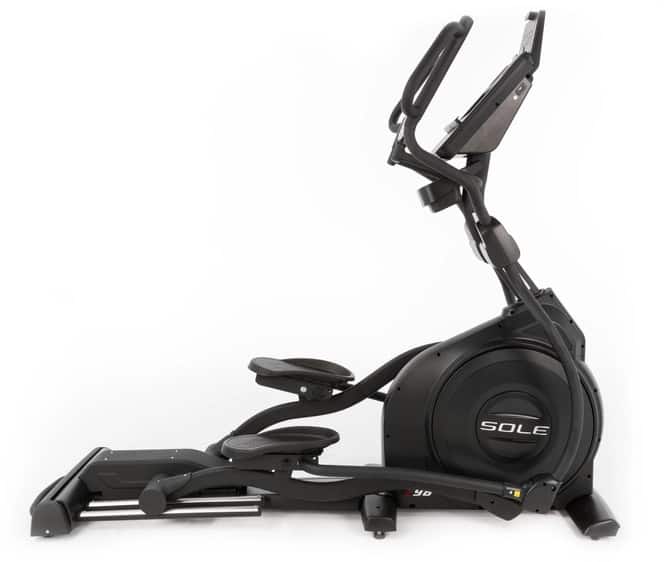 It has the best monitor with a 10.1" screen, a high-contrast display, and an adjustable angle. It has stationary handlebars and padded handlebars that support various grip positions, making it easier to do various upper-body workouts. It now has Bluetooth, and you can generate an unlimited number of user profiles with the Sole Fitness mobile app.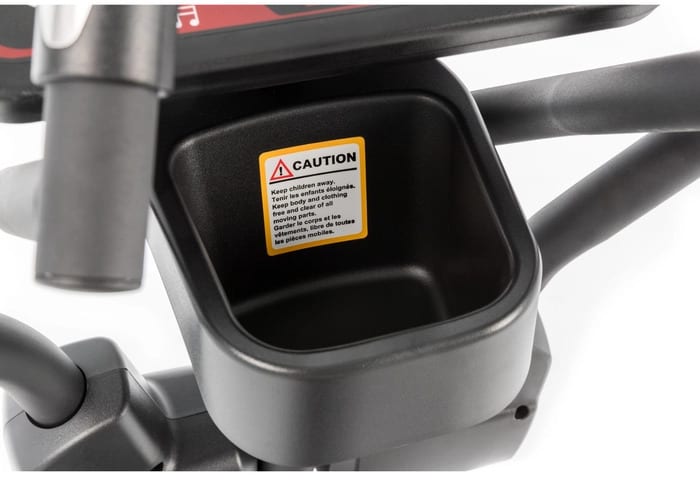 Sole Ellipticals Review – In Summary
That's our review of Sole Ellipticals.
All of the Sole Elliptical machines have a USB port, integrated tablet holder, so you can use your phone while working out, a clear and bright LCD screen with many different preset programs, and oversized foot pedals designed by physical therapists. Sole Elliptical machines provide a low-impact workout, boost cardiovascular health, improves cardio stamina and blood circulation while being gentle to your hips, knees, and back.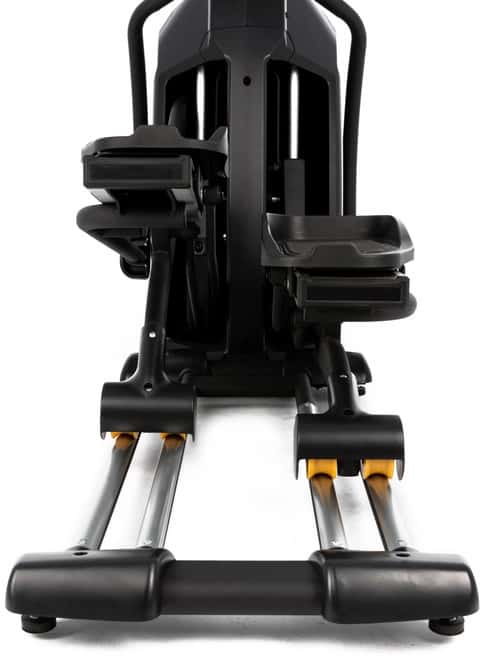 Photo Credits
Product photos on this page are property of Sole Fitness.
This website is not affiliated or associated with CrossFit, Inc. CrossFit is a registered trademark of CrossFit, Inc.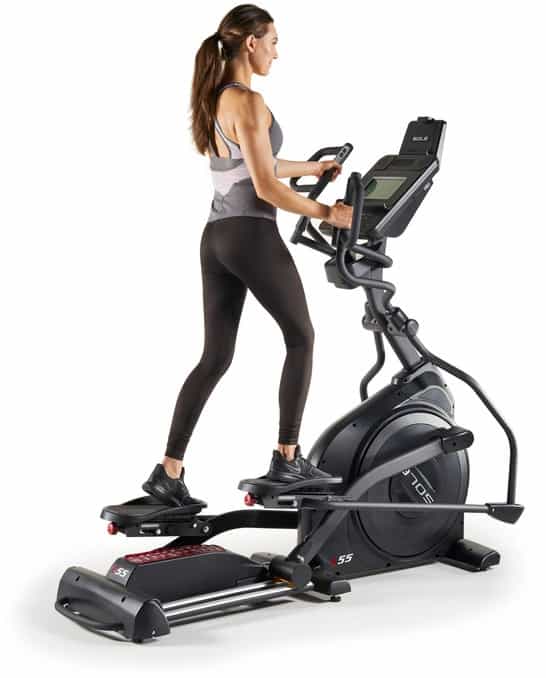 Affiliate Disclaimer
We are an affiliate of Sole Fitness and others that sell this training gear. If you buy clothing or other training gear after clicking the links in this article, we receive a small commission at no extra cost to you. This helps us to bring you in-depth information and content on these great training products.