Need a budget priced Oly lifting shoe for CrossFit? Check out the Lifter PR III Weightlifting Shoe from Reebok.
Weightlifting is a technical, strength sport that requires progressively lifting heavy weights. The snatch and the clean and jerk are the two basic lifts weightlifters need to perform in weightlifting. This activity should have exceptional coordination, flexibility, balance, strength, and speed and requires the right gear, specifically the right shoes.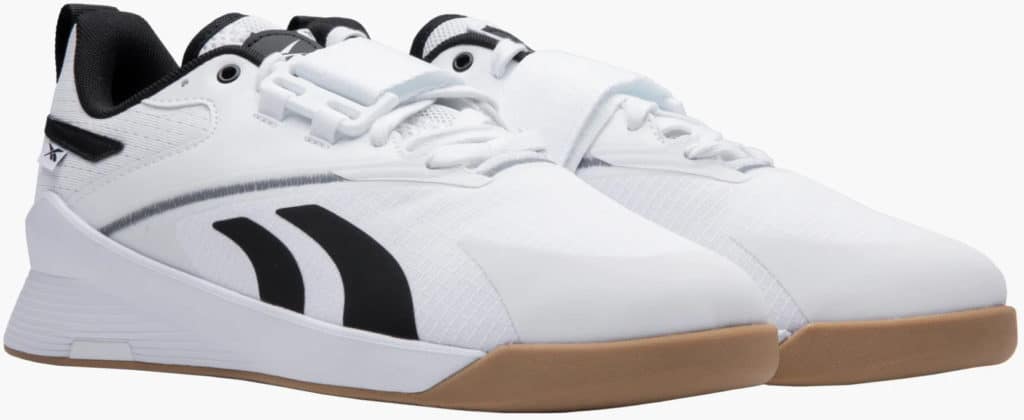 Lift heavy with the right shoes: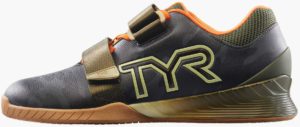 Reebok Lifter PR III Weightlifting Shoe – Overview
The original Lifter PR is designed as a weightlifting shoe to help fitness enthusiasts break personal records. It is ideal for athletes who want to enhance their weightlifting form while executing cleans and jerks, deadlifts, squats, and snatches. It is also perfect if you are looking for a shoe that can survive rigorous training.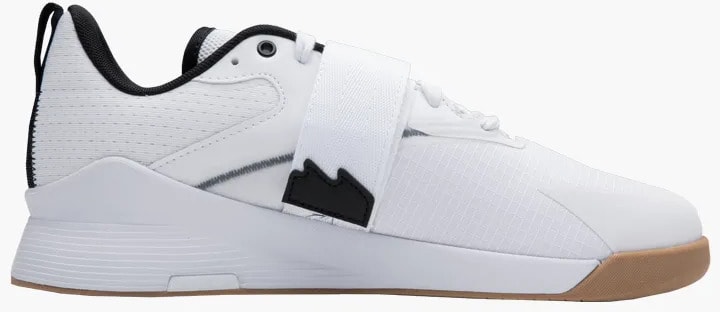 Every part of Lifter PR is created with personal records in mind and has a custom fit to secure you and keep you grounded. Now on its third iteration, the Reebok Lifter PR has become the pinnacle of stability, durability, and comfort. Let's see the all-new Lifter PR III and its new features, as well as other impressive weightlifting shoes for improved and safe lifting.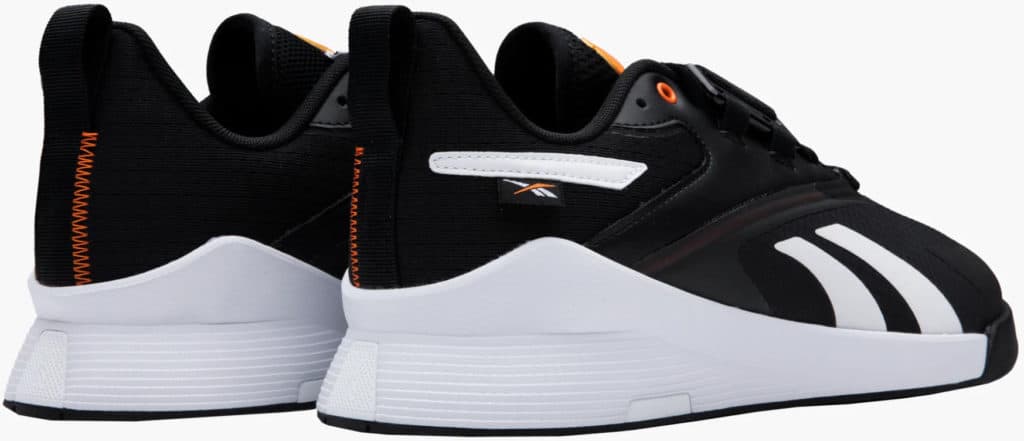 Reebok Lifter PR III
The Reebok Lifter PR III is made to strive for personal records and is a battle-tested weightlifting shoe. This latest edition comprises an 18mm heel-to-toe drop, advanced for a reliable foundation and explosiveness on the platform. It has an all-surface rubber outsole that adds solid traction and an EVA foam midsole that delivers lightweight cushioning from warm-up to cool-down.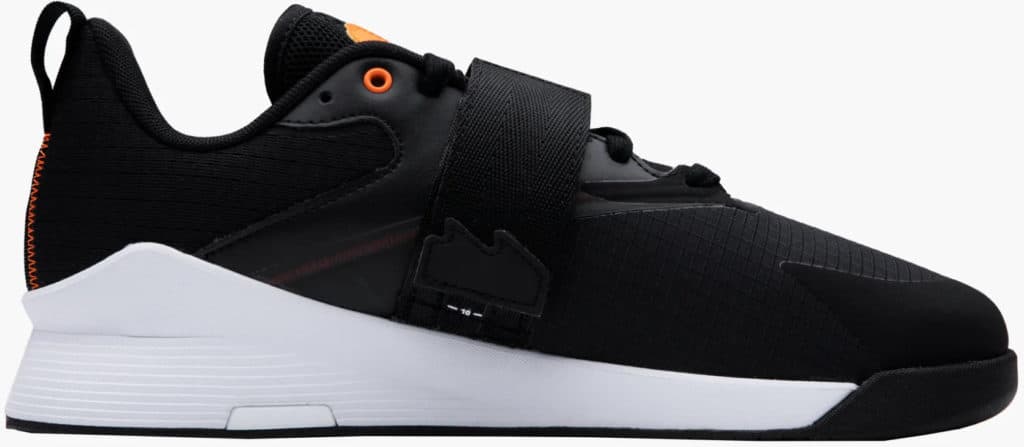 Lifter PR III also has a midfoot strap for an additional secure lockdown fit and a light textile upper for better airflow. This shoe has a breathable textile upper, and Reebok branding and comes in two different colorways.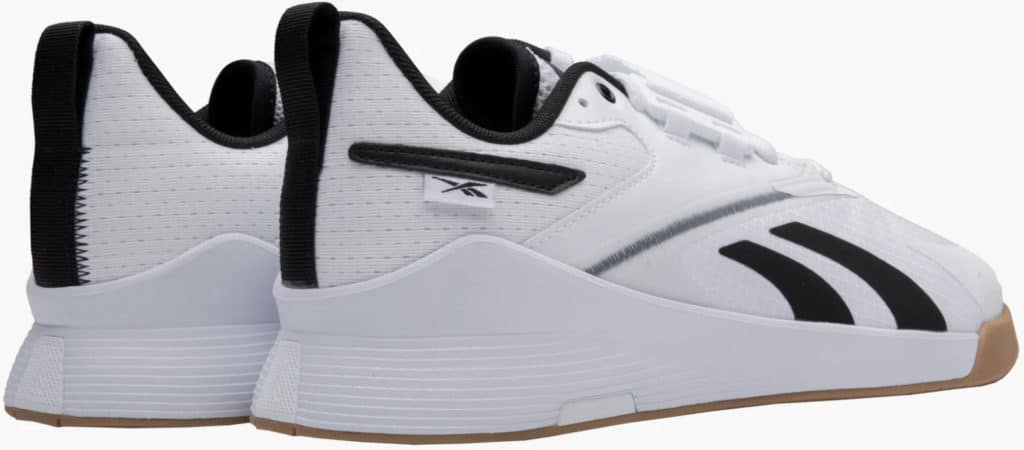 Premium Option: Reebok Legacy Lifter II – Men's
The Reebok Legacy Lifter II is a premier shoe with a bold new design. It has an anatomical shape with natural contours for support and maximum power. This shoe has a textile upper for consistent, comfortable airflow and breathability. The lockdown straps give you a secure wrap-around fit for full foot wrap. It has a raised heel and TPU clip for maximum stability on the platform.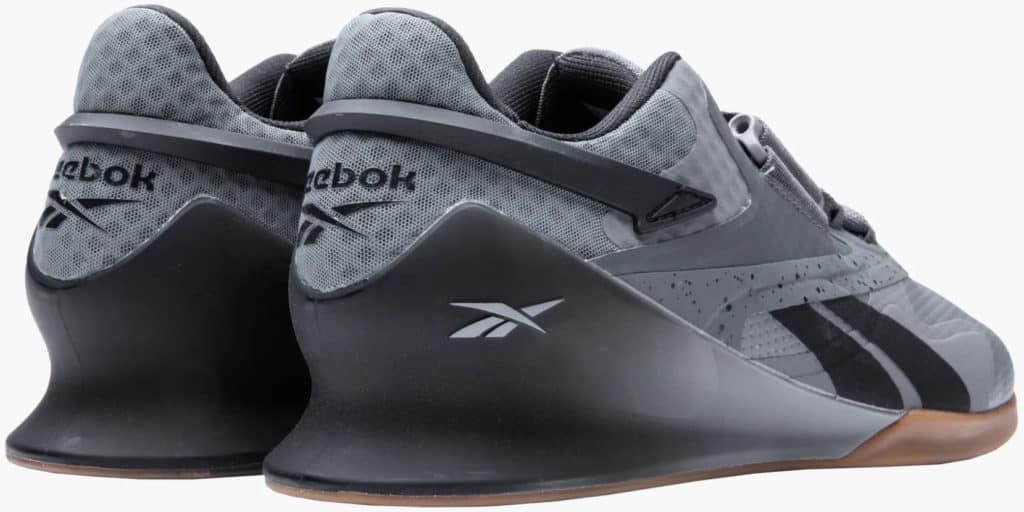 The grip rubber on the outsole of the Legacy Lifter II is battle tested for confirmed traction and protection. The collar features 100% ETC anti-microbial lining for reduced heat and abrasions and a full foam lining with an Achilles pad for added comfort.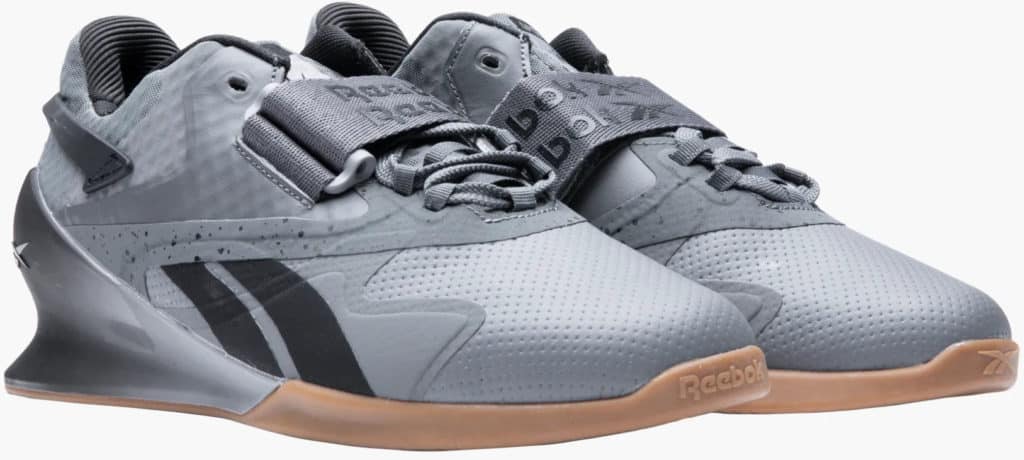 Competitor: Nike Savaleos 4
Nike Savaleos 4 is enhanced for utmost stability on the heaviest lifts. It has a flat, wide sole that makes a solid base under pressure and an elevated heel for peak power transfer. This shoe has a hook-and-loop strap that locks down the midfoot and a rugged midsole structure that provides superior power transfer from the ground—vital for explosiveness.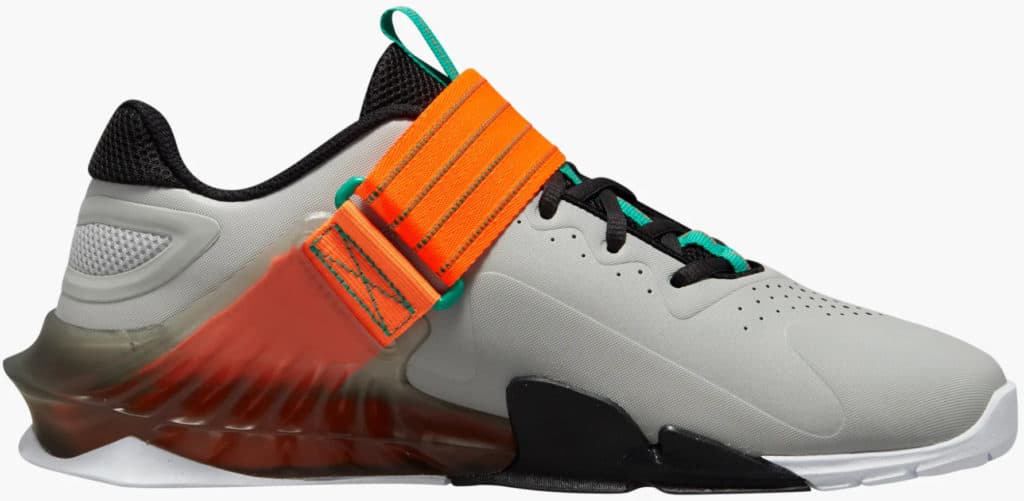 The Savaleos also includes a padded mesh inset at the heel for breathability and impact absorption. It also has a padded tongue and collar with "Nike Weightlifting" branding and a 15mm heel height.

Premium Competitor: Nike Romaleos 4
Known as the next-level Olympic shoe, the Nike Romaleos 4 is revamped for efficient power transfer, absolute stability, and a lockdown fit. It features a supportive midsole and a wide, flat outsole, with adjustable straps over the laces at the midfoot to secure the foot during high-intensity workouts.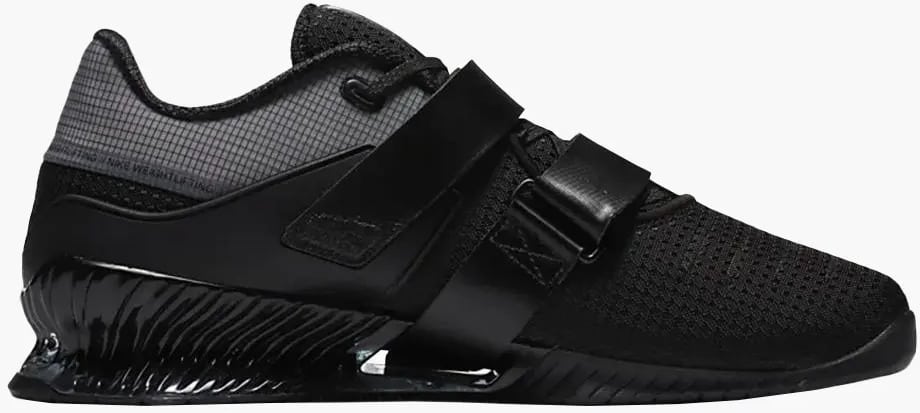 The 20mm heel-to-toe drop decreases the ankle flexion needed at the bottom of a lift. This and the solid midsole allows greater explosiveness off the ground. The wide heel of the Romaleos 4 forms a more stable foundation for heavy lifts, while durable rubber treads provide valuable traction.

Premium Competitor: Adidas Adipower III Weightlifting Shoes
The Adidas Adipower III Weightlifting Shoe embodies the most technical weightlifting shoe Adidas has ever made. It is a unisex weightlifting shoe that highlights a robust ripstop upper with exceptional breathability and a high-density TPU midsole for lockdown stability.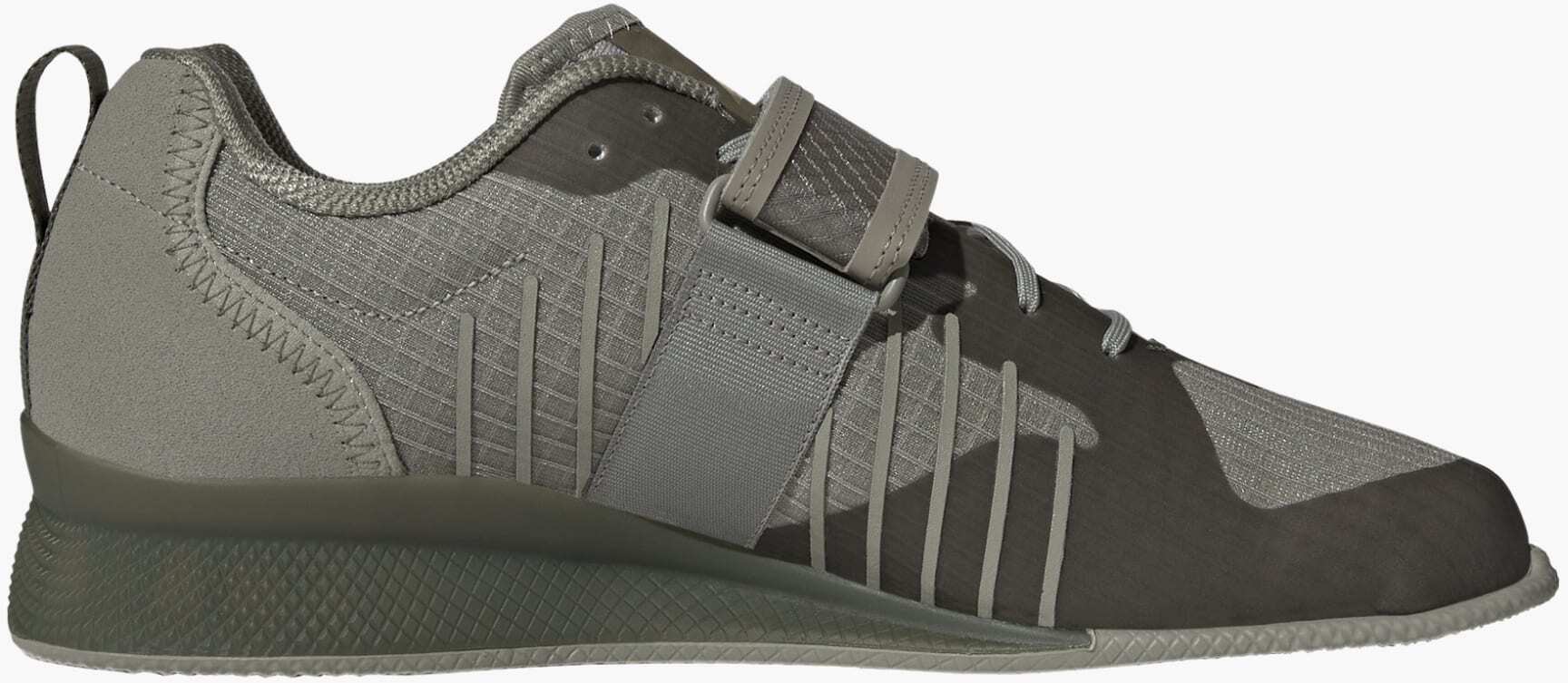 This shoe also has an interior reinforcement in the forefoot for lateral support and a rubber outsole for excellent traction and grip. The 22mm heel height is configured explicitly for the Olympic snatch and clean & jerk, and the hook-and-loop strap and lacing closure deliver a solid, custom fit.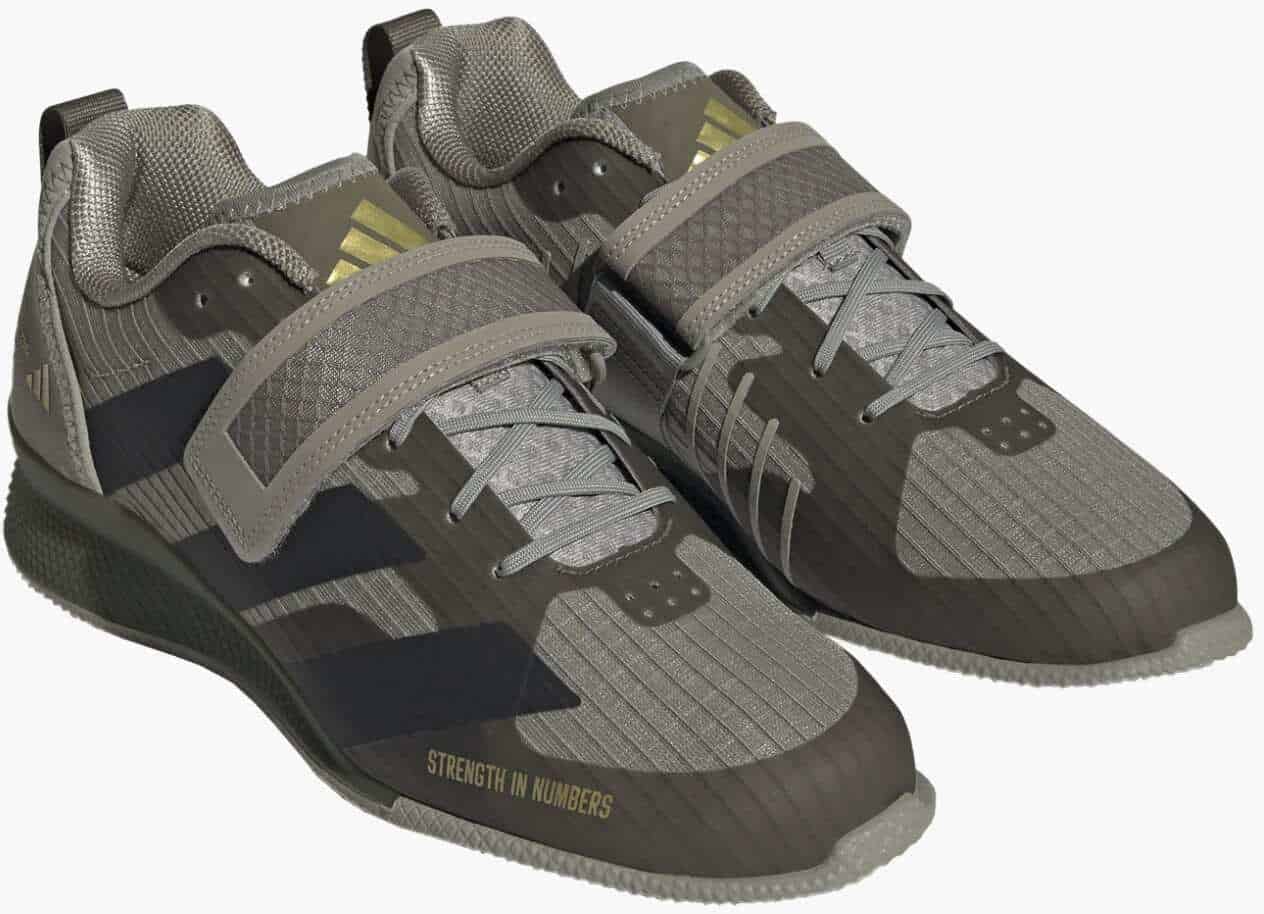 New Kid on the Block: TYR-1 L-1 Weightlifting Shoe
The L-1 Lifter highlights a patent-pending anatomical toe box, adjustable double straps, and a wide flat sole for excellent stability through the most grueling training.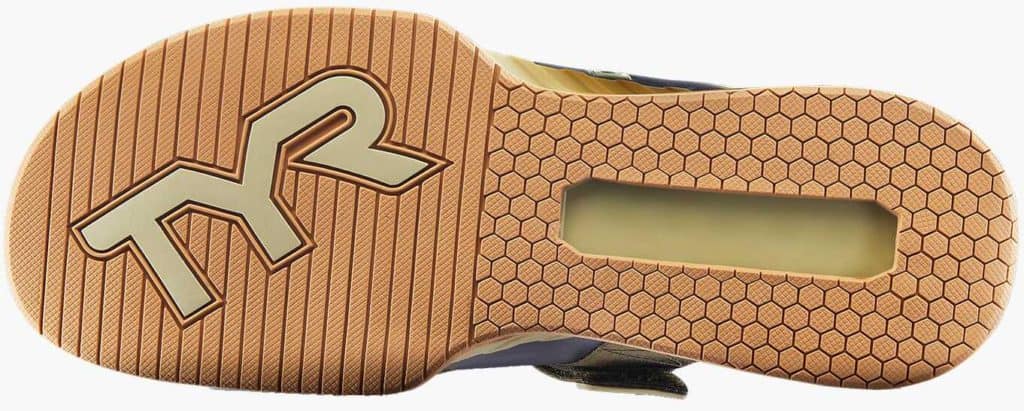 It has a 21mm heel-to-toe drop that permits a more upright torso during lifts and helps enhance squat depth. The unique, extra wide toe box also encourages a more natural, non-constrained fit for comfortable and effective lifting.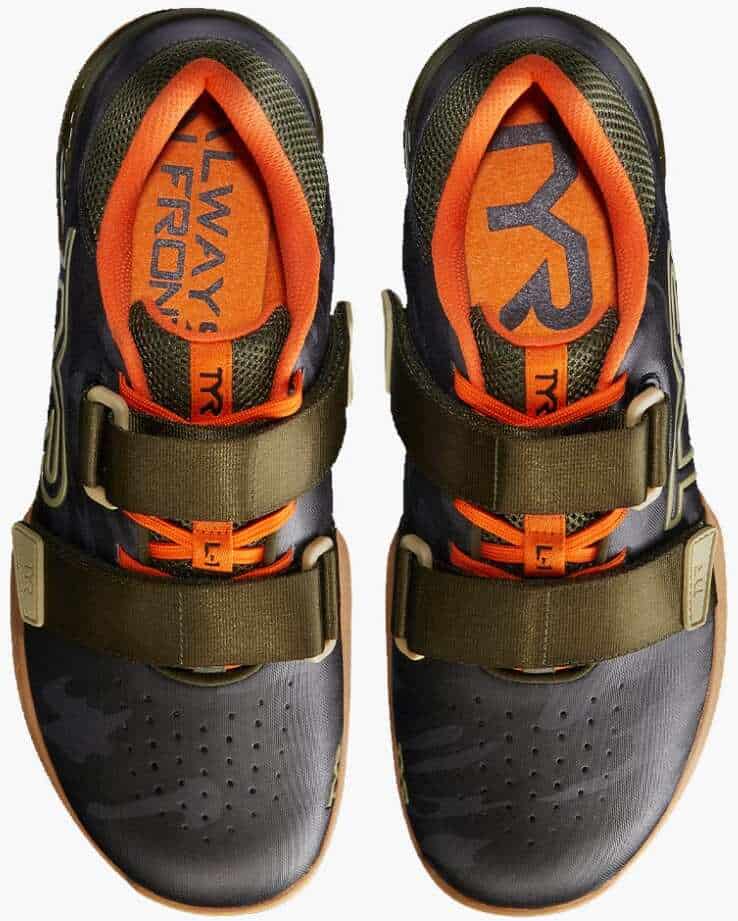 Why Do You Need Olympic Weightlifting Shoes?

Weightlifting shoes have improved mechanical angles at the base of a squat position, making them highly beneficial. The raised heel makes your heel perform less dorsiflexion and reduces the demand for flexion to reach the bottom of your squat. Another reason why weightlifting shoes are essential is that their weight, density, and flatness increase stability, so you feel more locked in and firm on the ground. Weightlifting shoes are not made to help you squat and squat well—you should already know how to squat correctly before wearing them. They make lifting a little easier, especially when you are doing slow lifts such as squats, presses, etc.
Wearing weightlifting shoes during lifting makes a huge difference in cushioning, shape, and construction than wearing regular shoes. Researchers at the University of Northern Colorado conducted a study and followed the distinctions when fit, college-aged males completed repetitions of squats at 60% of their full ability. The researchers observed the range of motion (ROM), trunk displacement, and ankle flexibility. The study participants aimlessly switched between running shoes and an unnamed brand of weightlifting shoes.
As expected, the weightlifting shoes made a difference with ankle flexion because of the lifted position of the heel in weightlifting shoes. This shows that it was easier for the participants to maintain proper squat form during the exercise. Their knees moved over the toes more smoothly, promoting better form and performance, while their thighs and hips stayed vertical with less leaning forward.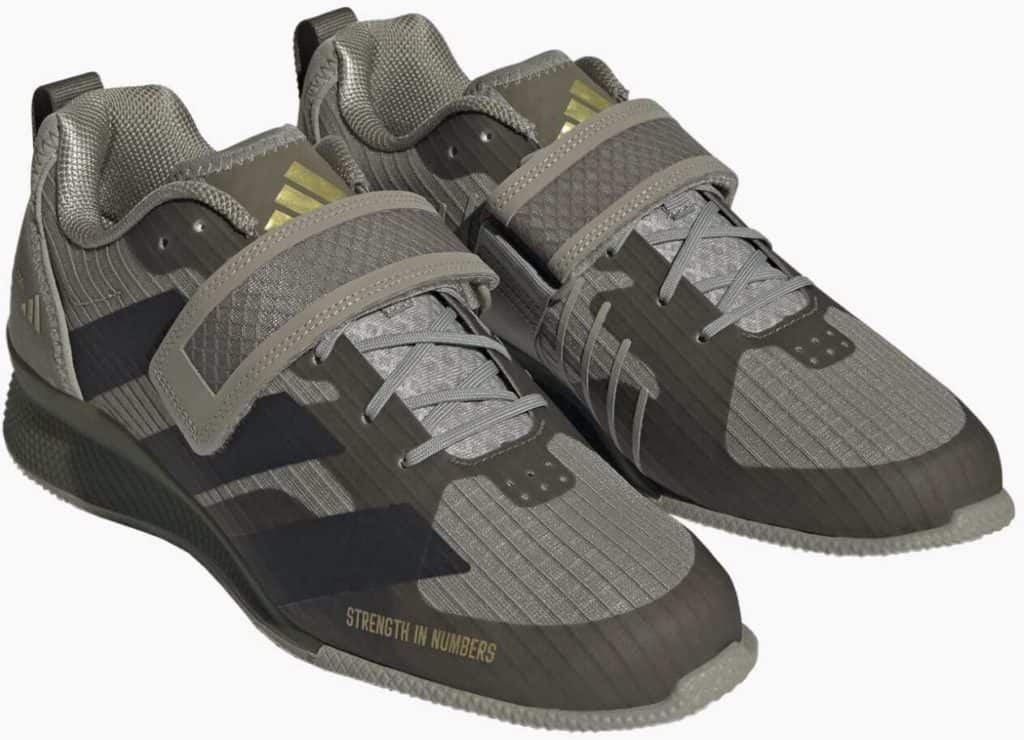 Additionally, the weightlifting shoes induced less torso displacement than the running shoes. The athletes had lower forward lean and could shift their energy upward during the exercise. The researchers speculated that this was because of the reduced lower back stress. The participants themselves concluded that squats were also easier to perform in weightlifting shoes than in running shoes. The study results imply that weightlifting shoes encourage better form and help prevent injury.
Whether you are a competitive weightlifter or not, wearing weightlifting shoes helps you gain positions or postures excellent for the snatch and clean & jerk and provides greater stability in all directions with the broader base of the stiffer sole. Weightlifting shoes also allow more of the force you deliver to elevate and accelerate the bar because the hard soles will absorb very little. This means you lift more weight with a lesser risk of injury.
Here, we have stated the benefits of wearing weightlifting shoes and how they lessen the risk of injury, but if you are not sold to wearing weightlifting shoes when lifting, it's still okay. There is no rule in the IWF or USAW that mainly demands the use of weightlifting shoes, although there are some simple conditions.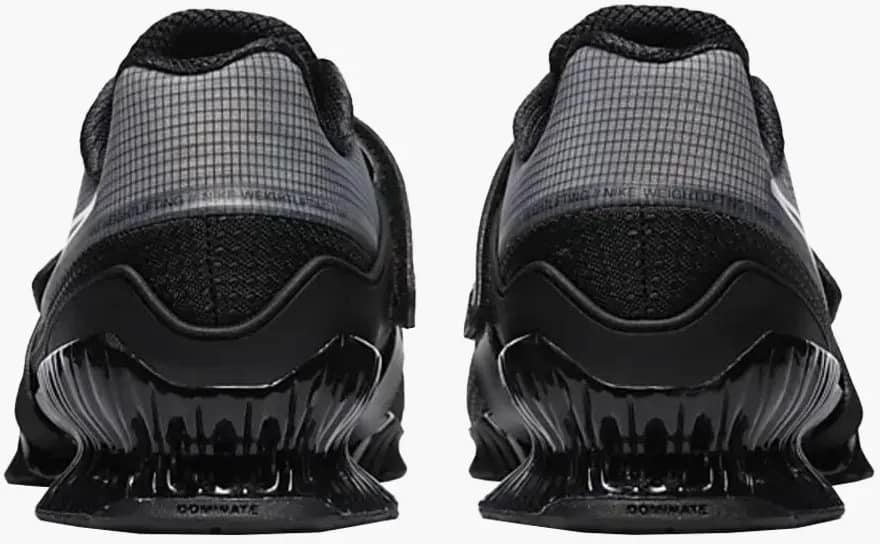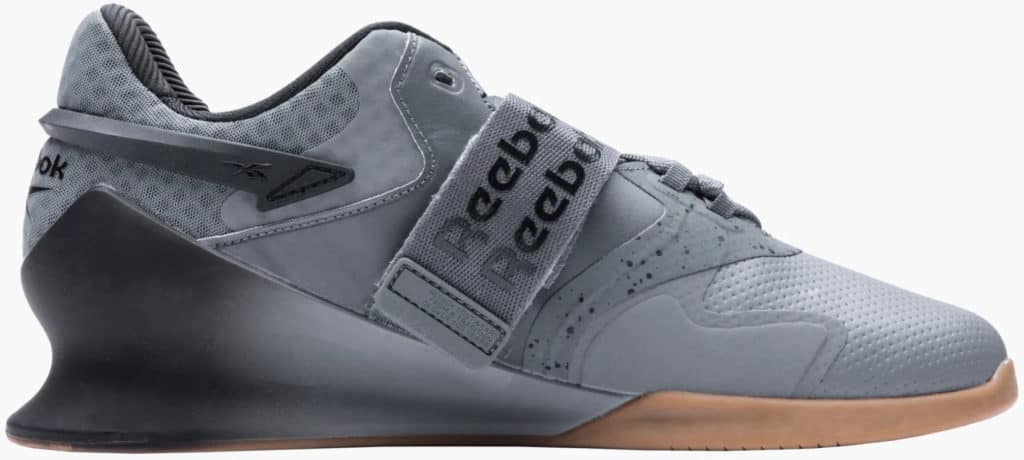 Reebok Lifter PR III Weightlifting Shoe – In Summary
That's our close-up look at the Reebok Lifter PR III Weightlifting Shoe.
The Reebok Lifter PR III symbolizes the peak of stability, durability, and comfort. The Lifter PR series is made with breaking personal records in mind and is built to endure weightlifting training. Lifter PR III comes in Core Black/Ftwr White/Smash Orange and Fwtr White/Core Black/Reebok Rubber Gum and different sizes for men.
Looking for more options? Check out these other great products:
The
Adidas Powerlift 5 Weightlifting Shoes are also a budget option – but still solid.
The premium option is the
Legacy Lifter II Weightlifting Shoes for Women.
More products from Reebok.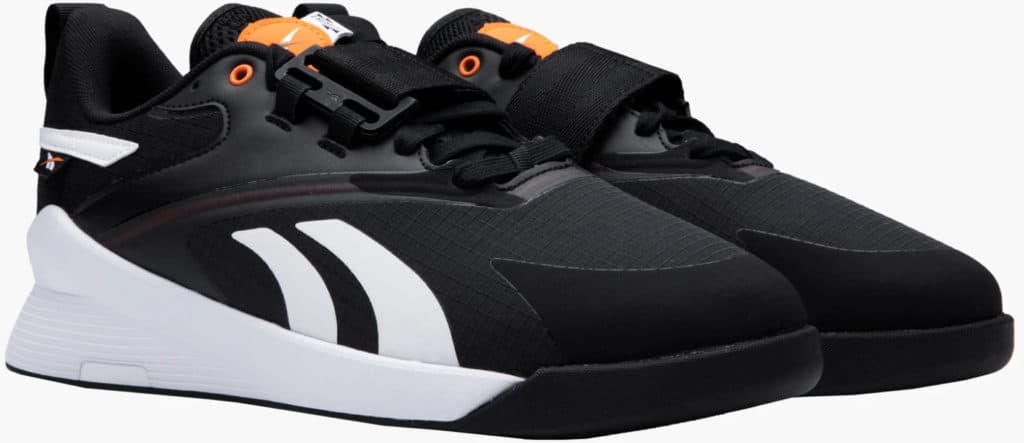 Photo Credits
Product photos on this page are property of Reebok.
This website is not affiliated or associated with CrossFit, Inc. CrossFit is a registered trademark of CrossFit, Inc.

Affiliate Disclaimer
We are an affiliate of Rogue Fitness and others that sell this training gear. If you buy clothing or other training gear after clicking the links in this article, we receive a small commission at no extra cost to you. This helps us to bring you in-depth information and content on these great training products.