Rogue has released the 3rd version of the
Echo Bike
. Grab one while they last!
Let's review Deadlift Bar Jacks from Rogue.
The deadlift has many benefits, and it is one of the best exercises that you can do to build muscles and increase cardio endurance. But loading and unloading the bar can be a major nuisance. To make your life a lot easier, Deadlift Bar Jacks are made.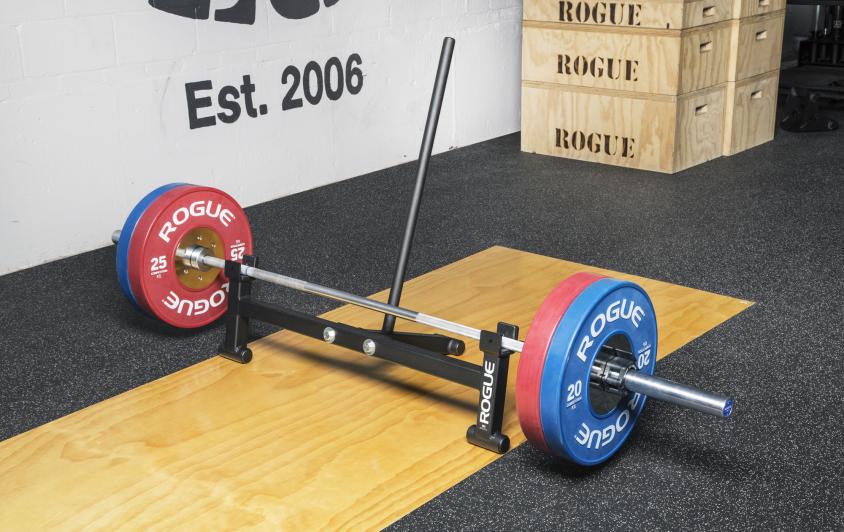 Here are some of the styles we are going to look at:
Rogue Deadlift Bar Jack Minireview
Here's a review of the Deadlift Bar Jack from Rogue:
Deadlift Bar Jack – Overview
Deadlifting is raising a loaded barbell up and putting it back down. The deadlift will challenge and test your strength and durability, and in challenging you, you'll gain more strength and stamina. Regular training of deadlifts will benefit you in everyday life as it is also a form of functional fitness.
A deadlift bar jack may not be in your mind when it comes to fitness equipment but if you are in weightlifting and regularly load and unload plates, getting a bar jack is an excellent idea to save you time. Rogue Fitness manufactures different fitness equipment, including deadlift bar jacks. Now you can get the pain out of loading and unloading heavy barbells for deads and other lifts that begin from the ground. Rogue offers four kinds of jacks to give you options for your preference.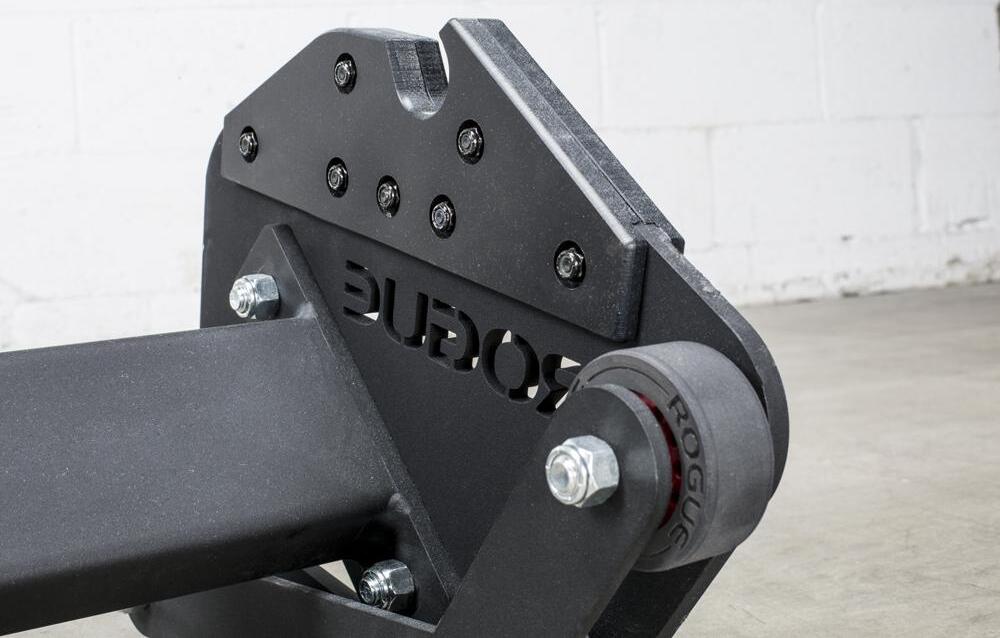 Rogue Deadlift Bar Jack
Using the Rogue Deadlift Bar is very easy and straightforward: simply prop the jack under the bar, pull the handle back to raise, and slide on added weight like you would if the bar was racked. It is made of a 2×2" 11-Gauge Steel and is durable enough to hold a fully loaded bar off the ground and fixed for as long as required.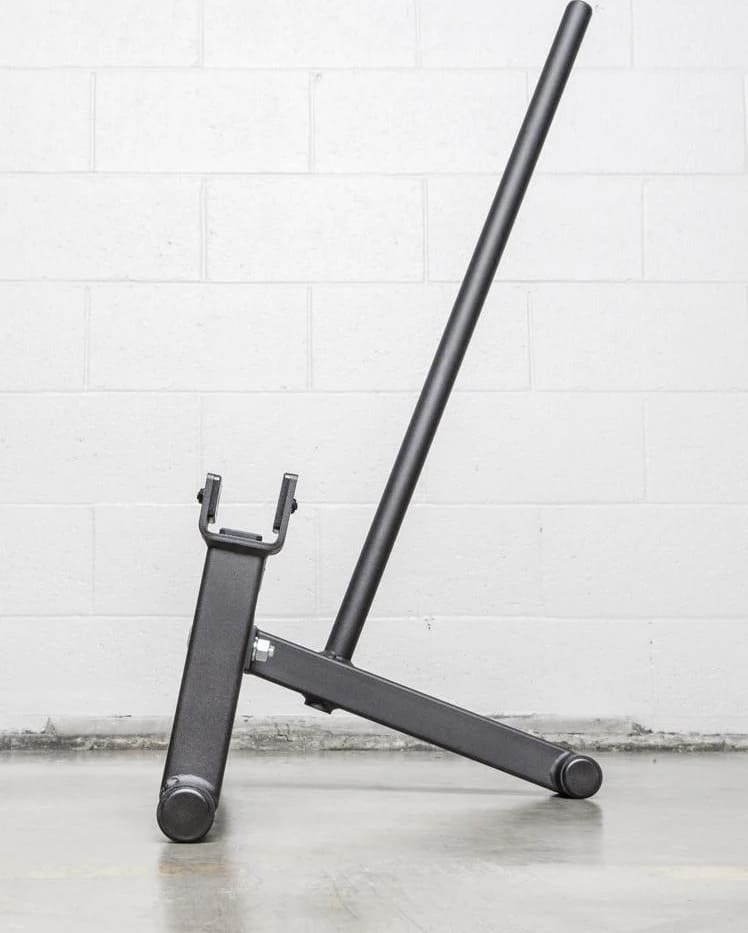 It includes UHMW plastic to preserve the bar's knurling and finish through repeated uses. With its 1/4" thick formed steel cup, the jack can lift any standard barbell from floor level, enabling smooth loading/unloading of weight.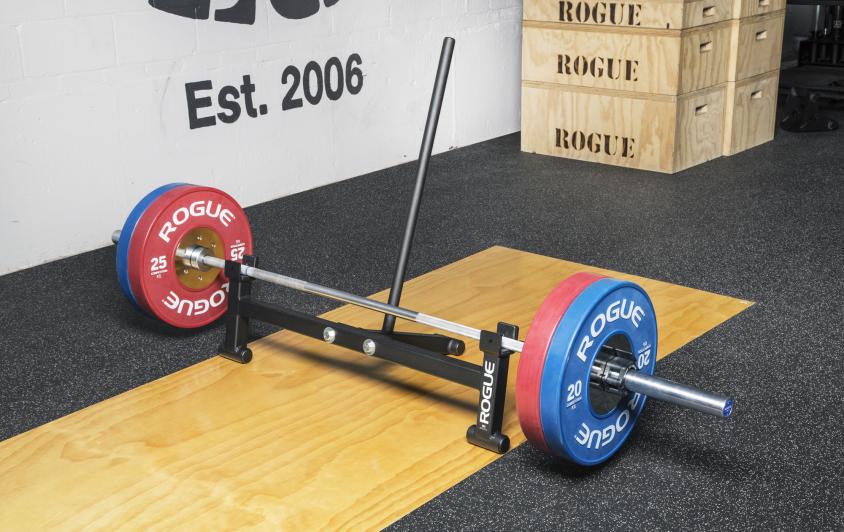 Rogue HD Bar Jack
One of the best features of the Rogue HD Bar Jack is its built-in wheels that offer free-range maneuverability. It gives you the ability to fully load a bar to the desired weight straight from a plate rack, then transfer the loaded bar into an isolated area for the lift. Three wheels that measure 72mm in diameter are placed on each side and are furnished with a bearing and two bushings each.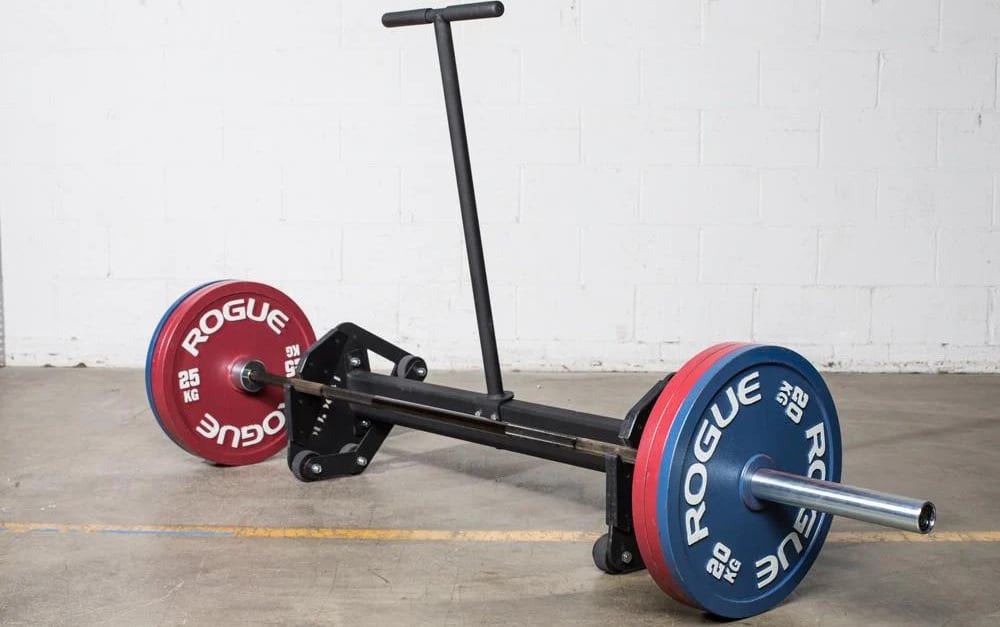 The HD Bar Jack's cross member is constructed from 4″x2″ 11-gauge steel tubing and attaches to a pair of 0.375″ thick laser-cut steel endplates. The 14″ horizontal top part of the handle is assembled from 1″ solid round steel and carries a rubberized grip. The HD Bar Jack uses a 0.5″ thick UHMW plastic lining within the cups to avoid metal-to-metal contact that could damage the knurl.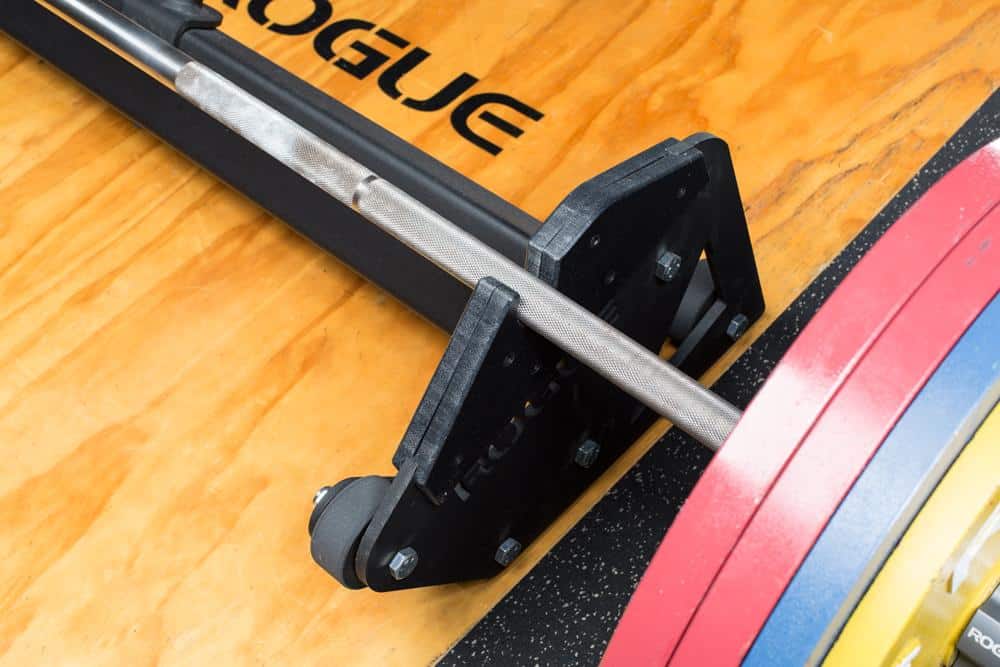 Rogue Mini Deadlift Bar Jack
The Rogue Mini Deadlift Bar Jack is half the size of the standard 42" Rogue Deadlift Bar Jack. This is a portable alternative for raising a loaded bar off the floor and provides more use of your space. It highlights a fully-welded 2 x 2″ 11-Gauge Steel.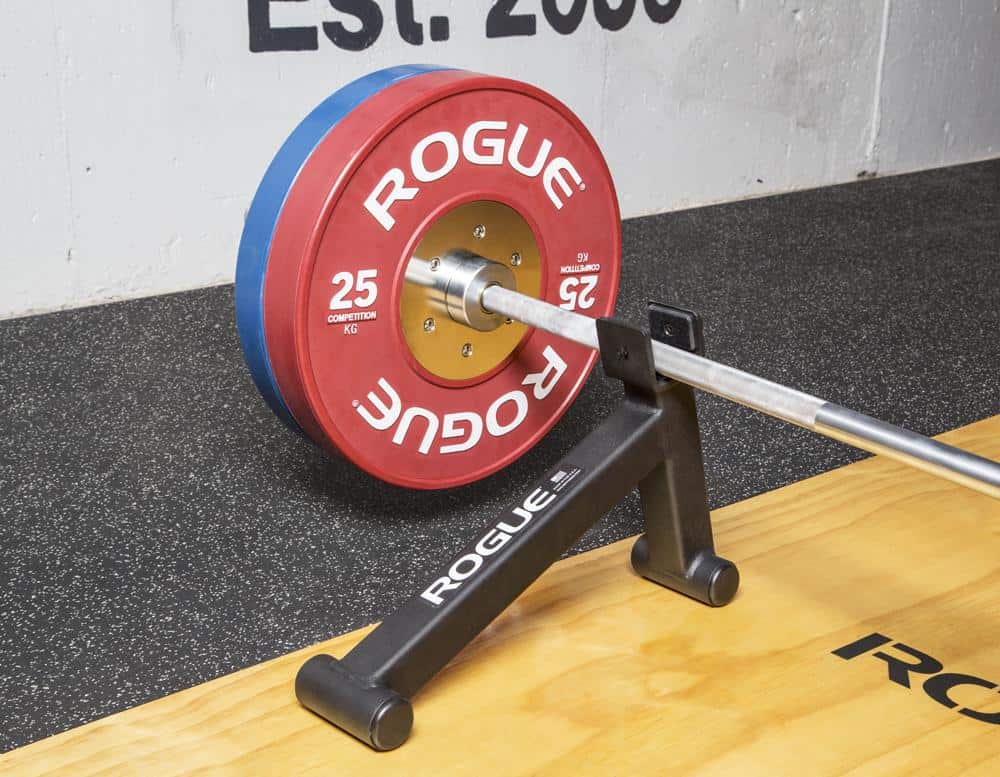 Like its bigger sibling, the Mini Deadlift Bar Jack also has UHMW plastic and is assembled at Rogue Manufacturing in Columbus, Ohio. With a footprint of 19″ x 4.5″, this unit will make your life so much easier and provides you with space efficiency.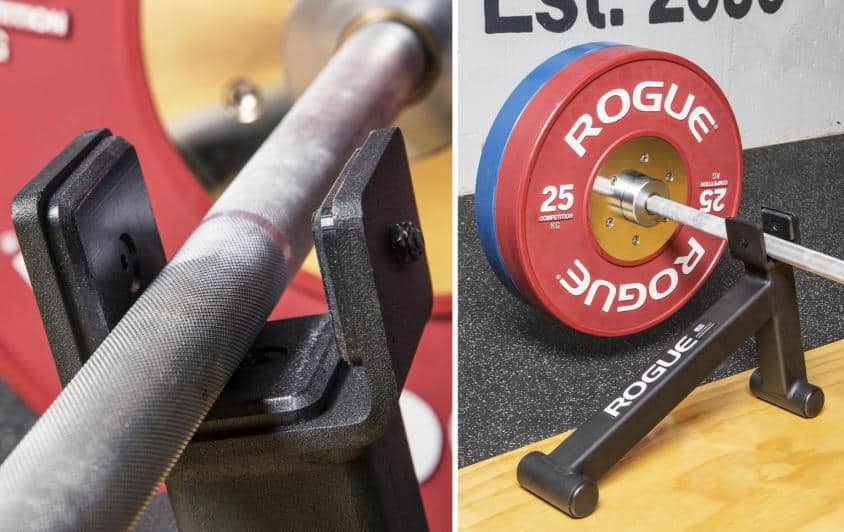 A-Jack
Weighing only 0.5 LBS, the A-Jack is cost-efficient and entirely portable that you can smoothly fit in your gym bag. To facilitate a solid grip during set-up, grooved edges and a circular center opening are designed. You can also easily position the angled top portion of the A-JACK under the bar and gently roll the bar into a solid raised position for natural plate loading or unloading.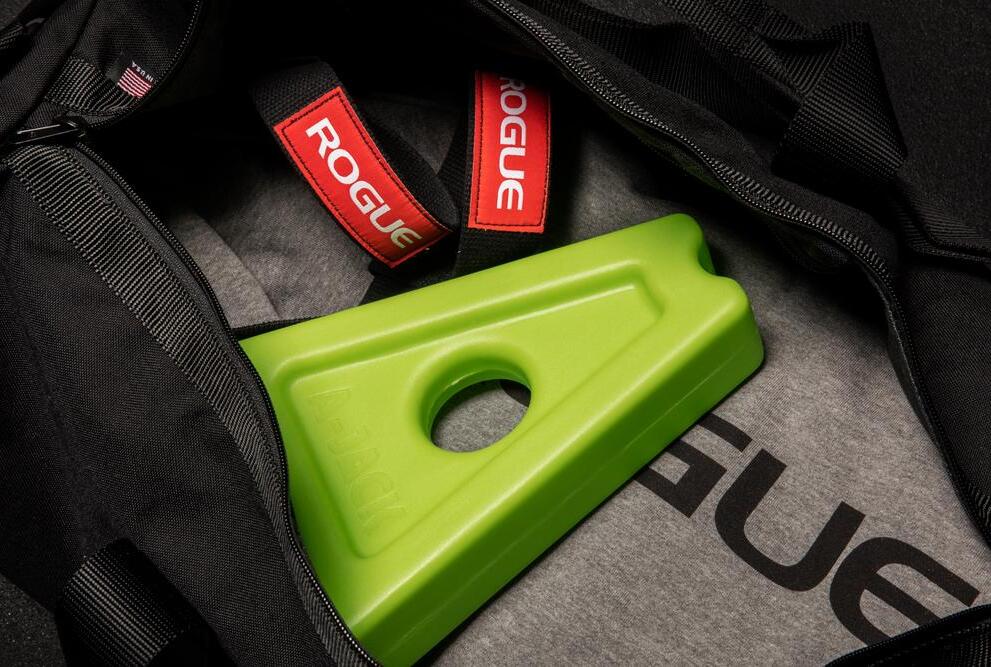 It is made from durable injection-molded plastic and measures 9-⅛" tall with a 7" wide x 2" thick base. It has a weight load capacity of approx. 400 LBS and can efficiently load both ends of a bar for deadlifts up to 800+ LBS in total. The plastic structure lessens the risk of any scrapes or contact damage to the barbell itself, even over repeated daily use.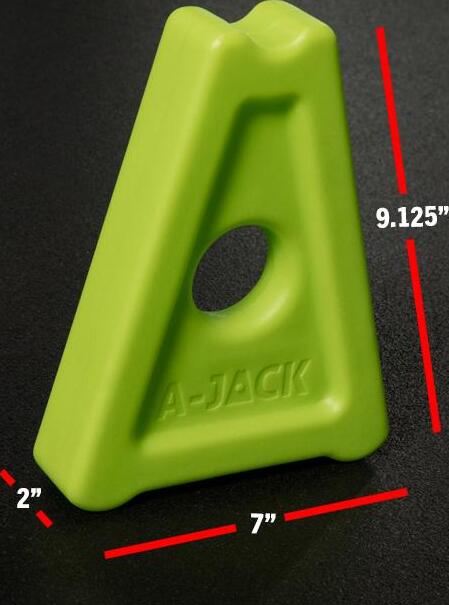 Deadlift Bar Jack Review – In Summary
That's our review of Deadlift Bar Jack.
Make your life easier and save more time with Deadlift Bar Jacks from Rogue. They are made in the USA using durable gauge steel, making them hard, stable, and durable. They also pair well with other Rogue powerlifting products and are an invaluable tool if you need to draw hundreds of pounds of plates around.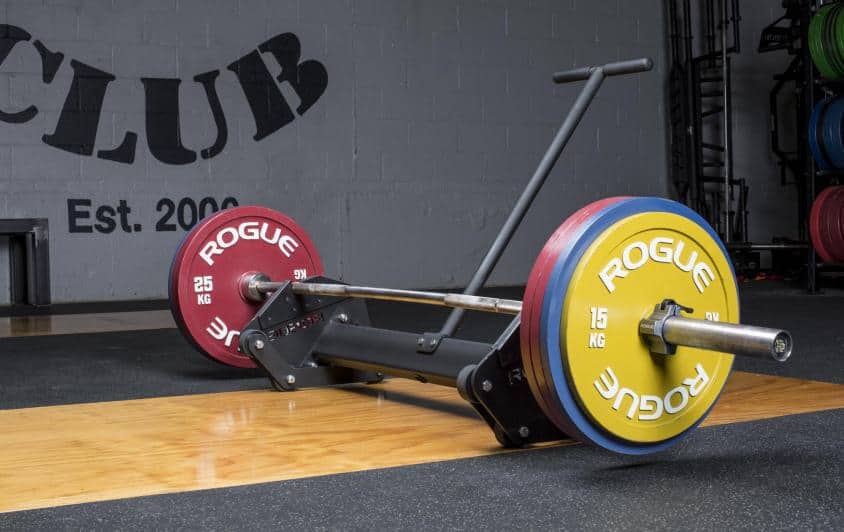 Photo Credits
Product photos on this page are property of Rogue.
This website is not affiliated or associated with CrossFit, Inc. CrossFit is a registered trademark of CrossFit, Inc.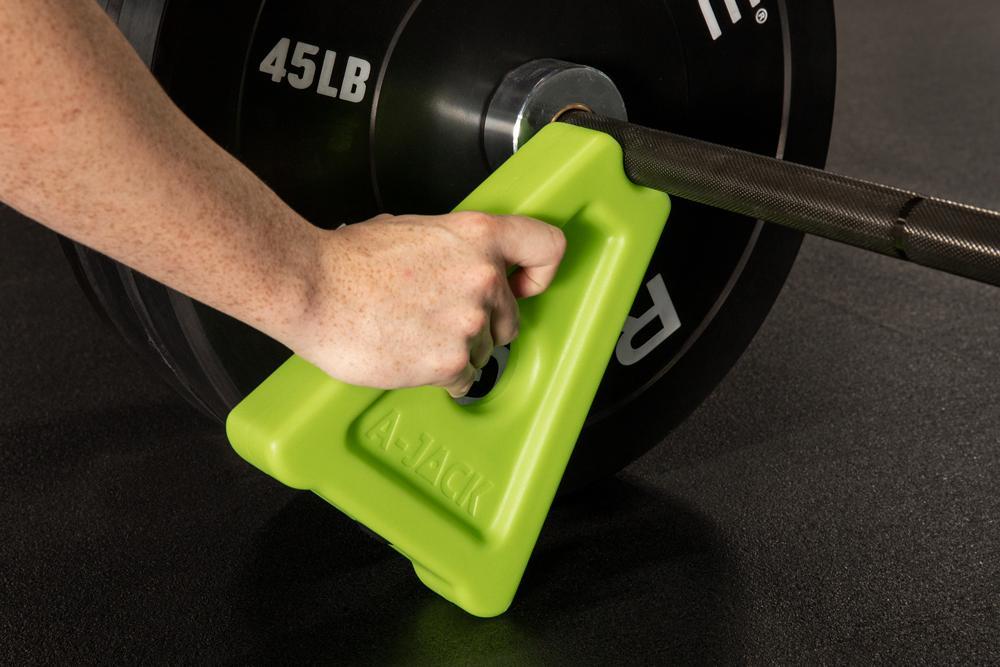 Affiliate Disclaimer
We are an affiliate of Rogue and others that sell this training gear. If you buy clothing or other training gear after clicking the links in this article, we receive a small commission at no extra cost to you. This helps us to bring you in-depth information and content on these great training products.