Rogue has released the 3rd version of the
Echo Bike
. Grab one while they last!
Nothing is cooler than camo. So max out your home or garage gyme with Camo Pattern Gym Equipment from Rogue.
Daily physical activity plays a pivotal part in keeping a happy and healthy lifestyle. You can exercise without using any equipment and still get good benefits, but adding some equipment to your workout can make it more complicated and challenging, hence more effective and profitable.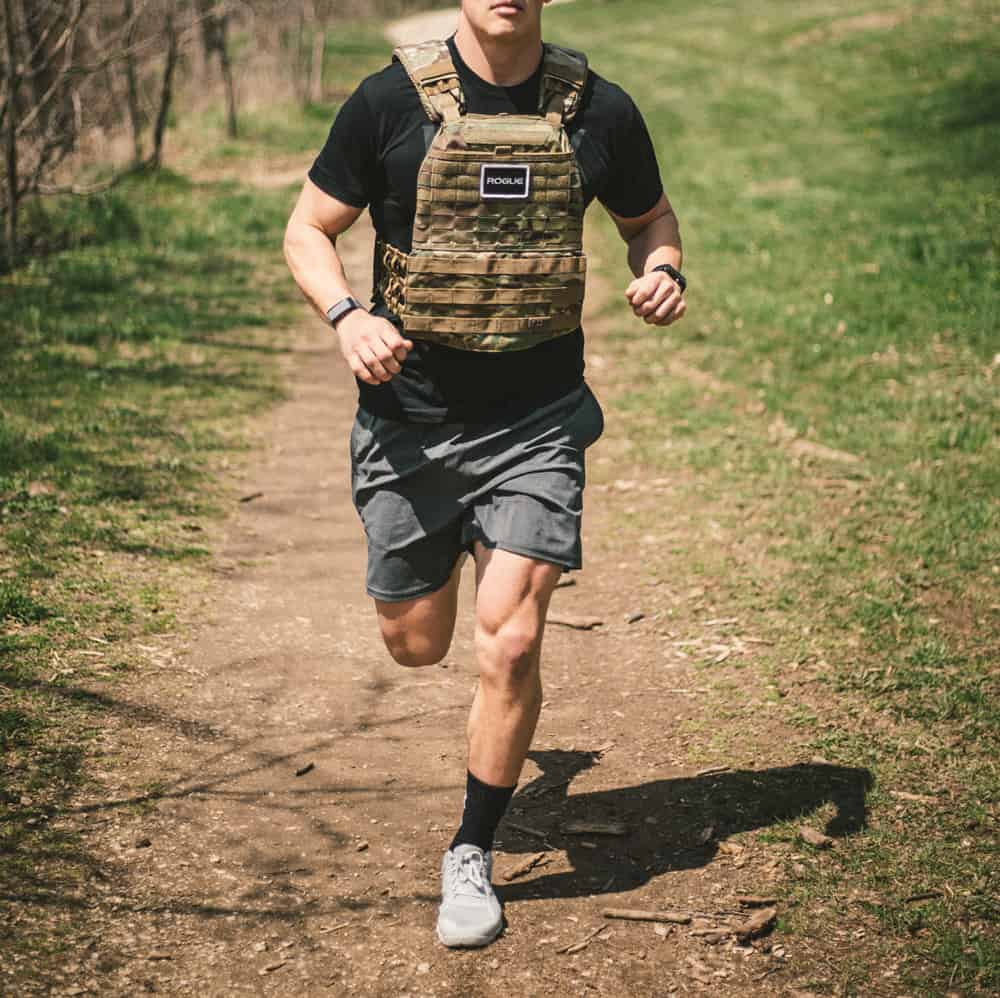 Here are some of the styles we are going to look at:
Camo Pattern Gym Equipment from Rogue – Overview
Gym equipment is intended to support and develop fitness, and they come in different systems, but all have innovations that target specific parts of our body or muscle groups. Using them helps you have better resistance and control, better time competence, and quicker muscle definition. They also intensify exercises like aerobics, flexibility, and anaerobic physical activities. You can mix and match your exercises with these pieces of equipment and even customize them to cater to your preference.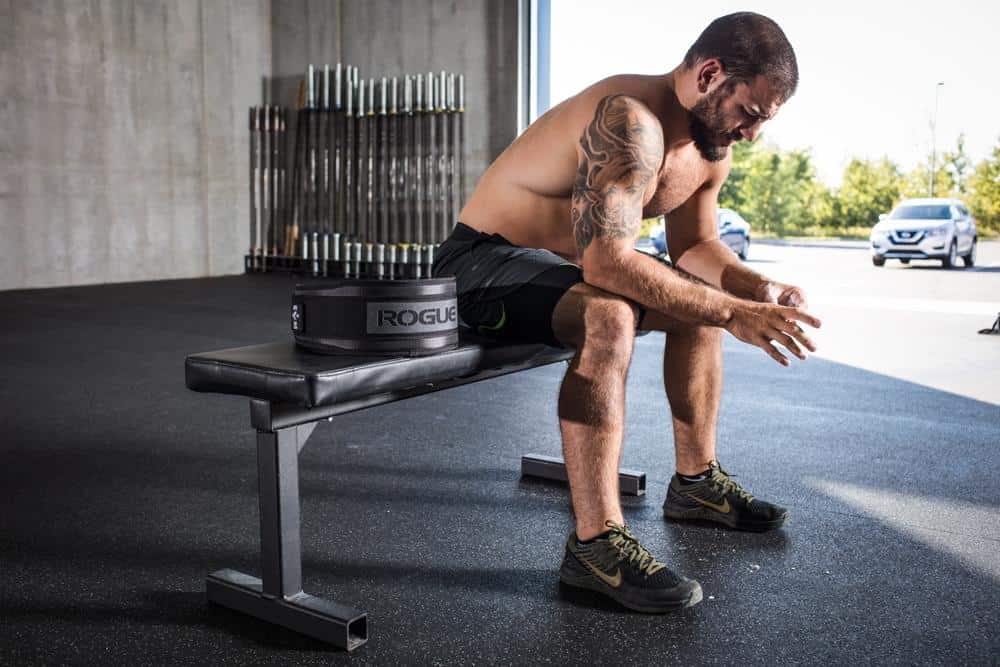 Rogue offers different gym equipment that comes in camo patterns. Some of them can be used inside the gym, and others can be used outside. They also offer gear like lifting belts and knee sleeves to provide support and stability when lifting and doing various activities. With these pieces of equipment, you'll have every reason to hit your fitness goals.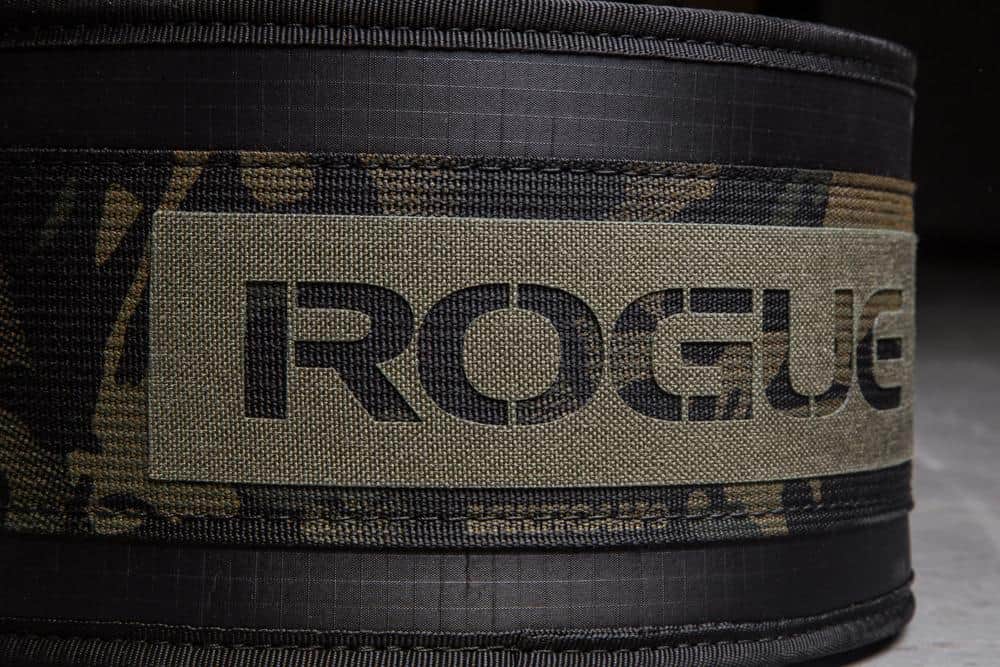 Rogue Operator Barbell Men's
The Rogue Operator Barbell Men's has an original, military-inspired design that you won't find anywhere else in the industry. The current version of this functional 28.5MM barbell proposes a new polymer-ceramic composite finish — the same coating trusted by many firearm producers for its unparalleled durability in thin applications. The bar highlights Rogue's trademark knurl pattern with dual knurl marks for both Power and Oly lifts (no center knurl).

The Rogue Operator Bar 3.0 is Guaranteed for Life against bending and broken collars and is assured of impacting any athlete who utilizes it. The Rogue Operator Bar is wholly manufactured and constructed in Columbus, Ohio, using superior composite bushings and 190,000 PSI tensile strength steel for the ideal balance of whip and rigor.

Rogue Operator Bar Women's (25mm)
The 25MM Women's Operator Bar is formed from 190,000 PSI tensile strength steel and perfected in an ultra-durable Cerakote coating. This functional 15KG barbell is entirely machined and constructed in Columbus, Ohio, and also carries dual knurl marks (for Olympic and powerlifting), bronze bushings, and Rogue branding right on the center of the shaft. The steel in Cerakote Operator Bars is made in the US and is one of the best steel modifications for a multi-purpose barbell.

Each barbell shaft is ground and smoothed before machining to ensure a sleek finish and excellent execution. The snap ring pattern and quality bronze in these Cerakote Women's Editions help create an exemplary mixture of the constant "whip" needed for Oly lifts and the overall rigidity required for heavy powerlifting. The versatility of Cerakote finish also allows you to build a broader collection of customized designs, including the military-inspired colorway of the Operator Bar: Tiger Stripe Woodland Camo.

Rogue USA Nylon Lifting Belt
The Rogue USA Nylon Lifting Belt was co-developed with Rogue athlete Mat Fraser, who has personally used it during his run to five straight CrossFit Games titles. The back of the USA Nylon Lifting Belt measures 5″ in width, tapering down to 4″, with a 3″ webbing support strap. Rogue also modernized the end of the strap with an easy-to-find, folded-over portion, enabling you to release or remove the belt as required mid-workout instantly.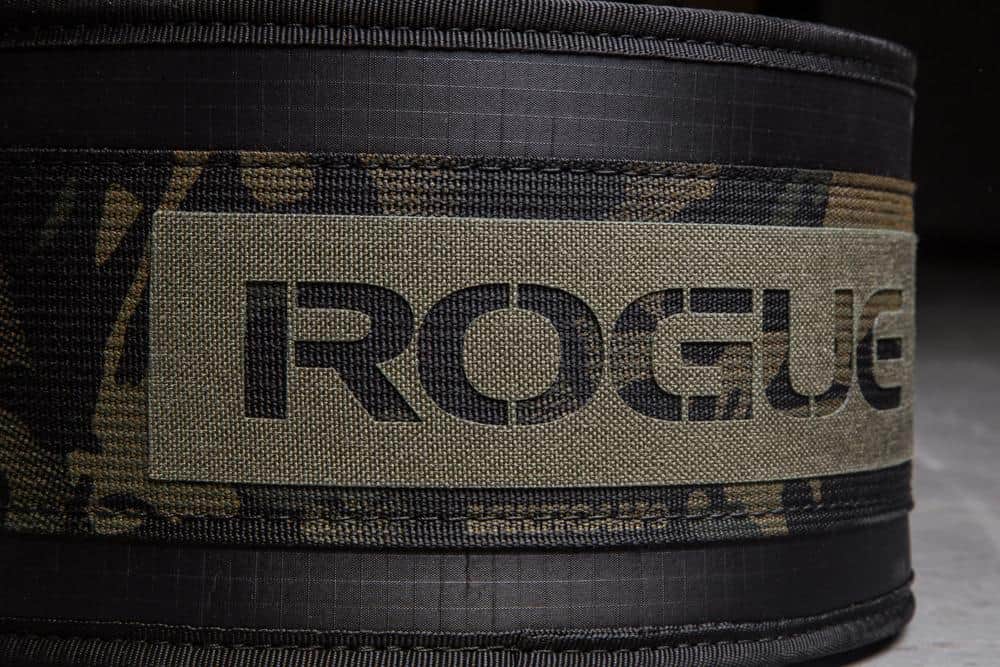 This lifting belt is fully designed in the USA and comes in Camo with a Black foam frame, Multicam 3″ webbing piece, and Desert Tan laser-cut Rogue logo. Rogue made improvements and upgraded features on this belt, including a blacked-out buckle and roller for smoother adjustments, a 0.25″ thick foam frame (with a ripstop exterior), and a 3″ x2″ section of hook & loop for attaching a Rogue patch or your custom patches.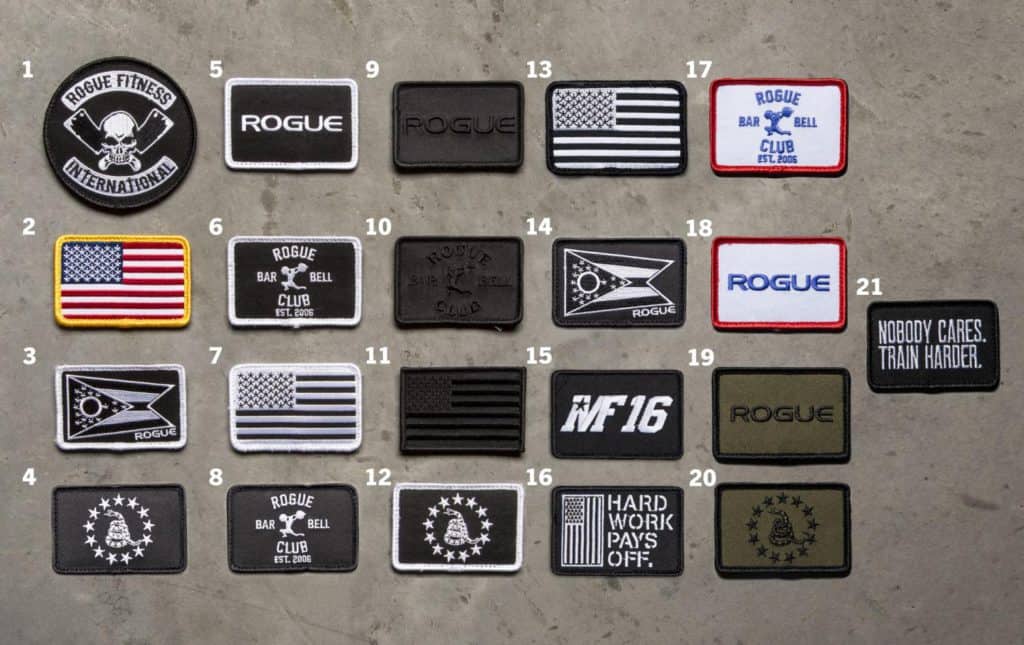 Rogue 7mm Knee Sleeve
Sold in pairs, the Rogue Knee Sleeve is available in a 7MM thick SBR / Neoprene construction for solid but comfortable support. These knee sleeves are one of the few American-made knee sleeves on the market, and Rogue is proud to offer this to athletes.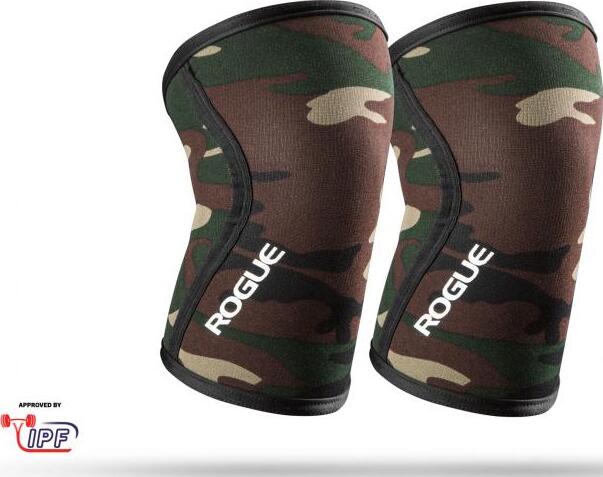 The shaped seams and elastic compression material used in this design can help you lessen knee tension and discomfort during and after a workout without limiting your range of motion as you train.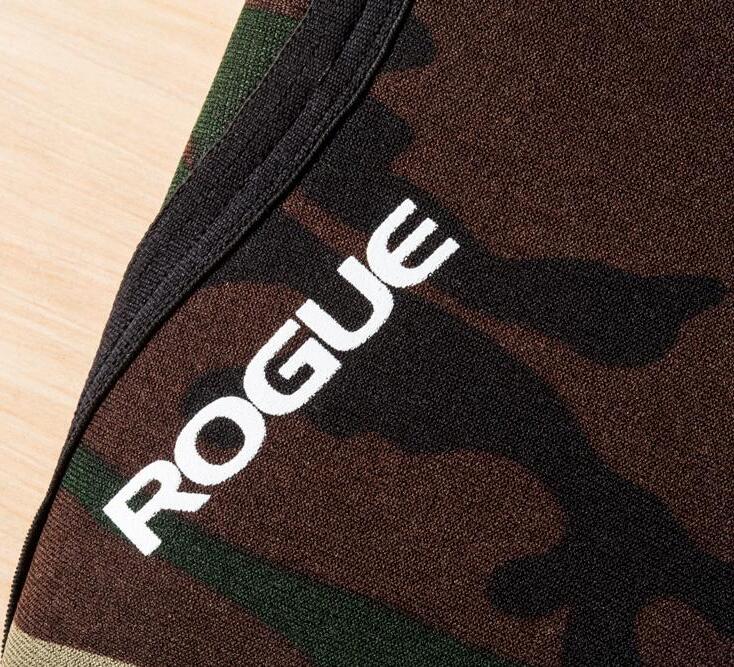 Rogue Strongman Sand Bags
The Rogue Strongman Sand Bags highlight the same 1000D MIL Spec US Cordura construction and strengthened, double-stitched seams as Rogue's full-length Sandbags—in a new compact, customizable form (7.5″ tall x 16″ dia. for the 100 LB bag, 11.5″ x 16″ for the 150 LB version). They are designed and made in the USA and deliver a versatile, go-anywhere option to heavy balls and stones. Rogue Strongman Sandbags are heavy-duty and can endure drops, but they are not meant to be slammed.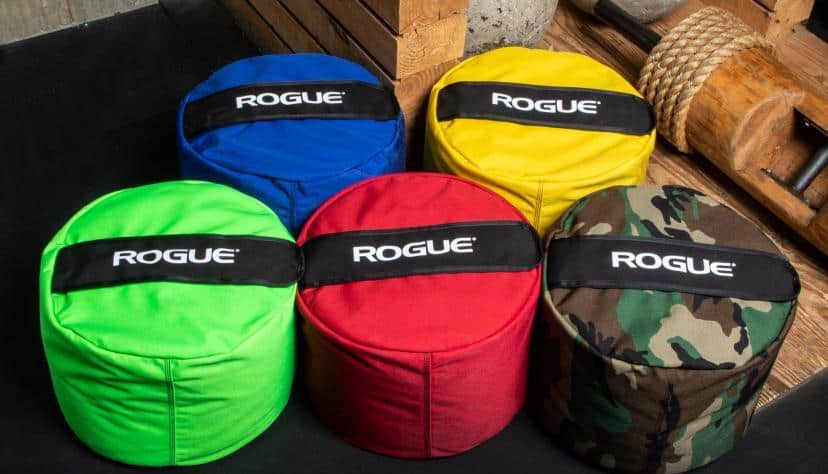 Each Sandbag has a built-in filler bag with an extra zipper and hook-and-loop closure, securing filler material to keep them completely contained while you workout. Because they can be emptied and then re-filled at another gym, field, park, etc., these sandbags also perform as entirely portable Strongman training tools for athletes of any experience level.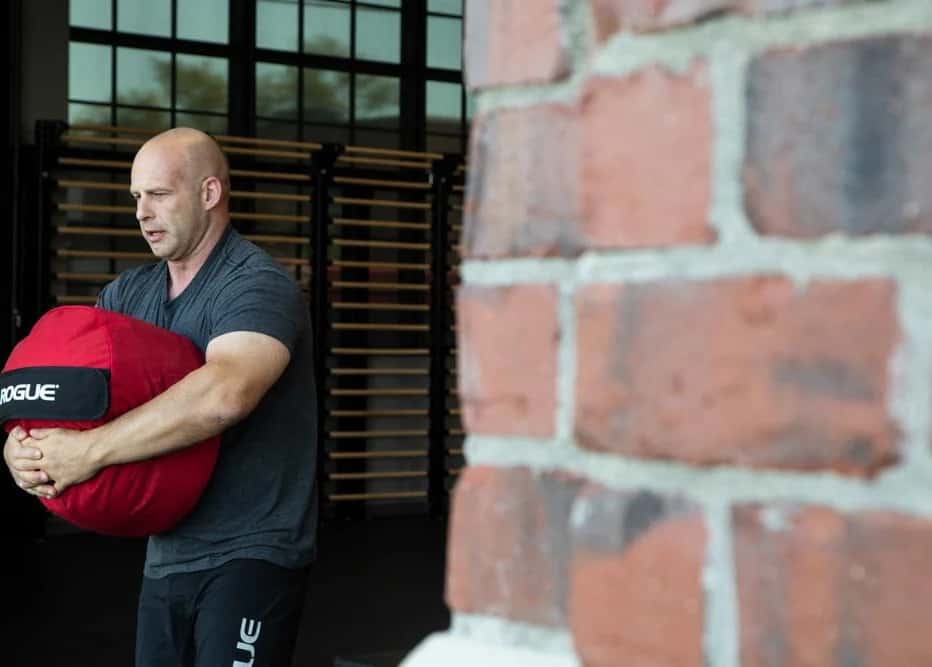 5.11 TacTec Plate Carrier (Terrain)
The 5.11 TacTec™ Plate Carrier Vest is purely intended to give you an improved range of motion with a lightweight feel and excellent breathability with its ultra-durable, water-resistant 500D nylon. The 5.11 Tactical Weight Vest can accommodate medium and sizeable ballistic front and back without confining bulkiness.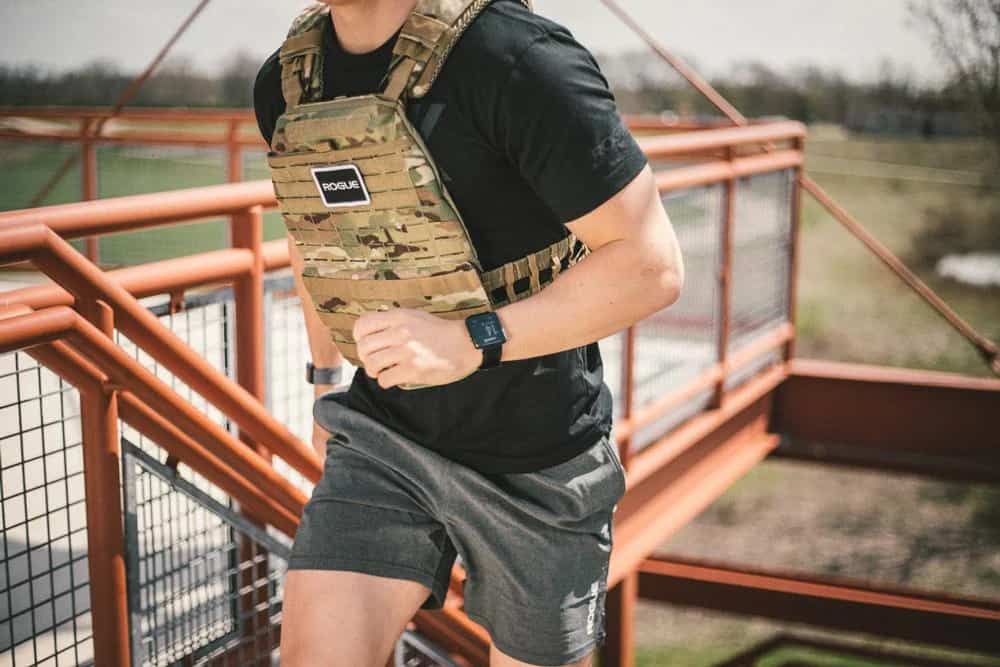 The yoke shoulder pads decrease irritation, while the adjustable tensional bands increase stability, and the innovative airflow channels and aerospace mesh guarantee sustained comfort. All weight vests come with durable Duraflex® hardware, a laser-cut micro-loop web platform, and an extended drag handle and quick release system.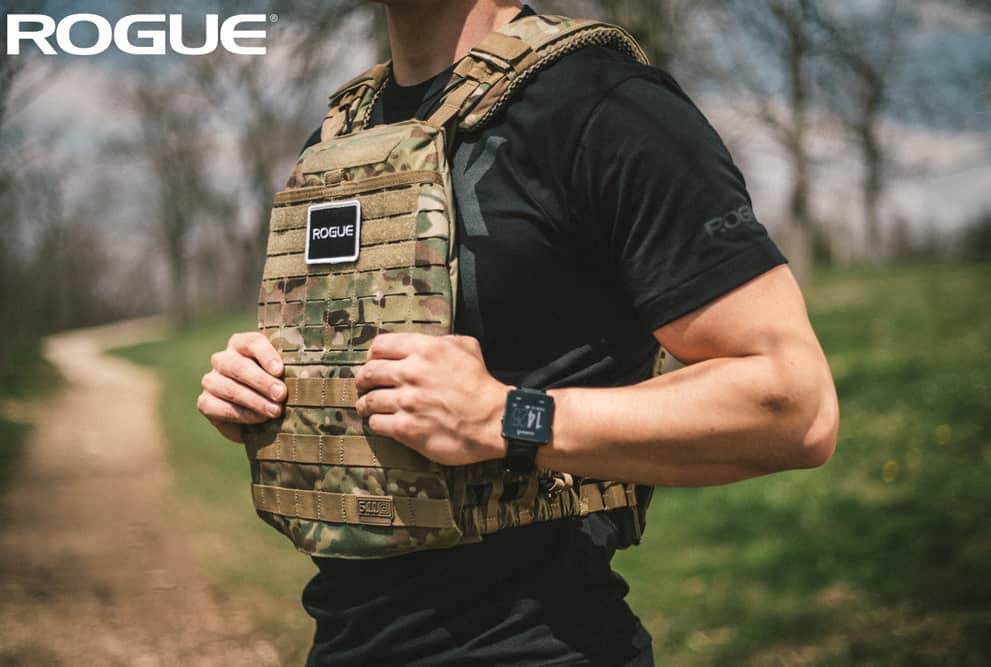 Camo Pattern Gym Equipment from Rogue – In Summary
That's a great selection of Camo Pattern Gym Equipment from Rogue.
Rogue is the leading manufacturer of strength and conditioning equipment, and all of them are made and designed in the USA. These pieces of equipment from Rogue give you a military vibe and high-quality materials for durability and versatility. Use them to enhance power and strength, target large muscle groups, and help increase functional movement patterns.

Photo Credits
Product photos on this page are property of Rogue.
This website is not affiliated or associated with CrossFit, Inc. CrossFit is a registered trademark of CrossFit, Inc.

Affiliate Disclaimer
We are an affiliate of Rogue and others that sell this training gear. If you buy clothing or other training gear after clicking the links in this article, we receive a small commission at no extra cost to you. This helps us to bring you in-depth information and content on these great training products.