When it comes to workout pants for men – Hylete has some great options.
The Flexion Pant from Hylete is a modern jogger-style workout pant for men.
And we think it's one of the best in class.
Let's do a review.
Here's the workout pants for men that we'll be reviewing:
Flexion Workout Pants – Materials
The Flexion jogger-style workout pants from Hylete are made with a 94% Polyester and 6% Spandex blended fabric.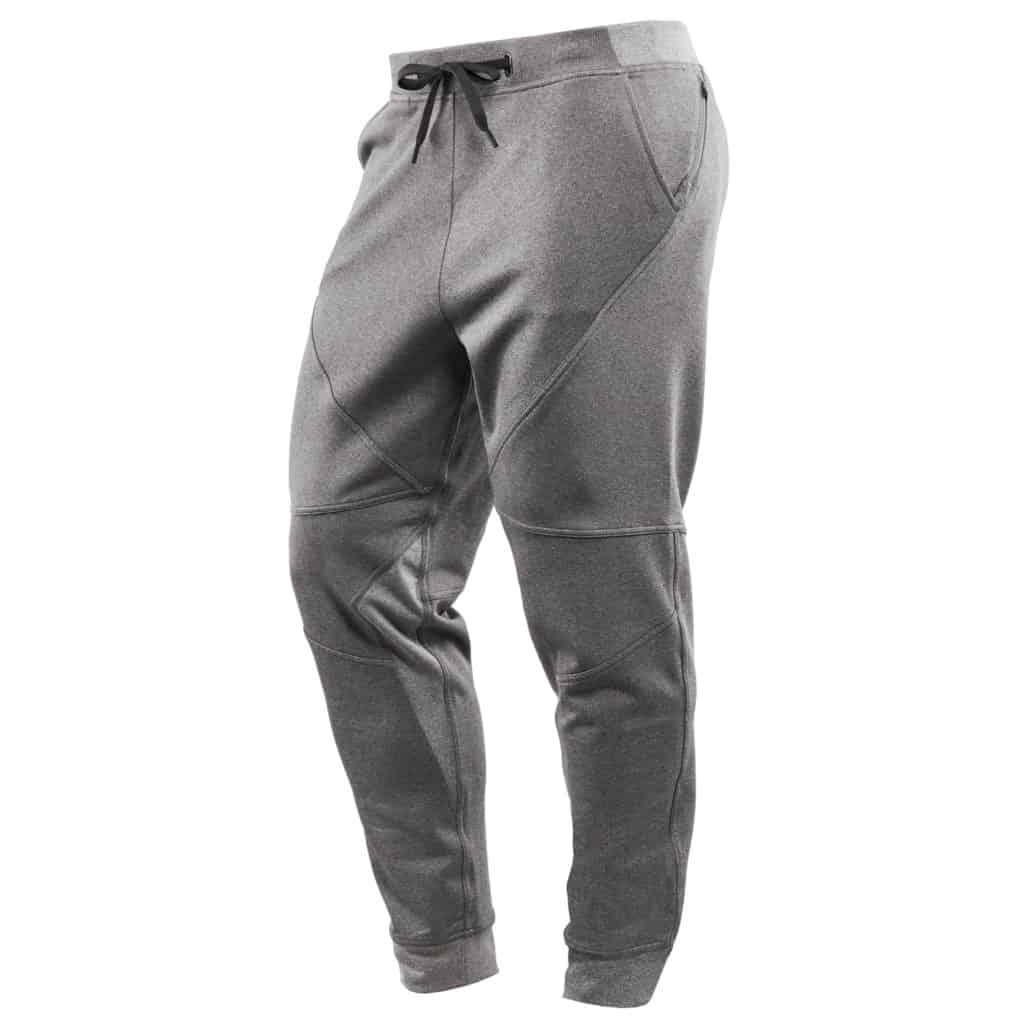 Polyester is a great synthetic material – it's durable, it's comfortable – and it is very lightweight.
The spandex content of this fabric gives this workout pant just the right amount of stretch – for both a comfortable fit, and no restriction on your range of motion.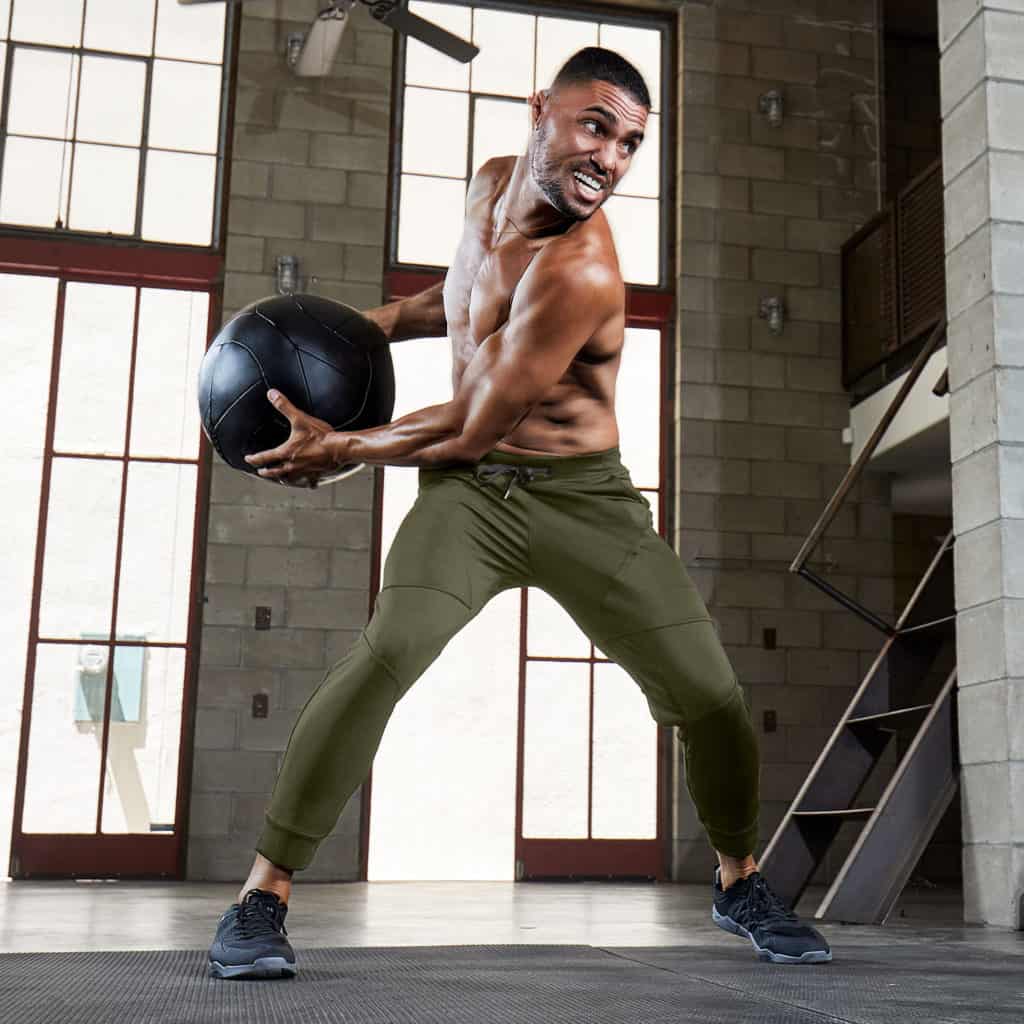 Flexion Workout Pants – Fit & Cut
Let's talk about what makes these jogger style workout pants so great.
First of all, what do we mean by "jogger style"?
Well – that's the trendy look now-a-days and the keep features are a tapered, athletic fit in the leg, coupled with a drop crotch for no restriction of movement.
You'll want to wear the flexion pant to the gym – of course – but we are willing to be these will soon be your favorite for everywhere you want to go.
The freedom of movement is terrific and these are made for cooler weather.
That drop crotch that we mentioned earlier gives you a full range of motion.
And the flexion fabric is just the right density and weight for temperature regulation.
(There's also matching flexion jackets – to complete the look.)
We mentioned earlier that Flexion Fabric is a 94% polyester and 6% spandex blend.
This gives it a semi-slick exterior for durability. But at the same time there is an interior waffle texture for improved comfort, temperature regulation, and breathability.
Further, Hylete has cleverly used "stretch zones" in the construction of these workout pants.
These contrast fabric sections give you added flexibility.
And – this is the modern look. You know what we mean – fitness pants with a tapered leg and that relaxed drop crotch.
That's the style now-a-days for a reason – it looks great.
But the Flexion pants have both Form AND Function.
Pants need pockets – period.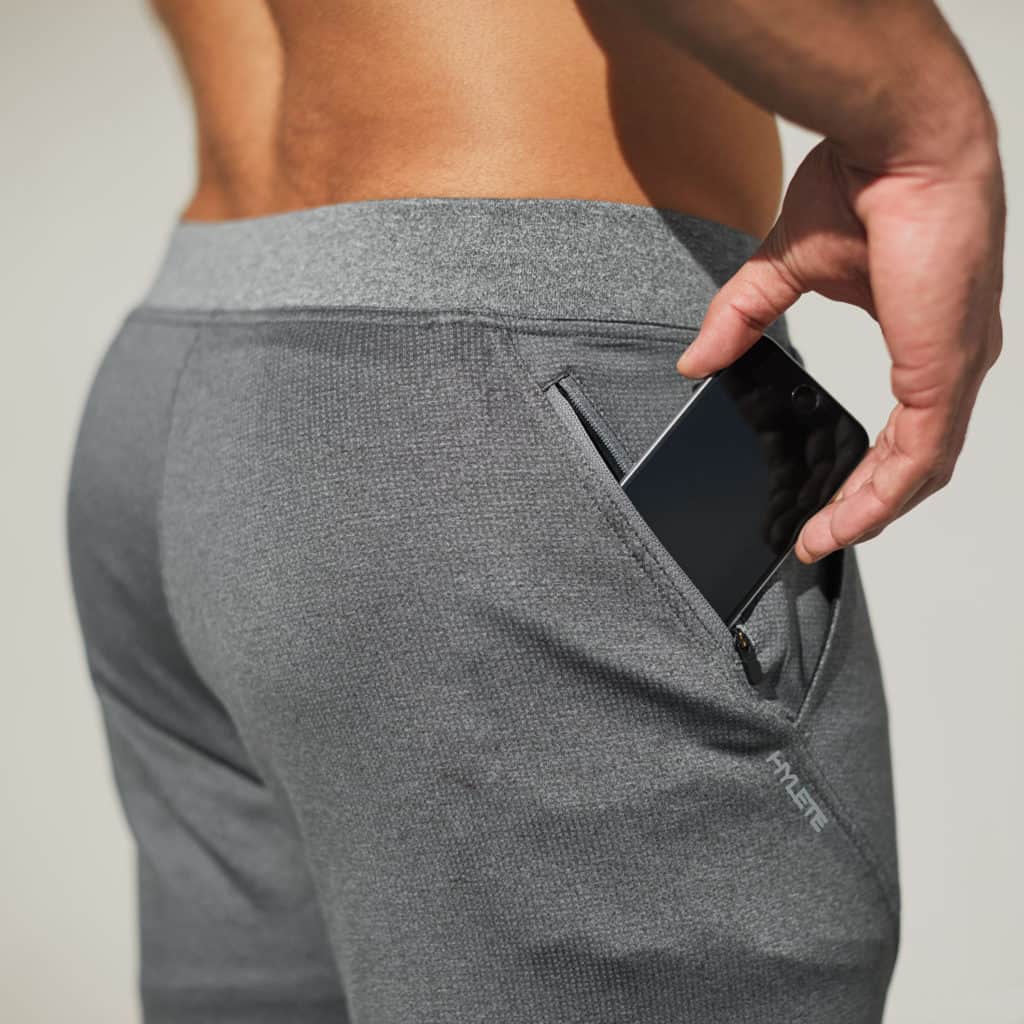 The Flexion pants have versatile storage in that there are two slash pockets for quick and easy access.
But because these are active wear and meant for the gym they've got side zippered pockets as well.
Zippered pockets keeps your most important items secure.
This includes phones – and these zippered pockets will accommodate phones as large sas the iPhone 7 Plus and Galaxy S8+.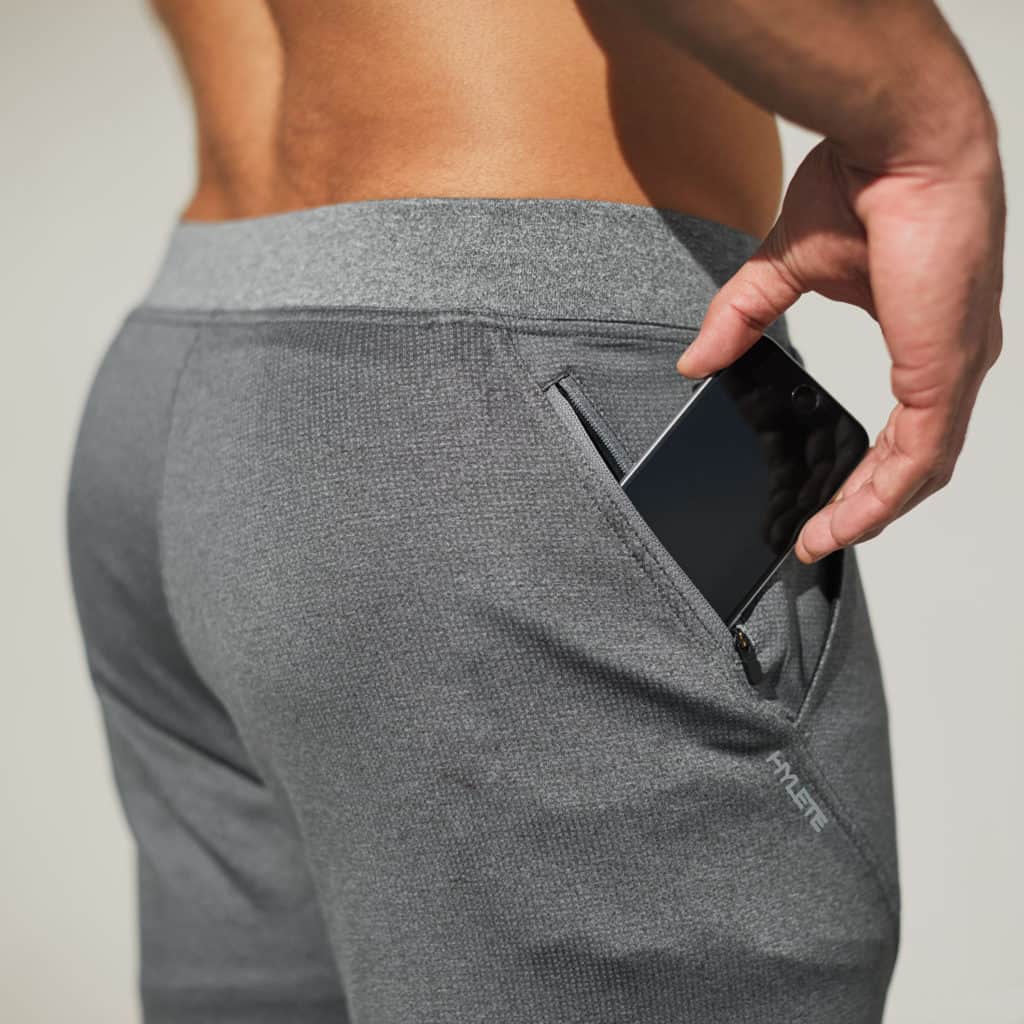 The Flexion pants also have Hylete's patented waistband system.
This waistband can stretch up to 4 inches in circumference – and that means a perfect fit with no cinching or scrunching.
(This makes for clean lines AND superior comfort too.)This Flexion pant also has their slick two-way drawstring.
This patented two-way drawstring system allows you to lace up on the outside, or keep the drawstring inside for a clean competition look.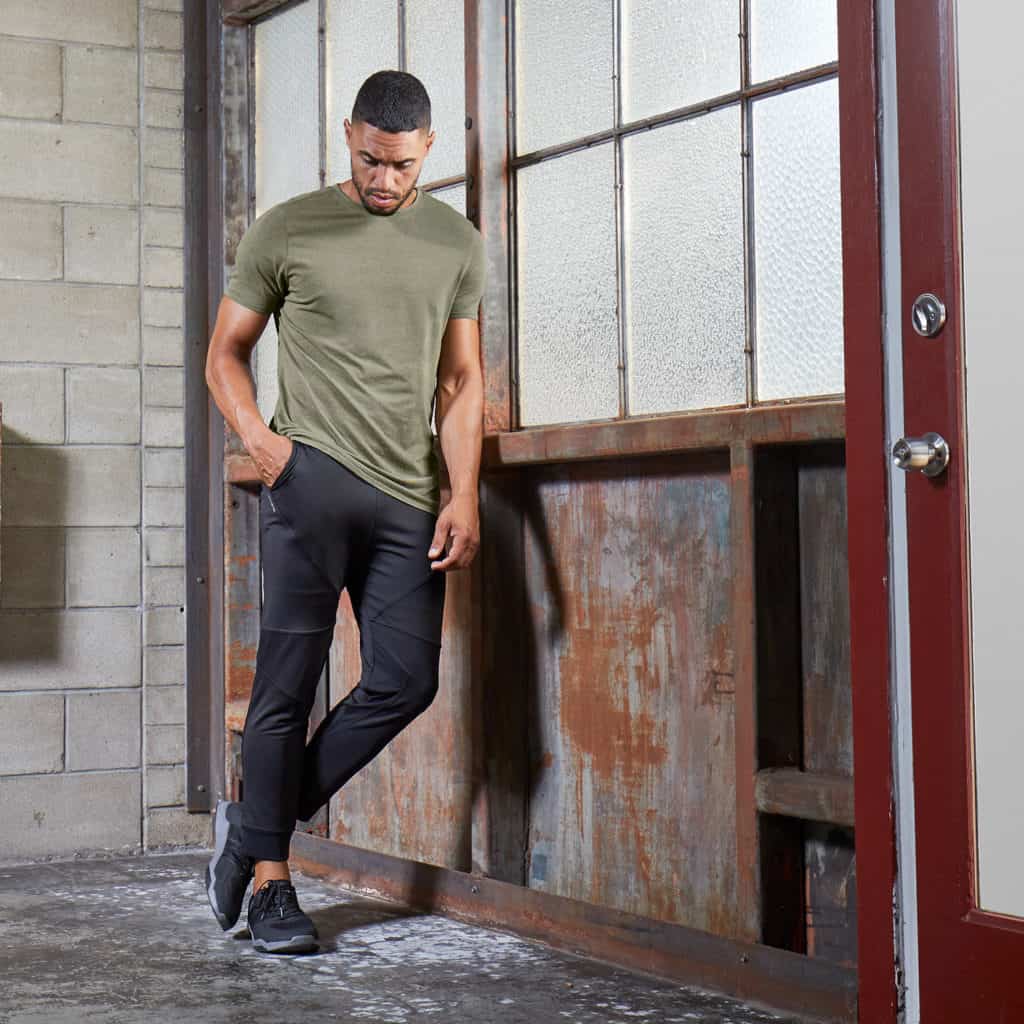 The drawstring stay tied too – thanks to silicone textured drawstrings.
That means great grip – and a good feel.
Flexion Workout Pants – Care
Tie drawstring, turn inside out, and machine wash cold.
Tumble dry low.
Don't bleach them, and don't iron them.
Flexion Workout Pants – In the Gym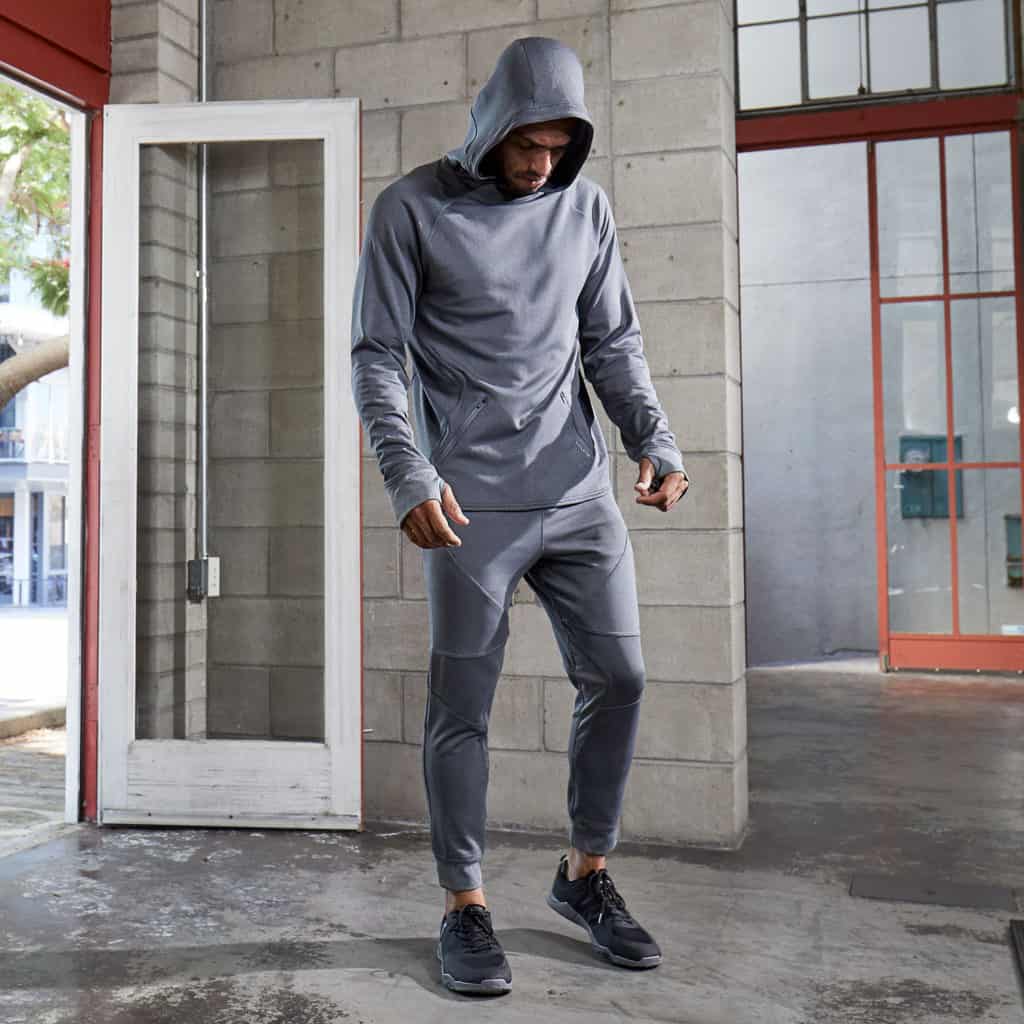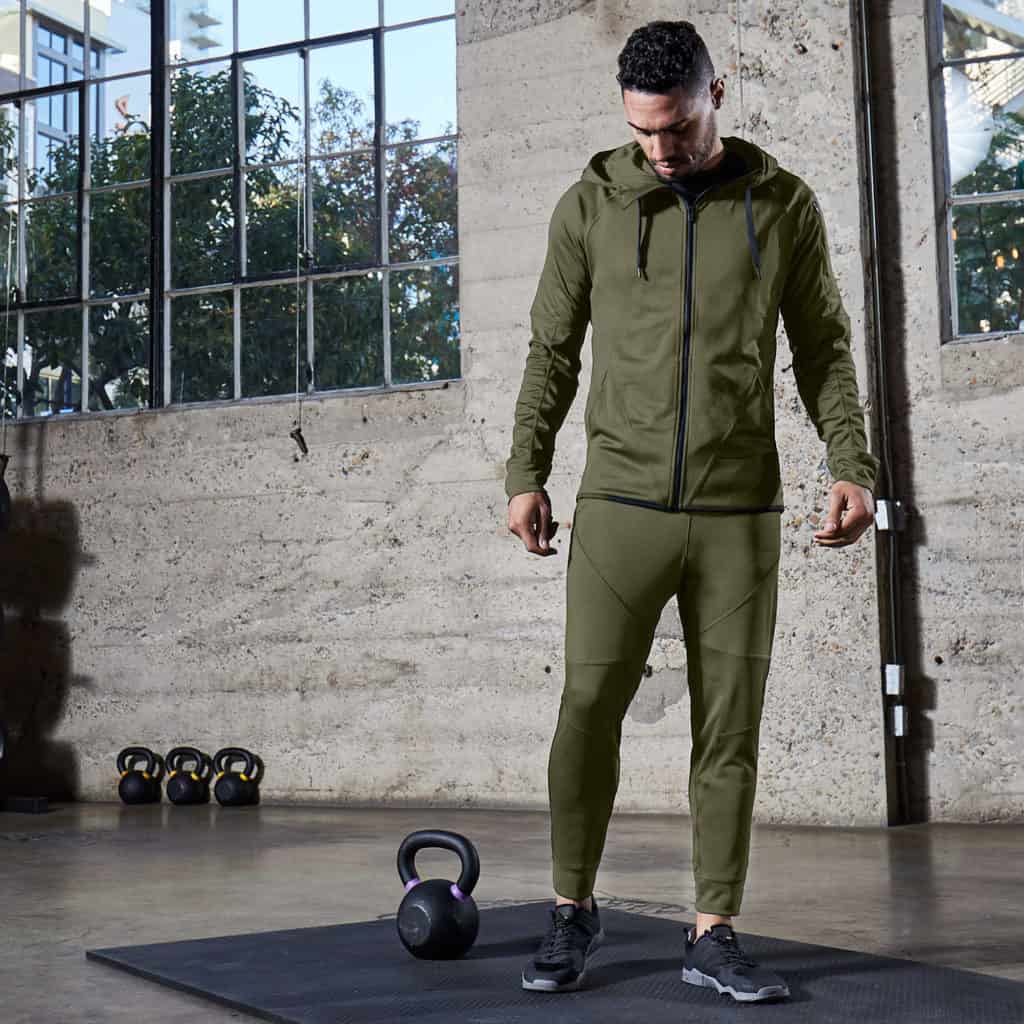 Disclaimers
We are an affiliate of Hylete – that means if you buy clothes after clicking links in this article, we make a small commission at no additional charge to you. This helps us to bring you great information about these products.
This website is not affiliated or associated with CrossFit, Inc. CrossFit is a registered trademark of CrossFit, Inc.