We're going to take an in depth look at the GORUCK Simple Pants for women.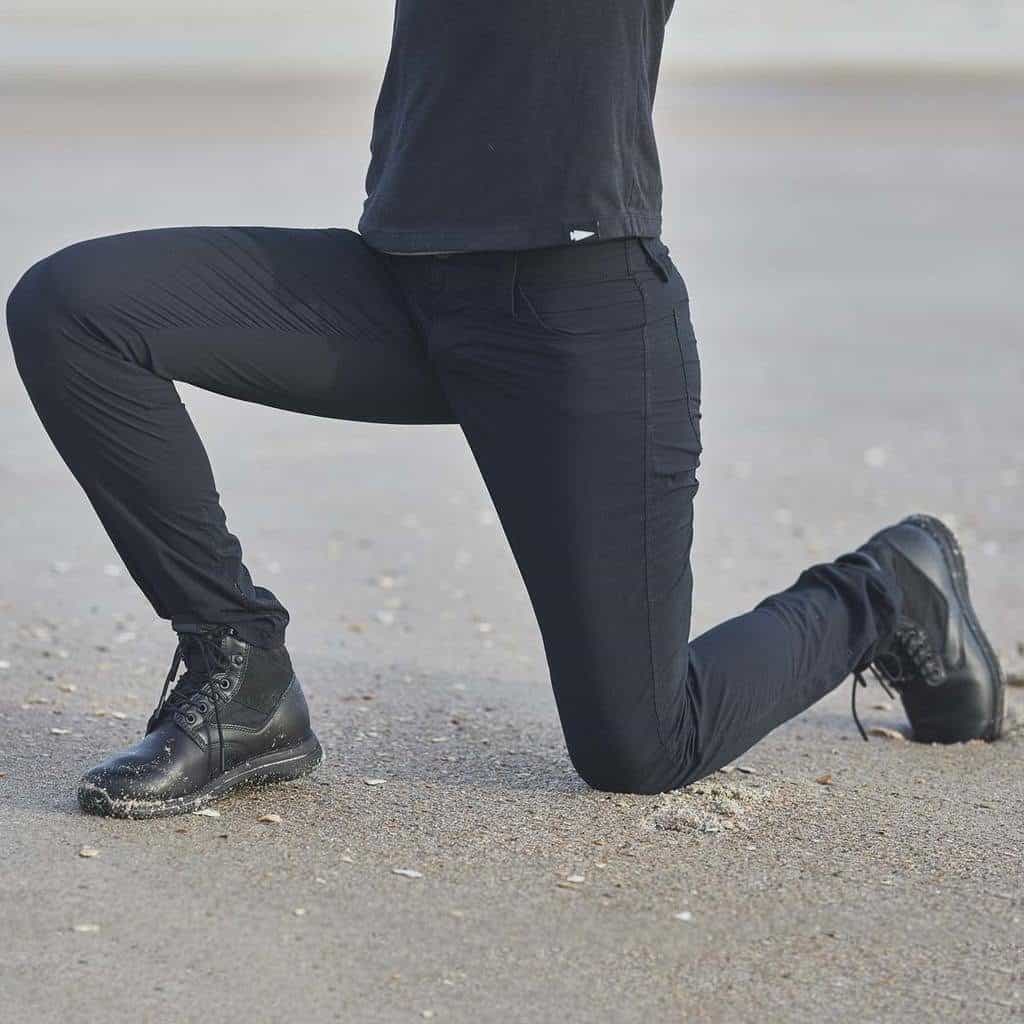 What are Simple Pants?
In short, they are GORUCK's all-around tough and comfortable workout pants for women (there's a version for men too.)
These pants were purpose built for rucking (walking long distances with a heavily loaded backpack), travel, and more.
They are expensive (relatively speaking) but they are pretty good – they may quickly become your favorite active wear.
Let's dive right in.
This is a review of the following products:
What is Rucking?
Before we start, let's talk about Rucking.
Rucking is walking (hiking – but not just in the countryside) with a loaded backpack.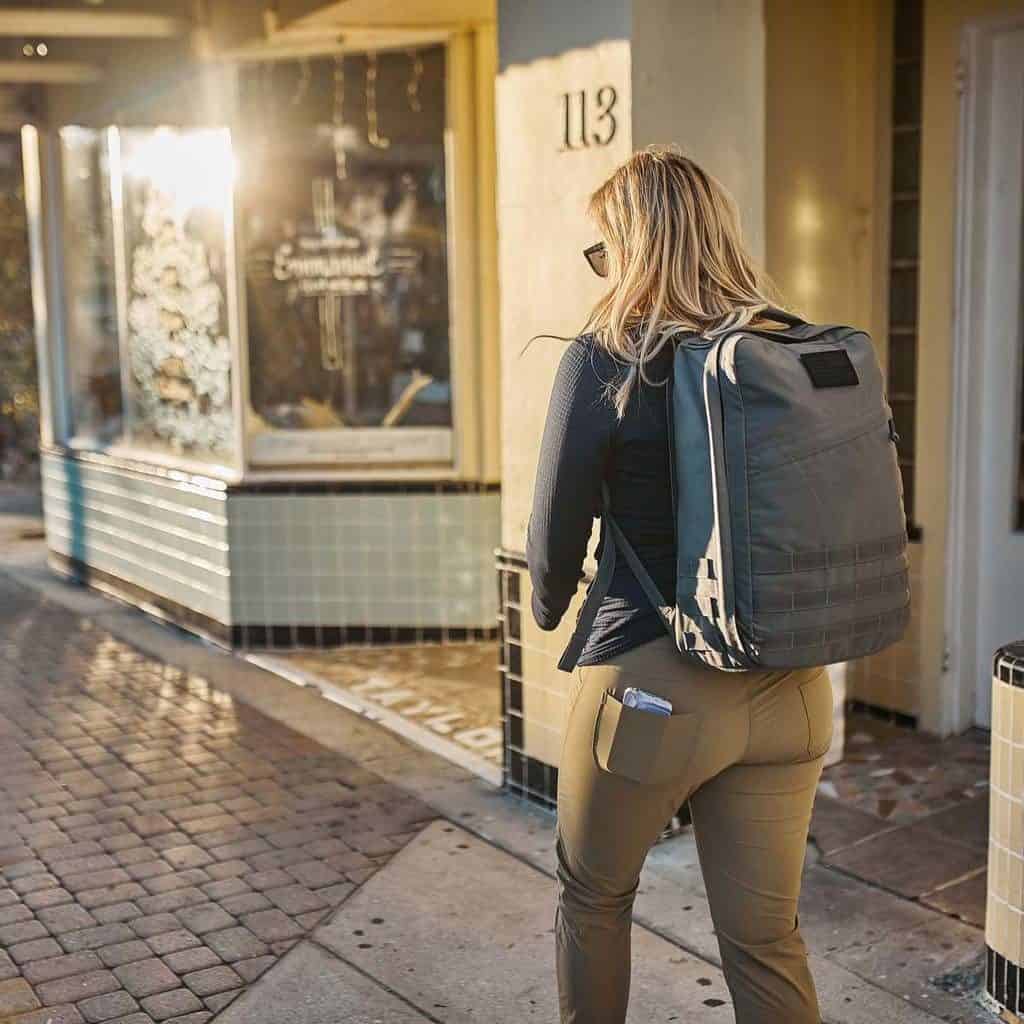 The so-called "ruck march" is a key element of military and special forces training.
it is simple, relatively low-impact and easy to get started.
The extra weight in the backpack (we'd recommend 10 to 20 lbs for most females) provide additional resistance for your legs – but also for your upper back and upper body in general.
Walking 3-5 miles with a 20 lb "rucksack" (aka a backpack) is a humbling challenge if you've never done it before!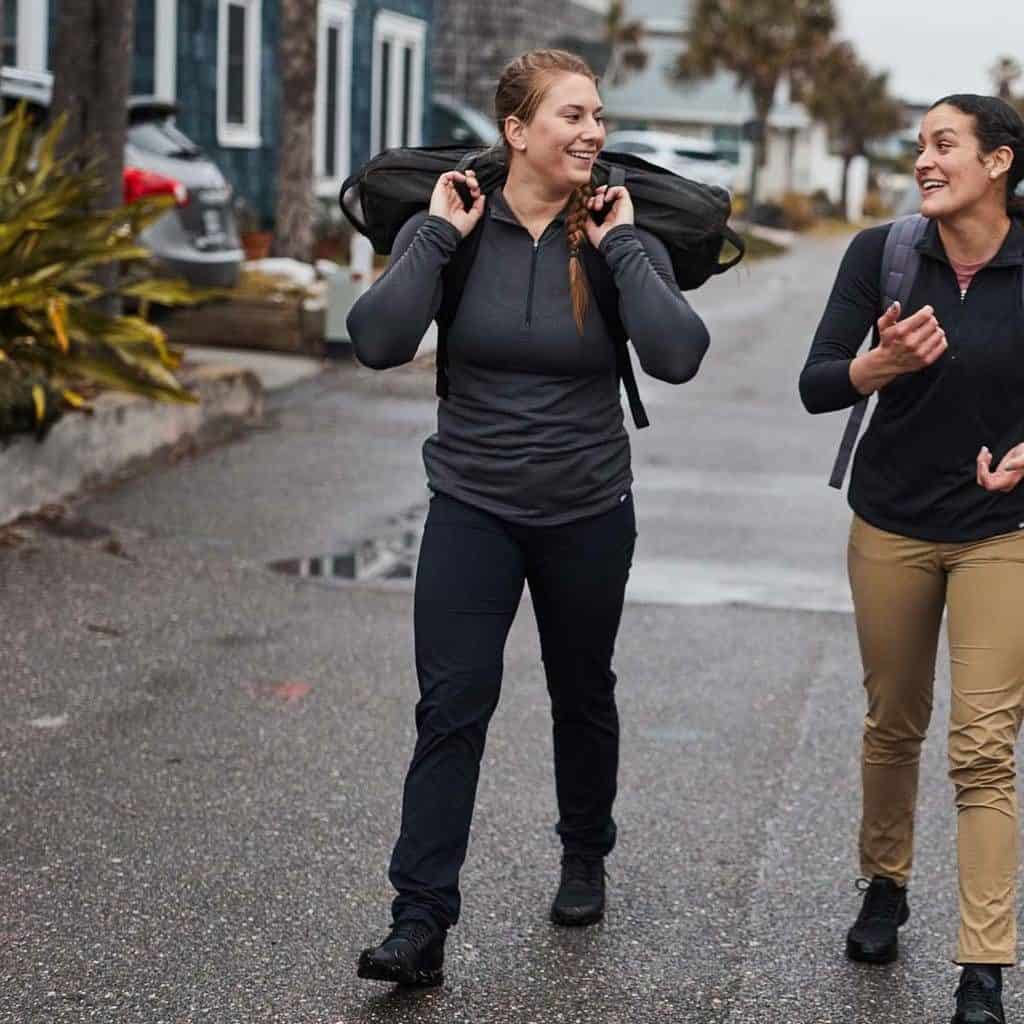 With all that in mind, the Simple Pants from GORUCK are obviously not just for rucking. They are great for your general workout, active daily wear, and travel.
Now, we'll explain why.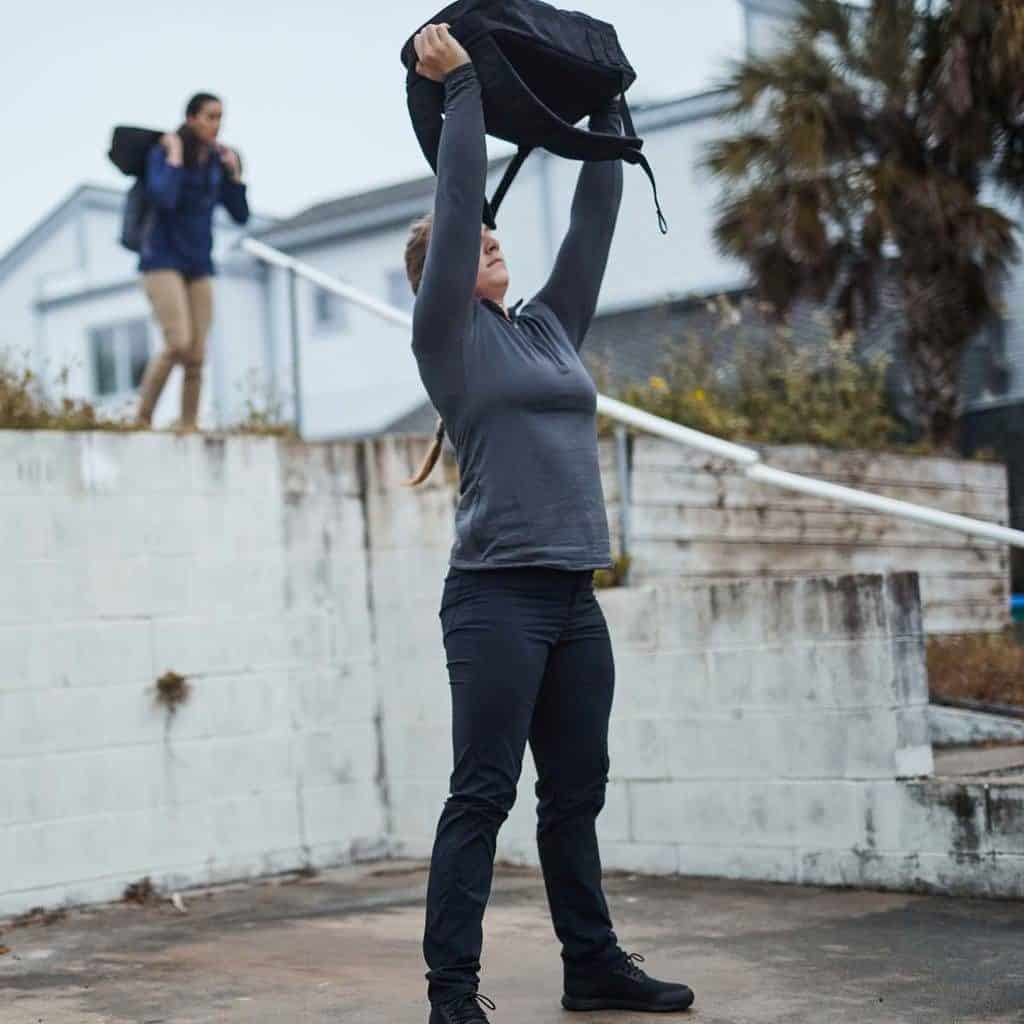 Why GORUCK Simple Pants for Women are Fantastic
There's a lot of reasons these may quickly become your favorite active-wear pants.
First of all, let's talk about the material.
GORUCK Simple Pants for Women are made from GORUCK's ToughDry fabric.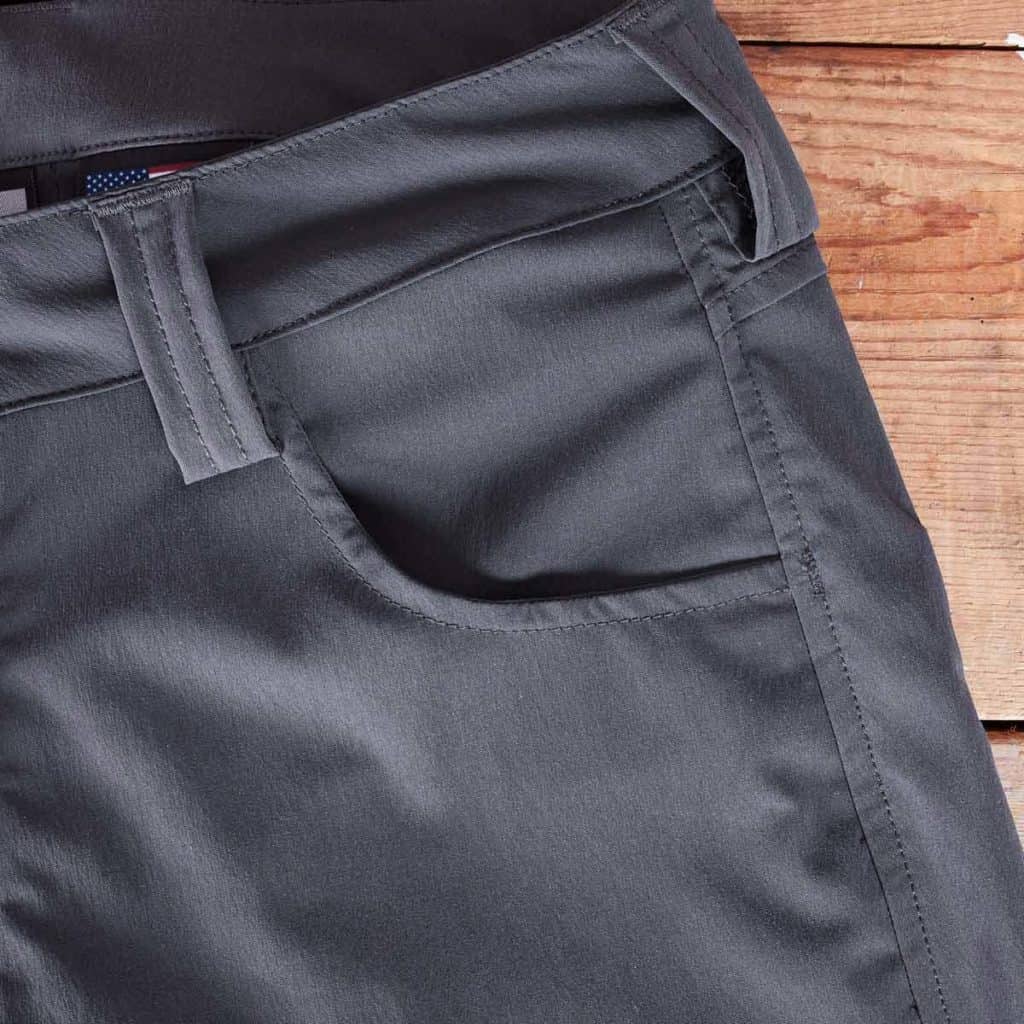 As the name suggests it is ultra durable, and water resistant – it will get wet – but it dries very quickly.
It is a 94% nylon and 6% spandex – so it has some stretch to it.
They are also cut specifically to give you freedom of movement and range of motion.
That's great because it means your movement won't be restricted by these pants.
There's also a "Power" version of the Simple Pants. These have the same waistband size, but a more generous cut in the thighs and legs.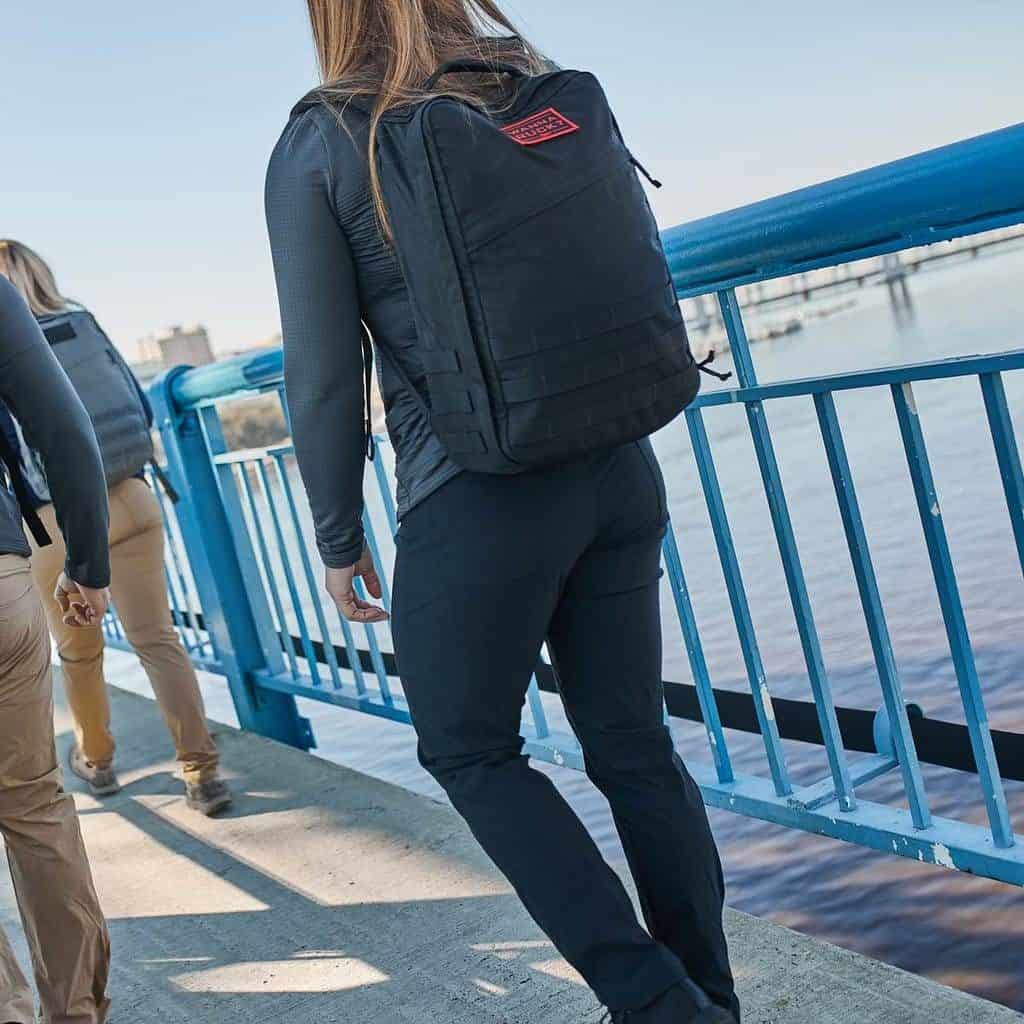 ToughDry is abrasion resistant hence the "Tough" part of the name.
These pants are covered by GORUCK's SCARS lifetime guarantee.
They are also made in the USA.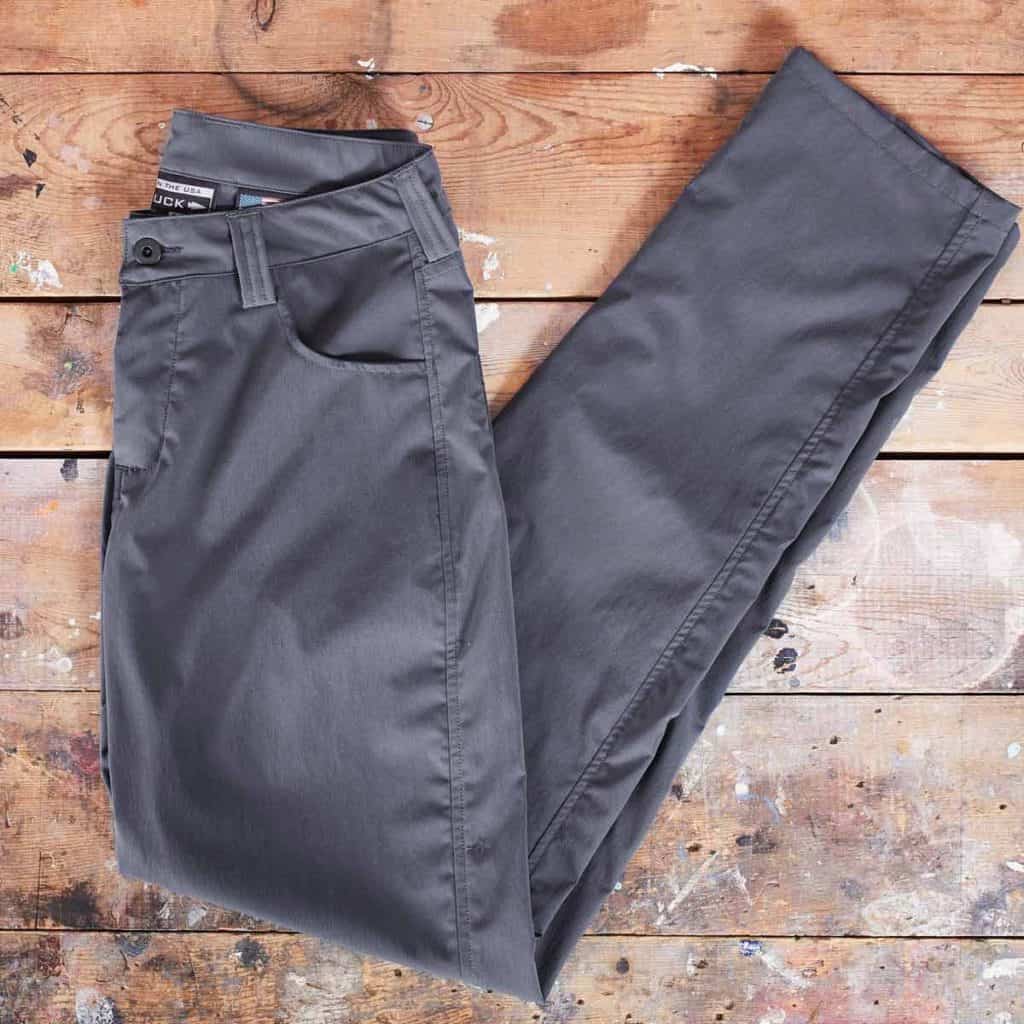 GORUCK Simple Pants are Real Pants
These are real pants.
What do we mean?
Well pants should have pockets – and these do.
There's a Horizontal pockets so stuff doesn't fall out up front, and pockets in the back too.
The other key ingredient of real pants are belt loops – and Simple Pants have that too.
Having said that, ours fit so well the belt is optional – but once you load up the pockets you may need a belt.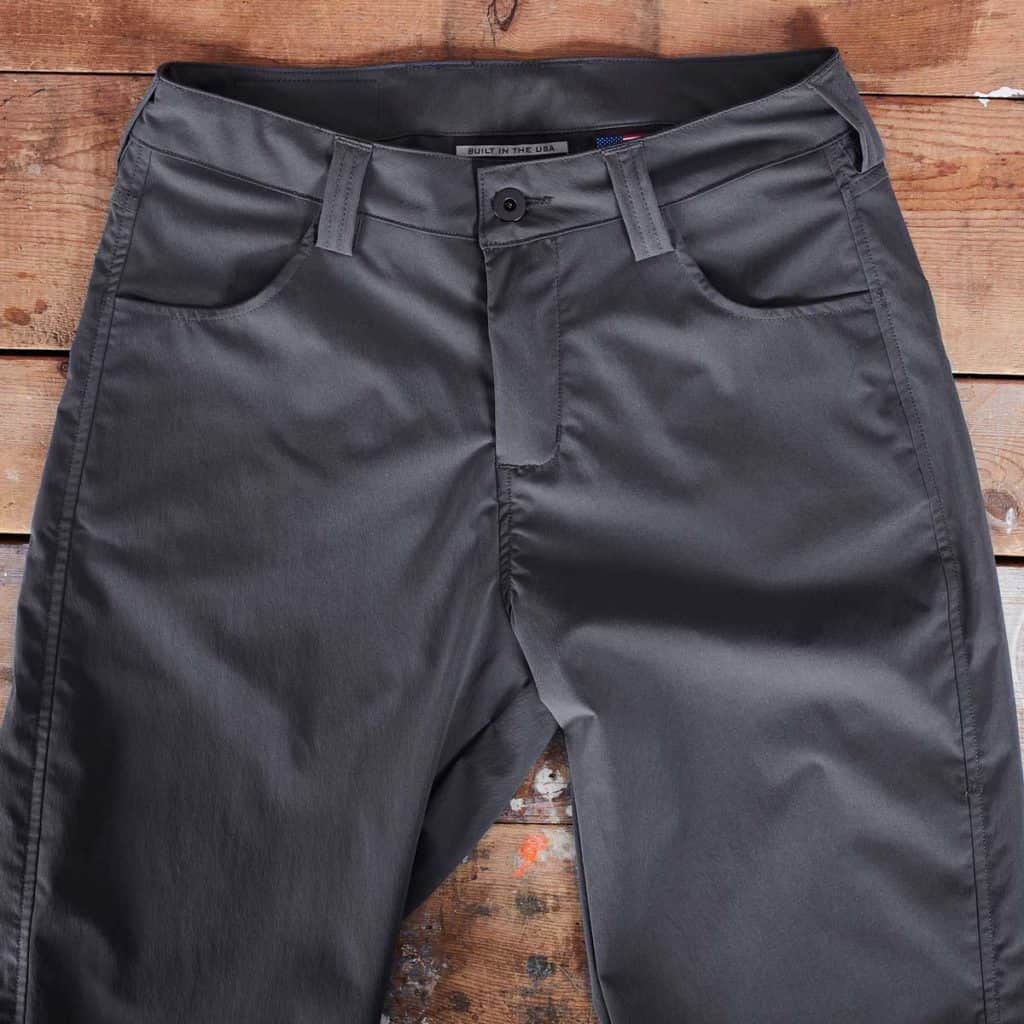 It's nice to have that option.
Simple Pants are a jean-cut style of pants too – and that means they aren't just for working out – there are a lot of other social and business occasions that you can probably wear these for.
The other glorious thing about Simple Pants is just how minimal the seams are – whether for the pockets, the finished belt loops or anywhere else – there's just not any extra bulk.
Combine that with the lightweight ToughDry material – and these pants are super light-weight – they compress down to a very small space.
They just look like regular pants – but only you will know just how comfortable they really are.
That makes these great for travel and overnight trips.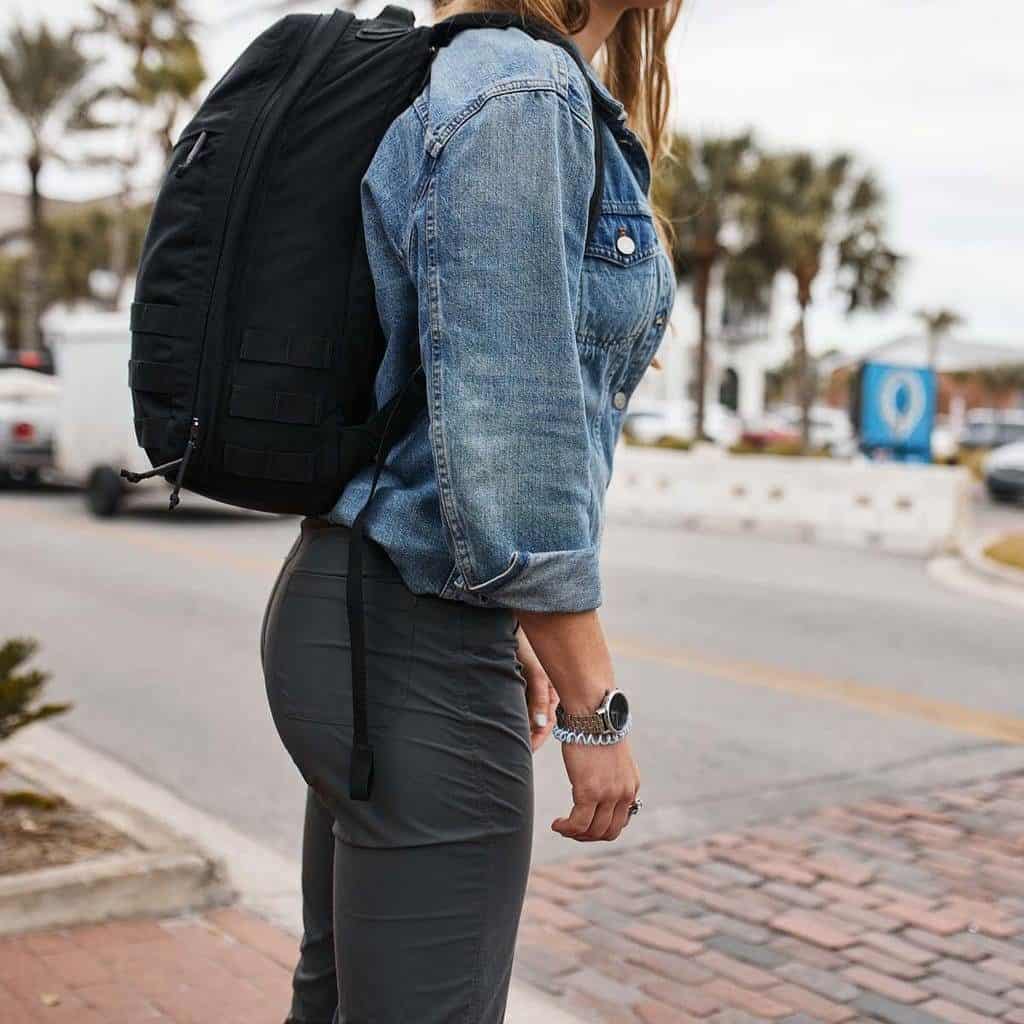 GORUCK Simple Pants for Women Sizing
We've already mentioned there are Simple Pants and Simple Pants – Power.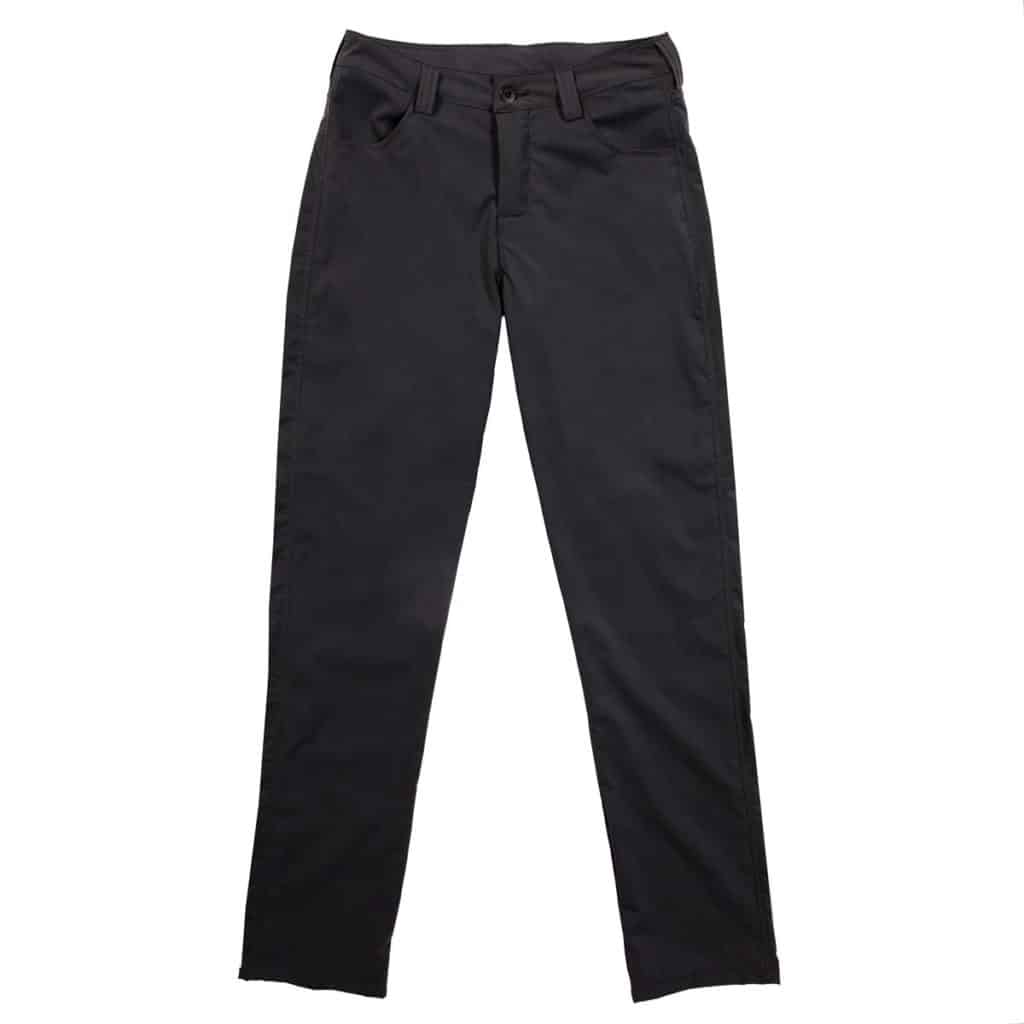 Again, the key difference is that the "Power" option gives you a more generous cut in the upper leg and thigh area.
Both versions have a curved waistband for a better fit.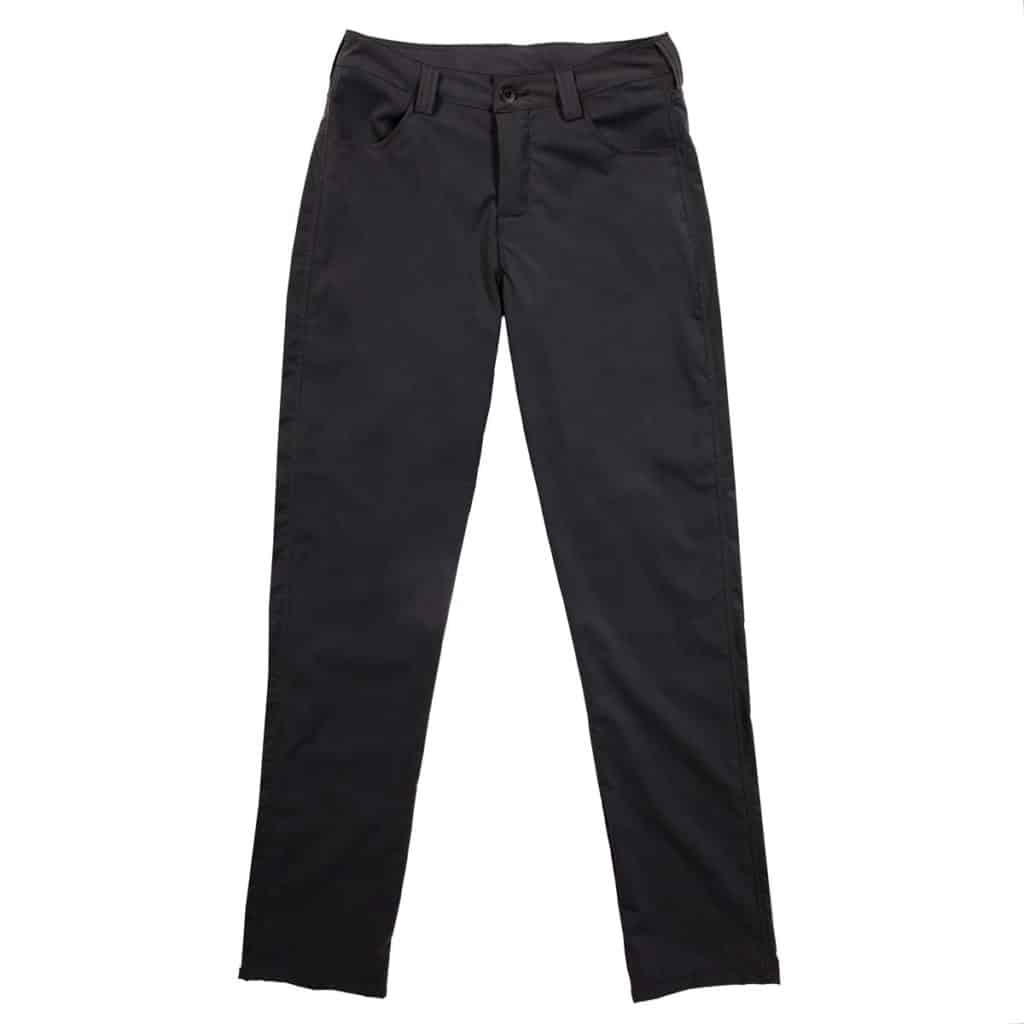 Our advice? If you think you need more room in the quads go for "Power".
Both are available in two inseams – 32″ & 34″.
Sizes range from 0 to 16.
There's full sizing details available on GORUCK's web site also.
GORUCK Simple Pants for Women – Comfort
You know what the true test of comfort is with pants?
Can you sleep in them? (comfortably).
Yep – the light-weight and soft ToughDry fabric is great for comfort.
You can wear these all day – and doze off on the long airline flight – or anywhere else.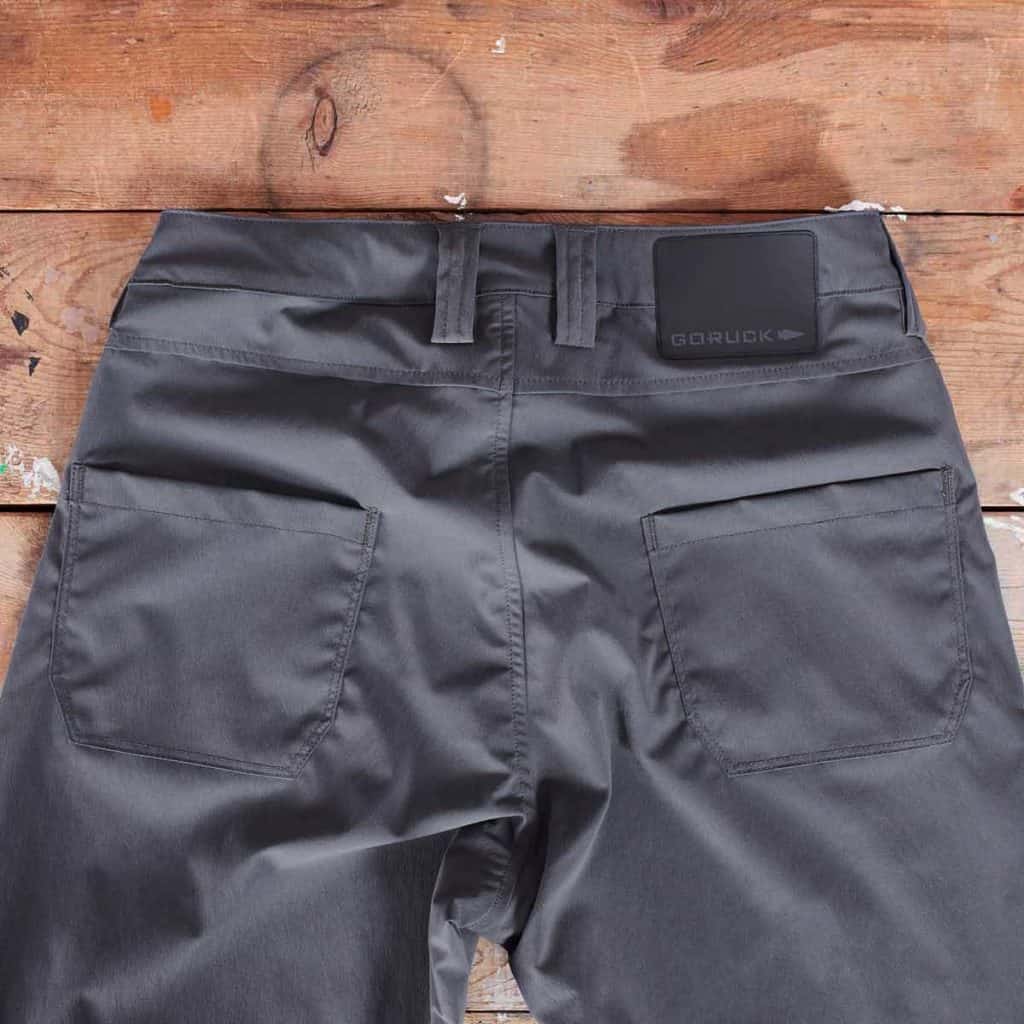 There's not a lot of thick uncomfortable seams and belt loops like in other pants.
Instead everything (including the belt loops and pockets) are just so streamlined and minimalistic it really is as comfortable as wearing pajamas – in our opinion.
But at the same time, that ToughDry material is very durable – so there's no concern about wearing these out and about in the real world.
GORUCK Spearhead Web Belt
Need an awesome belt to go with these awesome pants?
Check out the GORUCK Spearhead Web Belt.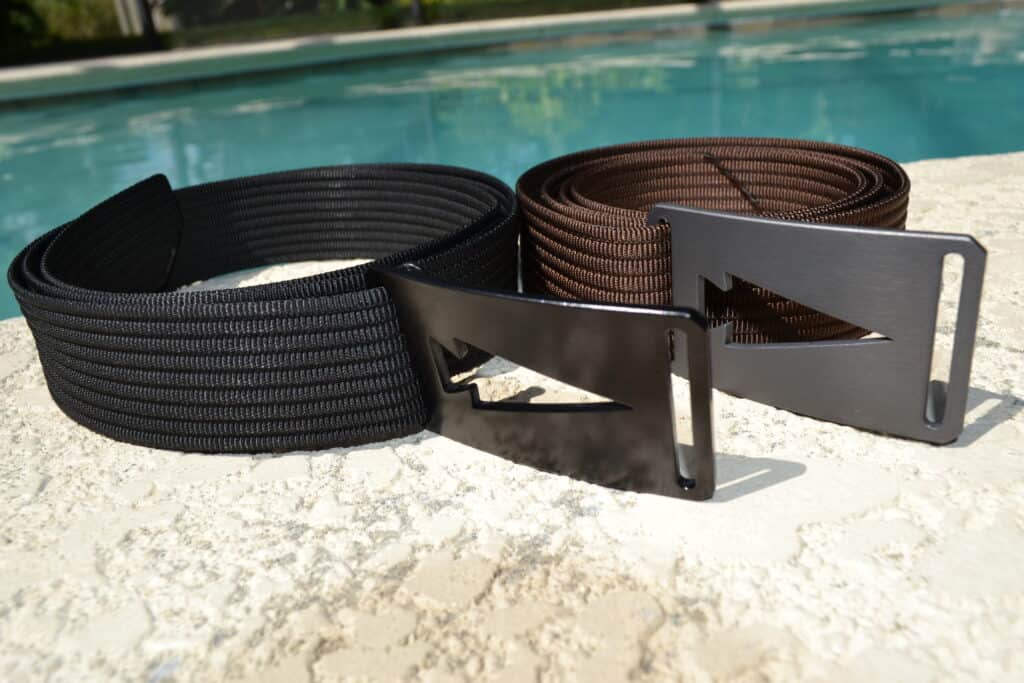 It's available in Brown or Black.
It's a Grip6 belt – made in the USA. The patented design is simple, lightweight, and efficient.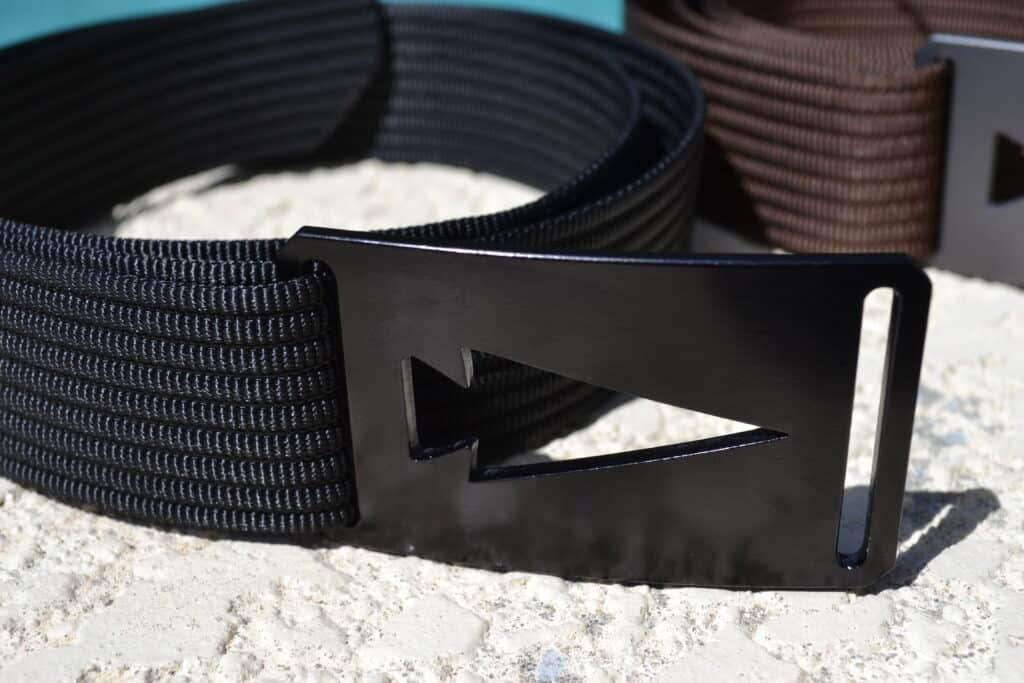 The Spearhead logo looks really sharp. The buckle is made from T6061 Aluminum.
This is a low-profile belt with minimal bulk and simple design – there's nothing to break. It'll likely last you a lifetime.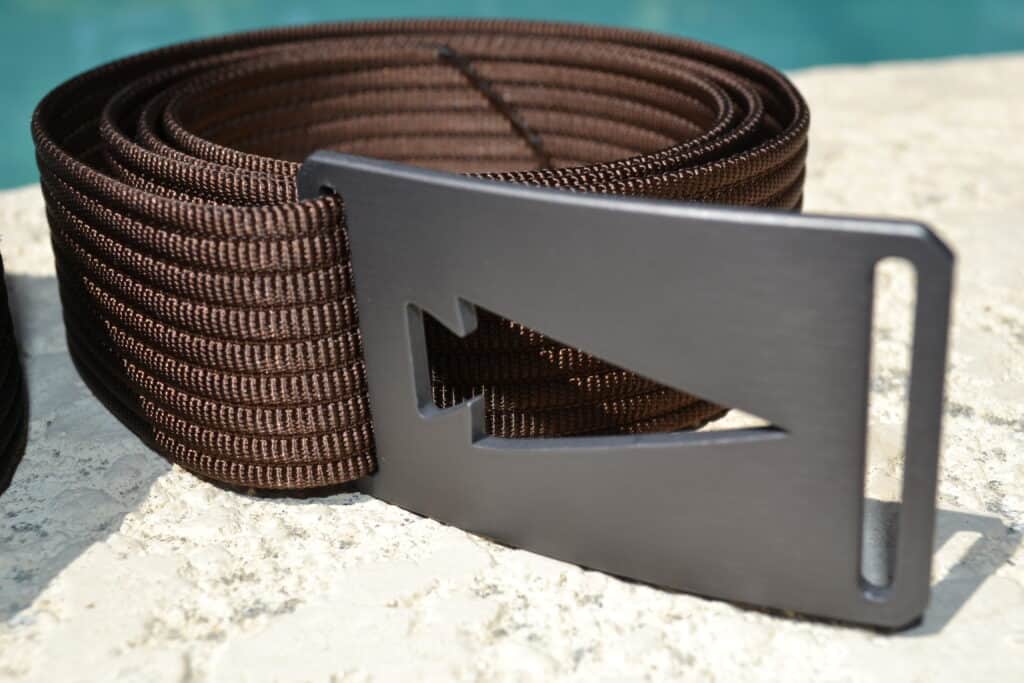 GORUCK Simple Pants for Women – Pros and Cons
Are there any drawbacks for GORUCK Simple Pants?
They are relatively expensive for pants – but you are getting a lot.
Remember these are built in the USA – with a lifetime guarantee.
The ToughDry material also is somewhat slick – your MacBook Pro or iPhone will slide off your lap with ease – so be careful to not drop anything.
The synthetic materials also mean there are a little bit of noise to these – think of a pleasant, but audible, swishing sound.
You won't be sneaking up on anyone in the library in these pants – but who cares?
They are great active wear.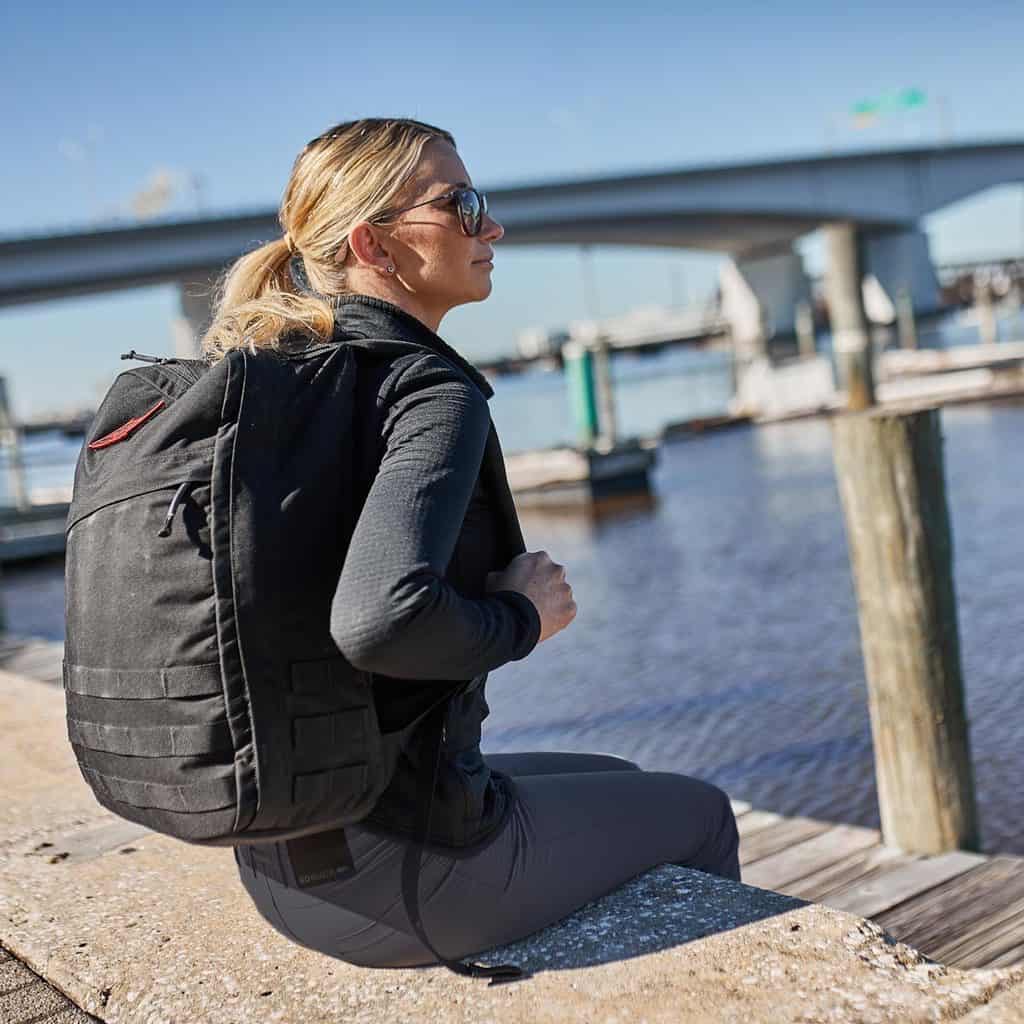 Why GORUCK Products?
We are a
GORUCK
affiliate – so if you order clothes, shoes, or equipment after clicking the links in this article we receive monetary compensation. But that's not why we recommend GORUCK. It's because their equipment is innovative, built to last, and much of their best stuff is made in the USA. They are the driving force behind rucking not just as exercise, but as a way to make people better. And that's why we love them.
Photo Credits
Some product photos on this page are provided by, and property of GORUCK.
Other product photos are property of the manufacturer, and provided by the manufacturer.